Related Topics
[Notebook] MyASUS - System Diagnosis
To provide you more detailed instruction, you can also click ASUS Youtube video link below to know more about MyASUS - System Diagnosis
https://www.youtube.com/watch?v=izkwG6rLVC4
| | | |
| --- | --- | --- |
| Scenarios | Description | Check item |
| Customized diagnosis | To be fully aware of the hardware health of your PC, it's recommended to run the Hardware Check to verify the hardware status in your PC. | Adapter, Memory, Wi-Fi, Bluetooth, Hard disk drive, Solid state disk, Battery, Fan, System check |
| Blue screen error | A Blue Screen of Death is usually hardware or driver related. Most BSOD's show a STOP code that can be used to help figure out the root cause of the Blue Screen. | Memory, Hard disk drive, Sector check, Device drive |
| Slow system | Insufficient memory and hard disk space are common causes of system slow down. Having multiple applications and windows open at the same time may also be the problem. | Memory, Hard disk drive, Hard disk space, Application usage, Fan |
| Wireless connectivity problems | The stability of the network carriers and Wi-Fi Internet devices is one of the most common causes of network disruptions. | Wireless device and settings, Network connection |
| Driver error | Setup of a wrong or old driver may cause the system to be unstable and system crash. | Device driver |
| System not responding | Random crashes usually result from the Windows settings, hardware failures, or malware damage. | Hard disk drive, Sector check, File distribution |
| Slow boot time | A bad hard disk or running too many programs in the background may influence the boot time and make boot time longer. | Memory, Hard disk drive, Boot time check, Task scheduler check |
| Battery problems | Make sure the system power supply is firmly plugged in with AC adapter. Check the power supply and confirm if all the detachable power cords are fully inserted. Make sure the battery is properly seated in the battery compartment, and the battery or system contacts without any problems. | Battery |
You can select the items you want to check in Customized diagnosis

①

, and then click [Checkup] to start to check

②

. Or, click any of the scenarios below of System Diagnosis to get more details of check items. (The following takes Customized diagnosis for example.)
The time required for the tests to complete will vary, so please be patient as some may take several minutes.

Click [Result] after the test is completed

③

.

If any error occurs after the test is completed, it will provide the error items, troubleshooting suggestions, and possible approaches to resolve the problem

④

.
Note: Please aware that some circumstances may need to do Windows Update which may lead to BitLocker recovery. We highly recommend you to save the BitLocker recovery key or disable BitLocker before executing Windows Update, you could refer to this article to learn more: https://www.asus.com/support/FAQ/1042922/.

If there is no issue found but you still have hardware/software related problems, try to restore your PC to resolve problems. Please click [How to restore your PC] to learn more about restore process introduction, or click [Get Started] that will run the restore process directly

⑤

.

In System Diagnosis, you can also click [Previous Record] to view the last test results

⑥

.

Q1: How to check the MyASUS version?
A1: Please click the [Settings] from the left menu①, and then select [About] from the top②, you will find the version number of the MyASUS installed in Current Version③.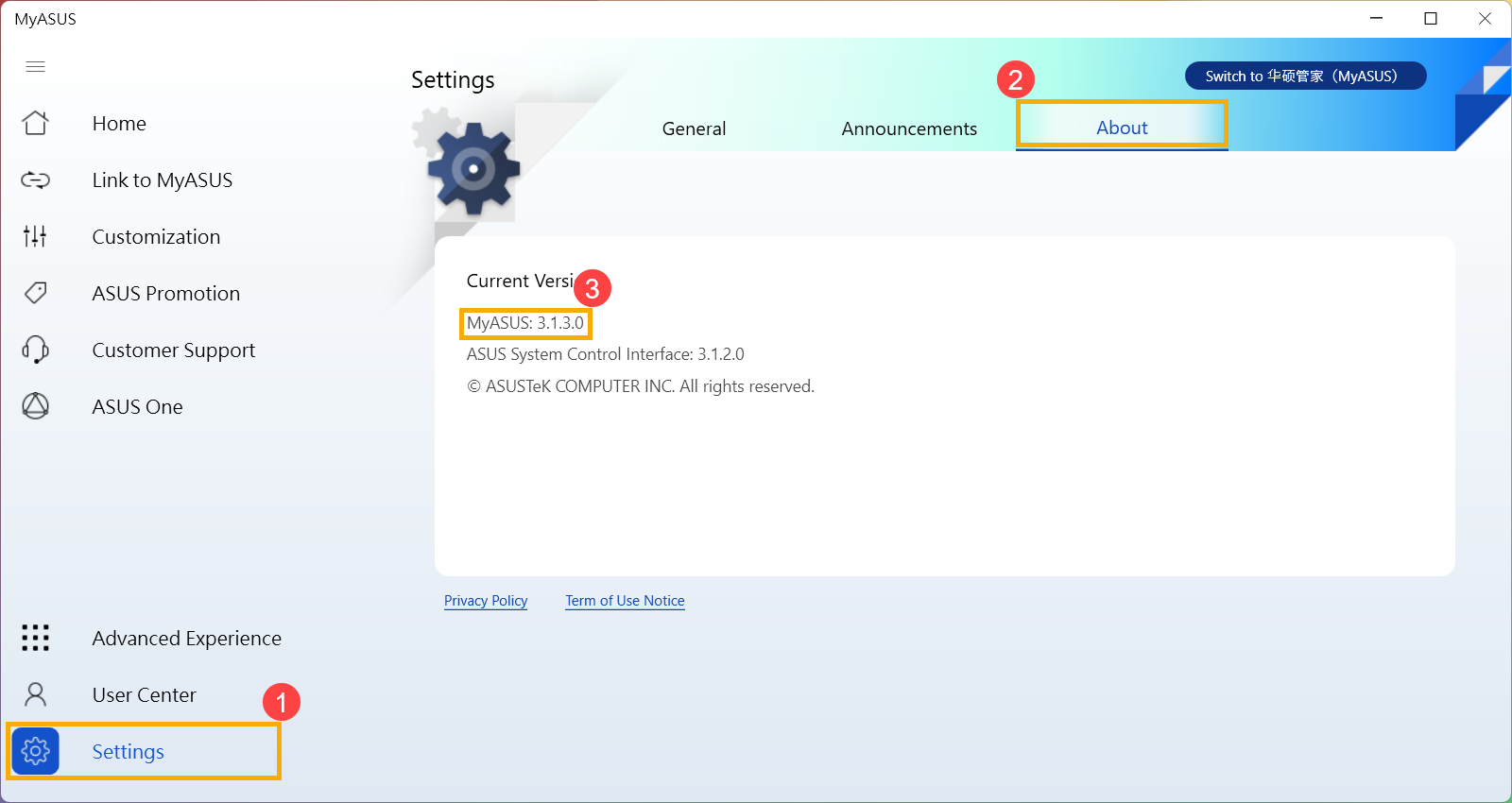 Q2: Can I perform the system diagnosis of MyASUS in airplane mode?
A2: Except for Wi-Fi & Bluetooth of Customized diagnosis and Wireless connectivity problems, the other tests can be performed in airplane mode.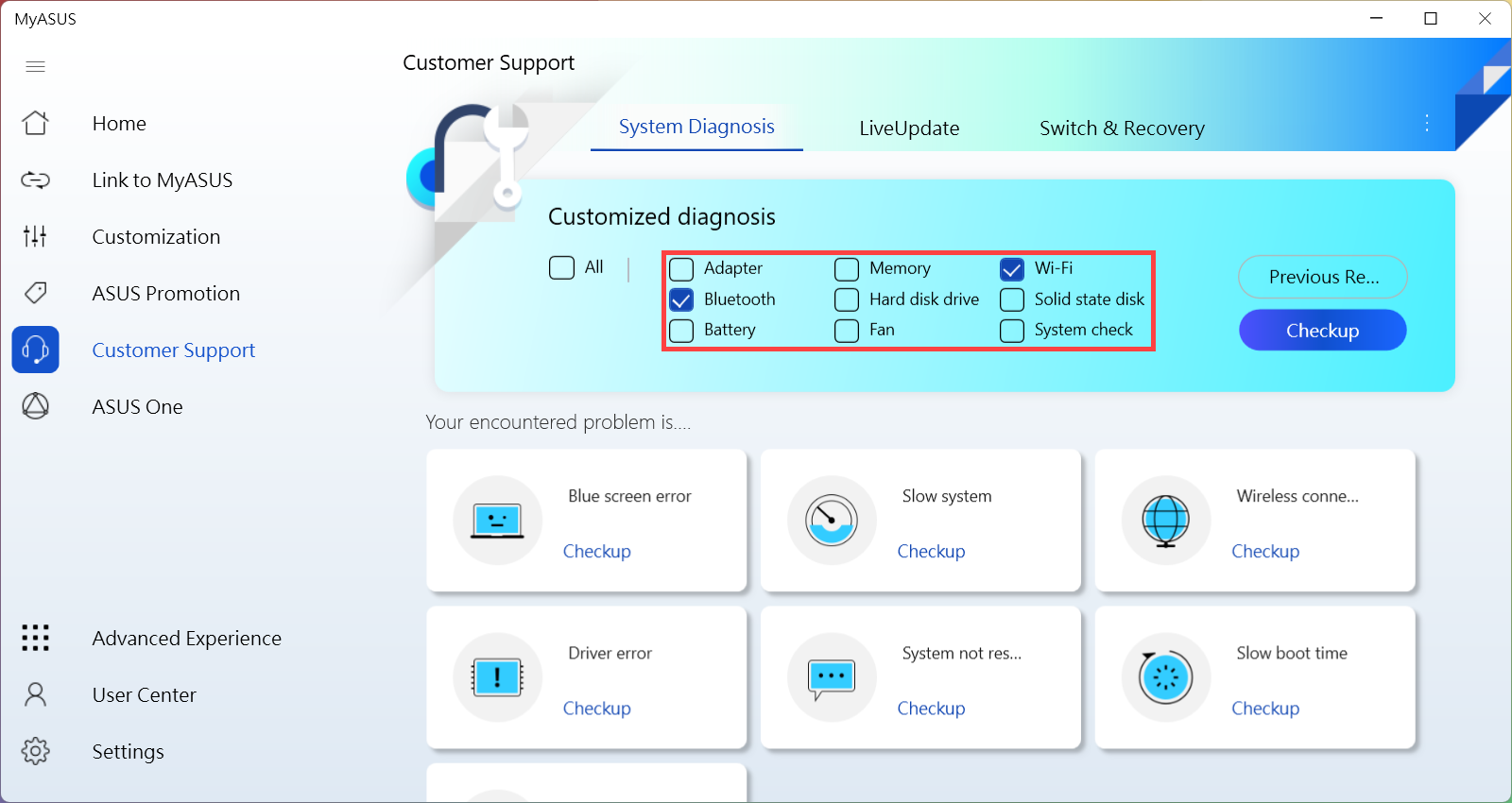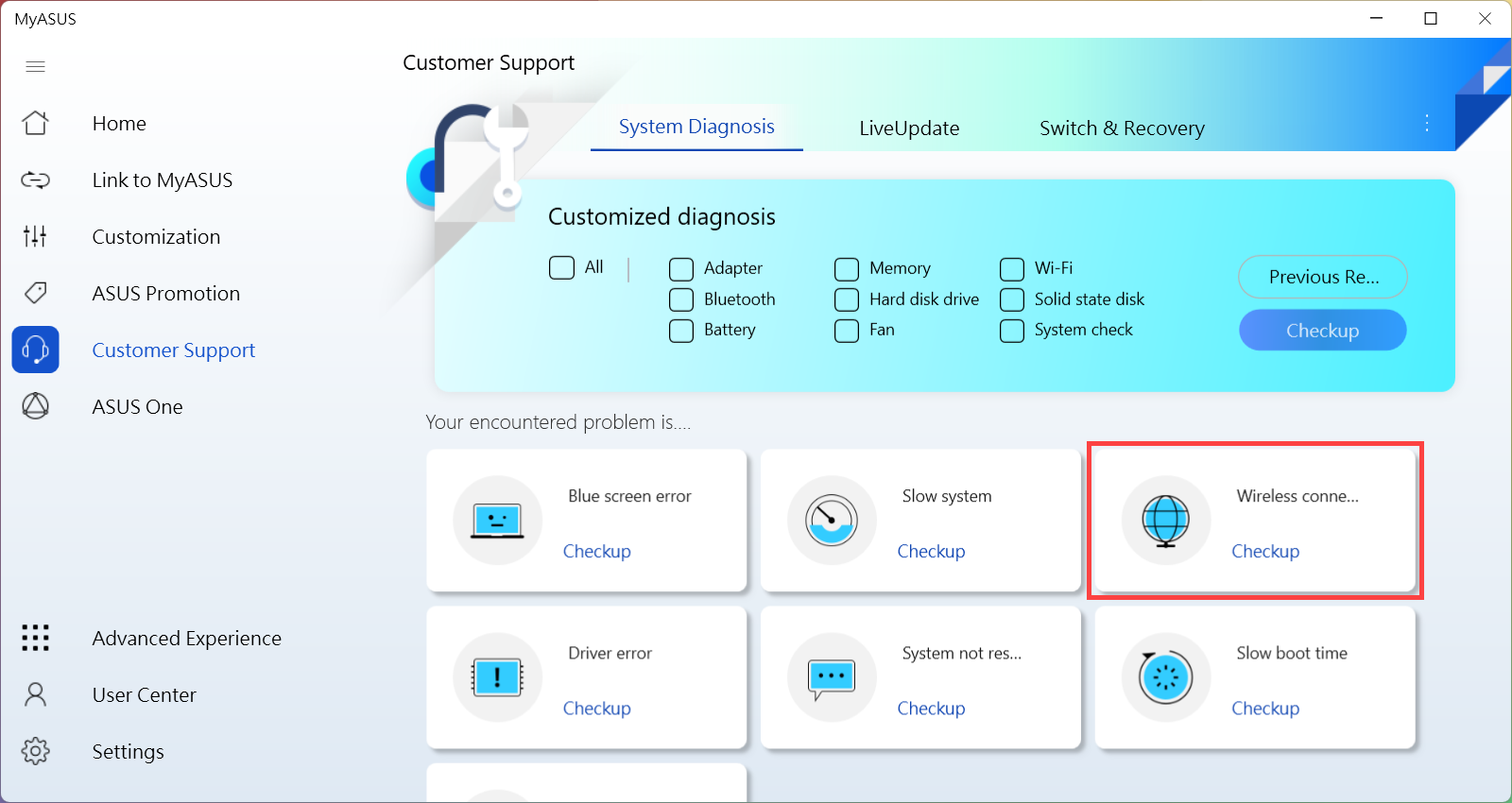 Q3: How to apply the repair request after doing Hardware Diagnostic on MyASUS?
A3: Here you can learn more about How to apply the repair request after doing Hardware Diagnostic on MyASUS.
Q4: Why can I only see the "Customer Support" feature in the MyASUS app?
A4: When you download MyASUS from the Microsoft Store, you may find it only supports the "Customer Support" function. It is because your product is not equipped with "ASUS System Control Interface" driver or the driver version does not support the full functionality of MyASUS. For more information, please refer to this article.
Download MyASUS now to experience perfect service. Click below!