Superieure Beeldkwaliteit gecombineerd met Klassiek Elegant Ontwerp
Delicate details maken een monitor pas echt geweldig. De VS247H Full HD LED-monitor, met 50.000.000:1 hoge contrast ratio en HDMI-interface, is geoptimaliseerd voor de beste beeld- en kleurkwaliteit. Deze aanpak is ook terug te vinden in de stevige voet en het slanke profiel, dat stabiliteit en duurzaamheid garandeert zonder dat dit ten koste gaat van de stijl.
Levensechte Beelden, Aangedreven door LED
50,000,000:1 ASUS Smart Contrast Ratio
Verbetert het schermcontrast op dynamische wijze door de helderheid
van de achtergrondverlichting aan te passen om zo het donkerste zwart en het helderste wit te bereiken – voor het leveren van levensechte beelden.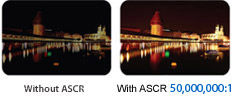 Full HD met HDMI
Betreed een spectaculaire wereld vol kleuren dankzij Full HD 1080p (1920x1080) ondersteuning en HDMI-poort.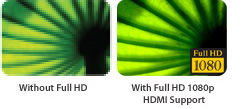 Veelzijdige kijkposities dankzij Smart View Technologie
Als u liggend op uw rug films wilt kijken, kan Smart View Technologie de kleurparameters aanpassen zodat dezelfde beeldkwaliteit en kleuren worden geleverd als bij normaal kijken.



Aspect Control-functie
De Aspect Control-functie laat gebruikers een voorkeursweergavemodus kiezen uit Full en 4:3, voor levensechte gaming of het bekijken van films zonder enige dataverlies of beeldvervorming.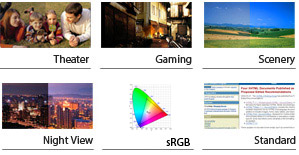 Splendid™ Video Intelligence Technologie
De exclusieve Splendid Video Intelligence Technologie optimaliseert de videoprestaties en de natuurgetrouwheid van beelden door kleuren, helderheid, contrast en scherpte te verbeteren. 6 voorgeprogrammeerde videomodi (Landschap, Theater, Spel, Nachtzicht, sRGB en Standaard) kunnen via een sneltoets worden geselecteerd.
Stijlvol en Gebruiksvriendelijk Ontwerp voor Moderne Verfijning
Gemakkelijke bedieningstoetsen voor functionele set-up in de meertalige OSD. ·
Gemakkelijk verwijderbare voet voor muurbevestiging. ·
VESA Muurbevestiging Standaard (100 x 100 mm). ·
25° (voorwaarts 5°, achterwaarts 20°) kantelhoek. ·
KENSINGTON Veiligheidsslot.
Complete After-Sale Service
· 3-jarige systeemgarantie · 3-jarige paneelgarantie · Gratis ophaalservice (in specifieke landen)
Green in Mind
Greener Materials

· Mercury-free LED-backlit panel
· Corrugated cardboard packaging with at least 80% recycled content
· Slim-flat packaging allows more cartons to be fitted per cargo, reducing transportation costs and CO₂ emission

Spaar Energie en de Aarde
37,2 kWh elektriciteitsbesparing
23,6kg vermindering in CO₂-uitstoot, equivalent aan:
1,9 geplante bomen
2 jaar zuurstof voor een gezin van vier personen