Built for Graphics Professionals
Best Graphics Performance with Gen3 CrossFireX™ and Geforce® SLI™
Intelligent PSU Detection with ASUS Dr.Power
4-Way Optimization improves performance, efficiency, stability and cooling
Better networking with new dual server-grade Intel® I210 Ethernet
New UEFI BIOS provides full-scale Performance turning with easy BIOS settings
Built for Graphics Professionals
Four PCI Express 3.0 x16 slots enable extreme graphics power
The Z87-WS can carry up to four dual-slot graphics. It supports 4-Way NVIDIA® Geforce® SLI™ and AMD CrossFireX™, making it an excellent choice for graphics professionals who depend on powerful graphics in areas such as design and modeling, medical research, plus processing-intensive simulation and rendering applications. In addition to graphics cards, extensive Z87 WS expandability offers ample room for RAID cards, PCI Express-based solid state storage drives, video capture cards, and other components.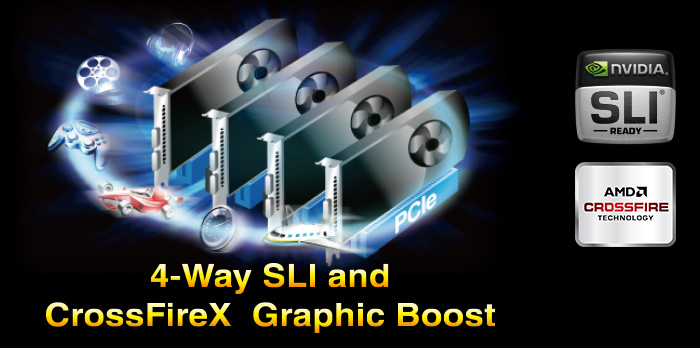 ASUS Dr. Power hassle-free power supply health monitoring
As the Z87-WS is meant for professional users who rely on non-stop operation, stable power delivery is critical. Real time power supply health detection helps prevent sudden system shutdown and provides hassle-free notifications should power delivery be insufficient. Additionally, LED messages on the board clearly indicate any relevant power issues in the event your system fails to boot.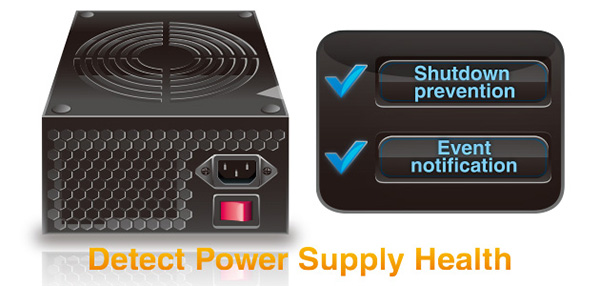 The latest server class built-in dual Intel® I210 Gigabit LAN
For more reliable networking, the Z87-WS features the latest server class built-in dual Intel® Gigabit LAN. This leads to lower 43% CPU utilization and 20% operation temperature, achieving outstanding performance as well as better support for diverse operating systems.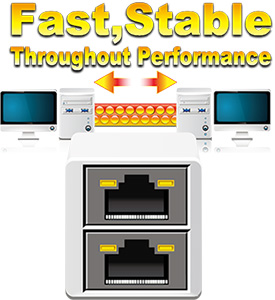 Higher stability and lower power loss with Beat Thermal Choke
ASUS Beat Thermal Chokes deliver great durability and up to 93% power efficiency under normal operation. A special fin design results in 3-5C lower choke temps for added stability, which is increased exponentially by use of highly conductive and efficient gold-treated coating. This translates into minimal-loss power delivery.
---
Dual Intelligent Processors 4
Dual Intelligent Processors 4 with 4-Way Optimization
One click for better performance, efficiency, digital power control, reduced noise, and improved cooling.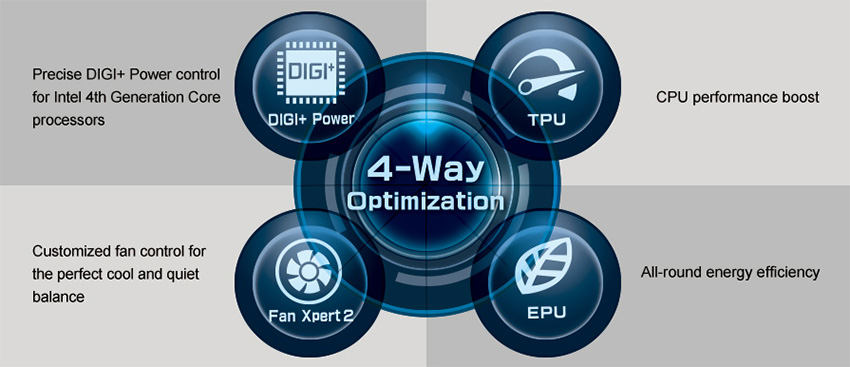 Dynamic Multi-Scenario Design
Figuring out the best settings for your PC a challenge? 4-Way Optimization automatically detects the best configuration for your system based on actual usage.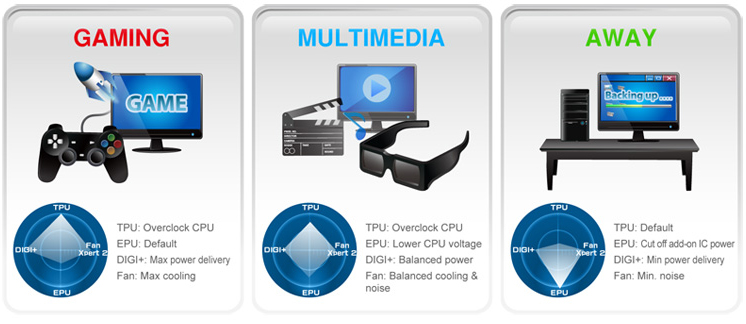 Proven Performance
The design makes sure your PC is perfect for gaming, entertainment, productivity, and everything else.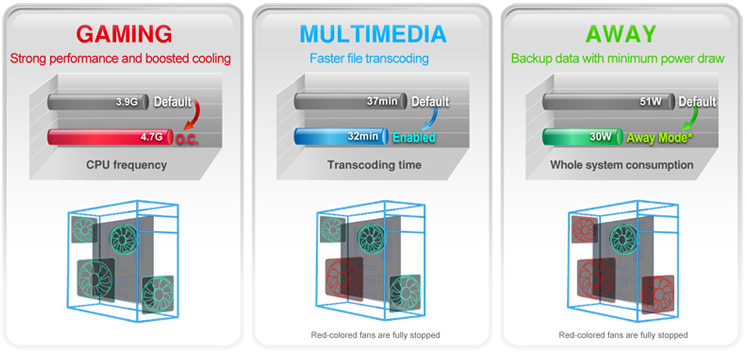 *Manual setting in Away Mode
*Testing configuration: Gaming - Intel LGA1150 i7-4770K | Z87-DELUXE | G.Skilll DDR3-2400 4GB x 2 Multimedia & Away - Intel LGA1150 i7-4770K | Z87-DELUXE | PATRIOT DDR3-1600 4GB x 2 | Corsair CCSD-F120GB3-BK 120GB
4 Key Tuning Pillars
Performance: unlock CPU/iGPU performance with the TPU
Efficiency: achieve whole system energy efficiency by reducing power consumption and power off add-on I/O controllers
Leading digital power: real-time management of CPU-input voltage regulator via DIGI+ Power Control
Customized fan control: detailed supervision of every installed fan improves cooling and reduces noise with Fan Xpert 2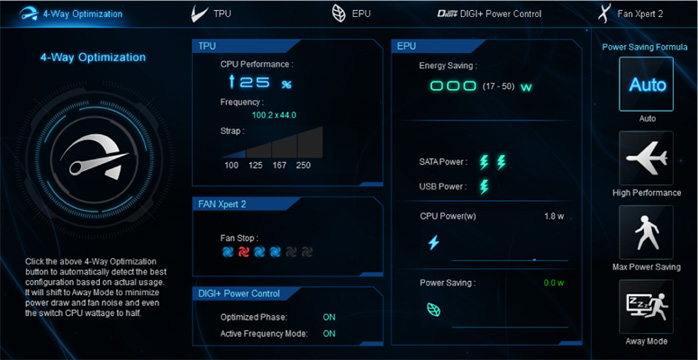 TPU
CPU performance boost
Unleash your computer's performance with a simple 2-phase onboard switch or the ASUS AI Suite 3 utility. It works with the TPU chip to offer precise voltage control and advanced monitoring , enabling great freedom to adjust CPU frequencies and ratios for optimized performance in all situations.



EPU
All-round energy efficiency
Tap into the world's first real-time PC power saving chip through a simple onboard switch or the AI Suite 3 utility. Get total system-wide energy optimization by automatically detecting current PC loadings and intelligently moderating power consumption. It can directly reduce CPU wattage to an indicated level on demand, or manually switch to Max Power Saving Mode for further power savings, creating a more energy-efficient PC. Want to download, stream, or backup content while away from your PC? Away Mode makes it easy. It puts your system into an extreme energy-saving stance, even shutting down unused add-on I/O controllers.



DIGI+ Power Control
Precise Digital Power Control for both CPU and DRAM
Power control is one of the most essential motherboard designs. Intelligent CPU power draw detection with ASUS DIGI+ Power Control is an innovative, industry-leading technology that fully complies with Intel® VRD12.5 specifications, increasing overclocking potential, enhancing system stability, and improving power efficiency with superior flexibility and accurate control.



Fan Xpert 2
Comprehensive controls for the perfect cool and quiet balance
Hardware-level ASUS Fan Xpert 2 literally blows away the competition. It can scan each fan's characteristics through automatic fan speed detection, delivering custom settings for each 4-pin/3-pin CPU and chassis fan with a single click and achieving the best balance of cooling performance and low noise.

RPM Fixed Mode
For users who wish to reduce noise levels to near 0dB with highly specific fan speed control, which also reacts to system load for greater precision.






User guide
---
New UEFI BIOS – friendlier and more Intuitive
Exclusive EZ Mode adds useful info to become even easier
Media-renowned UEFI BIOS from ASUS provides the smoothest mouse-controlled graphical BIOS, and now features more intuitive functions to quickly take you to favorite BIOS pages and frequently-accessed settings through custom shortcuts. You can even write quick notes in-BIOS for future reference, view an activity log of setting changes and modifications, and rename SATA ports. EZ Mode has a whole new look, upgraded with extra-friendly capabilities like detailed fan controls, XMP profile settings, SATA information, and fast clock adjustment. Together, these perfect your BIOS experience.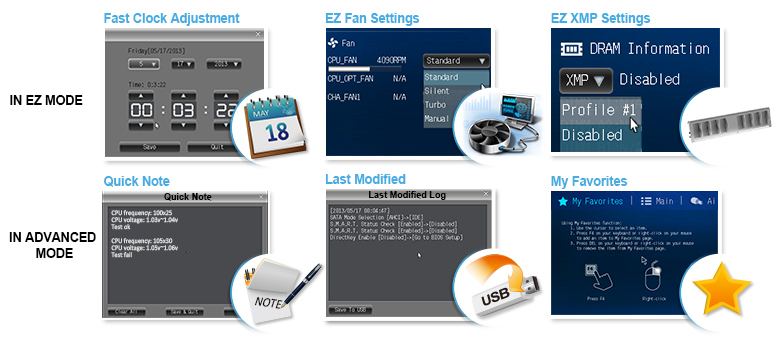 1.Fast Clock Adjustment
Easily change the time and date in EZ Mode using the mouse.
2.EZ XMP Settings
Quickly apply XMP settings in UEFI BIOS EZ Mode, achieving better DRAM performance.
3. EZ Fan Settings
As demanded by the community, detailed fan controls come to EZ Mode so you can switch fan profiles for quick cooling and noise-level supervision.
4. SATA Information
Displays each SATA port details for you to easily recognize devices.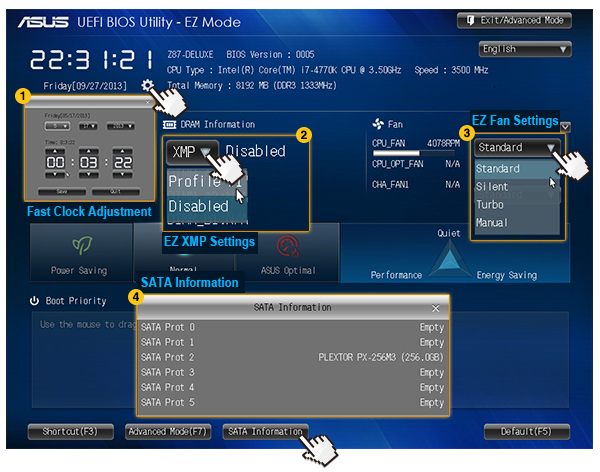 My Favorites
Get all your favorite functions on one page
F4 or right click to add settings to My Favorites under advanced mode, which cuts time spent on searching and further speeds up system tuning.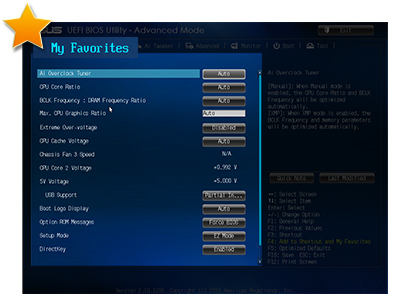 Shortcut
One press to apply and access frequent settings
Now you can customize your own shortcut log by pressing F4 or right clicking to create shortcuts to frequently-used settings. Instantly access them by simply hitting the F3 hotkey.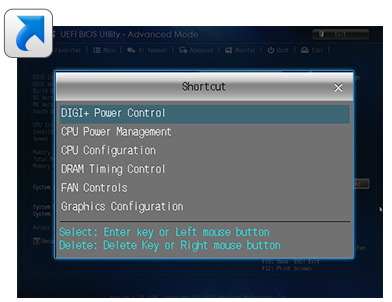 Quick Note
You no longer need to have a pen and paper notepad around. Quick Note works inside the BIOS so you can just type remarks and ideas to help you remember important settings info and save time on trial and error.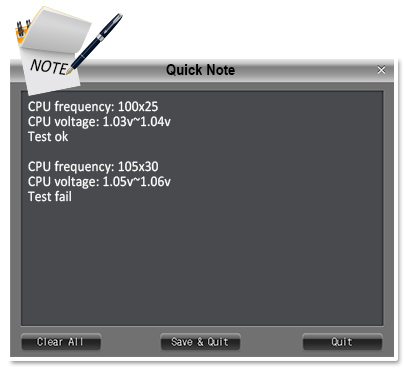 Last Modified
Always forget those important BIOS changes you did? This friendly function creates a tuning log to track your BIOS settings history , which can be saved onto a USB drive.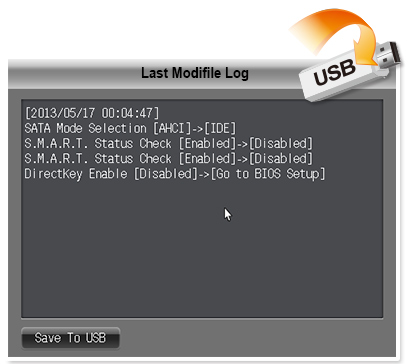 SATA Port Renaming
You can rename your SATA ports for easy identification, including by usage scenario. Get greater convenience and spend less time on finding the right devices when you want to change settings.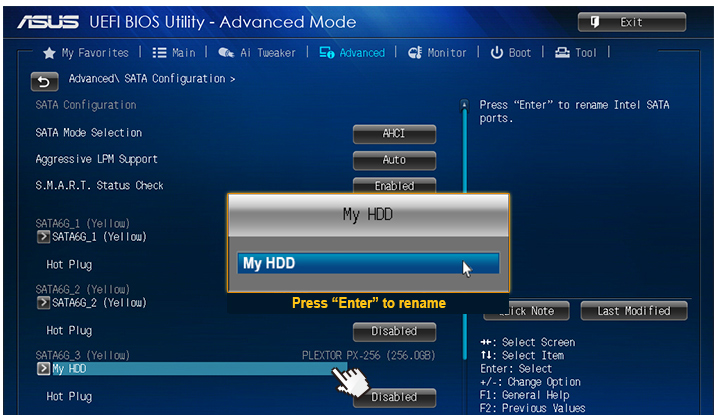 ---
The Latest Transfer Speed
USB 3.0 BOOST (UASP Support)
170% faster transfer speeds than traditional USB 3.0
ASUS USB 3.0 Boost technology supports UASP (USB Attached SCSI Protocol) USB 3.0 in Windows 8. With USB 3.0 Boost technology, a USB device's transmission speed is significantly increased up to 170%, adding to already fast USB 3.0 performance. ASUS software automatically accelerates data rates for compatible USB 3.0 peripherals without any user interaction.
World's 1st USB 3.0 UASP support – instantly 170% faster
Complete USB 3.0 solution– performance boost under Turbo Mode or UASP Mode for most USB devices
Simple plug and boost – auto detection design ensures best performance


Hands-on Video
ASUS SSD Caching II
Multiple SSD Caching, Instant Upgraded Speed
SSD Caching II has been upgraded with a multiple caching function, adding four extra SATA 6Gb/s onboard. This feature offers performance upgrades by using multiple installed SSDs with no capacity limitations as a cache for frequently accessed data. It also allows user to choose the combination that suits their needs. For example, you can choose three SSDs matched with one HDD or two SSDs with two HDDs. Harness a combination of SSD-like performance and response and hard drive capacity with a single click, without the need to reboot for instant activation and complete ease of use. As an added bonus, it can even prevent data loss with the included backup function, so you can rest easy knowing your data is secure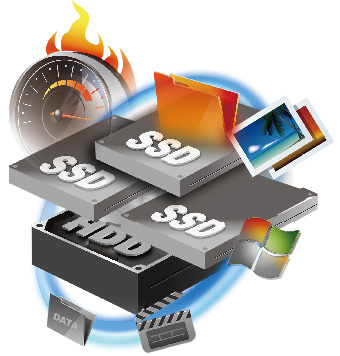 Network iControl
Real-time network bandwidth management
One click to prioritize network traffic for applications you're currently using or set up favorite profiles to run at specific times. Avoid network congestion, speed up downloading, and make sure online gaming runs optimized, all through an intuitive user interface.

PCI Express 3.0
PCI Express 3.0 uses improved encoding that provides twice the performance of PCI Express 2.0. Total bandwidth for an x16 link reaches 32GB/s, delivering unprecedented data speeds combined with the convenience and seamless transition offered by complete backward compatibility.


Complete USB 3.0 integration
Double USB access, double the convenience
ASUS facilitates USB 3.0 accessibility for both the front and rear panel. Experience the latest plug n play connectivity at speeds up to 10 times faster than USB 2.0. Our motherboards afford greater convenience with high speed connectivity.
Extra SATA 6Gb/s support
Extra ports, extra speed and accessibility
ASUS provides extra SATA 6Gb/s ports with enhanced scalability, faster data retrieval, and double the bandwidth of SATA 3Gb/s.

Z87-WS is built-in another mSATA 6Gb/s port provides users more diverse storage options. Install your SSD into an mSATA 6Gb/s port for super-fast boot up and reduced resume times.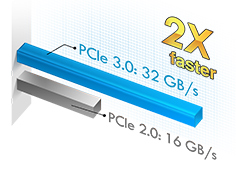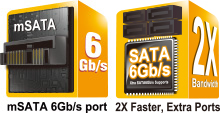 ---
AI Suite 3
One-stop access to innovative ASUS features
ASUS AI Suite 3 offers a brand new user experience through a clearer and more attractive interface with support for larger monitors. It consolidates all exclusive ASUS features into one simple-to-use package, allowing you to supervise overclocking, energy consumption, fan speeds, voltages and more. This all-in-one app offers diverse and easy to use functionality, with no need to switch back and forth between different utilities.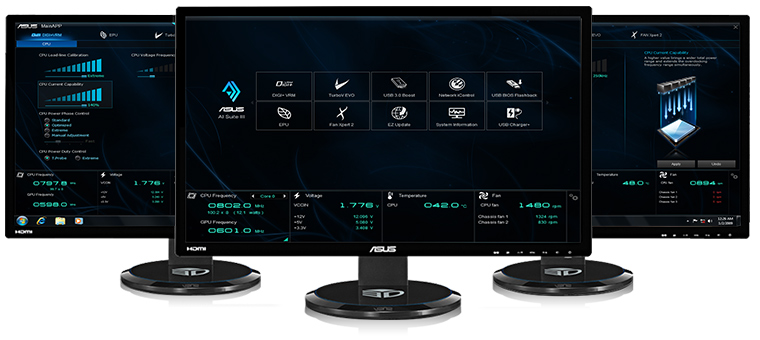 USB BIOS Flashback
Simple plug and press hardware-based BIOS flashing
ASUS USB 3.0 Boost technology supports UASP (USB Attached SCSI Protocol), the latest USB 3.0 standard. With USB 3.0 Boost, USB device transmission speeds increase by up to 170%, adding to already impressive fast USB 3.0 transfer speeds. ASUS software automatically accelerates data for compatible USB 3.0 accessories with no user intervention needed.

Hands-on Video

MemOK!
Enhanced memory compatibility: save time on trial and error
Memory issues can be difficult to diagnose and even harder to fix or work around. If RAM problems are preventing your system from booting, MemOK! helps by automatically loading failsafe settings to enable basic functionality with a simple push of a button on the motherboard. This troubleshooting feature saves you time and annoyance, and adds to the confidence of DIY builders.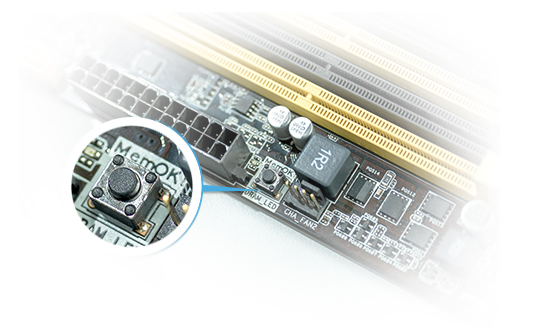 Q-Connector
Easy, quick, and accurate connections
Motherboard front panel wires and connectors used to be notorious as the hardest and most tedious part of the build process. You had to figure out which one went where, or consult confusing manuals. This took forever and caused needless frustration. The Q-Connector steps in to take care of all that. It's a one-piece plug that sits on top of the front panel headers, with clearly marked inputs for each. You no longer have to mess with easily-bent pins. The wires go into the Q-Connector, and you're good to go.

Q-LED
Easy PC diagnostics
When there's a problem with your PC, quickly being able to diagnose and remedy the issue can eliminate a great deal of frustration. ASUS Q-LED immediately indicates when there's a problem with the CPU, memory, graphics card or boot device by lighting up in the vicinity of that component.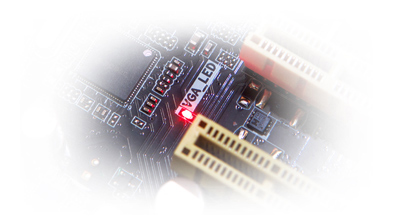 Q-DIMM
Easy memory removal
Even if you work with a smaller case, plugging in memory is easy with one-sided clips that are right at the edge of the board and always accessible. Just push down on the clip and push or pull RAM modules in or out – couldn't be simpler!

Hands-on Video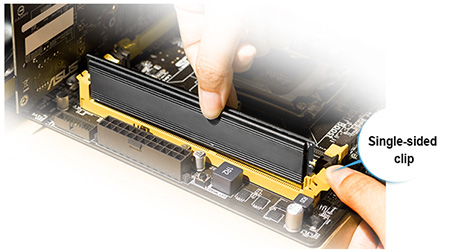 Q-Code
Detailed PC status display and diagnostics
Designed to instantly recognize POST status and for precise troubleshooting. Users can check the table in the user guide for more information.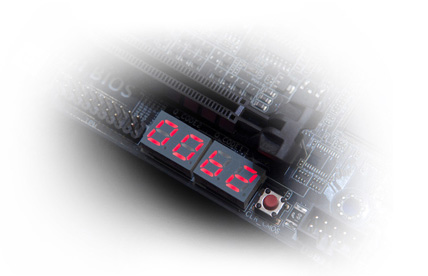 Q-Shield
Easy and safe on fingers
Unlike other I/O shields with their sharp edges, the exclusive Q-Shield is soft and pliable to protect your hands from cuts. Ease of install and safety are always first!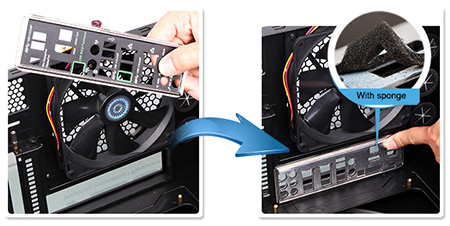 ---
ASUS Windows 8 Exclusive Features
DirectKey
Dedicated direct BIOS access button
Designed for those requiring frequent BIOS access, users can easily enter the BIOS when the PC is on standby power with a simple press of a button. It saves you time during boot-up as you don't have to repeatedly press the DEL key. Convenience and ease at their best!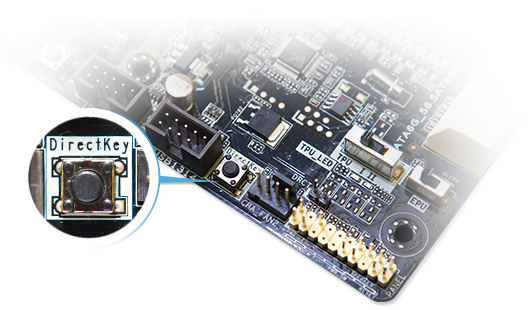 Hands-On Video
ASUS Boot Setting
Multiple startup options
Thanks to ASUS Windows 8 hardware optimization, ASUS Boot Setting provides better flexibility in customizing your PC's startup process. You can shorten system boot-up time to 2-seconds* for a smoother user experience under Windows 8, and even previous versions of Windows. Also, you can enter the BIOS directly with one click through a user-friendly interface, and quickly select your preferred system boot up method: either get to the OS in seconds or opt for regular boot up. Whatever your choice, settings are saved and persistent, with no need to choose every time you power on.
*On select models




Hands-On Video
Probe II Sense
Handy system monitoring
Popular ASUS real-time system monitoring software now available for Windows 8. It helps you supervise your entire PC through a live tile on the Windows 8 start screen, and make quick adjustments. Probe II Sense is a free app available from the Windows Store.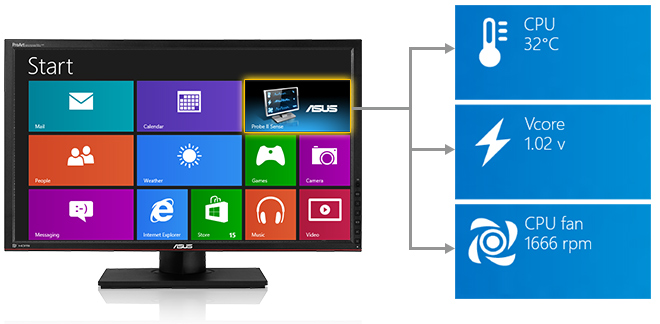 ---
Crystal sound
DTS Connect
Expand Your PC Audio Experience To get the most out of your audio entertainment across all formats and quality levels, DTS Connect combines two enabling technologies. DTS Neo:PC™ upmixes stereo sources (CDs, MP3s, WMAs, internet radio) into as many as 7.1 channels of incredible surround sound. Consumers can then connect their PC to a home theater system.DTS Interactive is capable of performing multi-channel encoding of DTS bitstreams on personal computers, and sending encoded bitstreams out of a digital audio connection (such as S/PDIF or HDMI) designed to deliver audio to an external decoder.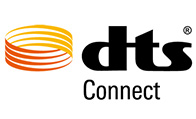 DTS UltraPC II
DTS UltraPC II delivers exceptional 7.1 surround through the most popular PC audio setups - your existing stereo speakers or headphones. In addition to virtual surround, it upgrades original sound to new levels with Audio Restoration, recreating the dynamic range of audio files. Symmetry mode improves the balance of perceived loudness across different input sources and Enhance boosts audio quality through high and low frequency equalization. With these technologies, users experience better home theater audio with ease.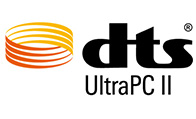 ---
Multi GPU / Multi-Monitor/4K
Ready for 4K Ultra HD on three screens
The board features advanced onboard graphics that support up to three monitors at once, each displaying in 4K Ultra HD. Three digital outputs make it easy to connect three monitors, which is great for a wide range of applications. Experience super-detailed and immersive visuals for gaming, multimedia entertainment, and productivity.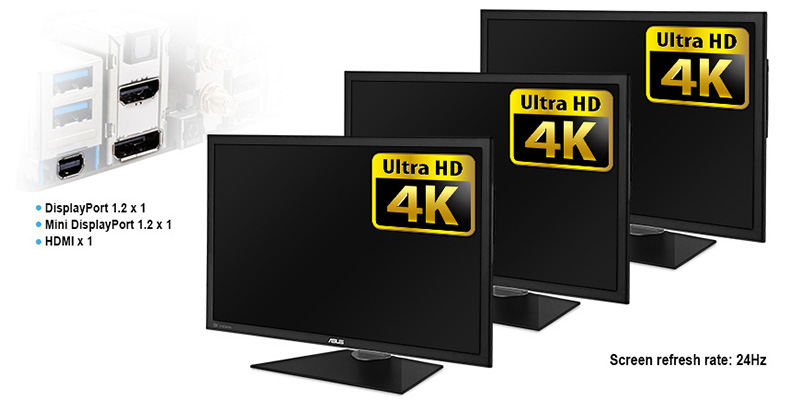 4K Ultra HD ready
Discover future visual experiences
Following up on popular 1080p full HD, 4K Ultra HD is the next big thing, and you're ready for the upgrade thanks to integrated graphics that natively support up to 4096 x 2160 via HDMI or DisplayPort. That's four times the pixel count of 1080p (1920 x 1080), offering incredible visual clarity, detail, and realism.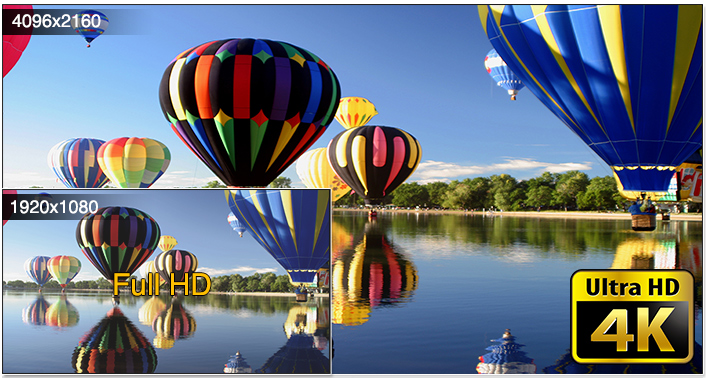 Connect up to 3 Full HD monitors via one port
DisplayPort 1.2 with Multi-Stream Transport (MST) allows you to connect up to three 1080p displays to a single output with daisy chaining, splitting the signal into three Full HD (1080p@60Hz) links.

Work with up to 3 displays
Connect up to three independent monitors at once using video outputs such as DisplayPort, Mini DisplayPort, HDMI, DVI, or VGA. Choose your outputs and set displays to either mirror mode or collage mode.

Intel® Collage Display
Intel® Collage Display allows images to be shown across multiple monitors, with each depicting a portion of a larger image. You can connect multiple displays to a single system and get video on several monitors with higher quality and resolution up to 4K. Connect up to six displays to drive a total resolution as high as 7680 x 1200 for Horizontal Collage Display or 3840 x 2400 for Vertical Collage Display with special dongles, like DisplayPort splitter adapters. Horizontal mode offers an extended desktop experience that's ideal for commercial applications such as finance, while vertical mode offers a simple way to enjoy 4K ultra HD content using standard HD displays.
Horizontal Collage Display: up to 7680 x 1200

Vertical Collage Display: up to 3840 x 2400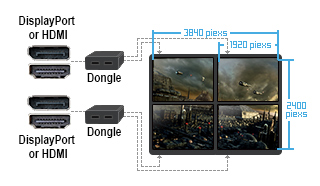 4-Way SLI and CrossFireX Support
Brings you multi-GPU support using NVIDIA SLI™ or AMD CrossFireX. The Z87 chipset optimizes PCI Express allocation in multiple graphics card configurations, so you can expect brand-new gaming like you've never experienced before!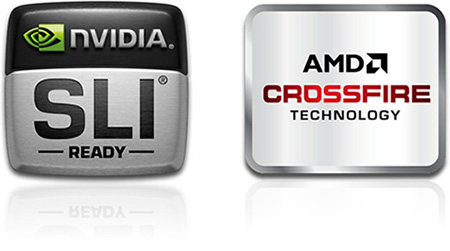 ---
CPU & Chipset features
Intel® LGA1150 4th Generation Core™ i7/Core™ i5/Core™ i3/Pentium®/Celeron® Processors Ready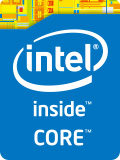 This motherboard supports Intel® 4th generation Core™ i7/i5/i3/Pentium®/Celeron® processors in the LGA1150 package, with iGPU, memory and PCI Express controllers integrated to support onboard graphics output with dedicated chipsets, 2-channel (4 DIMM) DDR3 memory and 16 PCI Express 3.0/2.0 lanes. This provides great graphics performance. Intel® 4th generation Core™ i7/i5/i3/Pentium®/Celeron® processors are among the most powerful and energy efficient CPUs in the world.
Intel® Z87 Express Chipset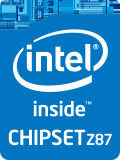 The Intel® Z87 Express Chipset is a single-chipset design to support socket 1150 Intel® 4th generation Core™ i7/i5/i3/Pentium®/Celeron® processors. It provides improved performance by utilizing serial point-to-point links, allowing increased bandwidth and stability. Additionally, Z87 chipset features both the USB 3.0 & SATA6Gb technology for faster data retrieval speed. Moreover, Intel® Z87 Express Chipset can also enable iGPU function, letting users enjoy the latest Intel® integrated graphic performance.
Intel® Smart Response Technology
SSD speed with HDD capacity
Uses an installed fast SSD (min18.6GB available capacity required) as a cache for frequently-accessed data. Key benefits include reduced load and wait times, and lower power consumption through the elimination of unnecessary hard drive spin. This technology combines SSD performance with hard drive capacity, operating up to 6X faster than a hard drive-only system.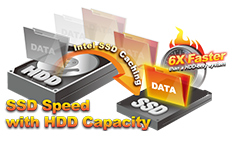 Intel® Smart Connect Technology
Auto application refresh and shorter wait times
Your computer can receive web updates with fresh content for selected applications, even when the system is in sleep mode. This means less time waiting for applications to update and sync with the cloud, leading to a more efficient computing experience.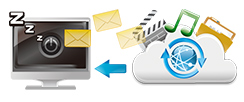 Intel® Rapid Start Technology
Instantly awaken your PC from sleep mode
Allows your computer to quickly resume from a low-power hibernate state in seconds. Saving your system memory to the designated SSD, it provides your computer a faster wake-up response time, while still keeping energy use low.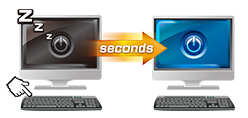 ---
RoHS
GreenASUS
Motherboards are EU Energy-related Products (ErP) ready, which requires products meet high efficiency standards with regards to energy consumption. This is in line with the ASUS vision of creating environmentally-friendly and energy-efficient products through design and innovation that reduce the carbon footprint of products and thus mitigate ecological impact.
Compare (0)