ASUS Chromebook CX34 Flip (CX3401, 12th Gen Intel)
ASUS Chromebook CX34 Flip (CX3401, 12th Gen Intel)
ASUS Chromebook CX34 Flip
Explore in more ways than one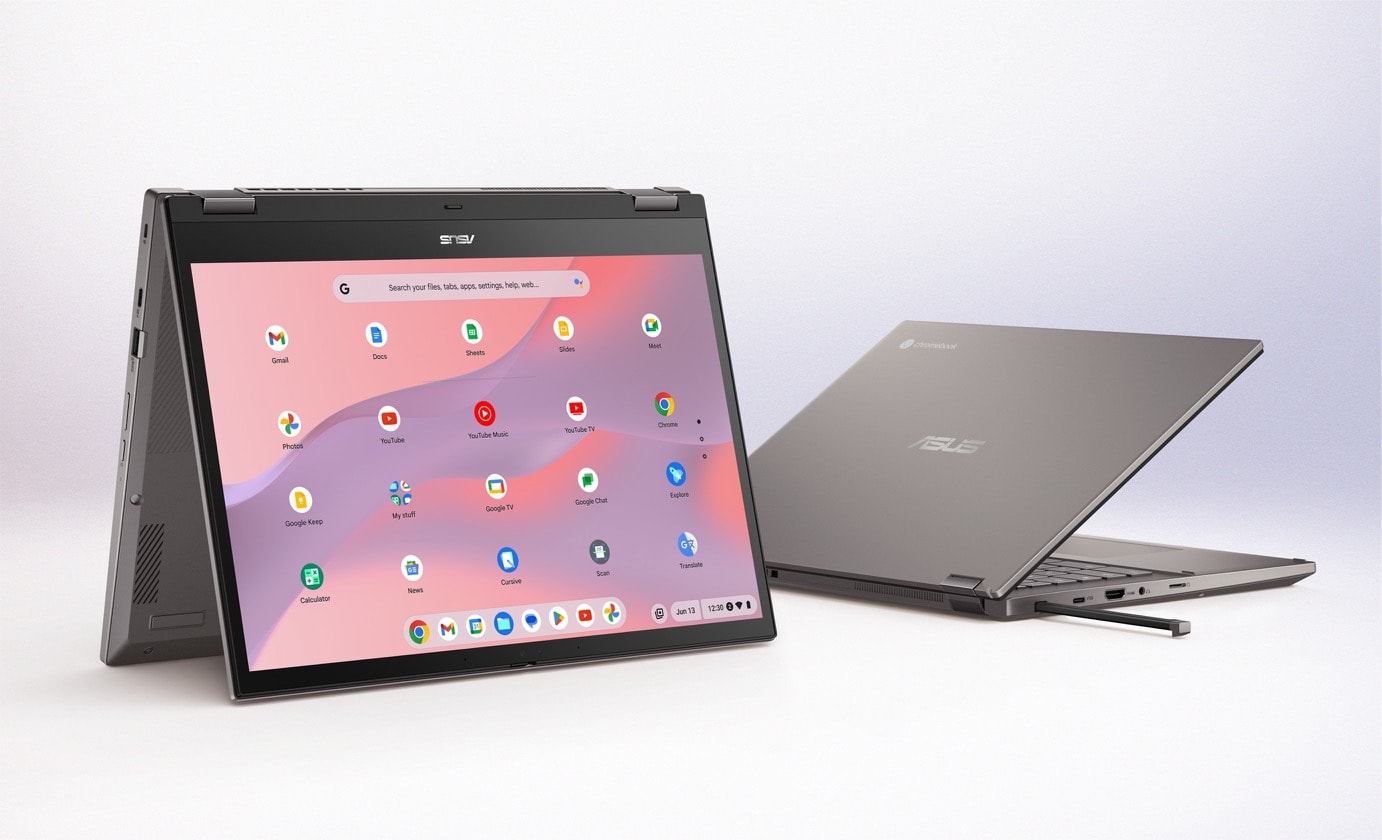 The 14-inch, 16:10 ASUS Chromebook CX34 Flip offers an exquisite blend of powerful performance and versatility to empower the way you work and play. This stylish laptop features a robust Intel
®
Core
™
processor, WiFi 6E and a long-lasting battery to ensure you're well-equipped to breeze through everyday tasks, wherever you are. Thanks to a 360
°
ErgoLift hinge, you can use ASUS Chromebook CX34 Flip in any mode, and an optional garaged stylus
1
allows for intuitive input when it's time to jot down notes. To top it all off, military-grade durability gives you peace of mind when using ASUS Chromebook CX34 Flip on the go.
Design
Stylish versatility, with 360° hinge
ASUS Chromebook CX34 Flip features an eye-catching new color – Zinc — that enhances its stylish aesthetic. Its precision-engineered 360° ErgoLift hinge offers smooth movement and securely holds the display at any angle, plus it lifts and tilts the keyboard into the most comfortable typing position.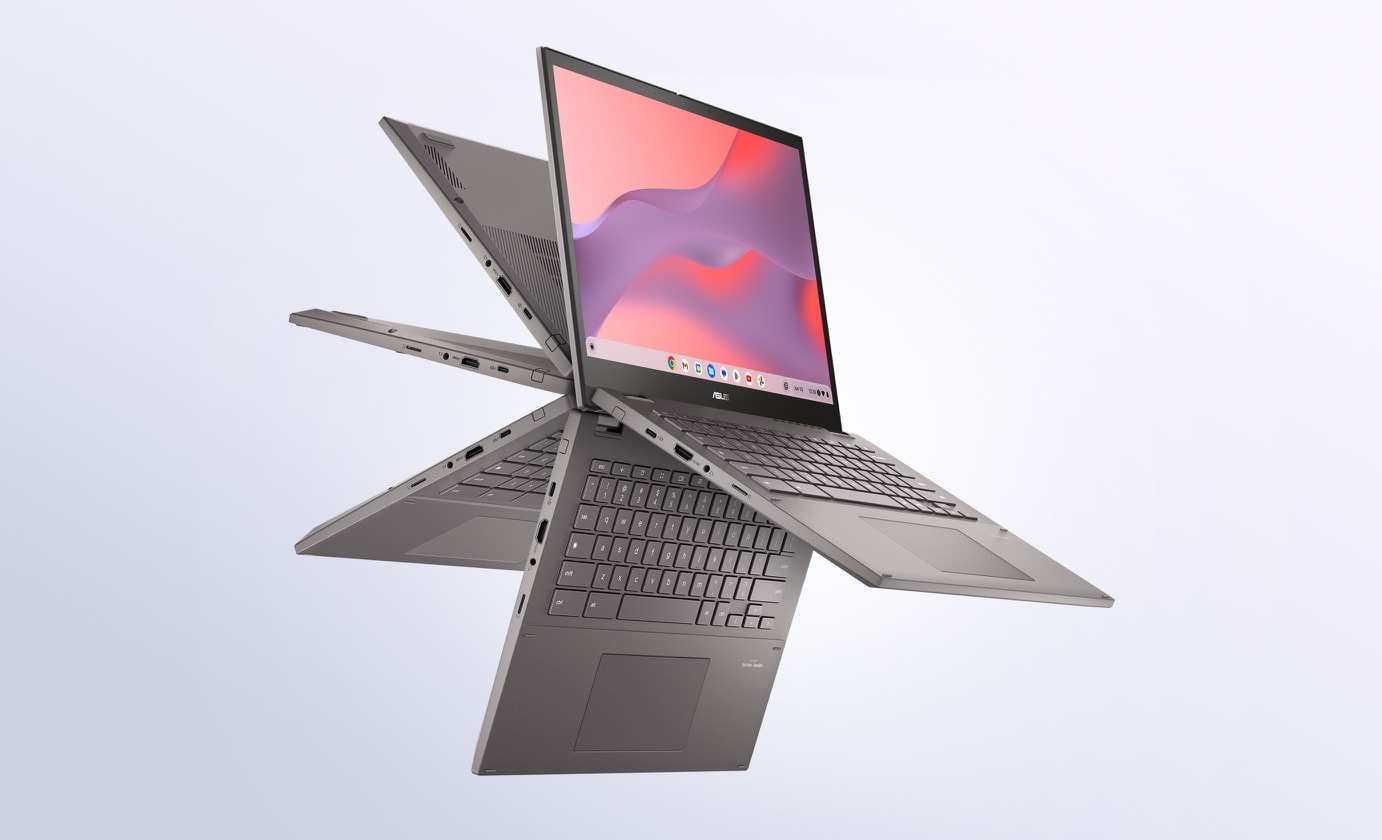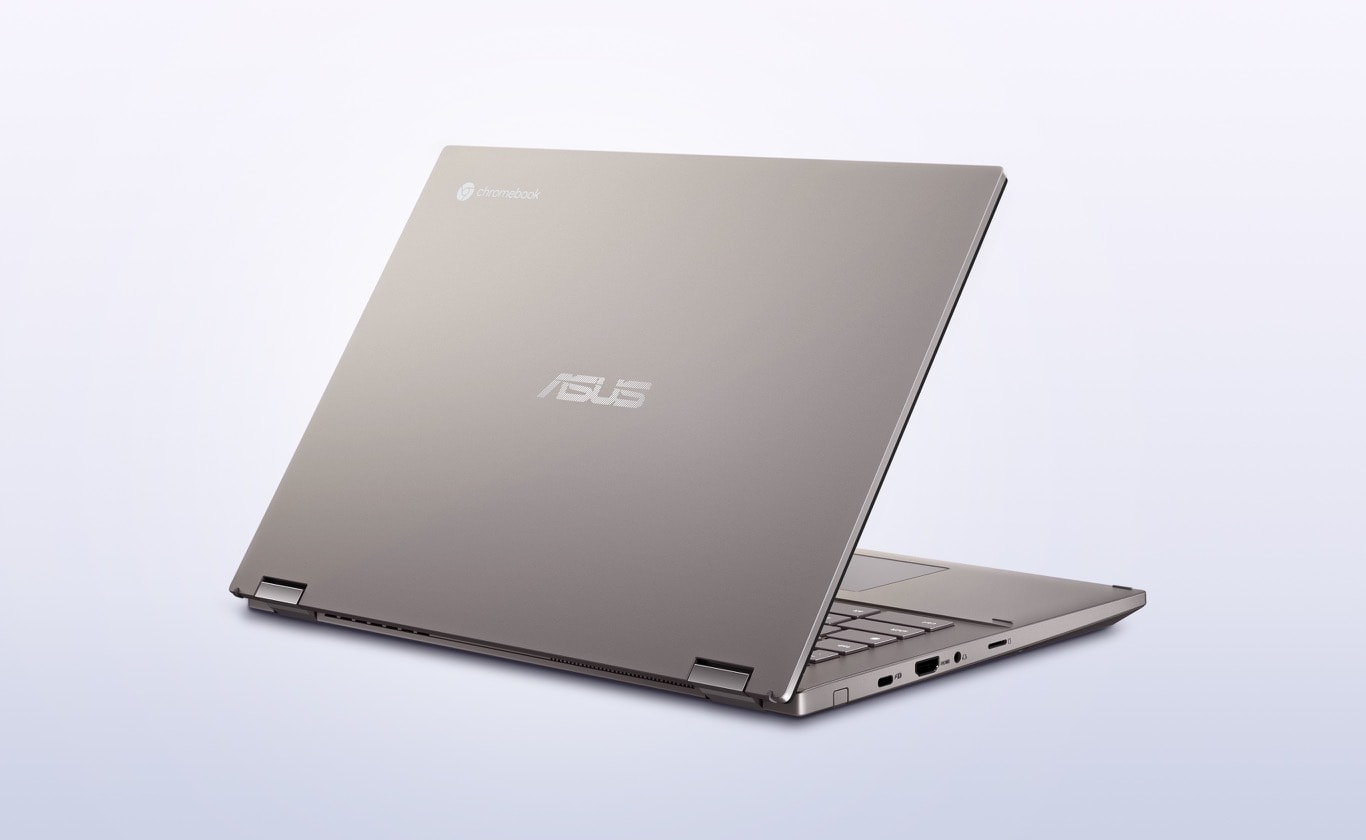 Performance
The power to stay productive
Powered by up to a 12th Gen Intel
®
Core
™
i7 processor with 16 GB of memory, and featuring a superfast, large-capacity PCIe
®
SSD, ASUS Chromebook CX34 Flip delivers the performance and responsiveness required for incredible productivity. What's more, you can get everything done on Google Workspace, or download countless productivity and entertainment apps via Google Play
2
. ASUS Chromebook CX34 Flip runs for up to 10 hours
3
on a single charge, so you can work or play throughout the day, even when you're on the move.
12th Gen
Intel® Core™ i7 CPU
Display
Seamless visuals for focused workflows
ASUS Chromebook CX34 Flip delivers seamless visuals for boundless productivity. The three-sided NanoEdge display maximizes screen area, and a 16:10 aspect ratio provides a boost in vertical space compared with 16:9 panels, making viewing experiences more immersive.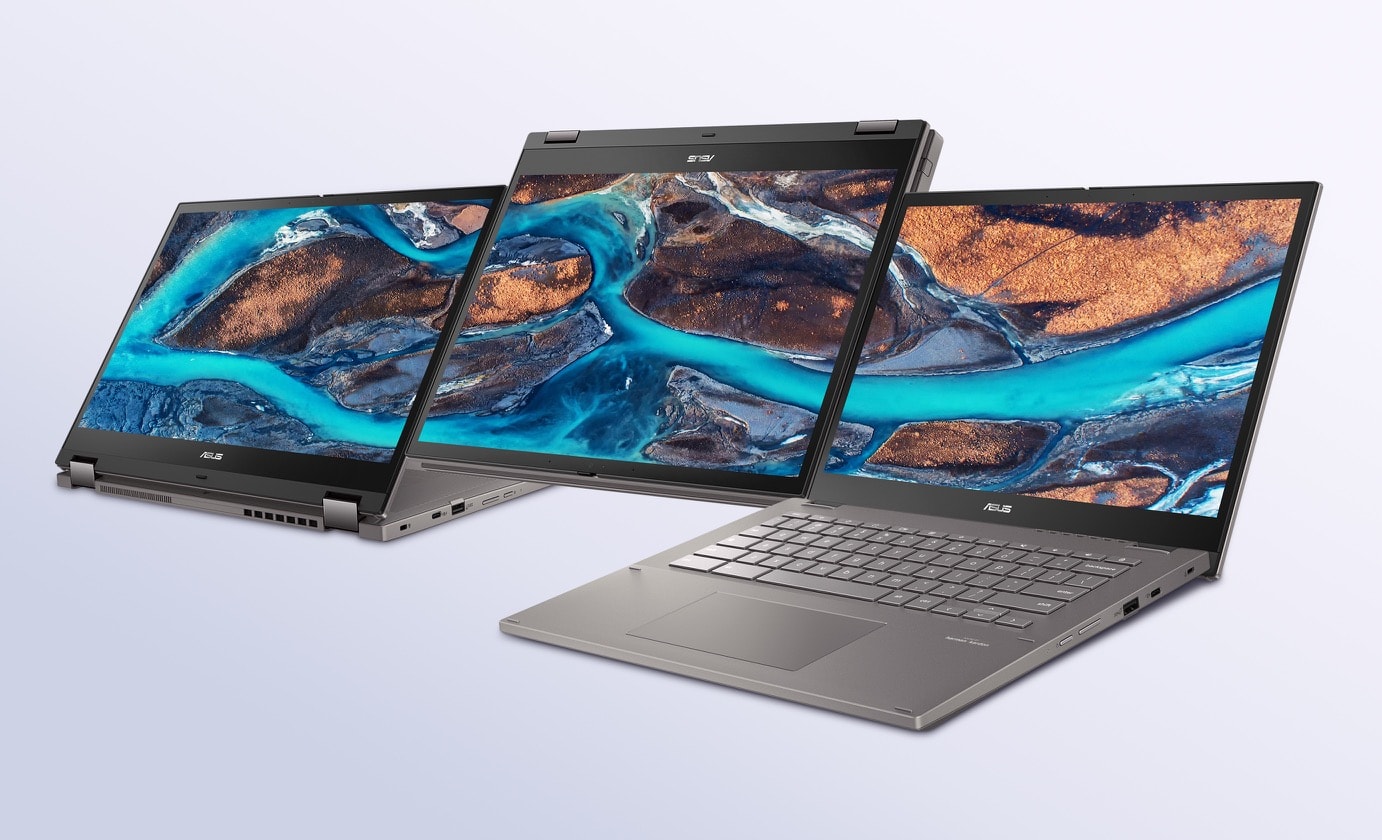 Garaged Stylus
A touch of genius
The bundled stylus
1
quickly and automatically charges when garaged — only 15 seconds of charging provides up to 45 minutes of use — so it's safely stored and always ready for use. The stylus offers a quick, precise and intuitive way to unleash your creativity and productivity: take notes, sketch or jot down those "Aha!" moments whenever innovative ideas strike.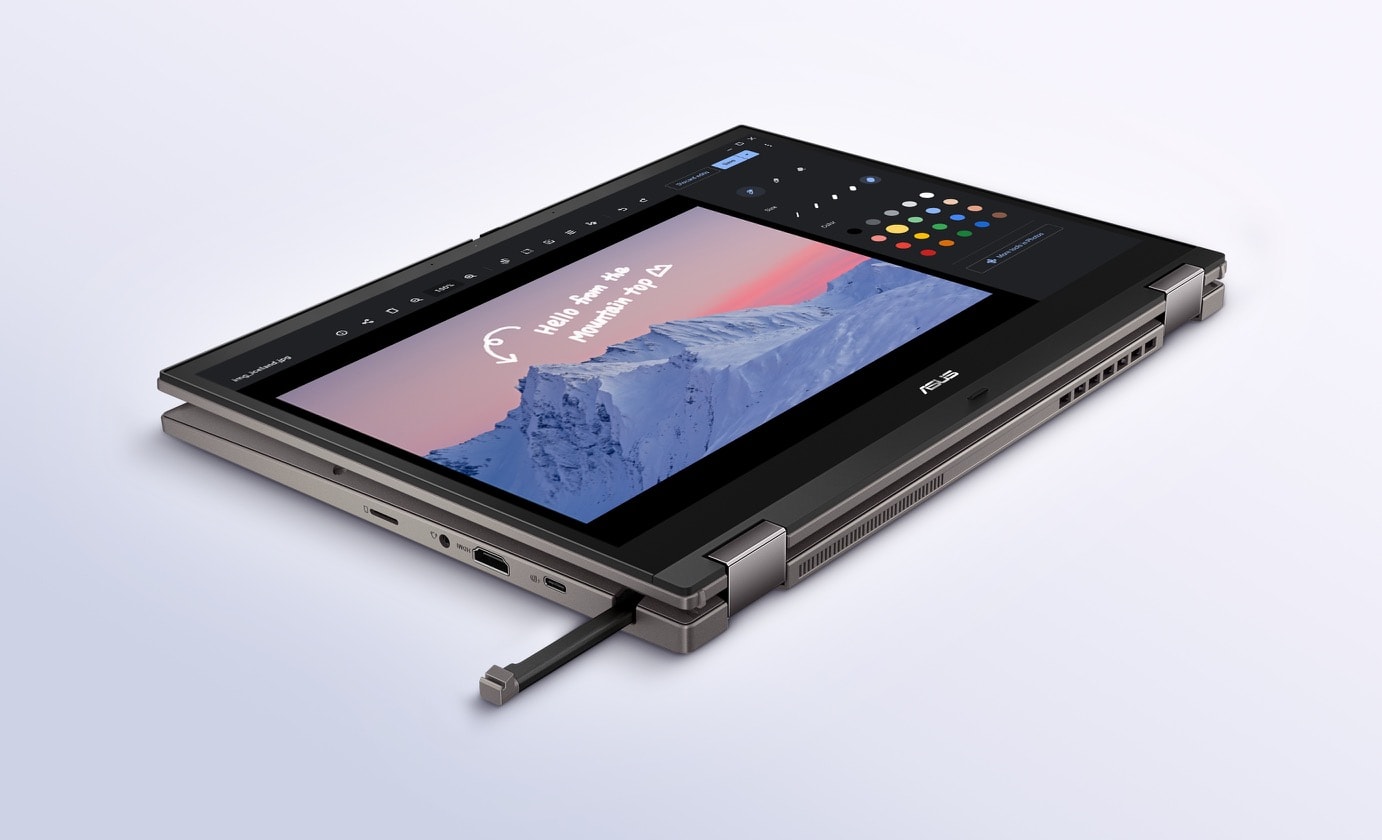 15 sec
fast charge for 45 minutes of use
Camera
Privacy when you need it
An HD webcam ensures high-quality visuals when taking pictures or videoconferencing. When not in use, the webcam can be easily hidden behind a retractable cover that's design for privacy. Simply slide it open when you need the camera, and close it again when you're finished.
Durability
Ready for action
With structural reinforcements to boost chassis strength, ASUS Chromebook CX34 Flip is built to provide toughness that suits on-the-go lifestyles.
ASUS Chromebook CX34 Flip meets industry-leading US MIL-STD 810H testing standards
4
, which are more rigorous and demanding than ever before.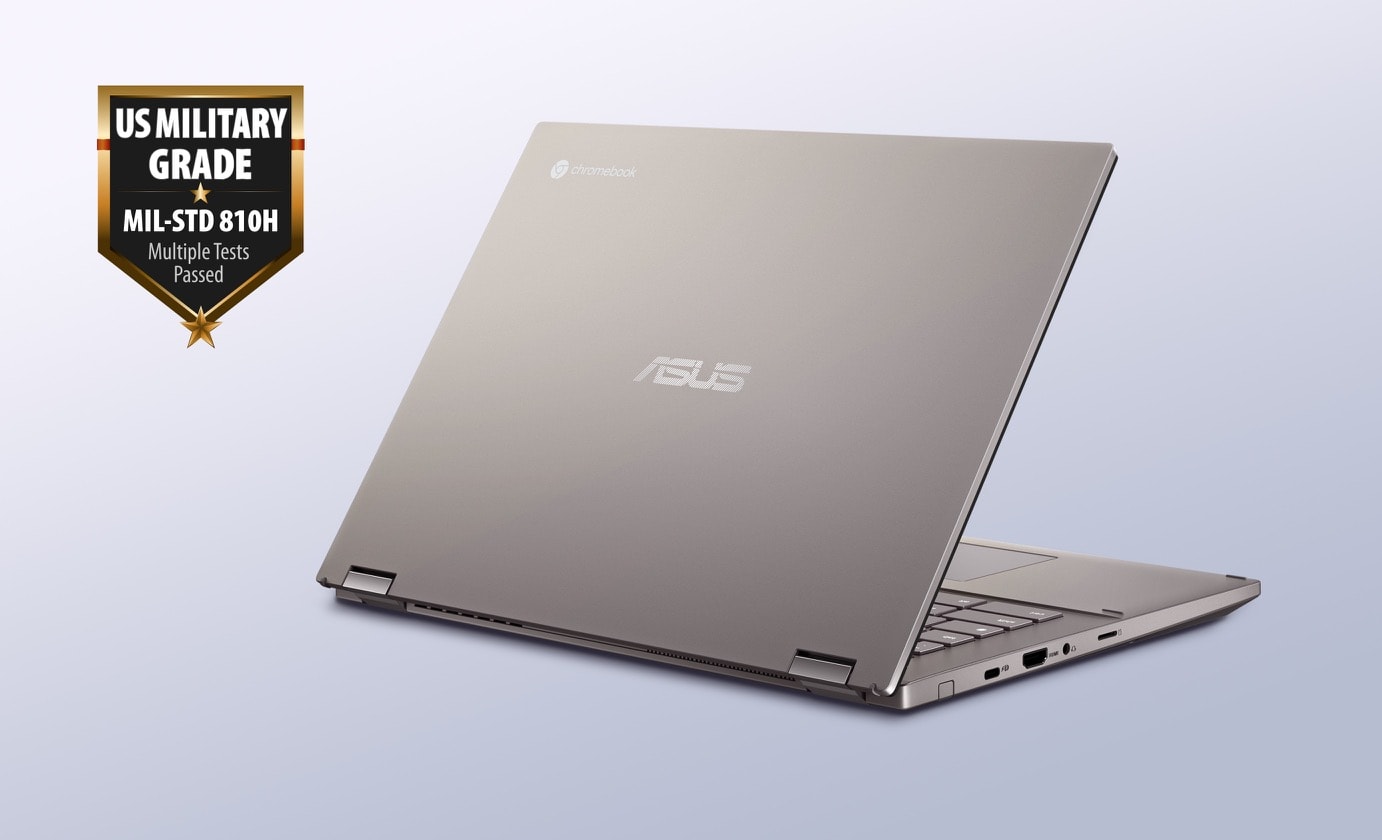 Shock test
Withstands 18 harsh shocks in each direction at a force of 40 G / 11 ms while powered on.
Altitude test
Operates as normal at 15,000 feet to simulate an aircraft cargo hold and in-flight operation
Vibration test
Withstands 10-500 Hz physical vibrations in multiple directions for 60 minutes.
Thermal shock test
Endures temperature changes of -51°C to 71°C for an hour through 3 cycles.
Keyboard
Ultimate typing experiences
From its keyboard to its touchpad, typing and cursor control on ASUS Chromebook CX34 Flip is a pleasant experience, thanks to a host of features and improvements that enhance productivity and comfort. ASUS Chromebook CX34 Flip has a full‑sized backlit keyboard that offers 1.4 mm key travel for more comfortable typing. The backlit keyboard lets you type effortlessly in dark environments like dimly-lit cafes or aircraft cabins. In addition, the keyboard, touchpad and palm rest are protected by ASUS Antimicrobial Guard
5
, which is scientifically proven to inhibit bacterial growth by up to 99% over a 24-hour period to keep your Chromebook hygienic.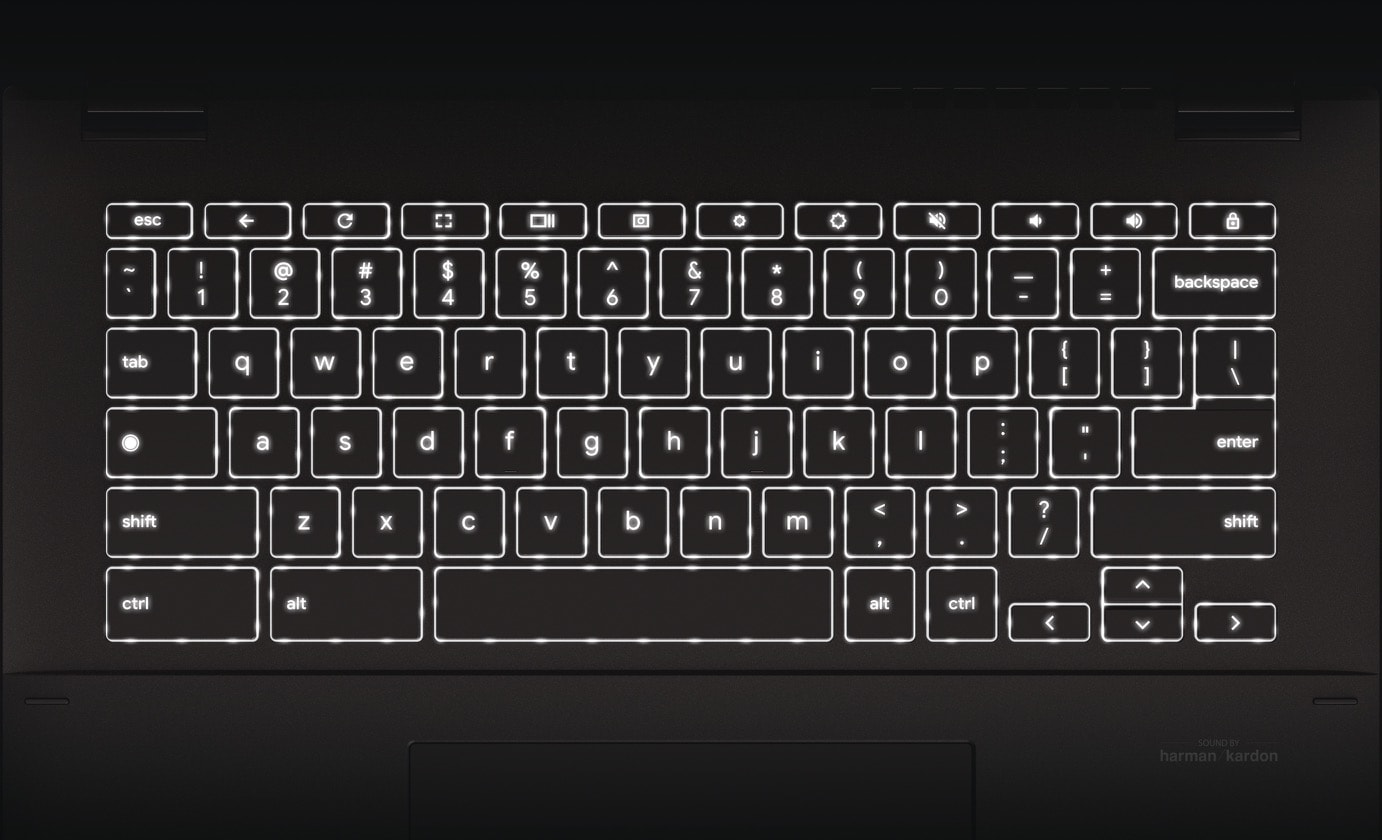 WiFi
Faster, more stable connections
Tested and certified with ASUS WiFi Master for ChromeOS
6
, ASUS Chromebook CX34 Flip features a WiFi 6E chip that allows you to load online content in the blink of an eye. Connections are made even better by ASUS technologies that enhance speed, stability and range ― so you can enjoy fast, high-quality connections from anywhere!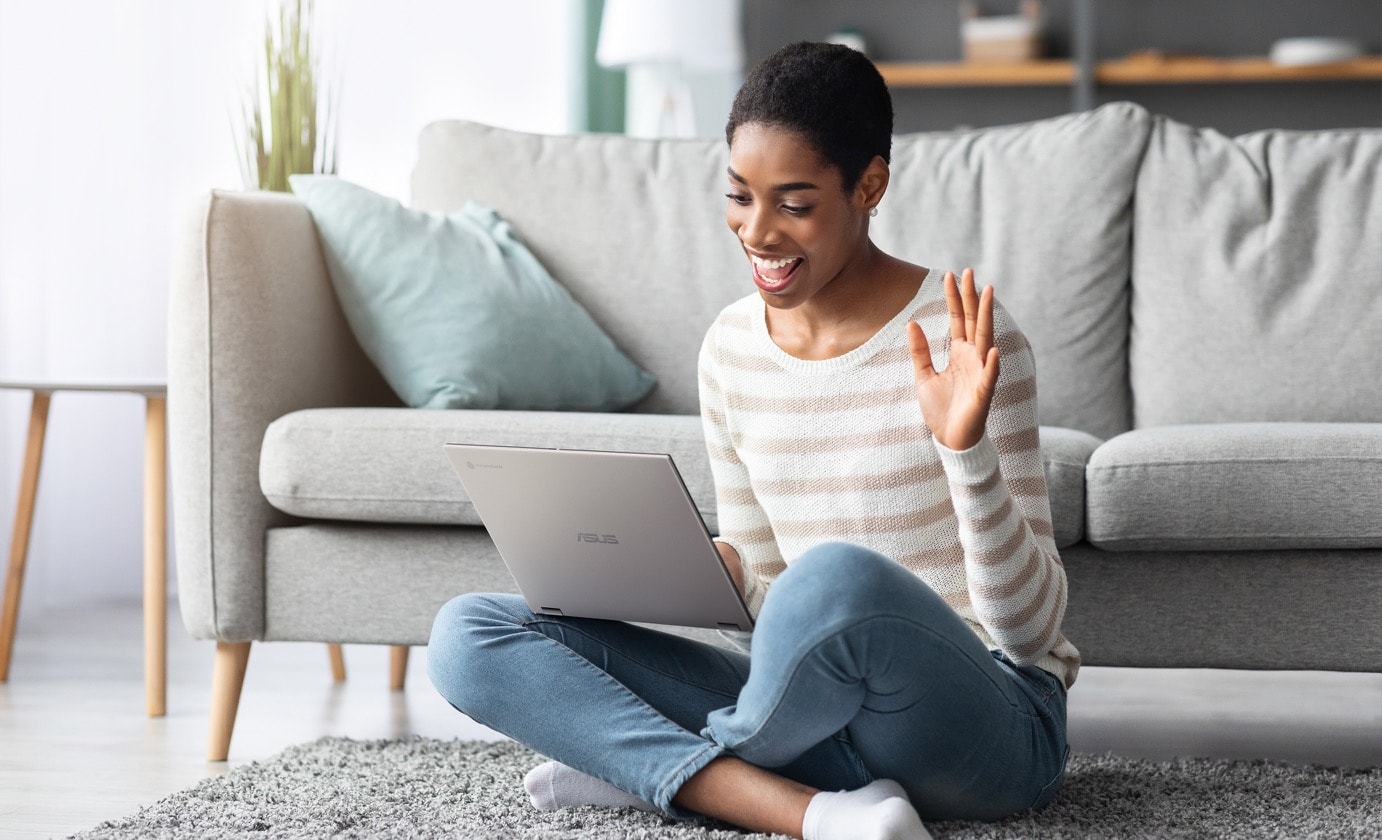 Connectivity
USB-C and HDMI for flexible connectivity
ASUS Chromebook CX34 Flip provides seamless connectivity with two full-function, reversible USB-C® 3.2 Gen 2 ports, making it easy to charge devices, stream media, or connect with peripherals. An HDMI® 2.1 port provides the option to connect a 4K display. There's also a microSD card reader to enable extra storage for maximum convenience and compatibility.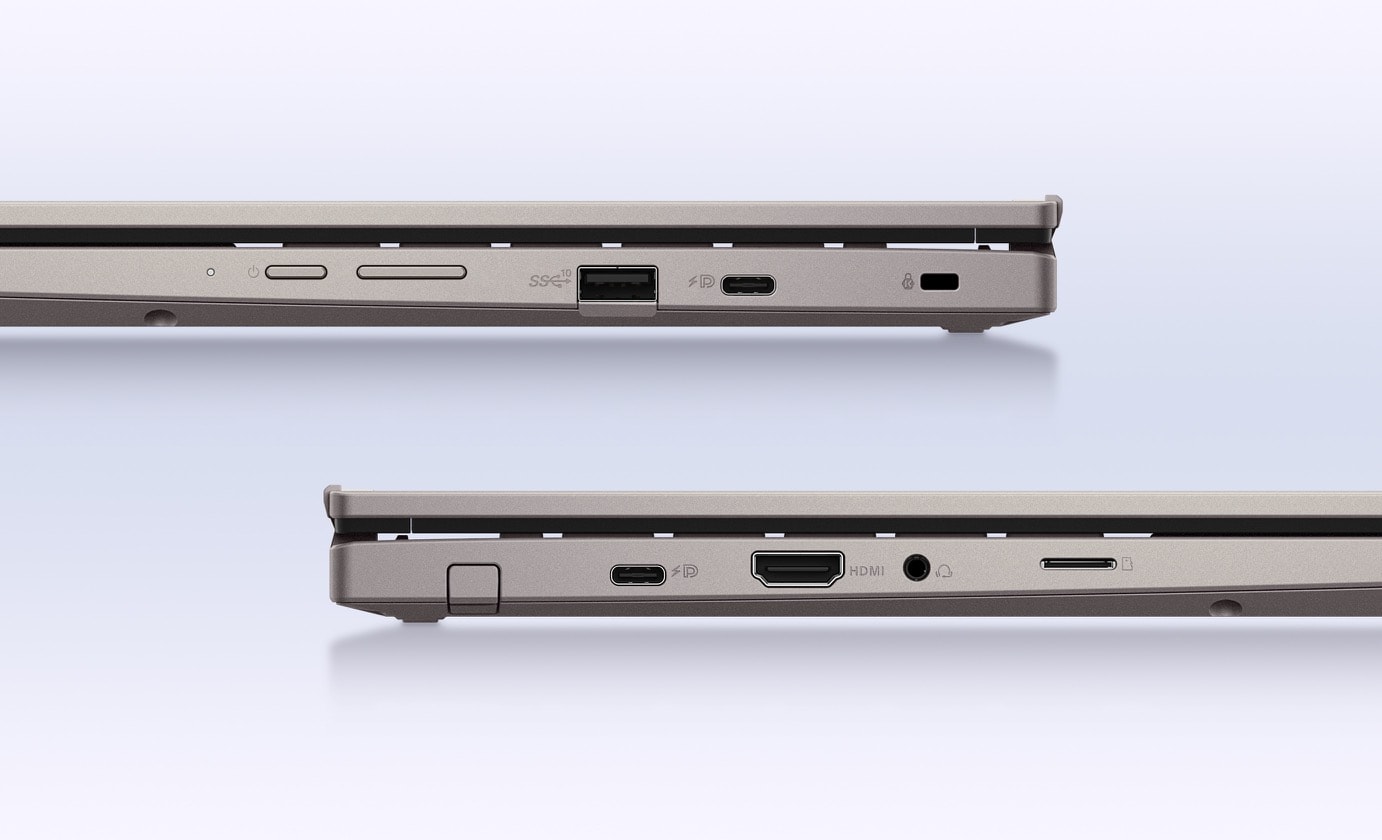 2 x USB-C® 3.2 Gen 2
1 x USB 3.2 Gen 2 Type-A
1 x microSD card reader
1 x HDMI® 2.1
1 x audio jack
1 x Kensington lock slot
ChromeOS
Enjoy the best of Google
It doesn't get better than ChromeOS. For both work and play, ASUS Chromebook CX34 Flip is your gateway to the very best of Google. You'll enjoy full access to Google Play
2
and find apps designed for productivity, creativity, and entertainment.
Easy access to apps on Google Play
With Google Play
2
, you can access a rich library of apps, games, music, movies, TV, books and more, all from your device. ASUS Chromebook CX34 Flip opens a whole new world of freedom!
Built-in security features
ASUS Chromebook CX34 Flip provides automatic updates
8
and built-in virus protection, seamlessly keeping your device safe, secure and always up to date. It is also built around the rock-solid security of your personal Google Account, so all your private documents, emails, photos and confidential data are kept safe at all times.
Google One with 100 GB of cloud storage
Your ASUS Chromebook CX34 Flip purchase entitles you to a 12-month subscription of Google One
9
. The membership includes 100 GB of storage across Google Drive, Gmail and Google Photos, as well as access to Google experts and extra member benefits — all in one shareable family plan.​
Activate your Google One offer
The garaged stylus is optional.
Internet connection required. Google, Google Play, Chrome and Chromebook are trademarks of Google LLC.
Based on Chromium OS power Load Test. Battery performance is based on a mix of standby, web browsing and other uses. Charging time requires the battery to be at least 5% charged, with the device inactive and using the included charger. Actual battery life depends on usage, specifications, applications and environment, among other factors.
The testing regime includes the requirements of military-grade standards, and varies depending on device. MIL-STD-810 testing is conducted on selected ASUS products only. Note that the MIL-STD-810 testing helps to ensure the quality of ASUS products but does not indicate a particular fitness for military use. The test is performed under laboratory conditions. Any damage caused by attempts to replicate these test conditions would be considered accidental, and would not be covered by the standard ASUS warranty. Additional coverage is available with ASUS Premium Care.
The antimicrobial treatment is tested by an independent third-party laboratory according to the ISO 22196 standard (measurement of antimicrobial activity on plastics and other non-porous surfaces), using bacterial cultures that include Escherichia coli and Staphylococcus aureus, with antimicrobial activity (R) result of R > 2. R = 2 indicates a 99% reduction in bacterial activity compared to an untreated surface. The antimicrobial treatment is registered by the US EPA and authorized under EU BPR.
ASUS Chromebook CX34 Flip is certified with ASUS WiFi Master for ChromeOS. Devices with this certification offer enhanced WiFi stability when a USB 3.2 Gen 2 interference is present, allowing users to stream smoothly when they are up to 225 meters away from a router. The 6 GHz band availability varies according to country.
Unless otherwise stated, WiFi speeds are based on theoretical performance. Actual performance may vary.
Auto-updates and auto-backup require an internet connection. Chromebook software updates generally arrive every 4-6 weeks but are occasionally delayed to ensure optimal user experience upon rollout.
Google One availability varies according to country. Please check with your local ASUS retailer for details.