ASUS Chromebook Vibe CX34 Flip (CX3401, 12th Gen Intel)
ASUS Chromebook Vibe CX34 Flip (CX3401, 12th Gen Intel)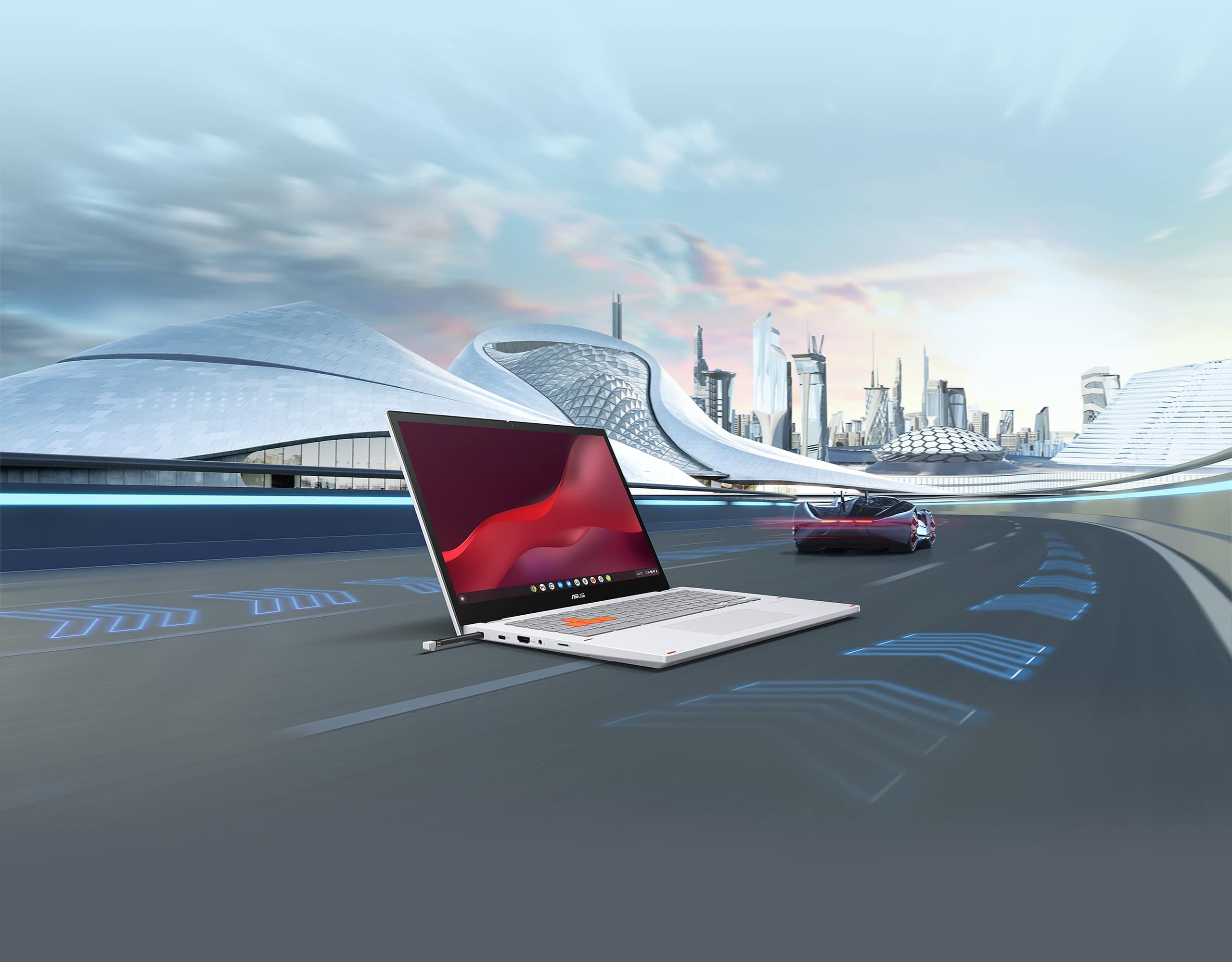 Cloud gaming soars to new heights
ASUS Chromebook Vibe CX34 Flip pairs incredibly realistic visuals and exceptional performance to deliver unmatched cloud gaming experiences and nonstop productivity on the go. This remarkable device features an immersive 16:10, 144 Hz WUXGA display, an anti-ghosting keyboard with four-zone RGB lighting
1
, and ultrafast WiFi 6E technology. ASUS Chromebook Vibe CX34 Flip has a durable chassis and a distinctive look that includes exclusive orange-accented WASD keycaps that add flair. Get the most out of the new cloud gaming and work-from-home era with ASUS Chromebook Vibe CX34 Flip ― use it to access over 1000 games through cloud gaming platforms like NVIDIA GeForce NOW
2
and Xbox Cloud Gaming
3
.
CRAFTSMANSHIP
Remarkable design
ASUS Chromebook Vibe CX34 Flip boasts refined aesthetics with an eye-catching all Pearl White design, a striking silver ASUS logo, and finishing touches that include contrasting orange-accented WASD keycaps that will appeal to gamers.
DISPLAY
Fast, fluid visuals
Exceptional gaming and entertainment experiences demand crisp, smooth visuals. That's why ASUS Chromebook Vibe CX34 Flip packs a fast 144 Hz WUXGA touchscreen display that delivers vivid, true-to-life imagery without motion blur and lag, drawing you into vast virtual worlds. The 16:10, three-sided NanoEdge panel results in a higher screen-to-body ratio to maximize display area for even greater levels of immersion.
CLOUD ENTERTAINMENT
Exceptional cloud gaming experiences
Entertainment is about exploring new horizons, ASUS Chromebook Vibe CX34 Flip supports powerful PC and console gaming through the cloud ― so you can play your game your way. Experience high-performance PC gaming with stunning visuals and ultralow latency. Stream from the world's most powerful gaming supercomputer, the NVIDIA GeForce NOW SuperPod, and play games at a supersmooth 120 frames per second with cutting-edge graphics features like ray-tracing and more. Take advantage of ChromeOS and its intuitive interface to gain instant access to your favorite games.
WIFI
Faster, more stable connections
ASUS Chromebook Vibe CX34 Flip offers dual-band WiFi 6E (802.11ax) technology with the 6 GHz band for strong, stable signals and superfast speeds, allowing you to load online content in the blink of an eye. ASUS Chromebook Vibe CX34 Flip is made even better by ASUS WiFi Master for ChromeOS
6
, which ensures greater speed, stability and range to help you stay connected anywhere even while on the go.
360˚ HINGE
Precision-engineered for versatility
The precision-engineered 360° ErgoLift hinge on ASUS Chromebook Vibe CX34 Flip smoothly adjusts and secures the display at any angle. The hinge lifts and tilts the keyboard into the perfect typing position when the display is rotated into laptop mode. This mode also creates extra space underneath the laptop to enhance the audio and allow more airflow to cool the underside of the chassis.
STYLUS
A stroke of genius
The stylus
8
is a quick, precise way to unleash your creativity for play and productivity, giving you more intuitive control for work and entertainment. You can take notes, sketch, or jot down those "Aha!" moments whenever innovative ideas strike. What's more, it quickly and automatically charges when garaged — only 15 seconds of charging provides up to 45 minutes of use.
15 sec
charge for 45 minutes of use
KEYBOARD
Focused control
From its striking keyboard to its touchpad, typing and cursor control on ASUS Chromebook Vibe CX34 Flip is an intuitive experience, thanks to a host of features that enhance productivity and comfort during extended gaming sessions.
It's easy to create a look that's unique to your ASUS Chromebook Vibe CX34 Flip. Switch it up and customize the keyboard RGBs to vivid pink, purple, cyan ― or go wild with a multi-color
1
setup.
PERFORMANCE
Outstanding performance and durability
Powered by up to a 12th Gen Intel Core i7 processor and 16 GB of memory, ASUS Chromebook Vibe CX34 Flip delivers performance and responsiveness to empower users with the ultimate device for cloud gaming and productivity. Easy access to Google Workspace apps and other productivity apps on Google Play
10
let you breeze through projects or enjoy entertainment on the go, and a spacious PCI Express
®
SSD gives you fast-access storage. The laptop runs for up to 10 hours
11
on a single charge, so you can work or play throughout the day ― even when you're on the move.
ASUS Chromebook Vibe CX34 Flip meets the ultra-demanding MIL-STD 810H
12
standard, passing stringent testing to ensure reliability and durability.
SOUND
Dynamic audio
ASUS Chromebook Vibe CX34 Flip packs excellent audio into its thin, light design. With high-quality stereo speakers and extra-large resonant chambers that generate high-fidelity audio, it delivers enveloping surround-sound effects. Crisp, powerful audio gives you immersive listening experiences when gaming, streaming music and videos.
CONNECTIVITY
USB-C® and HDMI for flexible connectivity
ASUS Chromebook Vibe CX34 Flip provides seamless connectivity for expanding possibilities. Two full-function, reversible USB-C® 3.2 Gen 2 ports make it easy to charge devices, stream media, or connect with peripherals. An HDMI® 2.1 port provides the option to connect a 4K display. There's also a microSD card reader to enable extra storage for maximum convenience and compatibility.
The keyboard color is based on the Google gaming keyboard UI, it cannot be customized or adjusted.
GeForce NOW is currently available in over 80 countries in North America, Europe and in various parts of the world through the GeForce NOW Partner Alliance. Visit the server status page (https://status.geforcenow.com/) for a list of available servers and their current status, or the knowledge base article (https://nvidia.custhelp.com/app/answers/detail/a_id/5023) for a list of supported countries and GeForce NOW Partner Alliance details.
Visit xbox.com/regions for details on market availability.
Gaming mouse redemption in-store or online, depending on the country (based on availability & logistics), Redemption method varies by retailer/etailer. The offer will run for a limited 6-week period.
Open to participants who have purchased an eligible Chromebook between September 27, 2022 and August 27, 2023, or while supplies last. Limited to 1 redemption per eligible Chromebook device. Promotional trials may be canceled at any time before the trial period is over. Additional terms apply.
ASUS Chromebook Vibe CX34 Flip is certified with ASUS WiFi Master for ChromeOS. Devices certified with WiFi Master for ChromeOS feature WiFi 6E and offer enhanced WiFi stability when a USB 3.2 Gen 2 interference is present, allowing users to stream smoothly when they are up to 225 meters away from a router. The 6 GHz band availability varies according to country.
Unless otherwise stated, WiFi speeds are based on theoretical performance. Actual performance may vary.
The garaged stylus is optional.
The antimicrobial treatment is tested by an independent third-party laboratory according to the ISO 22196 standard (measurement of antimicrobial activity on plastics and other non-porous surfaces), using bacterial cultures that include Escherichia coli and Staphylococcus aureus, with antimicrobial activity (R) result of R > 2. R = 2 indicates a 99% reduction in bacterial activity compared to an untreated surface. The antimicrobial treatment is registered by the U.S. EPA and authorized under EU BPR.
Internet connection required. Google, Google Play, Chrome and Chromebook are trademarks of Google LLC.
Based on Chromium OS power Load Test. Battery performance is based on a mix of standby, web browsing and other use. Charging time requires the battery to be at least 5% charged, with the device inactive and using the included charger. Actual battery life depends on usage, specifications, applications and environment, among other factors.
The testing regime includes the requirements of both military-grade standards and ASUS quality tests, and varies depending on device. MIL-STD-810 testing is conducted on selected ASUS products only. Note that the MIL-STD-810 testing helps to ensure the quality of ASUS products but does not indicate a particular fitness for military use. The test is performed under laboratory conditions. Any damage caused by attempts to replicate these test conditions would be considered accidental, and would not be covered by the standard ASUS warranty. Additional coverage is available with ASUS Premium Care.