Intel LGA-1151 ATX mining motherboard with support for 20 graphics cards, easy troubleshooting, and simplified setup
Leading GPU-support for mining: Support for up to 20 graphics cards
USB ports for PCIe raiser cards: Equipped with USB ports designed specifically for PCIe riser cards
GPU State Detection: Provides real-time status of each GPU in your rig
Farm-friendly labels: Clearly labelled slots, allowing easy identification of each GPU (in case of fault)
Easy to troubleshoot: Onboard LEDs for troubleshooting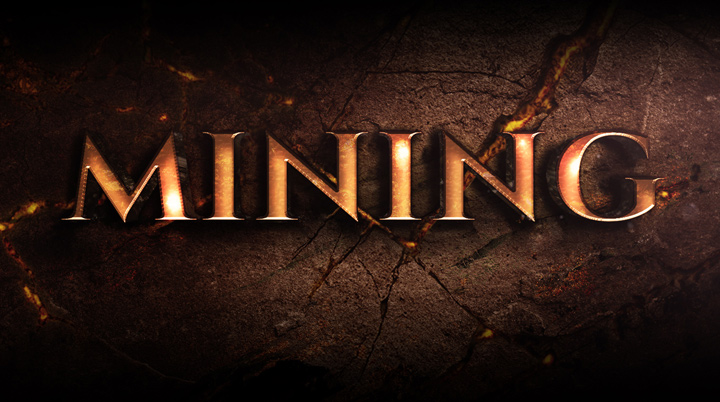 Following the success of the B250 Mining Expert motherboard, ASUS refined its winning formula for a second generation. The new H370 Mining Master motherboard increases GPU density with support for up to 20 graphics cards, simplifies connectivity by enabling USB riser cables to connect directly to the PCB, and reduces downtime by making problems easier to diagnose.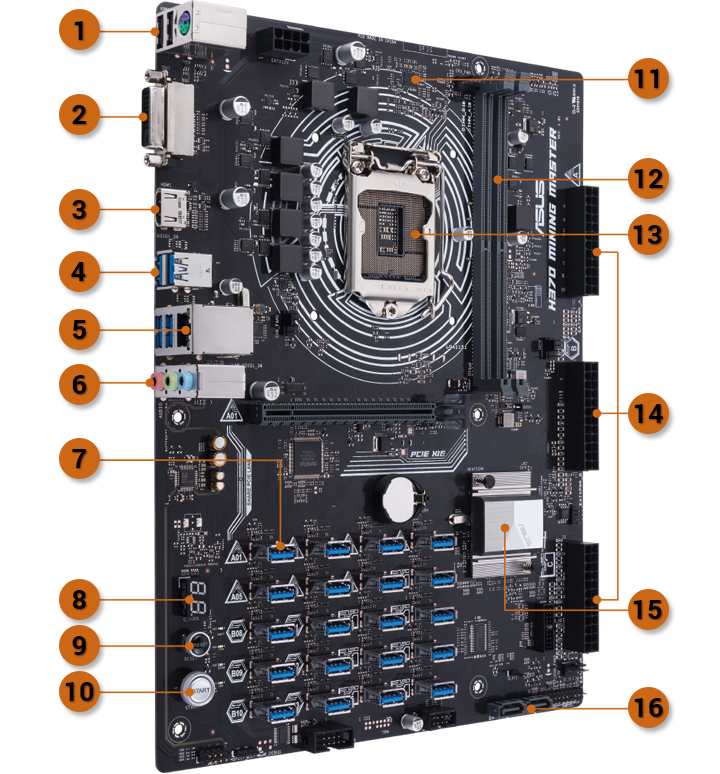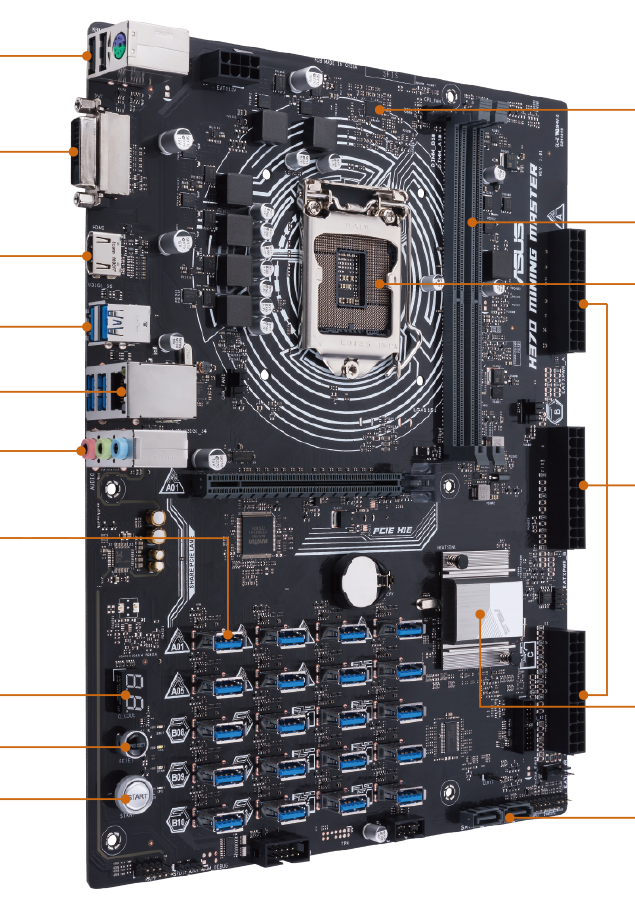 5 Intel® LAN

7
20 x Vertical USB ports
12
DDR4 2666/2400/2133 support
13 Support 14nm CPU
Intel® LGA1151 Socket
14 3 x 24-pin EATXPWR headers
15 Intel® H370 Chipset
Maximize efficiency, minimize downtime
The World's First 20-GPU Mining Motherboard
More GPUs for maximized efficiency
H370 Mining Master is the world's first mining motherboard that supports up to 20 graphics cards. With 20 PCIe-over-USB ports onboard and triple ATX12V plugs for connecting up to three PSUs simultaneously to power the motherboard, H370 Mining Master lets you run up to 20 NVIDIA and AMD GPUs in parallel to max out the megahash rate.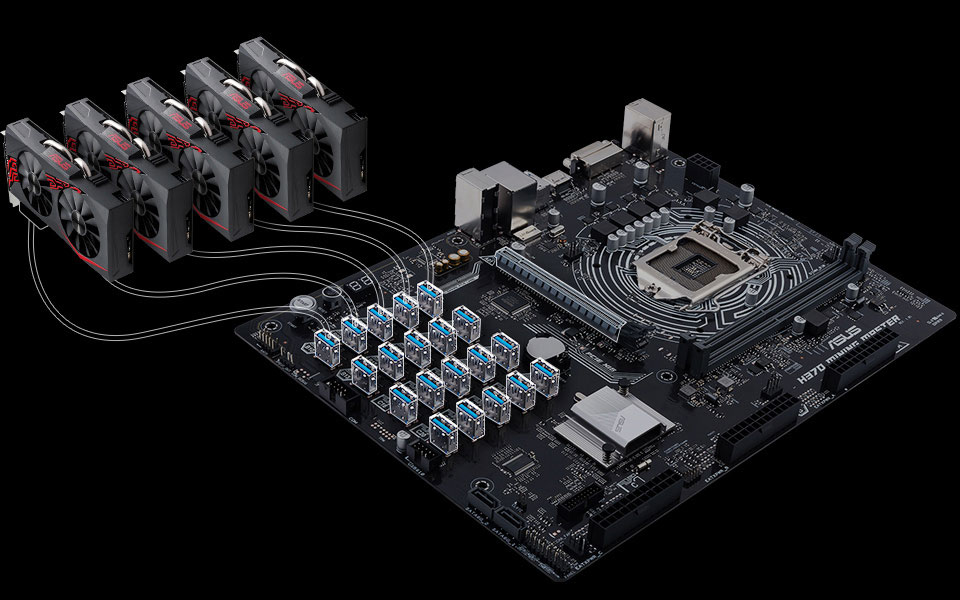 USB Ports for PCIe Riser Cards
GPU risers for mining systems typically consist of three pieces: the x16 slot for the graphics card, the PCIe x1 card that plugs into the motherboard, and the connecting USB cable. H370 Mining Master simplifies this chain with PCIe x1 slots featuring banks of vertical PCIe-over-USB ports that let riser cables plug directly into the motherboard.
This direct connection is sturdier than using a PCIe card, with less chance of inadvertent disconnects. It also reduces the total number of parts in your farm and cuts down on clutter for cleaner wiring.
*The vertical USB ports are made for riser cards and fed by PCIe lanes in the Intel H370 chipset, so they are incompatible with ASIC mining modules that require a true USB connection.
Triple-ATX12V Power Delivery
Engineered to deliver the power your graphics cards need
H370 Mining Master is engineered to provide all the power your GPUs demand, cleanly and efficiently. The 20 onboard USB ports for PCIe riser cards are grouped into three distinct zones, each powered by its own dedicated 24-pin ATX12V power connector. The ATX12V power connector reduces wiring complexity and ensures ample power delivery to all PCIe slots.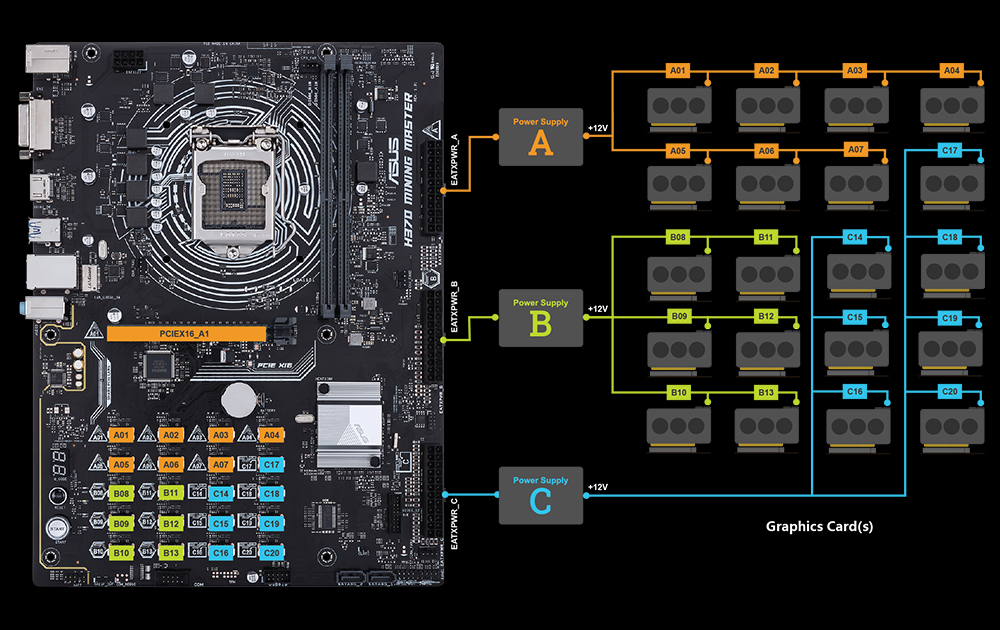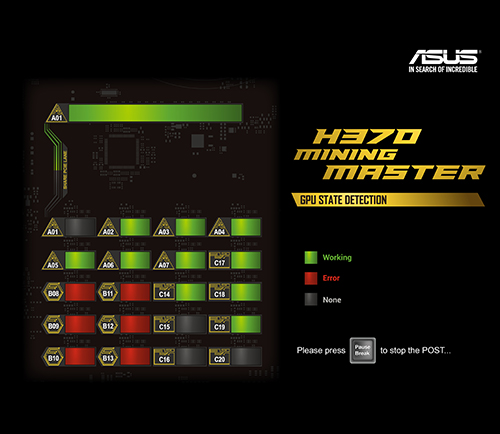 GPU State Detection and Farm-Friendly Labels
Easy management and debugging
GPU State Detection scans the system at boot and indicates whether each riser port is empty, connected to a functional graphics card, or experiencing problems. The updated State Detection GUI clearly identifies the location and status of each port along with the alphanumeric code that identifies it.
To further streamline troubleshooting, the board will ship with matching Farm-Friendly labels, which can be affixed to corresponding riser cards. You'll be able to quickly look at the labels to find flagged GPUs instead of being forced to trace the path of cables connected to affected ports.


Onboard diagnostics are augmented by individual debug LEDs that illuminate when there are problems with specific system components, like the CPU or memory. A two-digit POST code display identifies issues that interrupt the boot process, further simplifying the troubleshooting process, while integrated power and reset buttons make it easier to work with a bare board.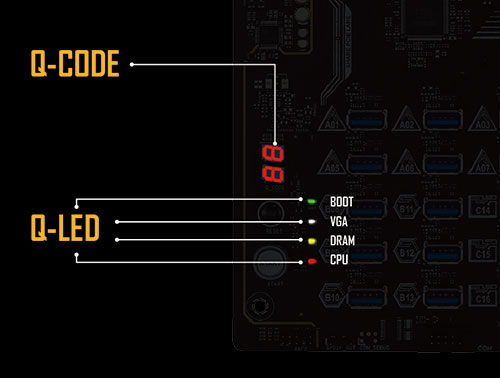 Mining Mode BIOS Optimization
H370 Mining Master has a special Mining Mode that's enabled by default, removing the hassle of having to make BIOS-level changes that are necessary to maximize mining performance. Mining Mode sets the PCI Express speed to PCIe 1.0 and disables the Compatibility Support Module, so you get the best stability and compatibility with no extra configuration needed.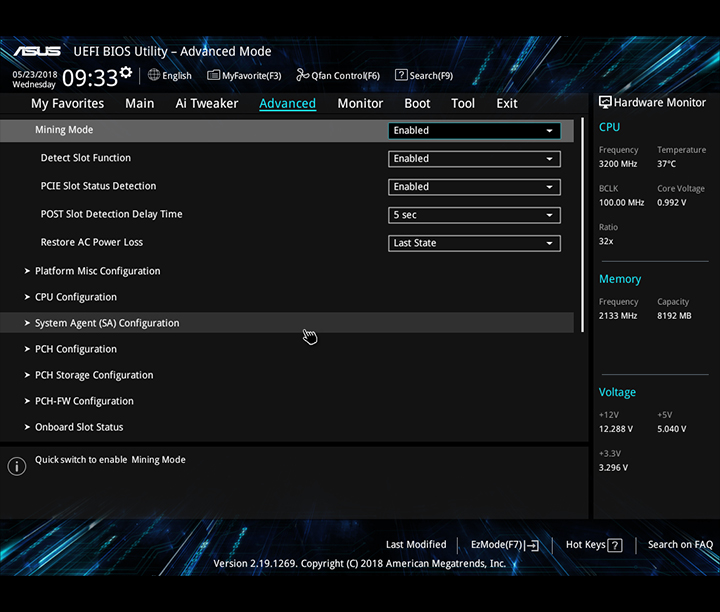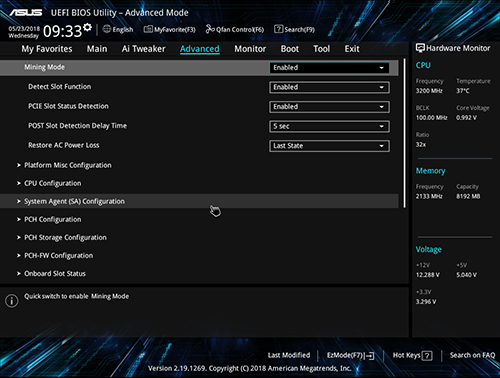 Intel CPU and Chipset features

Intel® H370 Chipset
The Intel® H370 is a single-chipset design that supports 8th Generation Intel® Core™ LGA1151 processors. It provides improved performance by utilizing serial point-to-point links, allowing increased bandwidth and stability. Additionally, the H370 chipset provides a maximum of four USB 3.1 Gen 2 ports, four USB 3.1 Gen 1 ports, six SATA 6Gbps ports, and 32Gbps M.2 and PCIe 3.0 lane-speed support, for faster data retrieval. Intel H370 also supports integrated-graphics, so you'll enjoy the very latest in graphics performance.



Ready for 8th Generation Intel LGA 1151 Core processors
This motherboard supports 8th Generation Intel® Core™ processors in the LGA1151 package, with integrated graphics, memory and PCI Express controllers to support onboard graphics output with dedicated chipsets, dual-channel (2-DIMM) DDR4 memory and 16 PCI Express 3.0/2.0 lanes for great performance.


Overview
Maximize efficiency, minimize downtime
Triple- ATX12V Power Delivery
Voltage-stabilization Capacitors
Easy-to-troubleshoot
Farm-friendly feature
Intel CPU and Chipset Features
Compare (0)