Product
ASUS ZenWiFi AC (CT8), ASUS ZenWiFi AX (XT8), DSL-AX82U, GT-AC5300, GT-AX11000, GT-AX11000 Pro, GT-AXE11000, ROG Rapture GT6, ROG Rapture GT-AC2900, ROG Rapture GT-AX6000 EVA Edition, ROG Rapture GT-AXE16000, ROG STRIX GS-AX3000, ROG STRIX GS-AX5400, RT-AC3100, RT-AC5300, RT-AC86U, RT-AC88U, RT-AX53U, RT-AX55, RT-AX56U, RT-AX57, RT-AX58U, RT-AX58U V2, RT-AX59U, RT-AX68U, RT-AX82U, RT-AX82U V2, RT-AX86S, RT-AX86U, RT-AX86U Pro, RT-AX88U, RT-AX89X, RT-AX92U, RT-AXE7800, TUF-AX3000, TUF-AX3000 V2, TUF-AX4200, TUF-AX4200Q, TUF-AX5400, ZenWiFi AX Hybrid (XP4), ZenWiFi ET8, ZenWiFi Mini AX XD4, ZenWiFi Pro ET12, ZenWIFI Pro XT12, ZenWiFi XD4S, ZenWiFi XD5, ZenWiFi XD6, ZenWiFi XD6S, ZenWiFi XT9
[VPN] How to set up a VPN server on ASUS router –IPSec VPN
What is a VPN?
Virtual Private Network : Virtual private networks encrypt your network connection, ensuring the secure transmission of important information and preventing your information from being stolen. Allows remote consumers (VPN clients) to securely connect to VPN servers.
VPN has a variety of connection methods, this article with Asus router support IPSec VPN servers to do the setup related to the introduction, and two other supported servers (PPTP VPN,OPENVPN) settings can refer to the following related FAQ. Recommendations can be selected based on the type of VPN supported by your appliance.
For PPTP VPN server settings, please refer to: [VPN] How to set up a VPN server on ASUS router – PPTP
For OpenVPN server settings, please refer to: [VPN] How to set up a VPN server on ASUS router – OpenVPN
The VPN servers supported by ASUS wireless routers vary by model, and it is recommended that you refer to the product user manual or the product specifications page to confirm that your router is supported. ASUS Download Center
The following setup steps take ZenWiFi XT8 as an example:
Step 1. Connect your computer to ASUS router via Wi-Fi or Ethernet cable.
Note: Wired connections to computer and router are recommended to avoid setup interruptions due to unstable wireless network signals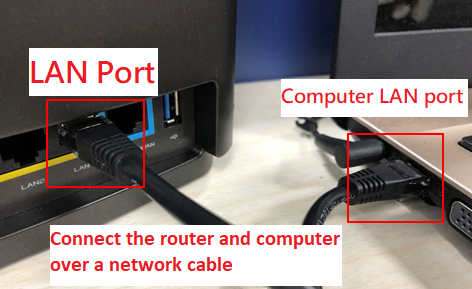 Step2: Open a web browser and navigate to Web GUI (http://www.asusrouter.com).
Enter your login username and password on the login page and then click [Sign In].

Note: Please refer to [Wireless Router] How to enter the router's GUI to learn more.
Step3: Go to [VPN] -> [VPN server] tab, Set Enable IPSec VPN Server as [ON]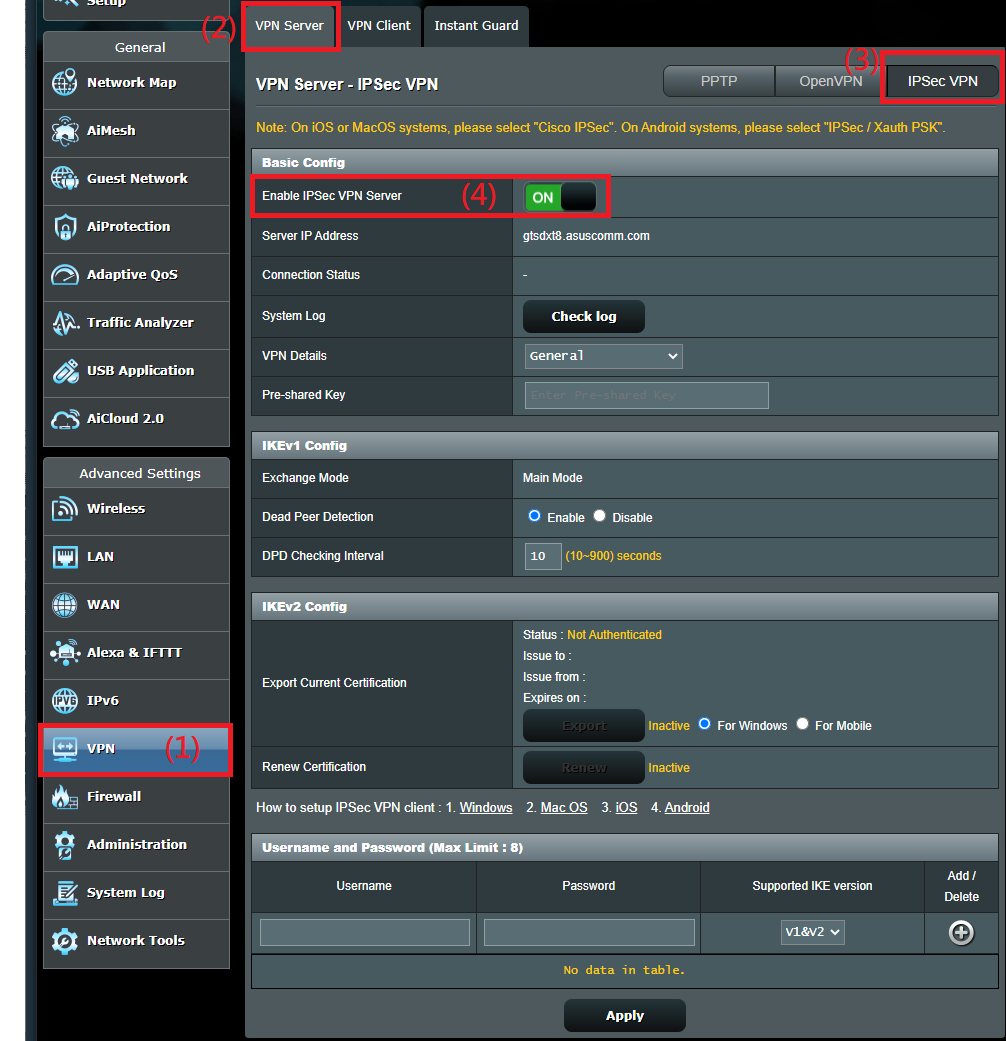 Step4: Fill in [Pre-shared key]
This key can be used for a combination of English and numbers of more than 8 words, and this key provides you with a vpn-connected client to connect to, increasing security.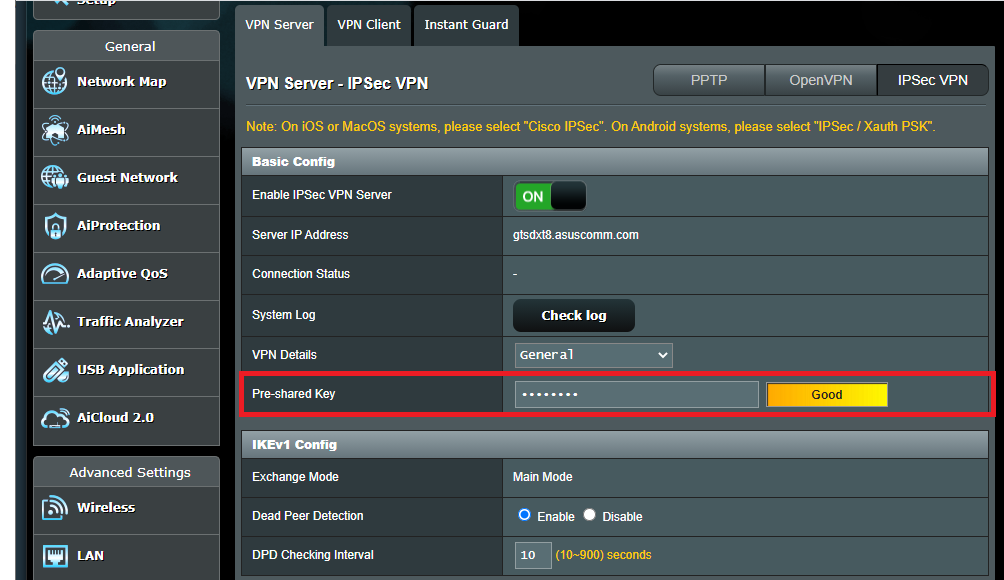 Step5: Enter [Username] and [Password],You can set up to eight different sets of user names and passwords to your clients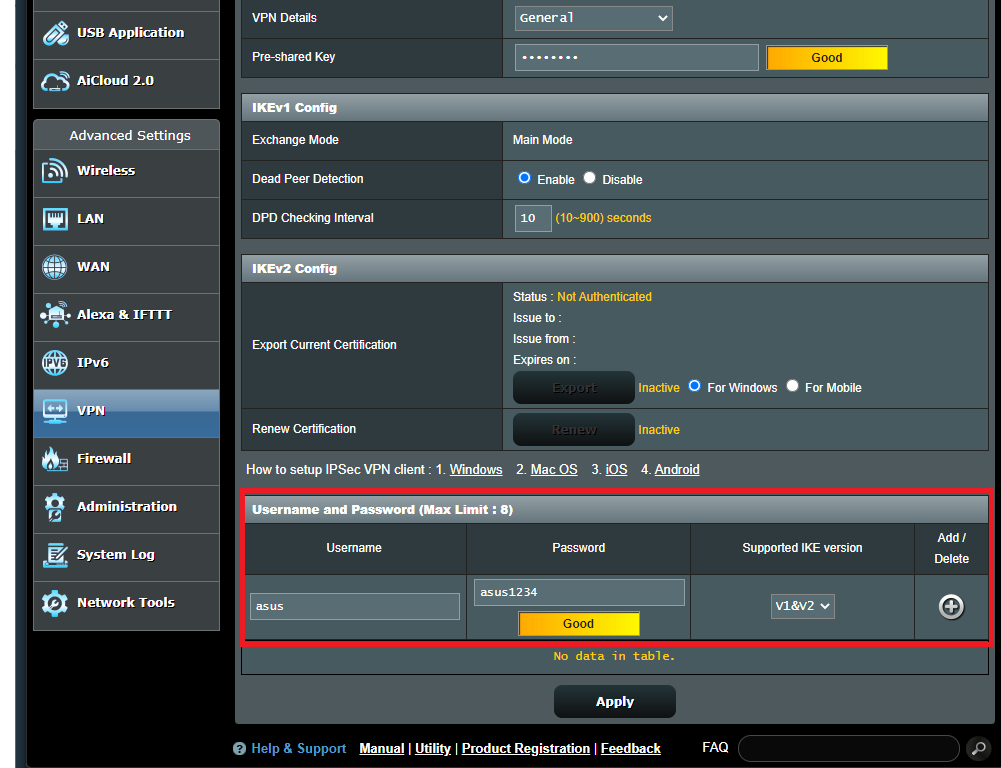 Step6: Click

to add a new account and the password is automatically hidden, click [Apply] to save.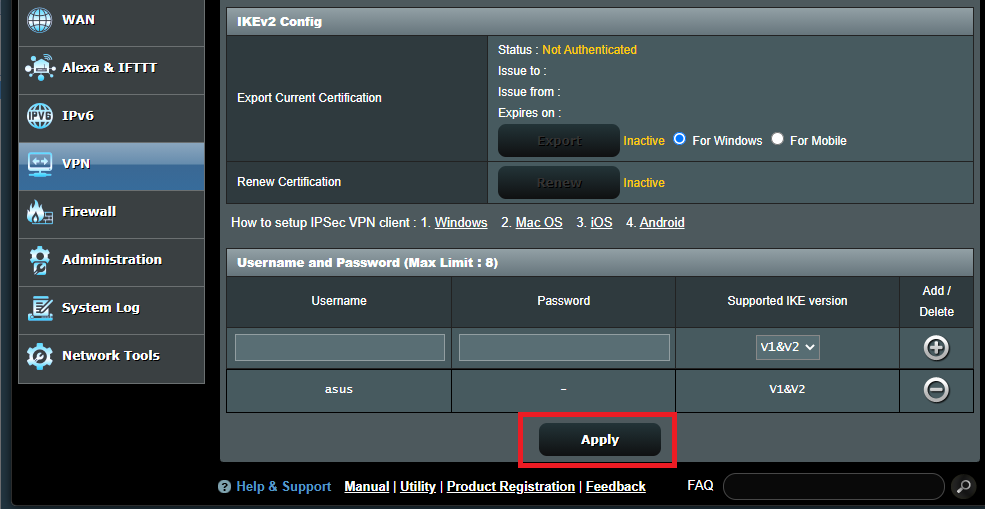 For information on how to set up an IPSec VPN client, please refer to the following FAQ:
Note: On iOS or MacOS systems, please selet "Cisco IPSec". On Android system, please select "IPSec/Xauth PSK"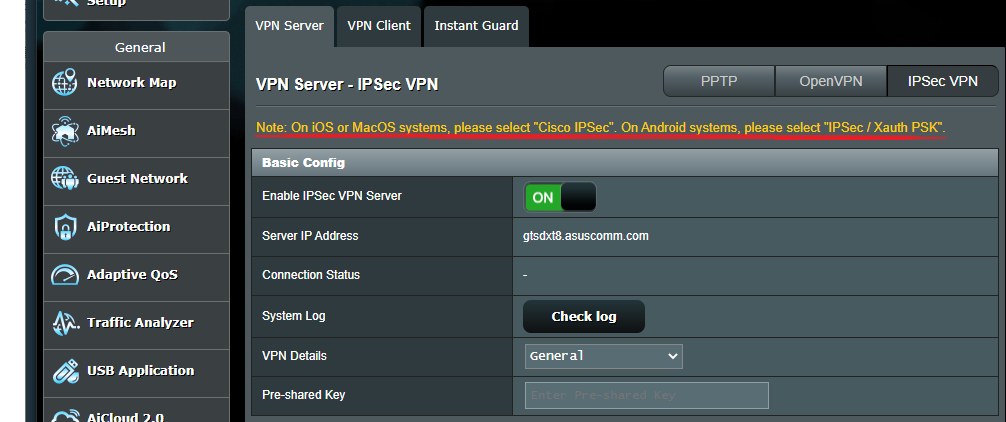 1. [VPN] How to setup IPsec VPN connection in Windows 10 (Firmware support is available for 3.0.0.4.386_4xxxx)
2. [VPN] IPSec VPN setup on Mac
3. [VPN] IPSec VPN setup on iOS
4. [VPN] IPSec VPN setup on Android
FAQ
1. Can't successfully create a VPN connection after setting up the IPSec VPN server?
(1) If you need to connect to the IPSec VPN server from a remote location, such as when connecting a router's VPN server(at home) from a company via a mobile phone.
Please check your router for public IP, and if you're not sure about your WAN IP information, we recommend that you contact your Internet Service Provider (ISP) first.
(2) Check that the IPSec VPN client you want to connect to Pre-shared key and username and password are entered correctly.
(3) Please make sure the firmware of the router is up to date.
For the information of how to upgrade firmware, please refer to [Wireless] How to update the firmware of your router to the latest version ?
2. After setting up an IPSec VPN server, how many VPN clients can connect at the same time?
VPN client max limit 8.
3. On device (Windows/iOS/Android), after few seconds or minutes of inactivity the VPN it disconnection.
When device get idle or inactive, VPN connection might get disconnected due to device is not doing internet activities.
So far there is no option we can adjust in router side.
How to get the (Utility / Firmware)?
You can download the latest drivers, software, firmware and user manuals in the ASUS Download Center.
If you need more information about the ASUS Download Center, please refer to this link.