Übersicht

Bewertung

Support
AREZ Expedition Radeon RX 570 8GB GDDR5 für VR- und 4K-Gaming ohne Pause
Zwei kugelgelagerte 0dB-Lüfter gleiten dank reduzierter Reibung besser und sorgen für eine 2x längere Lebensdauer der Karte und eine höhere Kühleffizienz. Geräuschlos spielen mit 0dB-Lüftern.
Lüfter mit IP5X-Zertifizierung für einen maximalen Luftstrom und eine längere Lüfter-Haltbarkeit.
Die Auto-Extreme-Technologie nach Industriestandard mit Super Alloy Power II bietet Premium-Qualität und höchste Zuverlässigkeit.
Eine erfolgreiche 144-stündige Belastungsprüfung und Tests mit den derzeit anspruchsvollsten Spielengarantieren optimale Kompatibilität.
GPU Tweak II mit XSplit Gamecaster bietet intuitive Performance-Optimierungen sowie das direkte Live-Streamen des Spielgeschehens.

Build for Non-Stop Action
AREZ Expedition graphics cards are made for non-stop action, engineered with non-stop durability for 2X longer lifespan and premium reliability. We even test the cards to the limits, with 144 hour of diskless-system tests and extensive checks for compatibility with top games. While GPU Tweak II with XSplit Gamecaster to provide non-stop gaming experience and real-time streaming.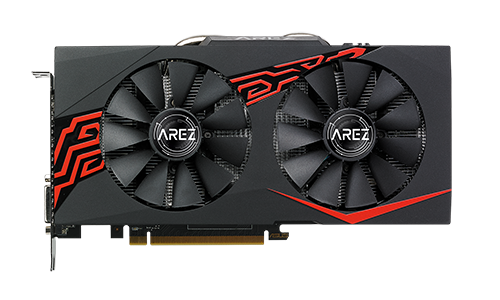 I/O Ports Highlight
1 x Native DVI-D
1 x Native HDMI 2.0
1 x Native Display Port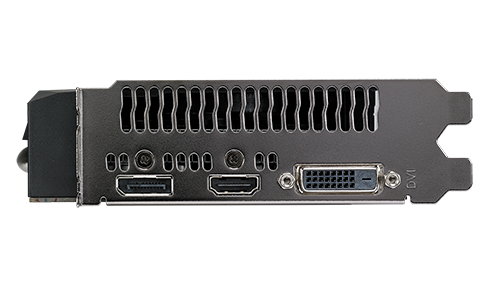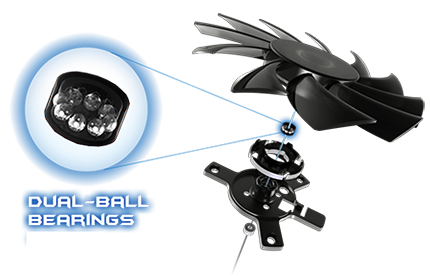 NON-STOP DURABILITY
Dual-Ball Bearing 0dB Fans
Without the problem of oil drying common in sleeve-bearing fans, the dual-ball bearing fan on AREZ Expedition RX 570 lasts 2X longer. With reduced friction, it also runs smoother, further improving card lifespan and cooling efficiency. You can play in true 0dB silence as the 0dB fans remain off up to a set GPU temp level*.

*55°C for AREZ Expedition RX 570
IP5X-Certified Dust Resistance
Longer Fan Lifespan
The fans in AREZ Expedition RX 570 graphics cards are certified under the International Protection Marking (IP code) as IP5X dust resistant for improved reliability and a longer lifespan. This stringent certification process ensures AREZ Expedition RX 570 graphics cards provide optimal fan performance, even under severe conditions.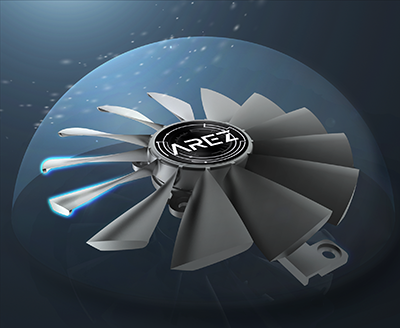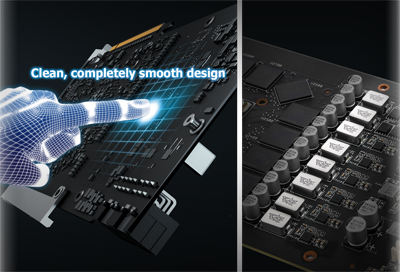 Auto-Extreme Technology with
Super Alloy Power II
ASUS graphics cards are produced using Auto-Extreme technology, an industry-first 100% automated production process, and features premium Super Alloy Power II components that enhance efficiency, reduce power loss, decrease component buzzing under load, and lower thermal temperatures for unsurpassed quality and reliability.
NON-STOP CHALLENGER
144-hr Diskless Solution Compatibility
ASUS operates the iCafé Labs to certify Expedition graphics cards for use as diskless systems, subjecting the cards to 144 hours of dedicated tests, including a 2-hour reboot test and 15-hour 3D Mark test with heavy loading. Expedition graphics cards are ready to run non-stop — with the smooth performance you demand.
Top Games Tested
ASUS iCafé Labs engineers also subject Expedition graphics cards to lengthy stability tests in an environment that simulates a real-world internet café. We test with the top games to assure of the very best gaming experiences!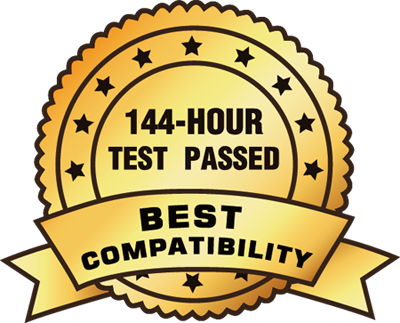 NON-STOP GAMING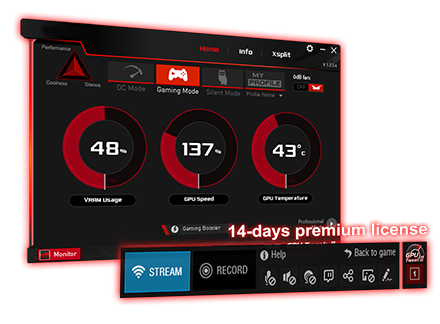 GPU Tweak II with XSplit Gamecaster
Intuitive Performance Tweaking
Redesigned with an intuitive, all-new UI, GPU Tweak II makes overclocking easier and more visual than ever, while still retaining advanced options for seasoned overclockers. With one click, the new Gaming Booster function maximizes system performance by removing redundant processes and allocating all available resources automatically.
Gaming Booster
One-click Performance Up
Visual effects:
Boost your performance by turning off windows visual effects.
System Services:
Automatically or manually turn off windows services or process.
Memory Defragmentation:
Re-arrange & free your system memory without closing any processes.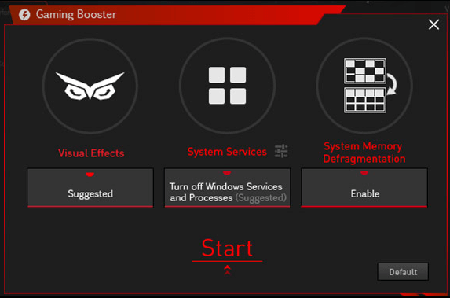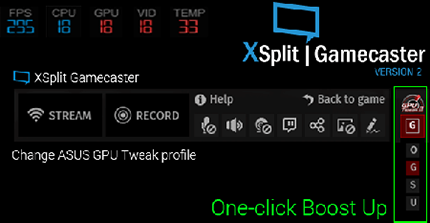 XSplit Gamecaster
Instant Gameplay Streaming
An included 1-year XSplit Gamecaster premium license* — a $99 USD value — lets you easily stream or record gameplay via a convenient, in-game overlay. The overlay also displays GPU clock speed, temperature, and VRM usage, and has GPU Tweak II controls, so gamers can choose a gaming profile and boost performance with just one click.

Learn more at here.
The Gamers Private Network: wtfast
Banish lag, latency and lost packets
We've included a six-month wtfast premium license* — a USD$53.95 value — to let you enjoy online gaming that's free from lag, latency and lost packets. The AI-driven, game-prioritizing services and real-time analytics enabled by wtfast, the Gamers Private Network, deliver lower ping for smoother, more fluid online gaming experiences. With an ASUS graphics card in your rig and wtfast on your side, you won't be left waiting. Learn more at here.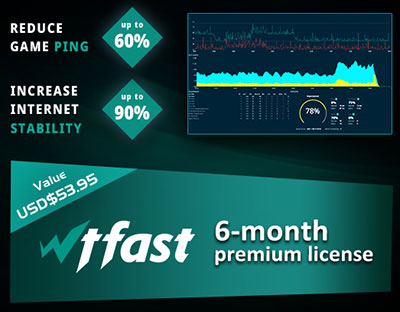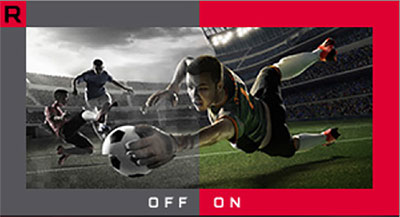 RADEON FREESYNC™ TECHNOLOGY
NO STUTTERING. NO TEARING. JUST GAMING.
Smoothness
Gaming shouldn't be a choice between choppy gameplay or broken frames. With AREZ Expedition RX 570, it doesn't have to be. Get fluid, artifact-free performance at virtually any framerate with Radeon FreeSync™ technology.1 Get effortlessly smooth gameplay with AREZ Expedition RX 570 with Radeon FreeSync™ technology in AMD Radeon™ GPUs, A-Series APUs and Ryzen CPUs with Radeon Vega graphics.1
*1. FreeSync is an AMD technology designed to eliminate stuttering and/or tearing in games and videos by locking a display's refresh rate to the framerate of the graphics card. Requires Monitor, AMD Radeon™ graphics and/or AMD A-Series APU compliant with DisplayPort™ Adaptive-Sync 1.2 (or newer). AMD Catalyst™ driver 15.2 Beta (or newer) required. Adaptive refresh rates vary by display; check with your monitor manufacturer for specific capabilities. Only select AMD Radeon GPUs and A-Series APUs supported; see www.amd.com/freesync for full details.
Radeon™ Software Adrenalin Edition
Radeon™ Software Adrenalin Edition, artfully designed and meticulously crafted to unleash the incredible power of performance and innovation built into Radeon™ Graphics through an incredibly intuitive and utterly beautiful user interface for both PCs and mobile devices.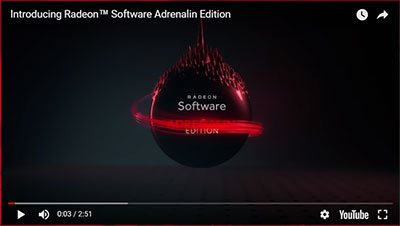 Powered by AMD Radeon™ RX 570

AMD Eyefinity Technology
Extend the view across up to 4 displays to immerse yourself in gameplay and entertainment.

AMD CrossFire Technology
Double the graphics available for your gaming with AMD CrossFire technology without any strings attached.

AMD FreeSync Technology
Puts an end to choppy gameplay and broken frames with fluid, artifact- free performance at virtually any framerate.

PCI Express 3.0
Delivers double the bandwidth per lane of PCIe 2.0 for faster GPU-CPU communication.

Microsoft DirectX® 12
Brings new levels of visual realism to gaming on the PC and get top-notch performance.
Compare (0)