Extremely Long Operating Range with High Power Technology
This unique and efficient design drastically increases wireless signal coverage and quality with a built-in singal amplifier. Advanced High Power technology from ASUS enhances signal strength and can almost double the range.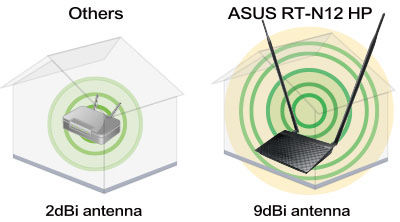 Multiple SSID for Flexible Wireless Acces Control
Provides up to four wireless networking grades with dynamic bandwidth management. For example, high bandwidth and full access for managers, mid-range settings and privacy controls for staff, and basic internet access for guests. This flexibilty makes it the best choice for SOHO wireless networking.