ExpertBook B5 (B5302, 12th Gen Intel)
ExpertBook B5 (B5302, 12th Gen Intel)
ASUS ExpertBook B5
Portable power for business on the go



Windows 11 Pro - ASUS recommends Windows 11 Pro for business
Up to 12th gen Intel® Core™ i7 vPro processor
From 1.1 kg
Ultrathin 1.69 cm
Up to 40 GB memory
Up to 2 TB SSD storage
Enterprise-grade security features
Download datasheet
360˚ View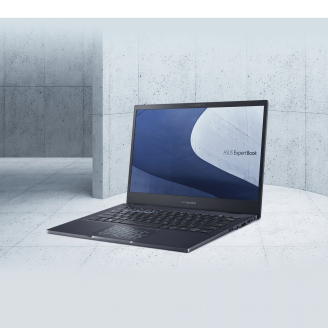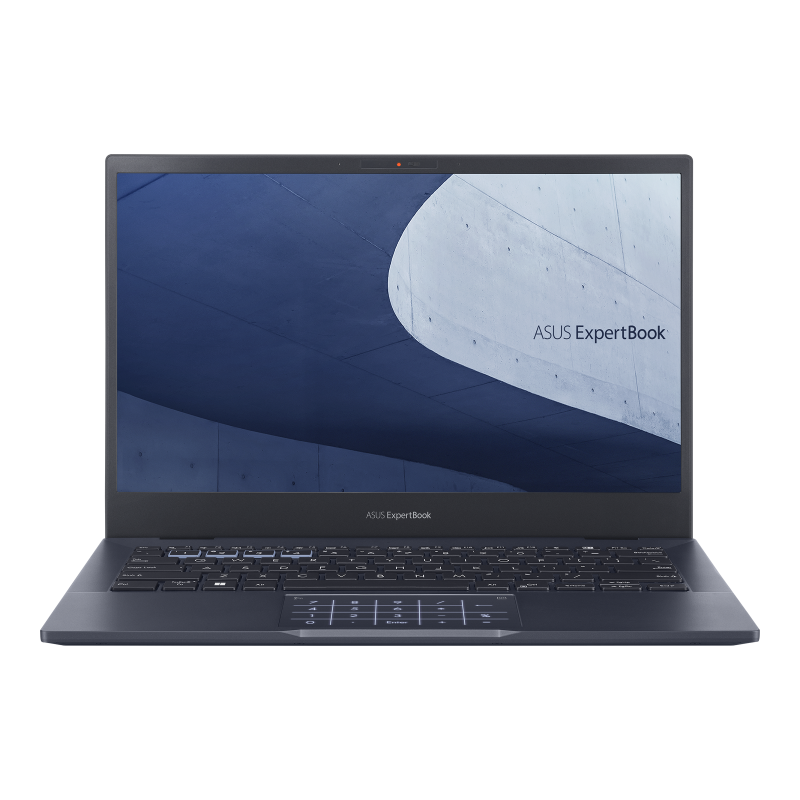 Portable power for business on the go
ASUS ExpertBook B5 is built for business success in style, with a precision-crafted chassis that's as light as 1.1 kg
1
. It's also set for serious travel with an amazing all-day battery life, and is engineered with many cutting-edge technologies to improve your on-the-go work efficiency. These include a 12th Gen Intel
®
Core
™
processor with Intel
®
vPro platform support, AI-powered noise cancelation, dual-SSD RAID support and a user-status indicator. It's also packed with enterprise-grade security features to protect your privacy and business data, including a built-in fingerprint sensor and TPM 2.0 chip
2
.
Lighter, stronger and more portable
Both the top and bottom cover of ExpertBook B5 are crafted from pure aluminum, while the area around the keyboard area is magnesium-aluminum alloy — keeping the weight down to a mere 1.1 kg
1
. Slip ExpertBook B5 into a briefcase so it's with you all the time, ready for productivity in or out of the office.
Lasts longer, charges faster
ExpertBook B5 has the endurance to power through every business day or long-haul flight. It provides 11 hours battery life
5
on a single charge, aided by energy-efficient Panel Self-Refresh technology. With ExpertBook B5's long battery life and fast charging design, you'll be up and ready in no time, ready for a long day of productivity.
Enterprise-grade security
With extensive and robust security features, ExpertBook B5 is the ultimate personal guard for your confidential files.
Fingerprint sensor
ExpertBook B5 has built-in biometric security, with a fingerprint sensor for easy access. So, just tap the button to log in — no difficult-to-remember passwords or PIN required!
Kensington Nano security slot
An integrated Kensington Nano lock slot allows ExpertBook B5 to be physically secured in unsupervised locations.
Webcam privacy shield
A physical cover obscures ExpertBook B5's webcam for an assurance of instant privacy when it's not in use.
Business focus design
With features such as a user-status indicator light, AI-powered noise cancelation and ExpertWidget, ExpertBook B5 is designed to make every moment of every working day more convenient and more productive.
A small, bright LED light on the top cover of ExpertBook B5 offers an at-a-glance indication of your status — automatically glowing when you're busy in a conference call. So, if you're headlong into a Skype or Teams meeting, your colleagues will know instantly to not bother you at that moment!
To level up professional conferencing, ExpertBook B5 has two-way AI noise-canceling technology that employs sophisticated machine-learning techniques. The technology includes both an upstream function to filter noise around the speaker, and a downstream function to eliminate noise from the person at the other end of the conversation.
ASUS ExpertWidget increases productivity by allowing you to customize your own hotkeys using the Function (Fn) key with the 1-4 number keys
6
. For example, you could configure a key to turn on Bluetooth
®
, or open your most-used file folder in a flash.
I/O ports
Despite its thin profile, ExpertBook B5 is loaded with I/O ports. These include cutting-edge Thunderbolt™ 4, 40 Gbps data transfer speeds, 4K display output and fast charging. The laptop also offers an HDMI output, plus wired network connectivity with a unique MAC address for easy device management.
Thunderbolt™ 4 USB-C®
RJ45 via micro HDMI
Power button /
Fingerprint reader combo
Audio combo jack
USB 3.2 Gen 2
HDMI
Kensington Nano lock slot
ExpertBook B5 refers to the SKUs of ASUS ExpertBook B5 (B5302, 12th Gen Intel) with TCO 9.0 certification.
Weight may vary according to configuration.
ExpertBook B5 has firmware-based TPM 2.0 onboard, with a discrete TPM chip also available as an option.
The testing data includes the requirements of both military-grade standards and ASUS quality tests.
The same device will offer differing levels of available storage depending on the chosen RAID level. If RAID 0 is used, the system combines the capacity of all SSDs in order to enhance data-transfer speeds. The available storage will equal the combined physical capacity of all the SSDs on the device. However, if the device is configured with RAID 1, two copies of the data are saved simultaneously in order to protect your data if one SSD fails. As a result, the available storage capacity will be half of the combined physical storage capacity, as half the storage is used for backup copies. For example, a device with two 1 TB SSDs in a RAID 0 configuration will have 2 TB of available storage capacity, but with RAID 1 the available storage capacity will be 1 TB.
Battery tests conducted by ASUS in June, 2022 using the MobileMark® 2018 Office Productivity scenario. Battery life test configuration: Intel® Core™i5-1235U, 8 GB RAM, FHD display, 512GB PCIe® 4.0 x4 SSD, 66 Whr. Test settings: WiFi enabled, BT on, the display brightness set to 200 cd/m2, NumberPad off, backlit keyboard off. Actual battery life may vary depending on product configuration, usage, operational conditions and power management settings. Battery life will decrease over the lifetime of the battery.
Full ASUS ExpertWidget functionality requires designated software to be installed.
ASUS Control Center is optional and its availability varies according to country. Please check with your local ASUS retailer for details.
ASUS management solutions include ASUS Control Center and ASUS Business Manager platform.
ASUS Service Package options include: 24x7 support; MyASUS app; Three-year international warranty; Pick up & return service; Onsite service; Next business day onsite response; Accidental damage protection; Defective HDD retention. Service and warranty coverage may vary depending on country and territory. Service may not be available in all markets. We recommend that you check with your local retailers to confirm the options available.
Für dich empfohlen
Compare (0)