The MB168B+ with Auto Rotate (patent-pending) can automatically sense its orientation and switches the display between landscape and portrait based on its position; while backlight brightness is also automatically adjusted based on environmental lighting—getting brighter in the light and dimmer in the dark.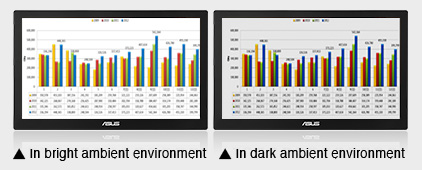 When AI Light* is on, the ambient light sensor automatically detects ambient lighting conditions, intelligently adjusting the optimal screen brightness for comfortable viewing and enhanced energy savings.

*Auto Rotate/ AI Light functions work when EzLink Utility is properly installed and activated. (OS version support before Windows 8.1)


NOTE: To support Auto Rotation and Brightness Adjustment function, Win7, 8 and 8.1 users, please download and install EZlink.
For Win10 users, please download and install DisplayWidget V3.1.0.014 to support Auto rotation and Brightness Adjustment.