True 7.1 gaming headset with 10 discrete neodymium-magnet drivers and a plug-and-play USB audio station
True 7.1 surround sound: Lifelike, immersive audio with 10 neodymium magnets and volume controls for each channel
Plug-and-play USB audio station: Works as a USB sound card with handy in-game audio controls
Static and breathing lighting effects: Express your gaming style, even in the dark
90% environmental noise cancellation: Clear in-game communication
Four game-audio spectrum profiles: Enjoy immersive audio fine-tuned for first-person shooter (FPS), racing, and action/role-playing games (RPG)
110mm protein leather cushions: Highly breathable material is perfect for long gaming sessions
Foldable ear cups: Travel-friendly design lets you game anywhere
Sharpen your

HEARING
Strix 7.1 is a superior true 7.1 surround gaming headset engineered with 10 powerful discrete neodymium-magnet drivers, full-size hexagonal ear cushions (130mm across at the widest point) and stylish static and breathing lighting effects. It is accompanied by a driver-free USB audio station that features loads of audio controls and sound effects. Strix 7.1 provides an unrivaled audio experience with punchy and immersive sound. Every gunshot and footstep is reproduced with accurate positioning and stunning clarity, bringing the battlefield to life.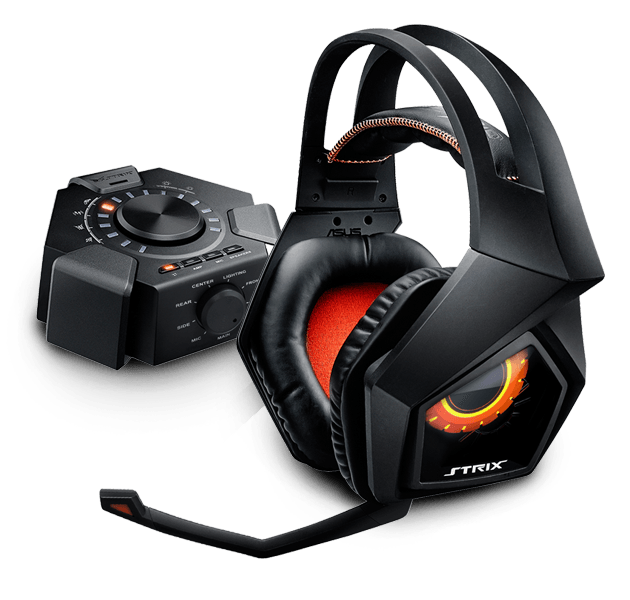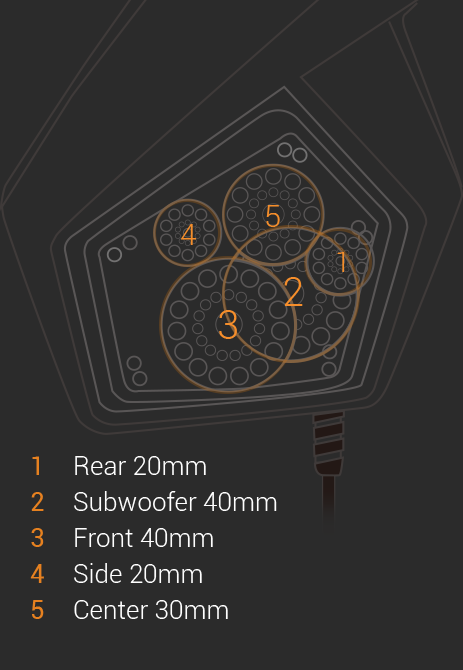 Rear
20mm

Subwoofer
40mm

Front
40mm

Side
20mm

Center
30mm
Game

Immersed
True 7.1 surround sound via discrete neodymium magnets
Each ear cup of Strix 7.1 houses five discrete neodymium magnets to enable true 7.1-channel surround sound (or eight-channel surround sound). Together with the optimized position of each driver and precise chamber mechanics, Strix 7.1 delivers realistic surround sound that makes every gamer feel the excitement of being right in the center of the game.
Perfect for music listening
When listening to music or enjoying other 2-channel content such as YouTube videos, switch to stereo mode for an optimal audio experience. This fine-tuned stereo mode uses multiple discrete speaker drivers to deliver sound that is more lifelike and immersive than any dedicated stereo headset on the market.
Regardless of whether your favorite game features 7.1, 5.1, or stereo audio, Strix 7.1 will reproduce it in the most optimal, natural way. With just a click of the 7.1/stereo mode toggle switch on the audio station, you can easily change between surround and stereo audio.
The true 7.1/stereo mode switch lets you easily select the optimal output mode for the source content
| Source content | 7.1 switch/stereo switch | Output |
| --- | --- | --- |
| 7.1 | 7.1 mode | 7.1 surround |
| 5.1 | 7.1 mode | 5.1 surround* |
| Stereo | Stereo mode | Stereo** |
* When listening to 5.1 content, the side drivers (left and right) will be muted
** When listening to stereo content, the side and rear drivers will be muted.
Game by

intuition
Plug-and-play USB audio station
Hold total control in your hand with the Strix 7.1 USB plug-and-play audio station, which works as a USB sound card and includes effective environmental noise cancellation (ENC) technology, brilliant game-audio spectrum profiles and a headphone amplifier. Its dedicated, switch-operated speaker output jack lets you easily switch audio output from headset to speakers without unplugging your headset. Only the strongest survive, so your gaming gear must become an extension of your very being – Strix 7.1 gets everything done for perfect in-game audio immediately.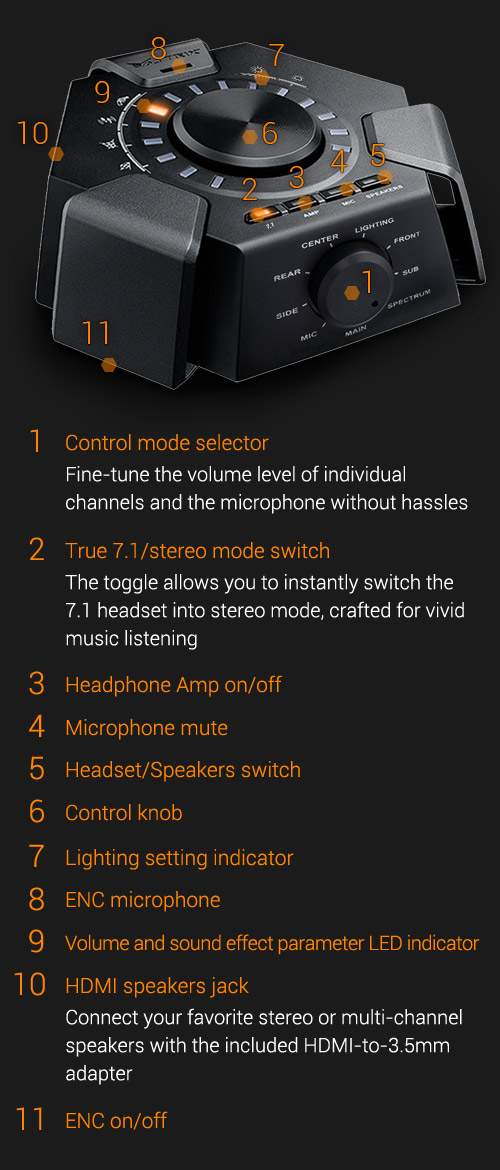 Control mode selector

Fine-tune the volume level of individual channels and the microphone without hassles

True 7.1/stereo mode switch

The toggle allows you to instantly swtich the 7.1 headset into stereo mode, crafted for vivid music listening

Headphone Amp on/off

Microphone mute

Headset/Speakers switch

Control knob

Lighting setting indicator

ENC microphone

Volume and sound effect parameter LED indicator

HDMI speakers jack

Connect your favorite stereo or multi-channel speakers with the included HDMI-to-3.5mm adapter

ENC on/off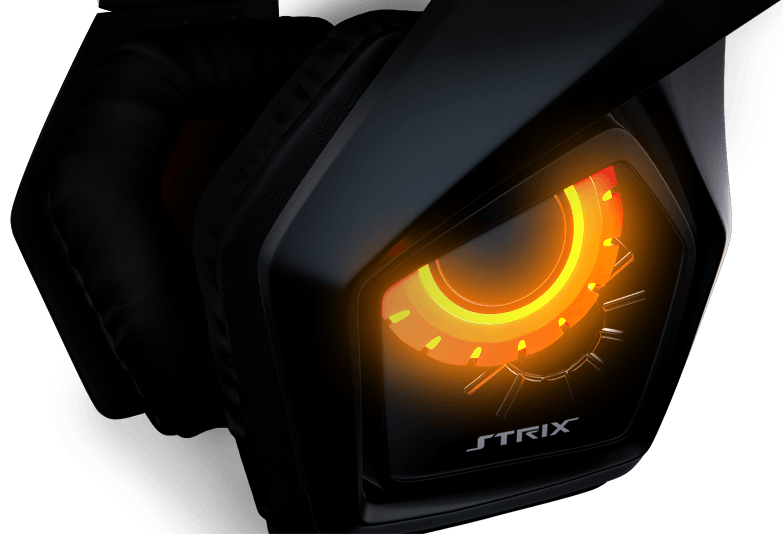 Static and breathing lighting effects
Express your gaming style with Strix 7.1 and its owl eyes that even light up in the dark. Choose between static or breathing lighting with a simple click of a button on the audio station.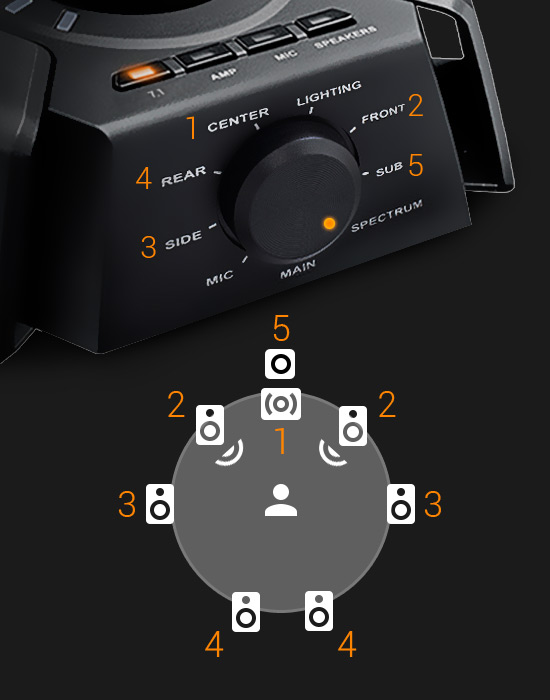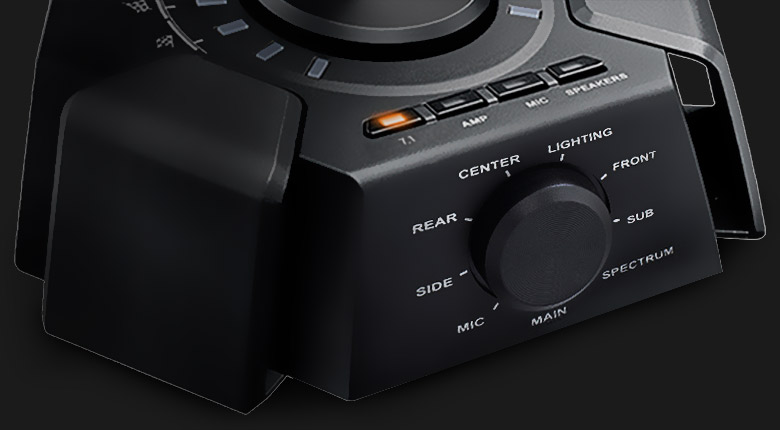 Dedicated volume controls for each channel and microphone
Different games may use various recording methods, so the balance of each channel might be affected and need to be adjusted. Strix 7.1 provides dedicated volume controls for each surround channel, so gamers can fine-tune the balance without hassles.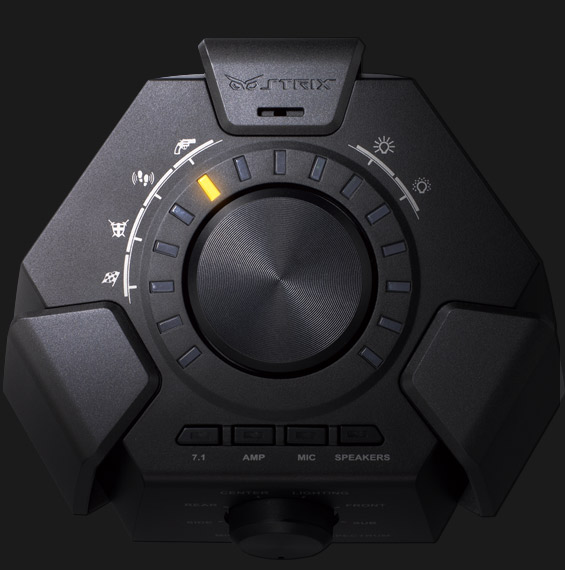 Four game-audio spectrum profiles
With the profile settings, you can enable the best aural performance for a variety of genres, including first-person shooter (FPS), racing and action/role-playing games (RPGs). Choose the suitable game-audio profile to boost critical audio details instantly. Aggressive wheel-drift effects put you right in the middle of the race track, and enhanced footsteps and gunfire sounds mean you'll pinpoint enemies more quickly and with exceptional precision!
Hear the game, experience the game
Put on your headset and choose one of the modes below to experience Strix 7.1's game-audio spectrum profiles for yourself.
FPS gunfire
mode

OFF

FPS footsteps
mode

OFF

Action / RPG
mode

OFF

Racing
mode

OFF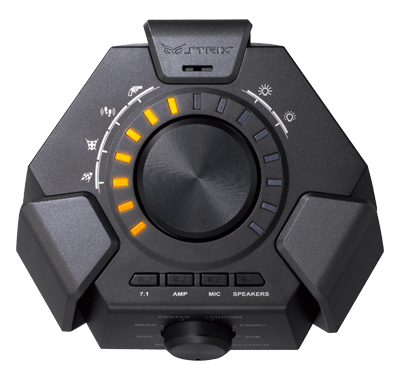 The built-in microphone detects and counters environmental noises
Filters out more than 90% of environmental noise
Strix 7.1 USB audio station features a built-in microphone that actively detects and counters more than 90%1 of environmental noise , such as mechanical keyboard tapping and speech, so your allies aren't distracted in chat by noises occurring around you.
1 Connect via USB to activate the Environmental noise cancellation (ENC) feature. The ENC performance result is tested and verified in ASUS lab, and actual performance may vary depending on distance from noise source, room size, placement and other factors.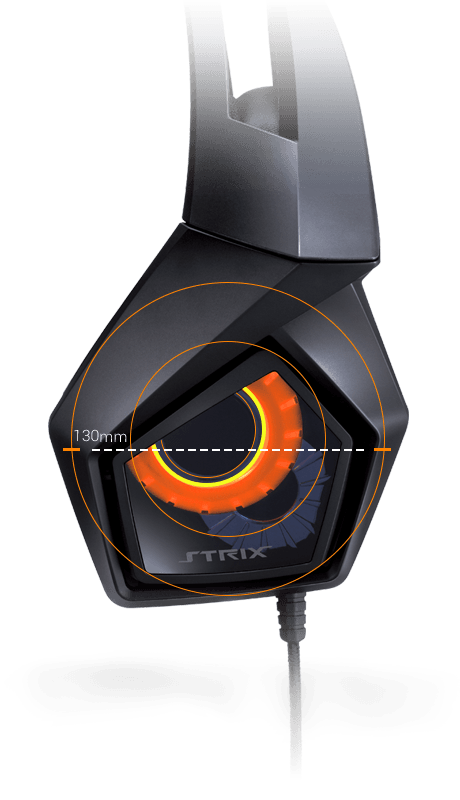 Game in

comfort
Large protein leather ear cushions and optimal clamping force
Strix 7.1 is cushioned with ultra-soft, full-size memory foam (130mm across at the widest point) and highly breathable protein leather, generating greater comfort over prolonged sessions with no ear fatigue. Additionally, the headband employs an optimized clamping force based on lab testing using a wide range of head types to further improve wearing comfort.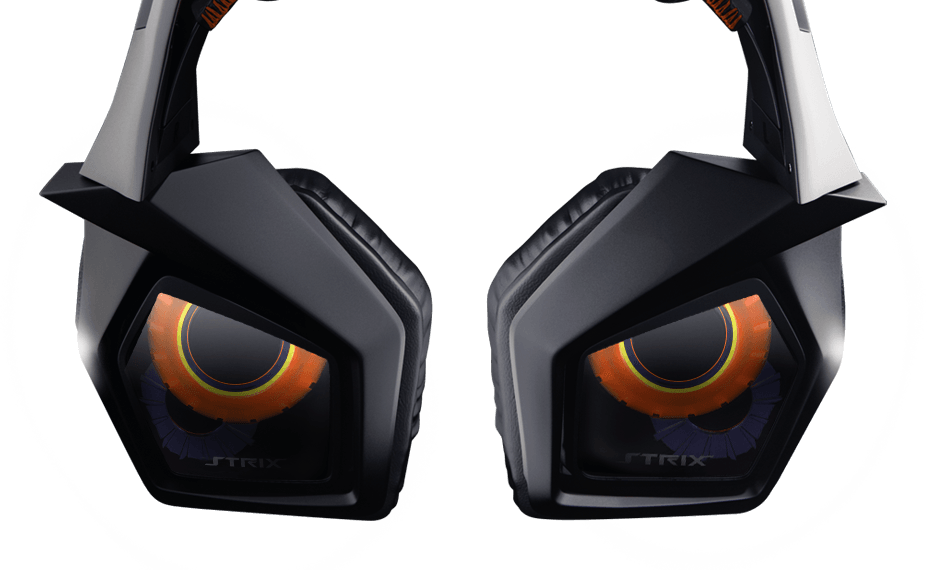 Game
everywhere
Travel-friendly foldable design
The foldable design allows ear cups to lay flat, ideal for packing and bringing to a LAN party or tournament. The detachable microphone boom is perfect for easy removal, travel and storage.
UNLEASH YOUR
GAMING INSTINCTS
Taken from the ancient Roman and Greek word for owl, Strix means the keenest hearing and sharpest eyesight. Strix means feeling your environment so that you detect and react to the slightest movement. Strix means survival on the very edge of instinct. Strix is in your blood, as it is in ours.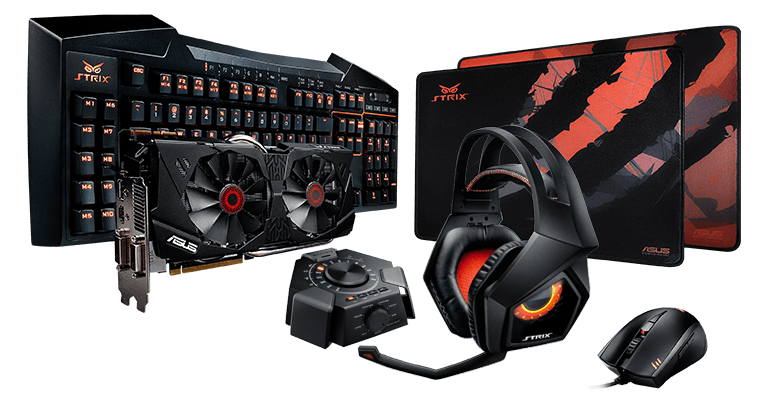 Compare (0)