[LCD Monitor] PIP/PBP function
Overview
ASUS exclusive innovations, Picture-in-Picture (PIP) and Picture-by-Picture (PBP) , allow users to view images from different signals in almost any way they want.
PIP and PBP allow users to browse images from different signals and let them switch between the main and PIP source, including audio.
Directions
The PIP/PBP Setting allows you to open up another sub-window connected from another video source ; in addition to the main-window from your original video source.
By activating this function, you can have two pictures from two different video sources displayed by the monitor.
How to use the PIP/PBP in OSD Menu :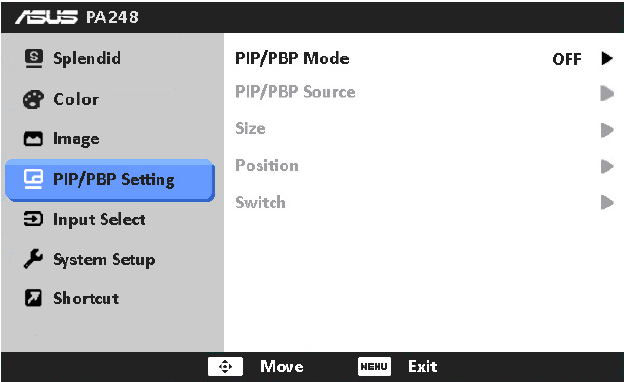 • PIP/PBP Mode: You can turns the PIP or PBP function on or off.
• PIP/PBP Source: Selects the video input source from among VGA, DVI, HDMI, and Display Port.
• Size: Adjusts the PIP size to Small, Middle, or Large. (Only available for the PIP mode)
• Position: Adjusts the position of the sub-window to Right-Top, Left-Top, Right-Bottom, or Left-Bottom. (Only available for the PIP mode)
• Switch: Switches the sources of the main and sub-windows.
Notice:The DVI and HDMI input sources should NOT be selected as the mainwindow or sub-window at the same time. See the table below for details.