Product
ASUS ZenWiFi AC (CT8), ASUS ZenWiFi AX (XT8), Blue Cave, GT-AC5300, GT-AX11000, Lyra Mini, Lyra Trio, Lyra Voice, ROG Rapture GT-AC2900, RT-AC3100, RT-AC5300, RT-AC88U, RT-AX56U, RT-AX58U, RT-AX88U, RT-AX92U, TUF-AX3000
[IFTTT] What can I do with the ASUS router and IFTTT?
What is IFTTT?
IFTTT is a platform that connects apps, services, and devices with "if this, then that" statements. These simple conditional statements are called "Applets" and it uses specific conditions to perform all kinds of custom tasks for you.
What can I do with the ASUS router and IFTTT?
Connect your ASUS Router to IFTTT and start an automation life with creative applets on your ASUS Router channel. For example:
"If close to dinner time or bed time, then turn off wifi"
"If my daughter comes home, then send me an email, text, or phone call."
"If my wife comes home, then play my favorite song"
"If I am playing a game, then boost the game speed"
Get started:
To create Applets, perform the following actions:
• Sign in to your IFTTT account.
• Go to ASUS Router channel.
• Connect ASUS Router with your IFTTT account.
• Choose from the existing applets or create your own applets with triggers and actions of ASUS Router.
Supported Triggers and Actions
Triggers
The wifi devices is connected
Actions
Turn Wi-Fi on
Turn Wi-Fi off
Guest Network on
Guest Network off
Game boost on : Enable Game Mode to raise game packet's priority
Media first on : Enable Media Mode to raise media streaming packet's priority
IFTTT Applets
To check all applets that are related to your ASUS router, please refer to ASUS Router Channel in IFTTT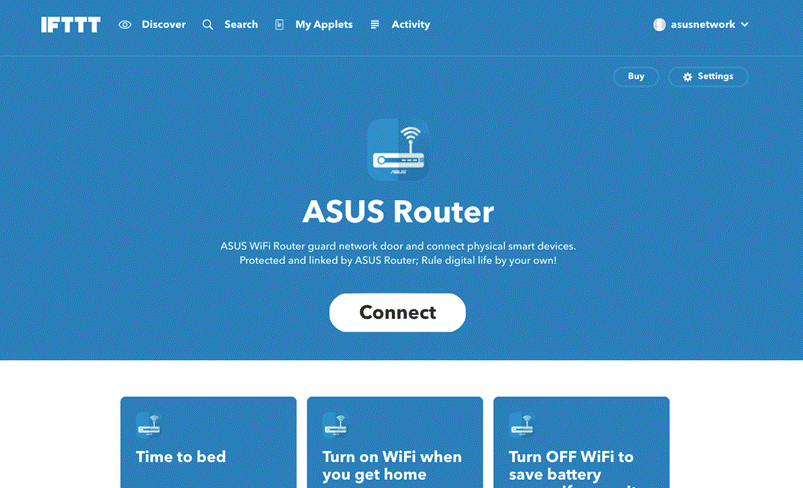 FAQ
1. Is IFTTT not supported in AP Mode?
The IFTTT option is not available when router is in AP mode.
When in AP mode, all IP addresses are dispatched from the front router/modem above the router. The router does not have any DHCP function when in AP mode, so it cannot manage the device connected to it. The control manager is in the front router/modem.
How to get the (Utility / Firmware)?
You can download the latest drivers, software, firmware and user manuals in the ASUS Download Center.
If you need more information about the ASUS Download Center, please refer this link.