POWER MEETS PORTABILITY
The new ROG Zephyrus M RTX Studio Edition is compellingly equipped to deliver a comprehensive Windows 10 experience for those ready to create, stream, and share their works with the world. The latest NVIDIA® GeForce RTX™ 2070 GPU and 9th Gen Intel Core i7 CPU blaze through serious gaming and intensive applications, while up to 1TB of RAID 0 SSD storage provides ultra-fast load times across your growing games library. The 240Hz/3ms IPS-level display is Pantone® Validated for superb color accuracy, and Hi-Res ESS Sabre audio ensures richer, high-fidelity sound for your games, tunes, and streams.
*Qualified Models: GU502GW/GU502GV
DESIGN
SLEEK, STRONG, AND ULTRA-SLIM
Reinforced metal chassis keep the Zephyrus M resilient against everyday use, with two professional finishes in Brushed Black and Glacier Blue. The updated Glacier Blue tint brings new energy to the Zephyrus line, evoking a cooler, lighter feeling that underscores the family's focus on elevating ultra-slim performance with Intelligent Cooling. At 18.9mm thin and under 2kg, this powerhouse is 25% thinner and 45% lighter than typical 15'' gaming laptops. But it refuses to compromise between work and play, delivering dynamic performance and refined styling that's truly the best of both worlds.
STRENGTH WITHOUT THE WEIGHT
Forged from a special magnesium-aluminum alloy, the chassis is machined down to exceptional thinness while maintaining the strength and durability needed for everyday use.
SHAPED FOR STIFFNESS
Honeycomb reinforcements beneath the palm rest strengthen a highly trafficked area. The die-casted structure resists flexing while adding minimal material and weight.
SOFT-TOUCH SKIN
Soft-touch paint covers the palm rest, minimizing smudges and fingerprints with a thin coating that helps sustain the sleek styling and subtle sparkle through to the end of the day.
*Soft-touch paint is only available on Brushed Black models.
SUBTLE YET STRIKING
The streamlined design stuns in its details. Contrasting brush finishes slice across the lid, dovetailing precisely with the strategic cut that frees airflow out the back. Subtle diamond cuts chamfer the exterior edges and dig deeper near the touchpad to let you open the laptop effortlessly with one finger. The glow of the ROG logo across the lid creates a striking visual contrast against its surroundings.
PERFORMANCE
CREATOR READY
The latest GeForce RTX™ 2070 GPU and 9th Gen Intel® Core™ i7 CPU enable incredible performance for content creation and gaming. Up to 32GB of DDR4-2666 RAM speeds up everyday multitasking, while up to 1TB of speedy RAID 0 SSD storage means ultra-fast load times even for heavy duty apps and large games. A Pantone® Validated, IPS-level panel ensures accurate colors across the full sRGB range, enabling creators to do serious professional work and enjoy richer gaming visuals all on the same machine. Up to 4 USB ports means you can connect a drawing tablet, mouse, and other essential devices for maximum productivity.
NVIDIA® GeForce
RTXTM 2070
GPU
Up to
9TH GEN
Intel® Core i7 CPU
Gaming is fast, smooth, and slick on the ROG Zephyrus M. Its ultra-slim frame houses powerful NVIDIA GeForce RTX™ 2070 graphics that can reach 1435MHz at 90W in Turbo mode to deliver higher frame rates and smoother gameplay. The potent GPU is powered by revolutionary Turing architecture that combines traditional CUDA cores for programmable shading with new RT and Tensor cores for real-time ray tracing and AI. The result is stunningly realistic lighting effects that enable even deeper immersion in cutting-edge games.
Up to
9TH GEN
Intel® Core i7 CPU
NVIDIA® GeForce
RTXTM 2070
GPU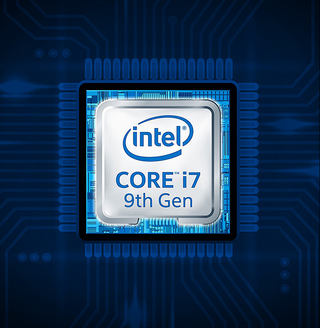 INTEL CORE 9TH GEN  PROCESSOR
Get faster speeds and better performance with the new 9th Intel® Core™ i7-9750H CPU. The latest generation of 6-core processors hits speeds of up to 4.0GHz with Turbo Boost 2.0 Technology. Hyper-Threading enables up to 12 parallel threads to maximize efficiency with heavy multitasking and multithreaded workloads. Streamers can broadcast, chat, and game simultaneously, while serious content creators can edit even the most intensive projects with uncompromised system performance.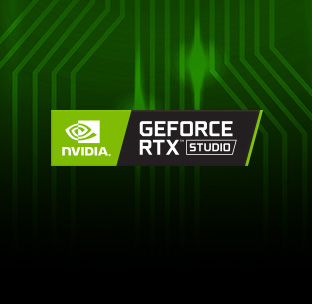 GEFORCE RTX™ GRAPHICS
GeForce RTX unlocks amazing new capabilities and incredible performance boosts in creative work. Render and model large 3D models with hardware-accelerated ray-tracing for stunning visuals, edit up to 8K RED video in real time with hardware-accelerated video processing, and access RTX exclusive AI features to speed up tedious tasks. Next-level creative work has arrived with RTX.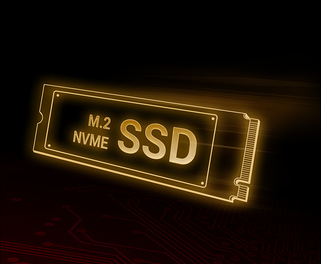 RAID 0 STORAGE
Equipped with two NVM Express® (NVMe®) PCIe® SSDs running in RAID 0, the ROG Zephyrus M delivers blisteringly fast transfer speeds and quicker load times for every program and project on your system. RAID 0 harnesses the speed of two SSDs to create a single, massive drive with up to 1TB of total storage capacity, which is enough room for your work portfolio, media collection, and growing games library.
SSD PERFORMANCE
Dual 512GB WITH RAID 0
512GB WITHOUT RAID 0
Dual 512GB WITH RAID 0
512GB WITHOUT RAID 0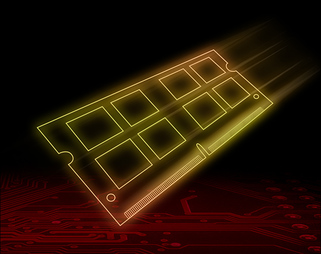 DUAL-CHANNEL DDR4 MEMORY
Serious multi-tasking is easily handled by up to 32GB of dual-channel DDR4-2666 RAM. Gamers can live-stream, team chat, and play the latest titles all at the same time, while everyone from power users to content creators has the freedom to run all the programs they need for maximum productivity. Clocked at 2666MHz, the memory offers an 11% performance increase over DDR4-2400.
Close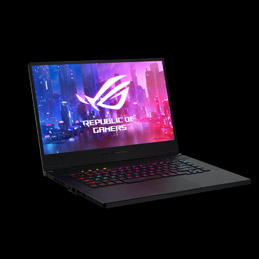 NVIDIA® GeForce RTX™ 20-series GPU
NVIDIA RTX GPUs featured in RTX Studio systems dramatically enhance your creative work. GPU acceleration and exclusive NVIDIA Studio Drivers deliver performance boosts and stability in your favorite creative apps.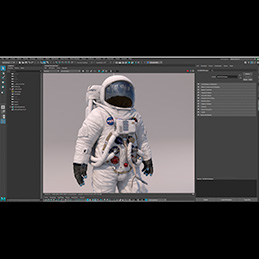 Advanced RTX Features
Access advanced RTX features like hardware-accelerated ray tracing for stunning visuals, exclusive AI-assist features reducing repetitive tasks, and up to 8K video editing in real-time.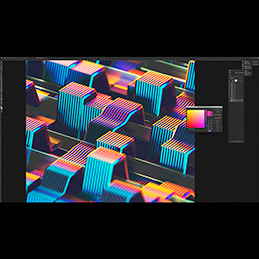 Purpose-Built For The Most Demanding Creative
RTX Studio high-performance laptops contain the world's most powerful NVIDIA GeForce RTX™ GPUs, precision engineered into an ultra-thin profile laptops. Designed and tested specifically for creative workflows. Now, you can create your best work—fast. RTX On.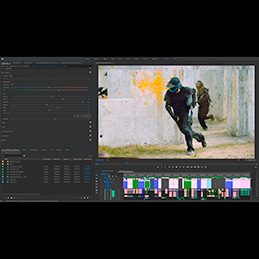 Performance
GeForce RTX unlocks amazing new capabilities and incredible performance boosts in creative work. Next-level creative work has arrived with RTX.
BATTERY LIFE
DO MORE ON THE MOVE
Longer battery life makes true portability a reality in the versatile ROG Zephyrus M. Unplug and take full advantage of its easy-to-carry form factor with up to 8 hours of battery life* on a single charge. NVIDIA Optimus technology improves efficiency by intelligently turning off the discrete GPU when dedicated graphics power isn't required, giving you more battery life for everyday work and productivity without slowing gaming performance.
*Performance may vary based on system configuration. Battery life tested with NVIDIA® GeForce® RTX 2070 GPU, Intel® Core™ i7-9750H CPU, 240Hz display, and 16GB of DDR4 SDRAM.
PD
TAP INTO PORTABLE TYPE-C POWER
USB Power Delivery supports secondary charging from portable power packs, so you don't have to fight for a socket when the battery gets low. Fast-charging support reverses the direction, using up to 3A to quickly rejuvenate smartphones and other devices. If you're not loading the CPU or discrete GPU with intensive tasks, you can use a smaller adapter up to 65W that lightens your load on the road.
*USB power pack and Type-C adapter sold separately
*65W Type-C adapter available as a bundled accessory in select regions
Zenpower Pro PD
Web browsing
Zenpower Pro PD
VIDEO PLAYBACK
DISPLAY
TRUE COLOR AND SPEED ON DISPLAY
Outstanding colors and smooth gameplay unite in the vibrant 240Hz/3ms IPS-level display. The 15.6-inch panel is framed by slim 6.2-mm bezels, creating an 81% screen-to-body ratio that feels expansive. Combining full sRGB coverage with wide viewing angles makes the screen ideal for showcasing visual projects and media.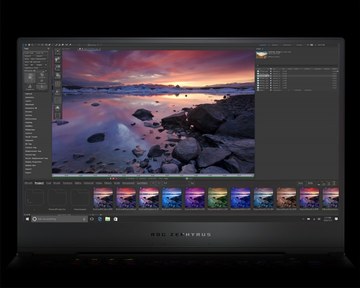 Pantone® Color Validation
Each IPS-level panel is precisely calibrated with ProArt™ TruColor Technology, which ensures that colors across the full sRGB range meet rigorous Pantone® Color Validation requirements. This level of color accuracy allows artists, designers, and content creators to do serious professional work and enjoy richer gaming visuals all on the same machine.
Close
AUDIO
HEAR ESS® SABRE AUDIO ROAR
Rarify your headphone experience by plugging in to the premium ESS® Sabre HiFi digital-to-analog converter (DAC) with Hi-Res Audio certification. The DAC delivers broader dynamic range with less distortion, giving you richer, clearer highs and lows, and you can immerse deeper with virtual 7.1-channel surround sound. Sans headset, the Zephyrus M's Smart Amp-powered speakers let you to turn up the volume for more bass and dynamic range, without damaging the cones or compromising sound quality.
KEYBOARD
THE KEYS TO CUSTOMIZATION
Type in style with a desktop-inspired keyboard made for gaming. Function keys are spaced and grouped for easy identification alongside dedicated hot keys that keep essential commands within easy reach. Full N-Key rollover ensures that simultaneous presses register correctly, increasing precision. Highlight key controls for different games and workflows with per-key RGB customization*, and coordinate colors and visual effects across all of your compatible peripherals with Aura Sync.
*Per-key customization requires Aura Creator software available for download at the Microsoft Store.
*Lighting may vary based on system configurations.
Download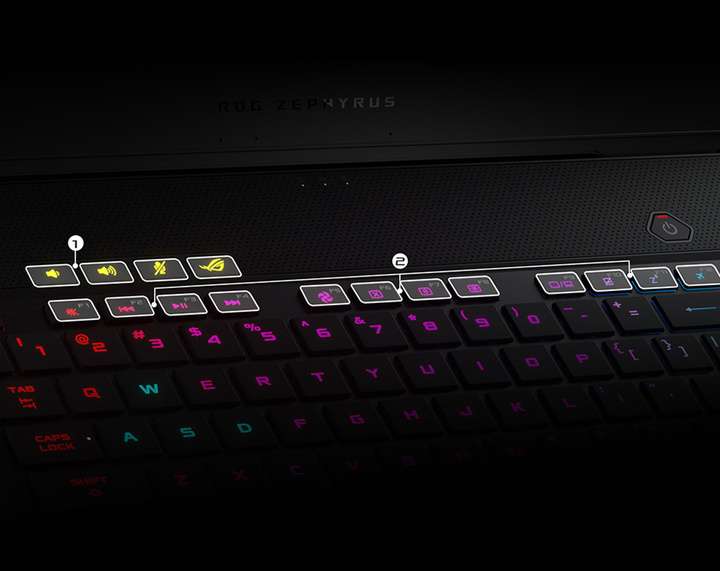 Isolated gaming hotkeys for quick access and easy identification.
Group function keys for better control
GAMING HOTKEYS
Four dedicated gaming hotkeys sit isolated above the keyboard, giving you quick access to the volume, mic mute controls, and Armoury Crate. They're positioned on the upper left side, so you can access them instantly without tabbing out or taking your right hand off the mouse. Switch on your mic to strategize with your team or turn up the volume to hear every enemy movement in your vicinity without losing focus on the game.
Isolated gaming hotkeys for quick access and easy identification.
Group function keys for better control
Close
COOLING
INTELLIGENT COOLING IMPROVES YOUR EXPERIENCE
ROG's Intelligent Cooling philosophy mixes the right features and system settings to ensure the best experience for each chassis and components, no matter what you're doing. The Zephyrus M's self-cleaning thermal module ejects dust to improve longevity, dual n-Blade fans spin 83 blades each to increase airflow, and ultra-thin fins expand the surface area for heat dissipation. ROG Armoury Crate software seamlessly switches between operating modes to optimize performance and acoustics for the task.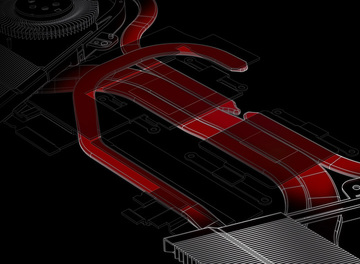 COMPREHENSIVE COOLING COVERAGE
5 heatpipes snake beneath the surface to pull heat away from not only the CPU and GPU, but also the circuitry supplying them with power. Reducing the temperature of these power components helps improve long-term stability and reliability. The CPU and GPU have their own pipes connected to shared heatsinks that ensure efficient cooling for any workload, including those that light up only one of the two chips.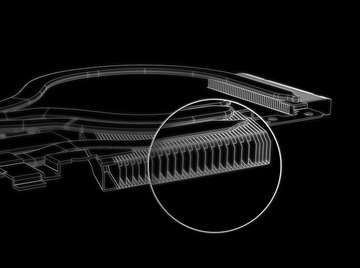 MORE ULTRATHIN FINS
Thermal energy is dissipated by four heatsinks in the flanks. Each one is lined with ultra-thin copper fins as slim as 0.1mm, allowing higher density and lower air resistance than typical fins that are twice as thick. There are 205 heatsink fins totaling 110,000mm2 of surface area, and the ones on the sides are angled slightly toward the back to direct warm air away from your mousing hand.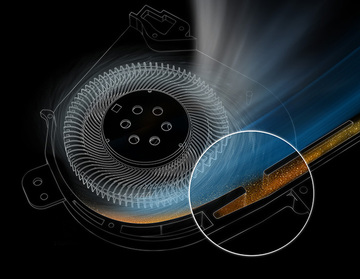 SELF-CLEANING COOLING SYSTEM
Keeping the heatsinks free of debris is critical to maintaining optimal thermal dissipation, so our engineers designed a special anti-dust tunnel that catches and channels particles outside the chassis to prevent them from collecting on the fins. This self-cleaning system helps ensure consistent cooling performance over time, which improves long-term stability and overall reliability.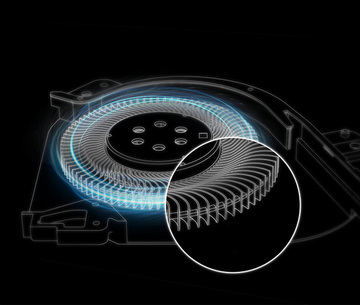 MORE BLADES INCREASE AIRFLOW
Slim chassis leave little room for cooling, so we enhance every aspect of the n-Blade fans to maximize airflow. The carefully shaped aluminum intake shrouds use curved edges and raised guides to help the fans draw in more air. Once inside, it's blasted toward the heatsinks by liquid-crystal-polymer blades that are 33% thinner than conventional designs yet still strong enough to spin at high RPMs. The Zephyrus M matches our highest blade density with 83 per fan, improving airflow by up to 15%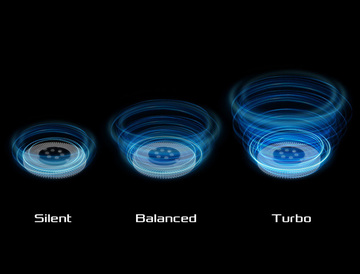 THE RIGHT MODE FOR THE MOMENT
Gaming laptops are versatile enough to tackle a range of tasks, but requirements vary wildly, so Intelligent Cooling adapts accordingly. It automatically switches between operating modes that optimize performance and acoustics for different games and applications. Turbo mode uses the highest fan speed and clocks to sustain maximum speed, Balanced mode adjusts the clocks and cooling to lower noise levels for gaming, and Silent mode runs even quieter for lighter work and entertainment.
Close
I/O PORTS
COMPREHENSIVE CONNECTIVITY
The ROG Zephyrus M has the connections you need for work and play. Alongside the USB 3.2 Gen 2 Type-C™ with DisplayPort™ 1.4 and Power Delivery, there's a Type-A port for ultra-fast data transfers, and two USB 3.2 Gen 1 ports for must-have gear. HDMI 2.0 supports 4K UHD output at up to 60Hz for big-screen gaming and entertainment. Surf the web with 802.11ac Gigabit Wi-Fi, or connect to Gigabit Ethernet to get the lowest latency for serious multiplayer matches and LAN parties.
4Kensington Lock
3USB 3.2 Gen1 Type A
2USB 3.2 Gen1 Type A
1USB 3.2 Gen2 Type C, DP 1.4, PD (input/output)
5Power
6RJ45
7HDMI 2.0b
8USB 3.2 Gen2 Type A
9Audio jack: Mic-in
103.5mm Audio Jack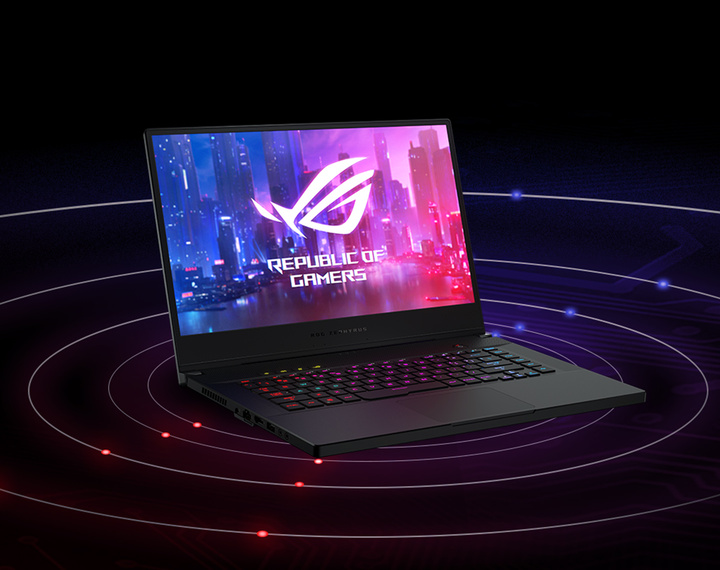 RANGEBOOST TECHNOLOGY
Experience a stronger, more stable Wi-Fi connection with ROG RangeBoost technology. RangeBoost's unique algorithm evaluates the signal strength across four internal antennas and intelligently chooses the best pair for the environment. This multi-antenna system can increase Wi-Fi range by up to 30%, which means fewer dead spots and more freedom to connect anywhere.
Close
EXCLUSIVE SOFTWARE
UNIFIED SYSTEM TUNING AND PERSONALIZATION
ROG Armoury Crate unifies system and lighting controls to put essential settings at your fingertips in a single utility. You can easily define and customize Scenario Profiles that automatically make adjustments when you launch your favorite titles.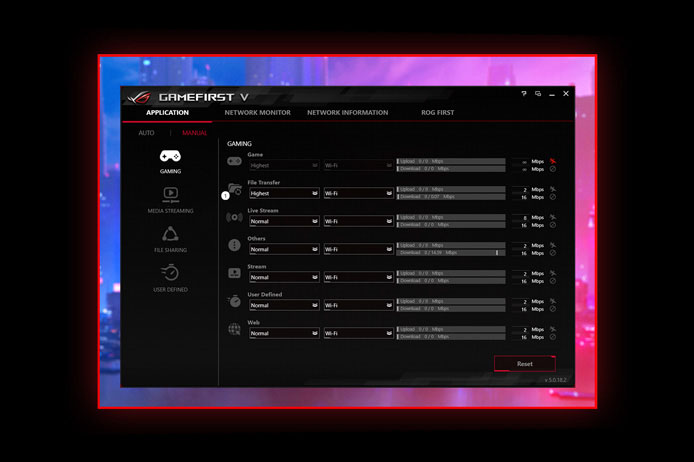 ROG GameFirst V technology maximizes throughput for your game! It prioritizes network packets to increase bandwidth for online gaming and streaming that need it the most. Auto mode prioritizes applications automatically, while Manual mode lets you categorize programs and prioritize them yourself. In addition, ROG First ensures ROG and ASUS RT-series routers prioritize packets according to the GameFirst V settings of your ROG laptop.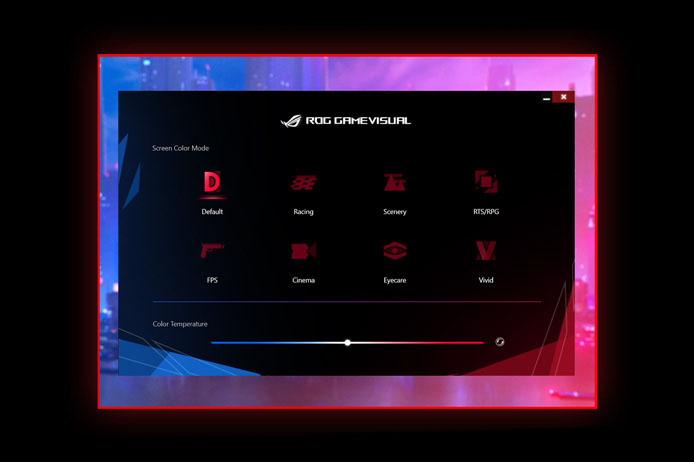 ROG GameVisual software offers six expertly tuned graphic modes designed to optimize your visual experience for specific game genres. First Person Shooter (FPS) mode, for example, enhances visibility in dark environments, allowing you to get the drop on any enemies lurking in the shadows. Use GameVisual to get the best experience for every game in your library.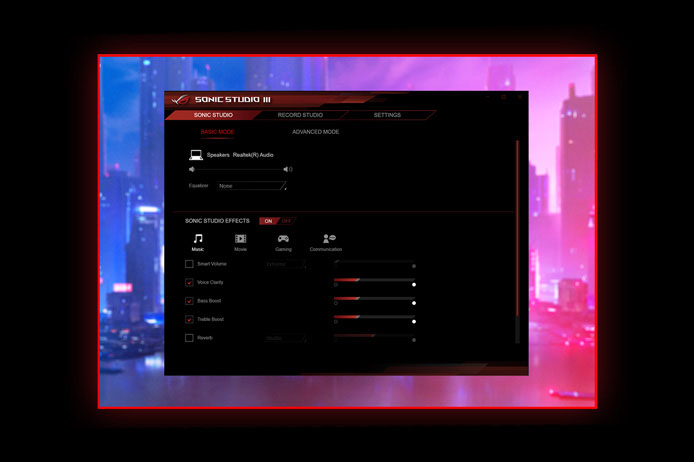 Sonic Studio III supports all of your in-game audio needs. Its main control panel offers manual customizations as well as access to five specially tuned audio modes for different game types. Enhanced noise cancellation, voice-volume stabilization, and echo cancellation for recording give you clearer audio transmission for team voice chat and streaming.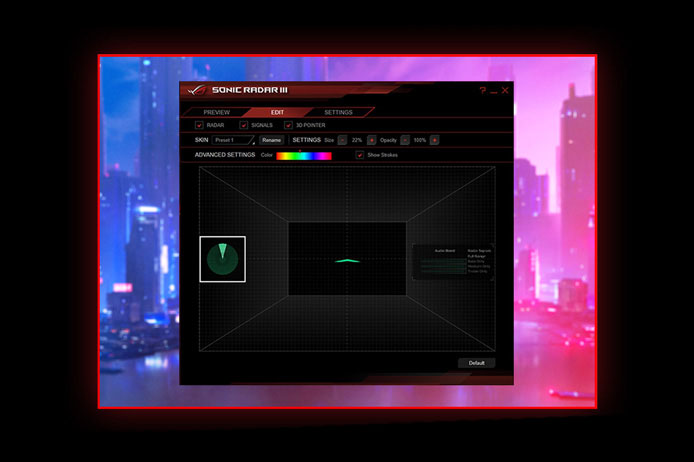 The new Sonic Radar III audio engine processes sounds with heightened spatial and positional clarity, giving you greater environmental awareness in-game. Visualized audio details, such as the onscreen arrow that points in the direction of incoming sounds, can help train your ears and also guide you through gameplay in circumstances where in-game audio is difficult or impossible to hear.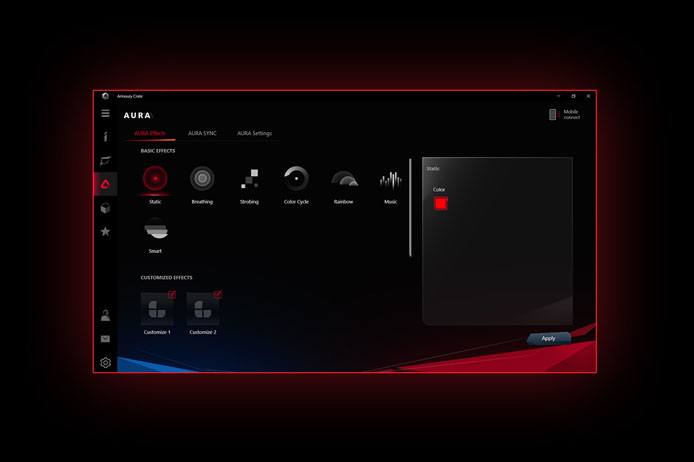 Customize the RGB lighting on Aura-compatible peripherals to suit your gaming style. Aura Core's easy-to-use control panel allows you to alter a brilliant spectrum of lighting effects and colors, in addition to swapping preset lighting modes, You can also activate Aura Sync to match colors and effects across multiple devices.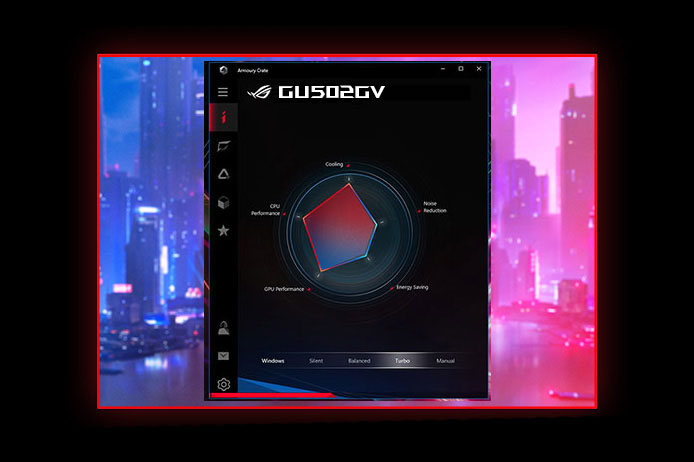 Automatic switching between Silent, Balanced, and Turbo modes is just the beginning for Scenario Profiles. You can also define application-specific preferences for other vital system settings, like the lighting configuration, whether the Windows key or touchpad are enabled, and which GameFirst V and Sonic Studio III profile to use. Armoury Crate makes adjustments in an instant to best fit the task at hand, and you can configure each profile exactly how you want.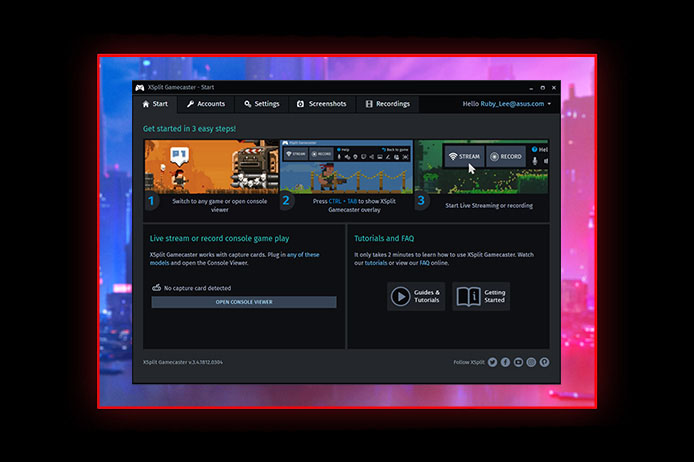 The free version of XSplit Gamecaster allows you to live stream and broadcast directly to internet streaming platforms, or make recordings for easy sharing online. You can even interact with your audience while broadcasting on YouTube and Twitch.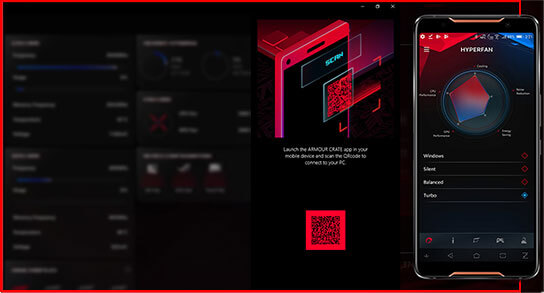 Pick up the free Armoury Crate mobile app for Android or iOS to easily access your settings without interrupting your game! Available now on both Google Play™ and the App Store.


BUNDLED PERIPHERALS
GEAR UP AND GO
Arm yourself with a full collection of gaming gear and accessories. Stream anywhere with the ROG GC21 external camera, capable of capturing Full HD footage at 60 FPS. Keep superior precision and control close at hand with the Aura Sync-compatible ROG Strix Impact optical gaming mouse. Get clearer audio and voice chat with the Cerberus V1 headset, featuring 60-mm neodymium-magnet drivers for immersive sound. And carry it all with you to go in a durable 15" ROG backpack.
*Bundled peripherals are varied by regions
© 2019 NVIDIA Corporation. All rights reserved. NVIDIA, the NVIDIA logo, GeForce, GeForce Experience, NVIDIA BatteryBoost, NVIDIA Turing, Optimus, and ShadowPlay are registered trademarks and/or trademarks of NVIDIA Corporation in the United States and other countries. All other trademarks and copyrights are the property of their respective owners. © 2018 Square Enix Limited. Developed by Eidos Interactive Corporation. © 2017 Bethesda Softworks LLC, a ZeniMax Media company. All Rights Reserved. © 2018 Activision Publishing, Inc. ACTIVISION, CALL OF DUTY, CALL OF DUTY BLACK OPS, and the shield logo are trademarks of Activision Publishing, Inc. ©2019 Electronic Arts Inc., EA, the EA logo, the DICE logo, Battlefield, Battlefield V, and the Battlefield V logo are trademarks of Electronic Arts Inc. NO WEAPON, VEHICLE OR GEAR MANUFACTURER IS AFFILIATED WITH OR HAS SPONSORED OR ENDORSED THIS GAME. Images from in-game engine. © 2019 Koch Media GmbH and published by Deep Silver. Developed by 4A Games. 4A Games Limited and their respective logo are trademarks of 4A Games Limited. Metro Exodus is inspired by the internationally best-selling novels METRO 2033 and METRO 2035 by Dmitry Glukhovsky. All other trademarks, logos and copyrights are property of their respective owners. © 2019, Epic Games, Inc. Epic, Epic Games, the Epic Games logo, Fortnite, the Fortnite logo, Unreal, Unreal Engine 4 and UE4 are trademarks or registered trademarks of Epic Games, Inc. in the United States of America and elsewhere. All rights reserved.
© 2019 NVIDIA Corporation. All rights reserved. NVIDIA, the NVIDIA logo, and GeForce are trademarks and/or registered trademarks of NVIDIA Corporation in the U.S. and other countries.