ASUS Mini PC
Powerful, Compact and Versatile Solutions for Business and Professionals
ASUS Mini PC and Chromebox are packed with the latest innovations and designed to last. Each unit is subjected to stringent and rigorous testing to ensure unwavering quality and reliability.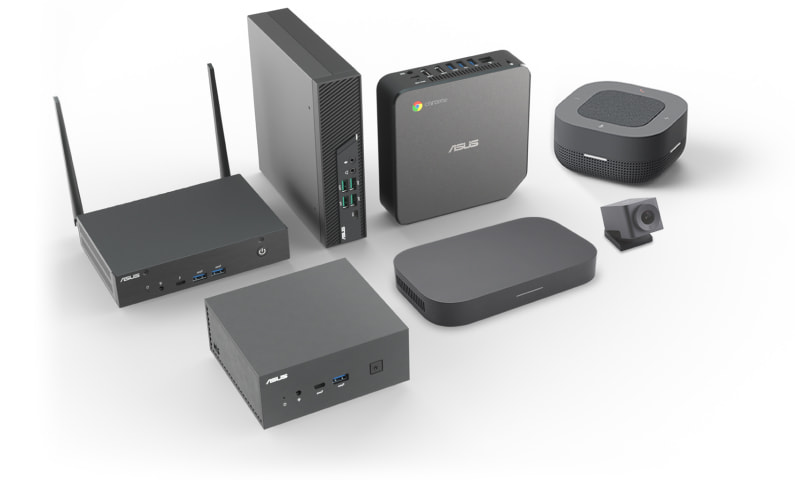 Recognized for Quality
Each award is a testament to our relentless quest for perfection as we create technology that enhances the lives of people.

Small, Smart and Set for Business Success
Exceptional Design

ASUS is committed to pursuing the ultimate aesthetic design and creating products that are both beauty and function. For Example , the functionality with a rubbed design and beveled surface elegantly concealing the PN series heat dissipation holes, which are needed to provide greater stability to accommodate the device's increased computing performance.

Precision Manufacturing Yield Better Products

ASUS is known for creating products and services that exceed industry benchmarks. Our products are engineered to exacting standards to guarantee quality, with only the best components used to ensure outstanding real-world performance and reliability.

Compact but Powerful

ASUS Mini PC is ready to handle even the most demanding workloads. What's more, its compact, less-than-3-liter chassis takes up minimal space on a desk or workstation, making it well-suited for small and medium-sized businesses, retail settings, educational institutions, small offices, or homes.

Comprehensive Connectivity

ASUS Mini PC provides comprehensive connectivity with multiple ports, including a configurable port* to support legacy devices, additional displays or multiple network connections. Such versatility makes ASUS Mini PC perfect for a wide range of commercial scenarios.

* Configurable port options may vary by model or region.

Easy Upgrades and Maintenance

ASUS Mini PC can be easily disassembled to enable upgrades, to customize storage, or to add memory or a WLAN card. ASUS Mini PC also supports the ASUS Business Manager software suite designed to simplify management and maintenance processes.

Stability and Reliability

ASUS Mini PCs undergo rigorous noise, vibration, drop and thermal-shock tests to ensure they meet exacting ASUS standards and exceed industry requirements. They're also tested to ensure reliability in extreme conditions for extended periods, ranging from dry 0° C temperatures to humid and hot environments exceeding 50° C.

Eco-Friendly Design

ASUS Mini PCs are recipients of some of the industry's highest environmental certifications, including ENERGY STAR®. ASUS also exceeds legal compliance guidelines. For example, the RoHS directive restricts the use of six hazardous substances, but ASUS voluntarily restricts 31 additional substances ― to protect customers, employees, and the environment.

Longevity and Manageability

Each Corporate Stable Model ASUS Mini PC purchase entitles the customer to the ASUS Control Center IT-management software suite (CSM Edition, up to $60 value) that provides comprehensive control and monitoring. ASUS CSM products also include a stable roadmap and assured 36-month supply availability.

Global Reach, Local Touch

Every ASUS Mini PC is backed by a worldwide warranty. With hundreds of local ASUS service centers around the world, customers are guaranteed efficient, timely service; and in many cases, items in need of repair can be dropped off instead of shipped.

---
Ensured Quality
ASUS Mini PC conducts several quality and evaluation tests to ensure our product quality.
Thermal Shock Test

Continuously being in low or high temperature, This test is used to check the toughness, structural strength and thermal conductivity of our products.

Noise Test

ASUS has its own ISO-7779-compliant audio testing facility, where our engineers perform extensive noise testing to minimize the noise from fans and other components.

24/7 Reliability Test

Temperature: 35°C
Humidity: 80%
Aging Tool: 3DMark
Aging Time: 168 hrs

Durability Test

The durability test is to ensure all the connectors can work normally during its whole life.

Immunity Test

The radiated immunity test is to test the endurance of the product when encountering different types of electric field disturbances in normal usage.

Energy Efficiency Test

Energy Star 8.0
California Energy Commission's(CEC)

Drop Test

The drop test is based on the degrees of shocks given to the product during non-packaged hand-held conditions which are defined in terms of drop height which is used in this evaluation test. This is aimed at ensuring the product can reliably withstand a free fall drop.

The test will be performed on 6 sides, at 4 bridge corners, one drop in each.

Shock Test

The shock test is characterized by a rapid increase in acceleration in a very short time.

The purpose of this test is to find out the mechanical weakness in our products.

Shock test condition includes: half sine & trapezoid.

Vibration Test

The purpose of the vibration test is to pinpoint mechanical weakness or performance degradation of equipment or components.

It is used to simulate the vibration environment that our products may suffer during transportation in vertical & horizontal directions.

Temperature / Humidity Test

The test is used to simulate different usage environments with different temperature and humidity combinations.

Temperature and humidity testing determines how components, subsystems and complete systems behave in diverse scenarios.

IEC62368 Certificate

Including requirements of CAN/CSA 22.2 No.62368-1-14, EN62368-1:2014+A11:2017, UL 62368-1, J62368-1, CEI EN62368-1, BS EN62368-1, AS/NZS 62368.1:2018.

Radiated & Conducted Emissions Test

The radiated and conducted emissions test is for measuring the emissions that are generated by product. The emissions can be affected by board grounding, noise on the cabling, poor component placement and more.
Design for Industrial
BIOS Flash Update

Software Inventory

Hardware Inventory

Real-time System Monitor

Software Dispatch Task

Power and Security Control
Mini PC Product Portfolio
Expert Center PN Series

Mini PC PB Series

Industrial PC - PL Series

Chrome OS Devices

Video Conference System