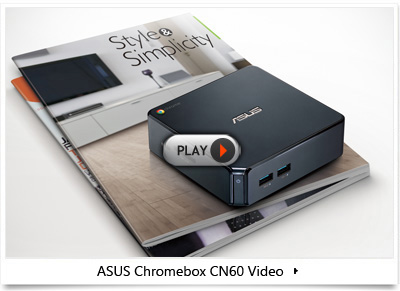 Simplify your life.
Discover the incredible Chrome OS computer.
Easy out-of-the-box setup, integrated virus and malware protection and feature-enhancing updates, ASUS Chromebox CN60 starts up in seconds to get you to your favorite websites and apps instantly.

It houses a processor powerful enough for ultrafast multitasking performance and the connectivity options to choose your own screen size, connecting to multiple displays at once and even attach to any VESA-mountable monitor or HD TV.

ASUS Chromebox CN60 is the always-new computer that just makes sense.
A simpler and smarter digital life
ASUS Chromebox can act as a data center for your desktop, phone or tablet meaning you always have access to the files you need including your favorite Google services. With 100GB of free Google Drive* space, you're always connected to your data in the cloud simply by logging into your Gmail account anytime, anywhere.

* For more info, please visit here.
Small, slim and compact
ASUS Chromebox is the world's smallest Chrome device, measuring just 124 x 124 x 42 mm. With its slim and compact design, it can fit anywhere in your home and look just right
A more beautiful web experience
Kick back and relax with ASUS Chromebox while browsing the web, viewing photos from your SD card and watching videos with up to 4K UHD playback*

* Selected models for 4K playback support
Small in size, big on features
ASUS Chromebox features 802.11 a/b/g/n dual-band Wi-Fi for super-fast web browsing and other online activities. Four USB 3.0 ports, Bluetooth 4.0 and an SD card reader are included making everyday tasks such as transferring files, photos and other media easy. The HDMI and DisplayPort outputs mean you can connect dual monitors, giving you even more space to work or play.
Secure and safe account-based access
Featuring multiple user accounts means ASUS Chromebox is the perfect product for family sharing. ASUS Chromebox is perfect for sharing with easily switchable accounts that keeps everyone's data private and secure.
Easy to get started
ASUS Chromebox takes the hassle out of home computing to allow family members young and old to easily use the program they want to use - simply boot up and go.
Easy photo back up and organizing
Easily backup your photos with ASUS Chromebox. Simply plug in an SD card to the built-in SD card reader and thanks to Google+ your photos are automatically loaded and backed up.
Chrome store gives you easy access to thousands of apps
The intuitive Chrome OS interface gives you access to tens of thousands of Chrome apps available for download from the Chrome Web Store.
Enjoy the convenience, online or offline
With a wide assortment of offline apps, ASUS Chromebox lets you edit documents, play games and use other popular apps without an internet connection!
Bundled accessories
ASUS Chromebox is compatible with a wide range of USB devices including external storage, keyboards, mice, webcams and USB hubs. This means it is easy to expand and connect when you need to.

* Keyboard and mouse are sold separately.
Compare (0)