High-performance mini PC with Intel® Core™ i7, i5 processors, Windows 10 Pro, DDR4 RAM, 4K UHD support, dual DisplayPort and up to five storage devices* (one M.2 PCIe SSD and four 2.5-inch SSDs or HDDs) and Skype buttons for conference
Windows 10 Pro: ASUS recommends Windows 10 Pro for business. Other editions also available.
World's smallest PC with five storage bays (fits one M.2 PCIe SSD and up to four 2.5-inch SSDs or HDDs) and RAID support
Built-in Skype buttons** and amplifier for convenient conferencing with clear sound.
Desktop-grade 7th Generation Intel® Core™ i7, i5, processor and DDR4 RAM
4K UHD support for up to three displays via one HDMI and two DisplayPort outputs
Versatile design with three chassis configuration options for a wide range of applications
Intel®Unite™ for wireless screen sharing and displaying up to four presentations simultaneously
High-capacity HDD and Intel® Optane™ memory acceleration for high-speed data performance
NVM Express® support for blazingly fast SSD data transfers of up to 32Gbps
Full connectivity options including 802.11ac Wi-Fi, two front-panel USB 3.1 Gen 2 Type-A ports, four USB 3.1 Gen 1 Type-A ports, a serial port, and a Kensington Lock
ASUS Business Manager, Remote Management Tool, and for smart and easy PC management
Space-saving design with flexible vertical or horizontal placement options and VESA-mount support
Quiet operation and energy-efficient performance
*Model and configuration availability may vary by region
** Skype software available separately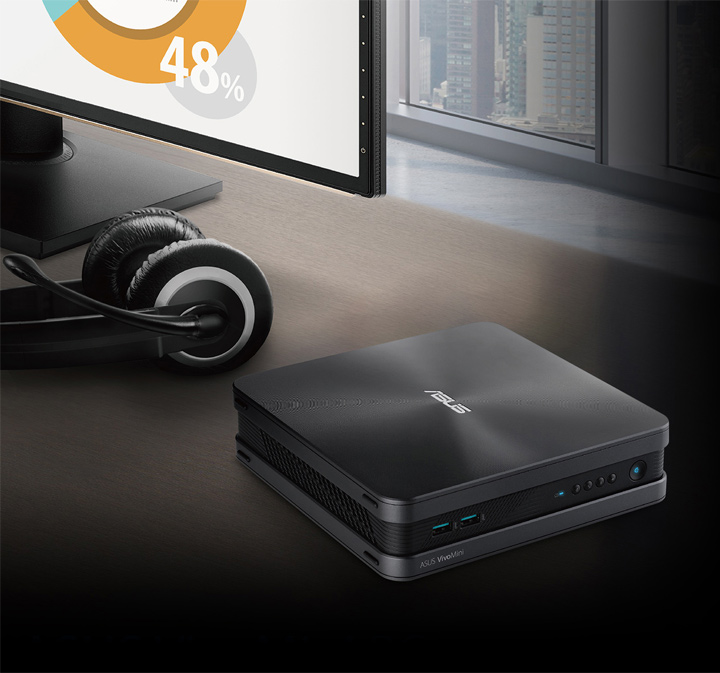 Empower your Business.
Collaborate with Ease.
ASUS VivoMini VC68V is a compact PC designed for professional use and communication. It is the world's smallest PC that can house up to five internal storage devices, and it delivers uncompromised performance with a desktop-grade 7th Gen Intel Core vPro processor and 4K UHD support for up to three displays. A built-in amplifier and dedicated Skype buttons make VivoMini VC68V the perfect conference call hub, and its versatile design enables a variety of storage and optical drive configurations for improved data performance, productivity and media options.
Easy Upgradability
World's smallest PC with up to five storage devices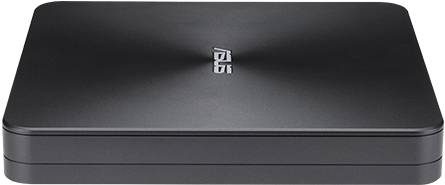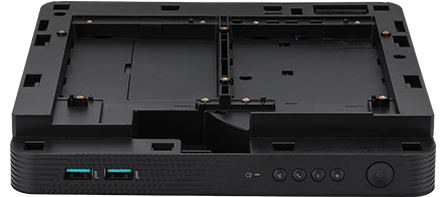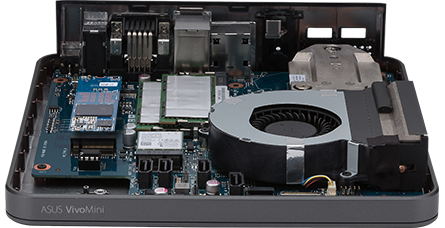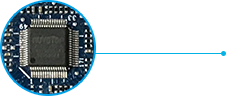 PCIe M.2 SSD/Intel
Optane Memory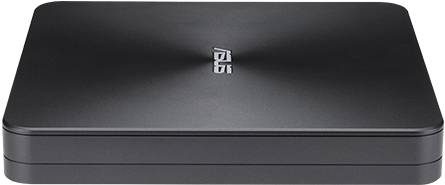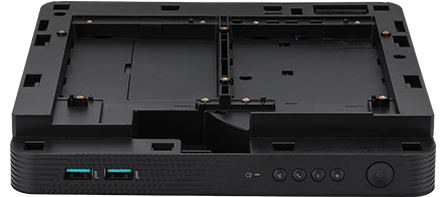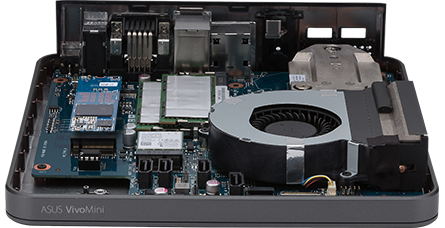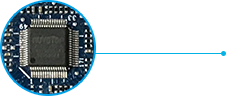 PCIe M.2 SSD/Intel
Optane Memory
5
PCIe M.2 SSD/Intel Optane Memory
*Model and configuration availability may vary by region
Modular Design
Three chassis configuration options and Raid support
VivoMini VC68V has a versatile chassis design with easily swappable modules that enable three different storage configurations: two 2.5" HDDs/SDDs, four 2.5" HDDs/SDDs, or two 2.5" HDDs/SDDs and one ODD. VivoMini VC68V can also accommodate an additional M.2 SSD, for up to five total internal storage devices. Whether you want more storage capacity or to speed up your operating system, VivoMini VC68V gives you the flexibility to mix and match storage options to suit your needs. It's the ideal solution if you're looking for a media server and video editing platform with 2X faster RAID data speeds.
In addition, RAID support provides data resiliency, so you can recover data swiftly in the event of a hard disk crash. This makes VivoMini VC68V suitable for data centers in retail or hospitality establishments.
*Model and configuration availability may vary by region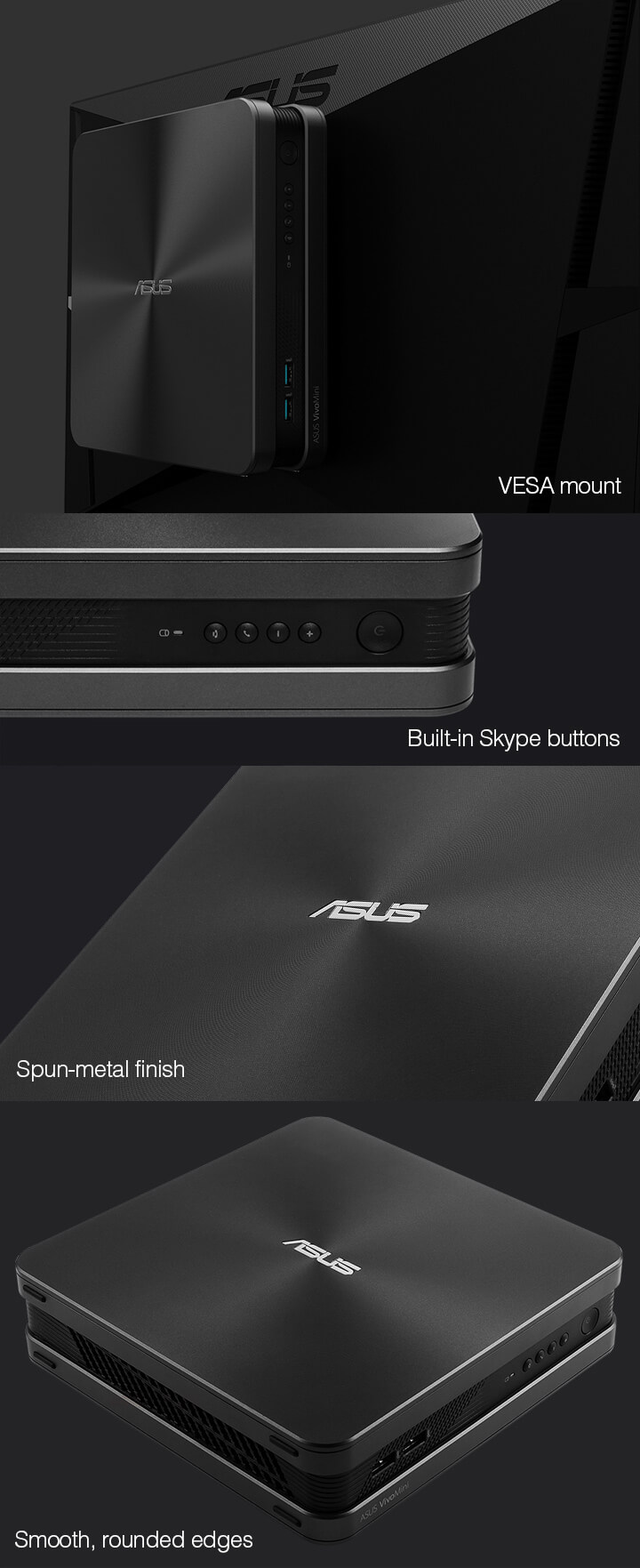 Compact Form Factor
Elegant design, meticulous engineering
With its compact two-liter chassis and Zen-inspired spun-metal finish, VivoMini VC68V has an elegant design that's ideal for the modern office. It can be placed vertically or horizontally to easily fit into any workspace, and can even be attached to the back of a monitor or a wall with a VESA mount. An easy-access, slide-open chassis enables quick component upgrades. A barebones model is also available, allowing you to configure VivoMini VC68V with the operating system, memory and storage options that suit your needs.
* Barebones solution availability may vary by model or region

Performance
Do more with 7th Gen Intel Core processors
Powered by a desktop-grade, 7th Generation Intel® Core™ vPro™ i7 processor* (Up to 4.2GHz) and up to 32GB DDR4 memory, VivoMini VC68V delivers the performance required to run bandwidth-intensive applications such as video editors or 3D modeling software. Intel vPro also provides security and device management technologies for greater protection and easy remote management.
*Processor may vary by model or region

Intel Optane Memory
High-speed data performance and large storage capacities
VivoMini VC68V can be configured with optional Intel® Optane™ memory for unmatched system performance. Intel Optane memory technology is a smart and adaptable system accelerator that improves responsiveness to enable up to 18X faster HDD access speeds, 21% faster daily computing performance, and 1.5X faster file searches. A high-capacity HDD, coupled with Intel Optane memory, provides the optimal combination of large storage and high-speed data access.
*Intel Optane memory configurations may vary according to model and region
**Test configuration: VivoMini VC68V | Intel® Core™ i5-7500 | 8G DDR4 | 16GB Intel® Optane™ memory with 500GB HDD | Windows 10 Pro
18X

faster HDD access speeds

21%

faster daily computing performance

1.5X

faster file searches
Easy Collaboration
Built-in Skype buttons for convenient conference calls
With the dedicated Skype buttons on the front of VivoMini VC68V, you can make calls and start conferences instantly, and immediately launch hassle-free skype conference calls immediately without toggling screen.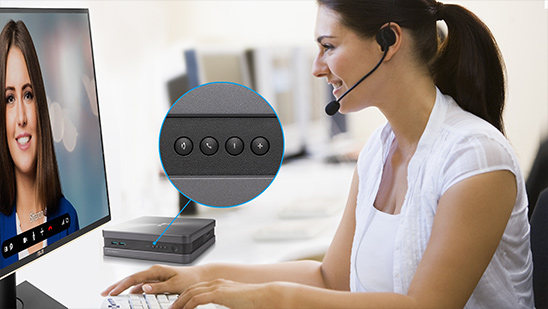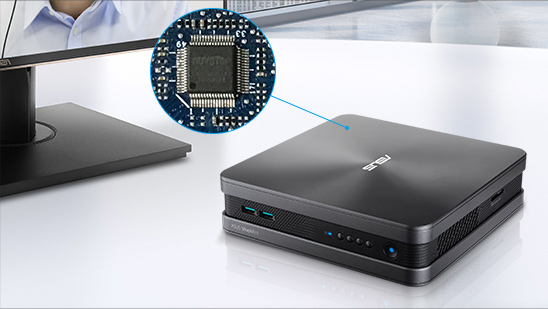 Crystal-clear sound
A built-in Texas Instruments amplifier provides clear and crisp sound when making calls with wired headsets.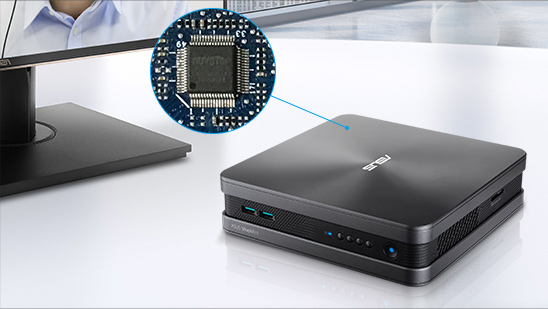 Connectivity
Easily connect to a wide variety of devices
VivoMini VC68V features two front USB 3.1 Gen 2 Type-A ports and four USB 3.1 Gen 1 Type-A ports. VivoMini VC68V also offers one HDMI port, two DisplayPort (support Ultra HD 4K) outputs, Intel Gigabit Ethernet, a 4-in-1 card reader, and an audio output jack. A serial port lets you connect VivoMini VC68V to legacy embedded systems, including barcode scanners, printers, routers, modems and other devices for point-of-sale systems and vending machines. Additionally, VivoMini VC68V includes the latest 802.11ac Wi-Fi, Bluetooth® 4.2, and a Kensington lock.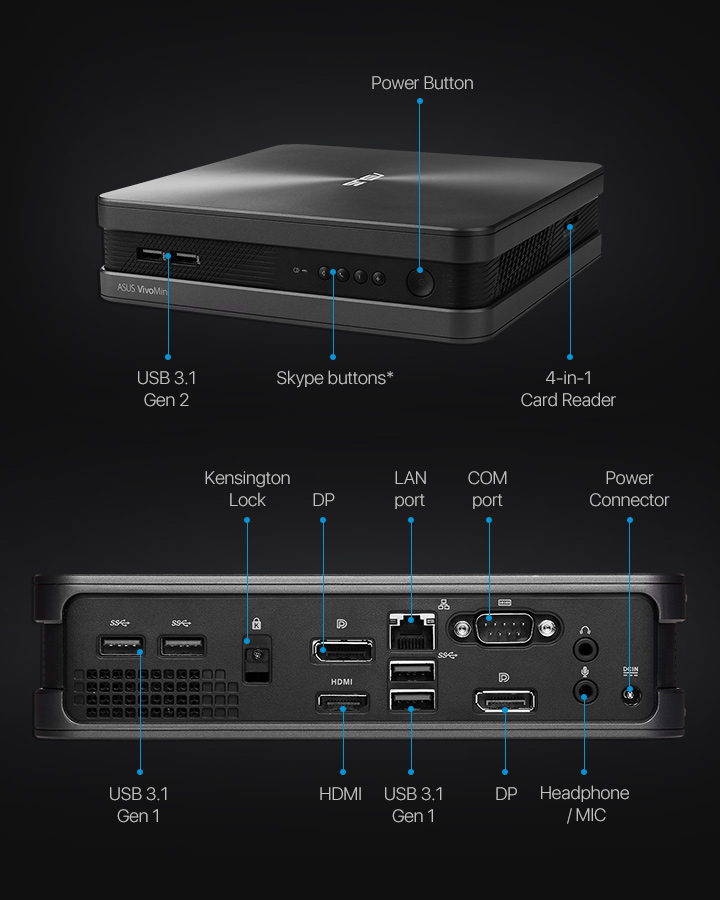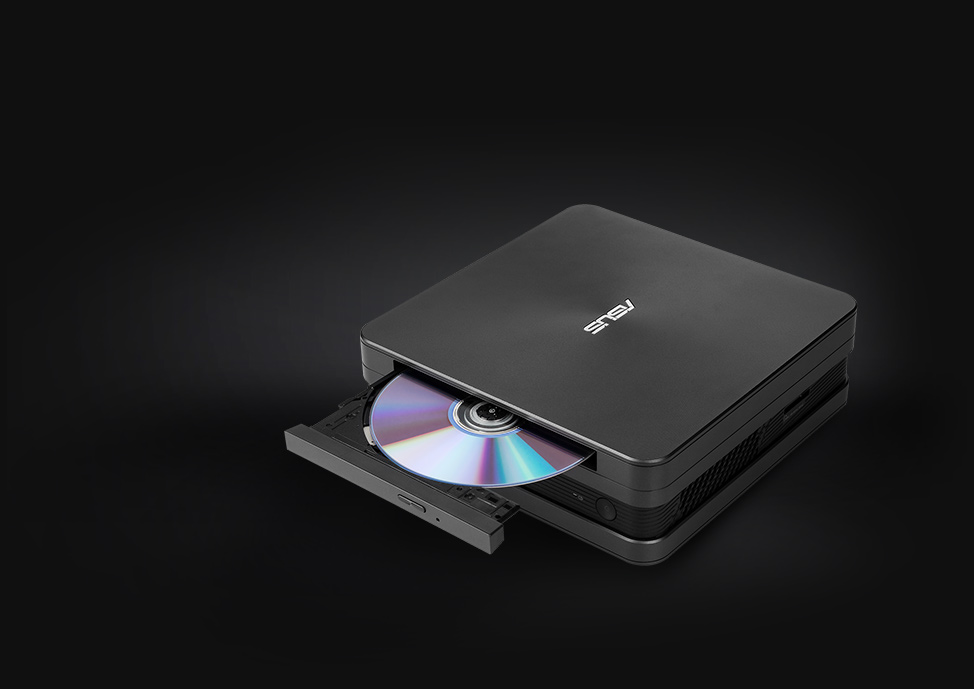 Optional Optical Drive
Despite its compact size, VivoMini VC68V fits an optional optical drive for added convenience and greater media options.
*Only available on configurations with dual-storage with one optical drive
Three-Display Productivity
4K visuals via dual DisplayPort and HDMI
VivoMini VC68V gives you ultra-realistic 4K UHD visuals on up to three displays via dual DisplayPort connections and an HDMI output. With multiple displays, you'll enjoy more onscreen space, sharp details, and true colors for editing video, viewing media and giving presentations. Because it's compatible with any monitor, HDMI-equipped TV, or projector, VivoMini VC68V gives you a multitude of display options.

Silent
Quiet, energy-efficient design
With its environmentally friendly design, VivoMini VC68V is incredibly energy efficient, drawing as little as 22W at idle. It also operates in remarkable silence, generating just 19dB of noise at idle.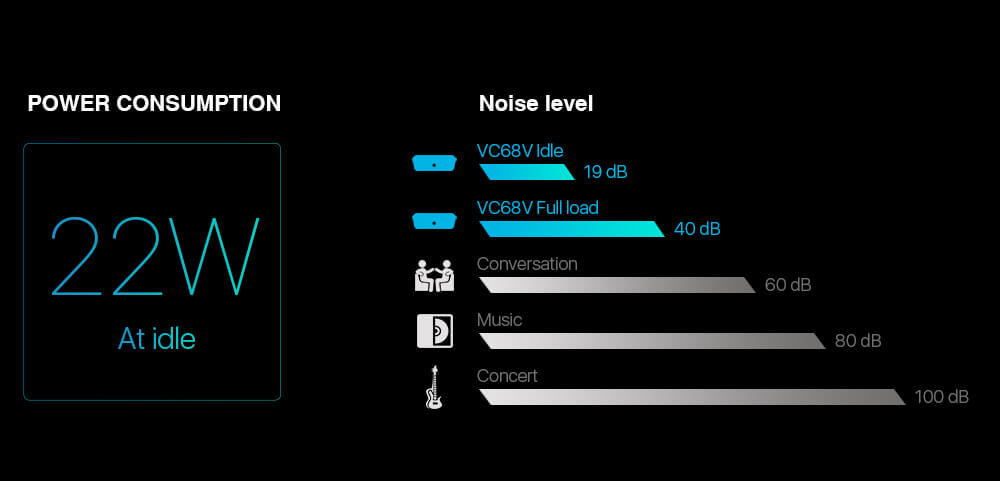 Manageability
Easy PC management
ASUS Business Manager
ASUS Business Manager is a one-stop suite of apps and functions designed to help small business owners.

Power

Customize power management and power saver settings

Update

Easily update apps, drivers, and BIOS

Backup & Recovery

Easily backup data, and reset, refresh, or restore the PC

Security

Easily delete cache, cookies, and history, and set a password lock for the USB

Tools

Customize your BIOS logo and change the DMI string

Support

System information at a glance
Reliability
Tested for perfection
ASUS Mini PCs undergo rigorous noise, vibration, drop and thermal shock tests to ensure they meet exacting ASUS standards and exceed industry requirements. Be confident that your ASUS Mini PC can cope with extreme conditions, ranging from dry 0°C temperatures, to humid and hot environments exceeding 50°C.


Vibration Test

Drop Test

Port Test

Temperature and Humidity Test

Noise Test

Line Voltage and Frequency Test
Security
Total physical and virtual protection
Safeguarding intellectual property, business information and physical assets is becoming a management priority, especially in today's knowledge economy. ASUS mini PCs are built with sophisticated security features to keep your business — and your personal information — safe and secure.
Trusted Platform Module (TPM) data security

Onboard TPM offers a protected and encapsulated micro-controller security chip for safeguarding internal data structures against real world threats. This ensures that information like keys, passwords, and digital certificates remains safe from external attacks, physical theft, and other types of intrusion.

* TPM chip support may vary by model or region

Kensington lock slot

ASUS VivoMini PC comes with a Kensington lock slot for additional asset management and security so your hardware and confidential data stays well protected.

USB ports read/write control

ASUS VivoMini PCs feature a mouse-controlled interface that enables more flexible and convenient input, including system management tools like I/O port activation.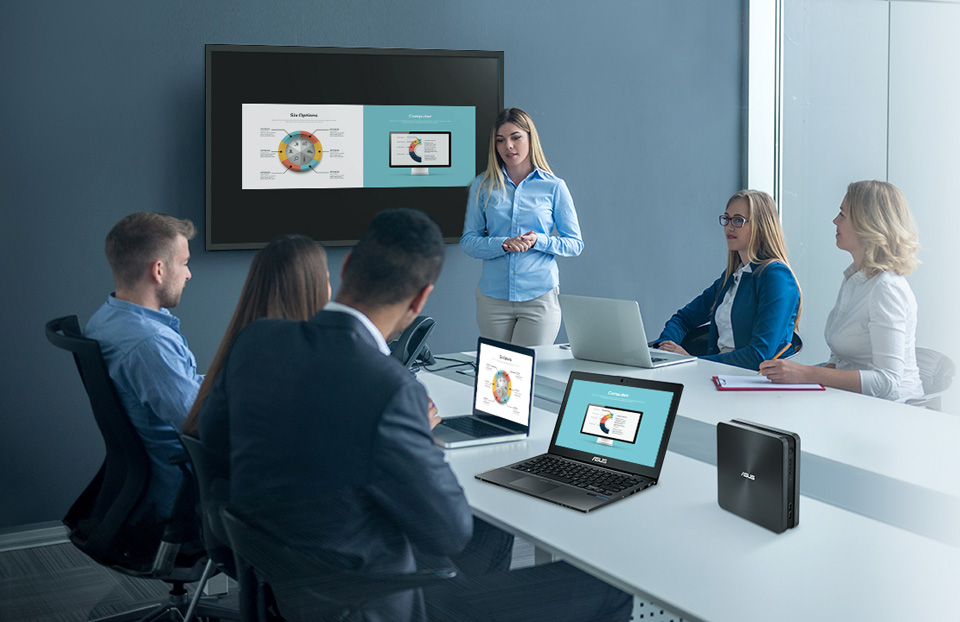 Easy Conferencing and Collaboration
VivoMini VC68V is an integrated conferencing solution designed for modern offices. Simple, secure and smart, it combines one-touch conferencing with powerful PC performance.
One-touch conferencing
Built-in Skype buttons for instant conference calls
VivoMini VC68V streamlines conference calling with one-touch control of Skype and wireless sharing with Intel® Unite™. Dedicated Skype buttons on the front of VivoMini VC68V let you make calls and start conferences instantly.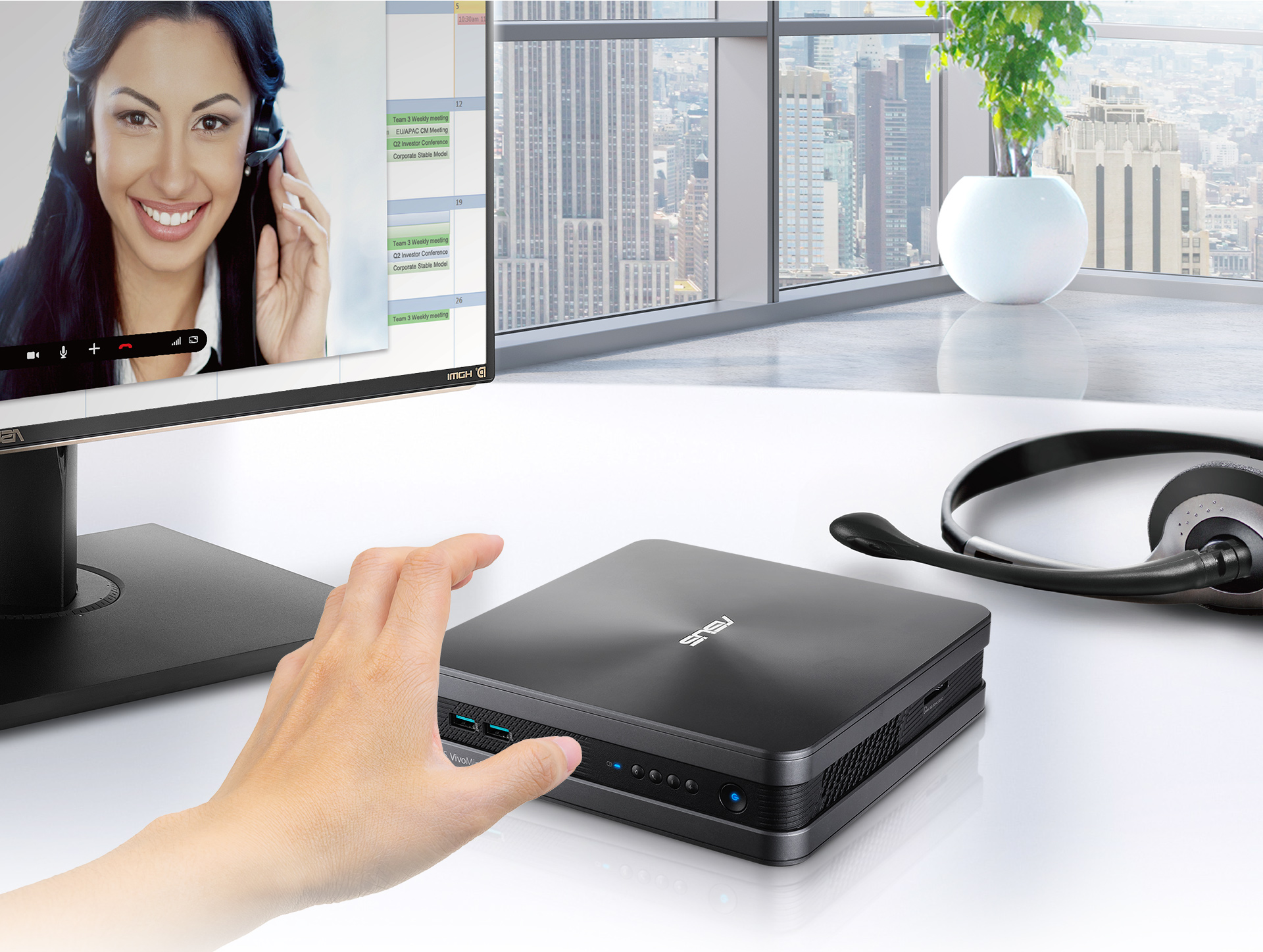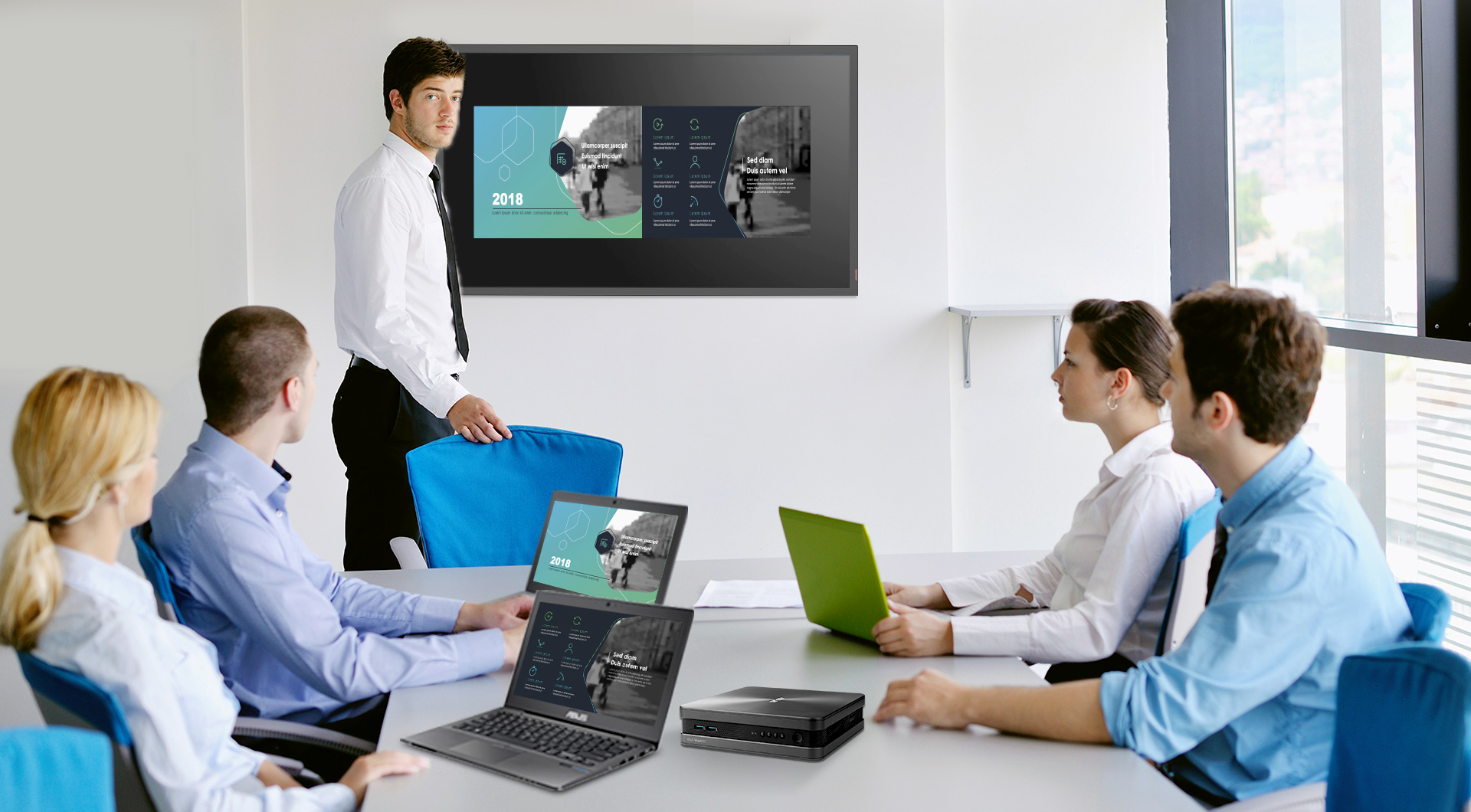 Wireless Collaboration
Save setup time and boost meeting productivity
VivoMini VC68V with Intel® Unite™ allows easy collaboration between onsite and remote participants, enabling better, more effective communication between teams across a wireless network. Meeting participants no longer need dongles or cables to connect their various devices, but instead only require a PIN code to join the meeting.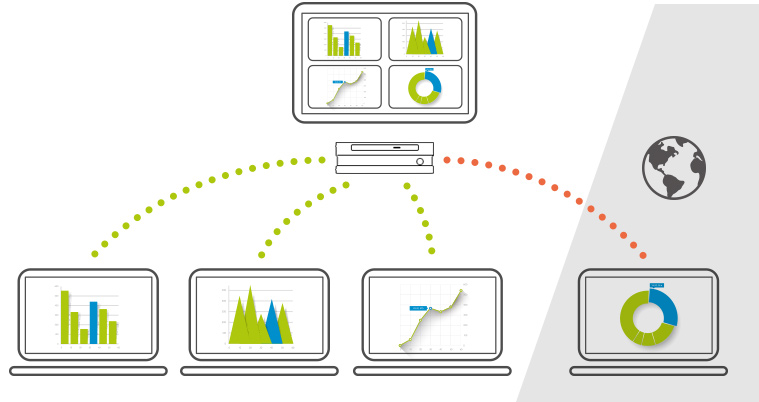 Effective Collaboration
Split-screen viewing and real-time annotation
Intel® Unite™ allows up to four online presenters to share their screens simultaneously, enabling side-by-side comparison of data from separate reports or documents, and collaborative presenting using different devices. All meeting participants can view, annotate and share documents in real time, and each participant can easily distribute content with the integrated file-transfer feature.

*Intel, the Intel logo and Intel Unite are trademarks of Intel Corporation in the U.S. and/or other countries.
Compare (0)