ExpertCenter D8 Mini Tower (D800MDR)
ExpertCenter D8 Mini Tower (D800MDR)
ASUS ExpertCenter D8 Mini Tower
Maximum productivity, rock-solid reliability
Windows 11 Pro for business
Supports the Intel vPro® Essentials platform for IT management support
15L expandable performance with compact chassis size
Easy maintenance and upgrade with the tool-free chassis design
Durability tested with MIL-STD 810H military standard and ASUS in-house testing
Comprehensive connectivity for the real business connections
Enterprise ready security with TPM 2.0 supports and more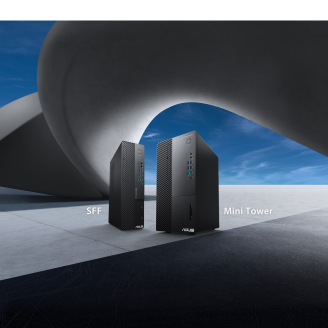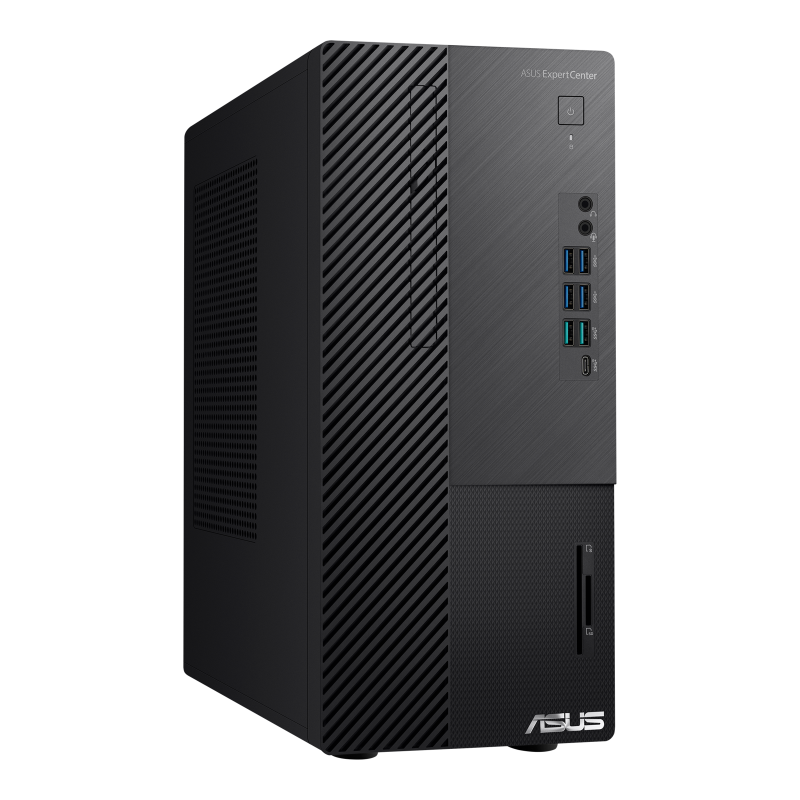 Maximum productivity, rock-solid reliability
Built to perform and easy to manage for enterprises, ExpertCenter D8 Mini Tower delivers serious business horsepower with 13th Gen Intel® Core™ processor, up to professional-grade discrete graphics, and comprehensive connectivity. ExpertCenter D8 Mini Tower is also simple to configure and upgrade to meet any need, so it's ready to serve your business today and long into the future.
Secure manageability
The Intel vPro® Essentials platform empowers businesses irregardless of professional IT support, enabling simplified management options and hardware-level security protection.
Efficient expandability
The perfect blend of performance and size with remarkable expandability which provides space for most hardware to support different productivity needs.
Tool-free chassis
Designed to simplify maintenance and upgradeability, the tool-free chassis means both the hard disk drive and optical disk drive can be easily removed by hand.
Ultimate reliability
Built with industry-leading ASUS motherboards, and tested to stringent ASUS and MIL-STD 810H US military standards
1
, minimizing risk of damage and maximizing longevity.
Exceptional performance, whatever the task
To make light work of all your business tasks, ExpertCenter D8 Mini Tower is powered by up to a cutting-edge 13th Gen Intel® Core™ processor with vPro® Essentials support for increased performance and modern manageability for enterprises. Its two SSDs support both RAID 0 and RAID 1 levels for superior performance or improved data security. Discrete graphics is an option for those requiring advanced graphics performance for demanding visual tasks. Plus, up to four displays can be used simultaneously even without adding an extra graphics card.
ExpertCenter D8 Mini Tower is available with professional-grade NVIDIA® RTX™ and NVIDIA® GeForce® graphics to help you elevate your craft. As an NVIDIA Studio-grade desktop, ExpertCenter D8 Mini Tower empowers you to render quicker, broadcast clearer, and edit videos better with the latest NVIDIA GPUs — so it's perfect for everything from creating short online videos to full-length features, animation, and 3D modeling.
ExpertCenter D8 Mini Tower is available with the latest Intel® Arc™ A380 discrete graphics — the world's first graphics card with hardware-accelerated encoding for AV1, and augmented by AI and accelerated by Intel® Deep Link technology. Further enhanced by the power of a high-performance Intel® Core™ processor, Intel® Arc™ graphics leverage the Intel® Hyper Encode feature to turbocharge every encoding task. All this adds up to accelerated performance and efficiency for content creation, video editing, and more.
For creatives, software is key. That's why ASUS tests and invests in comprehensive Independent Software Vendor (ISV) certification processes to ensure ExpertCenter D8 Mini Tower works as expected with professional applications from the world's leading software companies
3
.
Purchase and get complimentary membership to the Adobe Creative Cloud, opening up access to over 20 world-class creative apps for desktop and mobile platforms
4
.
Learn more
Maximize your workspace
ExpertCenter D8 Mini Tower is 37% smaller than a traditional tower PC, helping you maximize your office workspace. And its sleek and elegant design will give your business a truly professional look.
Hassle-free maintenance and upgrades
ExpertCenter D8 Mini Tower has a tool-free chassis design so you can open it up with no tools required. The HDD and ODD can also be easily pulled out with just fingers. This saves time and effort, making component upgrades and routine servicing easy.
Watch the tutorial
Power to do more
To adapt seamlessly to your business workflow, ExpertCenter D8 Mini Tower features a full array of expansion capabilities, including I/O ports, storage, graphics, and WiFi. It's easy to configure for all your current and future demands.
Less heat, more productivity
To ensure stable performance, ExpertCenter D8 Mini Tower employs an innovative multi-channel cooling system. ExpertCenter D8 Mini Tower also includes the exclusive MyASUS app to optimize the operation of the CPU and system fans, automatically moderating the speeds and switching them off completely when possible, striking the perfect balance between maximum performance and minimum noise.
ExpertCenter D8 Mini Tower offers businesses with limited IT resources advanced security protection via Intel vPro
®
Essentials. Enjoy out-of-the-box, hardware-based data protection and real-time threat detection remotely, wherever IT experts might be. In addition, a suite of sophisticated security features such as TPM 2.0
5
, a Kensington lock slot and USB device control are available to protect both your business and its data.
The ASUS Service Package
8
offers a wider range of solutions that go beyond the standard warranty to meet the needs of business-critical IT environments. The extended offerings protect your business — not just the hardware — allowing you to customize a service solution that best meets your needs.
ASUS Expert Series merges the ASUS Design Thinking ethos with the latest sustainability technology to foster a circular future, achieving multiple internationally recognized environmental certifications. By embracing our goal to achieve net-zero, ASUS Expert series creates minimum waste and maximum efficiency — ensuring the best quality for consumers and an ever-reducing impact on the environment.
Expert series PCs are solidly-built and tested to the most demanding industry requirements, including MIL-STD 810H US military standards and stringent ASUS in-house testing. The inevitable minor shocks and everyday workplace accidents won't jeopardize your precious data
1
.
ExpertCenter desktops use ASUS motherboards — the world's #1 motherboards
9
— which are renowned for offering comprehensive system protection to safeguard hardware, 24/7 stability through extensive testing, and consistent performance.
ExpertCenter desktops are engineered with 100% solid capacitors for better performance and longevity, with a lifespan that's up to 2x greater than traditional capacitors with the CPU under full load and 6x longer during everyday use
10
. This maximizes your investment and minimizes the need for maintenance — all contributing to a lower total cost of ownership (TCO).
Ready for the business world
A full array of I/O ports is ready to connect to a wide range of business peripherals. It has seven front-mounted USB ports — including one USB Type-C® (USB-C®) port for quick and easy access. Flexible serial and parallel ports on the chassis leave more PCI Express® slots available for additional upgrades. A smart-card reader and an SD card reader are optional for easy transactions, data transfer, or other business-related tasks.
Parallel port (optional)
PS/2 mouse port
PS/2 keyboard port
DisplayPort x 2
HDMI port
VGA port
USB 3.2 Gen 1 port x 2
USB 2.0 port x 2
LAN (RJ-45) port
Microphone port
Line out port
Line in port
Serial port x 2 (optional)
HDD indicator
Optical disk driver bay (optional)
Headphone port
Audio combo jack
USB 3.2 Gen 1 port x 4
USB 3.2 Gen 2 port x 2
USB-C® port
Smart card reader &
SD card reader (optional)
D800MDRES refers to the SKUs of D800MDR with Energy Star and EPEAT certifications.
The testing regime includes the requirements of both military-grade standards and ASUS quality tests, and varies depending on device. MIL-STD-810 testing is conducted on selected ASUS products only. Note that the MIL-STD-810 testing helps to ensure the quality of ASUS products but does not indicate a particular fitness for military use. The test is performed under laboratory conditions. Any damage caused by attempts to replicate these test conditions would be considered accidental, and would not be covered by the standard ASUS warranty. Additional coverage is available with ASUS Premium Care.
Please note that ExpertCenter D8 Mini Tower includes two up to 4 TB M.2 SSD drives and one up to 2 TB 3.5" HDD. A second 2.5" HDD of up to 2 TB can be optionally fitted by the user, for total HDD capacity of up to 4 TB.
ISV Certification with selected graphics cards only.
Terms and conditions apply. For more details, please read the full terms and published on https://www.asus.com/content/asus-offers-adobe-creative-cloud/.
Trusted Platform Module (TPM) is optional.
Intel vPro® Essentials is optional and its availability varies according to country. Please check with your local ASUS retailer for details.
ASUS management solutions include ASUS Control Center and ASUS Business Manager platform.
ASUS Service Package options include: 24x7 support; MyASUS app; Three-year international warranty; Pick up & return service; Onsite service; Next business day onsite response; Accidental damage protection; Defective HDD retention. Service and warranty coverage may vary depending on country and territory. Service may not be available in all markets. We recommend that you check with your local retailers to confirm the options available.
ASUS secured the #1 spot for motherboard market share as of 2017, with DigiTimes reporting that the Taiwanese PC component giant owns 45% of the motherboard market.
Based on ASUS internal testings. Unless otherwise stated, all performance claims are based on theoretical performance. Actual figures may vary in real-world situations.
Compare (0)