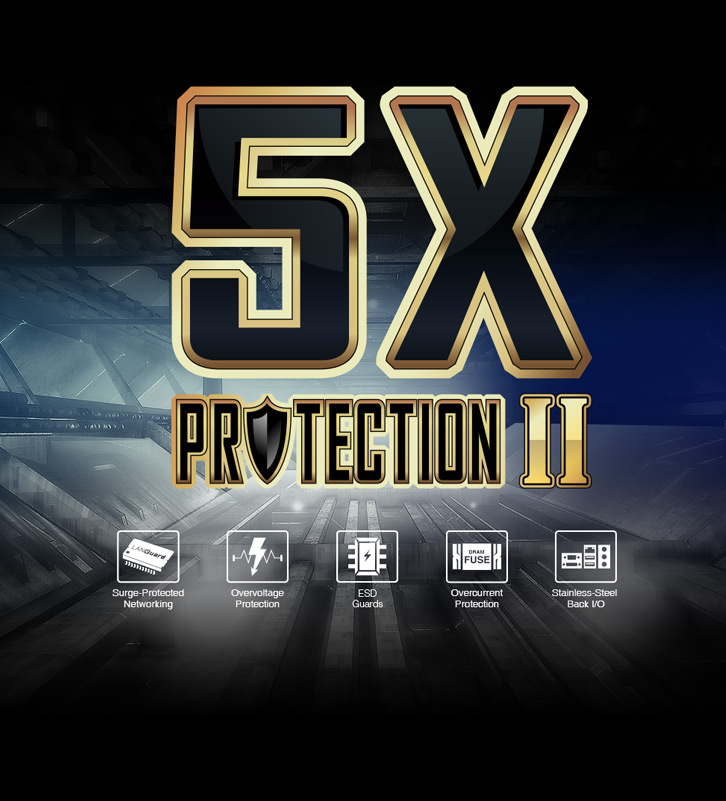 Dependable Stability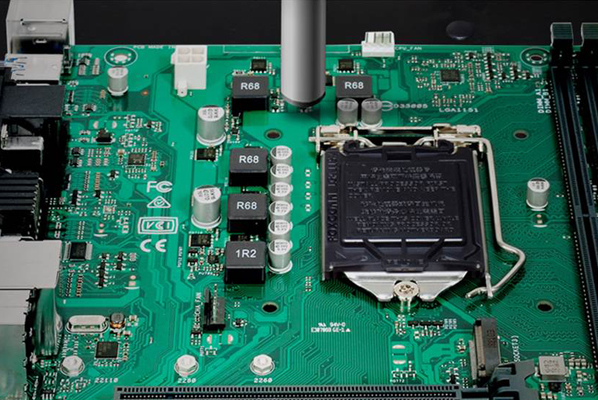 Anti-moisture Coating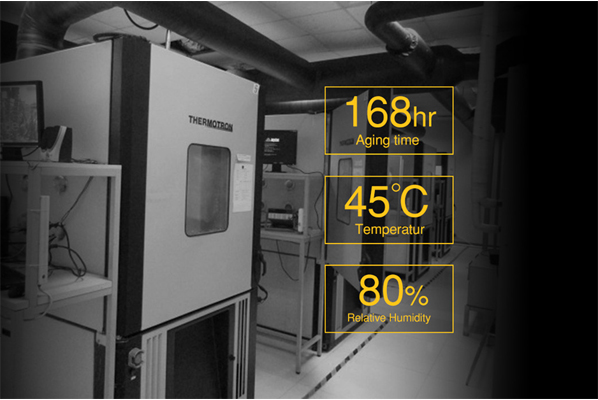 24/7 Reliability Test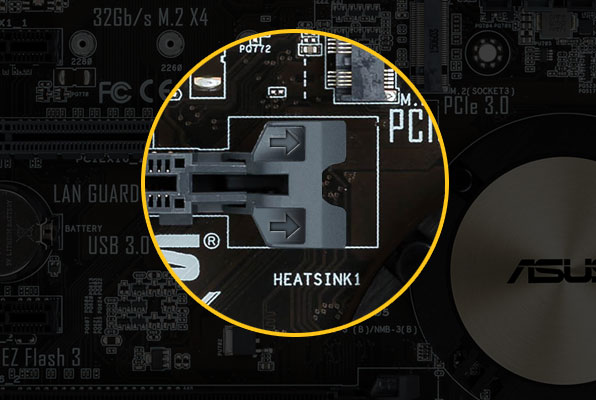 Easy PC DIY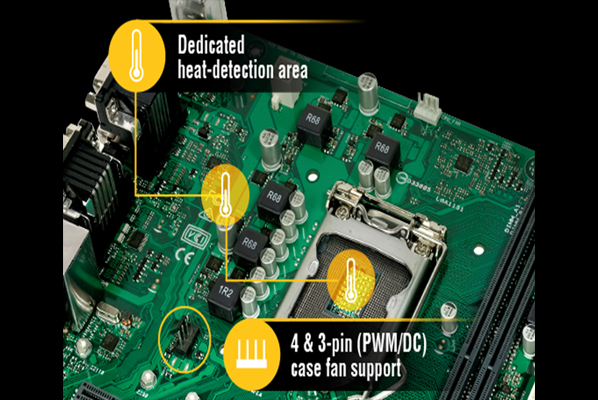 Optimized Cooling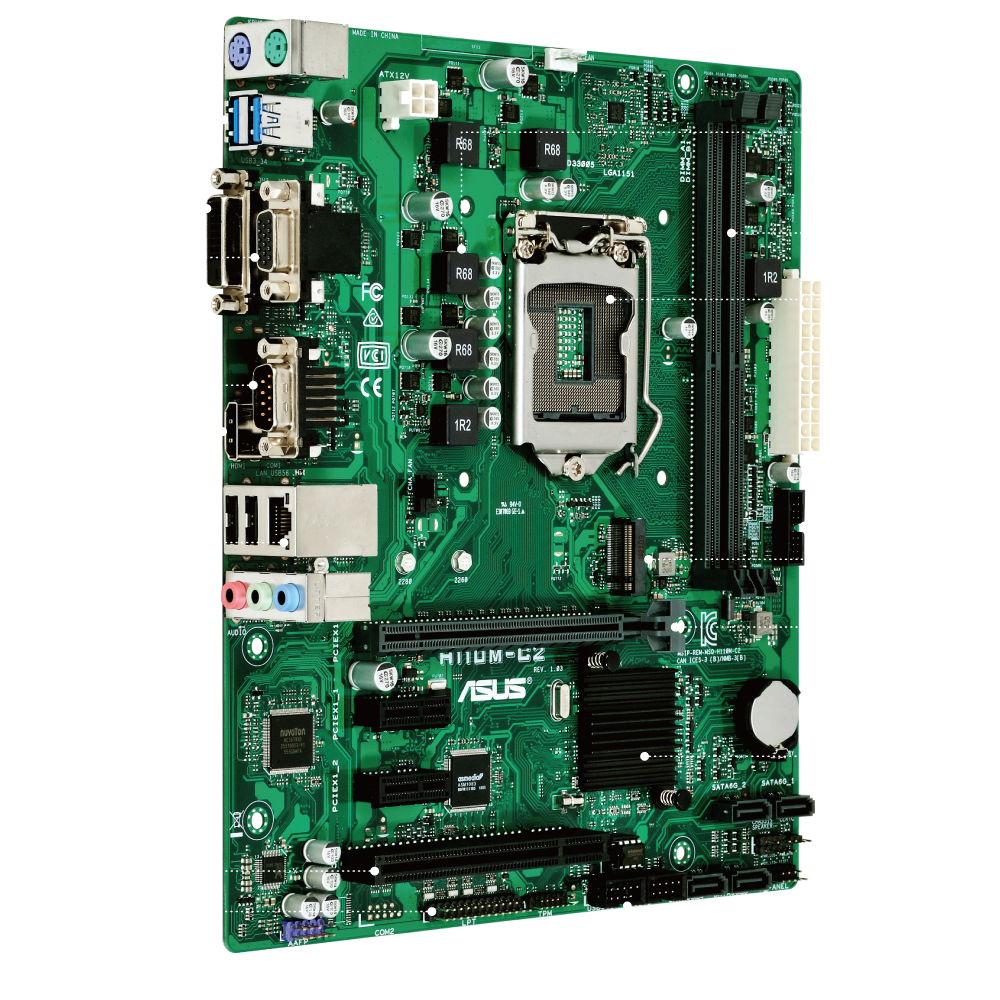 Dependable Stability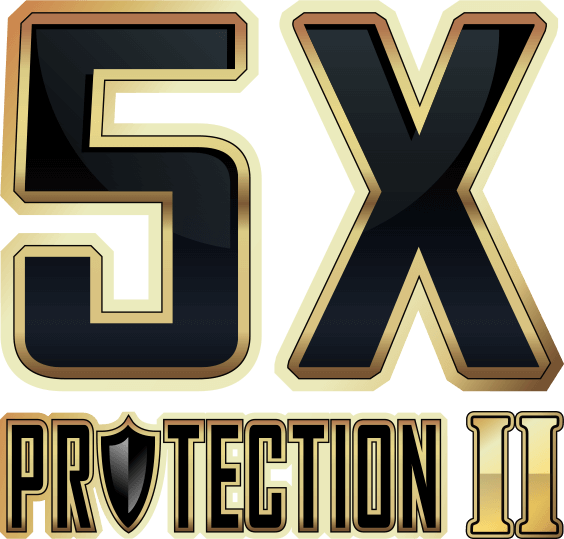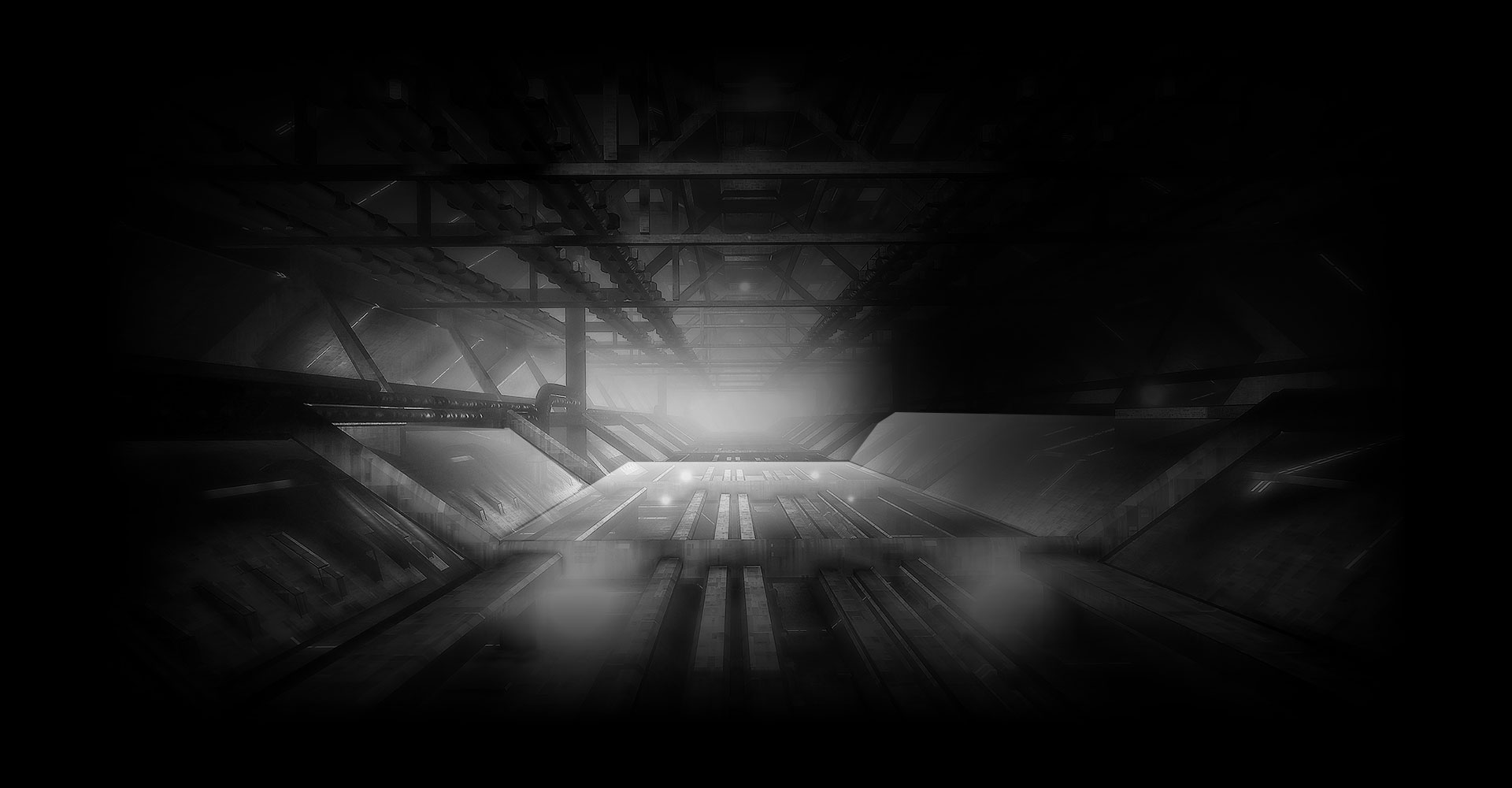 Surge-Protected
Networking

Overvoltage
Protection

ESD
Guards

Overcurrent
Protection

Stainless-Steel
Back I/O
Advanced Hardware Safeguards
Industry-leading 5X Protection II employs the finest components, excellent circuit design, and exacting standards to guarantee quality and long-term durability of your motherboard with all-round protection. For you, that means exceptional protection and stability for your build — the result of decades of engineering experience from the world's leading motherboard brand.
LANGuard
Pumped-up throughput. 2.5X higher surge tolerance.
ASUS LANGuard is hardware-level networking protection that employs signal-coupling technology and premium anti-EMI surface-mounted capacitors ensuring a more reliable connection and better throughput, plus electrostatically-guarded and surge-protected components for greater tolerance to static electricity and improved protection against surges.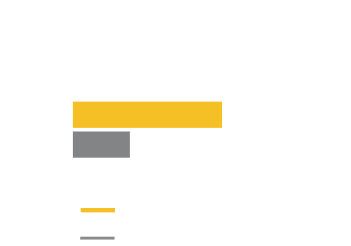 * ESD result is undertaken by individual LANGaurd
World-class circuit-protecting power design
An exclusive circuit design with built-in voltage regulators to protect your chipset, connectivity ports, and audio codecs from damage caused by unexpected high-level voltages from unstable or inferior power supplies.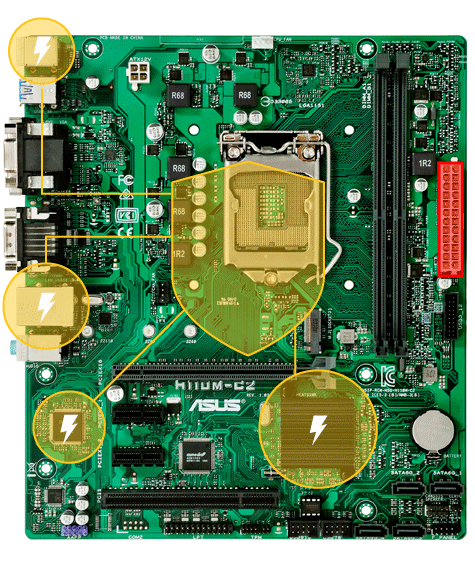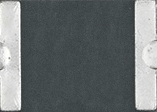 DRAM Overcurrent Protection
Short-circuit damage prevention
Onboard resettable fuses prevent overcurrent and short-circuit damage. This extends beyond I/O ports to DRAM to safeguard the lifespan of both your system and connected devices.

Stainless-Steel Back I/O
3X corrosion-resistance for greater durability
Corrosion-resistant stainless steel back I/O panels bonded with chromium oxide have a lifespan that's three times (3X) longer than ordinary panels.
ESD Guards
Electrostatic discharge (ESD) can happen suddenly, and its damaging effects are easily underestimated. ASUS ESD Guards are tested to very high standards, capable of up to +/- 10kV for air discharge and +/-6kV for contact discharge. We employ an active protective circuit design to guard your system against electrostatic interference and damage, providing greater component longevity.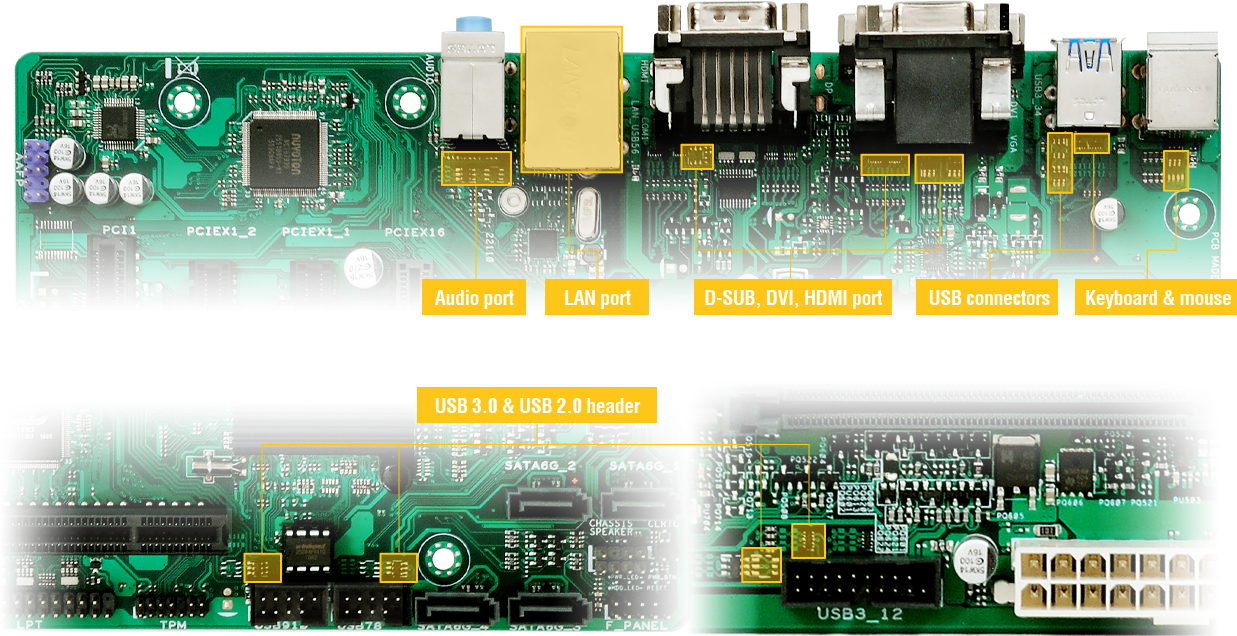 Against moisture and corrosion
This innovative moisture-resistant coating provides motherboard protection, and combats the higher levels of humidity that build up in densely-populated environments, such as factories, libraries, data centers and internet cafes. It even minimizes internal corrosion by preventing the adhesion and migration of moisture — prolonging the life of your industrial usage motherboard.

Superb Performance
DDR4 Support
Make your memory go faster
With DDR4, you'll accelerate memory frequencies up to an incredible to 2133MHz! And ASUS works with almost every DDR4 memory vendor, so you're assured the best compatibility.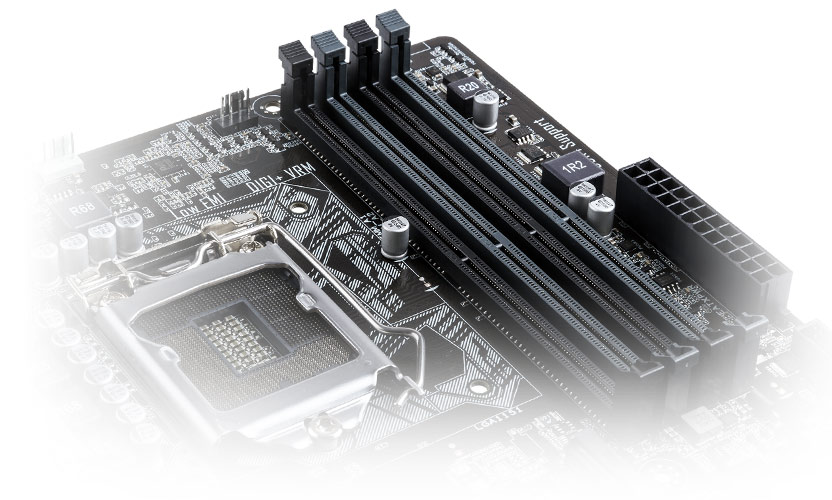 Enjoy the DDR4 benefits with ASUS 100 series. (DDR4 vs DDR3)
2

X

faster write
read speeds
20

%

lower power
consumption
Ultrafast Transfer Speed
Instant front-panel USB 3.0 Experience
We've put USB 3.0 right where you need it — two super-speed ports on the front panel. Experience data-transfer speeds up to 10X faster than USB 2.0 with instant plug-and-play connectivity, so no more back-breaking contortions in the hunt for hard-to-reach rear ports!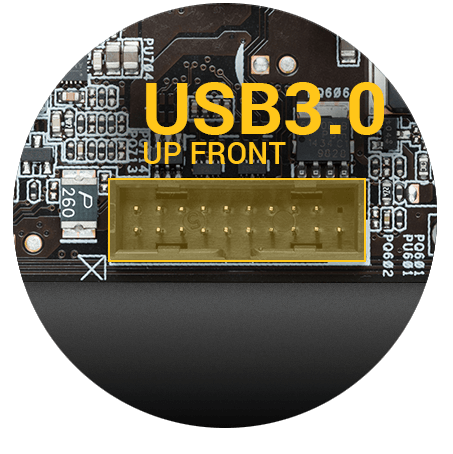 Easy PC DIY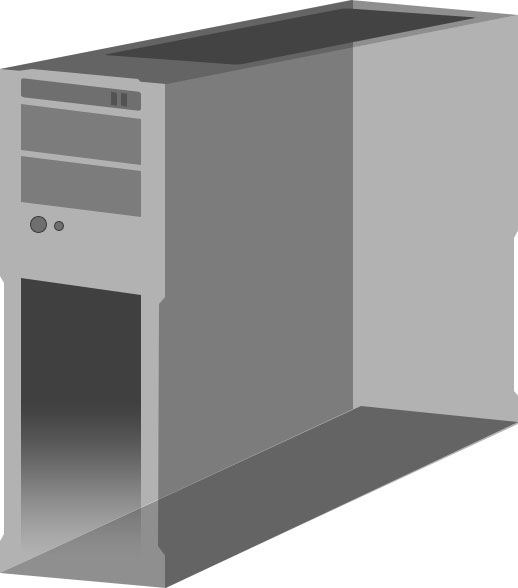 Safe motherboard mounting
Component-free areas to minimize damage risk
Fitting your ASUS motherboard is now safer than ever. The comprehensive component-free 'safe zones' around every case-mounting hole minimizes the risk of damage and short circuits caused by contact — so you'll assemble your PC with total confidence!
Q-Slot
Effortless PCI Express component removal
The large winged clip is easy to reach and easy to operate. Just press the Q-Slot clip lightly, and graphics card just pop out. Installing or removing even the biggest graphics cards is no sweat!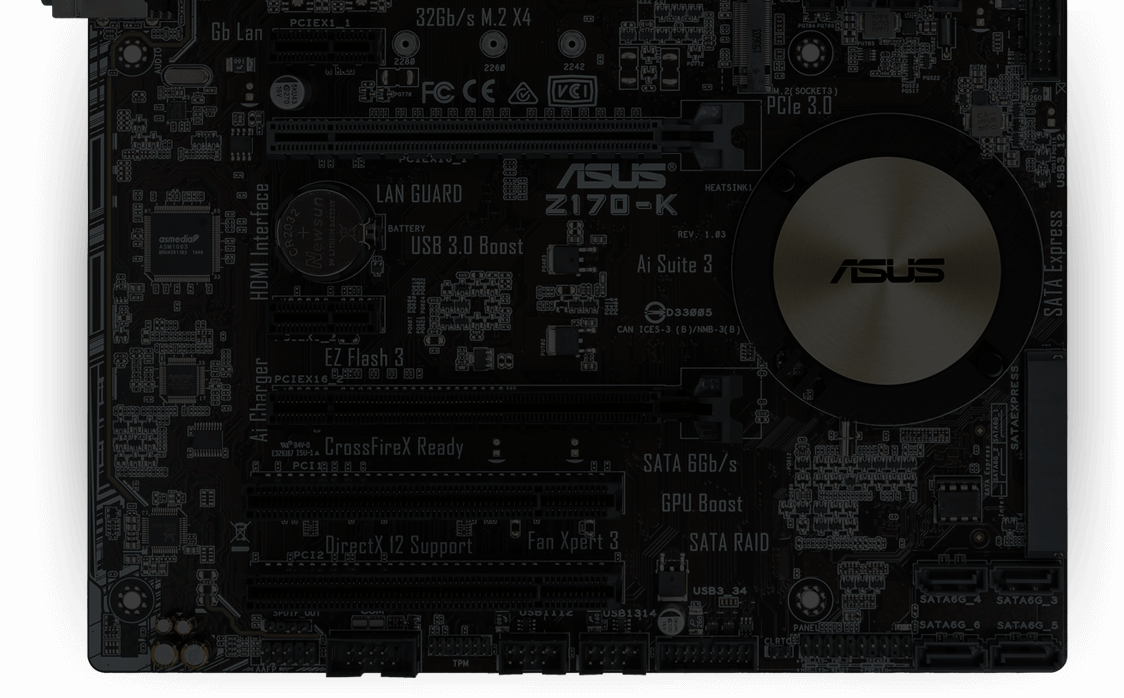 Q-DIMM
Easy memory removal
Even if you work with a smaller case, just push down on the one-sided clip and push or pull RAM modules in or out – couldn't be simpler!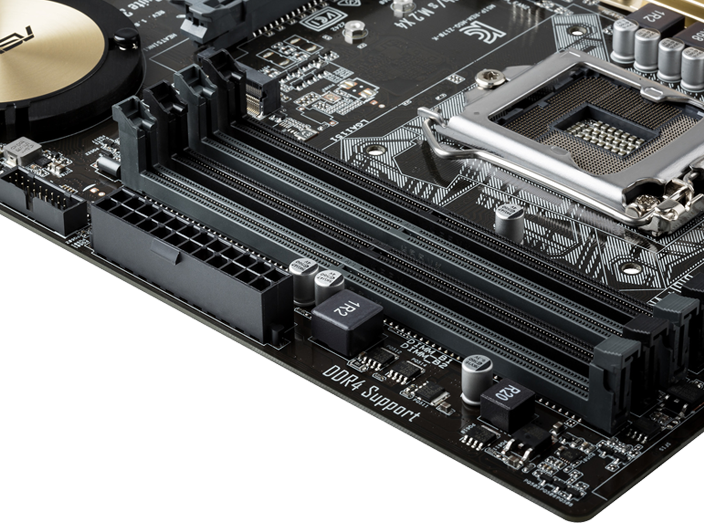 Optimized Cooling
Fan Xpert
Dedicated CPU and case fan controls
Exclusive Fan Xpert ensures every fan achieves the best balance of cooling performance and low noise — and with our 100 series boards and their hardware-level 4-pin/3-pin PWM/DC mode for case fans.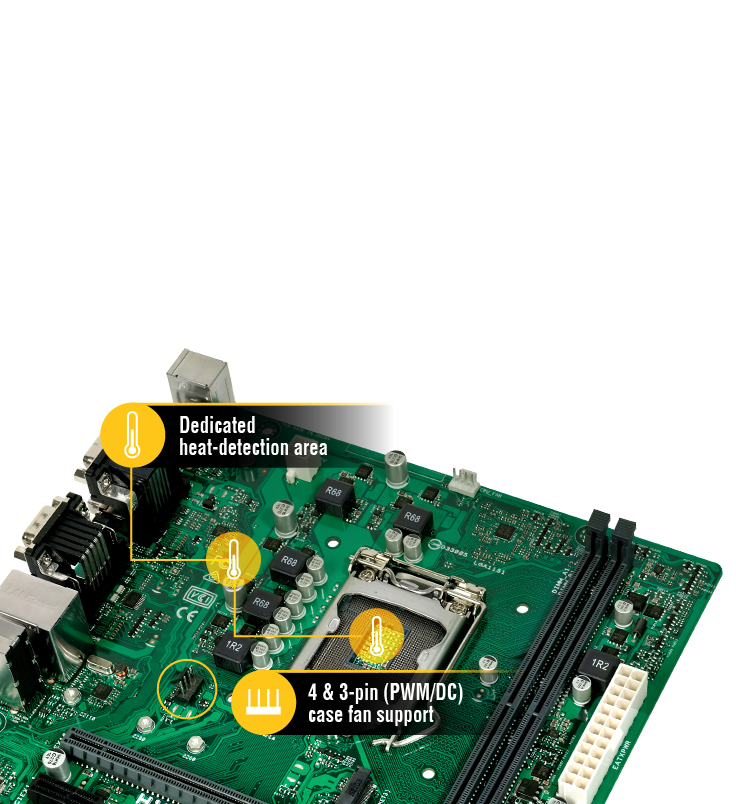 Intel CPU and chipset features

Intel® H110 Chipset
Intel® chipset is a single-chipset design that supports 6th-generation Intel LGA1151 Core™ i7/Core i5/Core i3/Pentium®/Celeron® processors. It provides improved performance by utilizing serial point-to-point links, allowing increased bandwidth and stability. It natively supports up to four USB 3.0 ports for up to ten times faster transfer than USB 2.0. Moreover, Intel® H110 chipset also supports iGPU functions, letting users enjoy the latest Intel integrated graphics performance.

Ready for 6th-generation Intel LGA1151 Core i7/Core i5/Core i3/Pentium/Celeron processors
This motherboard supports 6th-generation Intel Core i7/i5/i3/Pentium/Celeron processors in the LGA1151 package, with graphics, memory and PCI Express controllers integrated to support onboard graphics output with dedicated chipsets, dual channel (2 DIMM) DDR4 memory and 16 PCI Express 3.0/2.0 lanes for great graphics performance. 
* Specifications and features vary by model, and all images are illustrative. Please refer specification pages for full details.
Dependable Stability
Anti-moisture Coating
24/7 Reliability Test
Easy PC DIY
Optimized Cooling
Compare (0)