Router de alta potencia a 600 Mbps 2,4 GHz
El procesador con eficiencia energética y la tecnología TurboQAM™ garantizan altísimas velocidades inalámbricas de hasta 600 Mbps, un 33 % más que el protocolo Wireless-N estándar
Funcionalidad Triple-VLAN, compatible con los servicios triple-pay (Internet, Voz IP y TV) de tu operador para aprovechar al máximo la conexión de fibra óptica. Ofrece gestión automática de direcciones IP, servidor y cliente OpenVPN y mucho más.
Cinco puertos Ethernet Gigabit y Turbo NAT para multiplicar por 2 y 5 respectivamente el rendimiento de Internet
AiRadar, con la tecnología de formación de haces universal, optimiza la potencia de la señal en cualquier dirección para ofrecer una cobertura inalámbrica de hasta el 150 %
Puertos USB 3.0 y USB 2.0 para transferencias hasta 10 veces más rápidas a dispositivos de almacenamiento, conexión en red de impresoras y compatibilidad con dispositivos de conexión 3G/4G
El servicio en la nube ASUS AiCloud permite acceder, sincronizar, compartir, sincronizar y reproducir a través de streaming los datos de tu red doméstica en cualquier PC, dispositivo Android y iOS
Consistently Praised for Networking Excellence!

The Most Consumer Recommended Router Maker of 2015!– PC Magazine
>>Learn more.

The Ultimate Wireless-N Router for Gaming and Multitasking
RT-N18U features top-of-the-line hardware specifications. An 800MHz processor with high clock speed delivers fast and responsive USB and WAN to LAN performance; while TurboQAM™ technology raises the 2.4 GHz band speed from 450 Mbps to 600 Mbps for a 33% boost. 128MB flash and 256MB RAM ensure a massive data pipeline of up to 300,000 data sessions and multitasking capability, making it perfect for gaming or high-load network environments. The energy-efficient ARM-based CPU reduces power consumption to even help you save on the bills. In addition, ASUS AiRadar intelligently strengthens wireless connectivity using universal beamforming, high power amplification and exclusive ASUS RF fine-tuning for a 150% increase in coverage1 , so even legacy 802.11b/g/n clients can benefit from this technology.

RT-N18U also incorporates more user-friendly and intuitive software. With the ASUSWRT interface, you can easily set up the router within 30 seconds2, or switch RT-N18U between its various modes. You can optimize speed with the built-in Smart QoS function, or turn the USB storage attached to the router into a personal cloud with ASUS AiCloud.

Fast, reliable and powerful
At the heart of RT-N18U is a powerful but energy-efficient ARM® Cortex™-A9 processor running at 800MHz that ensures fast and responsive performance. The 128MB of Flash memory and 256MB of DDR3 RAM further enhance multitasking performance and allow up to 300,000 concurrent data sessions — making RT-N18U ideal for multimedia applications such as HD video streaming, online gaming and file sharing.



Boost your Wi-Fi performance
RT-N18U features TurboQAM™ technology that boosts 2.4 GHz wireless speeds from 450 Mbps to up to 600 Mbps for 33% faster Wi-Fi performance. Now everything you do online is done faster.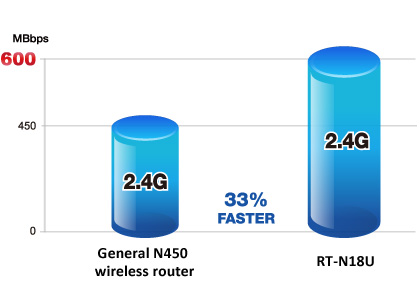 Gigabit Internet surfing with Turbo NAT
Equipped with Turbo NAT and built-in Gigabit Ethernet, RT-N18U gives you full Gigabit internet performance, making its WAN to LAN throughput up to 2-5 times that of traditional software-based NAT Gigabit routers. Turbo NAT handles simultaneous wired connections, achieving maximized total concurrent speeds. So go ahead: game, stream and download from desktops, notebooks, tablets, smartphones and game consoles at once minus the performance loss.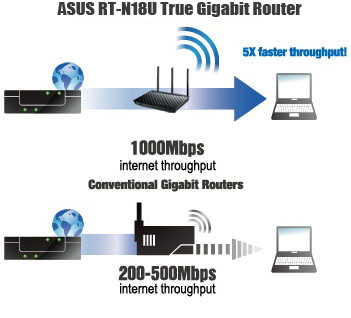 Extend and strengthen your wireless connection
ASUS AiRadar intelligently strengthens wireless connectivity using universal beamforming technology, high power amplification, and exclusive ASUS RF fine-tuning. This ensures extended coverage, increases dynamic data speed, enhances stability, and is backward compatible with 802.11b/g/n clients. Because connection strength varies based on your environment, RT-N18U uses three external antennas to detect wireless device locations and shape transmissions so they're optimized for fast and stable connection strength.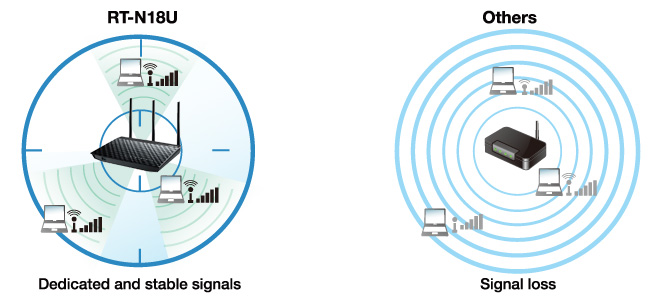 Enhance your home network capabilities
Make RT-N18U your media and device center. With built-in two USB ports, connect external storage drives, printers, scanners and many other USB-enabled devices to share with your networked PCs. Having your devices networked, lets you access them easier than ever before. The conveniently located front USB 3.0 port provides 10x faster data transfer speeds than USB 2.0, making it perfect for high-speed file sharing or audio and HD video streaming.


Powerful online multitasking with 300,000 data sessions
Massive online multitasking at up 300,000 concurrent data sessions gives you 20 times the capacity of mainstream routers for great performance with no slowdown even during heavy traffic sessions. Download multiple files at once, experience smooth HD streaming and play lag-free online gaming all at once. Do more without compromising your online lifestyle.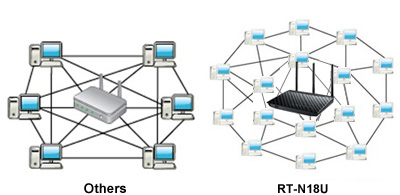 ASUS Router App
Control your network anywhere
In your increasingly mobile-enabled life, having control over your network via an app is more important than ever. The new ASUS Router App is built from the ground-up to be both intuitive and robust, allowing you to setup your router, manage network traffic, diagnose connection issues and even update firmware, all without needing to boot up a PC.
» Learn more
Click below to download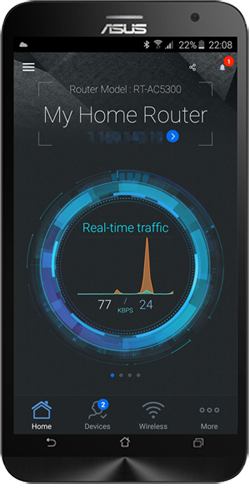 ASUS AiCloud – Your world on demand
ASUS AiCloud keeps you connected to your data wherever and whenever you have an internet connection. It links your home network and online web storage service3 and lets you access it through the AiCloud mobile app on your iOS or Android smartphone or through a personalized URL in a web browser. Even better, connect your AiCloud with another compatible router and expand your cloud even further. Now all your data can go where you do. Learn More

Easily select your preferred mode
ASUS routers with EZ Switch give the flexibility of simple router, repeater, access point and media bridge mode selection. Router mode is the standard wireless and wired operation, while repeater mode extends existing Wi-Fi coverage, and access point mode connects with wired routers to instantly add wireless capabilities. Media bridge mode enables instant wireless for all your Ethernet devices. Switching occurs on the hardware level, meaning true 4-in-1 versatility with no delays and no complicated menus to go through.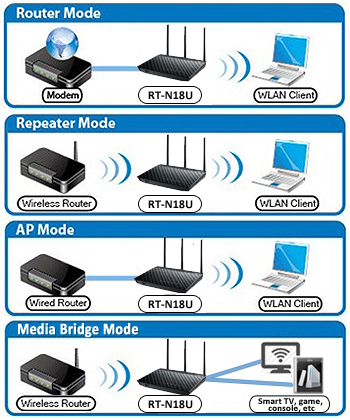 Robust control and optimization with ASUSWRT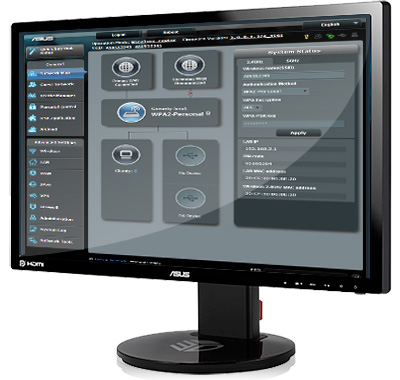 Easy to use and highly intuitive, ASUSWRT dashboard UI offers complete network management. Whether you're a gamer or HD media enthusiast get improved performance with Smart Quality of Service (QoS) bandwidth prioritization that optimizes internet speeds for your specified tasks. Plus, the traffic monitor allows you to check your web usage in a clear graphical interface. Along with that, the Download Master feature ensures better network productivity and management. One-click settings enable easy troubleshooting, printer setup and parental controls.*
Try ASUSWRT Interactive Demo.
*Features vary from model to model. Please refer to the specification page for the actual features.


Easy 3-step setup via your tablet, smartphone, or PC
In less than 30 seconds and in only 3 easy steps, effortlessly set up your ASUS router through the simple user interface to start surfing the internet in record time. No CDs, complicated manuals or time-consuming operations. We made setup quick and easy so you can start experiencing the best of the internet with your ASUS router.


Faster, more convenient downloading
Exclusive Download Master uses a special data acceleration algorithm to increase download speeds to save you time. With USB storage devices connected to the router, downloads can continue uninterrupted in the background even when your PC is turned off for added convenience.

Keep Up to Date!
Remember to always keep your device's firmware up to date so you can benefit from the very latest service and security enhancements — and get exciting new features! Learn more about updating new firmware.
* ASUS received the highest numerical score among wireless routers in the J.D. Power 2015 Wireless Router Satisfaction Report, based on 2,716 responses from 8 companies measuring satisfaction with wireless routers surveyed November-December 2015. Your experiences may vary. Visit jdpower.com
Actual performance may vary due to differences in ISP service bandwidth, PC and graphic card performance, operating environments, building materials and wireless obstructions
ASUS-tested and verified setup time. Actual duration may vary by ISP, specific connection type, location, and other factors
Works with select web storage services only
This service is provided by Facebook and is not available in regions without Facebook services. Please check the website for the latest status of the service. Facebook may cease providing this service according to their policy. When the service terminates, please stop providing and advertising this service and remove all marketing materials promoting this service.
Compare (0)