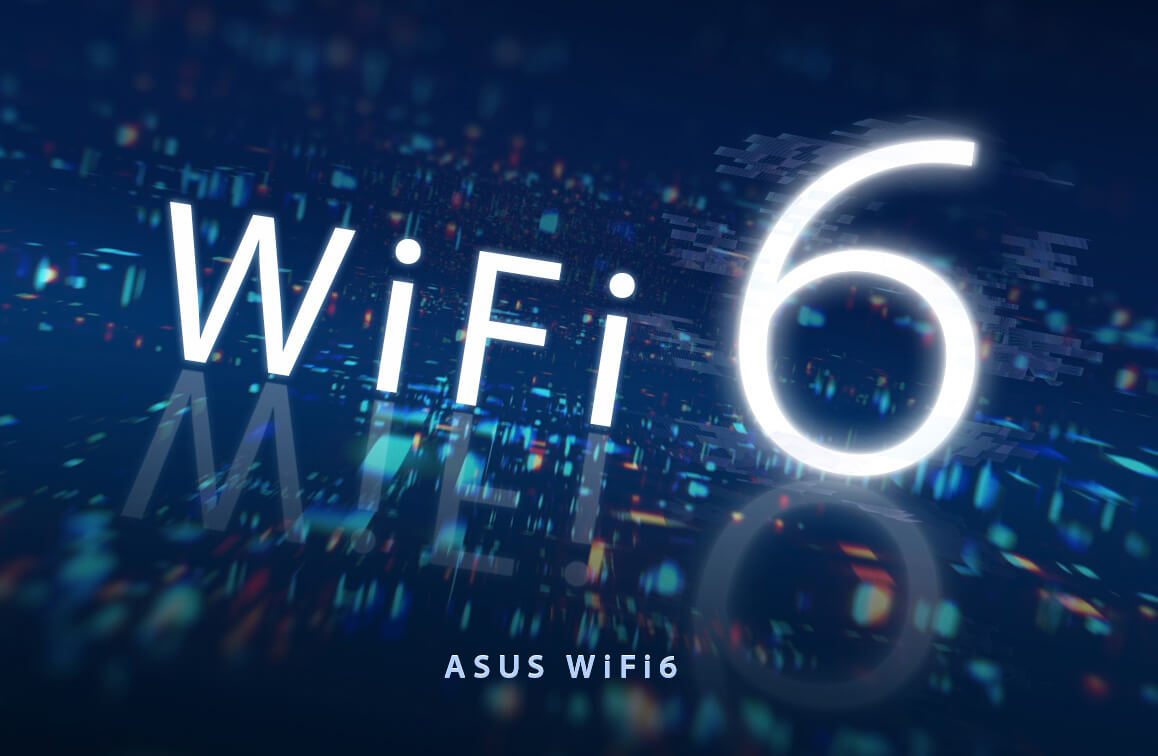 LEADING THE WiFi 6 REVOLUTION
CERTIFIED
PERFORMANCE
CERTIFIED PERFORMANCE
ASUS WiFi 6 products are Wi-Fi CERTIFIED 6™ by the Wi-Fi Alliance®, passing a series of strict WiFi 6 capability tests for features such as WPA3 and OFDMA-related transmission. ASUS is one of the first home Wi-Fi CERTIFIED 6 router vendors, reliably offering the full benefits of the technology.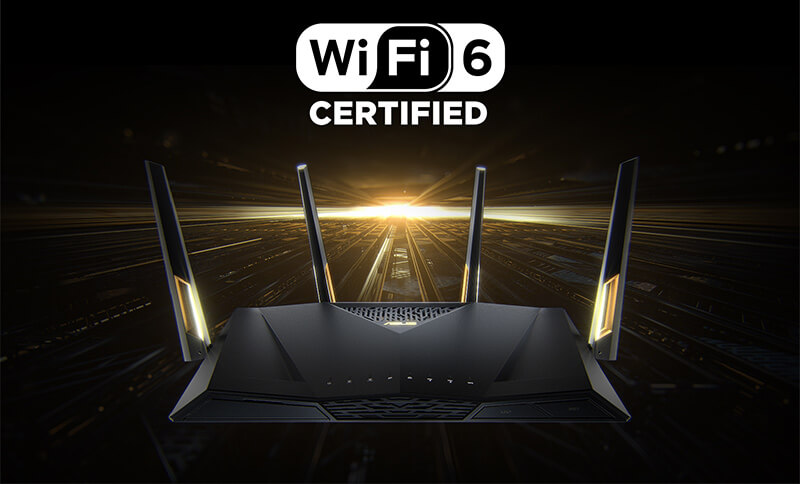 A PERFECT
LINEUP
A PERFECT LINEUP
ASUS offers a complete range of consumer and professional WiFi 6 routers. Whether you're looking for a high-end model for work or play, or an affordable model for your home, ASUS has a WiFi 6 router that's perfect for you.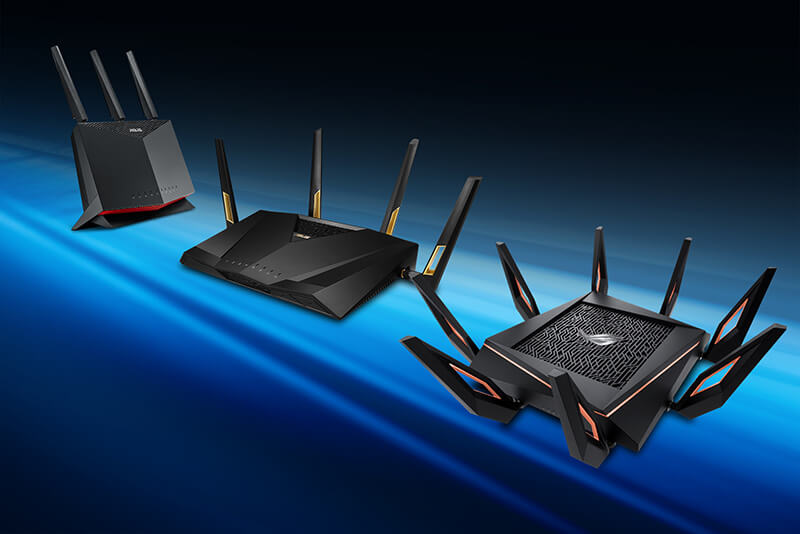 FIRST WiFi 6
ECOSYSTEM
FIRST WiFi 6 ECOSYSTEM
ASUS was one of the pioneers of WiFi 6 routers. The introduction of the ASUS PCE-AX58BT PCIe® WiFi 6 adapter for desktop PCs enabled the first single-brand WiFi 6 ecosystem, and now WiFi 6 is available in ASUS routers, motherboards, laptops and mini PCs.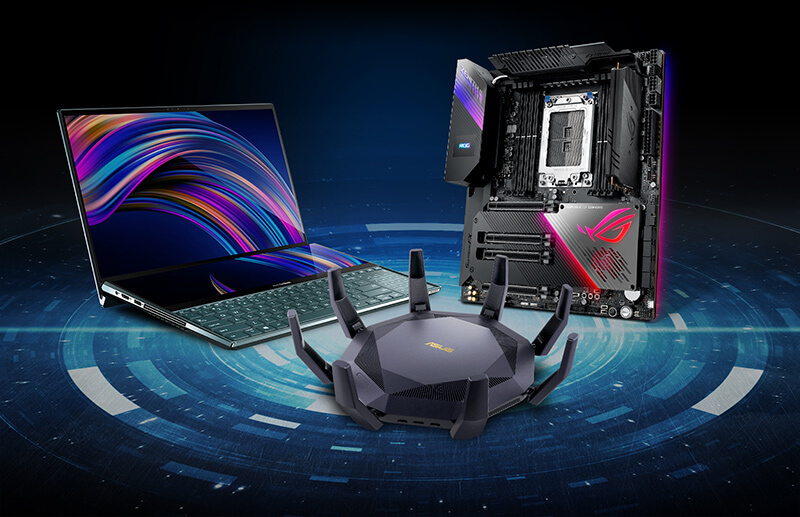 CERTIFIED
PERFORMANCE
CERTIFIED PERFORMANCE
ASUS WiFi 6 products are Wi-Fi CERTIFIED 6™ by the Wi-Fi Alliance®, passing a series of strict WiFi 6 capability tests for features such as WPA3 and OFDMA-related transmission. ASUS is one of the first home Wi-Fi CERTIFIED 6 router vendors, reliably offering the full benefits of the technology.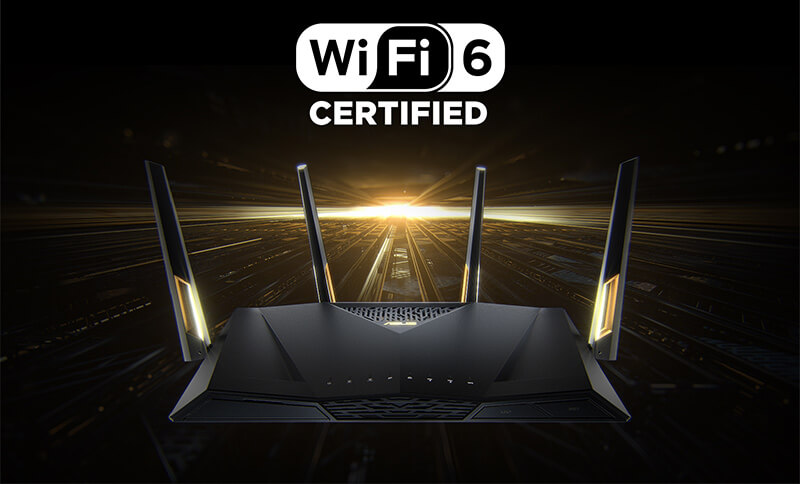 A PERFECT
LINEUP
A PERFECT LINEUP
ASUS offers a complete range of consumer and professional WiFi 6 routers. Whether you're looking for a high-end model for work or play, or an affordable model for your home, ASUS has a WiFi 6 router that's perfect for you.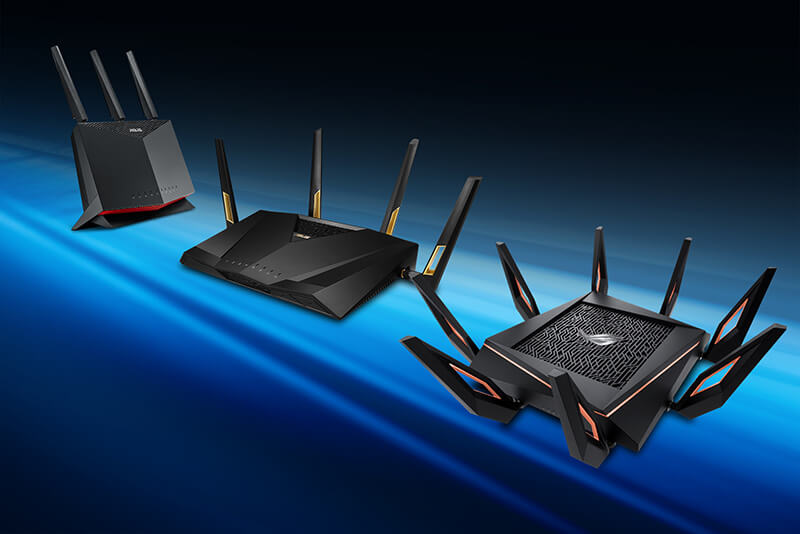 FIRST WiFi 6
ECOSYSTEM
FIRST WiFi 6 ECOSYSTEM
ASUS was one of the pioneers of WiFi 6 routers. The introduction of the ASUS PCE-AX58BT PCIe® WiFi 6 adapter for desktop PCs enabled the first single-brand WiFi 6 ecosystem, and now WiFi 6 is available in ASUS routers, motherboards, laptops and mini PCs.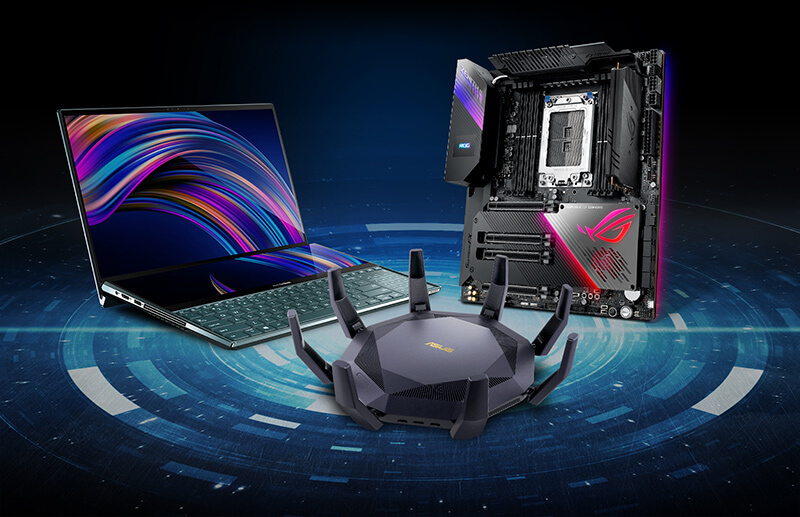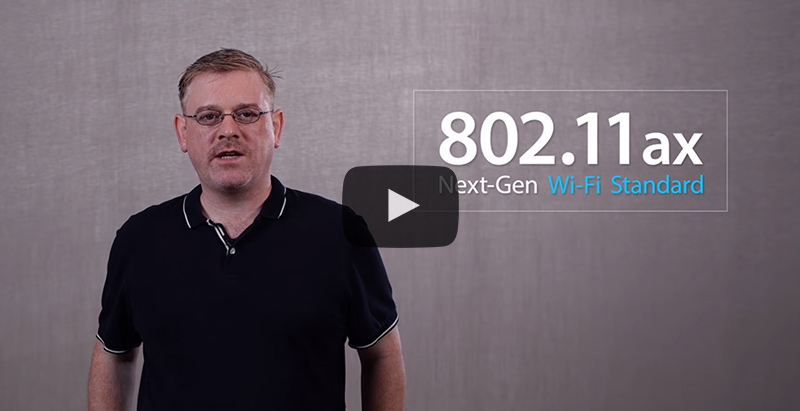 The latest WiFi 6 (802.11ax) is a new WiFi standard that's fully compatible with all your existing WiFi devices, so there's no need to wait: but when you add new WiFi 6 devices, you'll enjoy all the benefits of this ultra-capable WiFi.*
4X

Lower Latency

1.25X

Faster Speeds

7X

Energy Efficiency

80%

Longer Range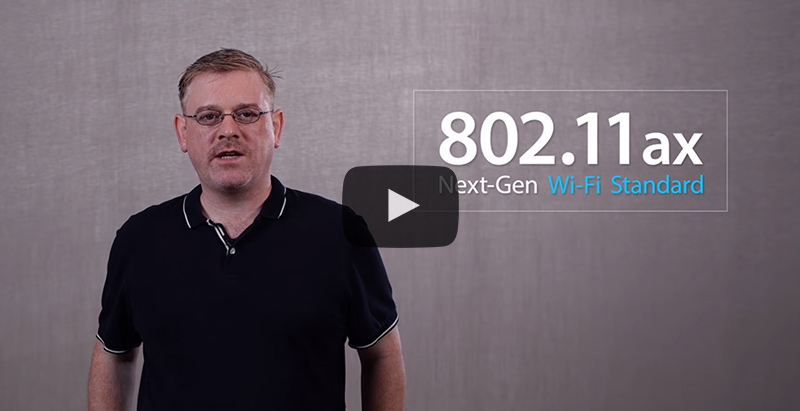 Designed for Crowded Multi-Device Networks
With a revolutionary combination of OFDMA, MU-MIMO and BSS coloring technology, WiFi 6 technology provides up to 4X greater network capacity to lower the latency in traffic-dense environments. Previous-generation WiFi 5 (802.11ac) can only handle one device at a time on each network channel, which is an inefficient use of available bandwidth. OFDMA supported in the WiFi 6 divides each channel into small sub-channels, allowing signals from multiple devices to be bundled together and transmitted simultaneously, reducing latency for a smoother, more responsive WiFi experience.
WiFi 5 OFDM




Bandwidth wasted - Higher latency

WiFi 6 OFDMA




Bandwidth fully utilized - Lower latency
WiFi 6 technology breaks existing speeds limits by using the innovative 1024-QAM modulation technique. The older WiFi 5 (802.11ac) uses a 256-QAM technique: compared to this, 1024-QAM packs 25% more information in the signal to deliver up to a 1.25X performance boost. These improved speeds can be up to 11 Gbps: you can now say goodbye to lag and latency, even when you're streaming 8K video or enjoying VR gaming!**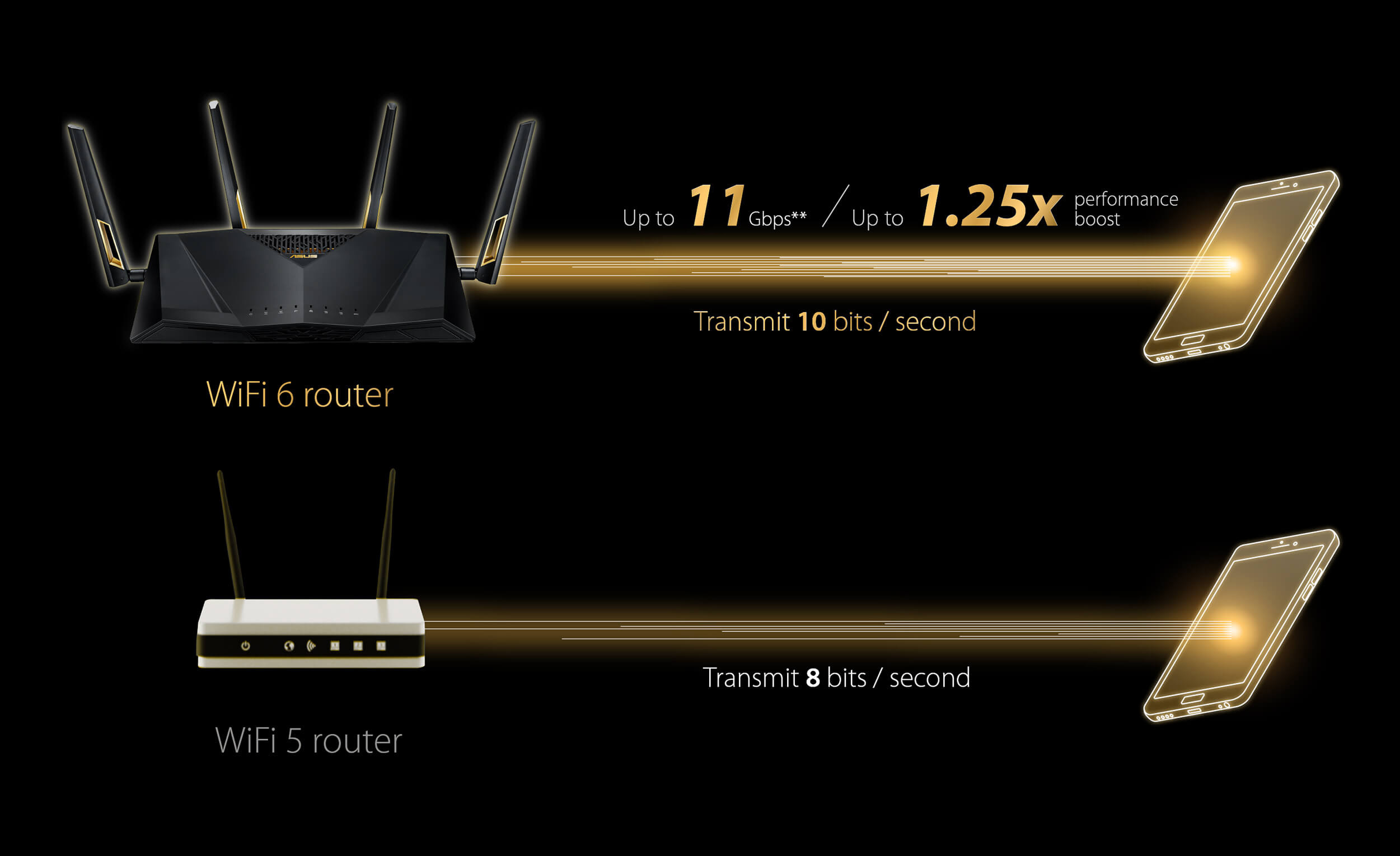 Better Device Battery Life
Using a WiFi 6 router can help to reduce the power consumption of all your mobile and IoT devices. The Target Wake Time (TWT) feature allows devices to sleep when there is no need for router communication, reducing power consumption by up to 7X to give significantly improved battery life. So you can maximize battery life on your phone or laptop, while still enjoying all the benefits of faster WiFi 6 performance.
Without Target Wake Time
WiFi 5

Higher Device Power Consumption

With Target Wake Time
WiFi 6

7X better battery life for client devices
WiFi 6 uses OFDMA technology to deliver increased WiFi signal range and better coverage by dividing each wireless channel into smaller sub-channels. These sub-channels have a reduced bandwidth that gives them up to an 80% range improvement. The result is fewer WiFi dead spots and faster, more reliable WiFi connections for your devices, throughout your home. With WiFi 6, your attic, garden or basement don't have to be WiFi no-go zones!***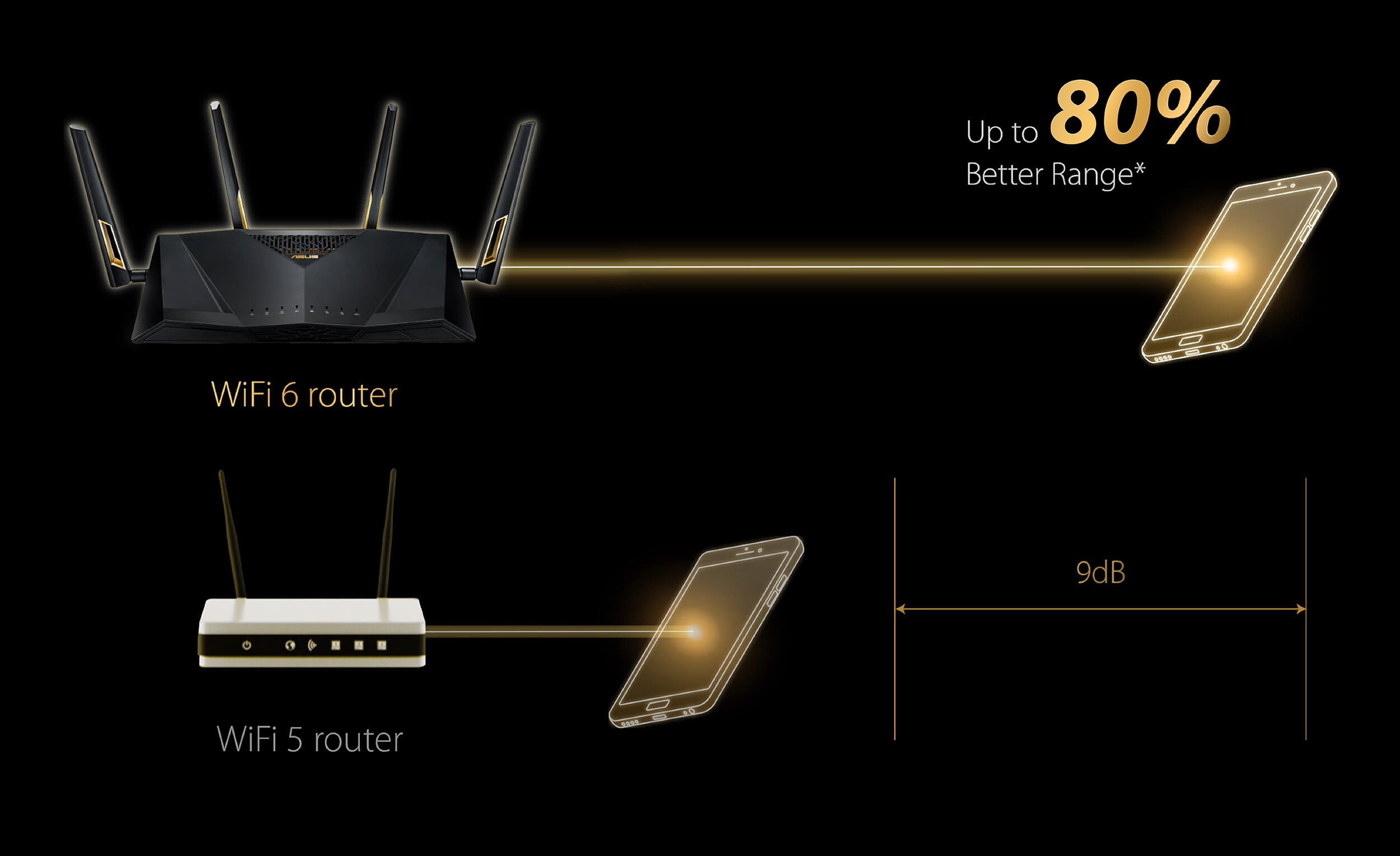 EXPLORE WiFi 6
5 Things to Know Before Upgrading to the Newest WiFi Standard, WiFi 6
WiFi is indeed the way of life, as the rise of WiFi 6 brings about more efficient data delivery and faster speeds. Beyond the improved performance, do you really need WiFi 6? There're 5 things you will want to know to make your decision.
1. Backward compatibility is the name of the game
A concern with upgrading to new technology is the lack of support in the early stages, but that won't be the case with WiFi 6. Although it primarily serves to transmit data to devices that are compatible, it's still able to work with all existing WiFi-supported gadgets, so there's no need for users to replace their smartphones and tablets. New WiFi, new device? Not in this house.
2. Enhanced performance in crowded areas
Encountering slow WiFi speeds in a crowded setting is a familiar problem, and it's bound to stay in this digital age. As households are increasingly overloaded with WiFi devices from smartphones and laptops to tablets, the one-gadget-per-individual lifestyle is quickly becoming a past memory. All that bandwidth demands for greater capabilities, however, and WiFi 6 seeks to improve the user experience by increasing the transmission speeds of devices, such that poor connectivity and latency lag will no longer be an issue.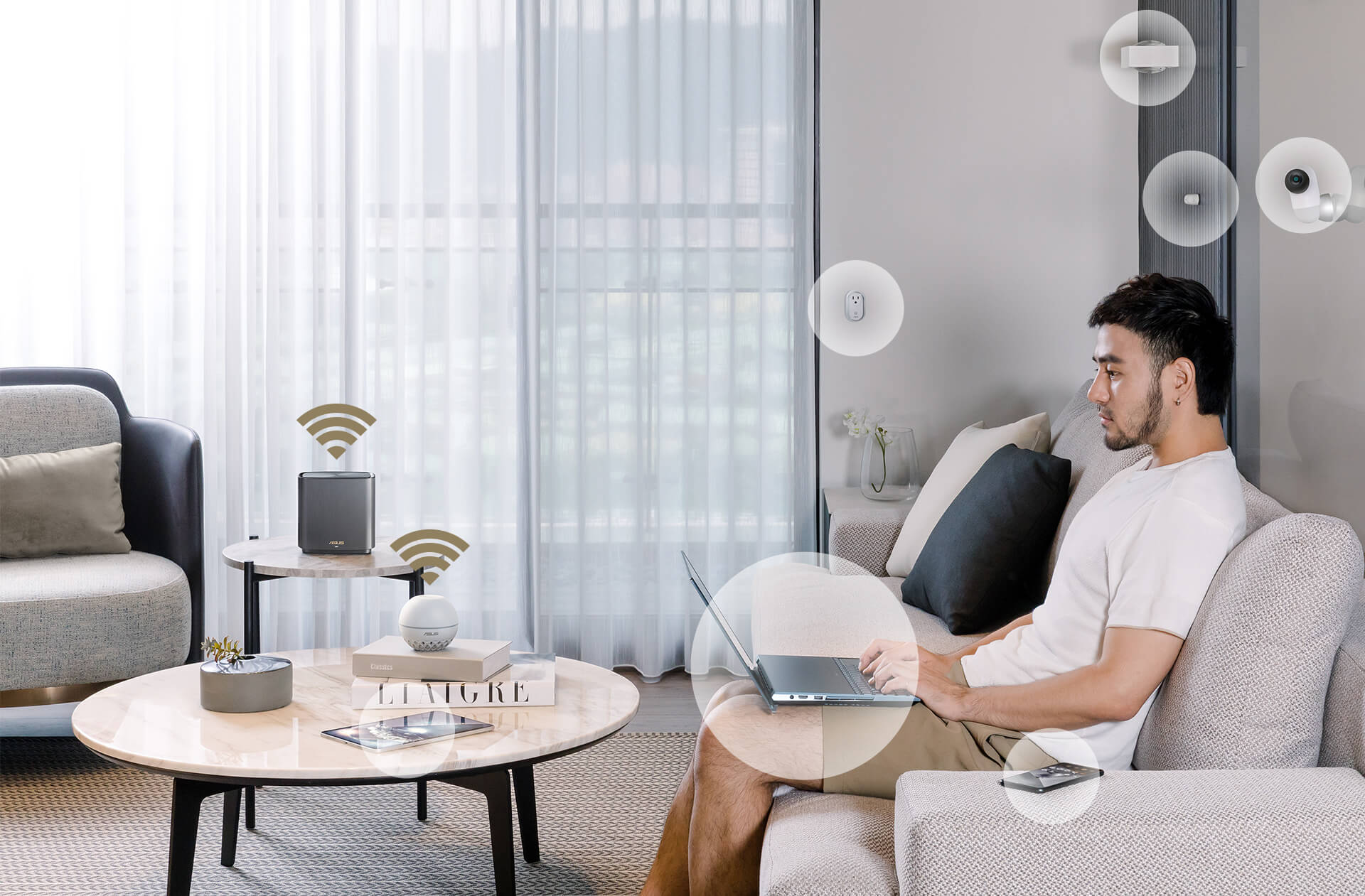 3. Increased support for the smart home ecosystem
It's in with the new, and out with the old. With smart homes gaining more popularity, the average home is set to experience a denser network, which may lead to slower WiFi speeds.
The upgraded technologies of WiFi 6 are designed to tackle this problem, allowing for increased traffic without a drop in transmission speeds. In this Internet of Things (IoT) era, having a smart home ecosystem also means more support for AR and VR technology. For gamers, this means it's now possible to enjoy popular VR titles across devices, and reap the performance benefits while at it.
4. Setting the stage for the future of 4K and 8K streaming
The days of 720p streaming are fast disappearing, as 4K and 8K videos take over – but with the high-definition format comes a need for a proper WiFi infrastructure that cannot operate on slower speeds. With a combination of faster processors, increased memory, and more radio streams, WiFi 6 is well-equipped to keep up with the demands of technologically-advanced streaming for a stutter-free viewing experience of events like the Tokyo Olympics.
5. Say hello to longer battery life
New version, new upgrades. The need to stay connected has called for prolonged battery life, especially with the frequent and heavy use of WiFi devices in today's times. WiFi 6's all-new "target wake time" feature brings energy-saving technology into the fray by having the access point put its WiFi radio to sleep, before waking it up for the next transmission at a specified time. Longer hours and greater battery efficiency, for the win.

As the WiFi 6 ecosystem continues to grow, more WiFi 6-certified products are expected to hit shelves. With its numerous perks, the new standard proves to be a valuable upgrade, especially for those who value fast speeds. The first step now is making the transition to the WiFi 6 life, and ASUS is the place to get started.

Close

EXPLORE WiFi 6

ASUS WiFi 6 Routers: What Is the Difference?
WiFi is a major party in this current Internet of Things era (IoT), where connectivity is key. As technology continues to evolve, WiFi capabilities are bound to evolve to greater heights – something that's set to be a staple with the dawn of WiFi 6. Faster speeds, higher capacity, and longer battery span will soon be the way of life, but with that also comes the need for hardware upgrades. Here's where ASUS enters the playing field with its latest WiFi 6 routers, delivering enhanced connection range, smart home convenience, and device security to match up to these demands.
So what exactly is WiFi 6? Apart from the welcome performance boost, the new WiFi standard is doing away with the complex 802.11n, 801.11ac, and 802.11ax terms, which have been renamed to "WiFi 4", "WiFi 5", and "WiFi 6" respectively. These new names will also appear on compatible software and devices as well, so users can know which network to connect to.
All of the advantages would count for nothing without a robust WiFi 6 ecosystem, however. ASUS seeks to bring this combined touch of convenience and efficiency to homes with a well-armed WiFi 6 router line-up – one that's the most complete among its competitors. From the likes of WiFi 6 adapters and notebooks to motherboards, its stable of devices has been steadily growing, and looks set to join the existing WiFi 6 router family.
Here's where convenience comes into the picture. Having a complete device line-up makes it easy to fit the high-end and mainstream demand for routers at one go, while establishing an ecosystem that allows both the router and client device to be WiFi 6-compatible. With ASUS being one of the first brands to embrace WiFi 6 across all product categories, users are given more choices and variety on router and client devices.
The existing line-up, meanwhile, sees the high-performing RT-AX88U leading the charge. Not only does the router's WiFi 6 certification bring reliability and trust to the ASUS branding, the seal of approval and confidence also serves as a show of commitment to improve the WiFi 6 user experience.
It may be that having one router in a house used to be the norm, but the scene has certainly changed. Mesh networks are all the hype now, and ASUS adds to them its own flair with the help of its proprietary AiMesh technology. Because it connects standalone AiMesh routers to form a mesh network, homes will be able to experience faster speeds, increased networking flexibility, and more importantly, a greater connection range. What this translates to is the elimination of dead zones, allowing for smoother data transmission – an important trait in today's need to always stay connected.
The process is made even more efficient with AiMesh's neat, nifty feature to auto-select the best WiFi signal in a setting, so that there's no need to constantly switch between different networks in the same space. Where it shines, however, is in its compatibility with supported routers, such that users only have to buy one new AiMesh router to build a mesh network instead of being forced to abandon their current router for an entire brand-new, costly mesh set.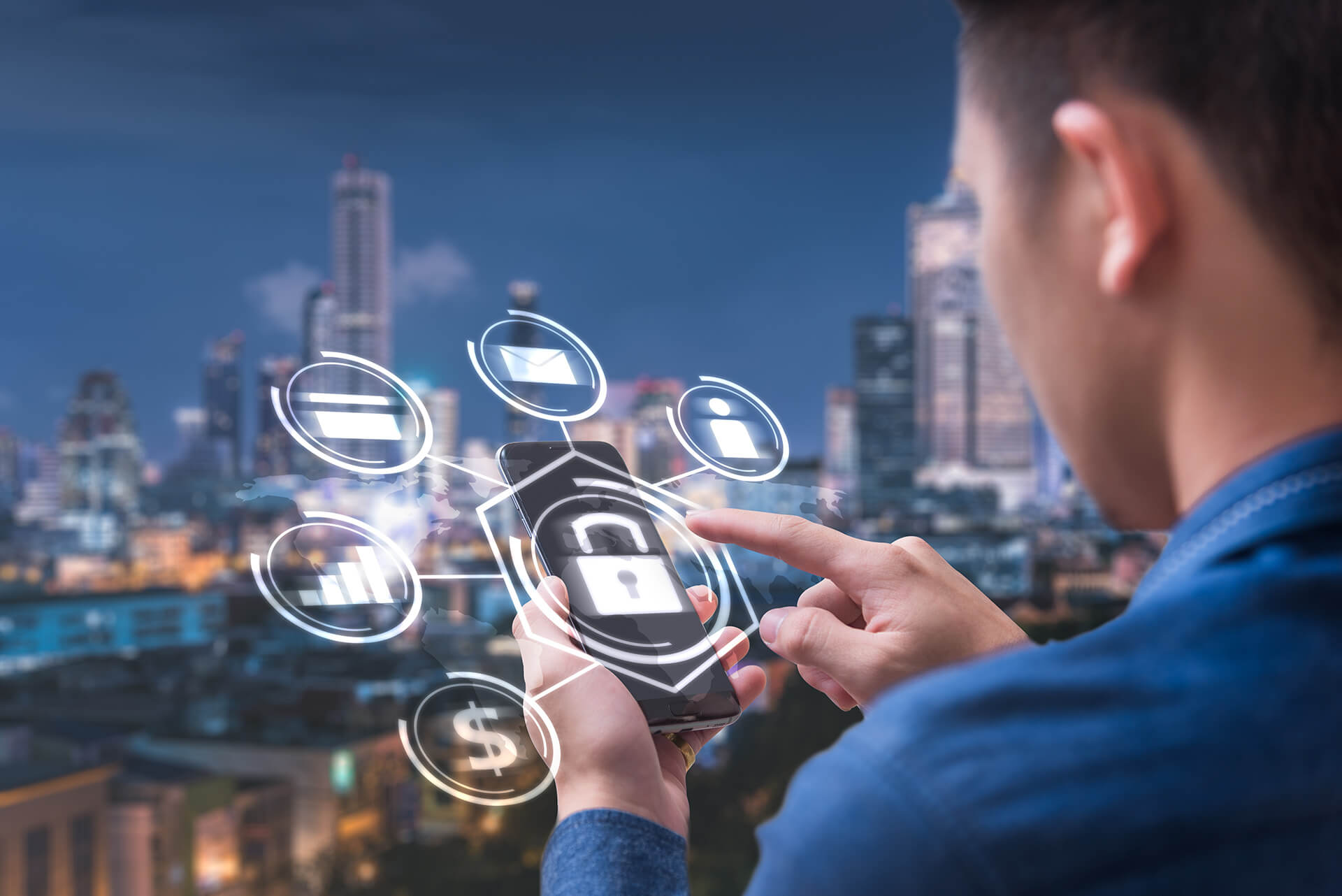 For all of the convenience that WiFi has brought, it's also a double-edged sword. Cyber threats and security loopholes are always a concern with connectivity, where simple problems like weak passwords, unencrypted WiFi, and incorrect settings may invite hackers to easily bypass the firewall and steal sensitive personal information. ASUS cooperates with Trend Micro™ to provide life-time security protection with its own proprietary AiProtection technology. Specifically designed to combat such vulnerabilities, it takes on a three-pronged security approach: prevention (router security scan), protection (blocking of malicious sites), and mitigation (detection and blocking of infected devices). Here, security is the top priority.
As WiFi 6 slowly takes its place as the next big thing in the tech world, more brands are preparing and welcoming the push into new territory. Having established a strong ecosystem, and the most complete WiFi 6 router line-up, ASUS has much to offer – in the form of quality, variety, and user experience.

Close

EXPLORE WiFi 6

WiFi 6, Explained: The Tech Behind the New WiFi Standard
The dawn of WiFi has certainly revolutionized the way individuals live their lives, bringing with it a welcome touch of convenience and connectivity. In homes, multiple electronic devices often remain connected to a shared network, allowing for simultaneous use.
But that's where the familiar, pesky problem of slow connection sets in. As the demand for wireless bandwidth increases, the capacity of a traditional router is spread thin, resulting in reduced speed and higher latency.
The new WiFi 6 standard is designed to address such issues. With the promise to usher in a new era of WiFi. WiFi 6 builds upon the existing structure of its predecessors, and also seeks to hold certified partners to an enhanced set of standards that includes faster speed, larger capacity, wider coverage, and better battery efficiency.
The first thing to note is that the underlying WiFi technology works using radio signals. To send a WiFi transmission, devices have to modulate the frequency signal on a specific radio channel, which will then be received by the recipient device in the form of binary code. Known as quadrature amplitude modulation (QAM), the process involves the modulation of radio waves in different ways to convey digital data, where the router's performance is determined by the scale of binary code being sent out.
Take a 2-QAM access point as an example. As it is only able to alter the WiFi radio waves in two ways, each transmission would end up being a one-digit code (either a '1' or a '0'). Its 4-QAM counterpart, in comparison, can send out two-digit transmissions ('00', '01', '10" or '11") with its ability to modulate waves in four distinct ways.
With WiFi 6 however, the ante goes up. Clocking in at 1024-QAM, it allows devices to send 10-digit binary transmissions that boast speeds up to 25%, and increases the throughput for intensive use cases. Simply put, the more binary codes a router can transmit, the stronger and faster it is – here's a comparison of the peak data rates across the board at 80MHz and 4x4 devices:
● WiFi 5 256 QAM (common): up to 1733 Mbps
● WiFi 5 1024 QAM (only a few routers): up to 2167 Mbps
● WiFi 6 1024 QAM (common): up to 2400 Mbps
QAM isn't the only term to know – meet OFDMA, short for Orthogonal Frequency Division Multiple Access. A new feature belonging to WiFi 6, it works on a divide-and-conquer principle, allowing devices to serve different clients at the same time within just one channel.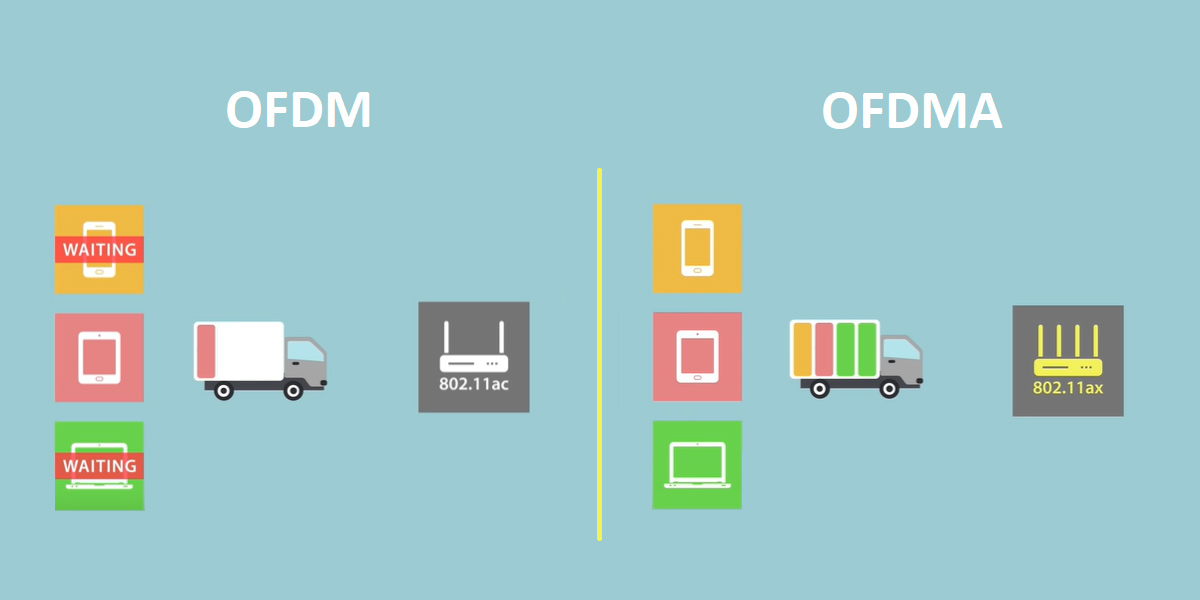 This process is further enhanced with its additional ability to divide the transmission channel on the 2.5 GHz and 5 GHz frequency bands into smaller digital entities called resource units (RUs). These provide another platform for routers to transmit information – think of the many arms of modern-day ASUS routers – which results in improved, higher speeds.
Because WiFi 6 allows multiple users to connect to the network all at once, there's a need to ensure that the timing for data transmissions remains as precise as possible across the board, too. To achieve a larger network capacity, interference between simultaneous users has to be minimized, and WiFi 6 manages to make this work through synchronizing the trigger frame broadcast of access points.
A trigger frame is, in simpler terms, a new framework adopted by WiFi 6 to allocate RUs and set transmission timings for each client, such that upstream transmissions can be coordinated. As such, devices will be assigned to a specific individual transmit timing, the syncing of which brings about better bandwidth.
With WiFi 6 also comes more sophisticated beamforming capabilities as well. In contrast to the traditional way of broadcasting WiFi signals in all directions, beamforming focuses on projecting them in a particular direction, such that the signal is stronger and more concentrated. What this translates to is a longer range that results in better reception for devices, as well as fewer dead zones for increased coverage.
Last but definitely not the least, WiFi 6 access points and routers will boast better battery efficiency. Courtesy of the new Target Wake Time (TWT) technology, devices are put on a schedule to receive data, giving them more time to stay engaged in sleep mode. This not only helps to conserve battery life, but also reduces signal congestion and collision, both of which are extremely handy features in the Internet-of-Things (IoT) era, where constant connectivity is the way of life.
Despite being in its early stages, the potential of WiFi 6 proves to be extremely optimistic. The recent launch of its certification program is a great leap toward large-scale adoption, and more parties have started to embrace the new WiFi standard. ASUS is active in that field, rolling out one WiFi 6 device after another, from WiFi routers and notebooks to motherboards and PCs.
Throw into the mix the most complete WiFi 6 router line-up, and the team is more than ready to enter a new age of WiFi. Alongside the above benefits, ASUS' ecosystem will have in store its proprietary technology as well, which will elevate the WiFi 6 experience to greater levels of satisfaction and enjoyment.

Close