ASUS USB-AC56 merupakan dual-band 802.11ac adapter Wi-Fi dengan koneksi USB 3.0 yang membawa jaringan wireless berkinerja tinggi mendukung untuk desktop dan notebook PC. USB-AC56 memiliki koneksi USB 3.0 dengan dukungan untuk kecepatan data nirkabel hingga 400Mbit / s pada 2,4 GHz dan 867 Mbit / s pada 5 GHz dengan router yang kompatibel. Cocok untuk digunakan dengan desktop maupun notebook PC, USB-AC56 memiliki desain antena ganda untuk cakupan jaringan wireless besar minimalisasi meja yang berantakan dan antena eksternal high-gain yang dapat dilepas yang dapat meningkatkan penerimaan lebih jauh di daerah yang lemah sinyal Wi-Fi.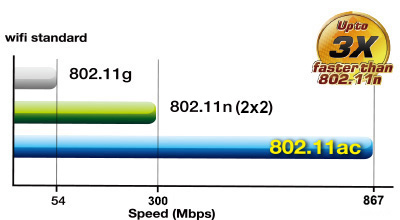 Next gen 802.11ac wireless, sampai 3X lebih cepat dari 2x2 wireless N adapters
Wi-Fi tercepat yang pernah ada menjadi lebih mudah diakses melalui USB, sampai dengan 867 Mbps pada pita 5 GHz yang jelas. Menggunakan 802.11ac wireless, konektivitas yang lebih cepat dan kenikmatan hadir ke semua perangkat Anda. Dibandingkan dengan jairngan 802.11n, USB-AC56 mengantarkan sampai dengan 867 Mbps pada jaringan 5 GHz, yang mana 3X lebih cepat dari 802.11n!
Fleksibilitas maksimum untuk jangkauan maksimum wireless
USB-AC56 wireless-AC1200 USB adapter dapat mencakup rumah yang lebih besar dan kantor, termasuk lokasi multi-lantai. Antena eksternal high-gain yang dapat dilepas dan antena ganda internal yang kuat menyediakan transmisi daya yang cukup untuk daerah yang lebih besar. Antena yang dapat dilepaskan dapat dilepas untuk mengurangi daya listrik dan emisi yang cukup diperlukan bila hanya menjangkau jarak-medium. USB-AC56 dapat juga diupgrade dengan antena yang lebih kuat jika diperlukan.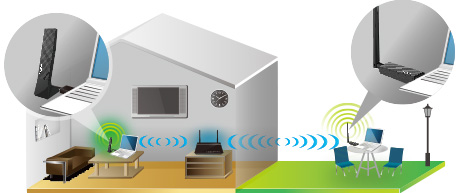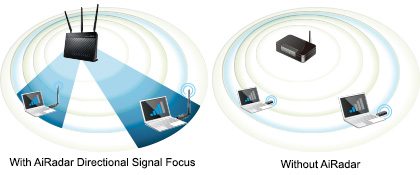 Manajemen sinyal yang cerdas untuk koneksi wireless yang stabil
ASUS AiRadar dengan cerdas memperkuat konektivitas perangkat wireless menggunakan amplifikasi sinyal direksional untuk perluasan jangkauan, meningkatkan kecepatan throughput data, dan peningkatan stabilitas. Karena kekuatan koneksi bervariasi tergantung pada lingkungan Anda, USB-AC56 Dual-Band Wireless-AC1200 USB wireless adapter menggunakan dua antena internal dan sebuah antena high-gain eksternal dan bentuk balok bertenaga tinggi untuk mendeteksi lokasi wireless router untuk membentuk transmisi sehingga dapat dioptimalkan untuk kekuatan koneksi yang paling cepat dan paling stabil.
USB 3.0 untuk kinerja penuh 802.11ac
USB 3.0 memungkinkan USB-AC56 Dual-Band Wireless-AC1200 USB wireless adapter dipasangkan dengan notebook dan desktop menggunakan bandwidth sampai dengan 10 kali USB 2.0. Hal ini berarti keuntungan penuh dari jaringan 802.11ac terealisasi, sebagai adaptor yang memiliki overhead throughput yang cukup untuk mendukung kecepatan jaringan yang lebih cepat.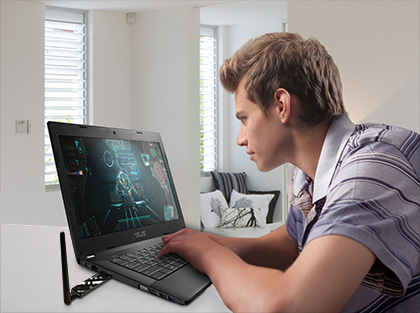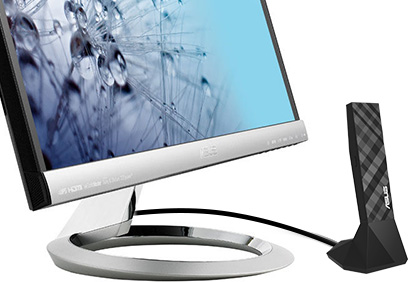 The USB-AC56 also includes a desktop cradle with a three-foot cable for more flexible positioning in troublesome Wi-Fi reception areas. USB-AC56 juga termasuk sebuah cradle desktop dengan kabel 90cm untuk peletakan yang lebih fleksibel jika sulit.

ASUS AC products


Router
Adapter
Model Name

AC1900

RT-AC68U

AC1750

RT-AC66U

AC1200

RT-AC56U

AC1900

PCE-AC68

AC1200

USB-AC56

AC1200

USB-AC53
Data Rate
1900 Mbps
1750 Mbps
1167 Mbps
600 + 1300 Mbps
300 + 867 Mbps
300 + 867 Mbps
Antenna
3 external
3 external
4 internal high efficiency
3 external
1 external, 2 internal
2 PIFA
Frequency
2.4G, 5G
2.4G, 5G
2.4G, 5G
2.4G, 5G
2.4G, 5G
2.4G, 5G
Encryption
64/128-bit WEP, WPA/WPA2-PSK, WPA/WPA2-Enterprise, WPS
64/128-bit WEP, WPA/WPA2-PSK, WPA/WPA2-Enterprise, WPS
64/128-bit WEP, WPA/WPA2-PSK, WPA/WPA2-Enterprise, WPS Radius with 802.1x
64/128-bit WEP, WPA/WPA2-PSK
64/128-bit WEP, WPA/WPA2-PSK, WPS
64-bit WEP,
128-bit WEP, WPA2-PSK, WPA-PSK, WPS support
Support OS
Windows® 8, 7, Vista, XP, Server 2003, Server 2008, Mac OS X 10.1~10.8, Linux
Windows® 8, 7, Vista, XP, Server 2003, Server 2008, Mac OS X 10.1~10.8, Linux
Windows® 8, 7, Vista, XP, Server 2003, Server 2008, Mac OS X 10.1~10.8, Linux
Windows® 8, 7, Vista, XP
Windows® 8, 7, Vista, 2000 , XP , Mac OS X 10.1~10.8, Linux
Windows® 8(32bit/64bit), Windows® 7(32bit/64bit), Windows® Vista(32bit/64bit), Windows® XP(32bit/64bit)