Relative Topices
[Notebook] Common Issues with Charging on Transportation
When you are traveling by plane, train, bus, cruise ship, or any other mode of transportation and need to charge your laptop during the journey, please refer to the policies and regulations of the transportation company first to ensure the safe and proper use of your device:
Check the Charging Policies of the Transportation
Different transportation companies may have varying regulations regarding when and how chargers can be used on their vehicles. Some companies close the socket power during takeoff or landing and only allow charging during the journey. To ensure your laptop charges normally, check the policies of the relevant company before your trip.
Inspect the Socket Specifications
In addition to considering the plug type of the socket, you should also pay attention to the power specifications the socket can provide, including voltage, current, and power output. If the power specifications provided by the socket are lower than the minimum requirements of your laptop charger, it may result in slow charging or even inability to charge. Make sure the socket can provide sufficient power to support the charging of your laptop.
Usually, ASUS power adapters have information about the required input voltage, current, and output voltage, and current specifications marked on the back (as shown in the red box below), as well as which safety certifications they have passed.
INPUT: Suitable for 100~240V AC, with a frequency of 50~60Hz, and a current of 2A for power input.
OUTPUT: Suitable for 19V DC, with a current 6.32A for power output.
Note: The power calculation is done by multiplying the voltage by the current, typically expressed in watts (W). In the example below, the calculated output power is 19V x 6.32A = 120W.
You can also refer to the product's user manual to confirm the information about the power adapter you are using. Here you can learn more about How to search for and download user manuals.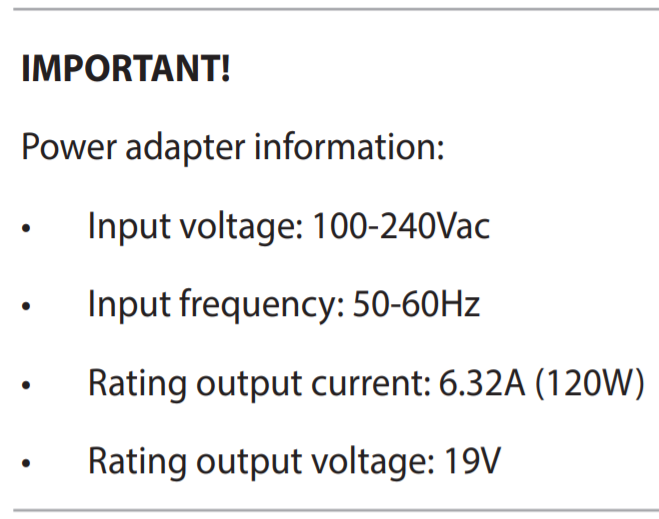 For more information about power adapters, please refer to this article: Power Adapter (Charger) Specifications and Recommended Usage.