DDR4-3200MHz、32Gbps M.2、およびUSB 3.1 Gen 2をサポートするAMD AM4 micro-ATXゲーミングマザーボード
TUFプロテクション: SafeSlot, ESD Guards, DDR4 overvoltage protection, Digi+ VRM, 長寿命ステンレスI/Oバックパネル
TUFコンポーネント: 耐久性を最大限に高めるTUF LANGuard, TUFチョークコイル, TUFコンデンサ, TUF MOSFETを採用
Fan Xpert 2+:すべてのファンが最高の冷却性能と静音性のバランスを実現
ネイティブM.2:最新SSD用の組込みインターフェースが最大32Gbpsの驚異的なストレージ速度を実現
オンボードUSB 3.1 Gen 2:10Gbpsの超高速転送が可能な最新の接続性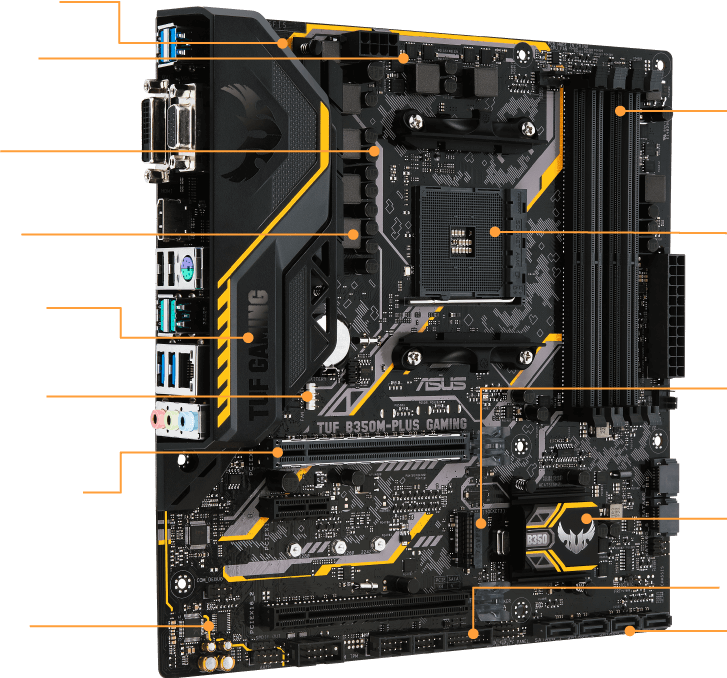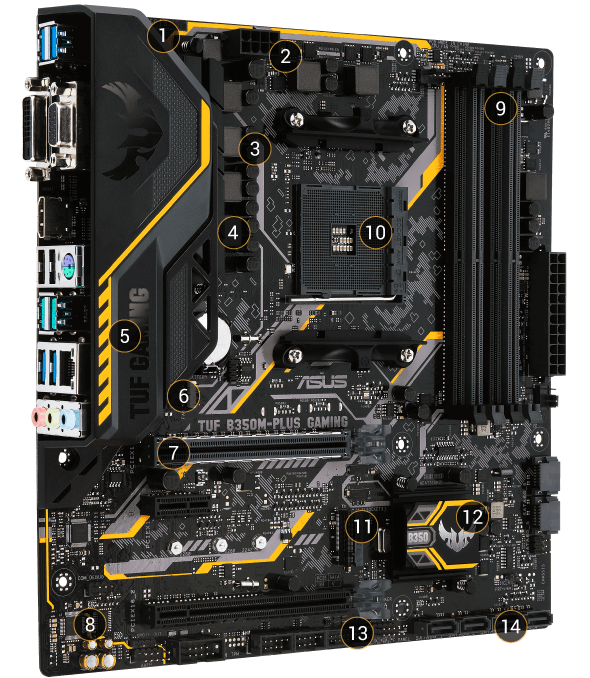 DIGI+VRM & EPU

TUF MOSFETs

TUF Caps

TUF Chokes

Aesthetic Cover

Fan RGB Header

PCI Express 3.0 Slot
ASUS SafeSlot

Gaming Audio

DDR4 3200(O.C.)

AMD AM4 Socket

M.2 Support
Both SATA & PCIE mode

AMD B350 Chipset

Front USB 3.1 Gen 1

6 x SATA 6Gb/s Ports

Battle Ready For Your Gaming Rig
TUF Gaming motherboards are built to survive and thrive on every battlefield. Infused with military spirit of The Ultimate Force and styled to strike fear into the hearts of every enemy, TUF B350M-Plus Gaming is the perfect foundation for your micro-ATX battle rig: a solid, durable and camouflaged force that's fit for today's fights, and with the durability to handle multiple upgrades for the campaigns of tomorrow.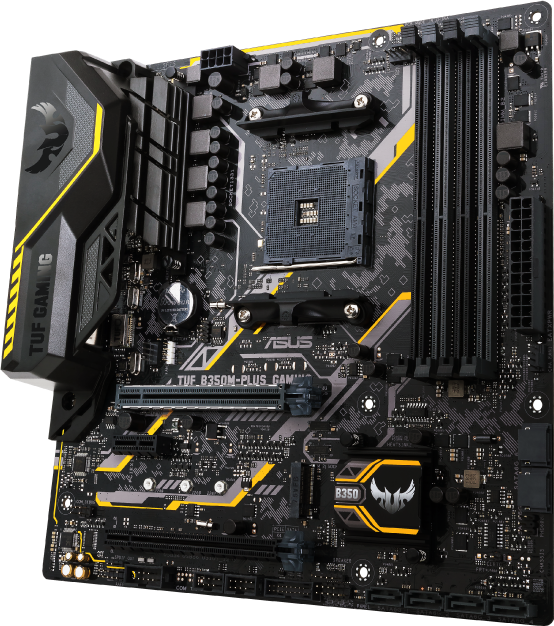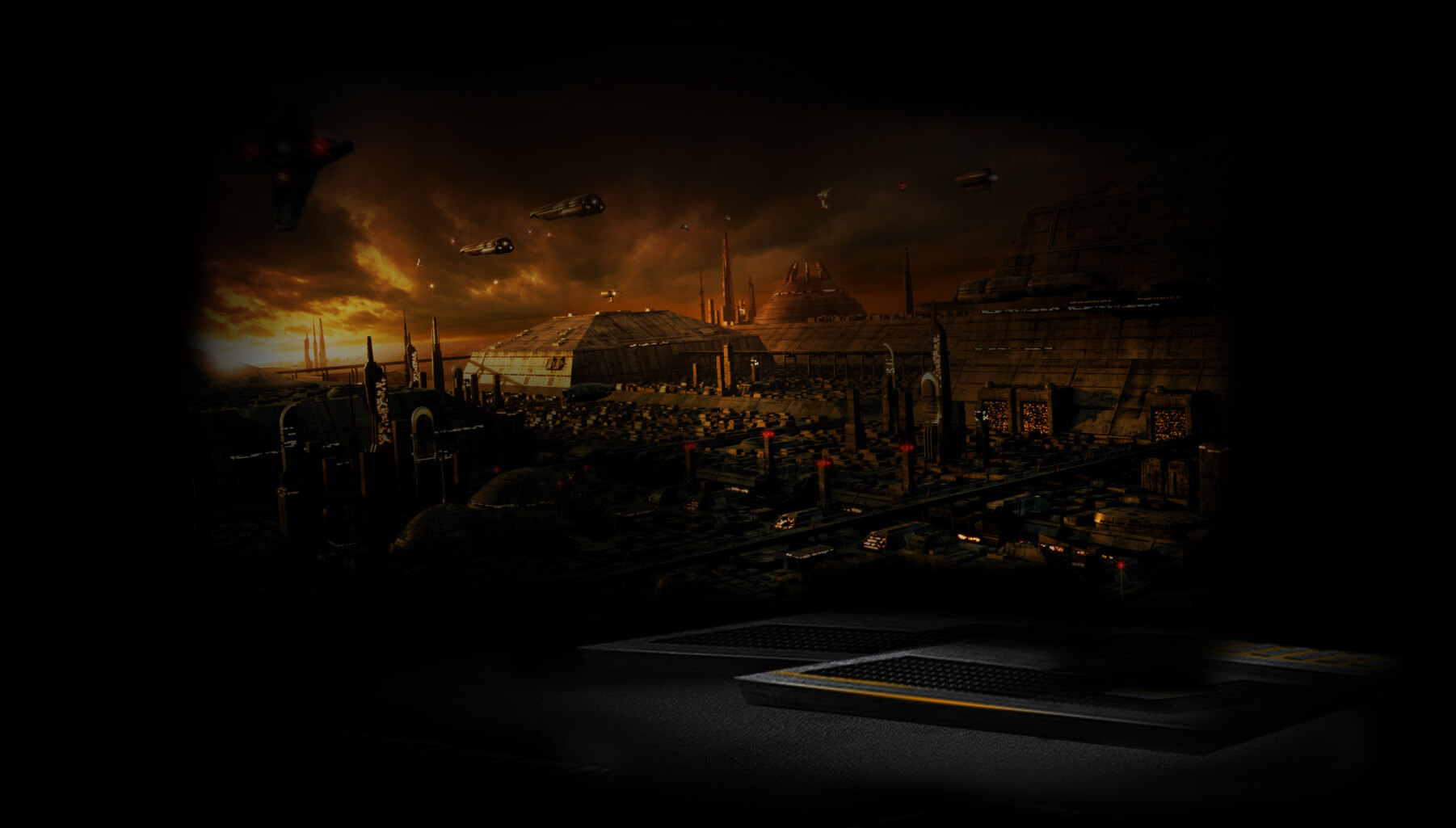 EAZY PC DIY EXPERIENCE
TUF Gaming motherboards offer easy and safe DIY builds by leveraging great design, innovative engineering, and strong partnerships with major component manufacturers. The unrivalled combination of military-grade TUF Components, TUF Protection and the TUF Gaming Alliance means that you can rest assured that your gaming rig will go the distance.
TUF gaming alliance

TUF Gaming Alliance is the marque of collaboration between ASUS and major PC-component manufacturers, including trusted brands like Antec®, Apacer®, Ballistix, Cooler Master®, Corsair®, Deepcool, Enermax, G.Skill, GeIL®, In Win, Scythe, SilverStone, Team Group and XPG. A growing range of compliant parts, from PC cases and power supplies to CPU coolers and DRAM, guarantee both compatibility and aesthetic harmony. We're also continually increasing our partnerships to make the TUF Gaming Alliance ever stronger.
TUF PROTECTION
SafeSlot
Protect your graphics card investment
SafeSlot is the PCIe slot reinvented by ASUS and engineered to provide superior retention and shearing resistance. Manufactured in a single step using a new insert-molding process, SafeSlot integrates fortifying metal for an inherently stronger slot, which is then firmly anchored to the PCB through additional solder points.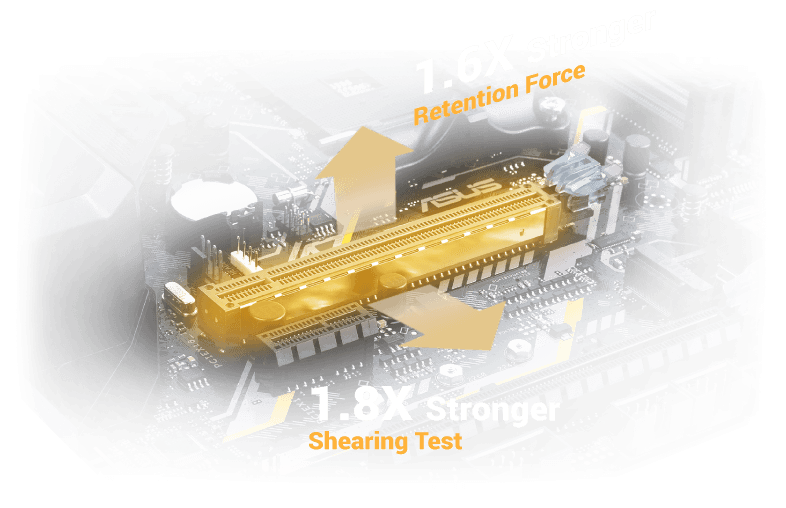 ESD GUARDS
2X-stronger ESD protection
Electrostatic discharge (ESD) could mean game over for your rig, so TUF B350M-Plus Gaming is protected by ESD Guards – ensuring longer component lifespan and providing system resilience that's 2X greater than industry standards.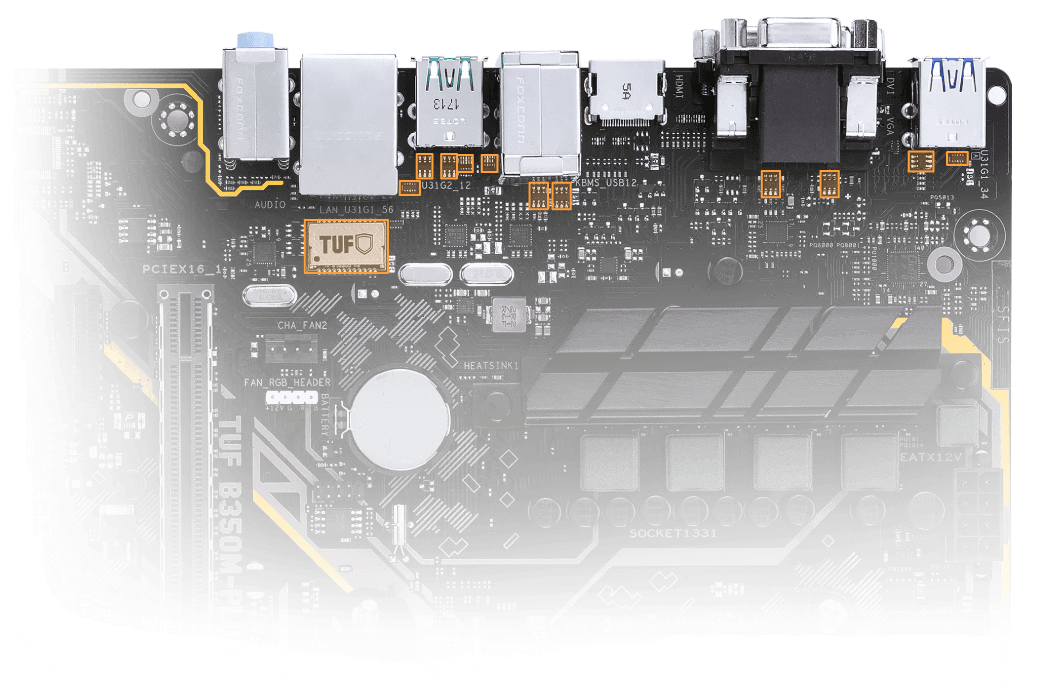 MORE

DRAM Overvoltage Protection
Short-circuit damage prevention
Onboard resettable fuses prevent overcurrent and short-circuit damage. This extends beyond I/O ports to DRAM to safeguard the lifespan of your system and connected devices.

DIGI+ VRM
Precision control for stable power
The Digi+ VRM voltage-regulator module (VRM) is one of the finest in the industry, ensuring ultra-smooth and ultra-clean power delivery to the CPU at all times.

STAINLESS STEEL BACK I/O
3X corrosion-resistance for greater durability
TUF's corrosion-resistant stainless-steel back I/O panels bonded with chromium oxide have a lifespan that's 3X longer than traditional panels.
TUF COMPONENT
TUF LANG
uard
TUF LANGuard is a military-grade innovation that integrates advanced signal-coupling technology and premium surface-mounted capacitors to improve throughput, protecting the motherboard from lightning strikes and static electricity.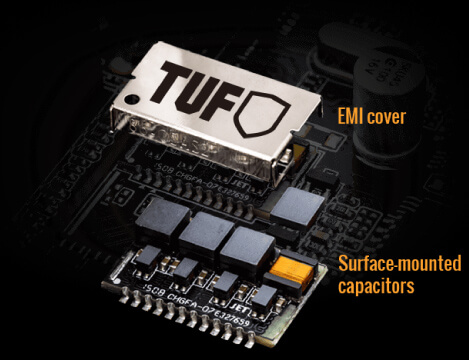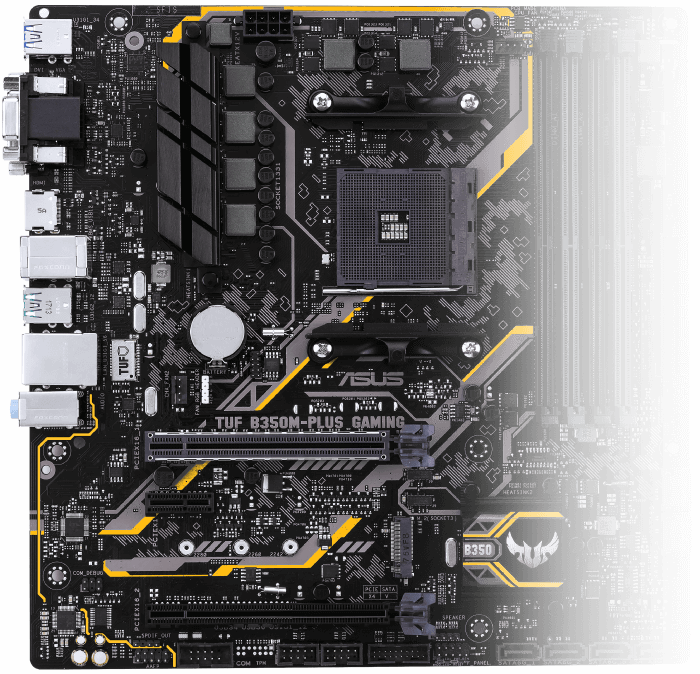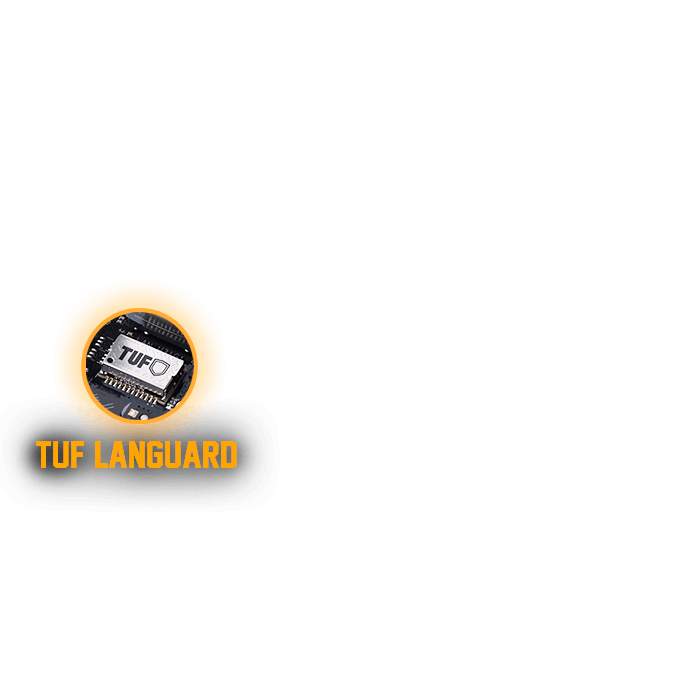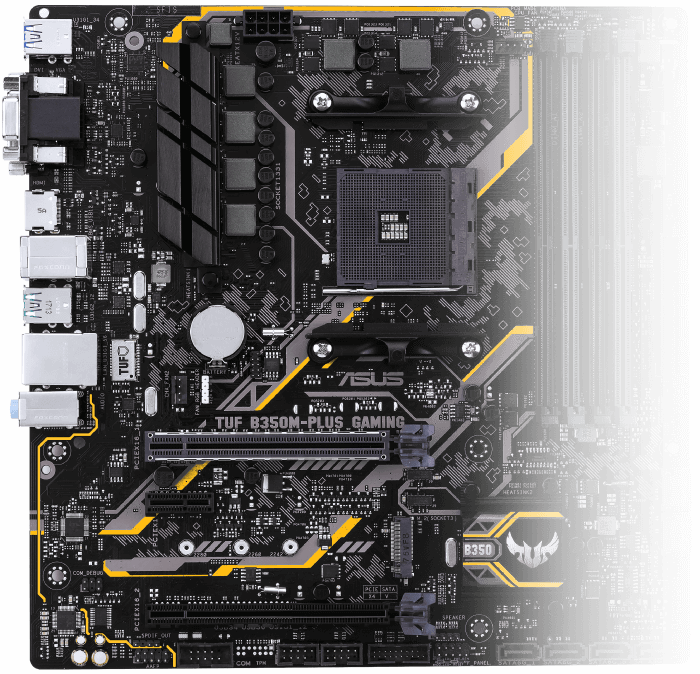 TUF CHOKES
Certified military-grade TUF chokes deliver rock-steady power to the CPU, helping to improve system stability.
TUF CAPACITORS
+52% temperature tolerance and 2.5X-longer lifespan.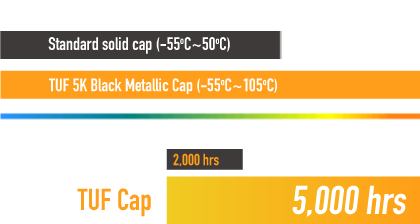 TUF MOSFETs
Certified military-grade MOSFETs with lower RDS(on)*.
*Lower RDS(on) results in better power efficiency and reduced heat generation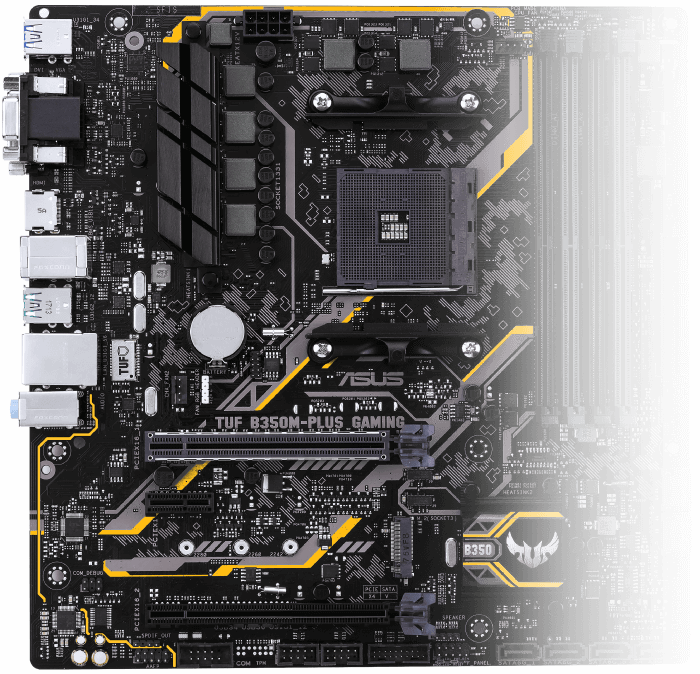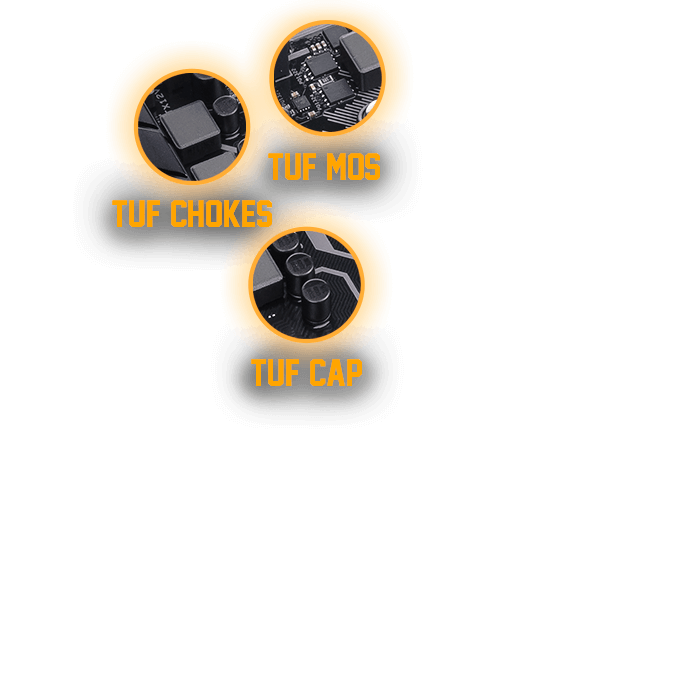 PERFORMANCE LEVEL UP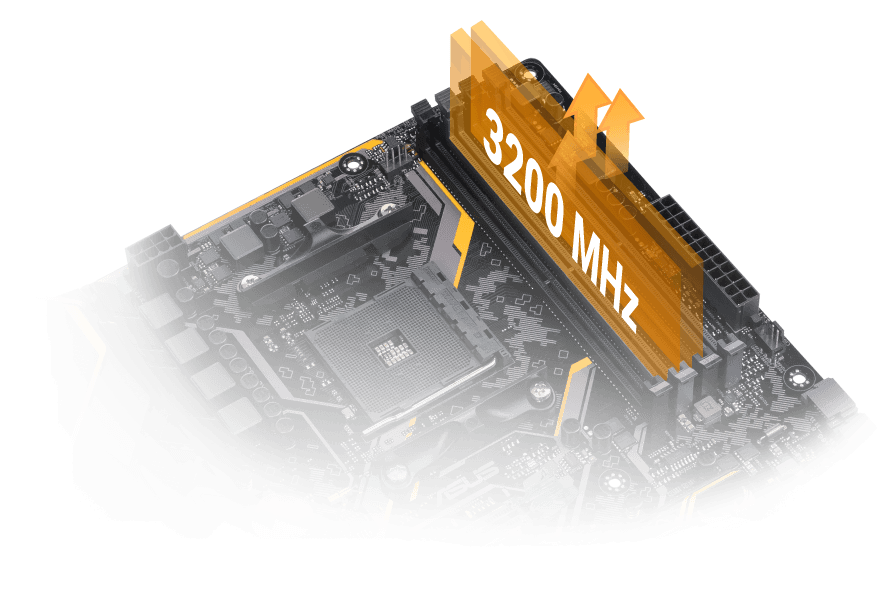 DDR4 SUPPORT
OVERCLOCKING STRENGTH IN NUMBERS
The ASUS-exclusive T-Topology memory trace layout ensures signal lines are carefully length-matched, allowing TUF B350M-Plus Gaming to support memory speeds up to DDR4-3200 with all memory slots populated.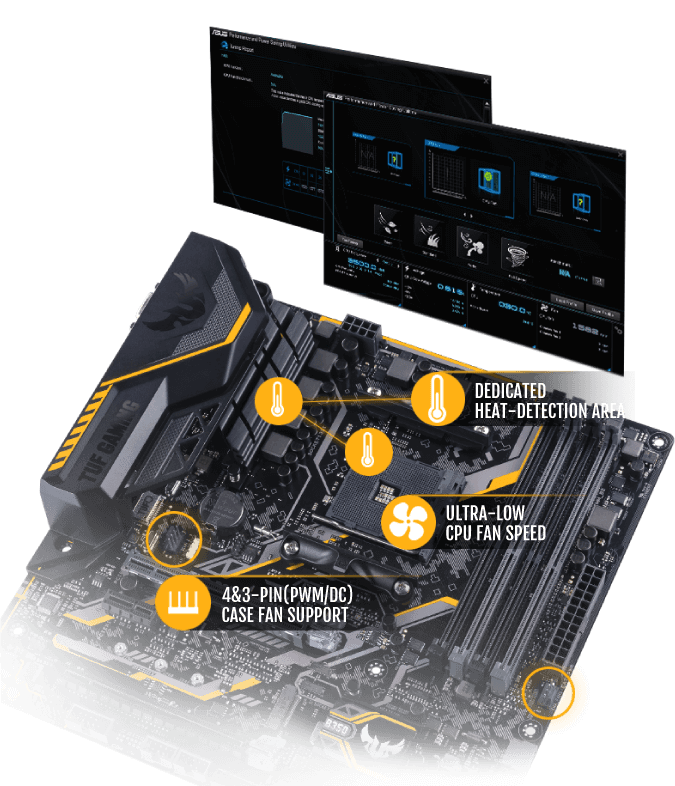 FAN XPERT 2
+
ADVANCED FAN CONTROL
With onboard thermal sensors and hardware-level 4-pin/3-pin PWM/DC mode detection, Fan Xpert 2+ ensures every fan achieves the best balance of cooling performance and acoustics.
Auto-Tuning Mode
Scans fan parameters and tunes fan speeds with a single click. >
RPM Fixed Mode
Allows you to set a fixed fan speed, so you get the cooling and acoustics that you want.
ULTRAFAST TRANSFER SPEED
10G
bps

USB 3.1 Gen 2 Onboard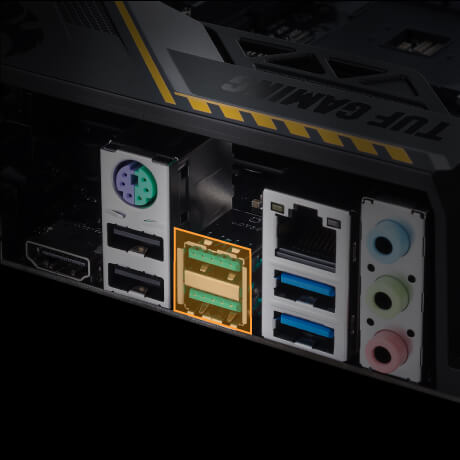 With backward-compatible USB 3.1 Gen 2 Type-A, you'll experience ultimate connection flexibility and blazing data-transfer speeds of up to 10Gbps — or twice as fast as standard USB 3.1 Gen 1!
Speed up with onboard M.2 up to 32G
bps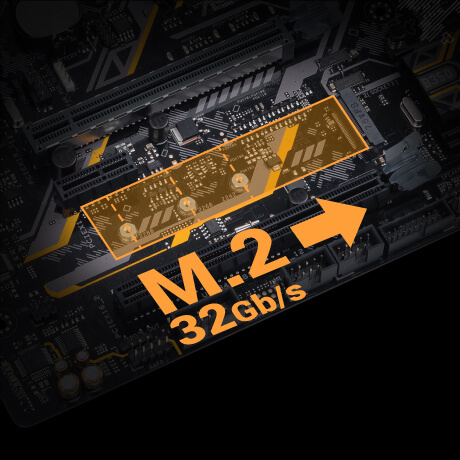 With x4 PCI Express 3.0/2.0 bandwidth, M.2 supports up to 32Gbps data-transfer speeds. It is the perfect choice for an operating system or application drive, making your whole PC or apps work as fast as possible.
GAME YOUR WAY
GAMING AUDIO
COMBINED ONBOARD FEATURES DELIVER ELEVATED AUDIO
Intelligent design and premium hardware create audio quality unlike anything you've ever experienced!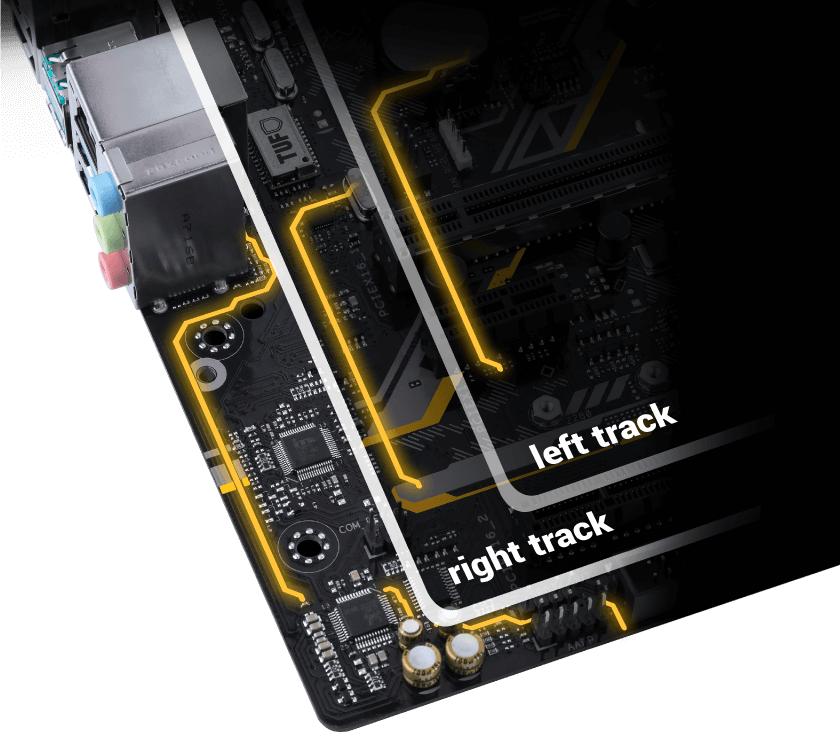 Audio shielding

Separates analog/digital signal domains, significantly reducing multi-lateral interference.

Dedicated channel layouts

Separate layers for left and right channels to guard the quality of the sensitive audio signals.

Audio Enjoyment

Premium Japanese audio capacitors provide warm, natural, and immersive sound with exceptional clarity and fidelity.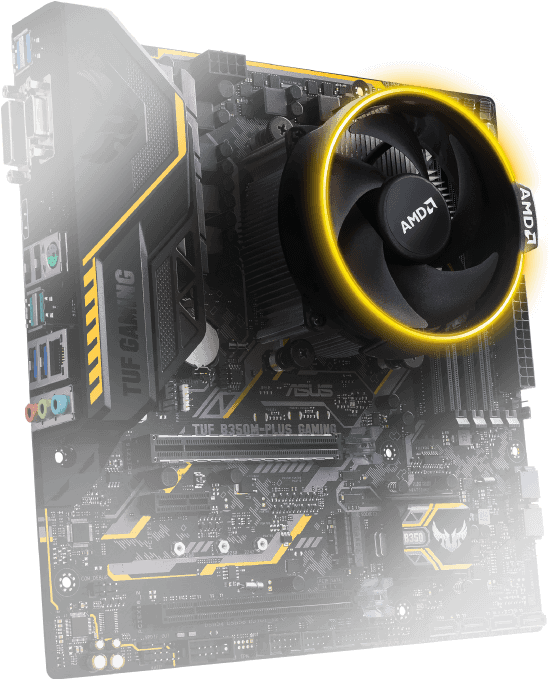 BRIGHTEN UP YOUR BUILD
Customizable RGB LED illumination
With built-in RGB LED-lighting options you're free to illuminate your build in a variety of mesmerizing styles. With a specially designed header for control of fan LEDs, TUF B350M-Plus Gaming even lets you personalize your cooling illumination via the exclusive AMD RGB fan!
AMD CPU AND CHIPSET FEATURES

Ready for AMD AM4-socket Ryzen, 7th Generation A-series APUs and Athlon APUs
This motherboard supports AMD® Ryzen™ processors, 7th Generation A-series accelerated processing units (APUs) and Athlon™ CPUs. The high-performance Ryzen™ processor supports up to eight cores, and is based on the innovative Zen core architecture. The 7th Generation A-series APUs feature integrated AMD Radeon R-series graphics. AMD AM4-socket processors feature dual-channel DDR4 memory, native 5Gbps USB 3.1 Gen 1 and 16 PCI Express® 3.0/2.0 lanes for superb performance.

AMD B350 Chipset
The AMD B350 chipset delivers outstanding overclocking capabilities for the latest AMD® AM4-socket Ryzen™ processors, 7th Generation A-series APUs and Athlon™. It provides two 10Gbps USB 3.1 Gen 2 ports, two USB 3.1 Gen 1 ports, and four 6Gbps SATA ports for faster data retrieval.
Compare (0)