멈추지 않는 VR 및 4K 게이밍을 위한 ASUS Expedition GeForce® GTX 1060 OC 에디션 6GB GDDR5
환상적인 eSport 게이밍을위한1809 MHz Boost Clock in OC 모드
듀얼볼베어링팬이회전마찰력을줄여 2배더긴수명과냉각효율지원
업계유일의 Auto-Extreme 기술및 Super Alloy Power II가제공하는우수한품질과최상의내구성
144시간의시험을통과하고최고의게임들과시험하고인증된최상의호환성
GPU Tweak II with Xsplit Gamecaster을통한직관적인성능트위킹및즉석게임플레이스트리밍 .
NVIDIA ANSEL가지원하는게임속화면을캡쳐하는혁신적인새로운방법
NVIDIA GameWorks™이인터렉티브하고시네마틱한경험및환상적으로매끄러운게임플레이제공 .

Build for Non-Stop Action
ASUS Expedition graphics cards are made for non-stop action, engineered with non-stop durability for 2X longer lifespan and premium reliability. We even test the cards to the limits, with 144 hour of diskless-system tests and extensive checks for compatibility with top games. While GPU Tweak II with XSplit Gamecaster to provide non-stop gaming experience and real-time streaming.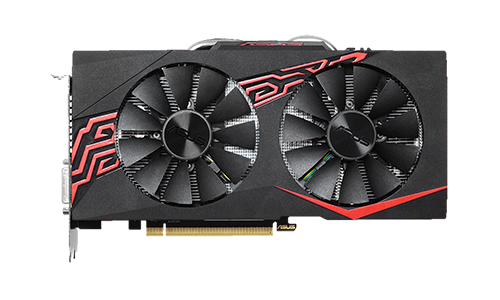 I/O Ports Highlight
1 x Native DVI-D
2 x Native HDMI 2.0
2 x Native Display Port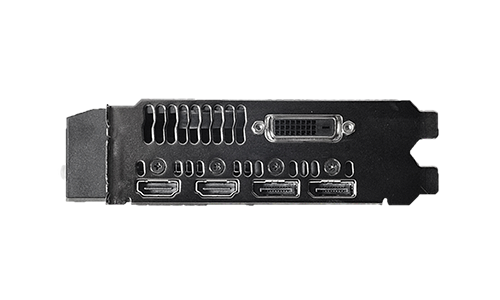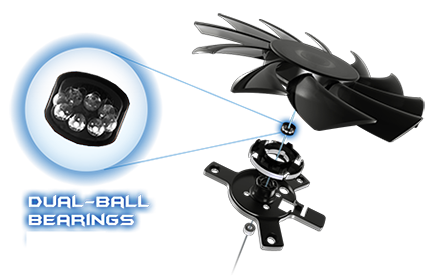 NON-STOP DURABILITY
0dB Dual-Ball Bearing Fans
Without the problem of oil drying common in sleeve-bearing fans, the dual-ball bearing fan on ASUS Expedition GeForce® GTX 1060 lasts 2X longer. With reduced friction, it also runs smoother, further improving card lifespan and cooling efficiency. You can play in true 0dB silence as the 0dB fans remain off up to a set GPU temp level*.

Auto-Extreme Technology with
Super Alloy Power II
ASUS graphics cards are produced using Auto-Extreme technology, an industry-first 100% automated production process, and features premium Super Alloy Power II components that enhance efficiency, reduce power loss, decrease component buzzing under load, and lower thermal temperatures for unsurpassed quality and reliability.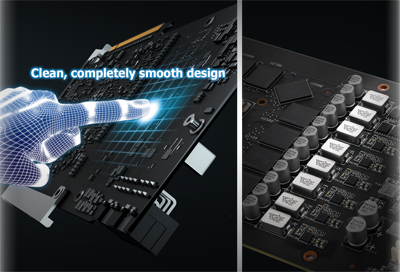 NON-STOP CHALLENGER
144-hr Diskless Solution Compatibility
ASUS operates the iCafé Labs to certify Expedition graphics cards for use as diskless systems, subjecting the cards to 144 hours of dedicated tests, including a 2-hour reboot test and 15-hour 3D Mark test with heavy loading. Expedition graphics cards are ready to run non-stop — with the smooth performance you demand.
Top Games Tested
ASUS iCafé Labs engineers also subject Expedition graphics cards to lengthy stability tests in an environment that simulates a real-world internet café. We test with the top games to assure of the very best gaming experiences!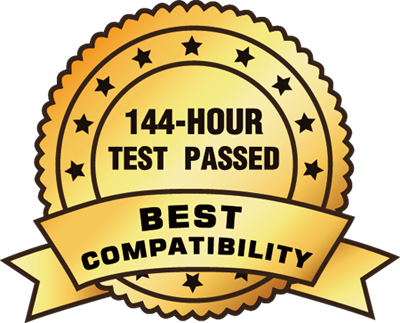 NON-STOP GAMING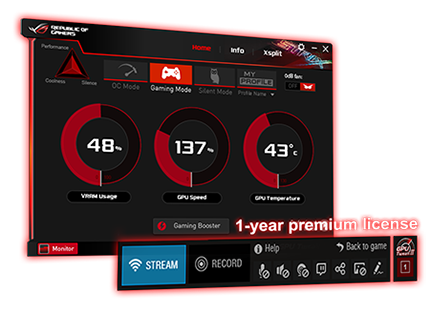 GPU Tweak II with XSplit Gamecaster
Tweak Till Your Heart's Content
Redesigned with an intuitive, all-new UI, GPU Tweak II makes overclocking easier and more visual than ever, while still retaining advanced options for seasoned overclockers. With one click, the new Gaming Booster function maximizes system performance by removing redundant processes and allocating all available resources automatically.
Gaming Booster
One-click Performance Up
Visual effects:
Boost your performance by turning off windows visual effects.
System Services:
Automatically or manually turn off windows services or process.
Memory Defragmentation:
Re-arrange & free your system memory without closing any processes.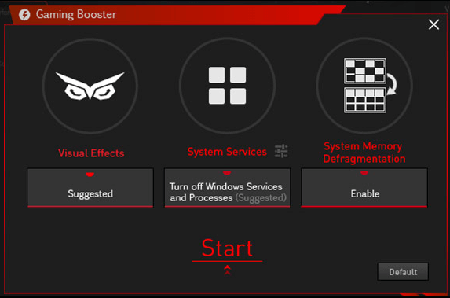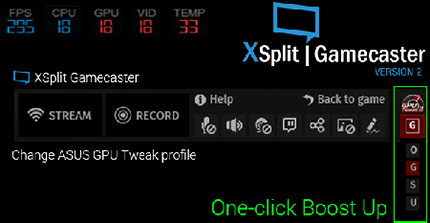 XSplit Gamecaster
Instant Gameplay Streaming
An included 1-year XSplit Gamecaster premium license* — a $99 USD value — lets you easily stream or record gameplay via a convenient, in-game overlay. The overlay also displays GPU clock speed, temperature, and VRM usage, and has GPU Tweak II controls, so gamers can choose a gaming profile and boost performance with just one click.

Learn more at here.

Powered by
NVIDIA® GeForce® GTX 1060

NVIDIA GPU Boost™ 3.0
Dynamically maximizes clock speeds based on workload and allows enthusiast-class controls that allow gamers to push performance to new levels.

NVIDIA G-SYNC™ Technology
NVIDIA G-SYNC is groundbreaking display technology that delivers the smoothest gaming experience ever. G-SYNC's revolutionary smoothness is achieved by synchronizing display refresh rates to the GPU in your GeForce GTX-powered desktop or notebook, eliminating screen tearing and minimizing display stutter and input lag. NVIDIA G-SYNC requires a qualified NVIDIA G-SYNC display panel on the notebook or a NVIDIA G-SYNC monitor.

PCIE 3.0
Delivers double the bandwidth per lane of PCIe Gen 2 for faster GPU –CPU communication
Compare (0)