ASUS Chromebook CX1 (CX1101)
ASUS Chromebook CX1 (CX1101)

Get more done every day,
from anywhere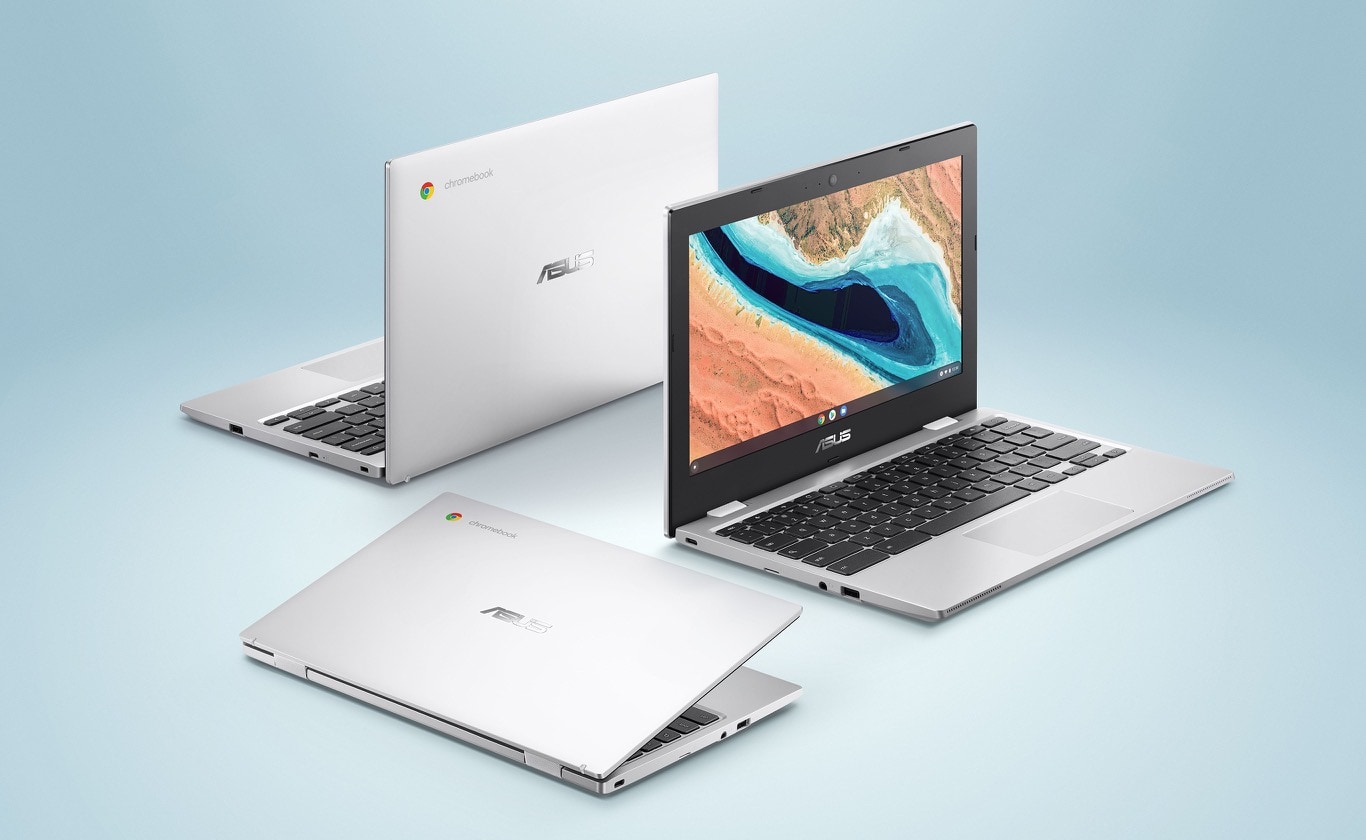 ASUS Chromebook CX1 is made for boosting productivity and having more fun while on the move — all day, every day. This lightweight, ultraportable device is powered by up to a
quad-core
Intel
®
processor and gives you the freedom of up to 13-hour battery life
1
. The
slim-bezel
design fits more screen into the compact chassis for easy multitasking and incredibly immersive entertainment, and the device is your gateway to the best of Google, including the rich library of apps for work or play on the Google Play
2
. With speedy performance, robust security and convenient features, ASUS Chromebook CX1 is not only perfect for students — it's ideal for anyone on the go!
Design
Modern, stylish
and ultraportable
ASUS Chromebook CX1 embodies pure style and portability with a lightweight, 1.24 kg chassis and a distinctively trendy look and feel. Designed for empowering
on-the-go
lifestyles, it's always ready to go wherever your day takes you.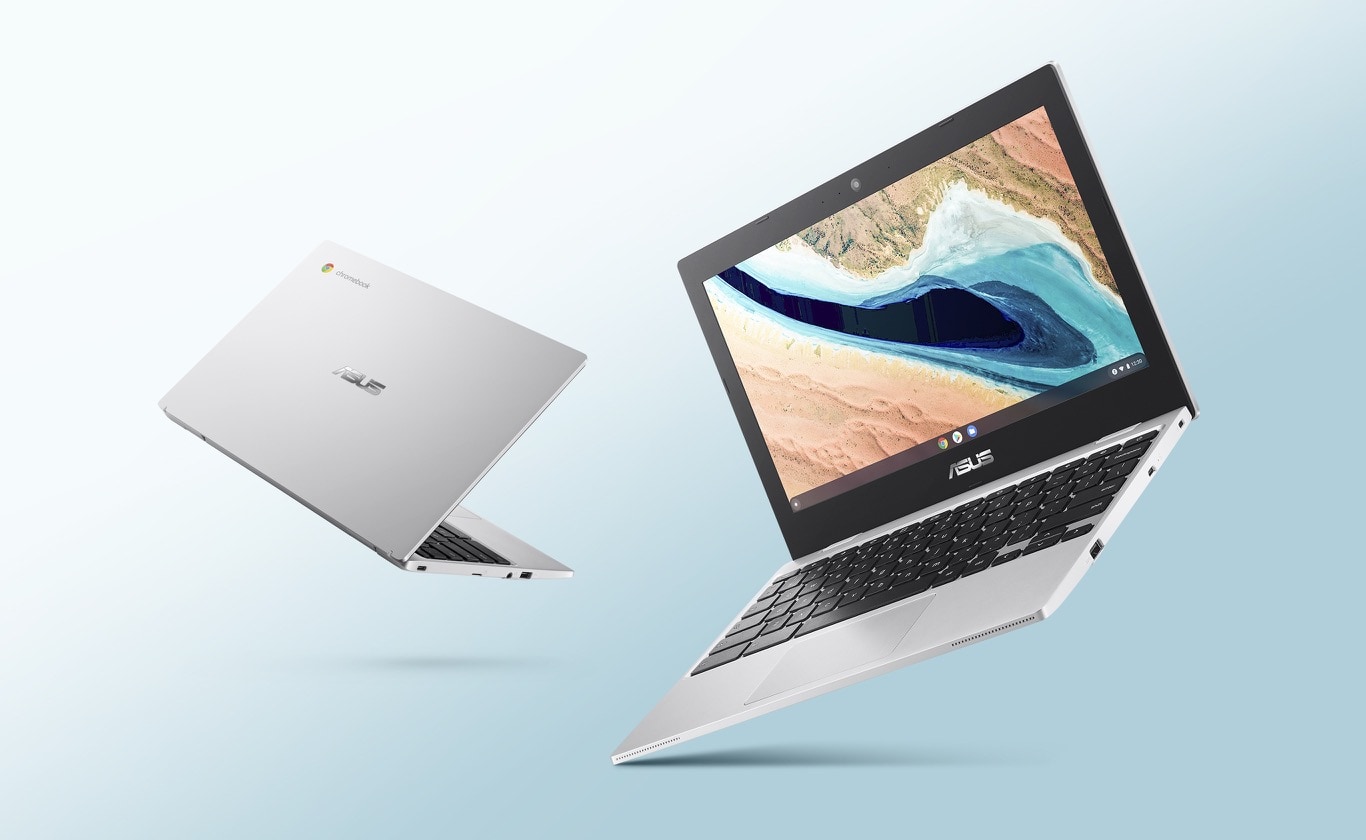 Durability
Tough enough to take anywhere
With structural reinforcements to boost chassis strength, ASUS Chromebook CX1 is solidly built and provides durability for all your travels. It also meets
next-level
and industry-leading MIL-STD 810H US military tests
3
, which are more rigorous and demanding than ever before. Additionally, the device undergoes stringent in-house testing — including panel-pressure, shock and drop tests — for ensuring maximal toughness, so you don't have to worry about everyday knocks and bumps.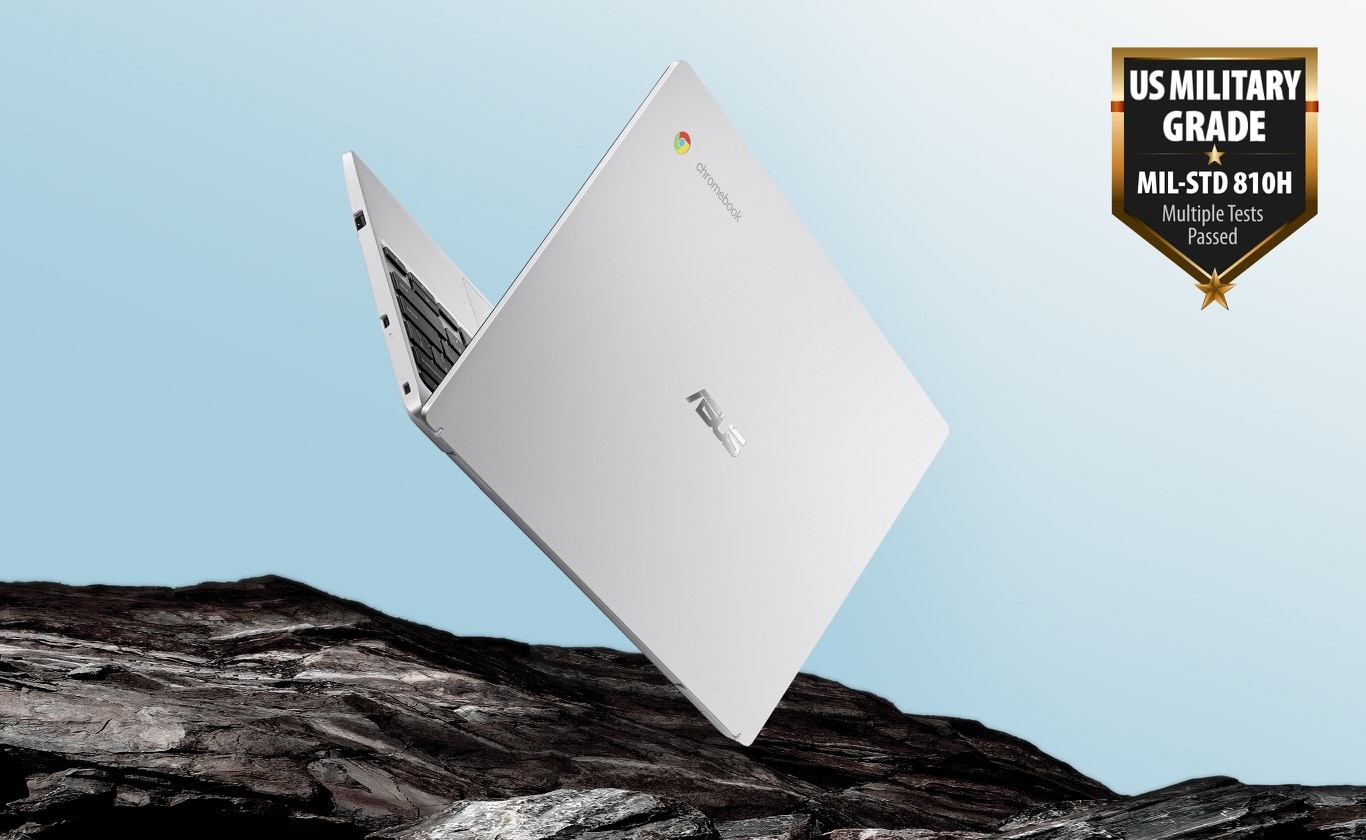 Shock Test
Withstands three harsh shocks in each direction at a force of 120 G / 3 ms.
Panel Pressure Test
Laptop must endure 25 kg of force on the lid and bottom without LCD panel damage.
Keyboard Durability Test
Designed for a lifespan of up to 10,000,000 keystrokes.
Hinge Test
Subjects the laptop to up to 30,000 open-and-close cycles.
Thermal Shock Test
Endures temperature changes of -51°C to 71°C for an hour through 3 cycles.
Drop Test
Dropped from 30 cm while powered on to mimic a desk accident.
Performance
Breeze through work
Powered by up to a quad-core Intel
®
processor, ASUS Chromebook CX1 delivers excellent performance for responsive experiences with your favorite apps. Combined with the full capabilities of Google Workspace and other productivity apps from the Google Play
2
, the device lets you make quick work of your to-do list, from anywhere.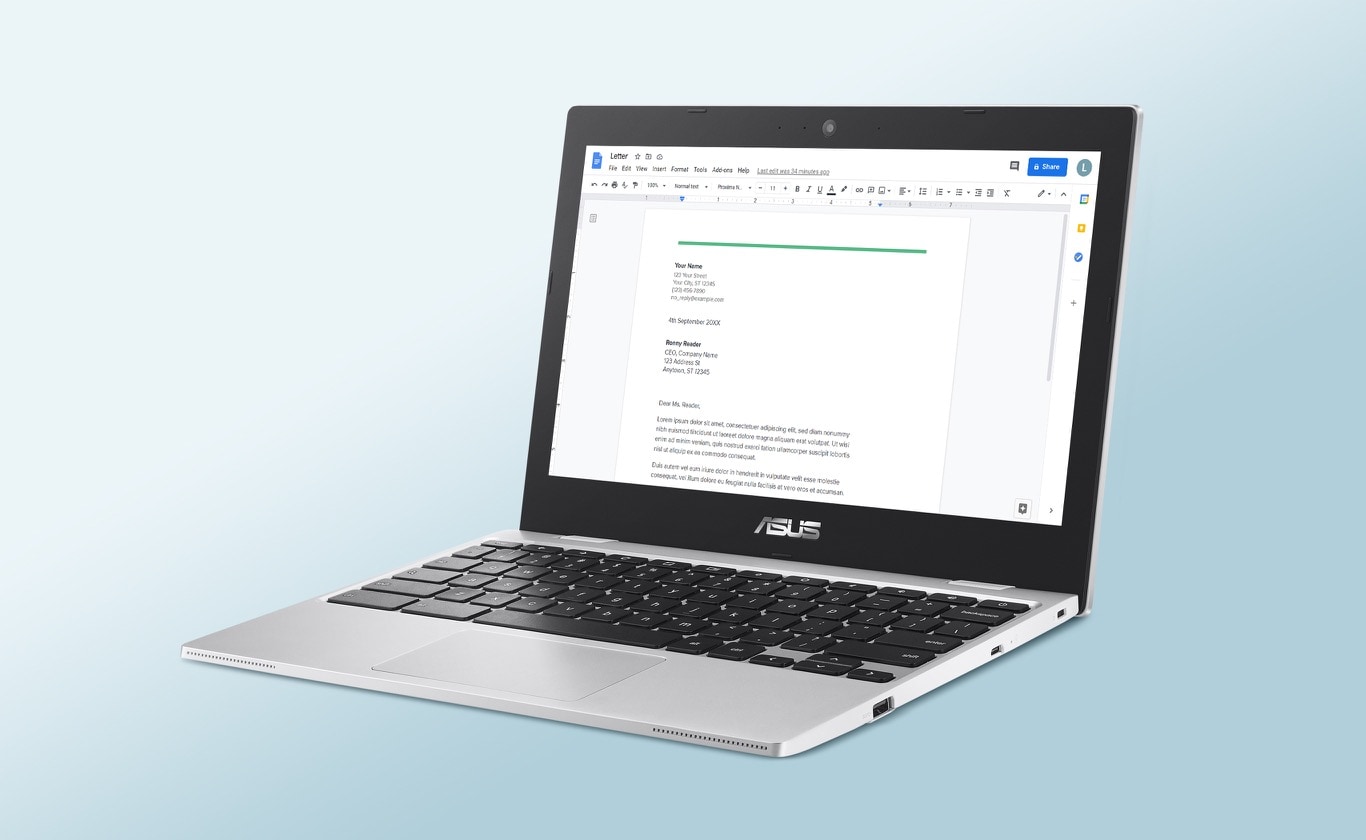 Display
Immersive visuals
for focused productivity
Featuring ultra-narrow bezels, ASUS Chromebook CX1 packs a stunning
11.6-inch
display into its compact chassis. Combined with a matte anti-glare coating to reduce distracting reflections, the device maximizes your focus and productivity while minimizing the form factor — empowering you to do more on the go!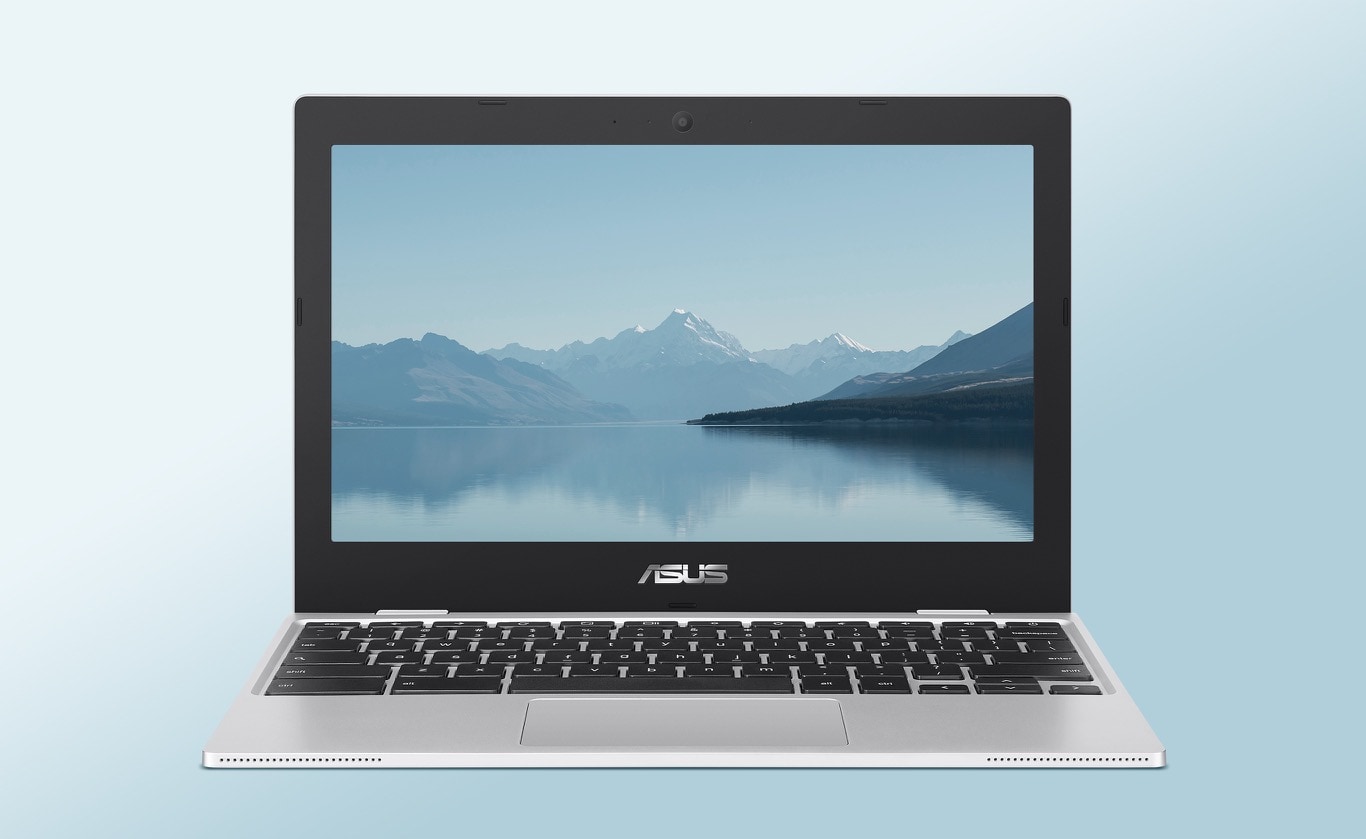 Flexibility
Easy idea sharing
ASUS Chromebook CX1 offers a 180° lay-flat hinge that allows it to be fully opened and laid completely flat on a desk or table. This setup makes it easy to share ideas, visuals, samples and designs when you're working with friends, colleagues or clients.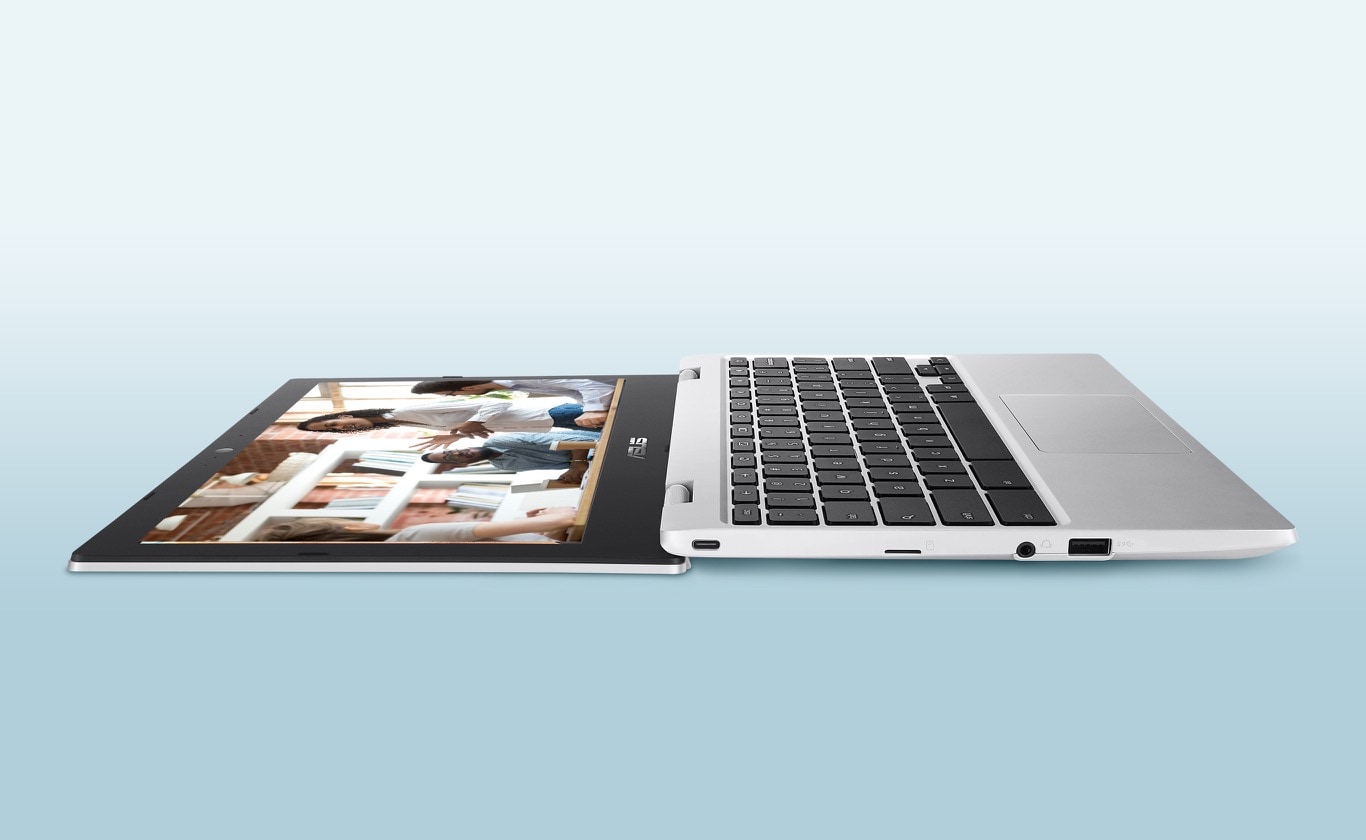 180° lay-flat hinge
Keyboard
Exceptional typing comfort
A full-size, ergonomic keyboard with 1.5 mm key travel ensures that typing is supremely comfortable. Typing on a compact device has never been this smooth and easy!
WiFi
Fast, stable connections
ASUS Chromebook CX1 offers dual-band WiFi 5 (802.11ac) for strong, stable signals and fast data-transmission speeds. Also, leveraging WiFi 5 has the added benefit of making the device less prone to interference from other wireless devices operating on the same frequency band.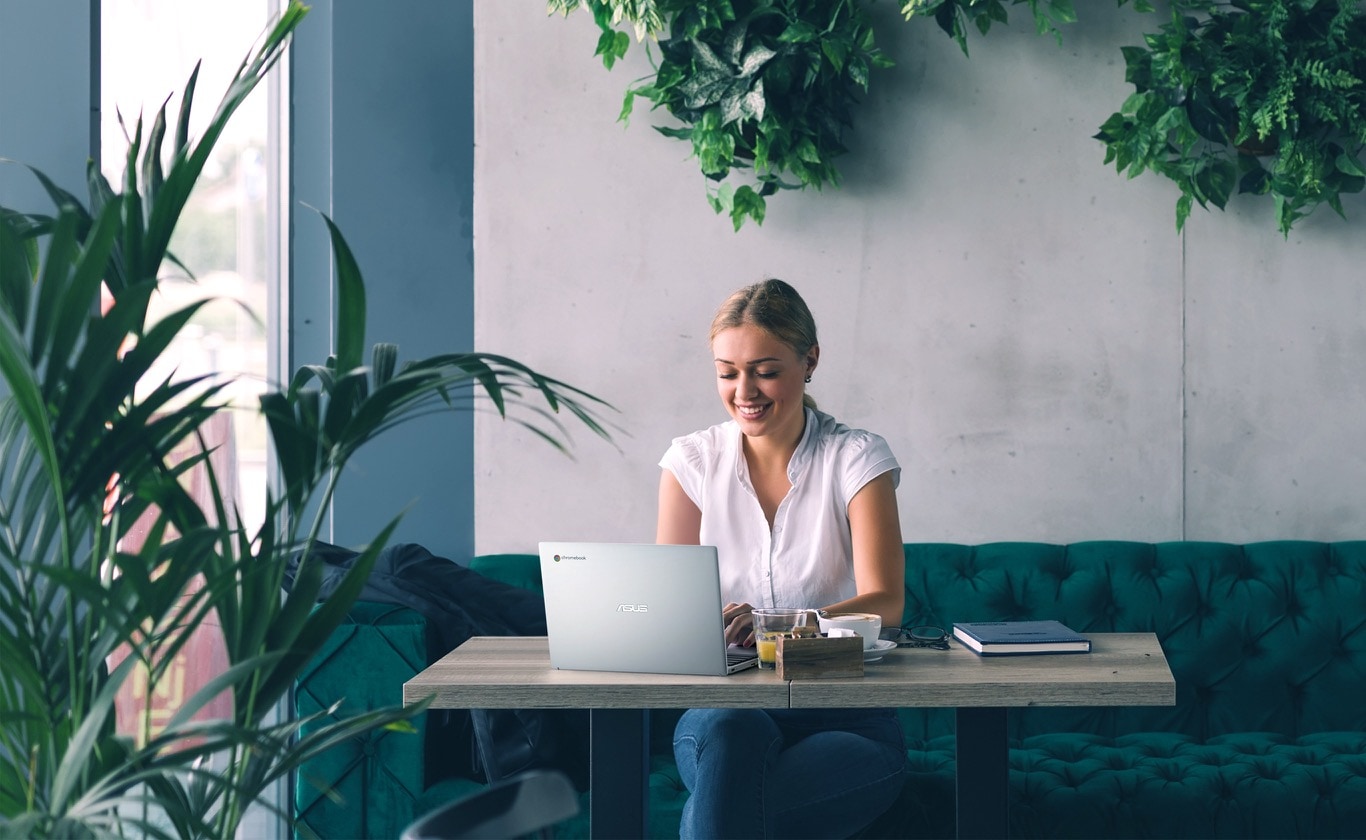 Battery
Work or play, all day
The power-efficient ASUS Chromebook CX1 is designed to last for up to 13 hours
1
on a single charge, so you can work or play throughout the day and while you're on the move.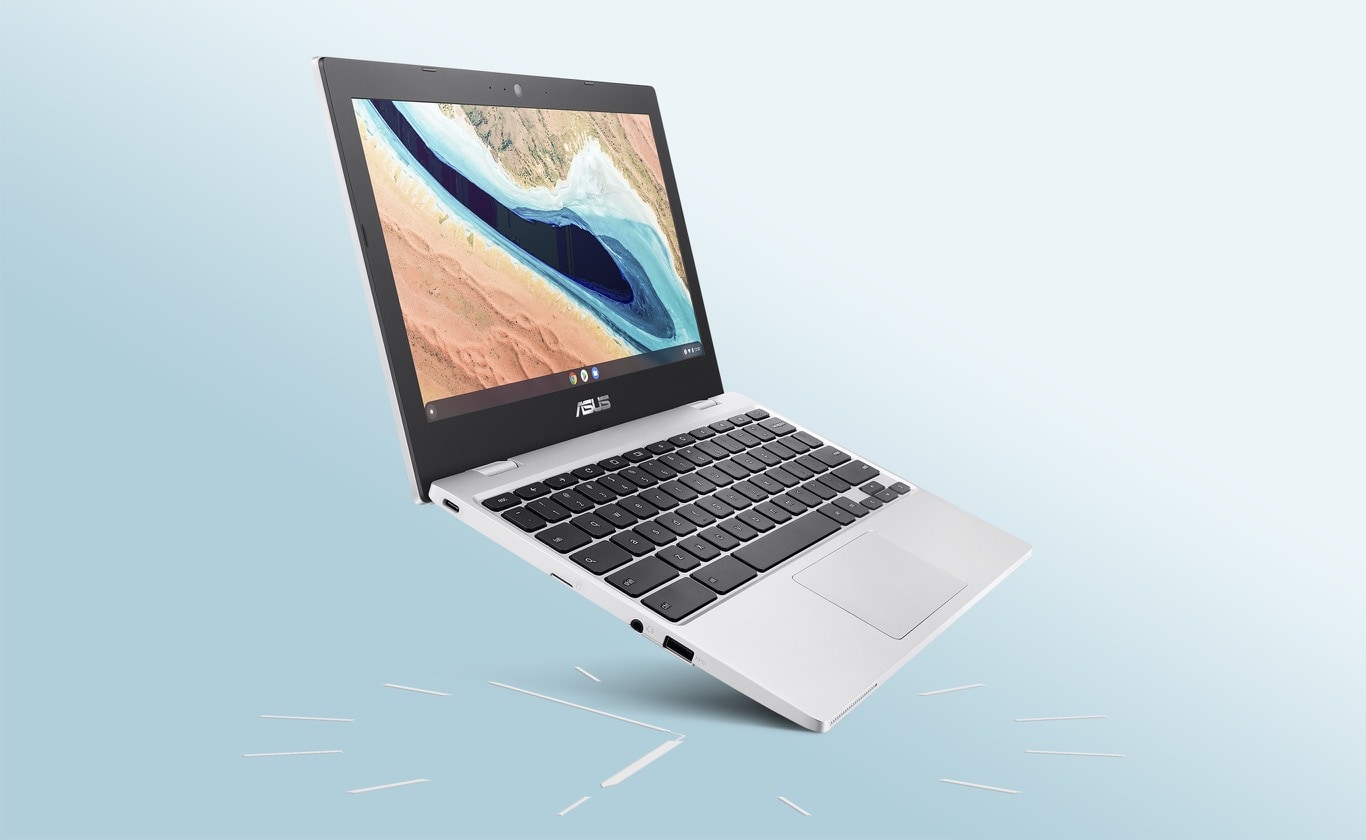 Security
Built-in protection
ASUS Chromebook CX1 is enabled with automatic updates
4
and
built-in
anti-virus
protection, seamlessly keeping your device safe, secure and always up to date. Because it leverages the rock-solid security of your personal Google Account, you can rest assured that private documents, emails, photos and confidential data are safe at all times.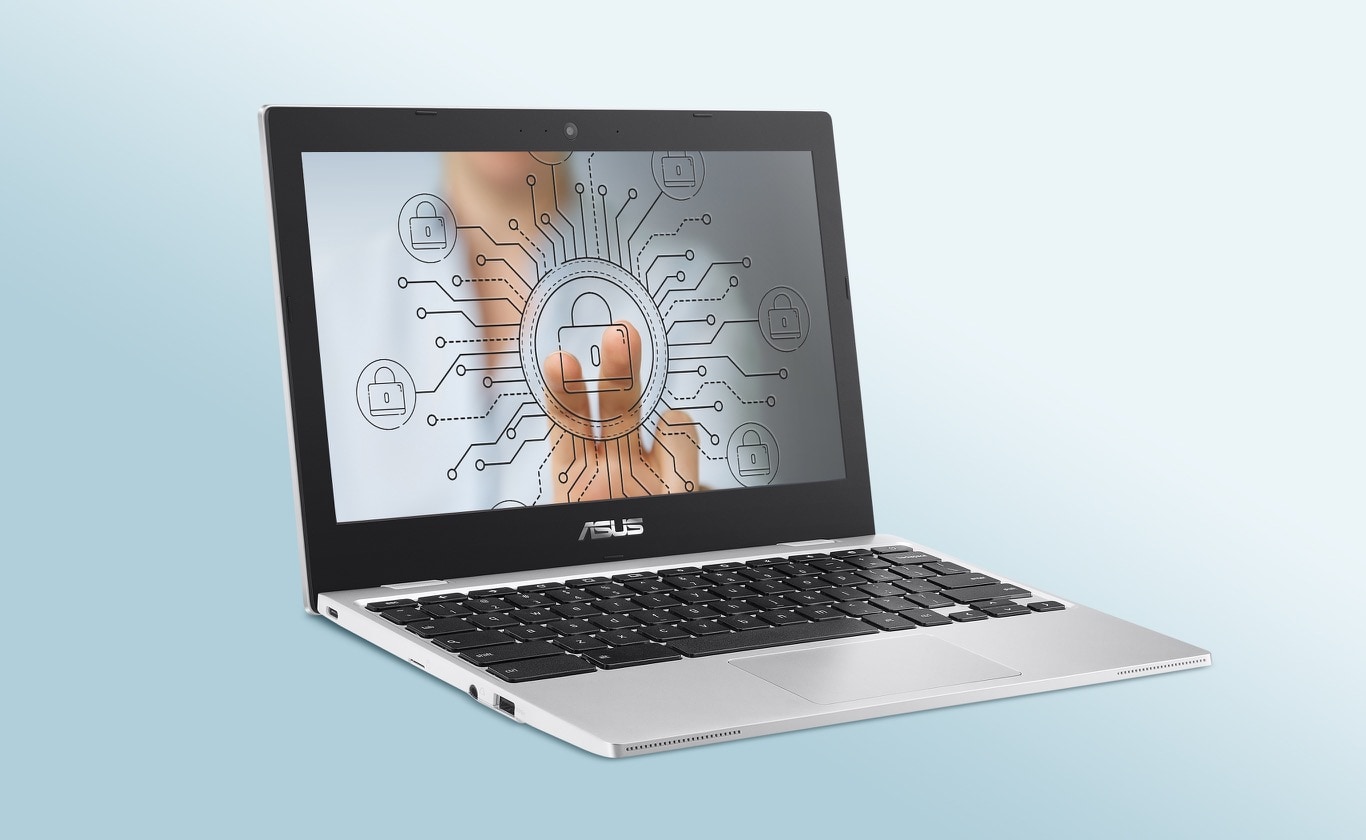 Connectivity
USB-C®
for ultimate flexibility
Two full-function reversible USB-C
®
(USB Type-C
®
) ports make it easy to charge ASUS Chromebook CX1 or connect it to peripherals and external displays. USB-C provides superfast data-transfer speeds — making it possible to transfer a 2 GB video file to a USB drive in under 2 seconds
5
! For maximum convenience and compatibility, ASUS Chromebook CX1 also features standard USB 3.2 ports, and there's a microSD slot for adding more storage.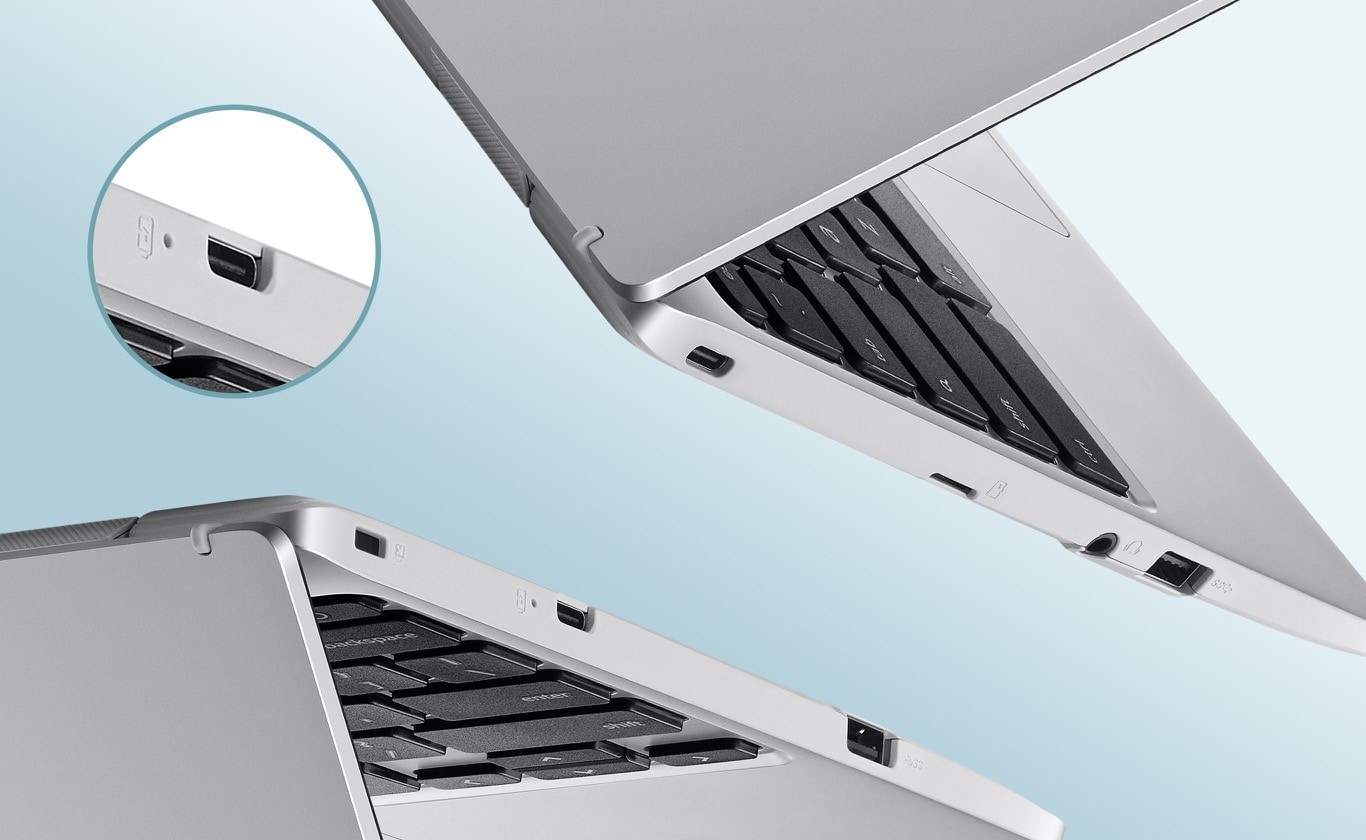 2 x USB-C® 3.2 Gen 1
2 x USB 3.2 Gen 1
1 x microSD card slot
1 x audio jack
ChromeOS
Enjoy the best of Google
It doesn't get better than ChromeOS. For both work and leisure time, ASUS Chromebook CX1 is your gateway to the very best of Google. You'll enjoy full access to Google Play
2
, and you can talk to Google to get things done.
Easy access to apps on Google Play
With Google Play, you can access a rich library of apps, games, music, movies, TV, books and more, all from your device. ASUS Chromebook CX1 opens a whole new world of freedom!
The fast way to get things done
Get more done fast using your voice on your ASUS Chromebook CX1. Send an email, find documents, listen to music, access your calendar or control smart home devices, all without switching screens. Just say "OK Google" to get started
2
.
Google One with 100 GB of cloud storage
Your ASUS Chromebook CX1 purchase entitles you to a
12-month
subscription of Google One
6
. The membership includes 100 GB of storage across Google Drive, Gmail and Google Photos, as well as access to Google experts and extra member benefits — all in one shareable family plan.​
Activate your Google One offer