ASUS Chromebook CR11 (CR1102C)
ASUS Chromebook CR11 (CR1102C)
ASUS Chromebook CR11
The reliable, versatile partner for learning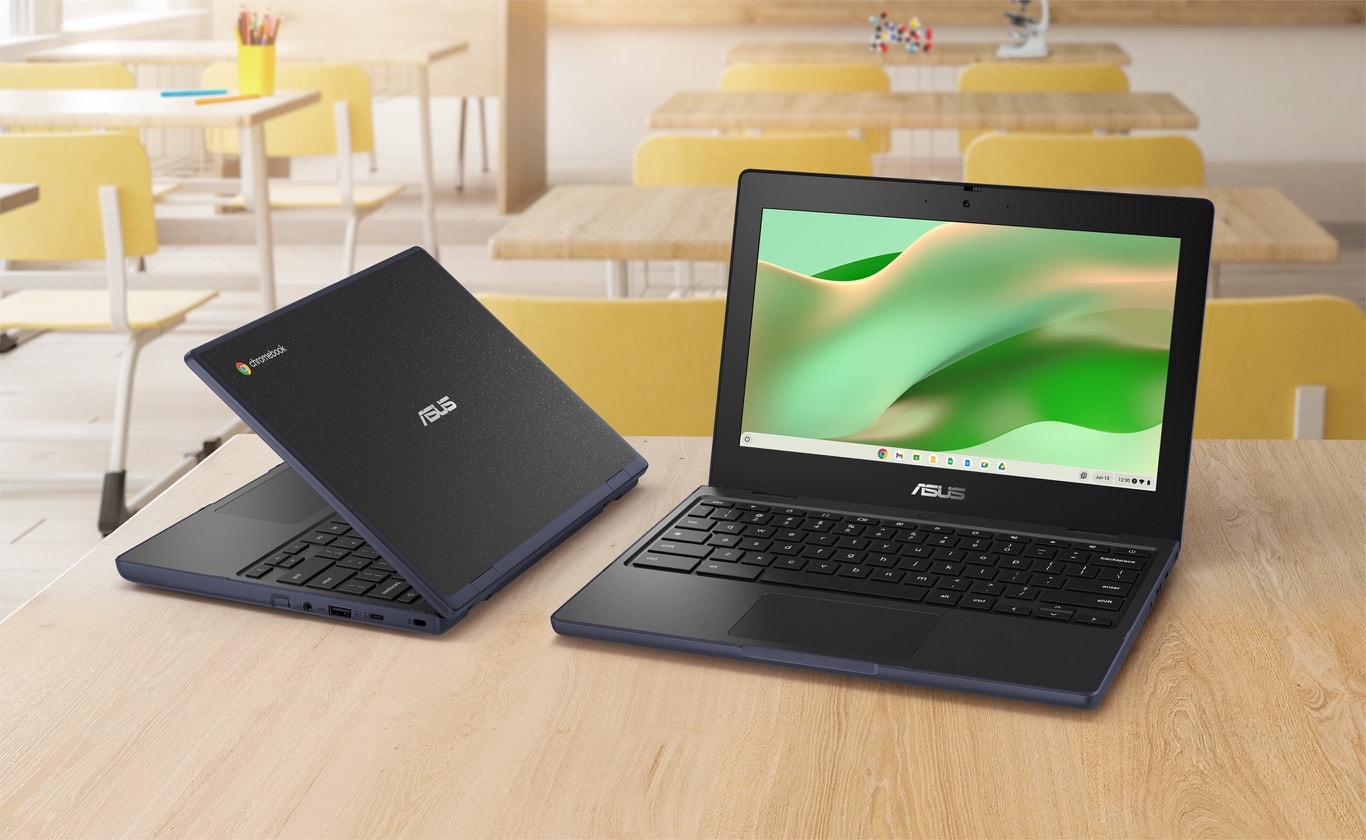 ASUS Chromebook CR11 is the robust, reliable and resilient laptop that makes learning more effective and engaging for students. It's packed with ruggedized features, including an all-round rubber bumper, a spill-resistant keyboard and an ultratough hinge. Featuring an easy-to-service modular design and zero-touch enrollment for fast setup, ASUS Chromebook CR11 is also a smart investment for education environments of all types. With its ASUS Antimicrobial Guard
1
treatment, WiFi 6 support and eye-care display, ASUS Chromebook CR11 is the smartest choice for learning.
Ruggedized Design
Ultimate rugged design
ASUS Chromebook CR11 is engineered to withstand everyday knocks, bumps, drops and spills without damage. So, whether it slips off the side of a classroom desk or the dining-room table, ASUS Chromebook CR11 is built to keep on going.
All-round protection
All four exterior edges and corners are protected by a tough rubber bumper, which reduces the impact of physical shocks to ensure critical components are always safe and sound.
Splash protection
The spill-resistant keyboard can cope with water spills of up to 405 cc
2
, so minor splashes are no problem.
Tamper-resistant
The gap between the edges of the keycaps and the keyboard surround is minimized to prevent the keys from being pried out.
Safe to hold
A rubber bar on the base provides a sturdy support for ASUS Chromebook CR11 while also making it easier to grip when carrying — a thoughtful design detail that reduces the risk of fumbles or slips that lead to drops.
Durability
Ready for action
ASUS Chromebook CR11 is created to thrive in the bustle of modern classrooms. Built to surpass demanding US military-grade MIL-STD-810H durability standard
3
, it's also rigorously tested to endure stringent ASUS quality tests. It can withstand occasional drops of up to 120 cm — more than standard desk height — and the hinge and I/O ports are fully tested to endure the stresses and strains of everyday use.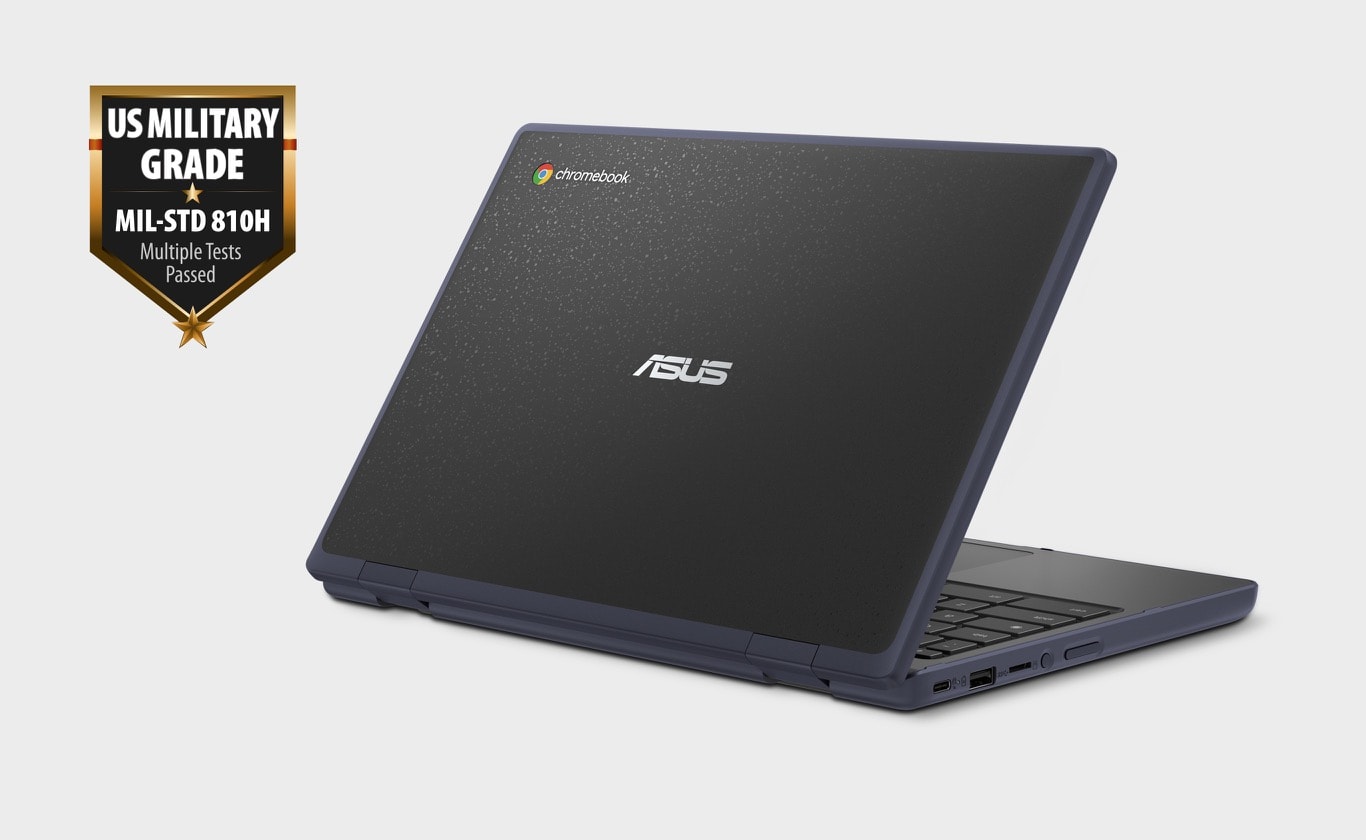 Vibration Test
Withstands the rigors of daily transportation
Temperature Test
Ready for hot outdoor weather
Shock Test
Survives everyday knocks and bumps
Thermal Shock Test
Survives temperature changes anywhere
ASUS Antimicrobial Guard
Antimicrobial protection
The surface of any laptop may harbor thousands of potentially harmful bacteria. To keep your ASUS Chromebook CR11 hygienic, the keyboard, touchpad and palm rest are all protected with ASUS Antimicrobial Guard
1,4
. This has been scientifically shown by the internationally-recognized ISO 22196 standard to inhibit the growth of bacteria by in excess of 99% over a 24-hour period. Antimicrobial Guard is also made to withstand alcohol-based cleaning products and hypochlorous acid water
5
, empowering you to keep the surface of your laptop clean and sanitary — limiting the spread of harmful bacteria.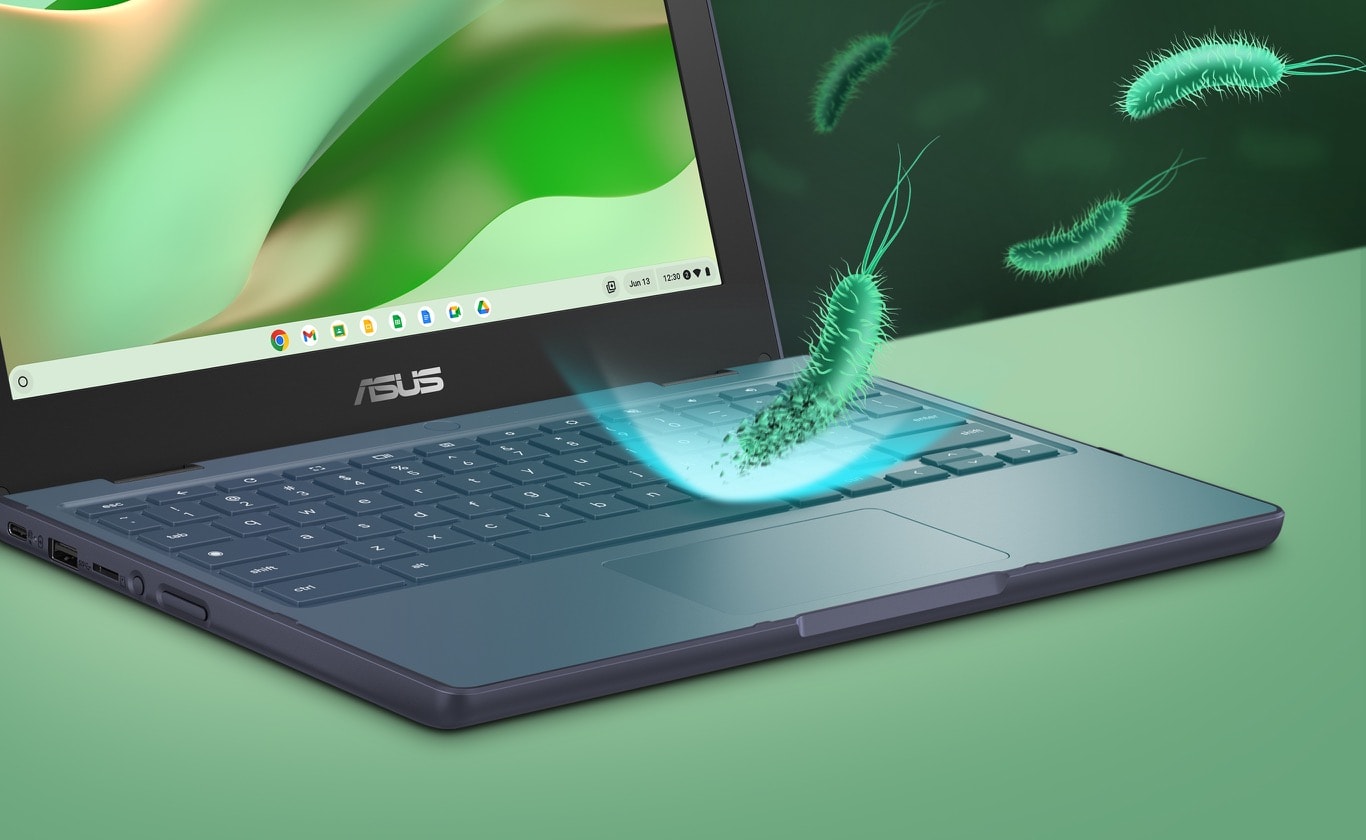 ISO 22196
internationally-recognized standard
Easy to Service and Manage
Easy maintenance and service: A sustainable investment in education
For easy on-site servicing and minimum downtime, ASUS Chromebook CR11 has a modular design that allows key components such as the keyboard, touchpad and panel to be replaced in minutes using simple tools. As well, the underside is securely attached using captive screws, eliminating worries about losing these little parts during repairs. ASUS Chromebook CR11 also features zero-touch enrollment — so it registers automatically on IT networks just as soon a student or teacher connects to the internet.
Then, there's the easy maintenance: ASUS Chromebook CR11's design makes for straightforward serviceability, so it's a smart investment for schools seeking to reduce total cost of ownership, simplify operations and enable robust student productivity.
Hinge
180° lay-flat hinge
Group discussion and sharing are easy thanks to ASUS Chromebook CR11's robust hinges, which enable a fully-flat, 180-degree position.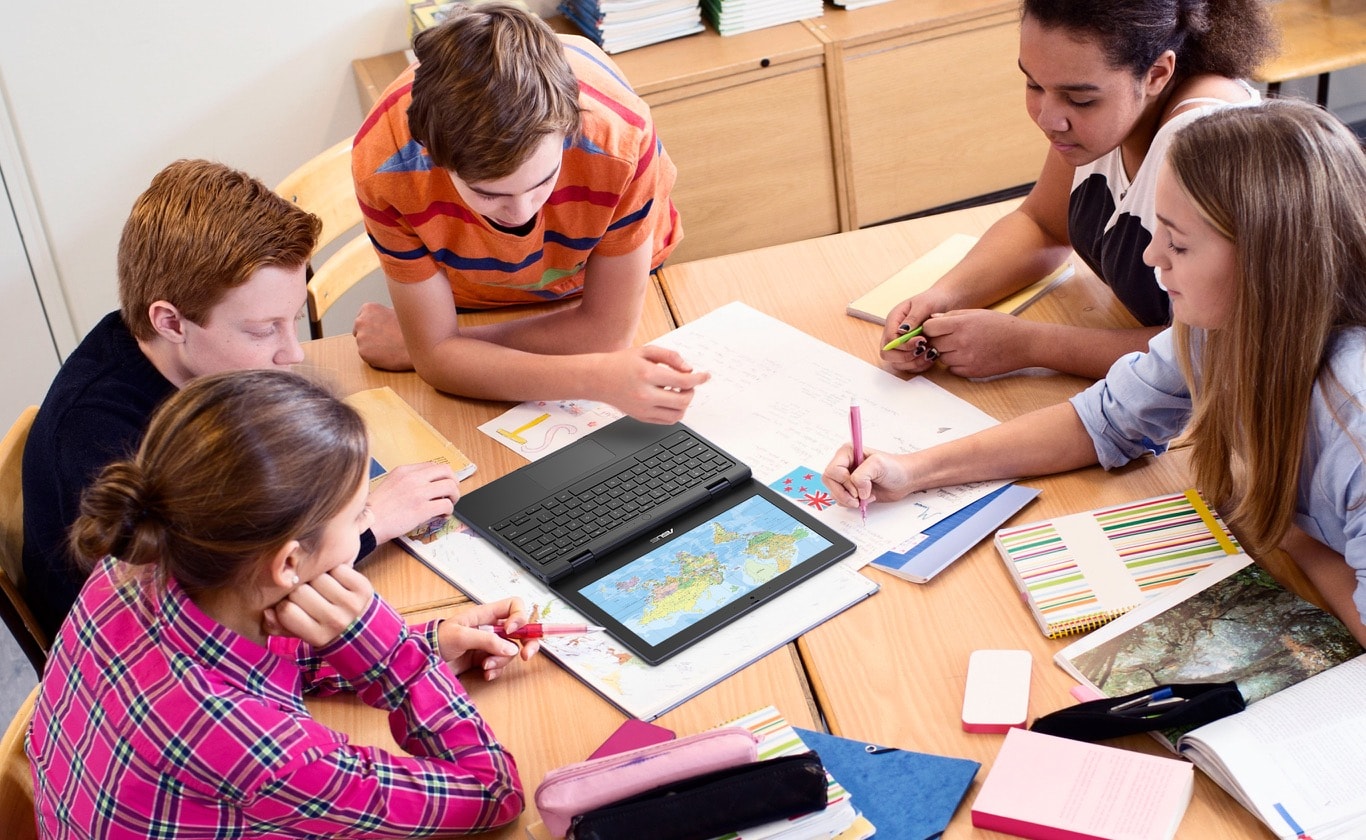 lay-flat hinge
Webcam
Webcam shutter
To safeguard student privacy, ASUS Chromebook CR11 has an integrated privacy shutter that simply slides over the webcam.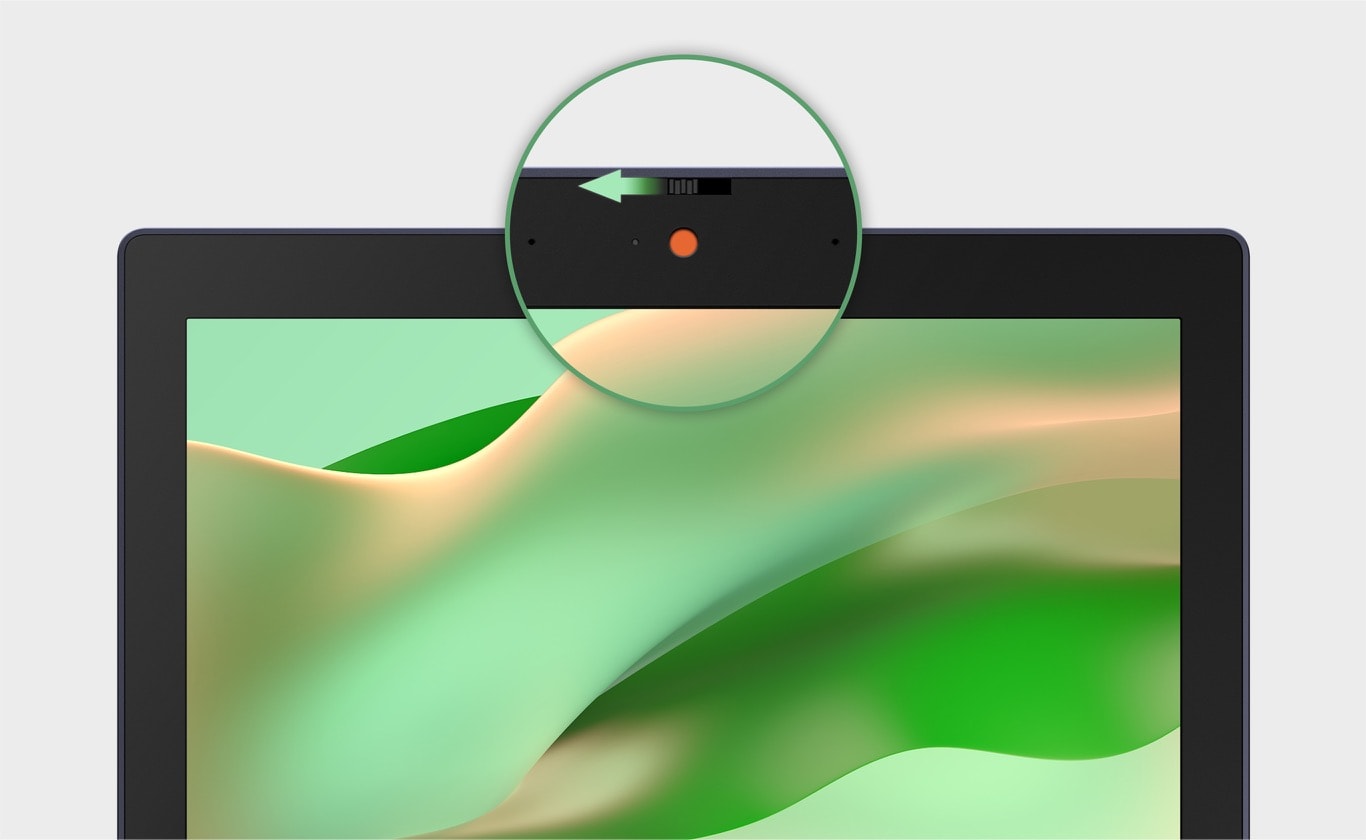 Comfortable Display
Anti-glare and eye-care technology
ASUS Chromebook CR11 has an 11.6-inch anti-glare display that reduces reflections to provide comfortable viewing for extended learning experiences — even under sunlight. The screen is also certified by TÜV Rheinland
6
for low blue-light emissions, helping protect eyes from potential harm.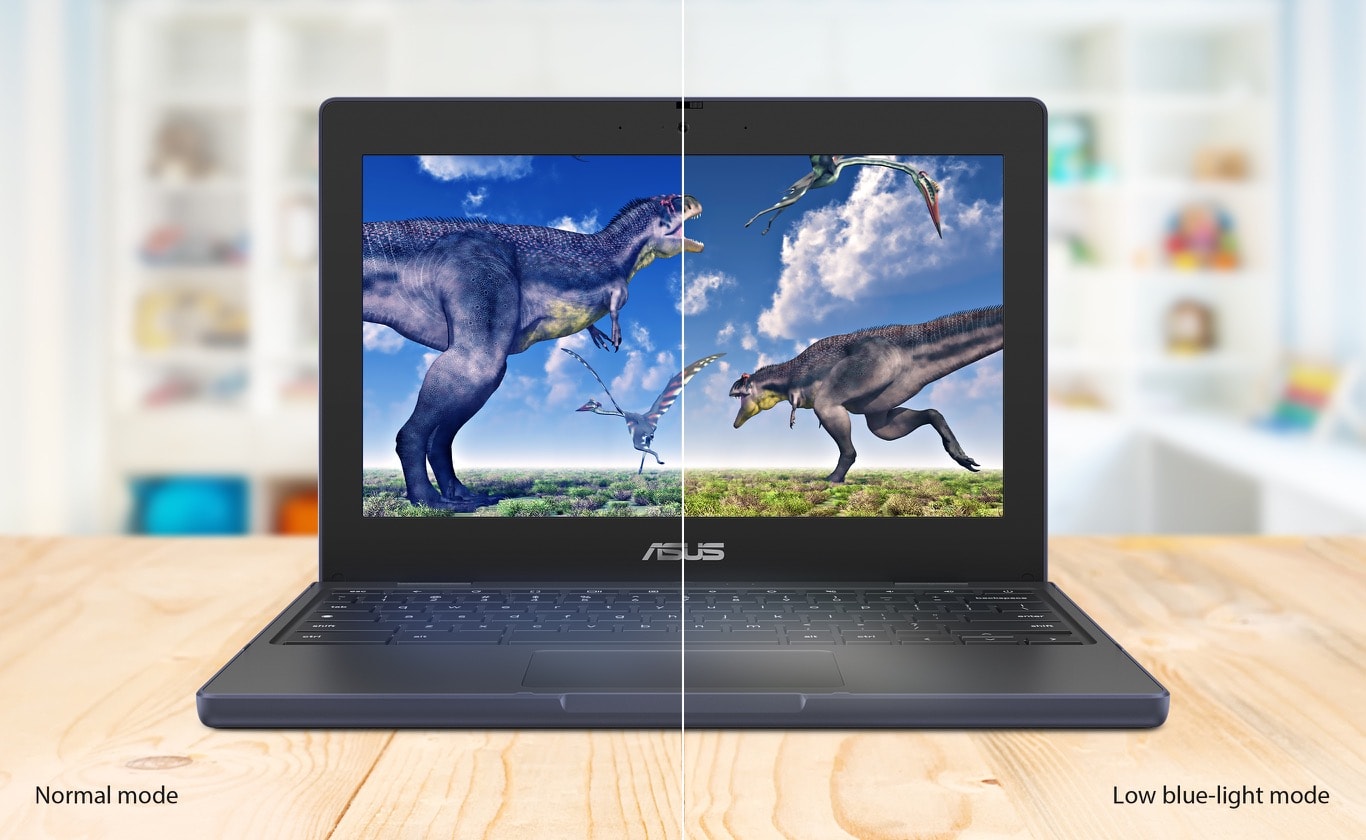 Connectivity
Faster mobile connectivity and WiFi
ASUS Chromebook CR11 offers the WiFi 6 technology to deliver ultrafast and stable speeds for online learning and super-smooth video chats. Its connectivity is made even better by ASUS WiFi Master Premium for ChromeOS
7
, which ensures greater speed, stability and range to help students stay connected anywhere.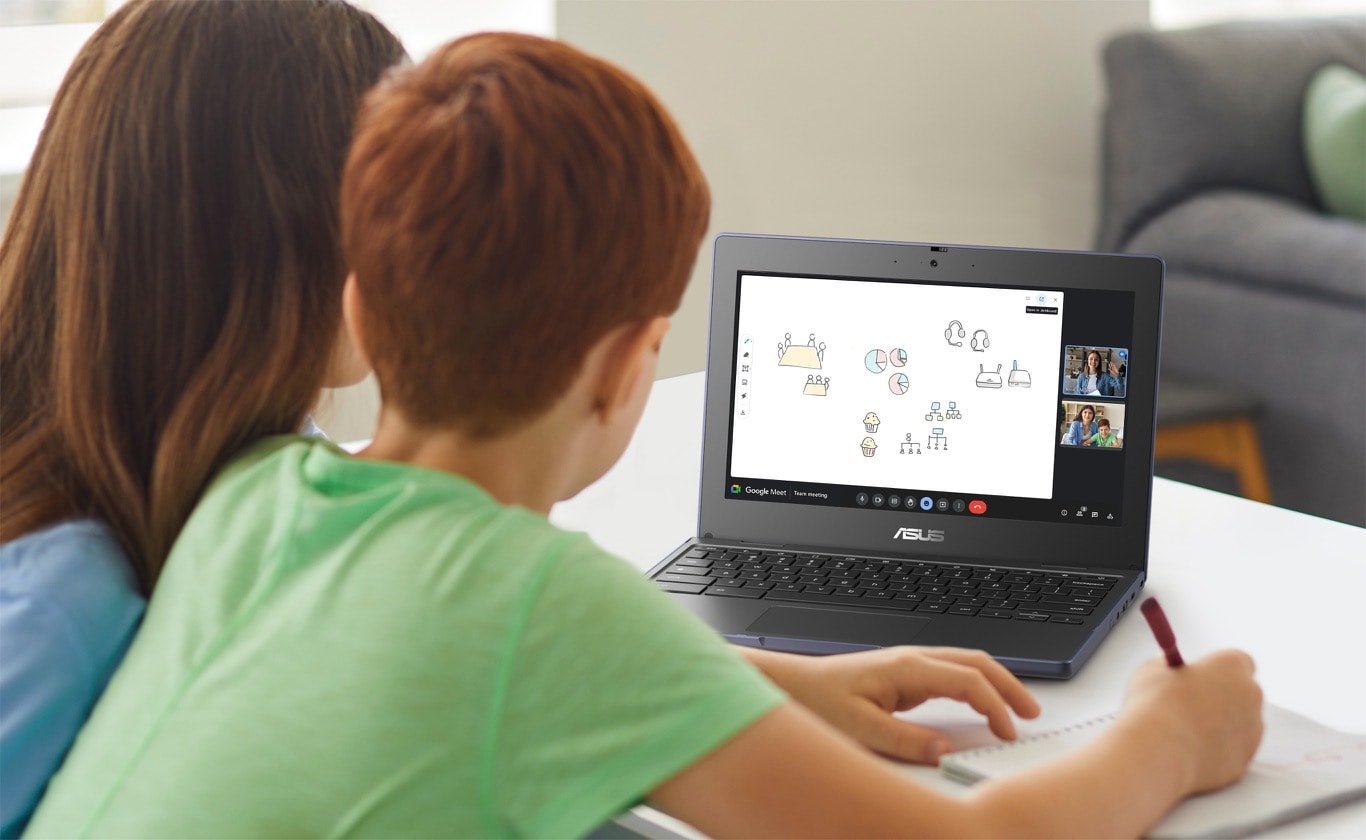 I/O Ports
Extensive connectivity
Full connectivity is vital when you want to get things done efficiently. That's why ASUS Chromebook CR11 has two 3.2 Gen 1 USB Type-C® (USB-C®) port — with support for DisplayPort™, high-speed data transfers and USB Power Delivery — along with two USB 3.2 Gen 1 Type-A, a microSD card reader, an audio combo jack and a Kensington lock slot.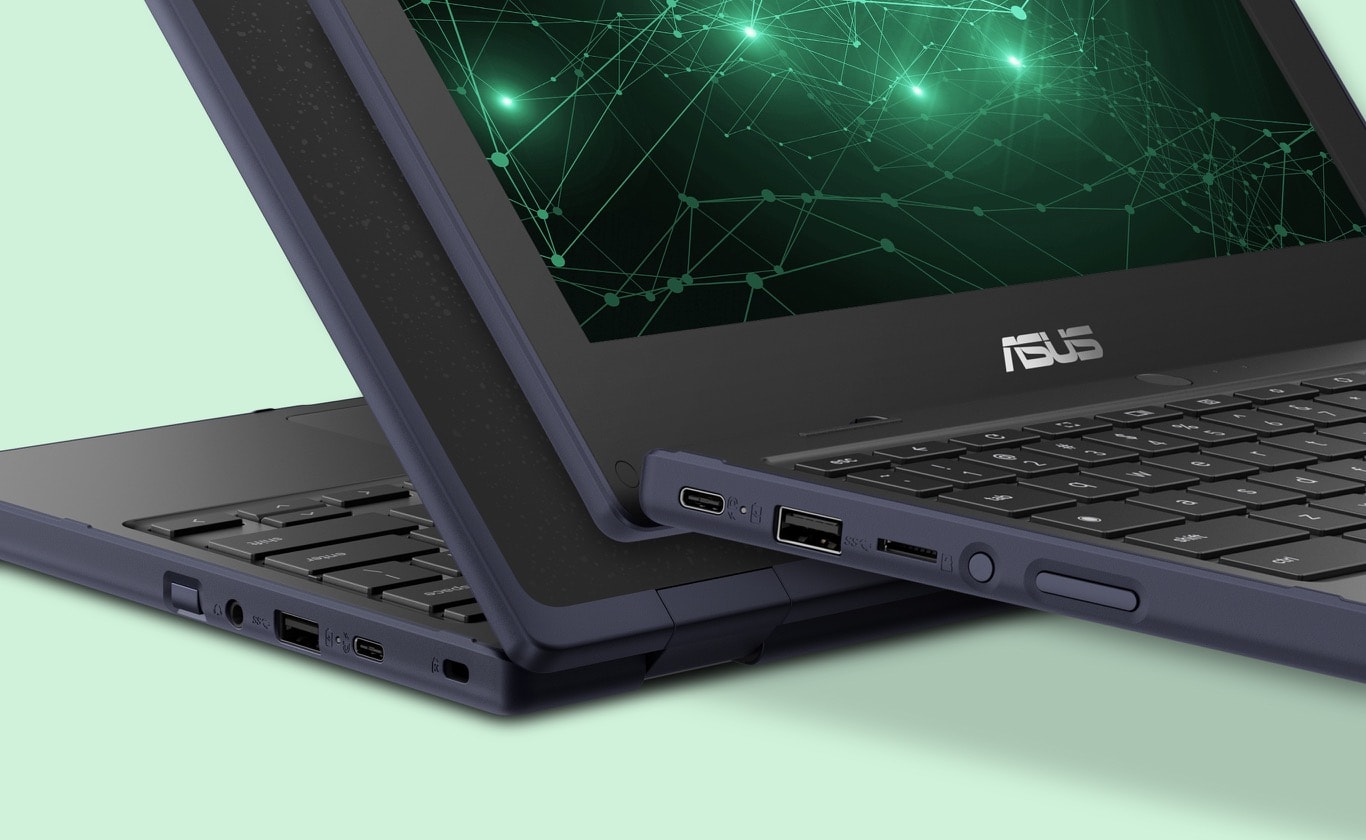 USB-C® 3.2 Gen 1
USB 3.2 Gen 1 Type-A
microSD card reader
Kensington lock slot
Capacious Battery
All-day learning
With up to 12 hours
8
of battery life on a single charge, ASUS Chromebook CR11 will last for a full day of classes and more — empowering students to enjoy uninterrupted learning and, later, entertainment.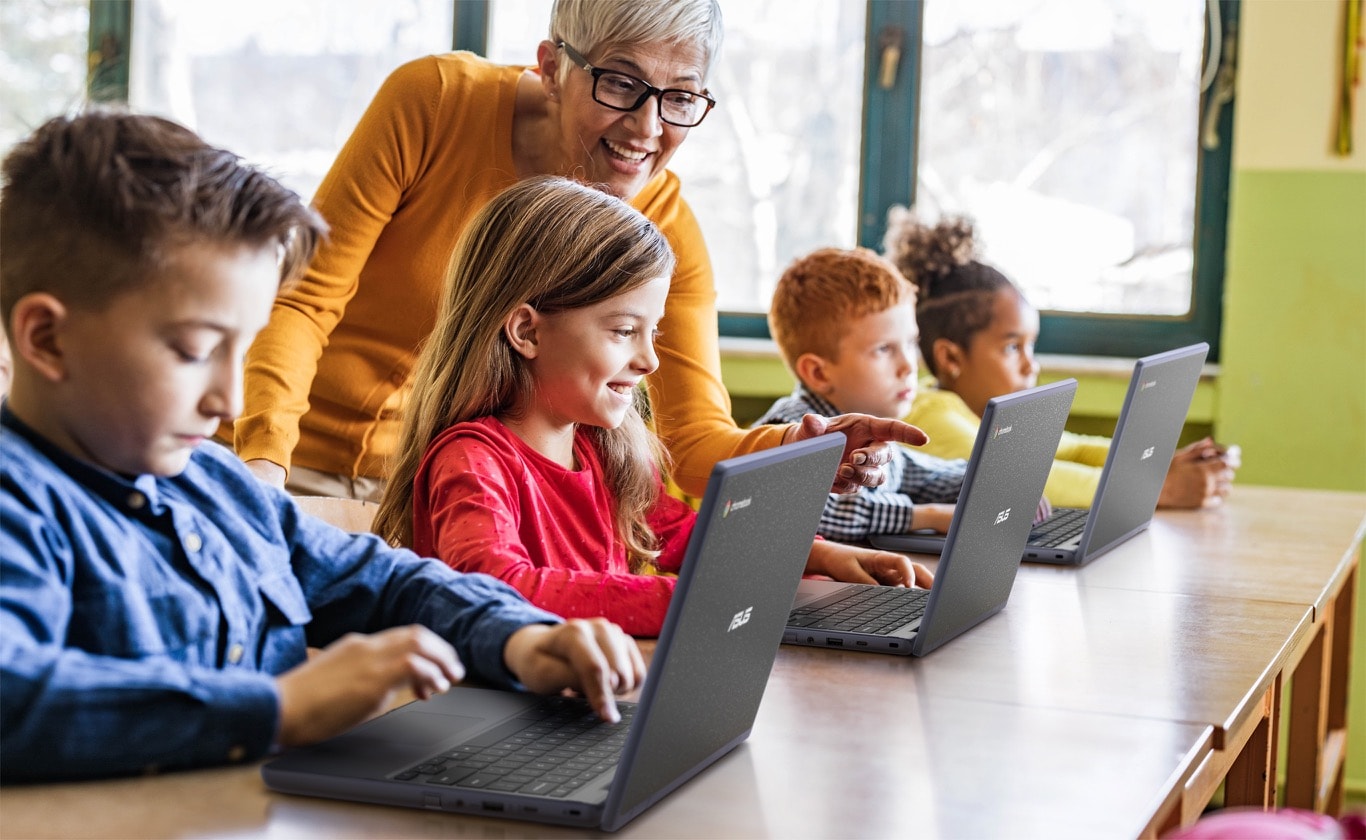 Google Features
Enjoy the best of Google for Education
It doesn't get better than ChromeOS. For both study and leisure time, ASUS Chromebook CR11 is your gateway to the very best of Google. You'll enjoy full access to Google Play
9
and find the apps you love to be productive, get entertained, play games or get creative. Children should use their Workspace for Education account when accessing Google Services for school.
Full access to Google Play
9
lets you use your favorite apps for study, play and creativity. Also, with seamless cloud integration, you can easily access almost anything from any device. ASUS Chromebook CR11 opens a whole new world of freedom!
ASUS Chromebook CR11 is enabled with automatic updates
10
and built-in virus protection, seamlessly keeping your device safe, secure and always up to date. Because it leverages the rock-solid security of your personal Google Account, you can rest assured that private documents, emails, photos and confidential data are safe at all times.
Minecraft
Minecraft is here
Like ghasts and the Nether, Minecraft and Chromebooks
11
are better together! The blocky game you know and love is now on Chromebook
12
, which means you can mine, craft, survive and explore in a vast open world, with seamless cross-play with friends wherever they play Minecraft Bedrock. Download from the Play Store on Chromebook today
13
.
Explore ASUS Education Solutions
Upgrade your school's digital ecosystem with student-centered solutions.
Learn more
Children should use their Google Workspace for Education account when accessing Google Services for school.
ASUS Antimicrobial Guard treatment is registered by the US EPA and authorized under EU BPR.
ASUS Chromebook CR11 keyboard is spill-resistant, not waterproof. Water damage is possible if the product is submerged or exposed to large amounts of liquids for long periods of time. The ASUS standard limited warranty does not cover problems resulting from accidents such as water damage. To prevent water damage resulting from large spills or other accidents, ASUS recommends turning off the notebook, then tilting the laptop to drain away the excess liquid, wiping it off and letting it dry for at least 24 hours.
The testing regime includes the requirements of both military-grade standards and ASUS quality tests, and varies depending on device. MIL-STD-810 testing is conducted on selected ASUS products only. Note that the MIL-STD-810 testing helps to ensure the quality of ASUS products but does not indicate a particular fitness for military use. The test is performed under laboratory conditions. Any damage caused by attempts to replicate these test conditions would be considered accidental, and would not be covered by the standard ASUS warranty. Additional coverage is available with ASUS Premium Care.
ASUS Antimicrobial Guard is tested by an independent third-party laboratory according to the ISO 22196 standard (measurement of antibacterial activity on plastics and other non-porous surfaces), using bacterial cultures that include

Escherichia coli

and

Staphylococcus aureus

, with an antibacterial activity (R) result of R > 2. R = 2 indicates a 99% reduction in bacterial activity compared to an untreated surface.
ASUS internal tests show that ASUS Chromebook CR11 can be safely cleaned and wiped using hypochlorous acid water or alcohol from a spray bottle. Individual sprays of up to 3 cc do not affect the performance of the Antimicrobial treatment.
ASUS Chromebook CR11 offer reduced flicker, but are not flicker free.
ASUS Chromebook CR11 is certified with ASUS WiFi Master Premium for ChromeOS. Device certified with ASUS WiFi Master Premium for ChromeOS feature WiFi 6 and offer enhanced WiFi stability when USB 3.2 Gen 2 interference is present, allowing users to stream smoothly when they are over 225 meters away or more from a router.
Based on Chromium OS power Load Test. The 12-hour use on a single battery charge was determined by looping local video playback at higher than 80 nits and at the default display brightness level. Battery performance is based on a mix of standby, web browsing and other use. Charging time requires the battery to be at least 5% charged, with the device inactive and using the included charger. Actual battery life depends on usage, specifications, applications and environment, among other factors.
Internet connection required. Google, Google Play, Chrome and Chromebook are trademarks of Google LLC.
Auto-updates and auto-backup require an internet connection. Chromebook software updates generally arrive every 4-6 weeks but are occasionally delayed to ensure optimal user experience upon rollout.
Google Play and Chromebook are trademarks of Google LLC.
Only devices that meet early access minimum requirements can run the game. Requirements include-- Operating System: ChromeOS 111, System Architecture: 64-bit (x86_64, arm64-v8a), Processor: Intel Celeron N4500, Intel i3-7130U, Mediatek MT8183, Qualcomm SC7180, AMD Ryzen 3 3250C or better, Memory: 4 GB RAM, Storage: Minimum of 1 GB game installation, maps, and other files.
The models shown are CM3401F and CM1402.