[ProArt Display] Best Practice - No display when connecting a cable or dock station into the input signal
Please follow the steps below to troubleshoot the issue:
Step 1 : Ensure the power switch at the back of the monitor is ON as shown below:

Step 2 : Use Menu (5-way) button to choose the type of input signal that you're using :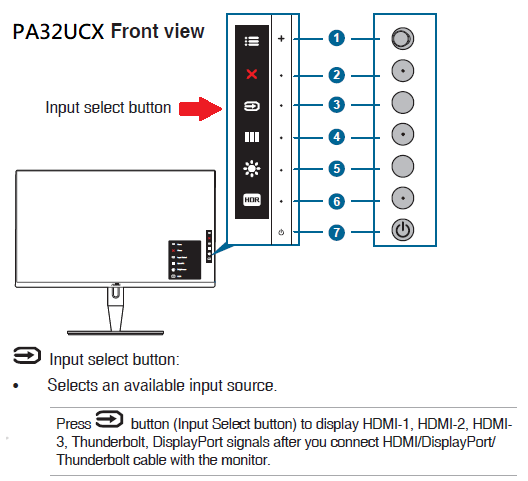 Step 3 : When using specific cables to connect, such as Display Port cable (from Host to Device) or HDMI cable, please confirm the cable is certified as shown in the images below. Otherwise, a cable without certification might seriously impact signal quaity and cause the screen signal to become unstable or abnormal.
Step 4 : When you use a dock station to transfer Thunderbolt 3 (Host) to HDMI or Display Port signal (devices), please confirm the dock station has passed Intel certification with the approval logo attached. Otherwise, an uncertified cable might seriously impact the signal quality and force the display to not project normally.