ExpertCenter D5 Mini Tower D500MA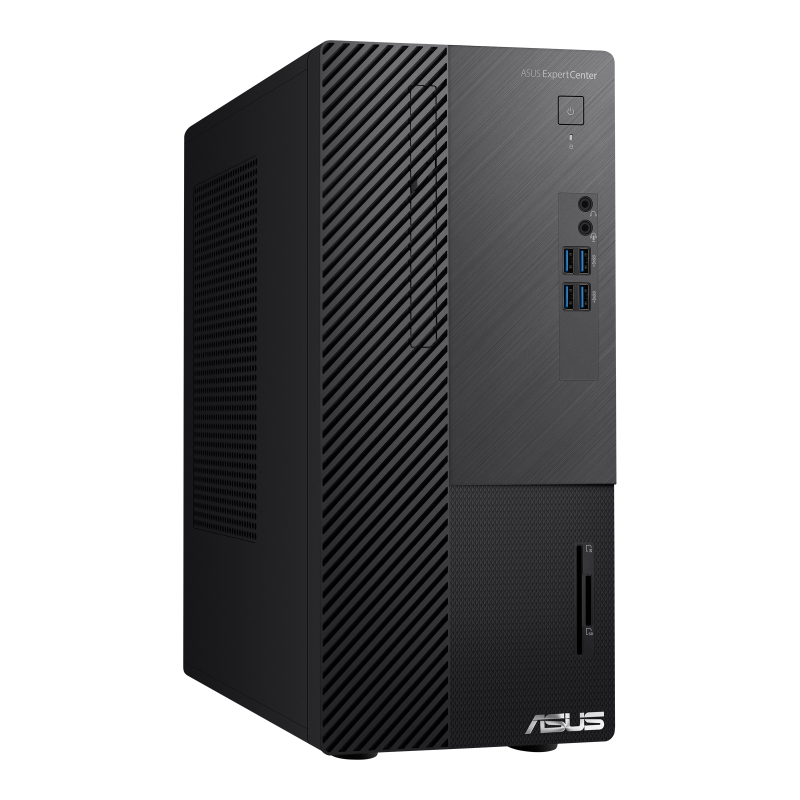 Exceptional
small-business value
ASUS ExpertCenter D5 Mini Tower features powerful, dependable and expandable performance, created especially for the unique needs of small business, while its compact, modern and versatile design accommodates different workspaces and usage scenarios. Also, with help of our simplified small-business support services, you can enjoy reduced downtime and lower total cost of ownership.
Productivity
Exceptional performance,
whatever the task
To make light work of all your business tasks, ExpertCenter D5 Mini Tower is powered by a cutting-edge 10th Gen Intel® Core™ processor with the latest DDR4 RAM. It can also support professional-grade graphics cards for those requiring advanced graphics performance for demanding visual tasks.
Design
Compact power
A new take on the business PC, ExpertCenter D5 Mini Tower meets the increasing need for a compact desktop that's both stylish and versatile, enabling it to fit all kinds of office environments. Plus, to deliver stable performance with minimum noise in a compact profile, it's engineered with an optimized cooling system – with an advanced adaptive fan that's ready for all sorts of different usage scenarios.
Maximize your workspace
ExpertCenter D5 Mini Tower is 37% smaller than a traditional tower PC, helping you maximize your office workspace. And its sleek and elegant design will give your business a truly professional look.
Graphics
Elevate your craft with
NVIDIA graphics
ExpertCenter D5 Mini Tower is available with professional-grade NVIDIA® GeForce® graphics — both based on the NVIDIA Turing™ architecture — to help you elevate your craft, whether you're creating short online videos, full-length features, animation or 3D modeling, or graphics design.
GeForce® GT1030
NVIDIA® graphics
Choose with confidence
For creatives, software is key. That's why ASUS tests and invests in comprehensive Independent Software Vendor (ISV) certification processes to ensure ExpertCenter D5 Mini Tower works as expected with professional applications from the world's leading software companies.
Connectivity
Ready for the business world
A full array of I/O ports is ready to connect to a wide range of business peripherals. Flexible serial and parallel ports on the chassis leave more Express® slots available for additional upgrades. A smart-card reader and an SD card reader are optional for easy transactions, data transfer or other business-related tasks.
Easy
Easy to use and manage
As with all ExpertCenter desktops, clever business-focused design details abound to help you upgrade and manage your PCs effortlessly.
Hassle-free maintenance and upgrades
ExpertCenter D5 Mini Tower has a tool-free chassis design so you can open it up with no tools required. The HDD and ODD can also be easily pulled out with just fingers. This saves time and effort, making component upgrades and routine servicing easy.
Power to do more
To adapt seamlessly to your business workflow, ExpertCenter D5 Mini Tower features plenty of expansion capacity. It has room for up to four storage devices, and boasts a broad array of PCIe slots for add-in graphics cards, WiFi connectivity and extra I/O ports. ExpertCenter D5 Mini Tower is easy to configure today, and ready for whatever you might need tomorrow.
Convenient top handle
You can specify ExpertCenter D5 Mini Tower with an optional top handle that makes it even easier to carry between locations.
Reliability
Built to last
To minimize the Total Cost of Ownership (TCO) to your business, ExpertCenter D5 Mini Tower is designed to offer our users 100% reassurance for long-term usage. To achieve this goal, we choose world-leading components – delivering dependable quality and exceptional endurance.
Industry-leading motherboards
World's #1 motherboards
ExpertCenter desktops use ASUS motherboards — the world's #1 motherboards1 — which are renowned for offering comprehensive system protection to safeguard hardware, 24/7 stability through extensive testing, and consistent performance.
Industry-leading MTBF
ExpertCenter desktops offer 100% solid capacitors, which are important for storing charge and regulating voltage. This increases system stability, thermal capacity and longevity, resulting in a top-tier Mean Time Between Failures (MTBF) rating.
Military Grade
Ready for action
Expert series PCs are solidly-built and tested to the most demanding industry requirements, including MIL-STD-810G US military standards and stringent ASUS in-house testing. The inevitable minor shocks and everyday workplace accidents won't jeopardize your precious data.2
Vibration test
Withstand 5~500 Hz vibration for one hour in all directions
Shock test
Withstand six harsh shocks at a speed of 150G/2.5ms
Operation humidity test
Survive 85% humidity, 40°C for 24 hours
Non-operation humidity test
Survive 95% humidity, 60°C for 24 hours
High temperature test
Endure 50°C with power on for 20 hours
Low temperature test
Endure 0°C with power on for 20 hours
Thermal-shock test
Endure a sharp change of temperature from -10°C to 50°C
Package-drop test
Endure drops from 76cm height, 10 times in each direction
Cold-storage test
Endure -40°C for 48 hours in an enclosure
Damp-heat storage test
Survive 95% humidity, 60°C for 72 hours
Package-vibration test
Withstand 5~200 Hz vibration for 30 minutes
Security
Secure and safe solutions
ASUS understands that IT security must evolve to effectively serve as the first line of defense against business disruptions. ExpertCenter desktops feature sophisticated security features to keep your business, and its future, safe.
Trusted Platform Module (TPM)
Stores passwords and encryption keys for added security3
Kensington Security Slot and Padlock Slot
Prevent physical theft of the PC from unsupervised locations
USB ports read / write control
Enable / disable the use of USB devices or optical drives
Management
Simplifying business processes
Management is made easier with ExpertCenter desktops. ASUS management solutions help streamline routine tasks, allowing IT staff to remotely control and manage company assets, saving your organization time and money.
ASUS Control Center3,7
ASUS Control Center is a centralized IT management suite that's capable of remote management, hardware and software monitoring, and task scheduling via a user-friendly web-based interface, allowing system administrators to conveniently manage company assets through a single portal.
ASUS Business Manager
ASUS Business Manager is a PC-based platform that facilitates the management of individual PCs. It includes USB Blocker data-movement controls, system back-track to restore the system to its optimal status, and an encrypted virtual partition to store important data.
Service
Maximum support, minimum effort
The ASUS Service Package offers a wider range of solutions that go beyond the standard warranty to meet the needs of business-critical IT environments. The extended offerings protect both the hardware and your business, giving you the freedom to customize a service solution that best meets your needs.
Comprehensive 24/7 support
Hassle-free access to hardware and software experts4
MyASUS app
Gives you access to customer service, repair status, product instructions and more
Pick up & return / onsite service
Enjoy a door-to-door service for effortless repairs4
Warranty extension
Extend service coverage to match the expected length of service5
Accidental damage protection
Avoid repair costs due to mishaps during normal operation4,5
Defective HDD retention
Retain customers' malfunctioning hard drive while their drive is replaced4,5
Eco-friendly
Preserve the environment
Committed to creating a sustainable future, Expert series PCs adopt stringent environmental requirements at all stages of the product lifecycle and optimize energy use to lower your operating cost in the long term.
Efficient power consumption
To ensure a high-efficiency power supply, ExpertCenter D5 Mini Tower utilizes top-end capacitors. The power supply features 80 PLUS® Platinum certification indicating minimum wasted energy, which results in less heat generation and long-term cost savings.6
ASUS secured the #1 spot for motherboard market share as of 2017, with DigiTimes reporting that the Taiwanese PC component giant owns 45% of the motherboard market.
The testing data includes the requirements of both military-grade standards and ASUS quality tests.
Trusted Platform Module (TPM) and ASUS Control Center are optional.
Service and warranty coverage may vary depending on country and territory. Service may not be available in all markets. We recommend that you check with your local retailers to confirm the options available.
Must be purchased and activated within 90 days of your ASUS product purchase date via ASUS Premium Care.
Unless otherwise stated, all performance claims are based on theoretical performance. Actual figures may vary in real-world situations.
ASUS Control Center availability varies according to country. Please check with your local ASUS retailer for details.
Compare (0)