جهاز راوتر AC750 لاسلكي مزدوج النطاق للاستخدام في المنزل وعلى السحابة الإلكترونية
802.11ac لاسلكي مزدوج النطاق بسرعة تصل إلى 733 ميجابت/ثانية لأداء لاسلكي عال
هوائيات بنسبة تكبير عالية لتقوية التغطية اللاسلكية بما يصل إلى 150%
منفذ USB لمشاركة الطابعة، ومشاركة وحدات التخزين، أو اتصالات 3G/4G
تطبيق ASUS AiCloud لتتمكن من الوصول إلى ملفاتك ومزامنتها، ومشاركتها، وبثها مباشرة أثناء التنقل- بسرعة وسهولة
إعداد سهل في غضون 30 ثانية وعناصر تحكم قوية مثل خاصية مراقبة الشبكة من خلال لوحة معلومات ASUSWRT
Consistently Praised for Networking Excellence!

Readers' Choice, 6 Years Running! (2012-2017)
"No brand is more likely to be recommended than ASUS. The company receives excellent marks for their ease of setup and reliability."– PC Magazine >>Learn more.

Recommended Excellence Award for Best Router Brand, PC Pro Technology Excellence Awards 2016.

The Most Consumer Recommended Router Maker of 2015!– PC Magazine
>>Learn more.

The Essential AC Upgrade
ASUS RT-AC52U Dual-band Wireless-AC750 router gives you both fast wireless speed and great value to upgrade your home network to super-fast 802.11ac Wi-Fi technology today. Experience simultaneous dual-band connectivity and enjoy 300Mbps speed on the 2.4GHz frequency and up to 433Mbps in 5GHz band.

RT-AC52U has 128MB of memory built in for fast and stable multitasking under heavy loads. With a high-power design that amplifies transmission, RT-AC52U delivers a Wi-Fi coverage that's up to 150% better than competing models to enjoy reliable connections for multiple devices.

Thanks to its multipurpose USB port, RT-AC52U is much more than just a router. Plug in a USB hard disk drive and you've got an instant file server — and one that extends into the cloud via ASUS AiCloud. Alternatively, attach a USB printer to RT-AC52U to create a print server for sharing one device with several users. The USB even accommodates 3G/4G mobile broadband dongles for two broadband (WAN) connections on one router so you'll never again have to worry about your internet access going down. The port can even be used for powering gadgets such as smartphones and tablets, making it a handy charging station.

The easy-to-use ASUSWRT graphical user interface unlocks the power of RT-AC52U giving robust control to optimize your network for you. 30-second setup and easy traffic management means even network newbies can enjoy its sophisticated features, while power users will love its IPv6 support, multiple wireless SSIDs and VPN access.

Super-fast Wi-Fi: 802.11ac
Powered by 5th generation Wi-Fi (5G Wi-Fi), the new 802.11ac chipset gives the RT-AC52U faster wireless speeds than N technology. At 2.4 GHz, it reaches 300 Mbps, while on the 5GHz band it blazes to 433 Mbps. The upgraded bandwidth has the higher capacity you need to increase Wi-Fi enjoyment at home. With notebooks, desktops, pads, and smartphones now all Wi-Fi-reliant, it's time to upgrade to the next generation to expand you connectivity now and in the future.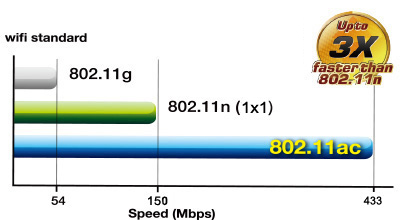 Dual-band connectivity for compatibility and performance
Delivering 2.4GHz and 5GHz concurrent bands at up to 300Mbps and 433Mbps, respectively, the RT-AC52U has a total combined bandwidth of up to 733Mbps. Perform basic tasks like Web browsing and file downloading on the 2.4GHz band, while simultaneously allowing multiple devices to stream in Full HD or support online gaming and other bandwidth-demanding applications smoothly on the clearer 5GHz band.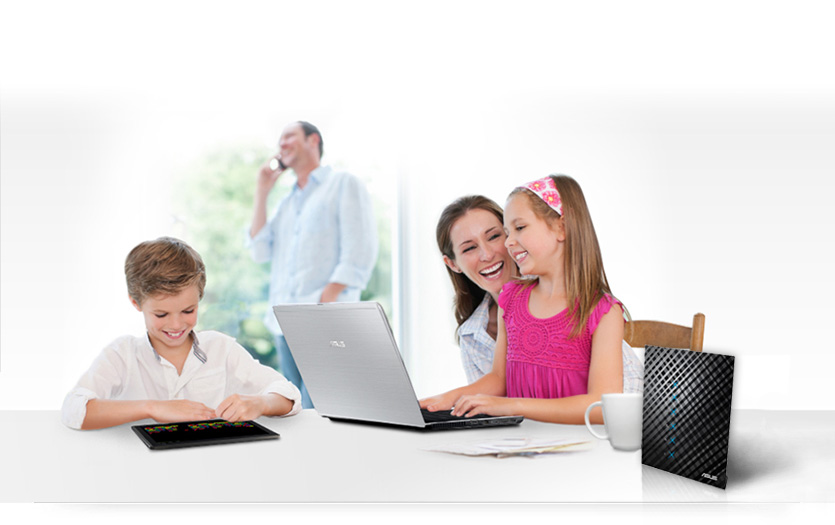 No more dead zones with 150% the coverage
Powerful two-way transmission improves Wi-Fi range by 150% compared generic routers, ensuring far-reaching coverage. The unique design of RT-AC52U means a connection you can always rely on.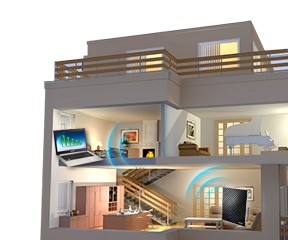 Add external storage, printers, and other devices to your network
With built-in USB port, connect external storage, printers, and other devices to RT-AC52U and share them throughout your network at once.




Robust control and optimization with ASUSWRT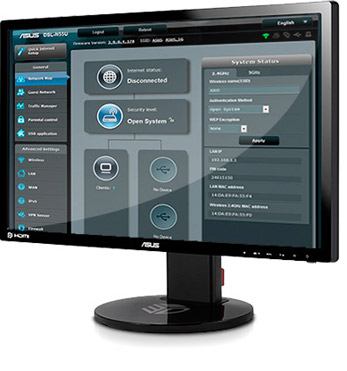 With the ASUSWRT dashboard UI, setup, monitor, and control network applications all in one intuitive area. On top of 30-second setup, multi-device detection, and flexible settings that make the most of your network performance, it's been upgraded with quick scanning of USB storage connected to routers to verify data integrity and drive health. Dual WAN enables having two connections/ISPs on one router, with load balance and failover mode for added stability and redundancy to ensure uninterrupted internet access.
Do you game a lot, or spend most of your time streaming videos? Whatever your planned use is, the RT-AC52U has Quality of Service (QoS) standards that let you select how much bandwidth is prioritized for virtually any task. Plus, the traffic monitor allows you to check your Web usage in a clear graphical interface.
Try it
.


Easy 3-step setup
Use your smartphone, tablet, or PC to effortlessly set up your ASUS router in less than 30 seconds and in only 3 easy steps. Simply connect the cables to the router, open a Web browser, and follow the setup wizard to get you to the internet in no time.


* ASUS-tested and verified setup time. Actual duration may vary by ISP, specific connection type, location, and other factors.


ASUS AiCloud – Your world on demand
ASUS AiCloud keeps you connected to your data wherever and whenever you have an internet connection. It links your home network and online Web storage service* and lets you access it through the AiCloud mobile app on your iOS or Android smartphone or through a personalized URL in a Web browser. Even better, the new Router-to-Router Sync function allows you to synchronize your stuff with storage devices connected to other compatible ASUS routers— it's as simple as choosing a sync folder. Sharing with friends and family is now easier than ever! Learn more.
* Works with select Web storage services only.


Download and stream anywhere
Download Master and enhanced media server let you download and play multimedia files stored on router-attached USB storage on a wide range of compatible devices such as PC, pad, PS3, Xbox, and smart TV. Download Master can also download files while your PC is turned off, and allows you to manage and monitor download status remotely.





Dedicated Wi-Fi for your visitors
Share your internet connection with your guests with no need to share your personal password or network resources. ASUS Guest Network supports up to three separate guest networks, each with its own usage limits and password. Guests cannot access your primary network or any other connected devices.


Powerful online multitasking with 300,000 data sessions
Support for a massive data pipeline of up to 300,000 data sessions means the RT-AC52U has around 20 times the networking capacity of conventional routers for exceptionally smooth performance.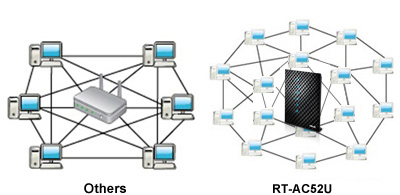 Keep Up to Date!
Remember to always keep your device's firmware up to date so you can benefit from the very latest service and security enhancements — and get exciting new features! Learn more about updating new firmware.
* ASUS received the highest numerical score among wireless routers in the J.D. Power 2015 Wireless Router Satisfaction Report, based on 2,716 responses from 8 companies measuring satisfaction with wireless routers surveyed November-December 2015. Your experiences may vary. Visit jdpower.com

Discover more Wireless AC solutions