1200Mbps AV2 1200 Wi-Fi Powerline Adapter Kit
Powerful 1200Mbps HomePlug® AV2 powerline connectivity with 1200Mbps dual-band AC1200 Wi-Fi range extender.
Flexible connectivity for multiple devices via powerline, three Ethernet LAN ports and Wi-Fi.
Plug-and-play setup with easy Wi-Fi network cloning.
Encrypted pairing blocks unauthorized devices for protected security.
Integrated power socket ensures no power outlet is wasted.
Awards
Video reviews
Media reviews
Extend fast Wi-Fi via any power socket!
Your PL-AC56 Kit is the easy, instant way to extend your wired and Wi-Fi networks to hard-to-reach areas of your home. PL-AC56 Kit uses 1200Mbps HomePlug® AV2 powerline technology integrated with 1200Mbps AC1200 Wi-Fi to extend fast wired and wireless networking anywhere in your home via existing electrical wiring. Simply plug it in and enjoy fast, stable connections for all your devices – with no cable mess!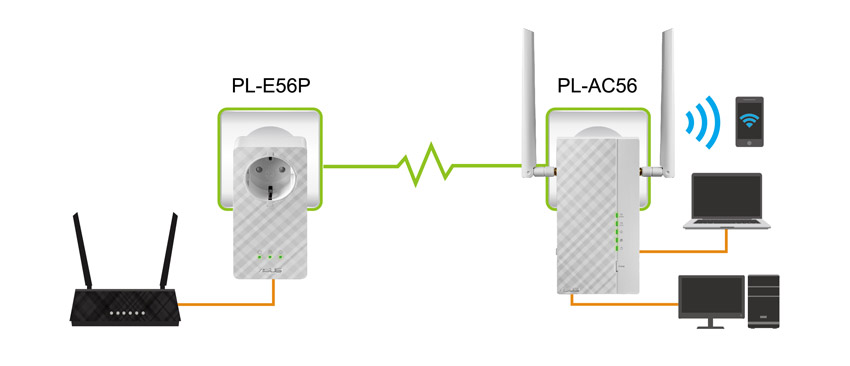 Powerful Wi-Fi and PLC integration!
PL-AC56 Kit can offer you both Wi-Fi and powerline connectivity with up to 1200Mbps wired and wireless speeds. Its high-throughput AC1200 Wi-Fi is ideal for 4K UHD streaming!
Instant plug-and-play setup!
Setting up PL-AC56 Kit is incredibly easy! Simply plug it in and you can enjoy the internet via Ethernet cables or Wi-Fi.

Step1:
Connect the smaller adapter to your router with a network cable, and then plug it into a power outlet.
Step2:
Plug the larger (Wi-Fi) adapter into any power outlet, and then connect your devices via Wi-Fi or the network ports on the adapter — and that's it!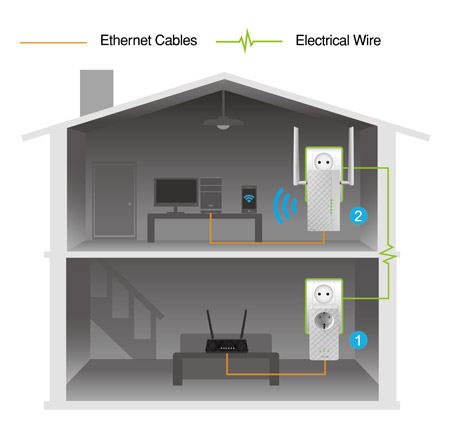 One-touch Wi-Fi setup
By pressing the Clone button on the Wi-Fi adapter and the WPS button on your router, it only takes a few minutes to set up your Wi-Fi. Once it's done you can enjoy seamless networking across your home or office — there's no need to configure the adapter again!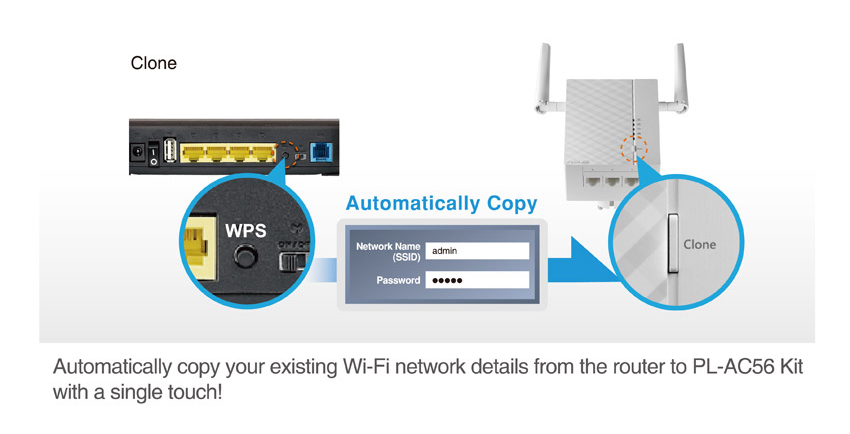 Encrypted pairing button
The Pair buttons on both adapters set up an encrypted connection between the adapters, and prevent anyone connecting an unauthorized adapter to your powerline network (you can always add your own adapters, of course!). This is perfect if you live somewhere with shared electrical wiring, such as an apartment — your neighbors won't be able to accidentally connect to your network.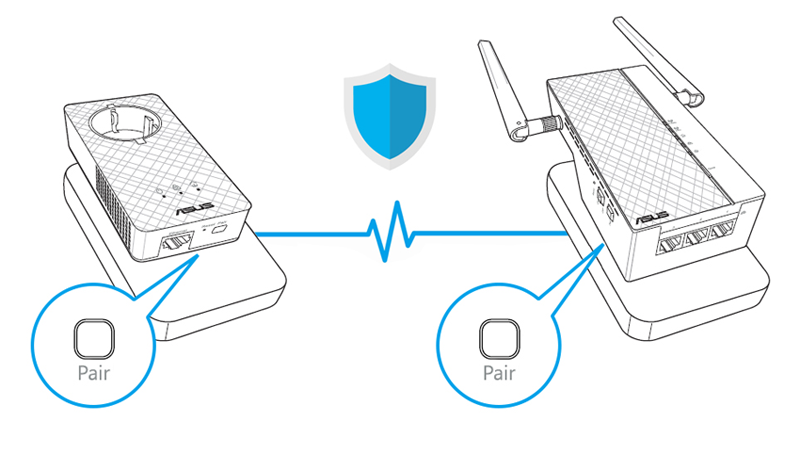 Power-saving standby
Unlike traditional adapters that are always fully powered, PL-AC56 Kit has a clever standby mode that detects whether connected devices have been switched off or are inactive. If that happens, PL-AC56 goes into a low-power mode that reduces power consumption by 80%1. This helps you save money on power bills, and is also kinder to the environment.

Noise filter
Some powerline adapters can be affected by electrical interference from household appliances. PL-AC56 Kit uses clever noise filtering technology to ensure smooth and stable performance.
Keep Up to Date!
Remember to always keep your device's firmware up to date so you can benefit from the very latest service and security enhancements — and get exciting new features! Learn more about updating new firmware.
Disclaimer:
1.Actual data throughput will vary from network conditions and environmental factors.