[Motherboard]How to check the motherboard compatibility with the new generation CPU and troubleshooting of the booting issue?
If you purchased new generation CPU but fails to boot, please follow below steps for troubleshooting
1. Check the new cpu whether list in QVL, please refer to FAQ:How to query (CPU/memory) QVL List?
​ If the new CPU is not in QVL list , the motherboard can't support this new CPU ,please change another CPU which is in the QVL list
2. If the new CPU is in QVL list ,but it still can't boot , please update new BIOS for support new generation CPU
a. Power on with a old model CPU in the QVL list and press [DEL ] key to enter BIOS setup page
(for example :TUF GAMING X570-PLUS(WI-FI),BIOS version is 1405)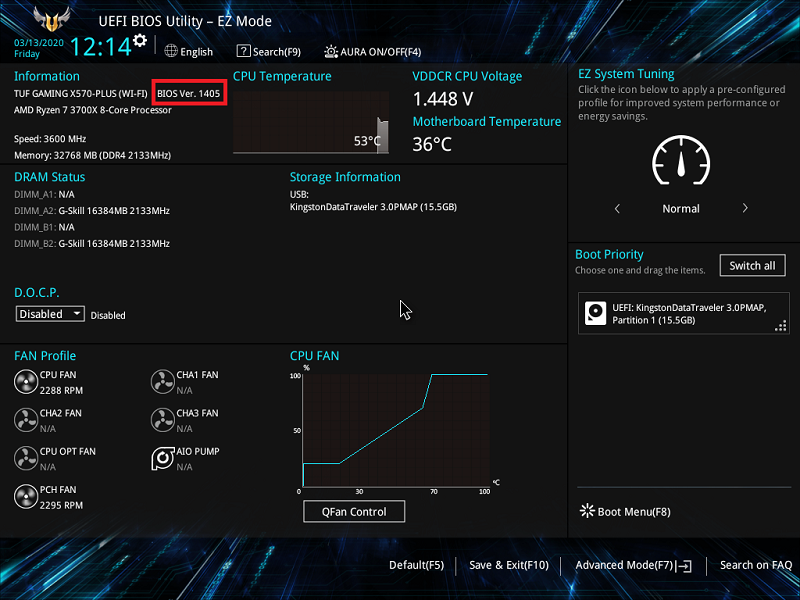 b. As below picture ,to support new generation CPU AMD 5900X ,we must update BIOS version to 2607 or above
How to update BIOS ,please refer FAQ: How to update BIOS of the motherboard ?

c. If you don't have an old CPU that in the QVL list,please check whether your motherboard can support BIOS USB Flash back or not
You can update the BIOS via the USB Flash back function even you don't boot the device ,please refer to FAQ:How to use USB BIOS FlashBack™?
3. If you have tried the suggestions above and still have the booting issue, you can refer to the FAQ ,please refer FAQ:Troubleshooting - No Power/No Boot/No Display
Please contact ASUS customer service center if above steps still can't solve your problem