Consistently praised for networking excellence!

Wins PCMag Readers' Choice Award for the fourth straight year (2012, 2013, 2014 and 2015). >>Learn more.

ASUS ranked the top 4 out of 8 best wireless routers on CNET in May 2015. >>Learn more.

"The ASUS RT-AC87U is the fastest Wi-Fi router we ever tested. It sets a new standard for performance – along with a great set of features." November 21, 2014. >>Learn more.
Fastest Speed. Farthest Coverage. Easy Setup.
Enter a new era of wireless performance with faster-than-incredible speeds, the widest-ever coverage and more control and security than you ever thought possible. RT-AC87U delivers the world's fastest speeds of up to 1734 Mbps at 5G Hz — even faster than tri-band 3x3 routers — plus class-leading concurrent 600 Mbps speeds at 2.4 GHz for an amazing total bandwidth of 2334 Mbps! This means RT-AC87U gives you lag-free online gaming, silky-smooth 4K/UHD video streaming, and effortlessly copes with even the most bandwidth-demanding tasks.

With a separate high-gain antenna for each of the four spatial data streams, this power-packed router gives you true 4x4 multi-user MIMO (MU-MIMO) wireless performance that smokes the competition — and it delivers top performance for all your wireless devices, even those using older Wi-Fi standards. As with all ASUS networking products, you get the very best support with the widest range of device compatibility, plus free firmware updates for years to come — so your RT-AC87U will always be at the forefront.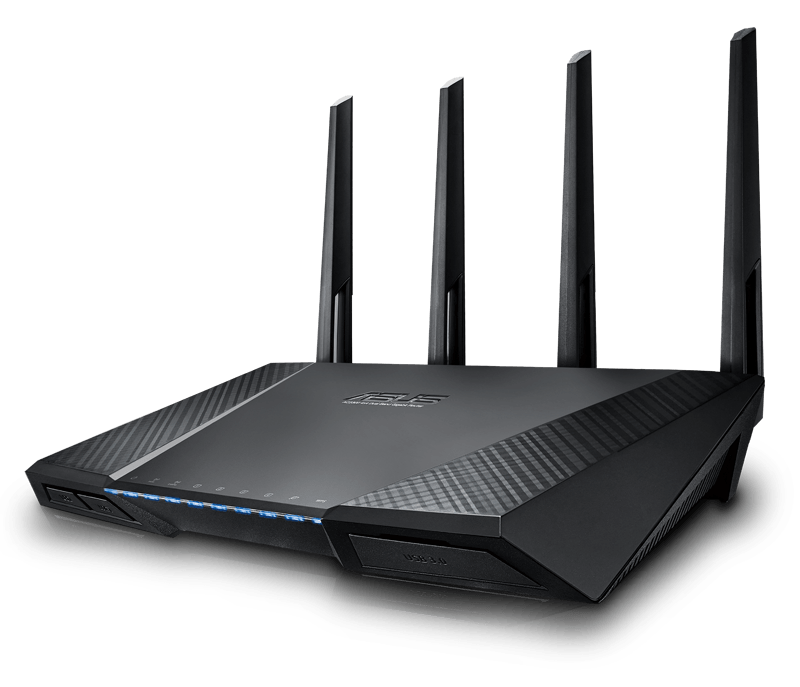 Unbeatable
Hardware
RT-AC87U is designed for pure performance — as well as its main 1 GHz dual-core processor, RT-AC87U also has a separate dual-core processor that's dedicated solely to 5G Hz 4x4 Wi-Fi related tasks. This means that compared to routers with a single 1.2 GHz dual-core processor, RT-AC87U has Wi-Fi-to-USB transfer speeds that are up to twice as fast3, and can show up to a 50% improvement in total throughput on a heavily-loaded network with multiple clients!4

RT-AC87U is not only fast, but looks stunning too. Inspired by the gamer-centric ASUS Republic of Gamers G Series notebooks, RT-AC87U is designed with Stealth Fighter-like curves that exude power and sophistication.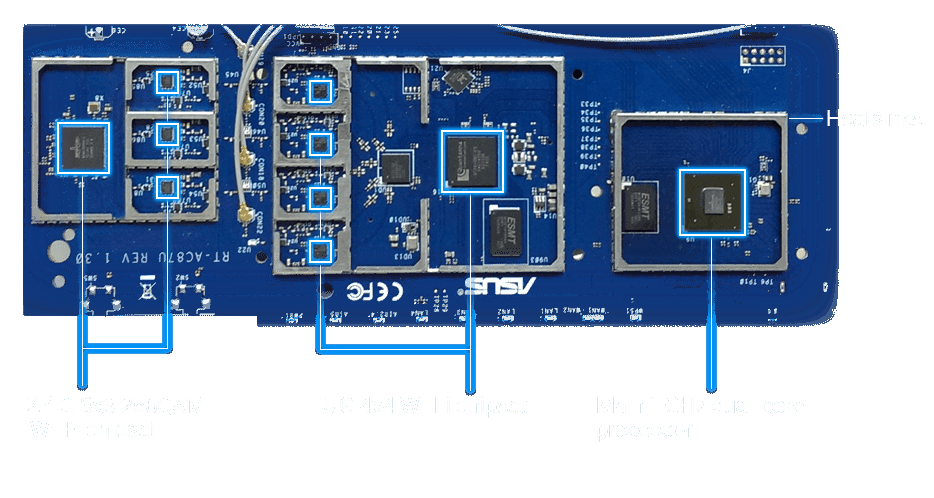 Double dual-core processors-
Up to 2X faster USB transfers via Wi-Fi
While RT-AC87U succeeds RT-AC68U's decent USB 3.0 network storage performance, its USB transfer speed over Wi-Fi has been largely improved. When transferring files to and from SuperSpeed USB 3.0 devices over Wi-Fi, our tests3 show that RT-AC87U can be up to twice as fast as a router with a single 1.2 GHz dual-core processor.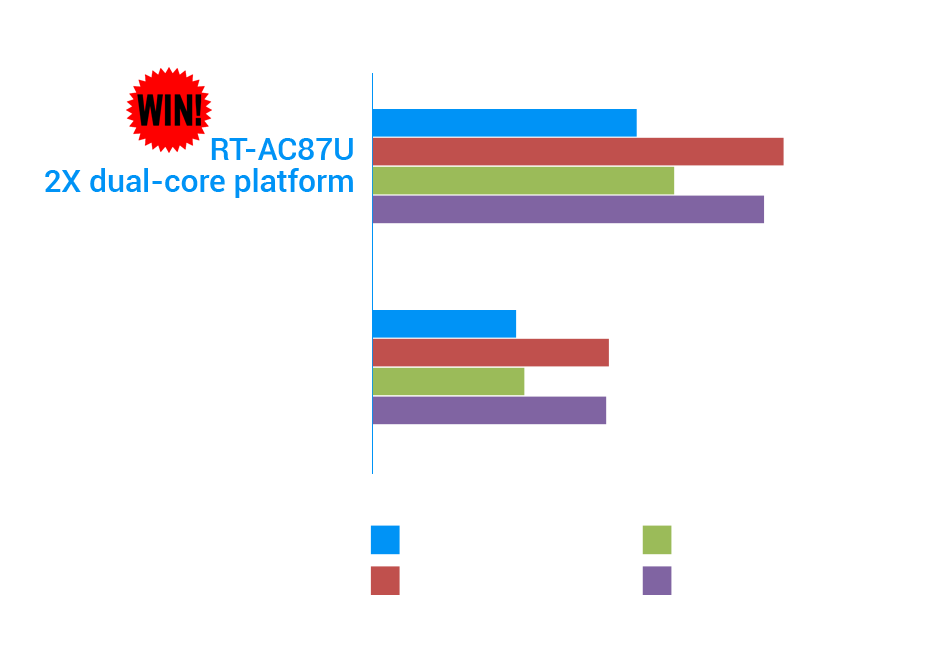 Double dual-core processors-
Up to 50% more total throughput in busy multi-client networks
In tests4 simulating a heavily-loaded network with three wired and two wireless clients, PCs, RT-AC87U's hardware NAT and dedicated Wi-Fi processor helped it deliver a total throughput (2.4 GHz, 5 GHz and NAT) up to 50% faster than a typical router with a single 1.2 GHz dual-core processor.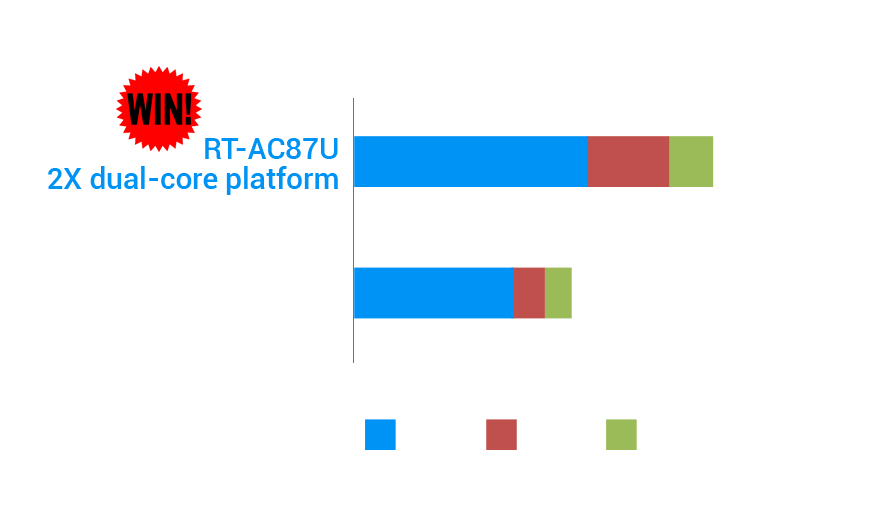 Dual USB ports
Share printers, 3G/4G (HSPA+) cellular dongles or USB storage devices over your network! Thanks to SuperSpeed USB 3.0, transfer speeds are up to 10 times faster than USB 2.02. What's more, the ports are widely-spaced for convenient and easy access when using bulky devices — not sandwiched together as on some competing routers. The easy-to-use USB application puts you in full control of tasks for all connected USB devices, including media streaming, file sharing and file downloads.

How to set up 3G/4G sharing

How to set up a printer server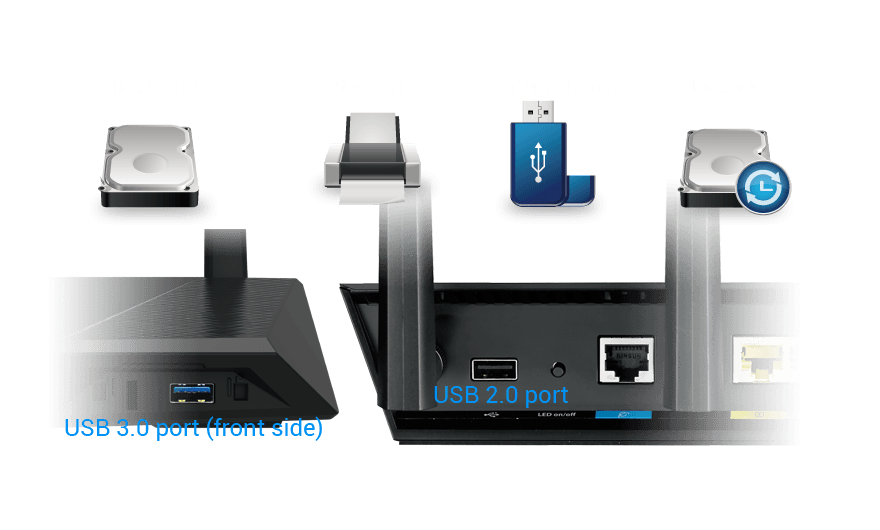 Groundbreaking
Wireless Performance
Enjoy a new level of wireless performance, with 2334 Mbps of combined 802.11ac and 802.11n bandwidth. With class-leading speeds of up to 600 Mbps on the 2.4 GHz band — thanks to Broadcom® TurboQAM™ technology — and up to 1734 Mbps concurrently on the 5 GHz band, which is even faster than the latest tri-band 3x3 routers, RT-AC87U leaves the competition standing.
At the forefront of technology
RT-AC87U doesn't lead others, it dominates, offering the best current-generation performance for all your notebooks, smartphones and other wireless devices.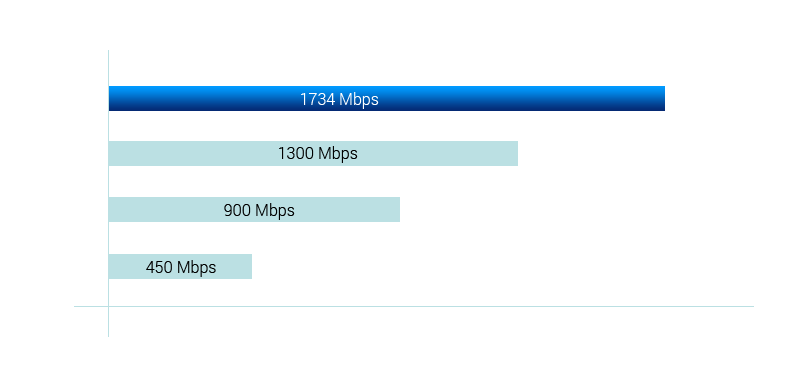 Unrivaled

Signal Coverage
Boasting a true four-stream, four-antenna (4x4) design, RT-AC87U gives you up to 465m2 (around 5,000ft2) of wireless coverage1. That's 33% more than the latest generation tri-band routers5, making it the ideal choice for large homes and multi-floor buildings. Thanks to AiRadar beamforming and unique multi user-MIMO (MU-MIMO) technology, the more devices you use the more the throughput increases6.
Multi-user MIMO technology
The revolutionary and future-proof MU-MIMO technology means that RT-AC87U will be able to connect to multiple MU-MIMO-compatible clients at each device's maximum speed simultaneously, unlike standard single-user MIMO where individual devices have to wait for sequential transmissions. This means that as users add more MU-MIMO-enabled devices, the router's capacity actually increases, giving all users the best possible internet experience6.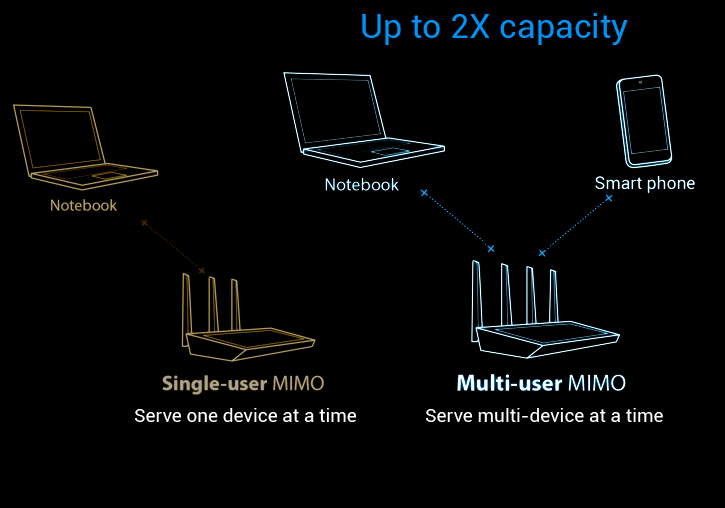 AiRadar beamforming
ASUS AiRadar intelligently strengthens wireless connectivity using 802.11ac universal beamforming technology, high-power amplification and exclusive ASUS RF fine-tuning. This gives RT-AC87U up to 33% better coverage than 3-stream antenna designs. In real-world tests, RT-AC87U lets you stream two 4K videos flawlessly at its maximum range7.
Life in the
fast LAN
For the fastest wired networking performance, RT-AC87U comes with a dedicated Gigabit WAN port, four 1000 Mbps Gigabit Ethernet LAN ports (one of which can be used as a second WAN port), and hardware-accelerated NAT. Unlike the traditional software-based NAT used in most other routers, RT-AC87U's hardware NAT removes the bottleneck between the wired LAN and the internet, allowing you to get the most out of modern super-fast broadband connections.
Hardware NAT
Removes the bottleneck between the internet and the home network, giving WAN-to-LAN performance that's between 2-5 times faster than a traditional software-based NAT.
Dual WAN support
Configure one of the LAN ports as a WAN to use two internet connections, either to share internet traffic between them or so that one can be used as a backup connection should one connection fail.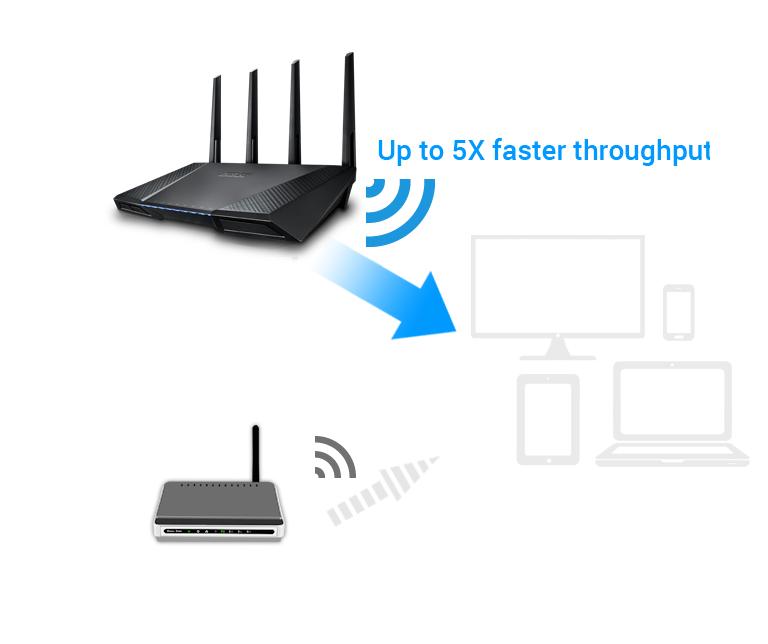 Tested for
Compatibility
RT-AC87U, like all ASUS networking products, is subjected to exhaustive compatibility testing during its development. RT-AC87U works flawlessly with a vast range of adapters, media players and other wireless devices to ensure the best performance — it even supports the latest-generation Xbox® One and PlayStation® 4 game consoles.
Powerful online multitasking
With its massive data pipeline of up to 300,000 data sessions, RT-AC87U has around 20 times the networking capacity of conventional routers for exceptionally smooth performance.
Time Machine® support
Supports Time Machine® backups with Apple devices.
WPS
Lets you connect devices instantly with a press of the WPS button.
VPN support
Configure a VPN server or turn your network-connected devices into VPN-enabled clients — with PPTP and OpenVPN protocol support — with no need for paid VPN services or a dedicated VPN server.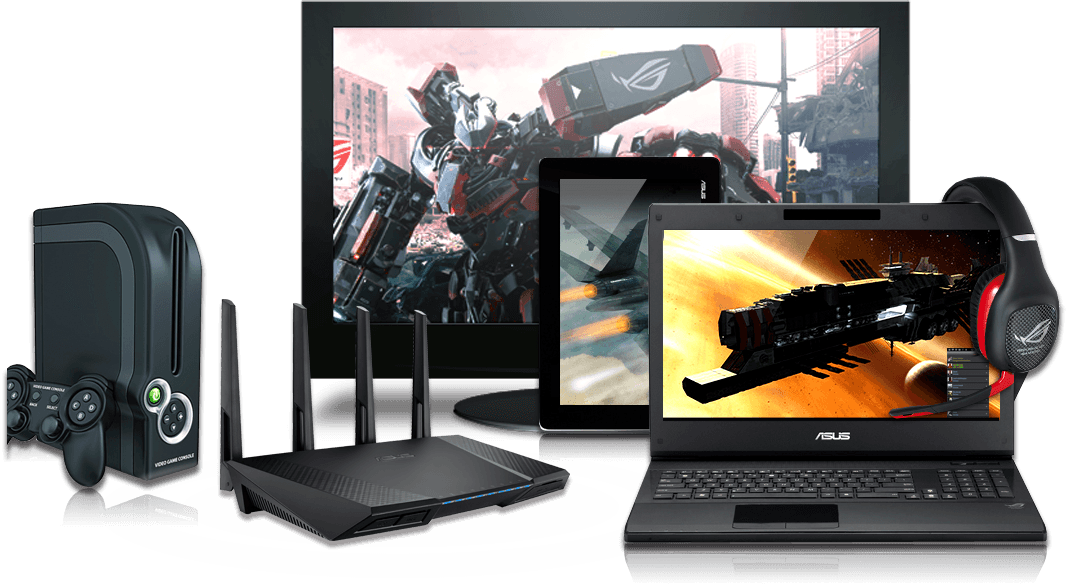 the powerful, user-friendly interface
ASUSWRT
RT-AC87U features the enhanced ASUSWRT graphical user interface, which gives you easy access to the 30-second, 3-step web-based installation process8. It's also where you can configure AiCloud 2.0 and all RT-AC87U's advanced options. ASUSWRT is web-based, so it doesn't need a separate app, or restrict what you can change via mobile devices — you get full access to everything, from any device that can run a web browser.

Explore more exciting features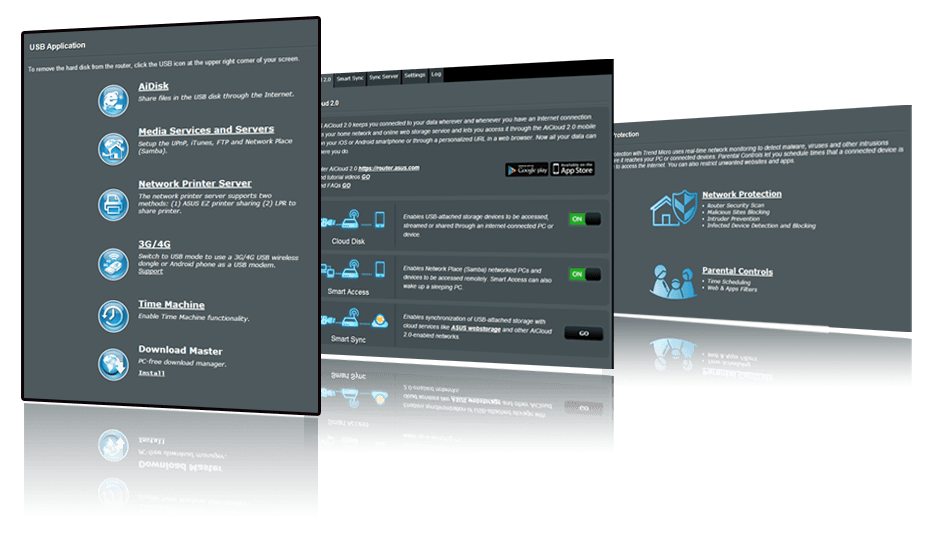 Network map
Comprehensive network map shows you at a glance details of what devices are connected to your router and their connection status.
Multiple guest networks
Lets you create up to six secure guest networks with customized access times and online restrictions.
Adaptive QoS
ASUS Adaptive Quality of Service (QoS) optimizes inbound and outbound bandwidth on both wired and wireless connections. Applications and tasks can be prioritized easily using drag-and-drop presets for gaming, media streaming, VoIP, web browsing and file transfers.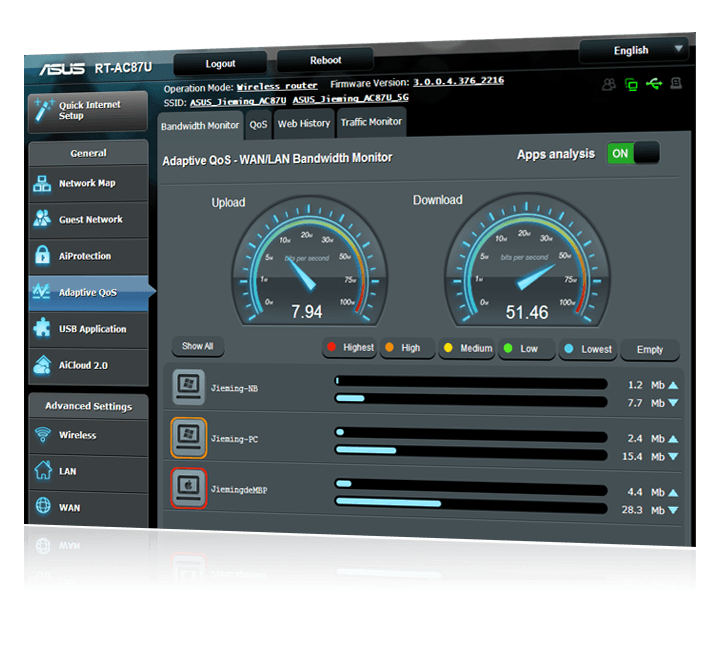 AiProtection with Trend Micro™
for
Advanced Security
AiProtection, incorporating state-of-the-art, three-pronged security from Trend Micro™, makes RT-AC87U one of the most secure home routers you can buy. As well as providing some of the most advanced parental controls in any mainstream router, it blocks malicious addresses and intrusions for your PC or device, and alerts you if an infected device is connected. Potential weaknesses such as password strength and operating system vulnerabilities are also monitored at all times. Moreover, AiProtection even protects Wi-Fi devices without an installable security program such as smart TV, game console, and smart home devices, giving you total peace of mind.

Create your own
personal cloud
ASUS AiCloud keeps you close to your data wherever and whenever you have an internet connection. It links your home network and online storage service9, giving you access to your files using the AiCloud mobile app on your iOS, Android smartphones or via a personalized browser URL. You can share photos instantly to services like Facebook, Flickr or Dropbox directly from the AiCloud interface. Even better, AiCloud can be connected to another compatible router to expand your personal cloud even further.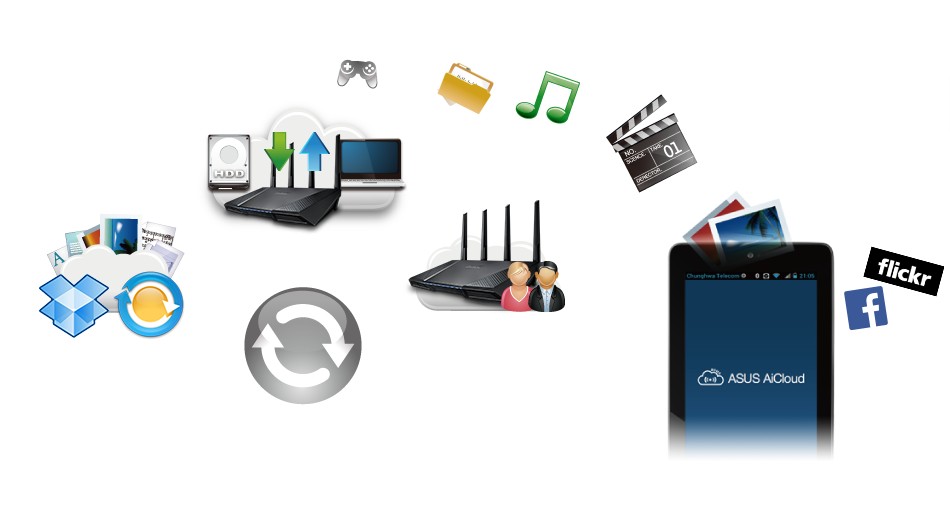 Boost the connection speeds and maximize the hardware
Tuxera solutions bring enhanced performance with significantly reduced CPU so more applications can run at the same time. With special optimization for network storages you can quickly access and transfer your data. Learn more.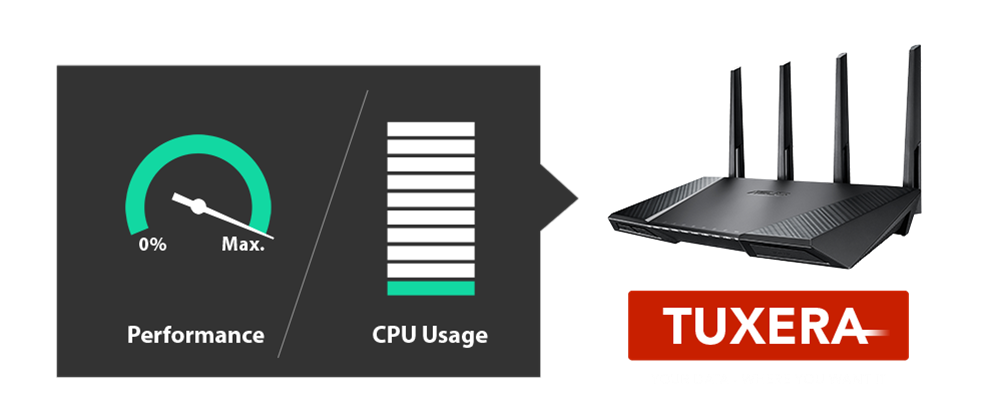 Discover more wireless AC solutions
ASUS tested and verified coverage. The actual performance may vary as a result of network conditions and environmental factors.
USB 3.0 rates tested with USB 3.0 compatible devices for theoretical use only. Product and system settings may affect USB 3.0 performance.
The actual transfer speed may vary from Wi-Fi interference, client distance, storage devices, environment and other factors.
The actual throughput may vary from ISP speed, Wi-Fi interference, client distance, environment and other factors.
The actual performance may vary as a result of network conditions and environmental factors.
Requires MU-MIMO-ready client.
Depending on WAN speed.
ASUS-tested and verified setup time. Actual duration may vary by ISP, specific connection type, location, and other factors.
Selected online storage services only.
Compare (0)