Borderless freedom,
Cool comfort
The new TUF Gaming H7 Wireless headset is designed to provide incredible freedom with a 2.4GHz wireless connection and dual-antenna design that together offer great signal stability and instant audio transmission, ensuring you are never behind on the action. With specialized cooling fabric and softer channels positioned to reduce pressure on eyeglass frames, TUF Gaming H7 Wireless provides improved comfort for all gamers during extended gaming sessions, even those who wear glasses. Compatible with PC, Mac, and PlayStation 5, TUF Gaming H7 Wireless lets you enjoy exceptional audio in all of the places you game with the convenience of value of just one headset.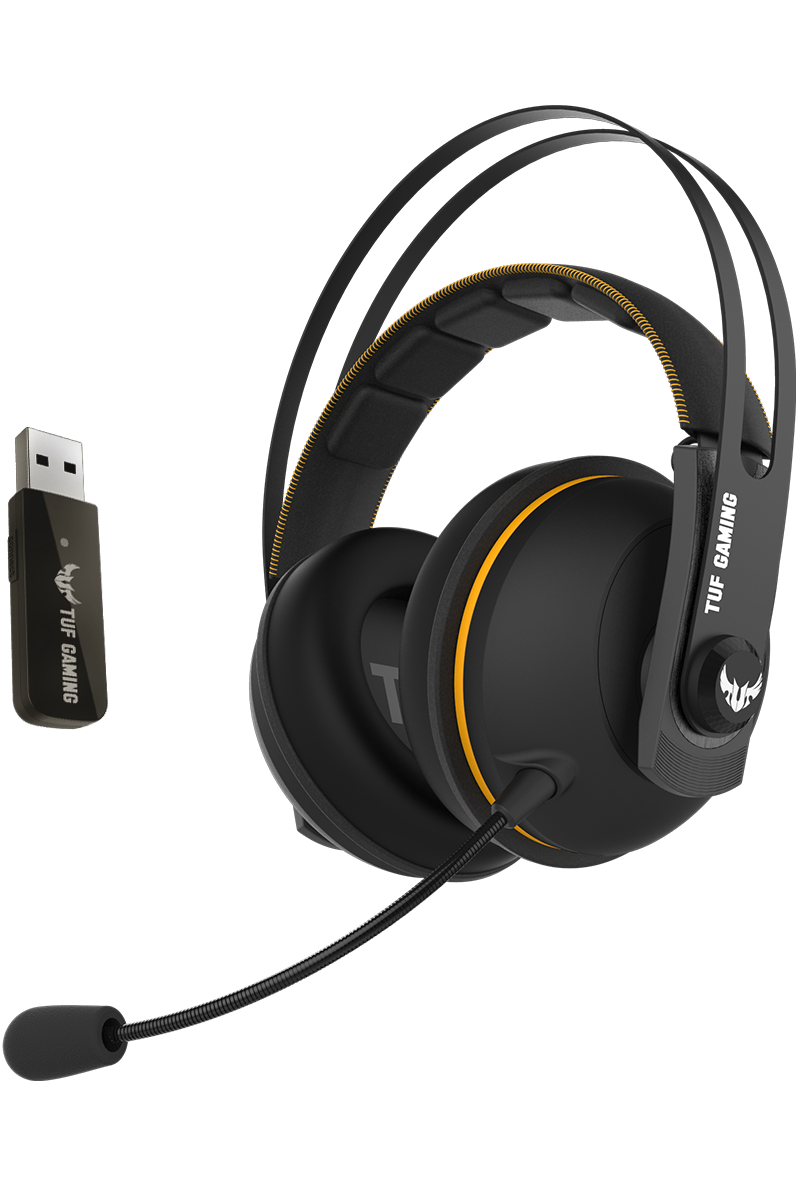 Low-Latency Wireless Performance
Traditional wireless headsets may have sound latency issues or unstable connections. TUF Gaming H7 Wireless avoids these common issues with 2.4GHz wireless technology that offers a lower-latency connection than Bluetooth headsets, delivering instant audio transmission. Its dual-antenna design also comes with an automatic mechanism to avoid interference and ensure a stable connection, even in complicated Wi-Fi environments.
Listen Longer and Roam Farther
With its long battery life, TUF Gaming H7 Wireless lets casual gamers enjoy at least 8 days1 of gameplay or music on a single charge, while hardcore gamers can get 15+ hours2 of nonstop, intensive gaming. An improved coverage area of up to 25 meters lets you walk freely or leave your seat during halftime without the worry of losing your audio signal.
1 Based on average play time of two hours per day.
2 Actual battery life varies with use, settings and environmental conditions.
Incredibly Deep Bass,
Clearer Details
Exclusive Airtight chamber and ASUS Essence Drivers
TUF Gaming H7 Wireless has inherited the most iconic ASUS gaming headset audio features, including the exclusive airtight chamber and 53mm ASUS Essence drivers, which provide clearer sound with strong bass for a natural-sounding, immersive gaming experience.
Exclusive airtight chamber for richer and purer sound
Metal cover for purer sound with less distortion
53mm ASUS Essence driver for stronger bass
Instant control at your fingertips
TUF Gaming H7 Wireless comes with handy physical controls on the ear cup that let gamers adjust the volume, mute or unmute the microphone, and switch the headphones on and off easily.
Volume control
Microphone mute
Power switch
Supreme comfort for
long gaming sessions
With adjustable ear cups, TUF Gaming H7 Wireless fits all kinds of head shapes and enables gamers to play for long periods of time without fatigue. The ear cushions have been upgraded with a softer material, which reduces pressure on eyewear to provide better comfort for gamers who wear glasses. Unlike other headsets, the ear cushions on TUF Gaming H7 Wireless also feature a combination of specialized, fast-cooling fabric and leather for improved comfort and sound isolation. The fast-cooling fabric reduces heat by 10% to help gamers stay cool during long gaming sessions.
Exclusive ASUS Hybrid ear cushions

for superb sound isolation and comfort.

Wrap-around ear cushion design

provides a 30% larger coverage area and 50% better sound isolation.

Specialized fast-cooling fabric

stays cool and comfortable during long gaming sessions.

Pressure-reducing material

improves comfort for gamers who wear glasses.
Tough, long-lasting durability
Stainless-steel headband
To withstand the rigors of intense gaming, the headband on TUF Gaming H7 Wireless is made of durable, stainless steel. It has also been re-designed to provide 20% less clamping force than the previous version for improved comfort when gaming.
Full Compatibility with PC, Mac and PlayStation 5
In addition to PC and Mac, TUF Gaming H7 wireless is compatible with PlayStation 5, so you can enjoy exceptional audio on more of your gaming platforms without annoying wires getting in the way.
Armoury II
Armoury II software offers extensive controls and an intuitive UI, so you can easily tune TUF Gaming H7 Wireless to play your way. Take full control of your audio experience, from equalization (EQ) to 7.1-speaker level-balancing, and easily create and apply audio profiles for different game types and scenarios, such as first-person shooters and racing.