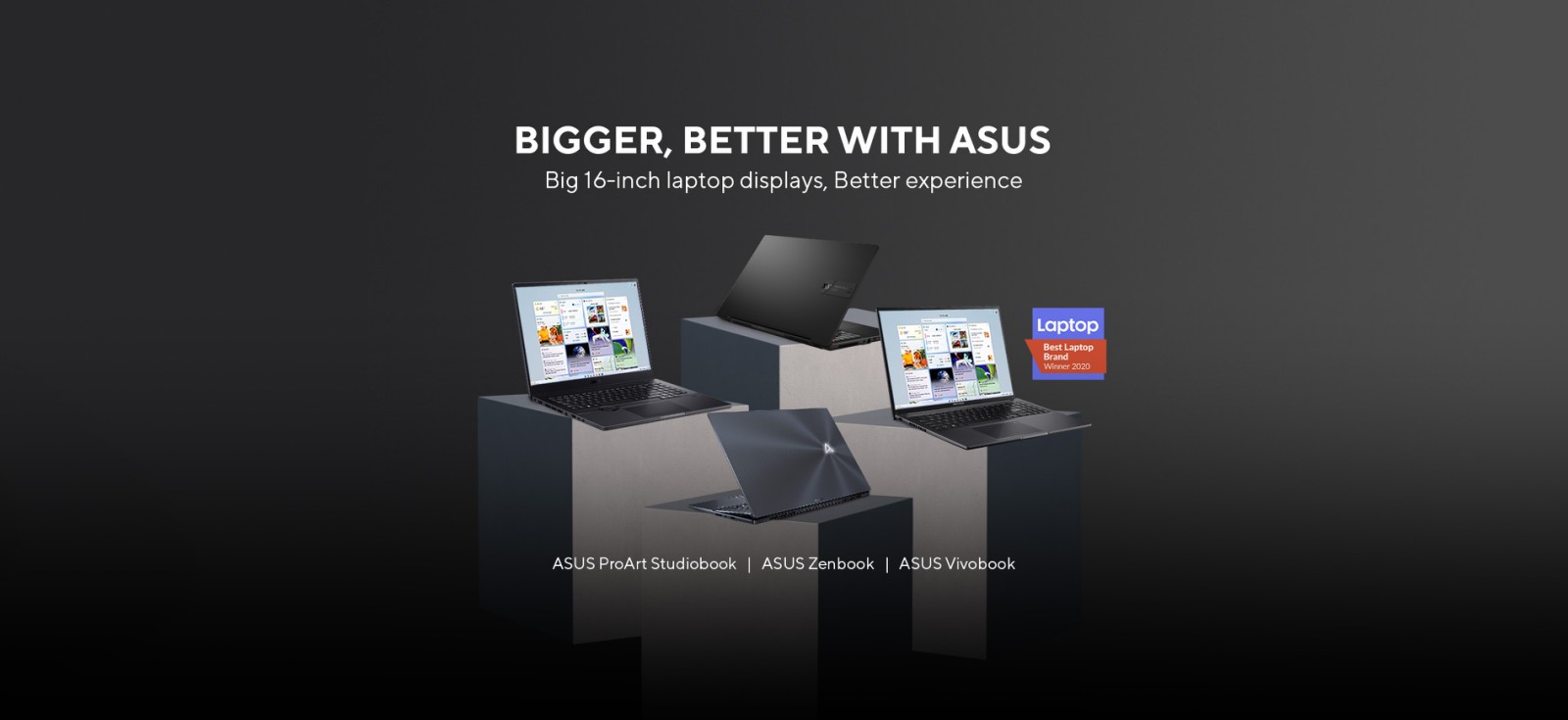 This year 2023, ASUS brings its bigger and better class of feature-packed multiuse 16-inch ASUS Zenbook and Vivobook laptops built for everyday productivity, entertainment and creativity.
Perfect for on-the-go professionals and students in need of a compact and portable device while still giving a bigger screen real estate with its' sleek bezel-less design.
Bigger and better this time, ASUS 16-inch laptops promises its' users the best digital experience with BETTER PRODUCTIVITY that can let you multitask more efficiently and BIGGER ENTERNTAINMENT with detailed visuals for content creation and consumption. It also comes with a more spacious keyboard design complete with physical NumberPad and enhanced by exclusive ASUS ErgoSense keyboard technology ensuring a more comfortable and BETTER TYPING experience. Despite its' compact design, ASUS also made sure you are covered with all the ports that you need without the need for extra dongles.
Invest now on an ASUS 16-inch laptop and we promise not only better laptop experience but also a securing your investment with US Military Grade certified laptops that are tough and reliable to last for a long time plus elevated peace of mind with best after-sales service and complimentary and upgradable warranty service packages with ASUS 4A Quality and Service.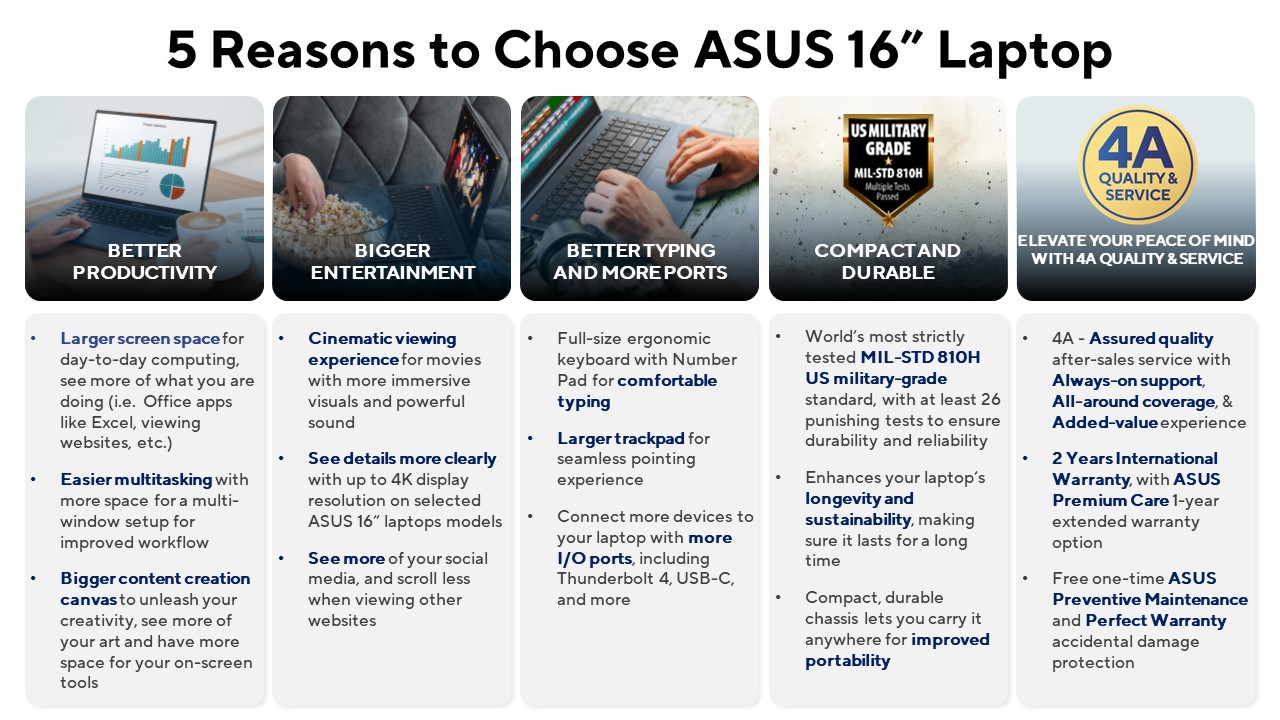 16-INCH BIGGER SCREEN FOR EVERYDAY LAPTOP USERS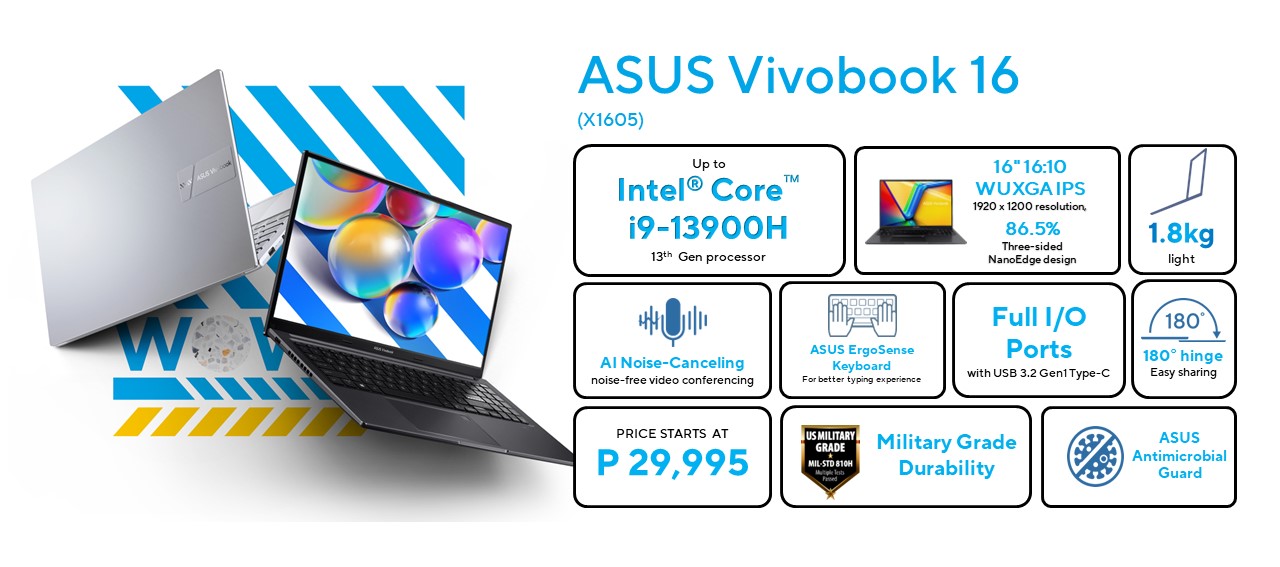 | SERIES | MODEL | CPU | PANEL | RAM | STORAGE | GPU | OS | COLOR | SRP NOW | MS Office | Adobe Membership |
| --- | --- | --- | --- | --- | --- | --- | --- | --- | --- | --- | --- |
| Vivobook 16 | X1605VA-MB257WS | i9-13900H | 16" WUXGA 16:10 IPS 60Hz | DDR4 8GB | 512GB PCIE3 SSD | UMA | WIN11 H&S '21 | Indie Black | ₱53,995 | YES | 1-month |
| Vivobook 16 | X1605ZA-MB236WS | I7-12700H | 16" WUXGA 16:10 IPS 60Hz | 8GB DDR4 | 512GB PCIE3 SSD | UMA | WIN11 H&S '21 | Black | ₱50,995 | YES | 1-month |
| Vivobook 16 | X1605ZA-MB068WS | i7-1255U | 16" WUXGA 16:10 IPS | 8GB DDR4 | 512GB PCIE3 SSD | UMA | WIN11 H&S '21 | Black | ₱50,995 | YES | 1-month |
| Vivobook 16 | X1605ZA-MB411WS | i7-1255U | 16" WUXGA 16:10 IPS 60Hz | DDR4 8GB | 512GB PCIE3 SSD | UMA | WIN11 H&S '21 | Transparent Silver | ₱46,995 | YES | 1-month |
| Vivobook 16 | X1605VA-MB262WS | i5-13500H | 16" WUXGA 16:10 IPS 60Hz | DDR4 8GB | 512GB PCIE3 SSD | Iris Xe | WIN11 H&S '21 | Indie Black | ₱45,995 | YES | 1-month |
| Vivobook 16 | X1605ZA-MB066WS | I5-1235U | 16" WUXGA 16:10 IPS | 8GB DDR4 | 512GB PCIE3 SSD | UMA | WIN11 H&S '21 | Transparent Silver | ₱42,995 | YES | 1-month |
| Vivobook 16 | X1605ZA-MB065WS | I5-1235U | 16" WUXGA 16:10 IPS | 8GB DDR4 | 512GB PCIE3 SSD | UMA | WIN11 H&S '21 | Indie Black | ₱39,995 | YES | 1-month |
| Vivobook 16 | X1605EA-MB083WS | i5-1135G7 | 16" WUXGA 16:10 IPS 60Hz | 8GB DDR4 | 512GB PCIE3 SSD | UMA | WIN11 H&S '21 | Indie Black | ₱36,995 | YES | 1-month |
| Vivobook 16 | X1605ZA-MB335WS | i3-1215U | 16" WUXGA 16:10 IPS 60Hz | DDR4 8GB | 256GB PCIE3 SSD | UMA | WIN11 H&S '21 | Indie Black | ₱32,995 | YES | 1-month |
| Vivobook 16 | X1605ZA-MB095WS | I3-1215U | 16" WUXGA 16:10 IPS | 8GB DDR4 | 512GB PCIE3 SSD | UMA | #N/A | Indie Black | ₱31,995 | YES | 1-month |
| Vivobook 16 | X1605ZA-MB095W | I3-1215U | 16" WUXGA 16:10 IPS 60Hz | DDR4 8GB | 512GB PCIE3 SSD | UMA | W11 | Indie Black | ₱29,995 | N/A | 1-month |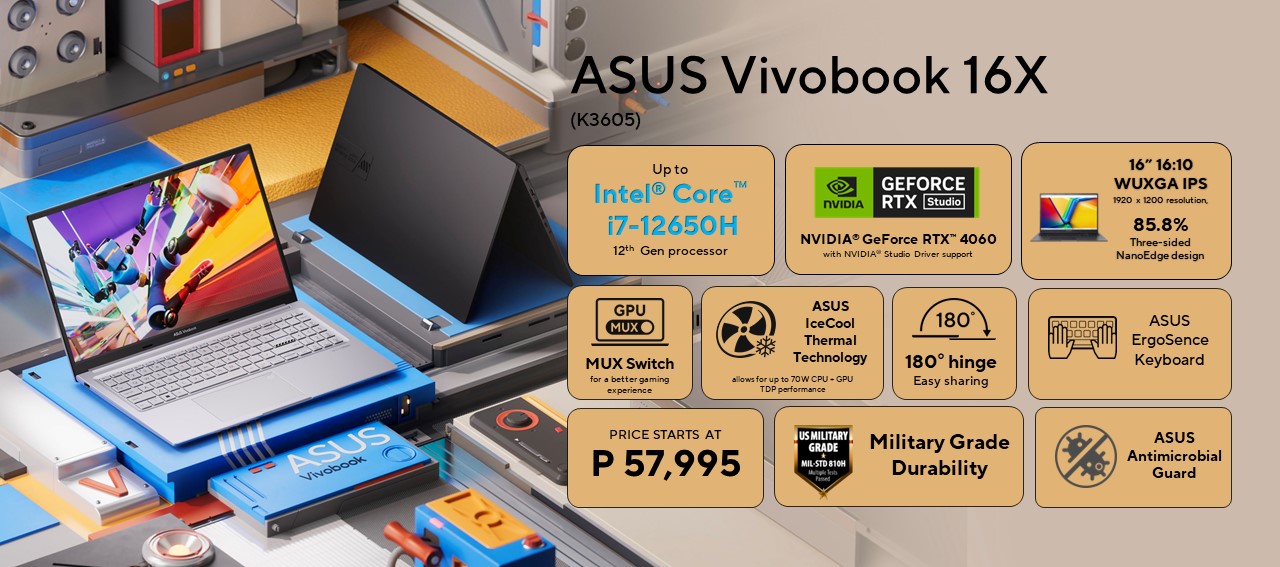 | SERIES | MODEL | CPU | PANEL | RAM | STORAGE | GPU | OS | COLOR | SRP NOW | MS Office | Adobe Membership |
| --- | --- | --- | --- | --- | --- | --- | --- | --- | --- | --- | --- |
| Vivobook 16X | K3605VU-N1059WS | i5-13500H | 16.0 WUXGA 16:10 vIPS | DDR4 16GB | 512GB PCIE3 SSD | RTX 4050 6GB GDDR6 | WIN11 H&S '21 | Indie Black | ₱75,995 | YES | 1-month |
| Vivobook 16X | K3605ZC-N1140WS | I7-12650H | 16.0 WUXGA 16:10 vIPS | DDR4 16GB | 512GB PCIE3 SSD | RTX3050 4G, GDDR6 | WIN11 H&S '21 | Indie Black | ₱69,995 | YES | 1-month |
| Vivobook 16X | K3605ZC-N1143WS | I5-12450H | 16.0 WUXGA 16:10 vIPS | DDR4 16GB | 512GB PCIE3 SSD | RTX3050 4G, GDDR6 | WIN11 H&S '21 | Indie Black | ₱59,995 | YES | 1-month |
| Vivobook 16X | K3605ZF-N1135WS | I5-12450H | 16.0 WUXGA 16:10 vIPS | DDR4 16GB | 512GB PCIE3 SSD | RTX2050 4G,GDDR6 | WIN11 H&S '21 | Indie Black | ₱57,995 | YES | 1-month |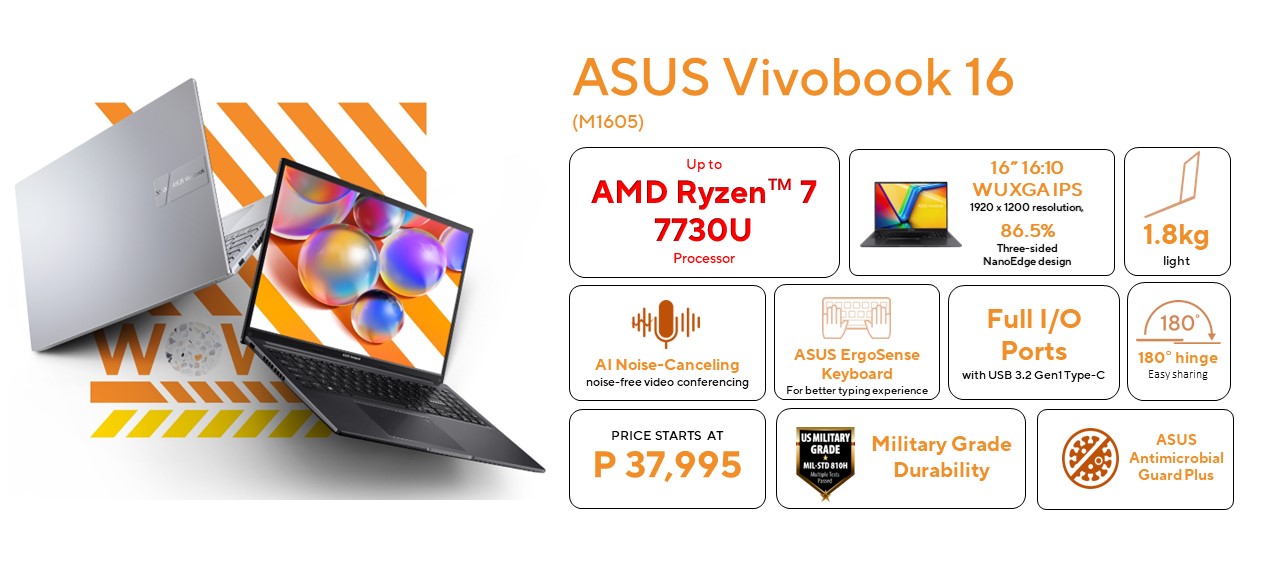 | SERIES | MODEL | CPU | PANEL | RAM | STORAGE | GPU | OS | COLOR | SRP NOW | MS Office | Adobe Membership |
| --- | --- | --- | --- | --- | --- | --- | --- | --- | --- | --- | --- |
| Vivobook 16 | M1605YA-MB249WS | R7-7730U | 16" WUXGA 16:10 vIPS | DDR4 8GB | 512GB PCIE3 SSD | UMA | WIN11 H&S '21 | Indie Black | ₱44,995 | YES | 1-month |
| Vivobook 16 | M1605YA-MB155WS | R5 7530U | 16" WUXGA 16:10 vIPS 60Hz | 8GB DDR4 | 512GB PCIE3 SSD | UMA | WIN11 H&S '21 | Indie Black | ₱37,995 | YES | 1-month |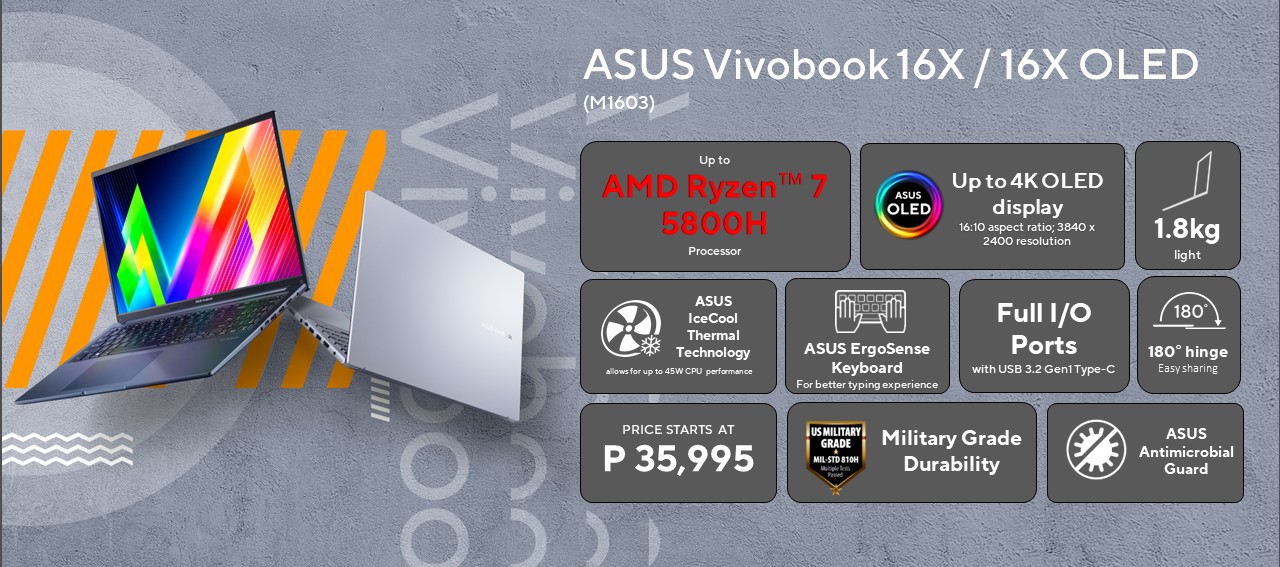 | SERIES | MODEL | CPU | PANEL | RAM | STORAGE | GPU | OS | COLOR | SRP NOW | MS Office | Adobe Membership |
| --- | --- | --- | --- | --- | --- | --- | --- | --- | --- | --- | --- |
| Vivobook 16X OLED | M1603QA-L2122WS | R5-5600H | 16" 4K 16:10 550nits OLED | 8GB DDR4 | 512GB PCIE3 SSD | UMA | WIN11 H&S '21 | Quiet Blue | ₱46,995 | YES | 1-month |
| SERIES | MODEL | CPU | PANEL | RAM | STORAGE | GPU | OS | COLOR | SRP NOW | MS Office | Adobe Membership |
| --- | --- | --- | --- | --- | --- | --- | --- | --- | --- | --- | --- |
| Vivobook 16 | M1603QA-MB230WS | R5-5600H | 16" WUXGA 16:10 IPS | 8GB DDR4 | 512GB PCIE3 SSD | UMA | WIN11 H&S '21 | Quiet Blue | ₱35,995 | YES | 1-month |
CREATIVITY MADE EVEN BETTER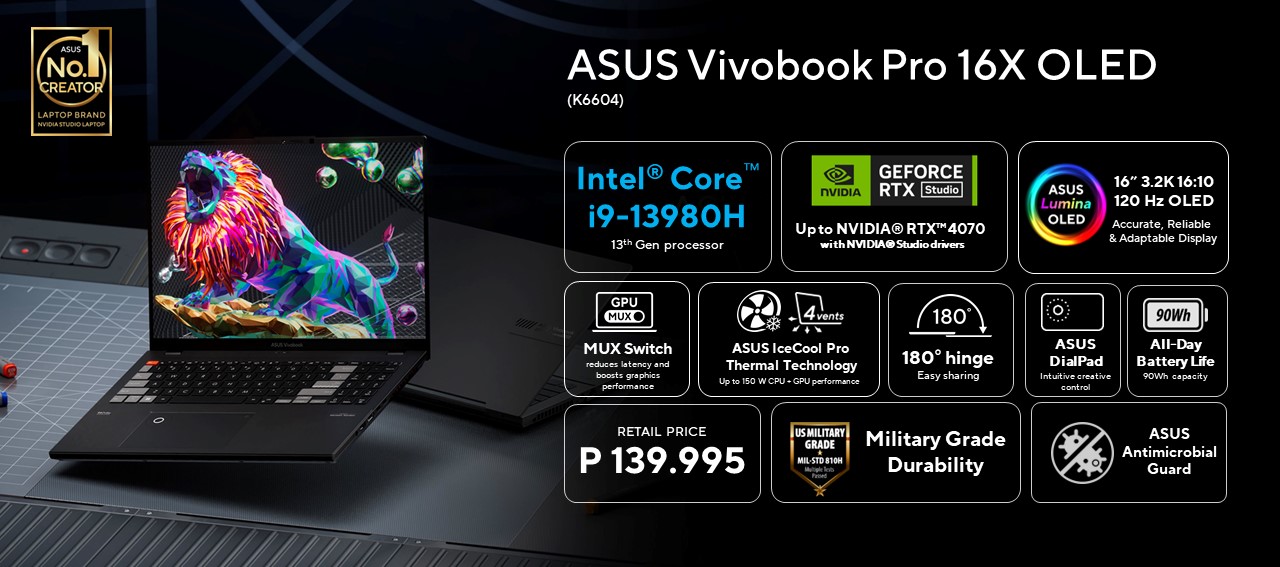 | SERIES | MODEL | CPU | PANEL | RAM | STORAGE | GPU | OS | COLOR | SRP NOW | MS Office | Adobe Membership |
| --- | --- | --- | --- | --- | --- | --- | --- | --- | --- | --- | --- |
| Vivobook Pro 16X OLED | K6604JI-MX080WS | I9-13980H | 16" 3.2K OLED 16:10 120Hz refresh rate Non-touch | DDR5 32GB | 1TB PCIE4 SSD | RTX4070, 8G, GDDR6 | WIN11 H&S '21 | 0°Black | ₱139,995 | YES | 3-months |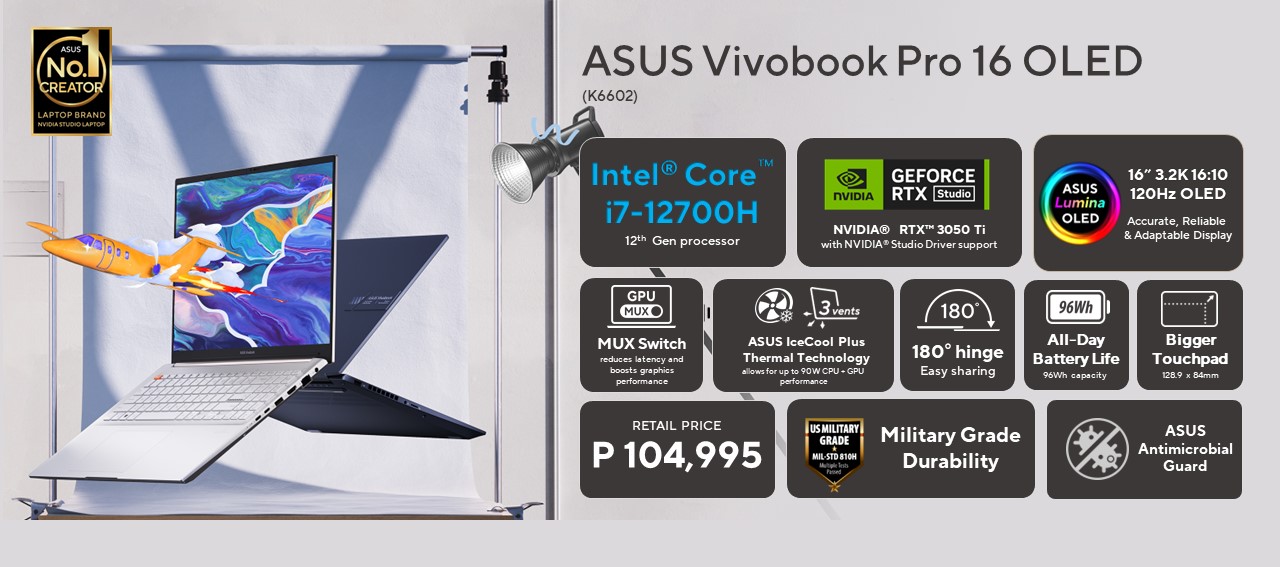 | SERIES | MODEL | CPU | PANEL | RAM | STORAGE | GPU | OS | COLOR | SRP NOW | MS Office | Adobe Membership |
| --- | --- | --- | --- | --- | --- | --- | --- | --- | --- | --- | --- |
| Vivobook Pro 16 OLED | K6602ZE-MX078WS | I7-12700H | 16" 3.2K OLED 120Hz | 16GB DDR4 | 1TB PCIE3 SSD | RTX 3050Ti GDDR6 | WIN11 H&S '21 | Quiet Blue | ₱104,995 | YES | 3-months |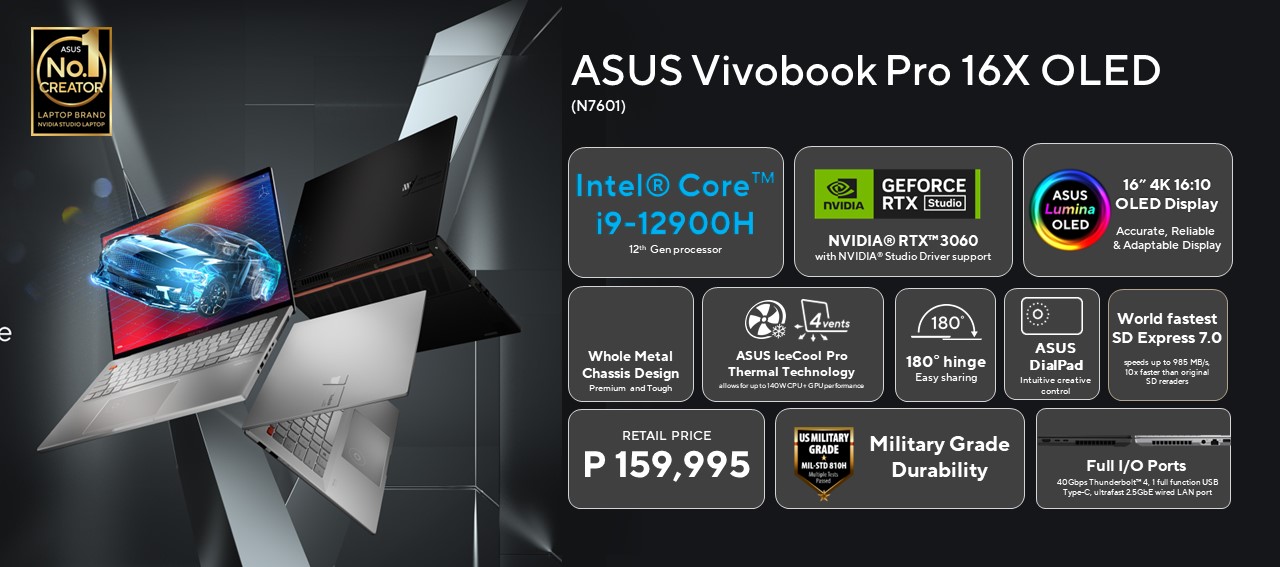 | SERIES | MODEL | CPU | PANEL | RAM | STORAGE | GPU | OS | COLOR | SRP NOW | MS Office | Adobe Membership |
| --- | --- | --- | --- | --- | --- | --- | --- | --- | --- | --- | --- |
| Vivobook Pro 16X OLED | N7601ZM-MQ058WS | i9-12900H | 16" 4K 16:10 500nits OLED | 16GB DDR5 | 512GB PCIE4 SSSD | RTX 3060 GDDR6 | WIN11 H&S '21 | 0°Black | ₱159,995 | YES | 3-months |
CREATIVITY FOR THE PROS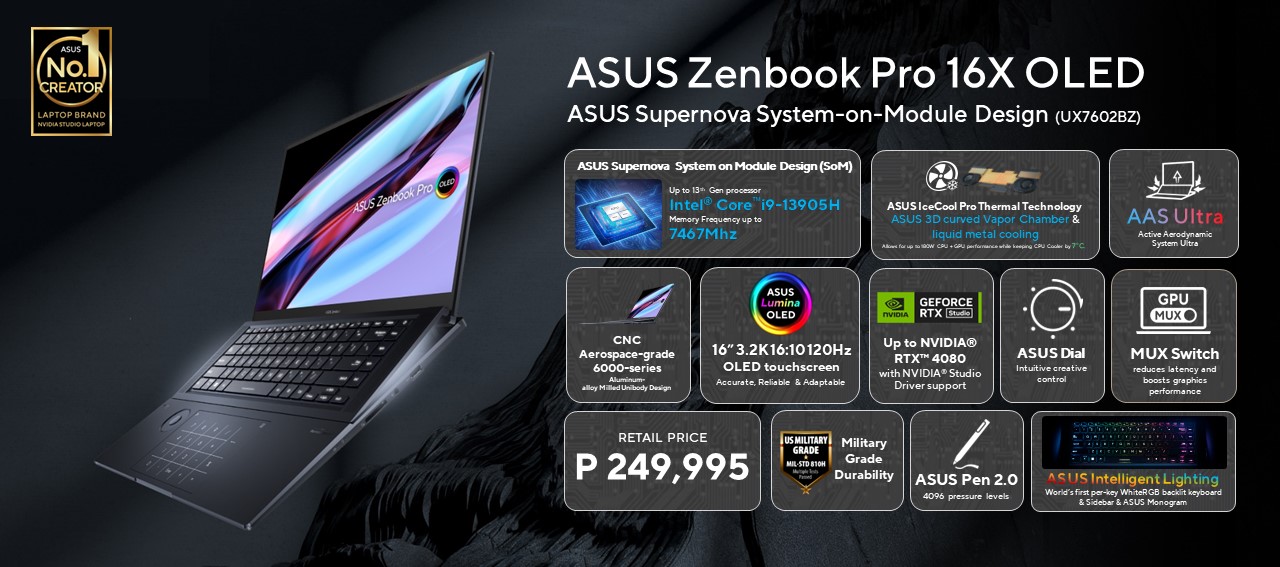 | SERIES | MODEL | CPU | PANEL | RAM | STORAGE | GPU | OS | COLOR | SRP NOW | MS Office | Adobe Membership |
| --- | --- | --- | --- | --- | --- | --- | --- | --- | --- | --- | --- |
| Zenbook Pro 16X OLED SOM | UX7602BZ-MY018WS | i9-13905H | 16.0 3.2K OLED 16:10 120Hz refresh rate Touch screen | LPDDR5X 32GB | 2TB PCIE4 SSD (performance) | RTX 4080 12GB GDDR6 | WIN11 H&S '21 | Tech Black | ₱249,995 | YES | 3-Months |
| Zenbook Pro 16X OLED | UX7602ZM-ME128WS | i9-12900H | 16" 4K 16:10 550nits touch OLED | 32GB LPDDR5 | 1TB PCIE4 SSD | RTX 3060 GDDR6 | WIN11 H&S '21 | Tech Black | ₱209,995 | YES | 3-Months |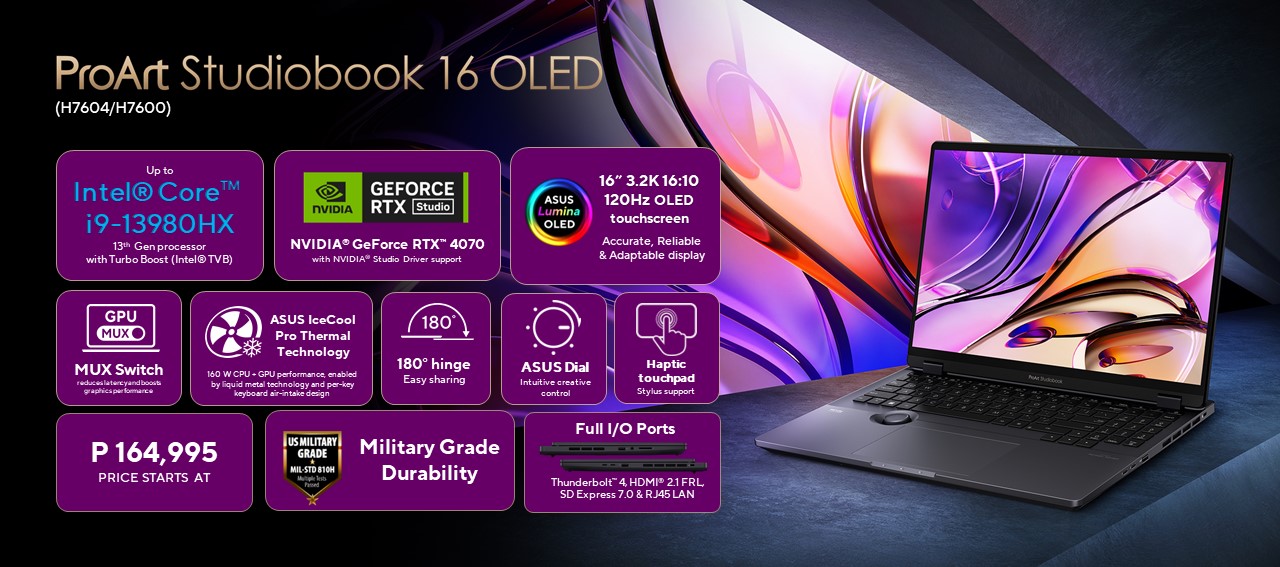 | SERIES | MODEL | CPU | PANEL | RAM | STORAGE | GPU | OS | COLOR | SRP NOW | MS Office | Adobe Membership |
| --- | --- | --- | --- | --- | --- | --- | --- | --- | --- | --- | --- |
| ProArt Studiobook 16 OLED | H7600ZM-L2040X | I7-12700H | 16" 4K 16:10 550nits OLED | 16GBx2 DDR5 | 1TB PCIE4 SSD | RTX 3060 GDDR6 | W11 PRO | Mineral Black | ₱164,995 | N/A | 3-Months |
| ProArt Studiobook 16 OLED | H7604JI-MY115X | Intel® Core™ i9-13980HX | 16" 3.2K 16:10 Touchscreen 550nits OLED | 16GBx2 DDR5 SO-DIMM | 1TB PCIE4 SSD | NVIDIA® GeForce RTX™ 4070 Laptop GPU | W11 PRO | Mineral Black | ₱211,995 | N/A | 3-Months |