ASUS Vivobook 16
Brighten your vision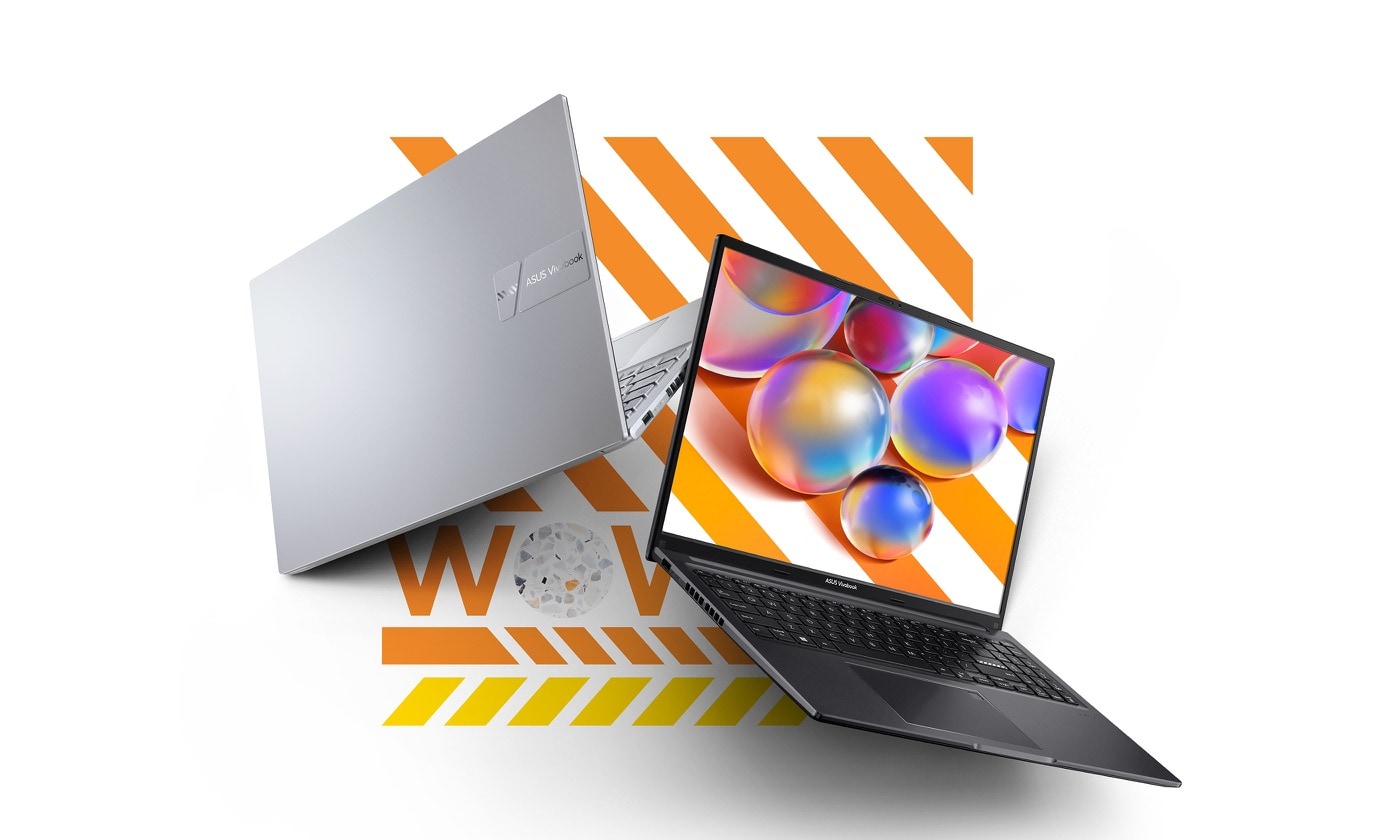 Everything is smoother with the powerful ASUS Vivobook 16, the feature-packed laptop with user-friendly features including a 180° lay-flat hinge, a physical webcam shield and dedicated function keys to turn your mic on or off. Your health is in safe hands with ASUS Antimicrobial Guard Plus protecting frequently-touched surfaces, and the bigger touchpad is now more finger-friendly. Enjoy the smooth power of Vivobook 16!
M1605YA-MB155WS
₱39,995
AMD Ryzen™ 5 7530U
16" WUXGA 16:10 vIPS 60Hz
8GB DDR4
512GB PCIe 3.0 SSD
AMD Radeon™ Graphics
Windows 11 Home with Office Home & Student 2021
M1605YA-MB249WS
₱44,995
AMD Ryzen™ 7 7730U
16" WUXGA 16:10 vIPS
8GB DDR4
512GB PCIe 3.0 SSD
AMD Radeon™ Graphics
Windows 11 Home with Office Home & Student 2021
Performance
Smooth power
Make light work of any task with Vivobook 16! It's a good-looking companion that's always there for your everyday needs, in the office, at home, or at play. It's powered by up to AMD Ryzen™ 7 7730U Processor with 8 GB of fast memory, 512 GB of speedy SSD storage and WiFi 6E, so you'll never be short of performance even when those tough tasks are piling up.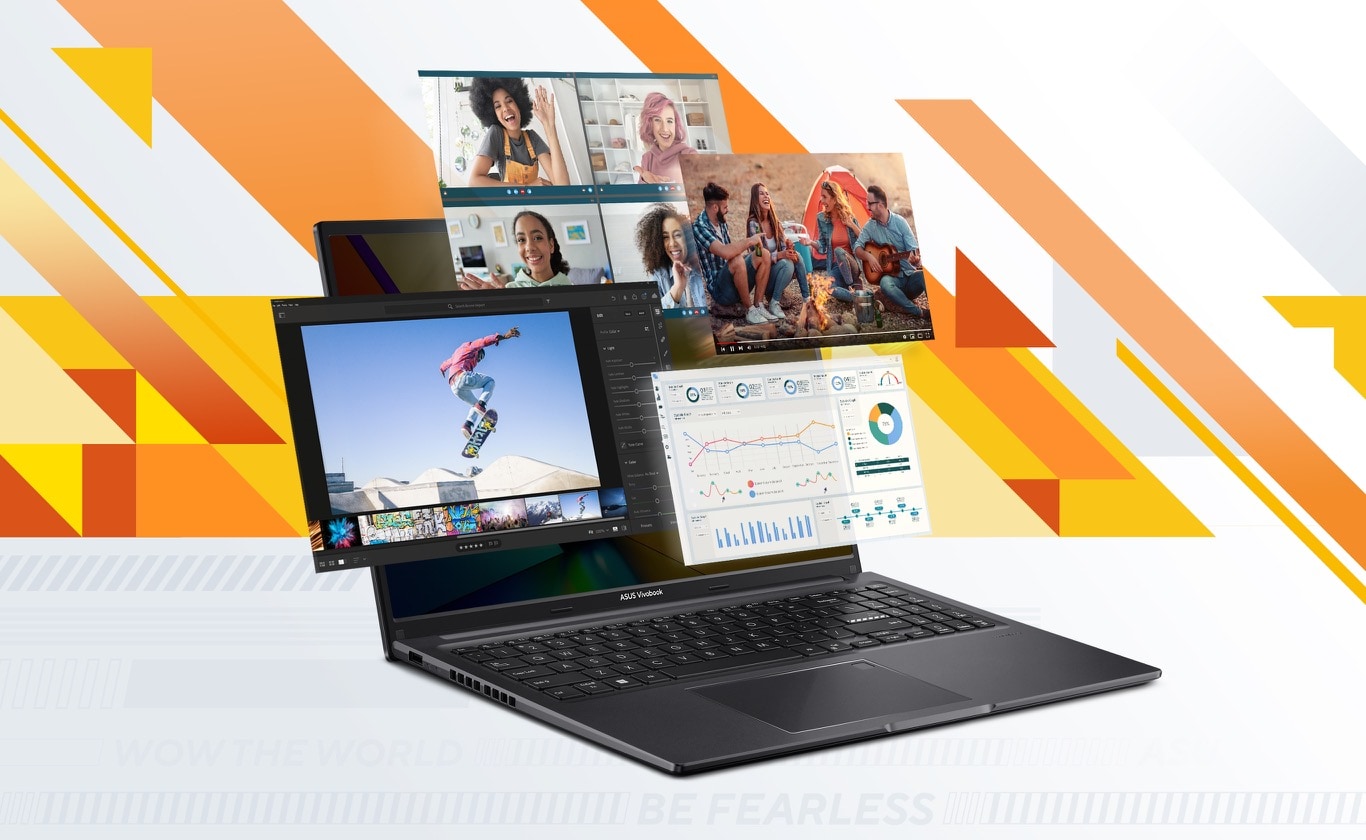 Thermal
Cooler, quieter and faster!
To keep it cool in all situations, the Vivobook ​1​6 use an IceBlade fan ​and dual air vents to ​efficiently accelerate heat transfer ​for smooth, ​​stable ​performance​ without processor throttling​.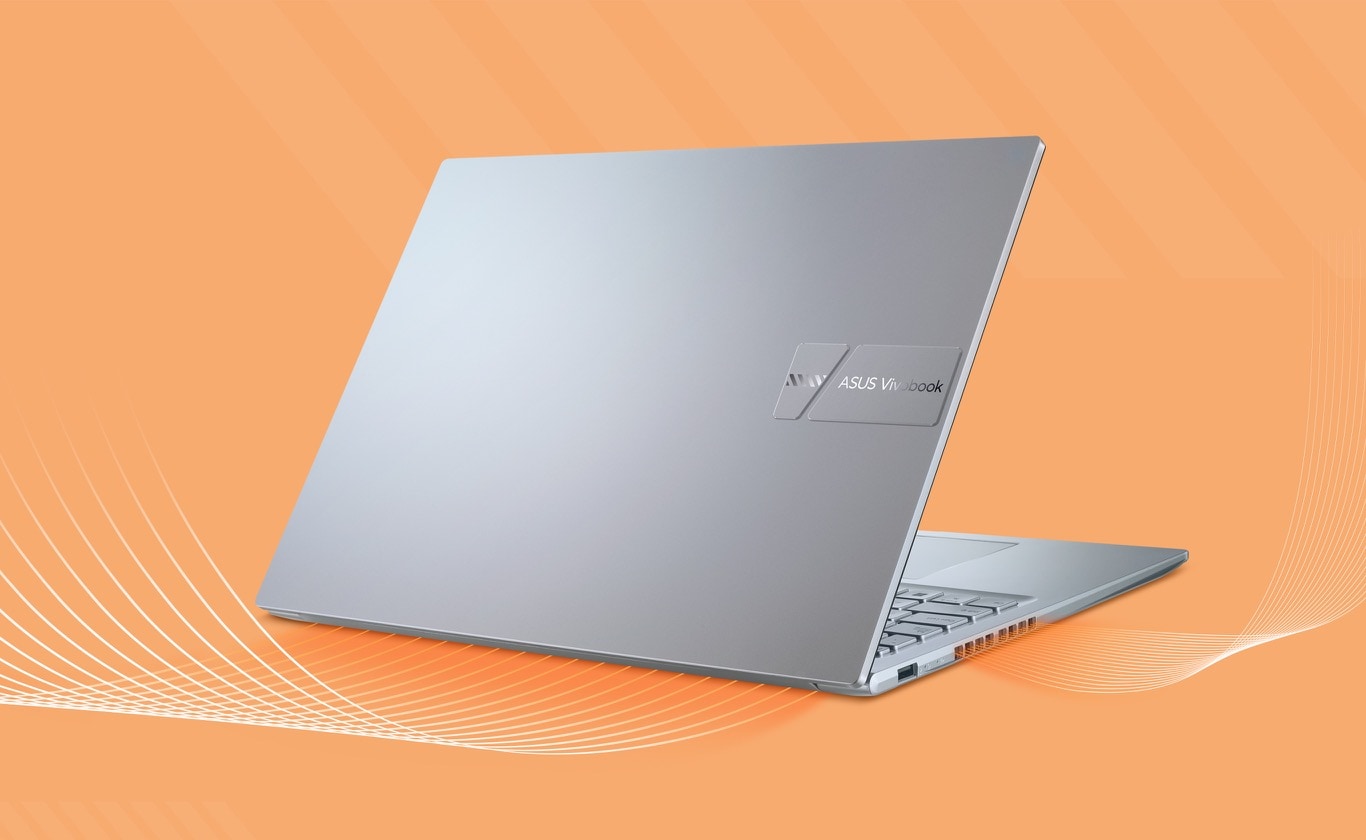 Display
Explore a vivid vision
Explore a fresh new visual experience with Vivobook 16's gorgeous three-sided NanoEdge display with its expansive 16:10 aspect-ratio. This clear, sharp, slim-bezel display provides wide viewing angles, and is TÜV Rheinland-certified for low blue-light emissions. It's perfect for any task, whether it's work, play or entertainment — let Vivobook 16 add glitter to your life!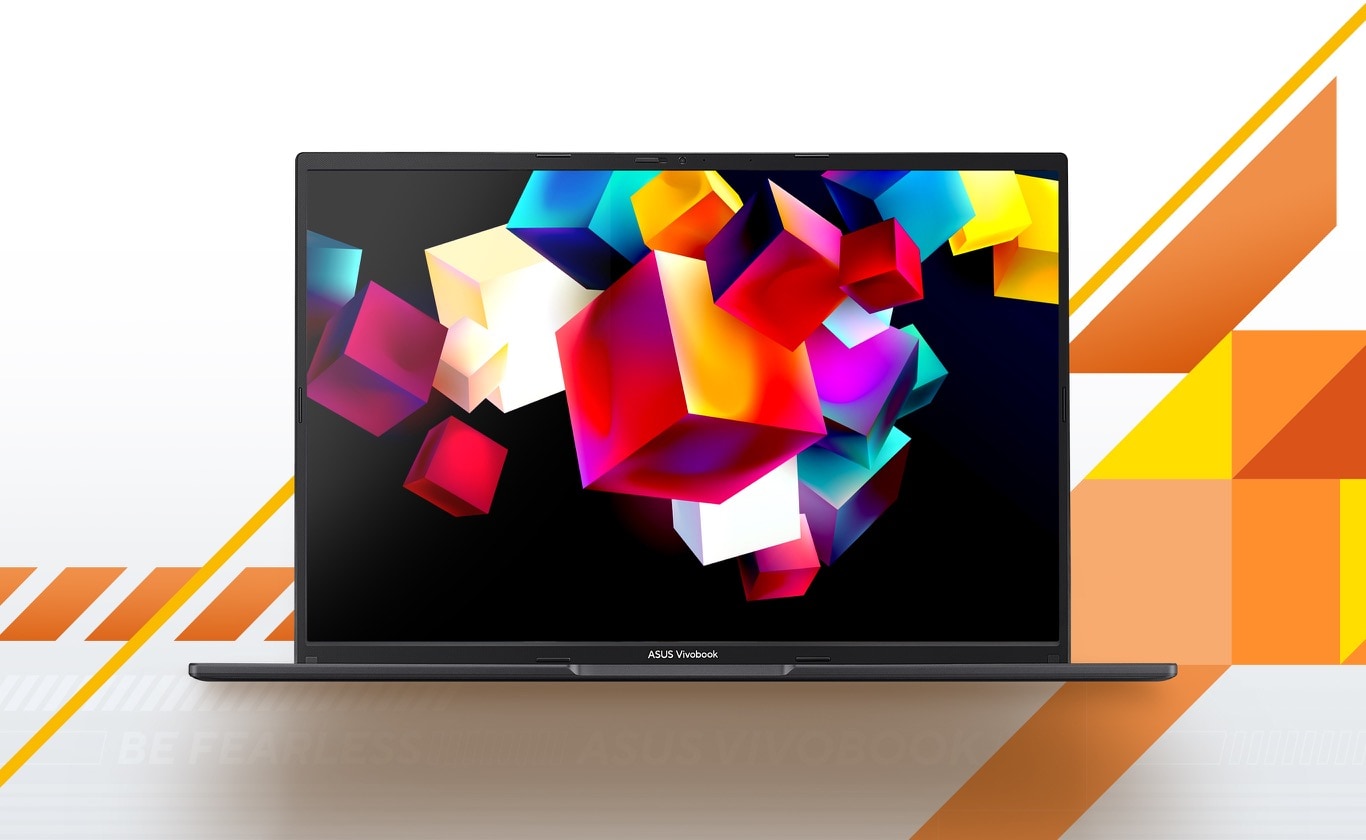 flicker free certified
low blue light software certified
ErgoSense
ASUS ErgoSense keyboard, comfortable typing experience
Your comfort is our highest priority. That's why the ASUS ErgoSense keyboard has an incredibly satisfying feel, with the optimum key bounce and travel calculated with fine-tuned precision. Experience the ErgoSense keyboard and you'll soon find yourself cruising effortlessly through your work.
Full-sized keyboard 19.05 mm
The full-size 19.05 mm key pitch is the same as a desktop keyboard so you can whizz through your work with superb typing comfort and accuracy.
Dished key caps 0.2 mm
The 0.2 mm key-cap dish is designed to match the shape of your fingertips so your fingers are gently guided to the ideal contact point with the keys.
Long key travel 1.4 mm
The long 1.4 mm key travel lets you type without having to use too much force. And the special ASUS-designed rubber dome guarantees your click force is met with just the right tactile bump you need for a nice grip.
0.1 mm key cap relief
When fully depressed, the keys on the ErgoSense keyboard don't sink below the level of the keyboard deck. The key caps remain at least 0.1 mm above the chassis surface, providing you with a comfortable, ergonomic typing experience.
Enhanced number key layout
Blitz through data-crunching tasks with the enhanced number key layout! This features hotkeys for the calculator, CE and +/- functions, along with increased spacing to match the full-size key pitch for more intuitive number entry.
Optimal click ratio: Engineered to perfection
The feel of a keyboard depends on the crucial ratio between the peak force (also known as the actuation force) and the contact force. Peak force occurs when you press down on the key and reach the maximum force that the key's underlying rubber dome can withstand without deflecting. Contact force occurs when the bottom of the key touches the circuit board to trigger an electronic signal, which in turn generates the action appropriate to the key. To achieve the most natural feel for a keyboard, ASUS keyboard experts have scientifically determined that the optimal ergonomic click ratio for a key is between 45-60%. These forces are precisely measured and tuned using the ASUS-designed rubber domes beneath the keys.
ASUS Antimicrobial Guard Plus
Inhibit 99% of COVID-19, flu virus & bacteria*
ASUS Antimicrobial Guard Plus is applied to frequently touched areas of your laptop to help keep it hygienic. This technology uses a denser treatment
*
that inhibits viruses and bacteria. And it is scientifically shown — using the ISO 21702
7
and 22196
8
standards — to inhibit virus and bacteria growth by more than 99% over a 24-hour period
9
. Strains used for the tests include the SARS-CoV-2 (COVID-19), H3N2 (Influenza A) and the
E. coli
bacterium
4
.
* ISO 21702 tests for SARS-CoV-2 Variants (Omicron, BA.5), H3N2, H1N1 and ISO 22196 tests for
Staphylococcus
and
E. coli
.
Learn more about ASUS Antimicrobial Guard Plus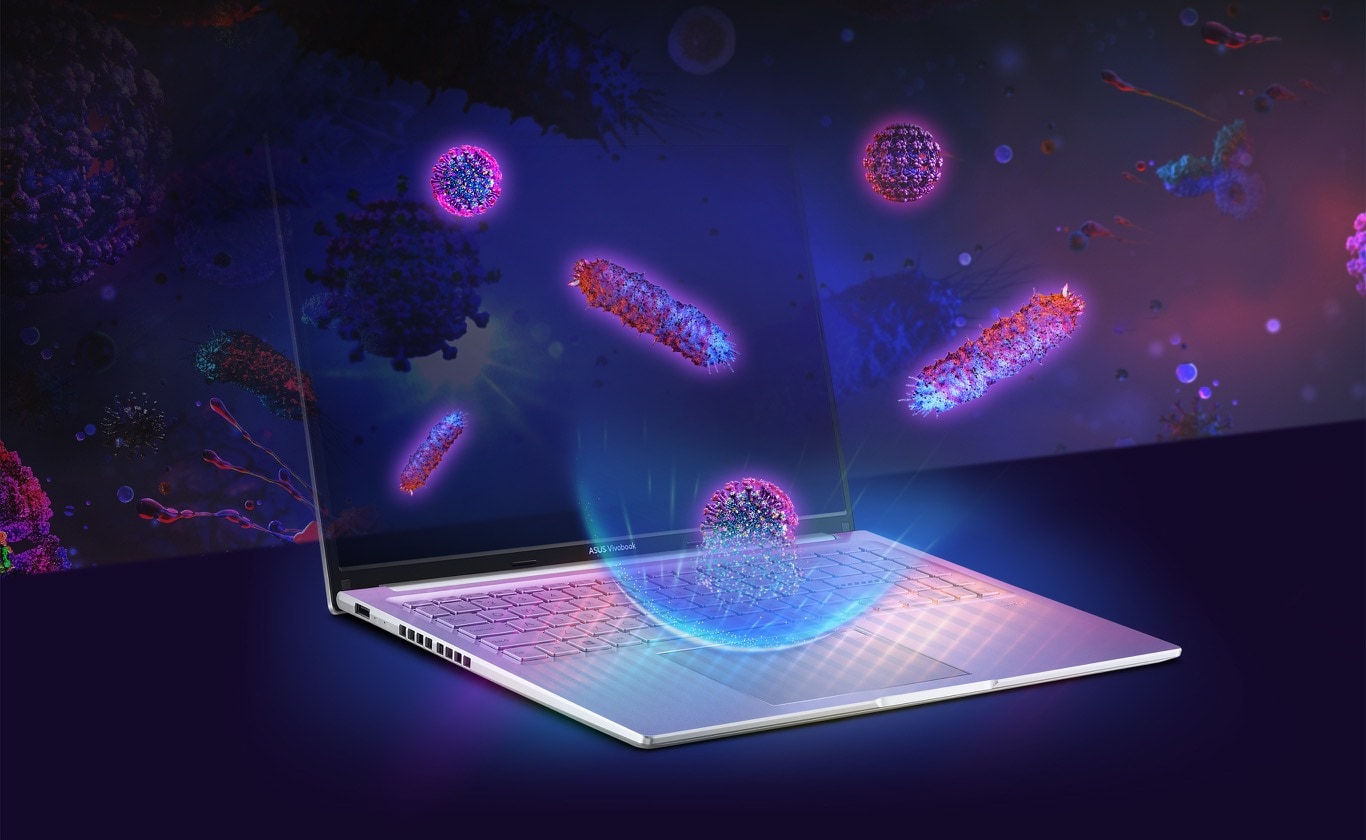 99%
viral & bacterial inhibiting effect
ISO 21702 (virus inhibition)
ISO 22196 (bacterial inhibition)
3 years
of bacterial inhibition13
ASUS Antimicrobial Guard Plus
Viruses and bacteria inhibition
Viruses and bacteria are everywhere in our daily life. Antimicrobial Guard Plus inhibits all viruses and bacteria with an envelope (the outermost layer of many types of viruses and bacteria) from the surface of the protected parts. ISO 21702 testing shows that it can inhibit the growth of SARS-CoV-2 (COVID-19), H1N1, H3N2 (Influenza A) and harmful bacteria.
SARS-CoV-2 virus (COVID-19)
Since 2020, COVID-19 has ravaged the globe. More than 580M people
14
worldwide have been infected.
Influenza A (H3N2)
The influenza A and B viruses that routinely spread in people are responsible for seasonal flu epidemics each year
15
.
Escherichia coli
(abbreviated as
E. coli
) are bacteria found in the environment, foods. Although most strains of
E. coli
are harmless, others can make you sick
16
.
ASUS Antimicrobial Guard Plus
Silver ions prevents 99% reproduction
Without ASUS Antimicrobial Guard Plus, an estimated sample of 10,000 (pfu/ml) cells grew to 28,000 (pfu/ml). Performing the same test with Antimicrobial Guard Plus saw the count reduced to just 16 (pfu/ml) — a growth restriction of more than 99%.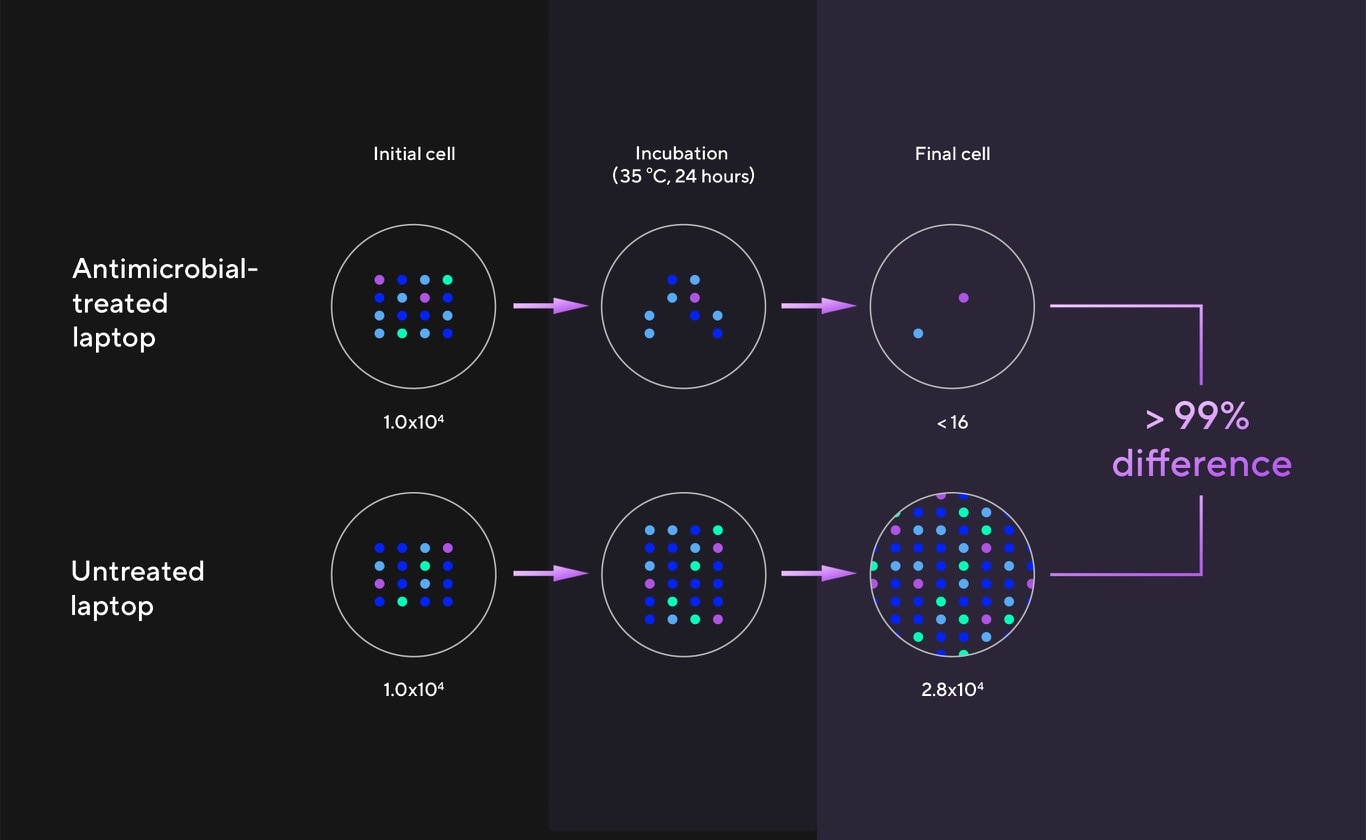 User Experience
User friendly design
Unlock in one touch
Accessing your device has never been easier or more secure! With the built-in fingerprint sensor
3
in the touchpad and Windows Hello, there's no need to type in your password every time — all you need is a single touch!
Physical webcam privacy shield
Vivobook 16 takes your privacy and security seriously. There's an integrated privacy shield that slides over the webcam for instant privacy, shielding you from prying eyes and disturbances.
Wide open for sharing
Vivobook 16 features a precision-engineered, lay-flat hinge that makes it easy to share content with others, or collaborate with a group of people around a table.
3DNR
Real-time webcam image optimization
ASUS 3D Noise Reduction (3DNR) Technology and the new webcam effects in MyASUS take your video-calling experience to the next level. 3DNR significantly upgrades the webcam image clarity, with a unique algorithm that sharpens images and performs real-time de-noising to make sure everything looks crisp and clear during video calls. The webcam effects in MyASUS add several useful image-processing features, including Background Blurring for enhanced privacy; Lighting Optimization to keep faces out of shadow; Motion Tracking to always keep you center-frame; and Eye Tracking to reduce the effect of your eyes wandering away from the camera.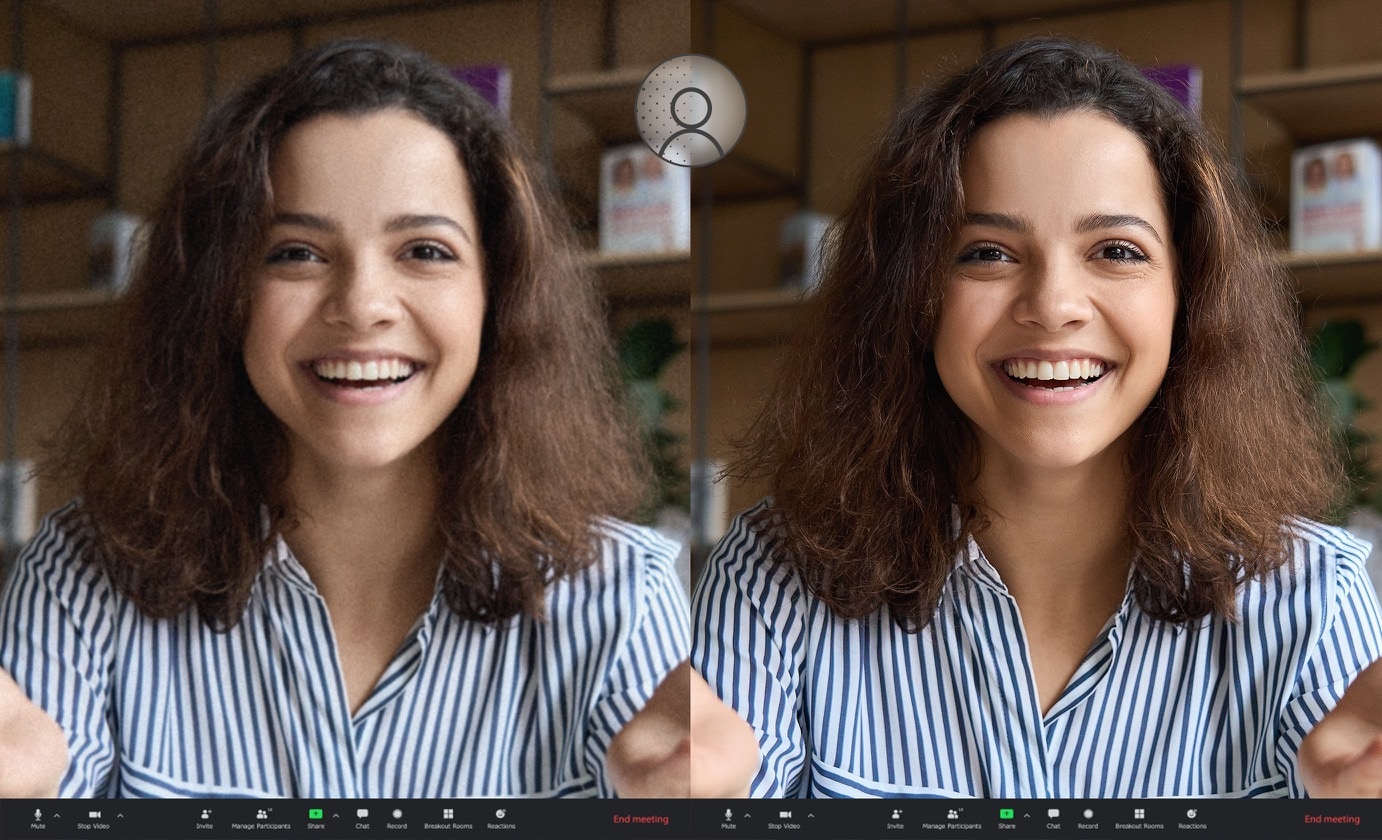 AI Noise Cancelation
Next-level AI noise-canceling audio technology
To provide exceptional remote-working and video-conferencing experiences, features ASUS AI Noise-Canceling Technology that employs machine learning in order to isolate unwanted noise from human speech. This technology helps to filter out ambient noise for optimum group conference-call quality. The ASUS AI Noise-Canceling Microphone feature in the MyASUS app can filter out ambient noise — so you'll hear what everyone else is saying.
Try the demo to experience the amazing difference that AI Noise-Canceling Technology can make in different environments.
Press play to experience ASUS AI Noise-Canceling Technology
Turn on your device audio to hear the difference.
Conference Call
Conference calls with more possibilities
Conference calls can be single-presenter or multi-presenter, gathered around a single laptop with voices coming from various directions. With the upgraded system enabled via the MyASUS app, it detects and optimizes audio from either one direction or from all directions — ensuring top conference call audio quality.
Single presenter conference call
Single-presenter conference call mode can filter out noise and other voices, and ensures only the voice in front of laptop can be heard. When you switch on the Target Speaker Tracking mode it can even target and track new talkers within a 180° arc, making the feature ideal for recording large groups as well as for individuals.
Multi-presenter conference call
Multi-presenter conference call mode filters out ambient noise whilst identifying multiple voices from all directions and distances, so all voices can be heard more clearly.
Audio
Outstanding audio to hear the world
ASUS SonicMaster is a combination of hardware, software and audio tuning designed with the goal of giving you the very best audio experience. A professional-grade code ensures precise audio encoding and decoding; while amplifiers, large speakers and resonance chambers perfectly suited to Vivobook 16 ensure a powerful audio delivery and deeper bass. Additional signal processing and tuning help refine minute details, filter noise and improve audio clarity so you get truly immersive sound.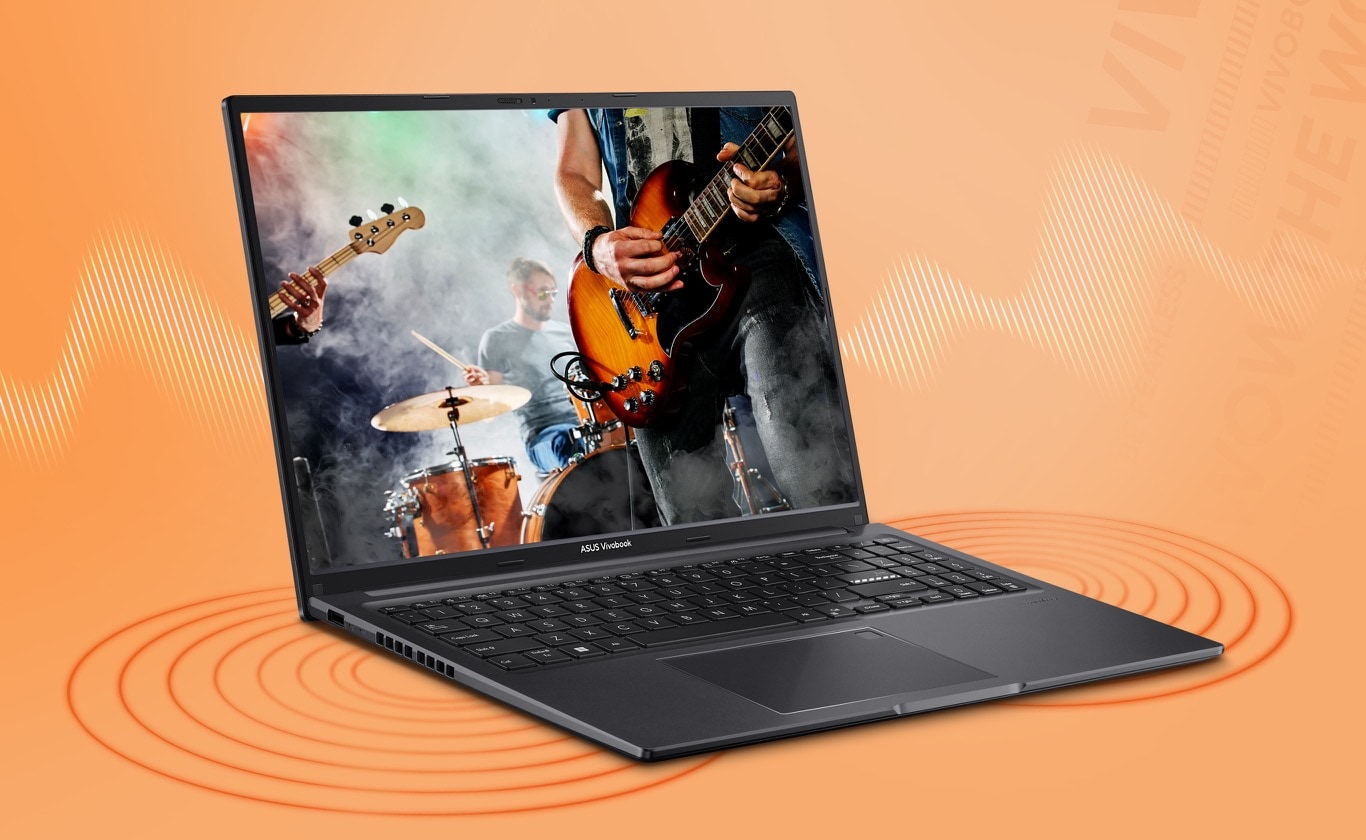 Connectivity
Perfect in every detail
Vivobook 16 keeps you fully connected with its comprehensive I/O ports. There are an USB-C® 3.2 Gen 1 port with power delivery, two USB 3.2 Gen 1 Type-A ports, a USB 2.0 port, HDMI® output and an audio combo jack — so it's easy to connect all your existing peripherals, displays and projectors.
USB 2.0
USB 3.2 Gen 1
USB-C® 3.2 Gen 1 with power delivery
HDMI®
audio combo jack
Battery
Charge with speed​
Vivobook 16 supports fast charging which allows you to charge a low battery to 60% in as little as 49 minutes, so you can be up and running quicker than ever!​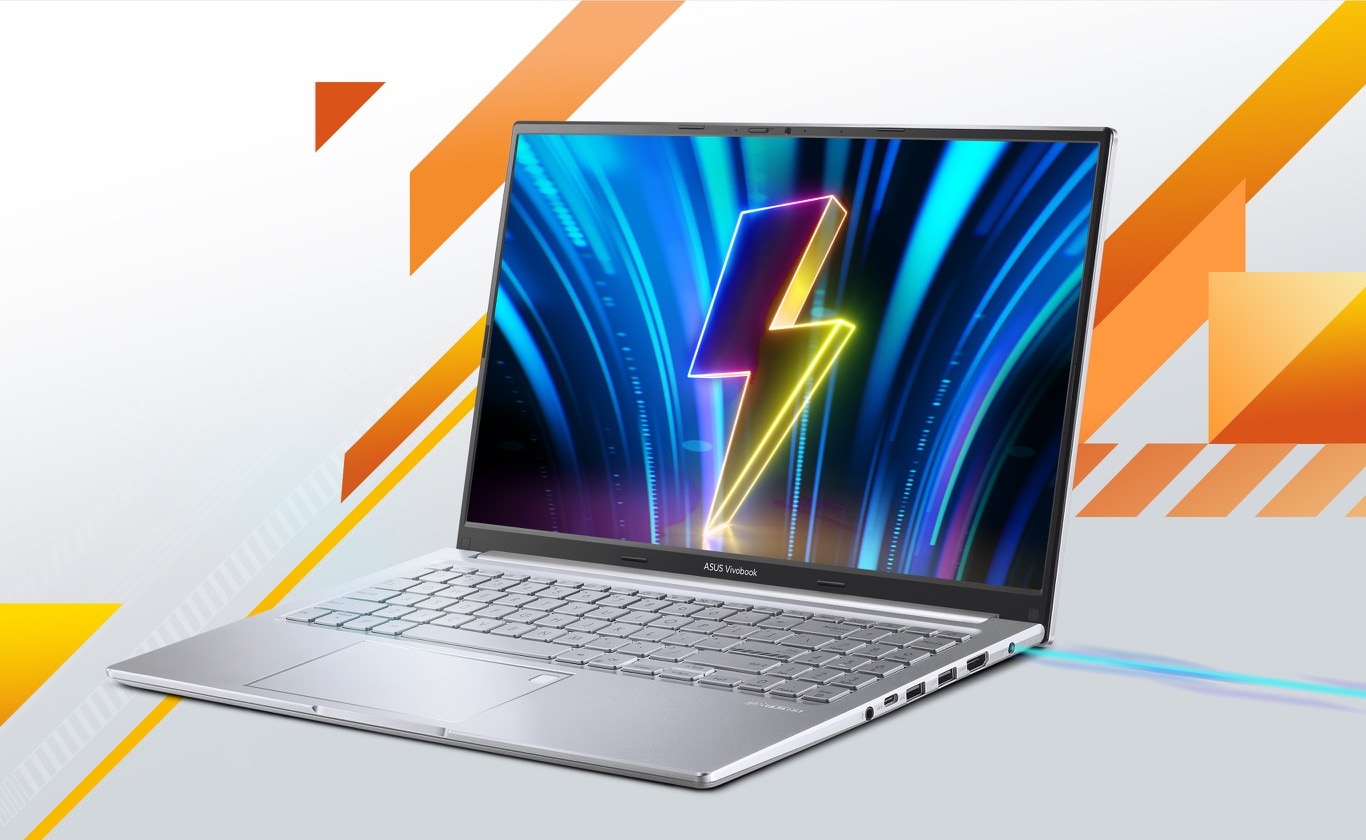 Design
Be extraordinary!
Vivobook 16 is extraordinary, with a clean design and two eye-catching colors. Choose from charming Indie Black or distinguished Cool Silver — whichever says 'that's me!' It's slim enough to pop unobtrusively into any backpack, and light enough for easy one-handed carrying. What's better, the extraordinary Vivobook 16 uses eco-friendly Post-Consumer Recycled (PCR) materials
20
allowing you to contribute to sustainability in style!
Military-grade
World's most strictly tested US military-grade laptop durability22
ASUS laptops
5
are engineered with extraordinary toughness meet the exacting US MIL-STD-810H military-grade standard, undergoing 12 rigorous test methods and 26 punishing test procedures — exceeding industry standards. The upshot is a range of products that are renowned for reliability and durability. These factors also inherently benefit longevity and thus sustainability, so you can work, travel or relax with the confidence that your ASUS laptop is ready for the real world — today, and long into the future.
Learn more about each laptop quality test results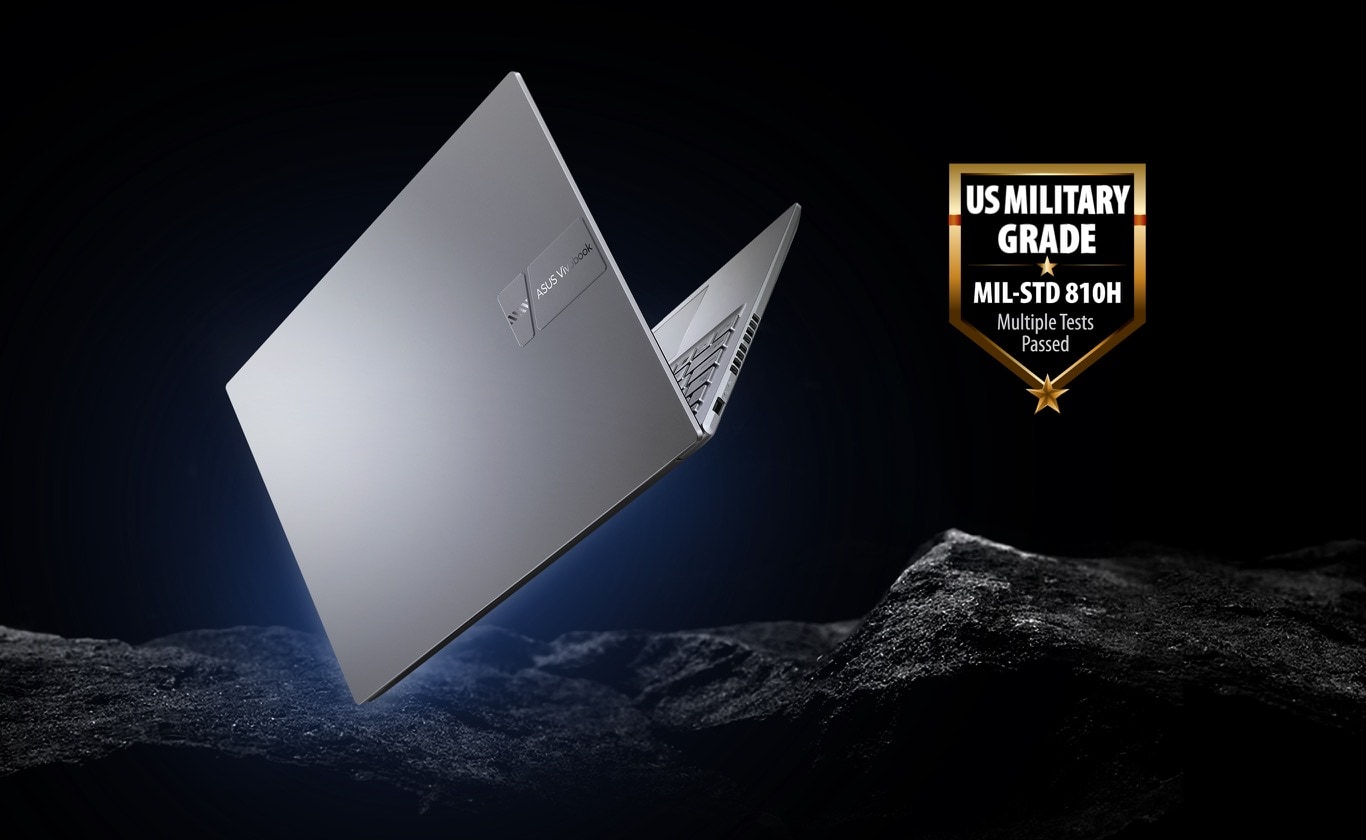 Operational, Unpackage, 40 g, 11 ms, 18 shocks
2.
Transportation shock – on road
Non-operational, Package, 5.1-7.6 g, 11 ms, 3-42 shocks
Non-operational, Unpackage, 30-50 g, 18 shocks
Non-operational, Unpackage, 75 g, 6 ms, 12 shocks
Operational, Unpackage, 100 mm
Unpackage
Non-operational vibration: 5-500 Hz
Duration: 32 minutes
Unpackage
Non-operational vibration:5-500 Hz
Duration: 40 minutes
Unpackage
Operational vibration: 5-500 Hz, Duration: 60 minutes
9.
Basic hot storage and transit
Non-operational, 30~63°C, 168 hours, 5~44% humidity
10.
Basic hot operational
Operational, 30~43°C, 72 hours, 14~44% humidity
11.
Hot dry storage and transit
Non-operational, 33~71°C, 168 hours
Operational, 32~49°C, 72 hours
13.
Basic climatic storage and transit
Non-operational, -25~-33°C, 168 hours
14.
Basic climatic operational
Operational, -21~-32°C, 72 hours
15.
Cold climatic storage and transit
Non-operational, -37~-46°C, 168 hours
16.
Cold climatic operational
Operational, -37~-46°C, 72 hours
Operational
Particle density: 10 +/- 7 g/m3
Air velocity: 300~1750 ft/min
Temperature: 60°C
Operational
Particle density: 1.2 g/m3
Air velocity: 28 m/s
Temperature: 60°C
Non-operational, 40,000 feet, -20°C, 12 hours
Operational, 15,000 feet, 5°C/40°C, 12 hours
Humidity: 95% RH
Temperature: 30°C/-10°C
Duration: 1 hour, 3 cycles
Non-operational
Humidity: 95% RH
Duration: 10 days
Non-operational
Temperature: -51~71°C
Duration: 1 hour, 3 cycles
Non-operational
Spectral irradiance: 1120 W/m2, 49°C
Duration: 24 hours, 3 cycles
Mechanical Vibration Test
Operational
Frequency: 4-33 Hz
Duration: 2 hours
Explosive Atmosphere Test
Operational
Altitude: 15,000~3300 feet
Explosive air: 95% n-Hexane
Software
Truly personalized workflow
MyASUS hosts a collection of handy ASUS apps and tools that help you get more out of your laptop. GlideX is a powerful cross-device screen-sharing solution. ScreenXpert helps you to manage app windows across displays connected to your ASUS PC, giving you full control of your workflow!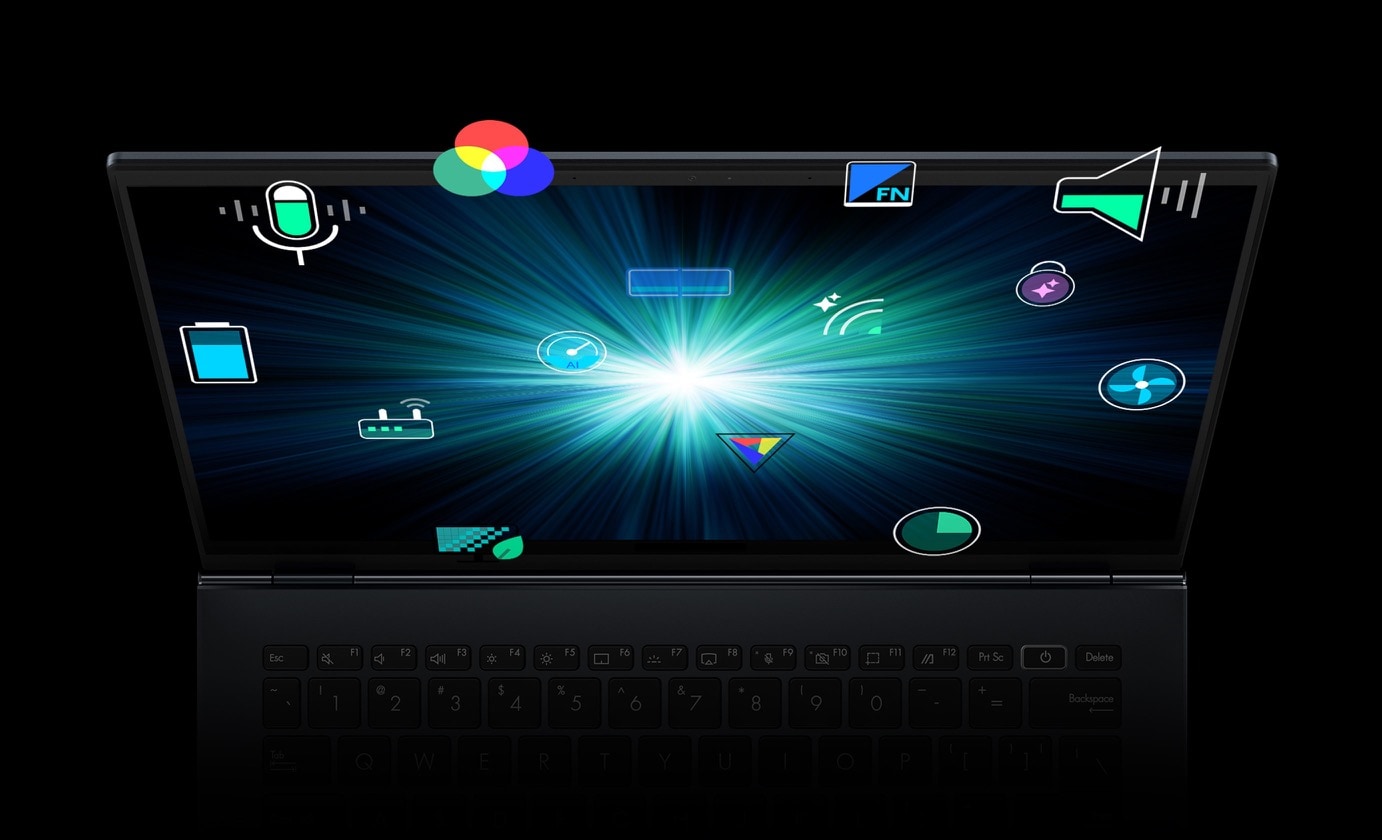 Software
MyASUS
MyASUS provides easy access to ASUS apps that are designed to help you maintain your system, update your software, optimize your PC's performance, and contact ASUS for after-sales support.
Learn more about MyASUS
MyASUS
WiFi SmartConnect
AI Noise-Canceling Technology
File Transfer
Fan Profile
Display Color Profile
One-Click System Diagnosis
Software
GlideX
GlideX is a cross-device screen-sharing solution that uses wired or wireless connections to give you a bigger and better space for work and play. GlideX optimizes your workflow in the blink of an eye!
Learn more about GlideX
GlideX
Screen Mirror
Screen Extend
Software
ScreenXpert for ASUS PCs
ScreenXpert for ASUS PCs — which you can download from Microsoft Store or find in your PC's Start menu — helps you to manage app windows across displays connected to your ASUS PC and puts you in full control of your workflow!
Learn more about ScreenXpert for ASUS PCs
ScreenXpert for ASUS PCs
App Switcher
App Navigator
Cam / Mic Switch
Maximum RAM capacity may vary according to device configuration.
Maximum SSD capacity may vary according to device configuration.
Backlit keyboard and integrated fingerprint sensor are optional.
COVID-19, H3N2, H1N1,

E. coli

and

Staphylococcus

tests were performed by independent third-party laboratories: Boken Quality Evaluation Institute, Japan Textile Products Quality and Technology Center, and National Defense Medical Center   
The testing regime includes the requirements of both military-grade standards and ASUS quality tests, and varies depending on device. MIL-STD-810 testing is conducted on selected ASUS products only. Note that the MIL-STD-810 testing helps to ensure the quality of ASUS products but does not indicate a particular fitness for military use. The test is performed under laboratory conditions. Any damage caused by attempts to replicate these test conditions would be considered accidental, and would not be covered by the standard ASUS warranty. Additional coverage is available with ASUS Premium Care.
The screen-to-body ratio is calculated based on the visible body area of the display when the laptop is opened to 90° and the active display area.
ISO 21702 specifies proper methods for measuring antiviral activity on plastics and other non-porous surfaces of antiviral-treated products. Test Viruses used in this International Standard are as follows: Influenza: An enveloped virus known to cause respiratory tract infection in humans.

Feline calicivirus

: A non-enveloped virus used in place of noroviruses known to cause enteric pathogens due to similar biological properties.
ISO 22196:2011 specifies a method of evaluating the antibacterial activity of antibacterial-treated plastics, and other non-porous, surfaces of products (including intermediate products).
Clinical testing using the ISO 21702 and ISO 22196 standard protocol proved that viral and bacterial growth were inhibited by 99% over a 24-hour period. A 99% reduction in potentially harmful microorganisms is defined as the number of viruses and bacteria on the surface dropping from 1,000,000 (cfu/pfu) to 100 (cfu/pfu).
Antimicrobial treatments are manufactured by Co-Action Corporation.
The Federal Insecticide, Fungicide, and Rodenticide Act (FIFRA) is the Federal statute that governs the registration, distribution, sale, and use of pesticides in the United States.
The Biocidal Products Regulation (BPR, Regulation (EU) 528/2012) concerns the placing on the market and use of biocidal products, which are used to protect humans, animals, materials or articles against harmful organisms like pests or bacteria, by the action of the active substances contained in the biocidal product.
Note that the protective effects of ASUS Antibacterial Guard were tested by ASUS on April 26, 2021, and follow the ISO 22196 method on our specially-treated test samples. The tests provide a simulation of three years of wear and tear, and include exposure to salt spray, thermal shocks, and both alcohol and wool-felt tests. Actual effective antibacterial-protection period may vary depending on product configuration and usage.
As of 22 August 2022, refer to WHO Coronavirus (COVID-19) Dashboard. https://covid19.who.int/
Learn more: https://www.cdc.gov/flu/about/viruses/index.htm
Learn more: https://www.cdc.gov/ecoli/ecoli-prevention.html
The actual composition of ASUS Antimicrobial Guard Plus may vary.
ASUS Antimicrobial Guard Plus is applied to the laptop areas that users touch most frequently, including the palm rest area and keyboard. However, fingerprint sensor, touchpad and non-backlit keyboards use Antimicrobial Guard. A sticker on the laptop will help to identify the device is covered by Antimicrobial Guard Plus or Antimicrobial Guard due to different spec configuration.
Charges the battery to up to 50% within 30 minutes when the system is off or in Standby mode. Power adapter with a minimum capacity of 65 watts is required. After charging has reached 50% capacity, charging will resume at normal rate. Charging time may vary +/-10% due to system tolerance.
Post-Consumer Recycled (PCR) materials may vary according to device configuration.
Product weight may vary according to device configuration.
Selected products are tested using enhanced military-grade MIL-STD-810H durability standards, with 12 test methods and 26 test procedures, to ensure extraordinary toughness. Based on ASUS internal market research using available information and testing reports from main laptop brand websites on Oct 28, 2022, ASUS consumer laptops use a regime consisting of 26 test procedures, which is the consumer laptop industry's strictest and most extensive test regime for the MIL-STD-810H standard. ​
EPEAT registered where applicable. EPEAT registration varies by country. See www.epeat.net for registration status by country.
Percentage varies according to device configuration.
Compare (0)