ExpertBook B9 OLED (B9403, 13th Gen Intel)
ExpertBook B9 OLED (B9403, 13th Gen Intel)
ExpertBook B9 OLED (B9403, 13th Gen Intel)
The epitome of sustainable excellence
Windows 11 Pro-ASUS recommends Windows 11 Pro for business
Up to 13th gen Intel® Core™ processor with vPro® support
Ultralight sustainable design
All-metal premium magnesium-lithium
16:10 WQXGA+ OLED display
Smart cooling with dual fans
MIL-STD 810H US military standard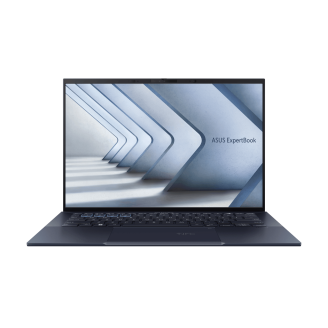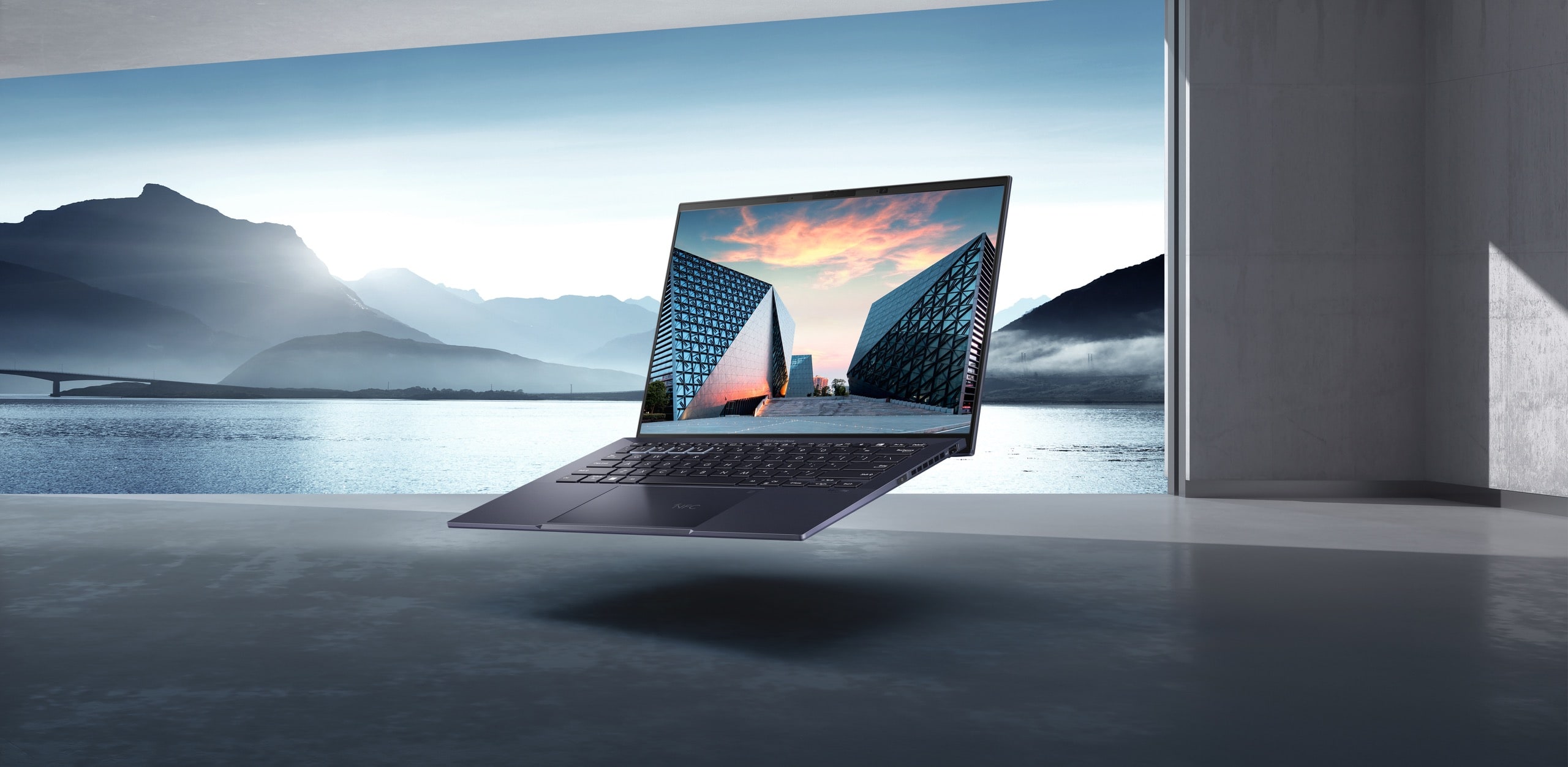 The epitome of sustainable excellence
Designed with premium magnesium-lithium alloy, ASUS ExpertBook B9 OLED pushes the limits of lightness for ultimate portability and durability. With an environmentally-friendly design, brilliant 16:10 OLED display, AI-powered camera and noise cancelation for modern work experiences, the latest Intel® Core™ vPro® processor and a multitude of enterprise-grade security features, ExpertBook B9 OLED is the perfect partner for executives and business travelers, upping both your green credentials and professionalism — and setting a new benchmark for elite business laptops.
Ultralight magnesium-lithium
Crafted from a premium magnesium-lithium alloy, ExpertBook B9 OLED weighs a featherlight 990 g
1
for exceptional portability that's always ready. As robust as it is light, ExpertBook B9 OLED, meets military-grade durability standards for the best on-the-go experience.
Sustainable technology
ExpertBook B9 OLED is designed to be sustainable, aiming for multiple recognized certifications — and employing an ecologically-conscious manufacturing technology called Thixomolding. This patented process reduces necessary production materials by up to 29%
2
, and also shortens manufacturing time by up to 75%
2
.
Modern work experiences
ExpertBook B9 OLED boasts a stunning 16:10 OLED screen, providing unparalleled image quality. It features dual smart-cooling fans, an AI camera that enhances video calls with automatic exposure adjustment and tracking, and AI noise-canceling technology to further improve modern work experiences.
Performance and security
Powered by an Intel® Core™ vPro® CPU, ExpertBook B9 OLED delivers exceptional performance while ensuring top-notch security through hardware-level protection. With its enterprise-grade security features, it offers utmost fortification for confidential files.
The world's lightest 14" OLED business laptop3
Expertly crafted with meticulous attention to detail, ExpertBook B9 OLED boasts a premium magnesium-lithium build that makes it the world's lightest 14-inch OLED business laptop. Its sleek and sophisticated design exudes luxury, while its superslim bezels allow for a 14-inch display to fit within a compact 13-inch-class chassis — providing both functionality and style. With added structural reinforcement, this laptop meets the industry-leading MIL-STD 810H US military standard to deliver unwavering durability. It's also subject to extensive in-house testing by ASUS, including panel-pressure, shock and drop tests
4
. Effortlessly slip it into your briefcase or bag, and be prepared to elevate your productivity to new heights, whether in the office or on the go.
Sustaining an incredible future
ExpertBook B9 OLED incorporates both sustainable design and ecologically-conscious manufacturing techniques, to achieve a circular future and minimize waste to achieve net zero. It has been awarded multiple internationally recognized environmental certifications, while also employing the patented Thixomolding process, which reduces production materials by up to 29%
2
and manufacturing time by up to 75%
2
. This ensures consumers receive the best quality products while reducing the environmental impact.
Modern work experiences
ExpertBook B9 OLED features a stunning OLED 16:10 screen, which delivers vivid and sharp visuals. It's equipped with dual smart-cooling dual fans that keep the laptop running cool and quiet during intense workloads. Along with an AI-powered camera and noise-cancelation technology for superior-quality virtual meetings, ExpertBook B9 OLED heightens modern work experiences.
ExpertBook B9 OLED is a top-of-the-line laptop with OLED visuals and an expansive 16:10 screen display, making it perfect for senior-level staff to present and work efficiently. With stunning color accuracy and contrast ratios, the OLED display brings visuals to life, while the 16:10 aspect ratio provides ample space for multitasking and presenting to team members or stakeholders.
ExpertBook B9 OLED has a pair of smart-cooling fans for smooth productivity, and with a choice of modes. Pick Whisper mode for silent performance, Standard for balanced productivity, or Performance for demanding tasks — ready for whatever your work day throws at you.
To level up professional conferencing, ExpertBook B9 OLED has two-way AI noise-canceling technology that employs sophisticated machine-learning techniques. The technology includes both an upstream function to filter noise around the speaker, and a downstream function to eliminate noise from the person at the other end of the conversation — ensuring that every business meeting goes to plan to max out professional productivity.
With ExpertBook B9 OLED's AI-powered camera, you'll enjoy excellent video quality for every virtual meeting. The motion-tracking technology automatically keeps your face centered, and adjusts to the focus of your eyes — eliminating the annoyance of having to adjust your camera mid-chat. With its ability to enhance both image quality and brightness automatically, the AI camera is perfect for working anywhere, anytime.
Enterprise-grade security
With extensive robust security features, ExpertBook B9 OLED is the ultimate personal guard for your confidential files, keeping your business information safe and secure.
vPro CPU
ExpertBook B9 OLED CPUs support the Intel vPro platform, providing hardware-based security features such as Intel Trusted Execution, Active Management, and Virtualization Technologies, ensuring secure, reliable, and remote-management capabilities to protect sensitive data in enterprise environments.
NFC
The NFC reader integrated into NumberPad 2.0
5
means logging in to ExpertBook B9 OLED can be as simple, swift and secure as the swipe of an authorized card.
AdaptiveLock
ASUS AdaptiveLock detects your presence and uses an integrated infrared camera to recognize your face and log you in without lifting a finger. The moment you step away, ExpertBook B9 OLED automatically locks to protect both your laptop and your data.
Fingerprint sensor
ExpertBook B9 OLED has built-in biometric security, with a fingerprint sensor for easy access. So, just tap the button to log in — no difficult-to-remember passwords or PIN required!
Webcam shield
A physical cover obscures ExpertBook B9 OLED's webcam for an assurance of instant privacy when it's not in use.
Comprehensive connectivity with no compromise
Despite its thin profile, ExpertBook B9 OLED is loaded with I/O ports. These include cutting-edge Thunderbolt™ 4, the next generation of the universal cable connectivity solution that offers support for the next-level USB 4 interface, 40 Gbps data transfer speeds, 4K display output, and fast charging. The laptop offers USB Type-A and an HDMI output, plus wired network connectivity with a MAC address pass-through for easy device management. ExpertBook B9 OLED supports up to three 4K external displays.
Power button / Fingerprint reader combo
USB 3.2 Gen 2 Type-A
Kensington nano security slot
HDMI
Thunderbolt™ 4 Type-C
RJ45 Ethernet
Audio combo jack
Weight may vary according to configuration.
Actual results may vary depending on model and manufacturing processes.
As of Jan. 7th, 2023. Based on internal ASUS market analysis comparing the size and weight of ExpertBook B9 OLED to competitor products from vendors including LG, HP, Dell, and Lenovo. Actual weight may vary by specifications.
The testing regime includes the requirements of both military-grade standards and ASUS quality tests, and varies depending on device. MIL-STD-810 testing is conducted on selected ASUS products only. Note that the MIL-STD-810 testing helps to ensure the quality of ASUS products but does not indicate a particular fitness for military use. The test is performed under laboratory conditions. Any damage caused by attempts to replicate these test conditions would be considered accidental, and would not be covered by the standard ASUS warranty. Additional coverage is available with ASUS Premium Care.
The NumberPad 2.0 is optional. Please note that all versions of NumberPad work only with the Microsoft Windows operating system.
Trusted Platform Module (TPM) is optional.
ASUS management solutions include ASUS Control Center and ASUS Business Manager platform.
ASUS Service Package options include: 24x7 support; MyASUS app; Three-year international warranty; Pick up & return service; Onsite service; Next business day onsite response; Accidental damage protection; Defective HDD retention. Service and warranty coverage may vary depending on country and territory. Service may not be available in all markets. We recommend that you check with your local retailers to confirm the options available.
Related products
Compare (0)