ZenFone Live is the world's first smartphone with hardware-optimized, real-time beautification technology that makes it possible to share an even more glamorous version of yourself — live! With large pixels for 2X-greater light sensitivity and a soft-light LED selfie flash, live-streaming your selfie video has never been clearer, brighter or more beautiful. ZenFone Live also features dual-microphone technology that reduces background noise and enhances voice pickup, as well as an innovative five-magnet speaker system with a smart amp to deliver powerful audio. Stream live — and beautifully — with ZenFone Live!
Beautify your live broadcasts
BeautyLive: World's 1
st
live-streaming
beautification technology
BeautyLive: World's 1st live-streaming beautification technology
Share the perfect look on your favorite social-networking sites with BeautyLive — the all-new live-streaming beautification technology and supporting app that's available exclusively on the ZenFone Live! See your skin smoothed and blemishes removed in real time, and share a more beautiful you with friends and followers! ZenFone Live also has two built-in MEMS microphones that automatically detect and eliminate background noise in order to enhance voice pickup. Stream whenever and wherever you want, and look better than ever — that's the magic of ZenFone Live!
Real-time glamour
you'll want to share
ASUS engineers have carefully optimized ZenFone Live to ensure that BeautyLive integrates seamlessly with Facebook, YouTube, and many other popular streaming apps. When you want to make yourself look even more glamourous, just fire up BeautyLive app to smooth wrinkles and blemishes, adjust skin tone and enhance your features — all in real time!
Unique
dual-microphone
technology for clear audio
— anywhere!
ZenFone Live has a pair of sensitive MEMS microphones that are expertly tuned and precisely positioned to reduce noise and ensure that your voice is heard. With dual-microphone, ZenFone Live captures realistic stereo sound. Whether you're walking down a busy street, partying in a noisy bar, or in the middle of the hustle and bustle of the shopping mall, ZenFone Live ensures you'll be heard every time you share your stream.
Let your selfies shine
ZenFone Live's front-facing camera is made for snapping sharper, clearer selfies especially in low light. Its sensor has extra-large, 1.4
μ
m pixels that improves its sensitivity to light by up to 200% compared to standard smartphones with smaller pixels. It also has a wide-angle lens for an 82° field of view — so your photos capture a view that's wider or more accompanying friends than ever before!
Capture true skin tones
every time
ZenFone Live has a soft-light LED flash that delivers the perfect amount of fill light, so real skin tones shine through in every selfie. With industry-leading ASUS PixelMaster low-light technology, ZenFone Live increases light sensitivity by up to 400%. It also enhances noise reduction and boosts color contrast by up to 400%.
light sensitivity & noise reduction
For an even more
glamorous you
ZenFone Live makes you even better looking before your eyes. Just choose Beautification mode, and let ZenFone Live soften complexion and remove skin blemishes — creating a flawless you.
Capture reality, fast and steady
ZenFone Live has a 13MP PixelMaster camera with an f/2.0 aperture and a five-prism lens that captures beautiful, high-resolution photos with zero shutter lag.
ZenFone Live has a 13MP PixelMaster camera with an f/2.0 aperture and a five-
prism lens that captures beautiful, high-resolution photos with zero shutter lag.
Elegantly curved design
ZenFone Live's brilliant display shines brightly through strong glass that's precision-milled at the edges to create a gentle, 2.5D curve. The natural, ergonomic feel of the glass flows around to the back. It also has an impressive 75% screen-to-body ratio, for more screen and less bulk. The ZenFone Live's metallic-style finish feels as great as it looks, and you can choose between three stunning colors —Shimmer Gold, Rose Pink and Navy Black.
Five-magnet audio system
ZenFone Live features a powerful speaker with a five-magnet design with a metal voice coil to produce loud and clear audio with supreme quality in every scenario. This speaker is powered by a smart amp that increases audio resolution and loudness while ensuring that the speaker is not damaged.
* Compared with single-magnet speaker
Dual SIM, dual standby
Wherever you are in the world, and whatever you're doing, ZenFone Live keeps you in touch. ZenFone Live has two built-in SIM-card slots, ZenFone Live lets you connect to two mobile networks at the same time. It's the all-round smartphone for work, rest or play.
ZenUI: The interface
with added intelligence
An incredible phone demands spectacular software — that's why we created ZenUI 3.0. ZenFone Live's sublime front end improves the standard interface in more than 1,000 unique ways, and our latest edition includes brand-new ideas to brighten your outlook and improve productivity, making everyday life a bit more fun. See weather updates with real-time animations, or check the time with a stylish clock widget. Feel the depth of parallax scrolling as you swipe through your apps, and appreciate how the subtle frosting effect keeps your focus on the foreground. ZenUI 3.0 isn't just an interface — it's a best friend who accompanies you everywhere.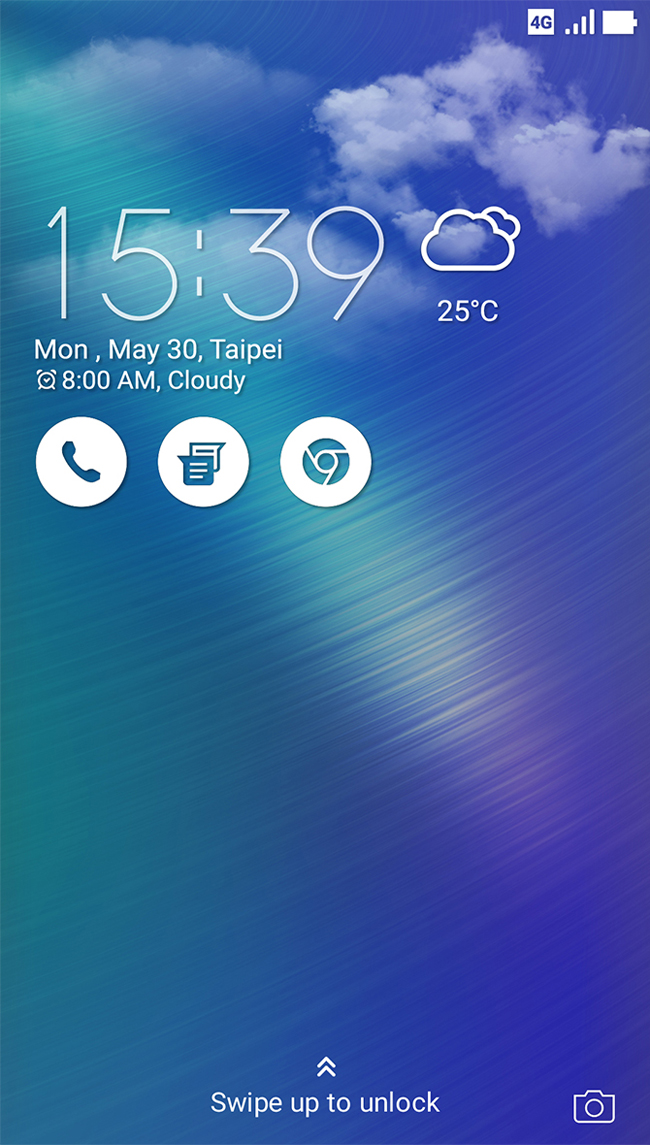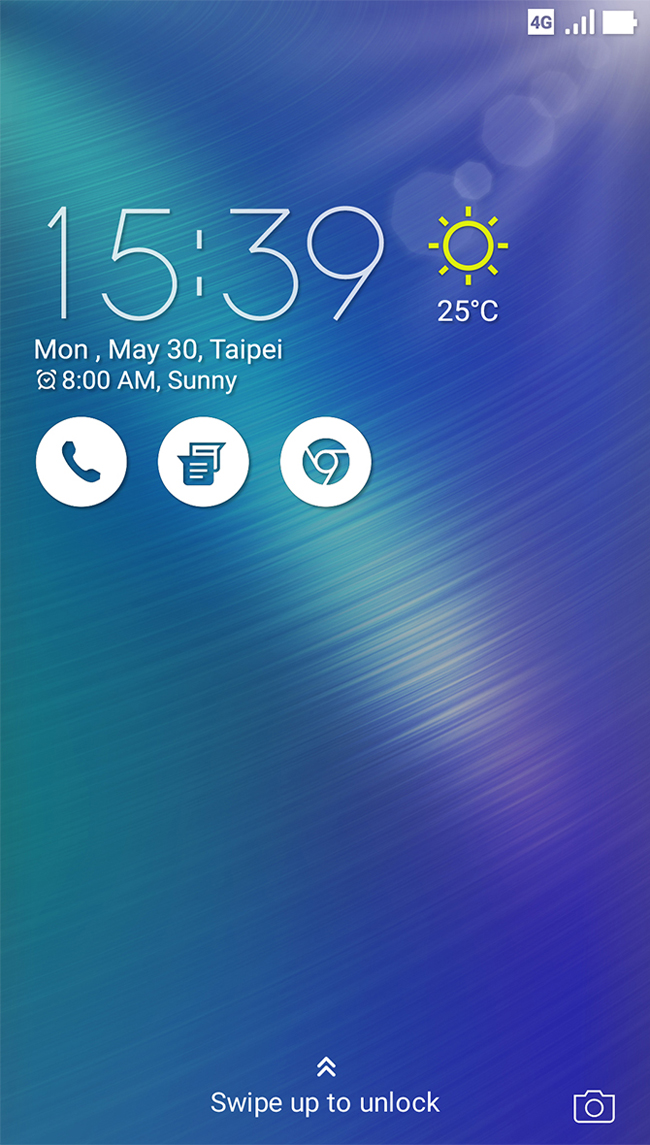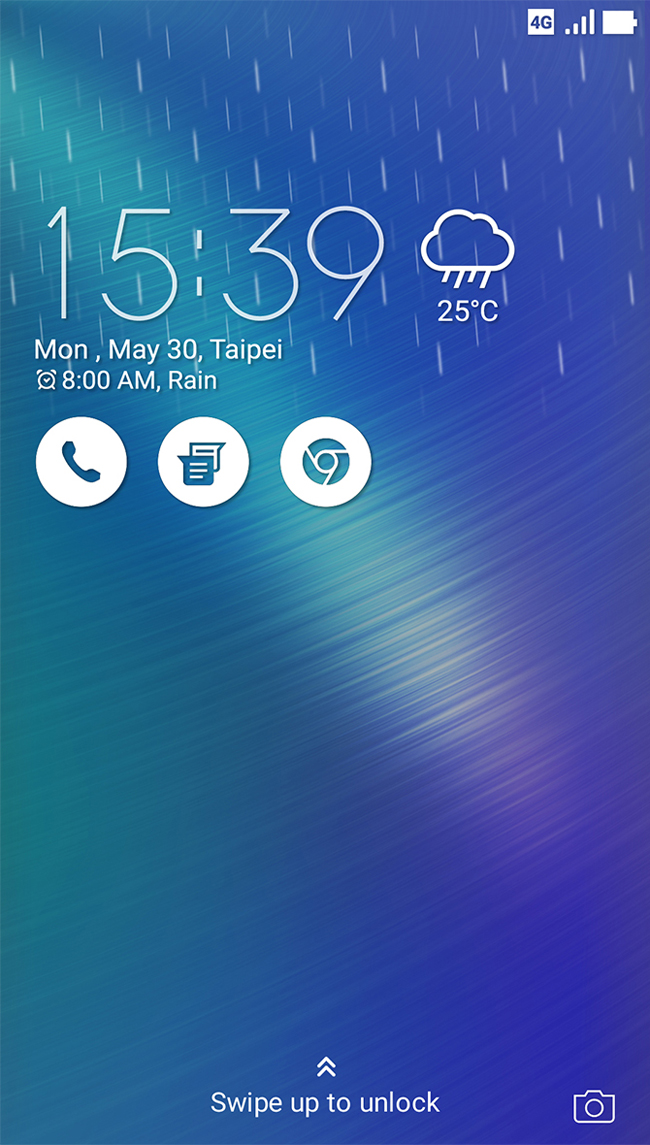 Lock Screen
Real-time animated weather and clock widgets
ZenUI 3.0 comes with great clock widgets to help you keep track of your day, and a variety of beautifully crafted temperature and weather animations — so you'll know at a glance if it's going to be rain or shine. Animations include sun, clouds, rain, snow, thunderstorm and more!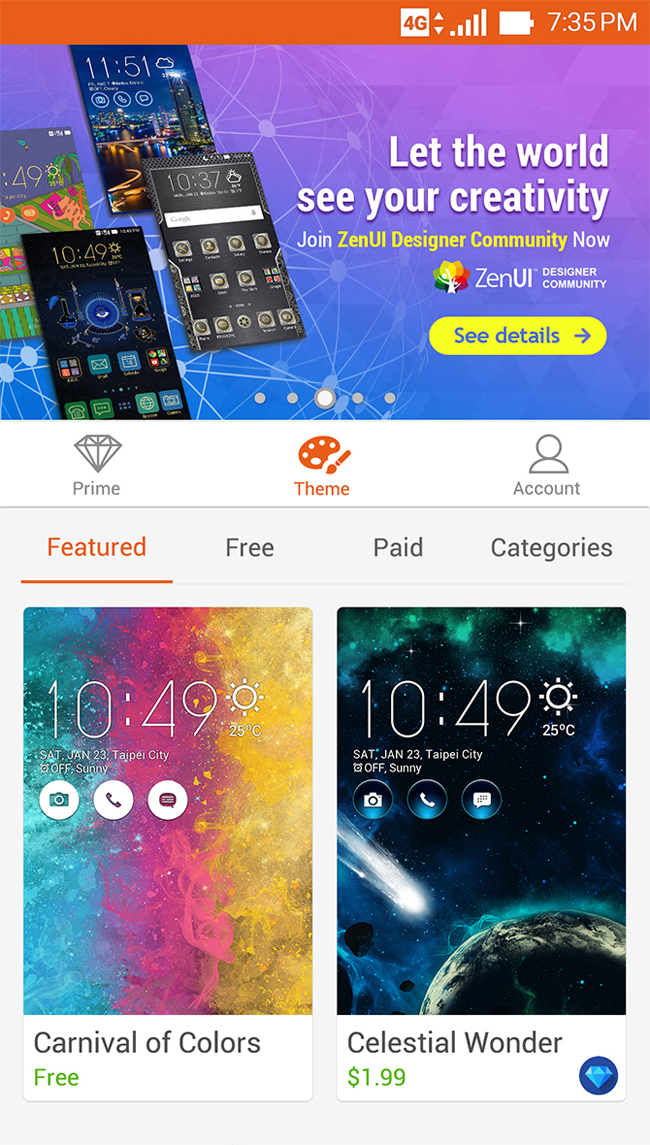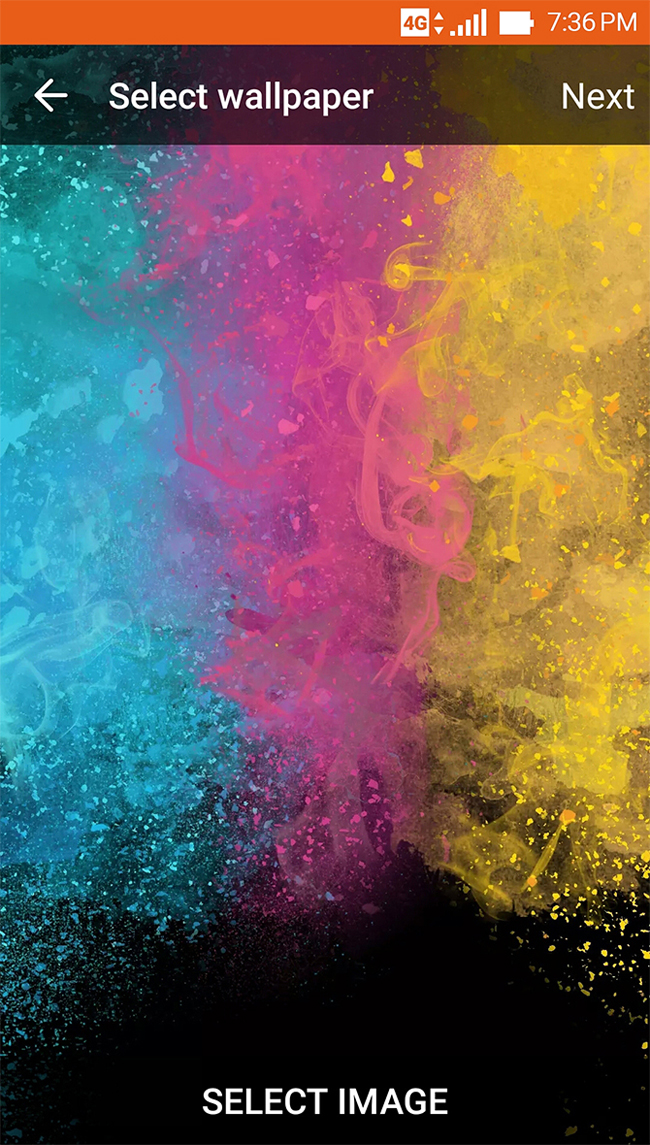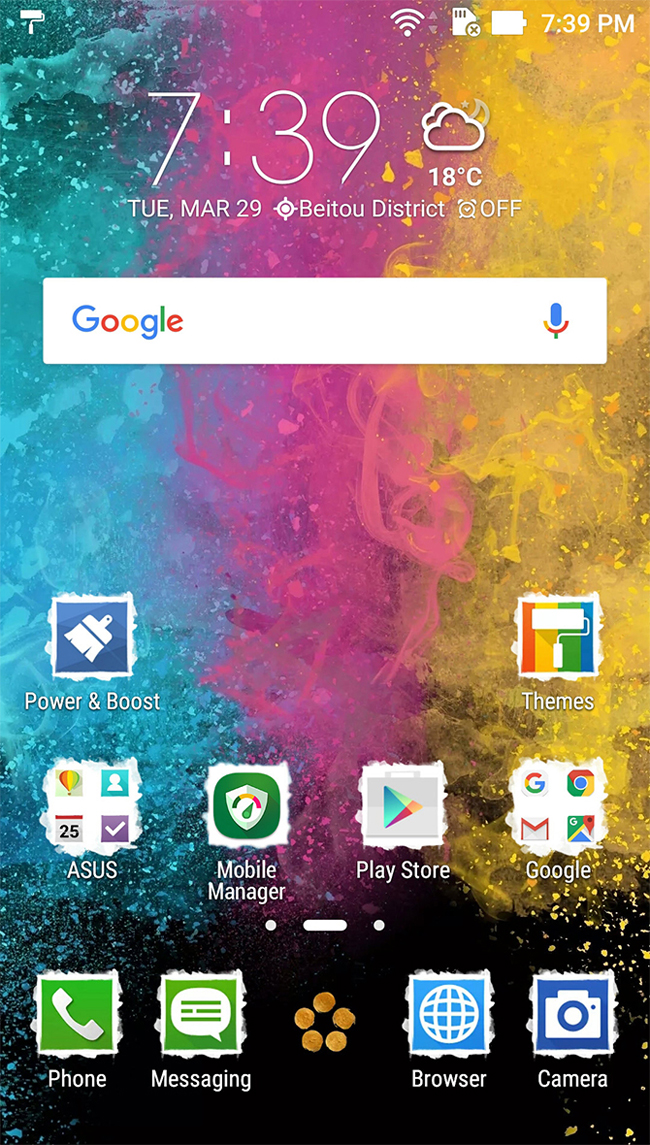 Themes
Tailor everything
to your taste
ZenUI has been updated with an all-new Theme Store, packed with hundreds of carefully selected themes — ready for you to download straight to your ZenFone Live. You'll also find enhanced keyboards, attractive fonts, and fun stickers. There are nearly 1,000 options to explore in ZenUI's Theme Store!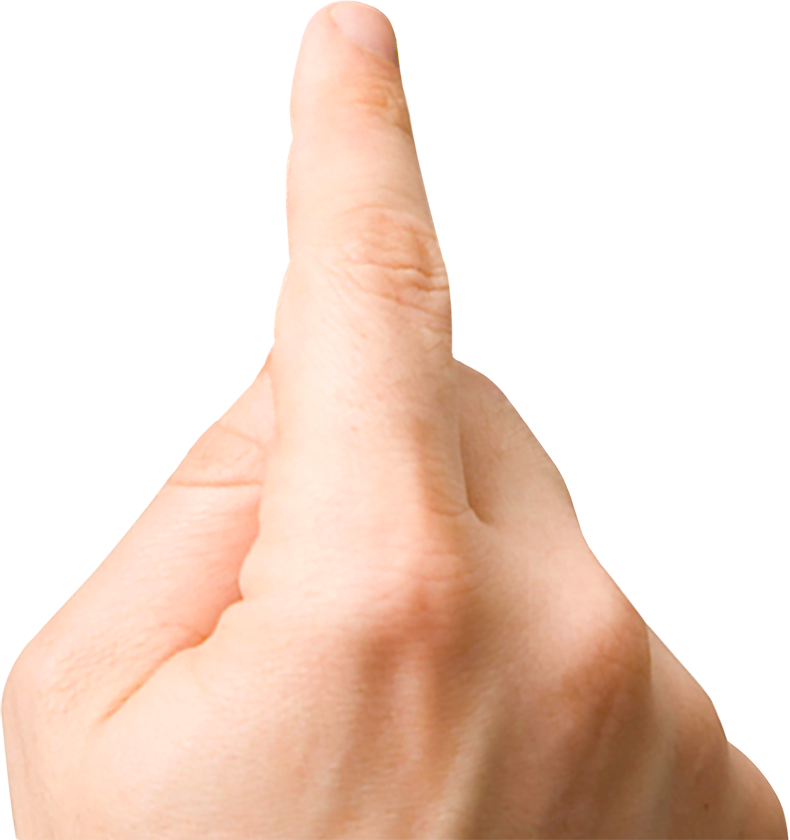 ZenMotion
Tap and swipe,
just the way you like
ZenUI 3.0's ZenMotion lets you control your ZenFone Live with simple gestures. ZenMotion offers loads of fast and intuitive gesture controls, so you're able to navigate ZenFone Live just the way you like. Use Tap Tap to wake the display with a double-tap, or use a simple swipe to launch favorite apps in a snap!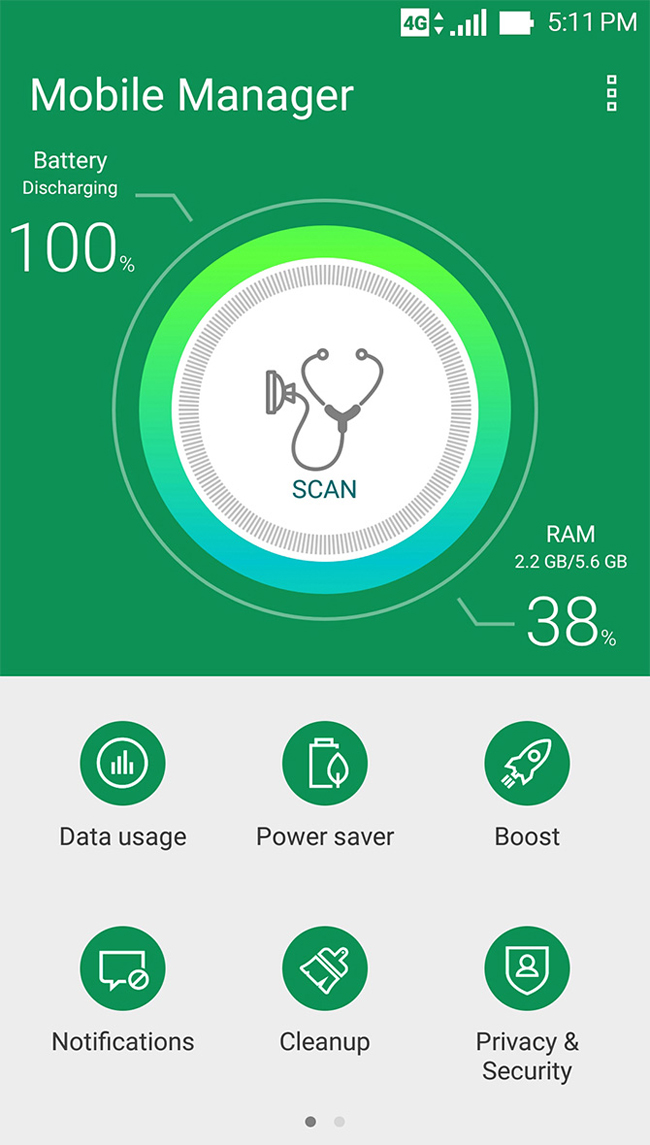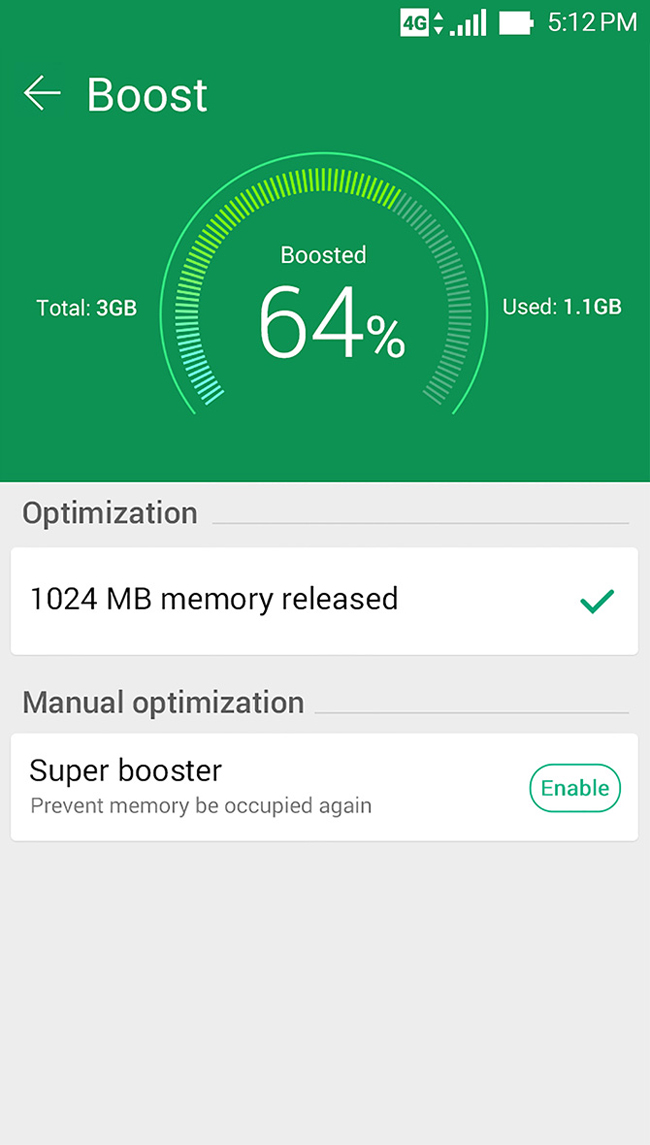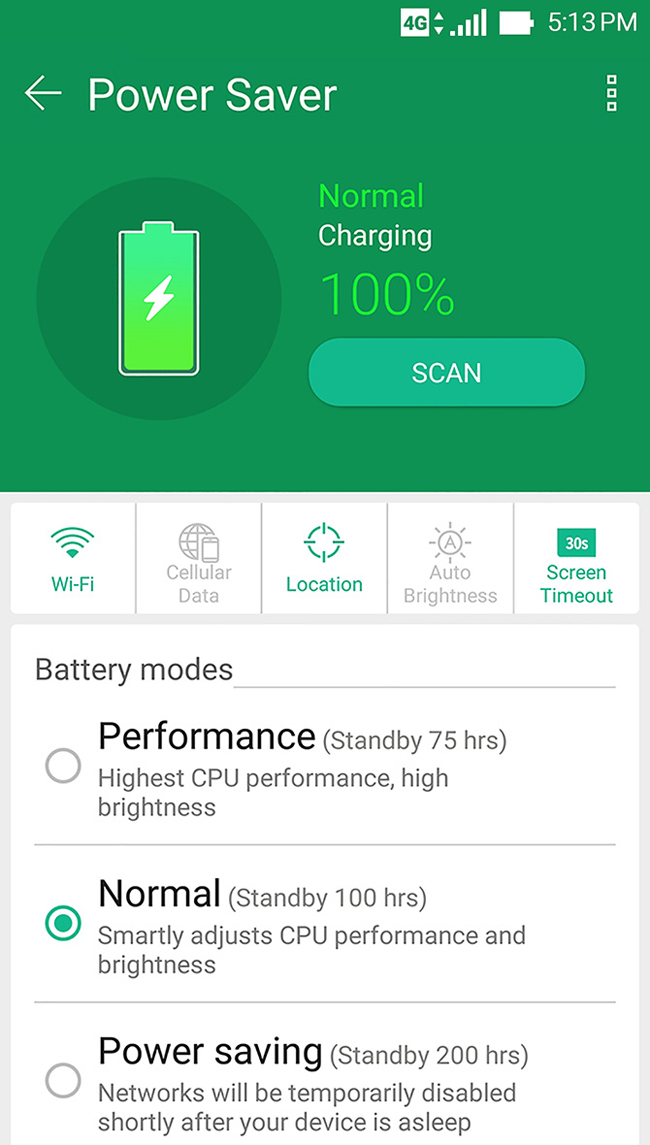 Mobile Manager
Optimize your
mobile experience
ZenUI 3.0 now has Mobile Manager: a one-stop tuning shop to keep your ZenFone Live running at maximum speed. Use the app to find your best balance of power efficiency and performance, or to clear out old and unwanted stuff for more storage. With Mobile Manager, your ZenFone Live is always at the top of its game!
Compare (0)