Материнская плата формата ATX с процессорным разъемом Intel LGA2066, поддержкой технологии Intel VROC и современными интерфейсами
Thermal Radar 3 – система мониторинга температуры и управления вентиляторами
Тактовый генератор Pro Clock II и T-образная топология подключения слотов памяти способствуют хорошим результатам при оверклокинге
Высококачественная элементная база
Два графических слота PCIe с поддержкой многопроцессорных SLI-конфигураций
Подсветка Aura Sync, синхронизируемая с подсветкой совместимых устройств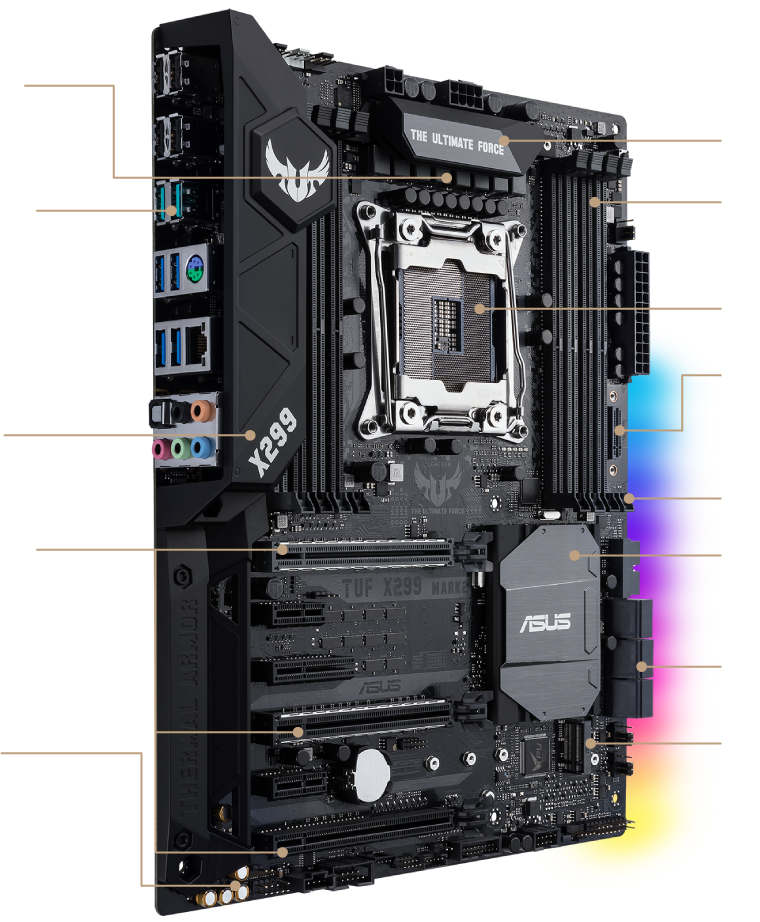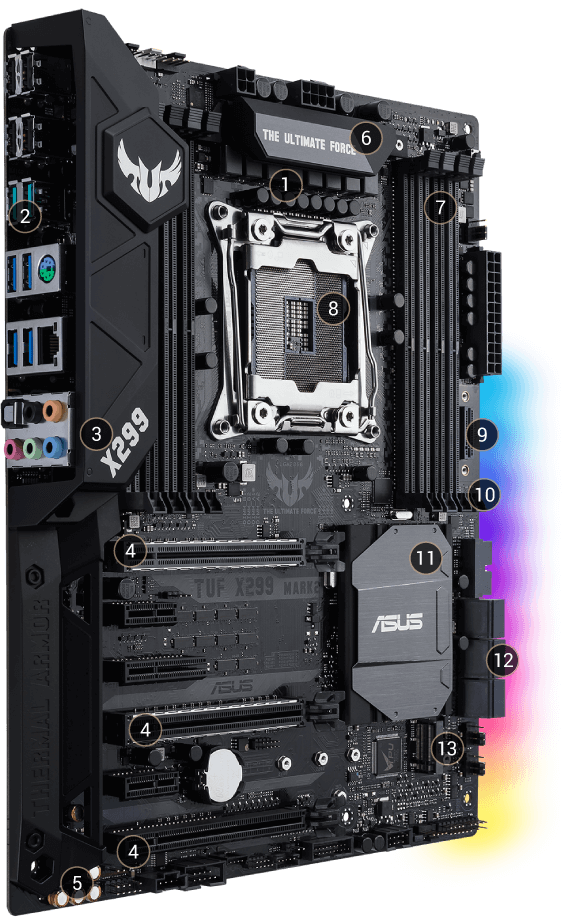 TUF Components

USB 3.1 Gen 2 Port

Thermal Armor

PCI Express 3.0 x16
3 way SLI/CFX Support
ASUS Safe Slot

Audio Features
・ Realtek S1220A Codec
・ Audio Shielding
・ Premium Japanese Audio Capacitors
・ Dedicated Audio PCB Layers

DIGI+ Power Control & EPU

DDR4 4133+ MHz (O.C.) Support

Intel® LGA 2066 Socket

・ 32Gb/s M.2 x4 PCIE mode
・ Intel Optane Memory Ready

AURA SYNC

Intel® X299 Chipset

6 x SATA 6Gb/s ports

・ 32Gb/s M.2 x4 PCIE&SATA mode
・ Intel Optane Memory Ready
The Ultimate Force
Unconditionally Tough.
24
/

7 Reliability.

TUF X299 Mark 2 is the durable ATX motherboard made for enthusiasts, modders and gamers who demand reliable performance day in, day out. It's engineered with Industry-leading cooling controls and temperature monitoring, enabling you to build a system that's efficiently cooled and supremely stable. Some of the world's most respected independent testing laboratories have certified TUF components as fit for military use. Every board is subjected to rigorous testing and validation procedures, including warp and drop tests — so you know that TUF X299 Mark 2 will stand up to whatever you throw at it. In fact, we're so confident of the reliability and durability of our products that each and every TUF motherboard is backed by a five-year warranty!*

*Warranty service follows local standards and service policies.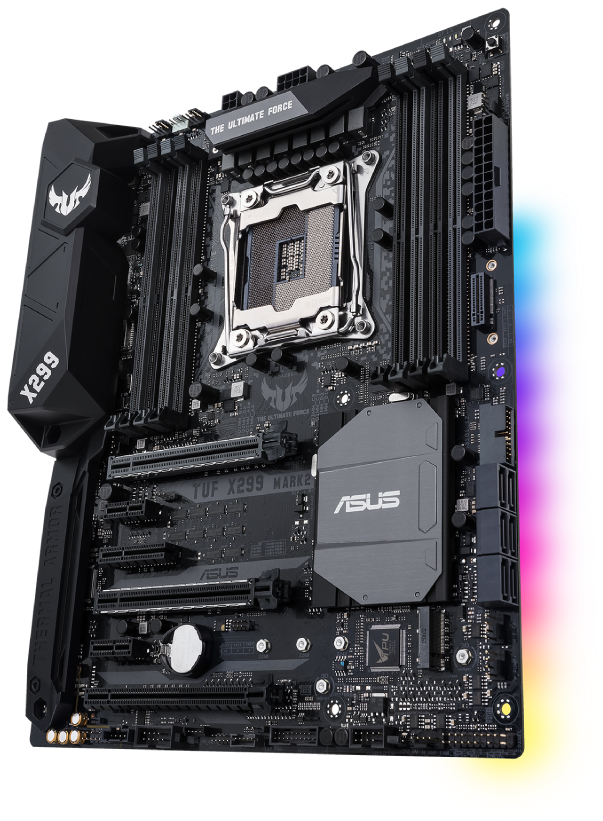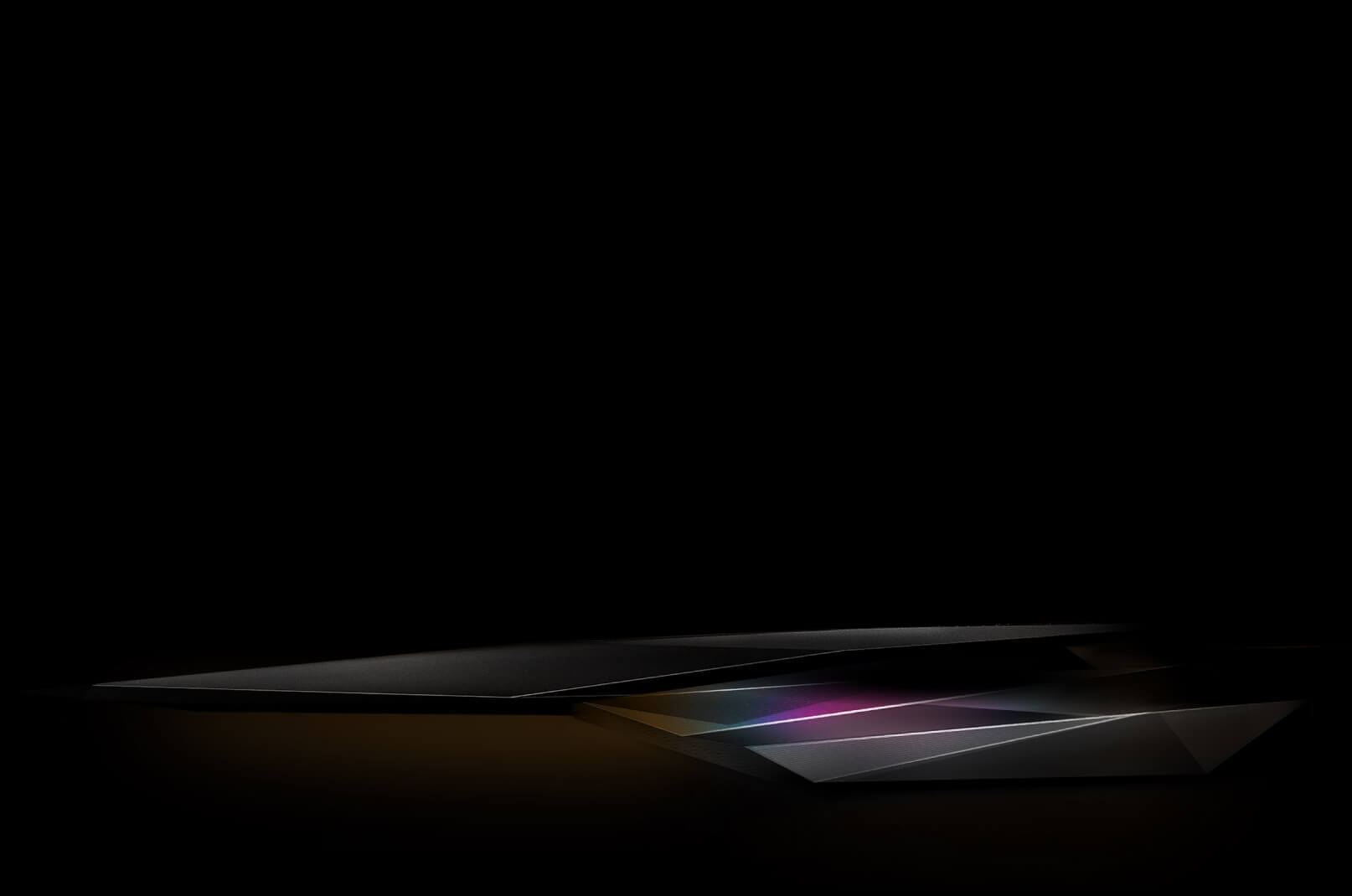 Performance
ASUS Pro Clock II Technology
Dedicated design for overclocking
TUF X299 Mark 2 includes a dedicated base-clock (BCLK) generator to extend CPU and memory overclocking margins. This custom solution works in tandem with the TPU to enhance voltage and BCLK overclocking control, providing the flexibility to extract every ounce of performance from the Intel® Core™ X-series processors.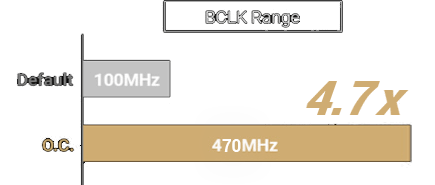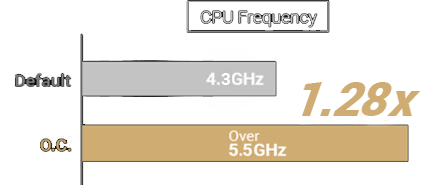 *BCLK overclocking range will vary according to CPU capabilities, cooling, motherboard support and tuning options.
*Testing configuration:
CPU : Intel® Core™ i7-7740X | Motherboard : TUF X299 Mark 2 | DRAM : G.Skill F4-3200C16Q-16GRKD | Power : Corsair AX1500I | Water-cooling : Corsair H115i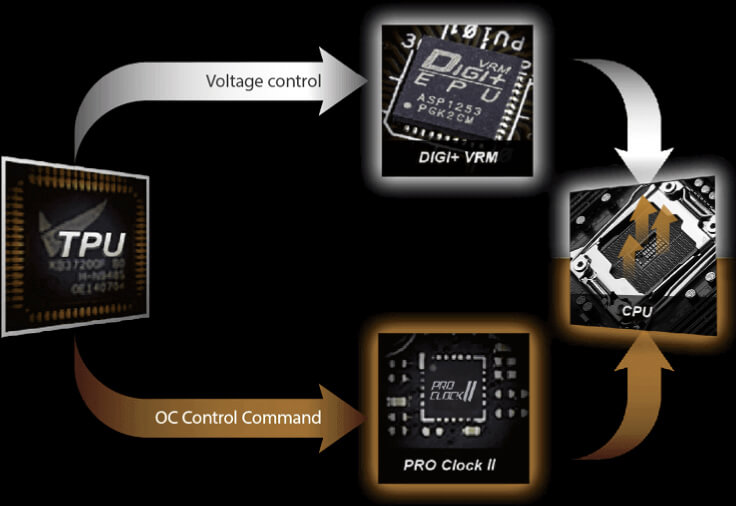 Advantages of ASUS Pro Clock II:
・ Reduced boot time
・ Lower jitter under extreme conditions for higher overclocks
・ Increased stability under heavy overclocking
ASUS T
-

Topology
Make your memory go faster
ASUS T-Topology allows memory frequencies that are higher than ever — to 4133MHz and beyond. ASUS-exclusive T-Topology circuit design provides superb memory-overclocking capability to unleash the full power of DDR4 by minimizing coupling noise and signal reflection. Refined manufacturing ensures ultra-consistent quality, minimal crosstalk between custom trace paths, and time-aligned signaling for superior stability and compatibility.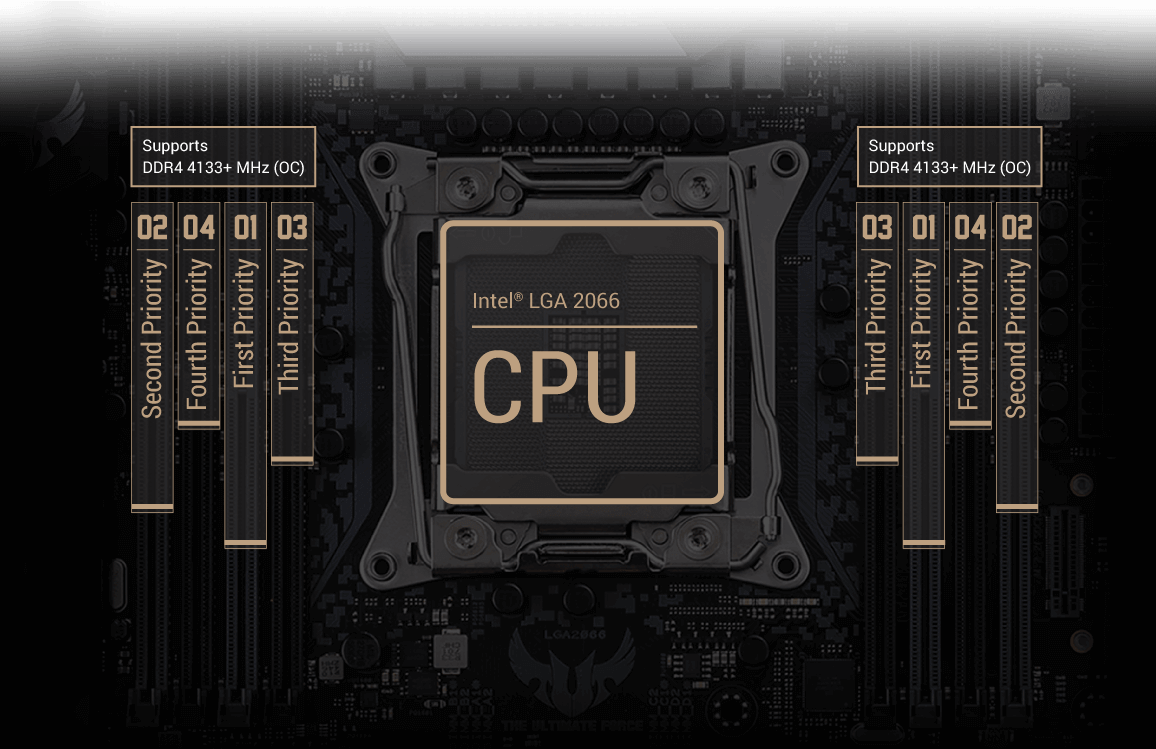 *Testing configuration:
CPU : Intel® Core™ i9-7900X | Motherboard : TUF X299 Mark 2 | DRAM : G.Skill F4-3200C16Q-16GRKD | Power : Corsair AX1500I | Water-cooling : Corsair H115i
Thermal Radar 3
Instant fan tuning, complete system cooling
Our Thermal Radar 3 software allows you to control connected chassis fans, water pumps, AIOs, and even the fans of ASUS graphics cards — all to provide ultimate cooling performance for gaming and productivity. Multiple onboard sensors also enable the temperatures of key components to be monitored in real time, so you can assess and optimize cooling efficiency.
Thermal Tuning

TPU

Fan Control

EPU

VGA

Recorder
Instantly optimize the system's entire cooling profile with a single click.

Unleash your PC's full performance potential with the ASUS TurboV Processing Unit (TPU). Besides offering the ability to fine-tune voltages, monitor stats, and adjust overclock parameters, TUF X299 Mark 2 provides additional thermal tuning options – Extreme Tuning and Stress Test — that let you test and optimize system stability and cooling performance.

TUF X299 Mark 2 has customizable settings for its 10 fan headers, offering maximum control over your build's cooling and quietness. You can even monitor, manage and control the fans to create your perfect balance between quietness, cooling and performance.

With the Energy Processing Unit (EPU) you'll enjoy system-wide power savings. The EPU automatically optimizes power consumption and maximizes savings with Away mode — a smart setting that creates an extreme energy-saving scenario by shutting down unused I/O controllers.

TUF X299 Mark 2 Thermal Radar 3 fan management feature has been expanded — allowing custom fan control on ASUS graphics cards* as well as case fans.

* ASUS GTX700 Series and above graphics cards supported.

An integrated recorder logs critical voltage readings, temperatures and fan speeds over time – so you can review vital stats and make informed decisions for system settings and optimal operation.
24
/

7 reliability

You demand 24/7 reliability — and we've delivered! TUF motherboards undergo the industry's most punishing tests to ensure they're ready for long-term duty in any environment. In our tests we overheat them, chill them, bend them, shock them and drop them — so you know that your TUF motherboard is certified for 24/7 reliability!
SafeSlot
Protect your graphics card investment
SafeSlot* is the PCIe slot reinvented by ASUS and engineered to provide superior retention and shearing resistance. Manufactured in a single step using a new insert-molding process, SafeSlot integrates the slot with fortifying metal for an inherently stronger slot, which is then firmly anchored to the PCB through additional solder points.

*Patent pending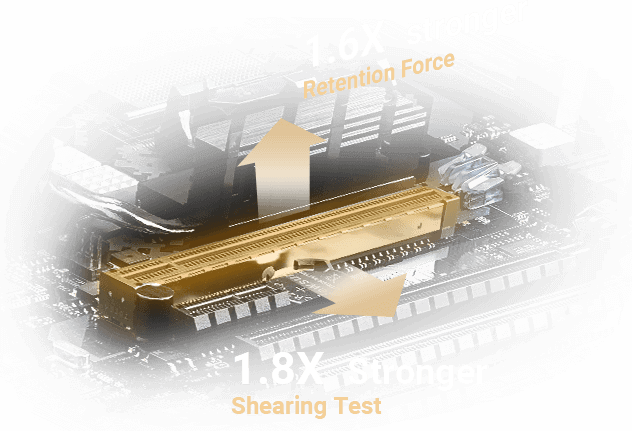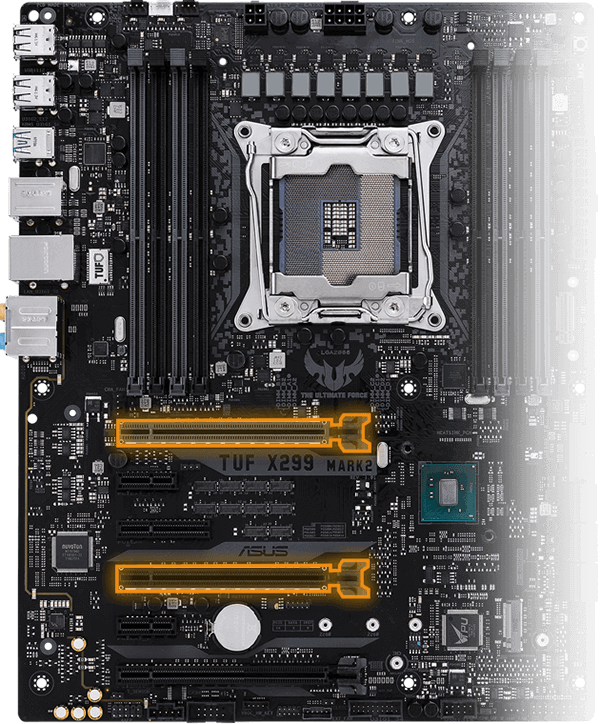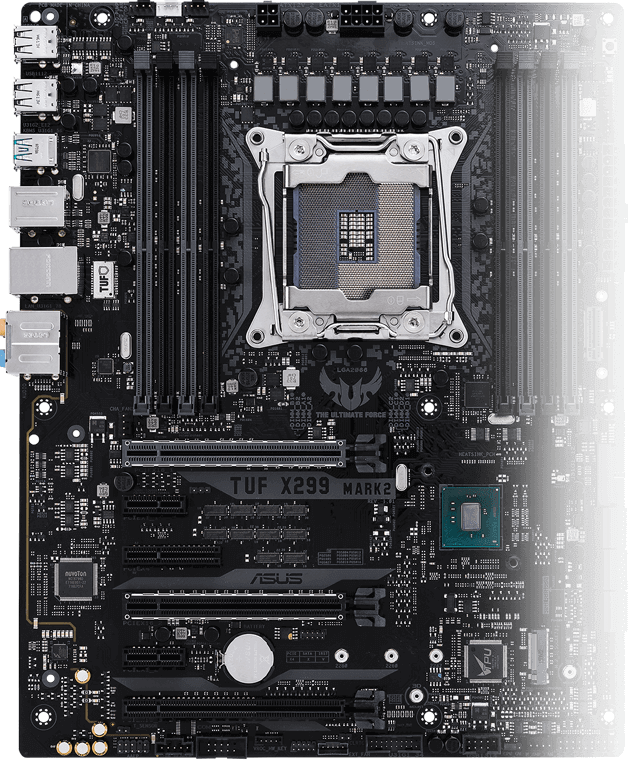 TUF ESD Guards 2
2X-stronger ESD protection
ESD Guards 2 protects TUF X299 Mark 2 from damaging electrostatic discharge. ESD Guards 2 is tested to levels that are 2X higher than industry standards. We also perform pin-level* testing at 30%-higher ESD levels than previous TUF standards. Our stringent tests mean greater component longevity for your TUF motherboard!

* Pin-level testing applies to USB, LAN connectors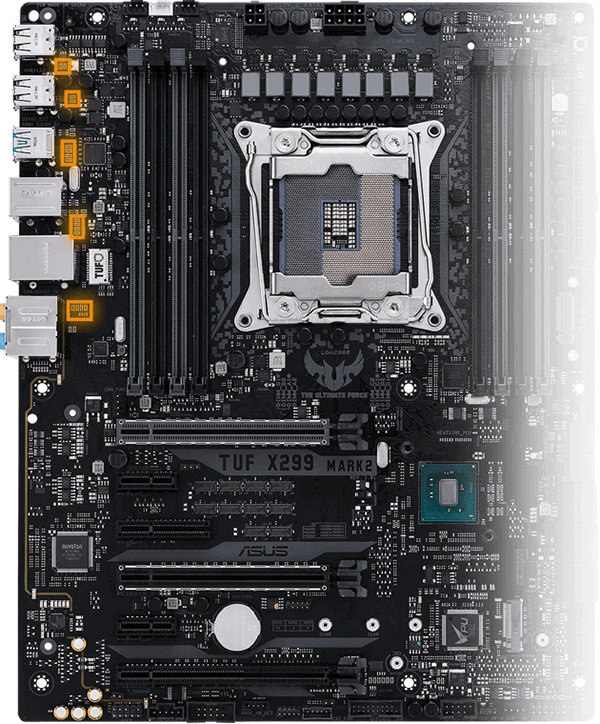 TUF Components
Certified for tough duty
TUF Chokes
Certified military-grade TUF chokes offer unbeatable durability in order to maximize the lifespan of your system.
TUF Capacitors
+110% temperature, tolerance and 1.5X-longer lifespan.

TUF MOSFETs
Certified military-grade MOSFETs with lower RDS(on)*

* Lower RDS(on) results in better power efficiency and reduced heat generation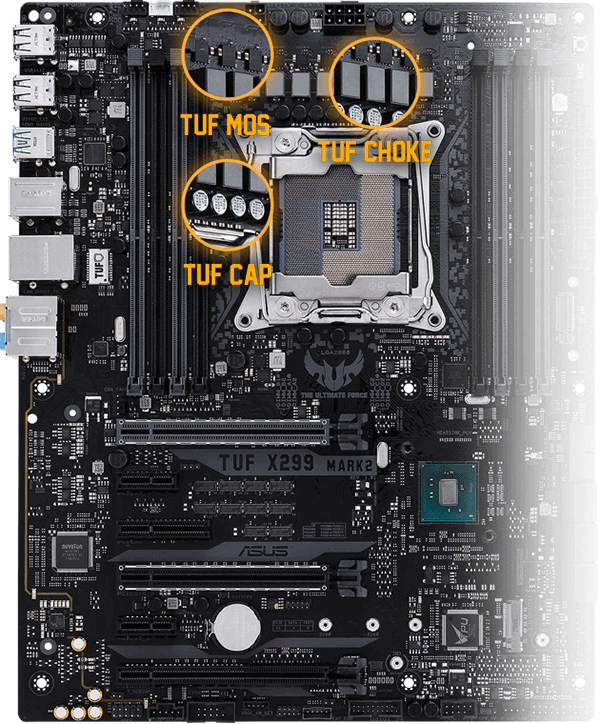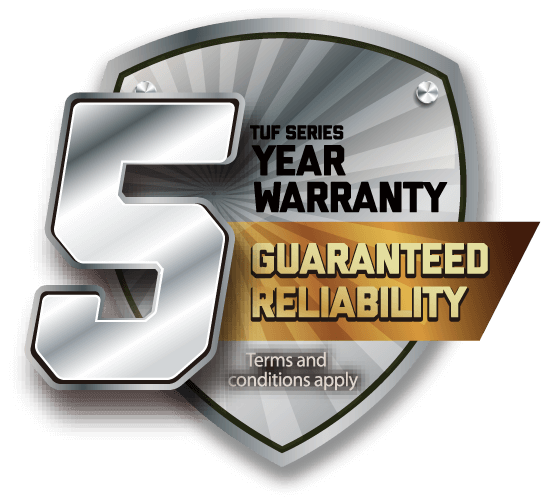 5-year warranty guaranteed reliability
*Warranty service follows local standards and service policies.
Connect with
Unparalleled Speed
USB 3.1 Gen 2 connector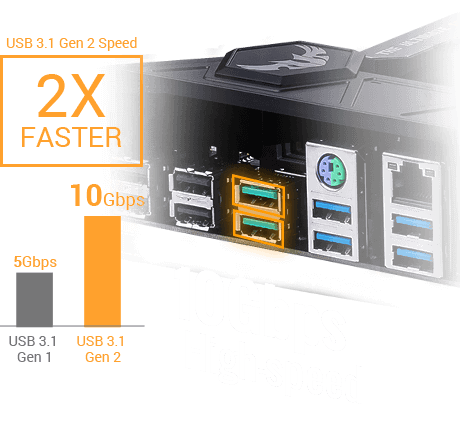 With backward-compatible USB 3.1 Gen 2 Type-A™, you'll experience ultimate connection flexibility and blazing data-transfer speeds of up to 10Gbps.
Speed up with onboard M.2 up to 32Gbps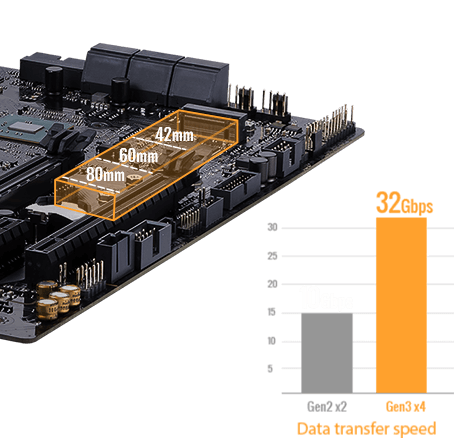 With x4 PCI Express 3.0/2.0 bandwidth, TUF X299 Mark 2's dual M.2 supports up to 32Gbps data-transfer speeds. It's the perfect choice for an operating system or application drive, providing fast access to data.
Intel VROC support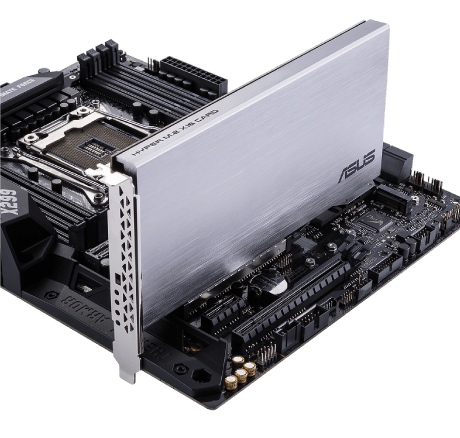 Unleash the TUF X299 Mark 2 Virtual RAID on CPU (VROC) feature with the addition of an ASUS Hyper M.2 X16 Card, which allows you to attach up to four PCIe® 3.0 x16 M.2 drives — for a total bandwidth of up to 128Gbps. With VROC, you can utilize CPU PCIe lanes to configure a bootable RAID array, eliminating traditional DMI bottlenecks, so that storage transfers aren't held back by other traffic.
*ASUS Hyper M.2 X16 Card sold separately.
Intel Optane memory ready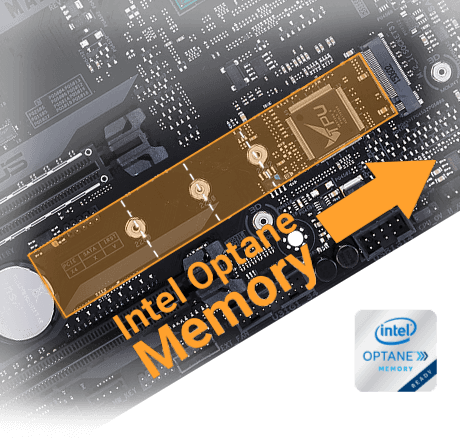 Intel Optane™ is a revolutionary non-volatile memory technology supported by TUF X299 Mark 2. Intel Optane memory modules accelerate attached storage to reduce boot and load times, so everything feels faster and more responsive.
Intel Gigabit LAN
More throughput, less CPU usage and great gaming experiences
Don't let slow networking disrupt your workflow! With Intel® Gigabit Ethernet connectors, TUF X299 Mark 2 keeps your data moving swiftly and efficiently. With LAN port, you'll benefit from increased bandwidth for more speed, automated load balancing for smoother data flows, and instant failover if something should go wrong — so access to your files is always fast, efficient and uninterrupted.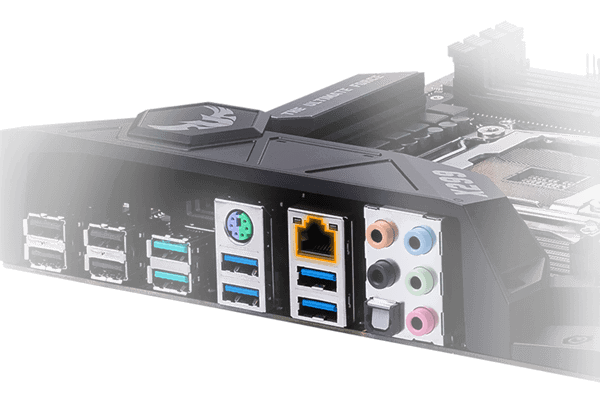 Turbo LAN
Network-optimization software for customizable packet prioritization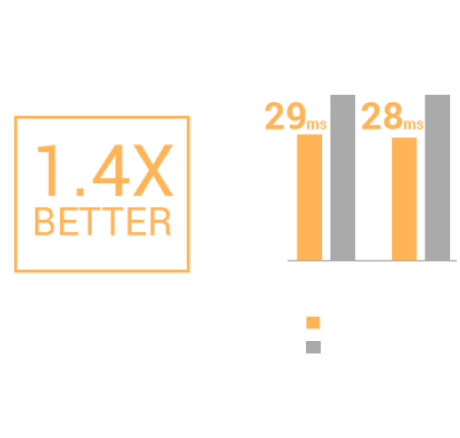 Turbo LAN with cFosSpeed traffic-shaping technology allows you to configure application priority via an intuitive interface, and reduces network lag – by up to 1.45X!
TUF LANG
uard
Military-grade LAN protection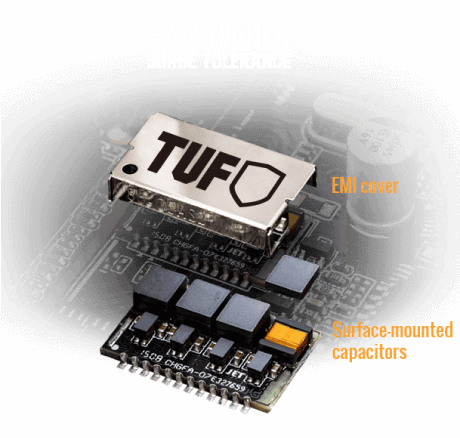 TUF LANGuard, a military-grade innovation that integrates advanced signal-coupling technology and premium surface-mounted capacitors to improve throughput — protecting the motherboard from lightning strikes and static electricity.
Outstanding audio

TUF X299 Mark 2 utilizes a unique audio codec designed in close collaboration with Realtek — the Realtek S1220A. It also features an unprecedented 120dB signal-to-noise ratio for the stereo line-out and a 113dB SNR for the line-in, providing pristine audio quality. Additionally, a new impedance-sensing circuit automatically adjusts gain to ensure the optimal volume range for your headphones.
Audio shielding

Separates analog/digital signal domains, significantly reducing multi-lateral interference.

Unique pop-reducing circuit

Reduces start-up popping noise to all audio outputs.

Integrated amplifier

Capable of driving high-impedance headphones, without rolling-off high or low frequencies.

Dedicated channel layouts

Separate layers for left and right channels to guard the quality of the sensitive audio signals.

Premium Japanese-made audio capacitors

Premium parts provide an immersive sound signature, with exceptional fidelity.
Outshine the competition
Aura Sync
A well-tuned enthusiast system deserves a matching aesthetic. ASUS Aura Sync offers full RGB lighting control with a variety of functional presets for the built-in RGB LEDs. And it can all be synced with an ever-growing portfolio of Aura-capable ASUS hardware.
Learn more >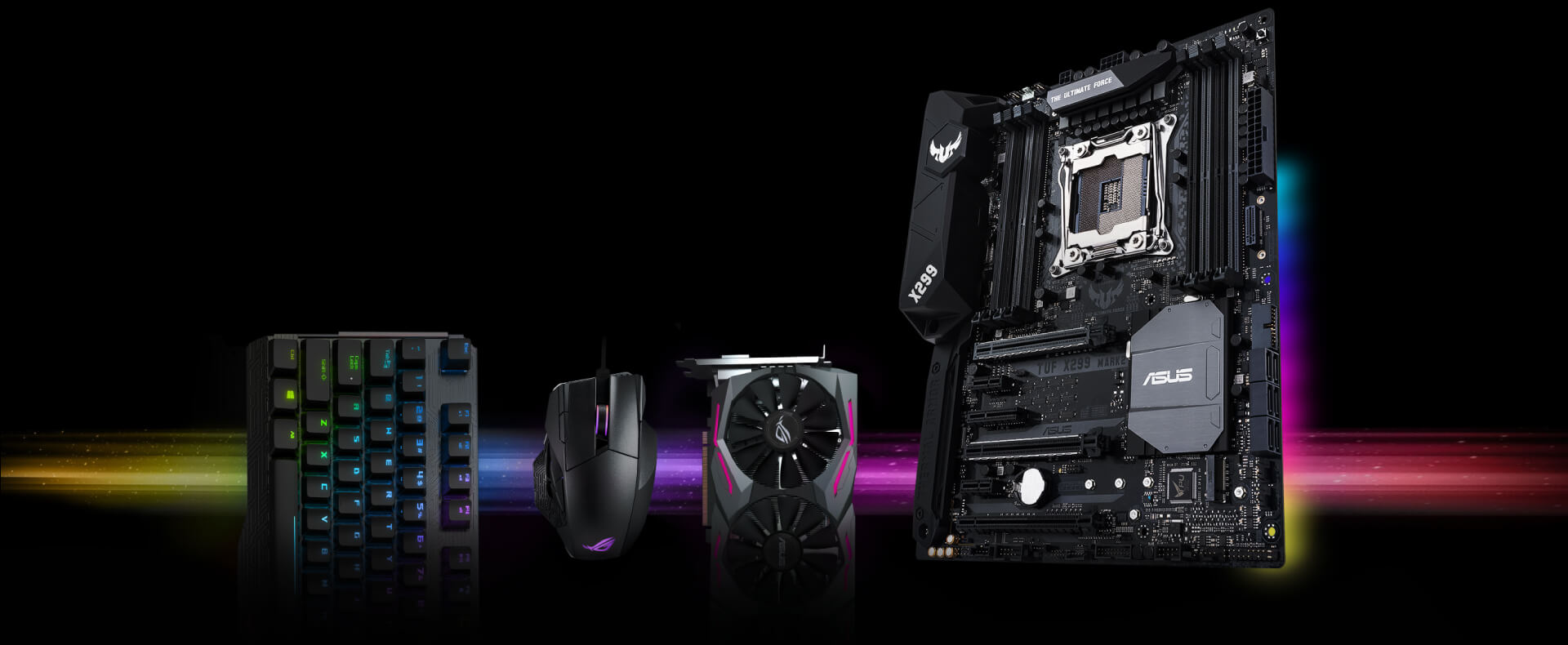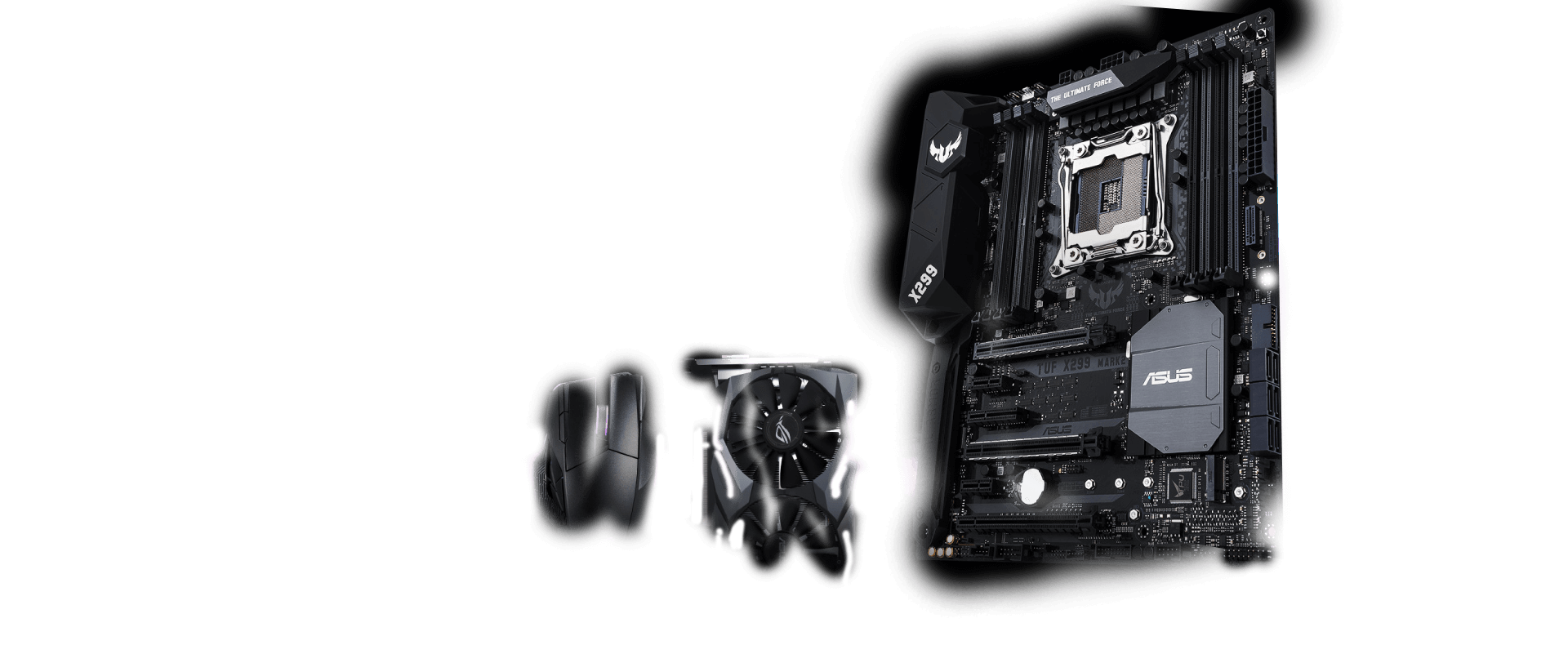 Intel CPU and Chipset features

Intel X299 chipset
The Intel X299 chipset supports LGA 2066-socket Intel Core X-series processors. It provides improved performance by utilizing serial point-to-point links, allowing increased bandwidth and stability. Additionally, X299 provides a maximum 10 USB 3.1 Gen 1 ports, 8 SATA 6Gbps ports and 32Gbps M.2 support for faster data retrieval.

Intel® Core™ X-series processors for LGA 2066 socket
Intel Core X-series processors (6-core and above): 4-channel (8-DIMM), 44/28 PCI Express 3.0/2.0 lanes. Intel Core X-series processors (4 core): 2-channel (4-DIMM), 16 PCI Express 3.0/2.0 lanes.
Compare (0)