[Motherboard] Which ASUS model supports Windows 11 and how to setup TPM 2.0 in BIOS?
To provide you more detailed instruction, you can also click ASUS YouTube video link below to know more about How to enable TPM in BIOS on Motherboard
https://www.youtube.com/watch?v=x7mfccunwuw
Windows 11 installation on PCs with ASUS motherboards
Microsoft officially announced Windows 11 with a new design, Start menu, and more. Here is some basic information on Windows 11, and how it can be installed in PCs with ASUS motherboards.
Click on the following to learn more about Windows 11:
Hardware requirements
| | |
| --- | --- |
| Processor | 1 GHz or faster with two or more cores on a compatible 64-bit processor or System on a Chip (SoC) |
| Memory | 4 GB RAM |
| Storage | 64 GB or larger storage device |
| System firmware | UEFI, Secure Boot capable |
| TPM | Trusted Platform Module (TPM) version 2.0 |
| Graphics card | DirectX 12 compatible graphics / WDDM 2.x |
| Display | >9" with HD Resolution (720p) |
| Internet connection | Microsoft account and internet connectivity required for setup for Windows 11 Home |
Please visit Microsoft site for more details: https://www.microsoft.com/en-us/windows/windows-11-specifications
There might be additional requirements over time for updates, and to enable specific features within the operating system. For more information, see Keeping Windows 11 up-to-date.
Before you begin, check for compatibility
The Windows 11-compatible ASUS motherboards and processors are listed below:
Supported ASUS motherboards:
Please refer to the link below to see if your motherboard is supported Windows 11.
ASUS Motherboards Ready for Windows 11
If you are not sure the model name of your motherboard, please refer to the link below to check.
[Motherboard] How to check the model name?
Supported Processors:
If your existing Windows 10 PC is running the most current version of Windows 10 and meets the above minimum hardware specifications, it can be upgraded to Windows 11. Aside from system requirements, please do pay attention to the TPM settings on your motherboard. TPM is an international standard for a secure cryptoprocessor that has been around for years. However, it is disabled by default on most motherboards, and that may prevent proper installation of Windows 11.
How to use PC Health Check to see if my PC is eligible to install/upgrade Windows 11?
Microsoft provides PC Health Check tool for user to see if the PC meets the requirement to install/upgrade Windows 11, please follow the steps to check:
1. Go to Microsoft download site to download PC Health Check.
2. Unzip the file, then click WindowsPCHealthCheckSetup.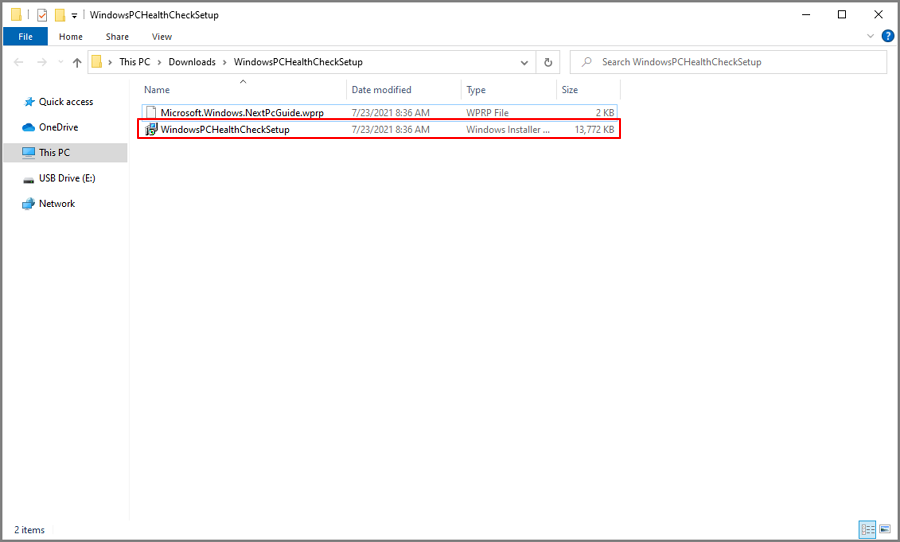 3. Click I accept the terms in the License Agreement, then click install.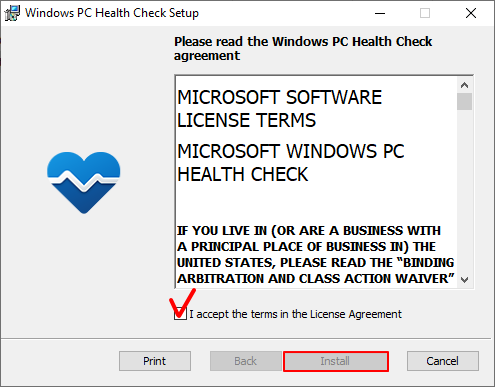 4. Click Finish when PC Health Check is installed.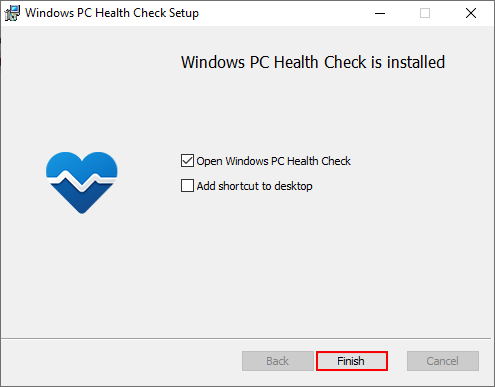 5. Open PC health Check.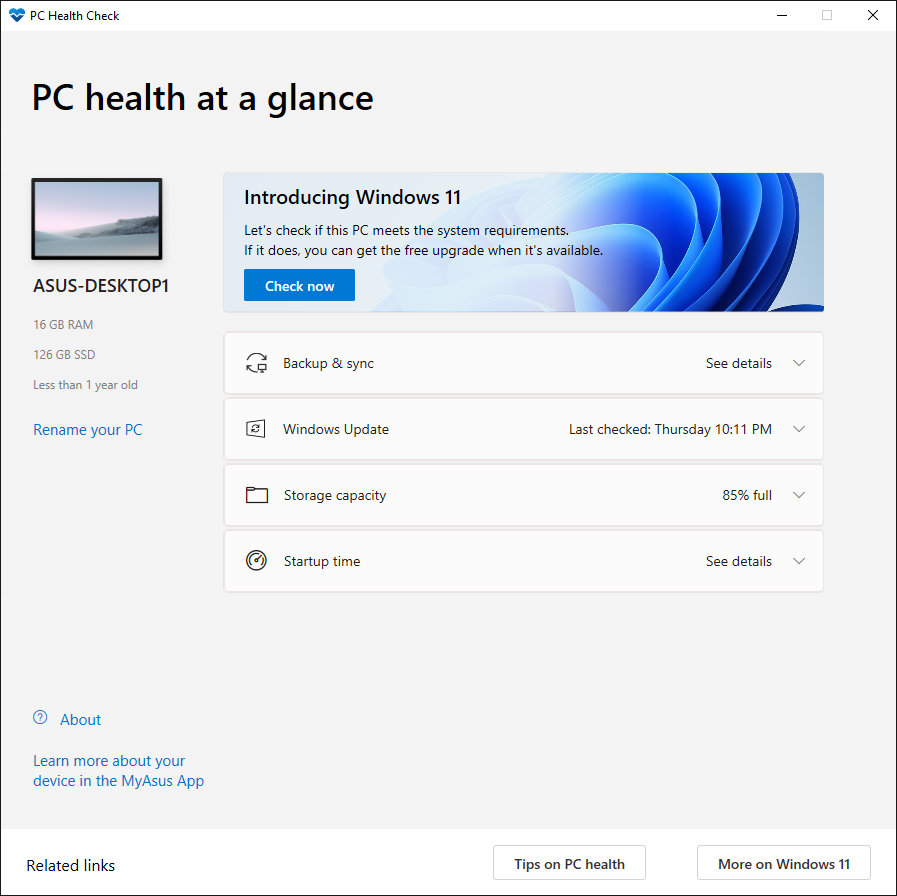 6. Click Check now.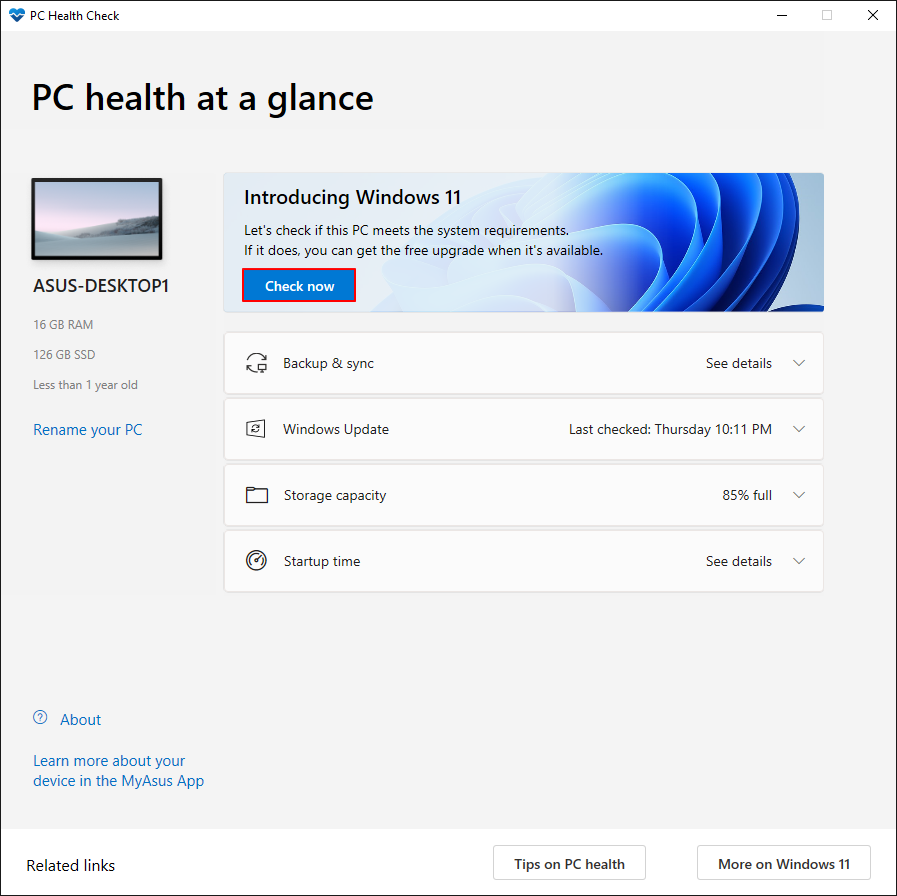 7. The result shows on screen, or you can click see all results button to see the compatibility for more details.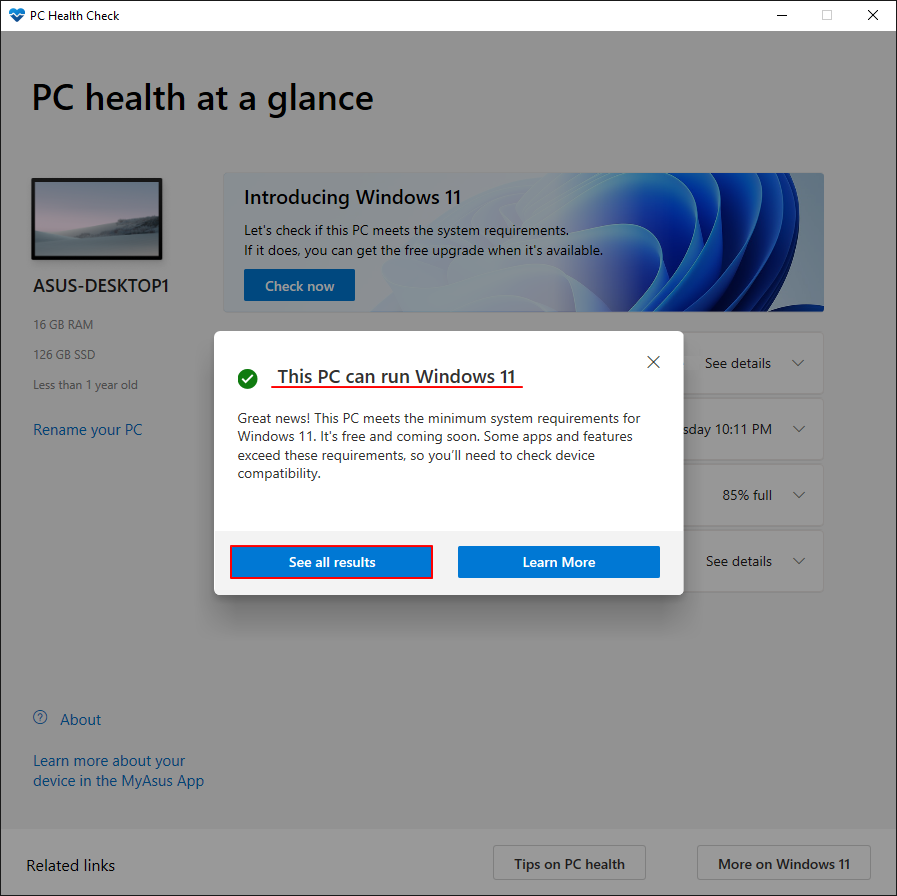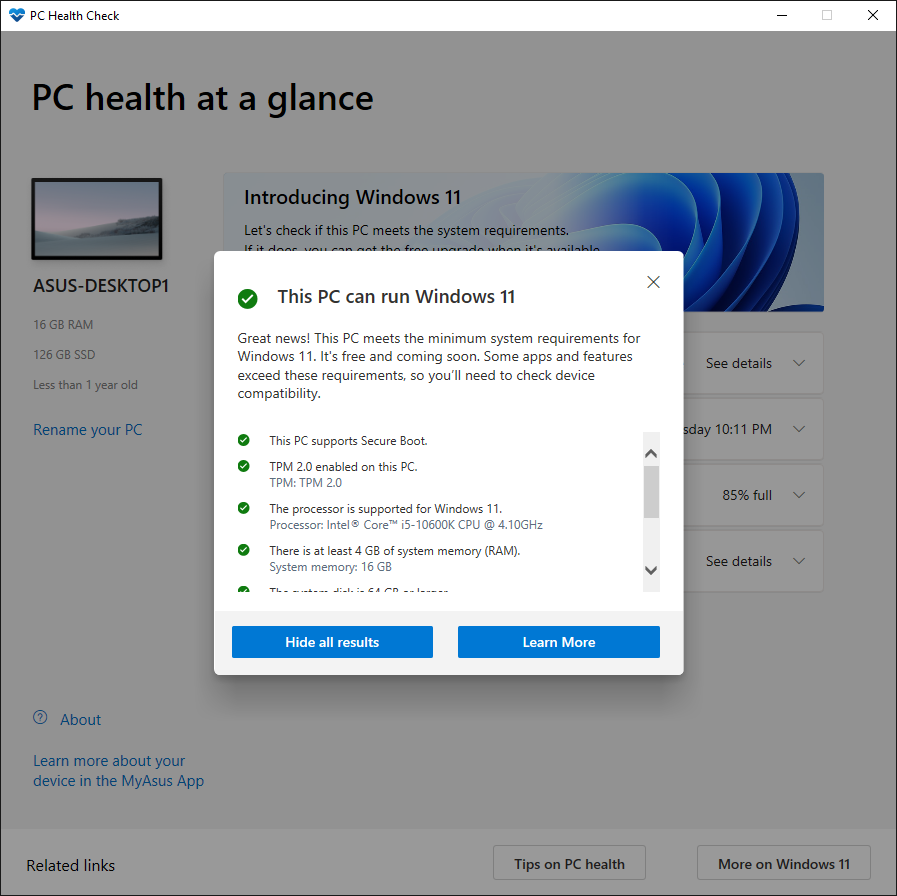 8. If the result shows your PC doesn't meet the Windows 11 system requirements, you can check the link to see if there are things you can do.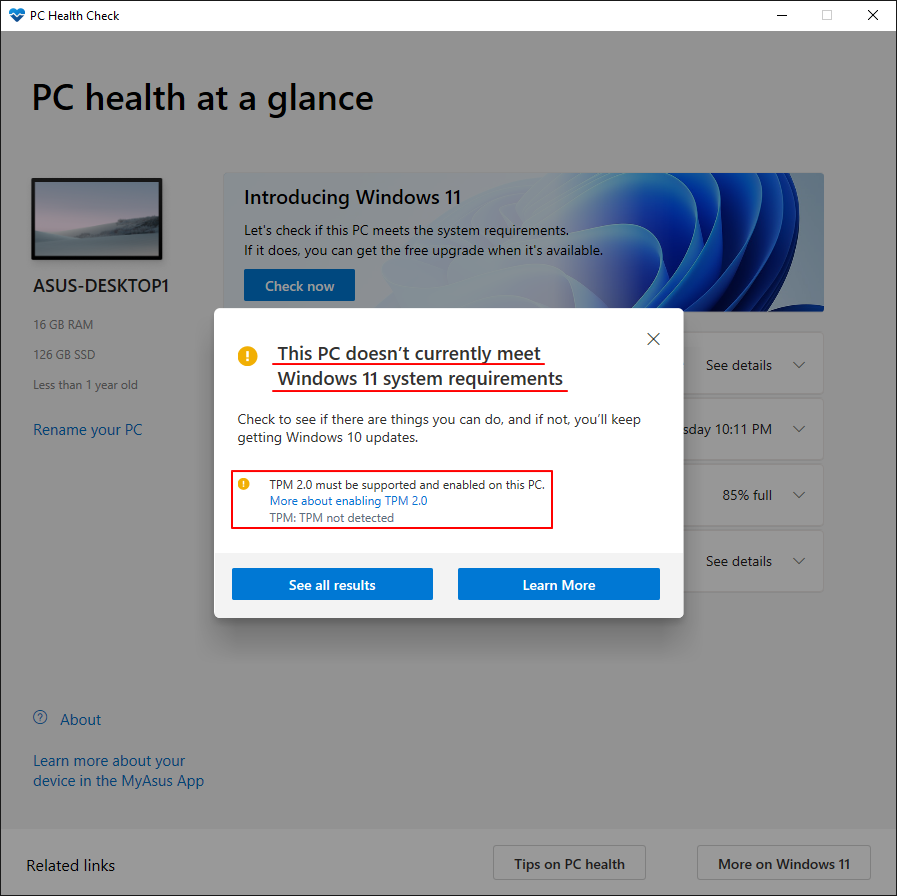 How to check if your system supports TPM 2.0
TPM 2.0 is the minimum requirement recommended by Microsoft. TPM 2.0 was introduced back in 2015, and all ASUS motherboards feature version 2.0.
To check, press the Windows key + R to bring up the Run box. Type in "TPM.MSC" to open the Windows TPM management tool.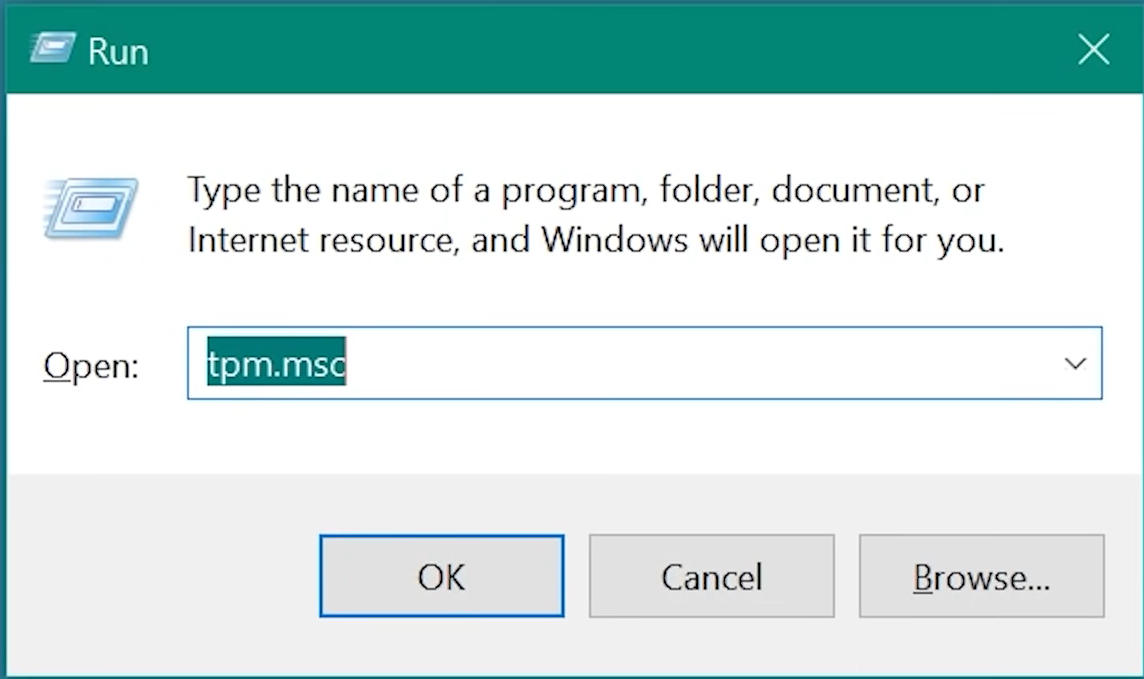 The TPM Management screen will pop up if the feature is enabled, allowing you to view additional TPM information.
TPM version 2.0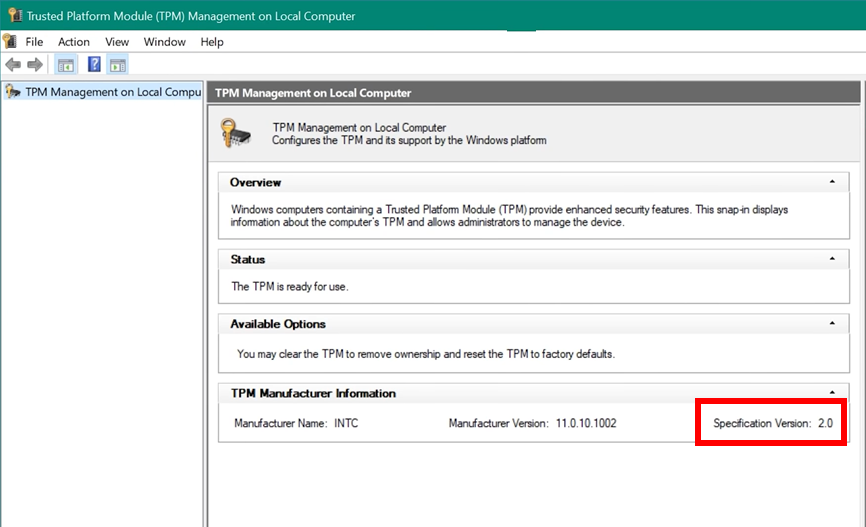 If you run into the below message, please go to the motherboard BIOS and follow the instructions to enable fTPM.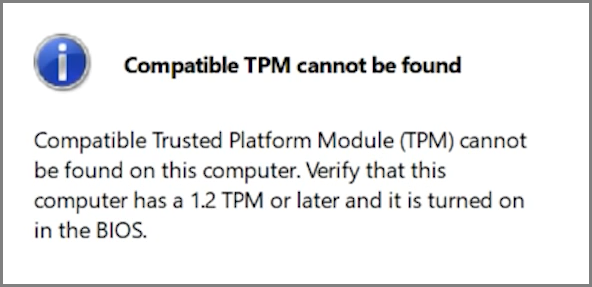 Alternatively, the TPM version can also be checked in the BIOS:
Go to Advanced\Trusted Computing page to see the TPM version. If you cannot find this page, refer to the following section to enable fTPM(Firmware TPM).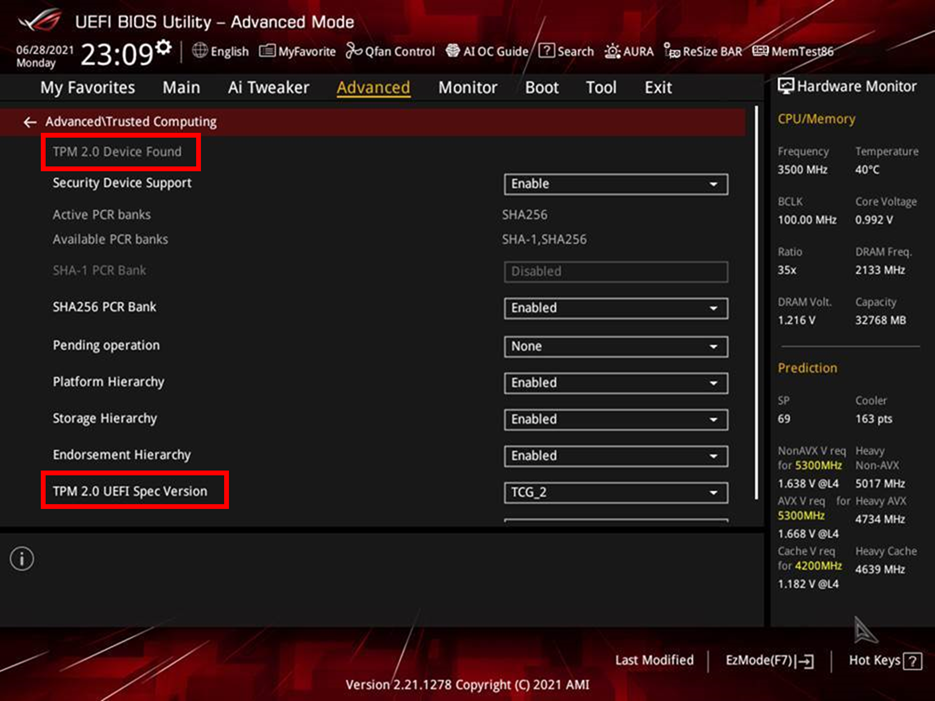 How to enable TPM in UEFI BIOS
Intel motherboards (This paragraph takes ROG Z590-A GAMING WIFI for example)
1. Press "Del" when the ASUS or ROG logo appears to enter the BIOS.
2. Go to Advanced\PCH-FW Configuration page and enable "PTT".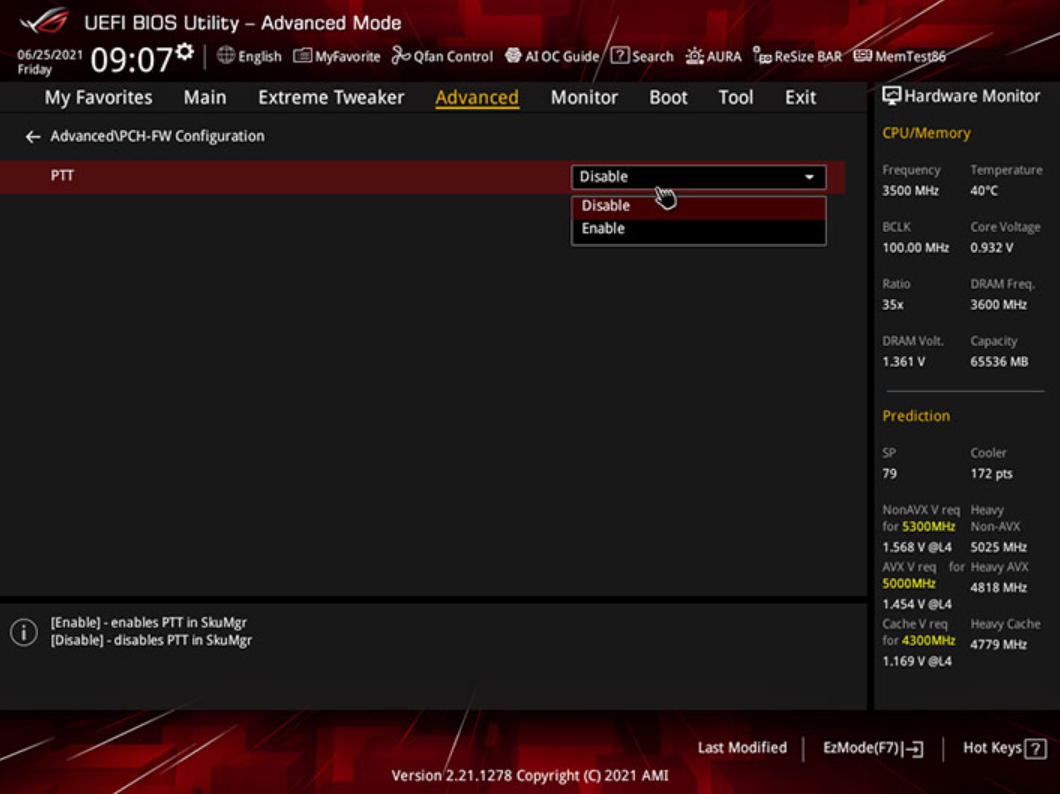 3. Once you attempt to make the change in the BIOS, a notification box will appear (see below). Just click the OK button, then press F10 to save your changes and reboot your PC.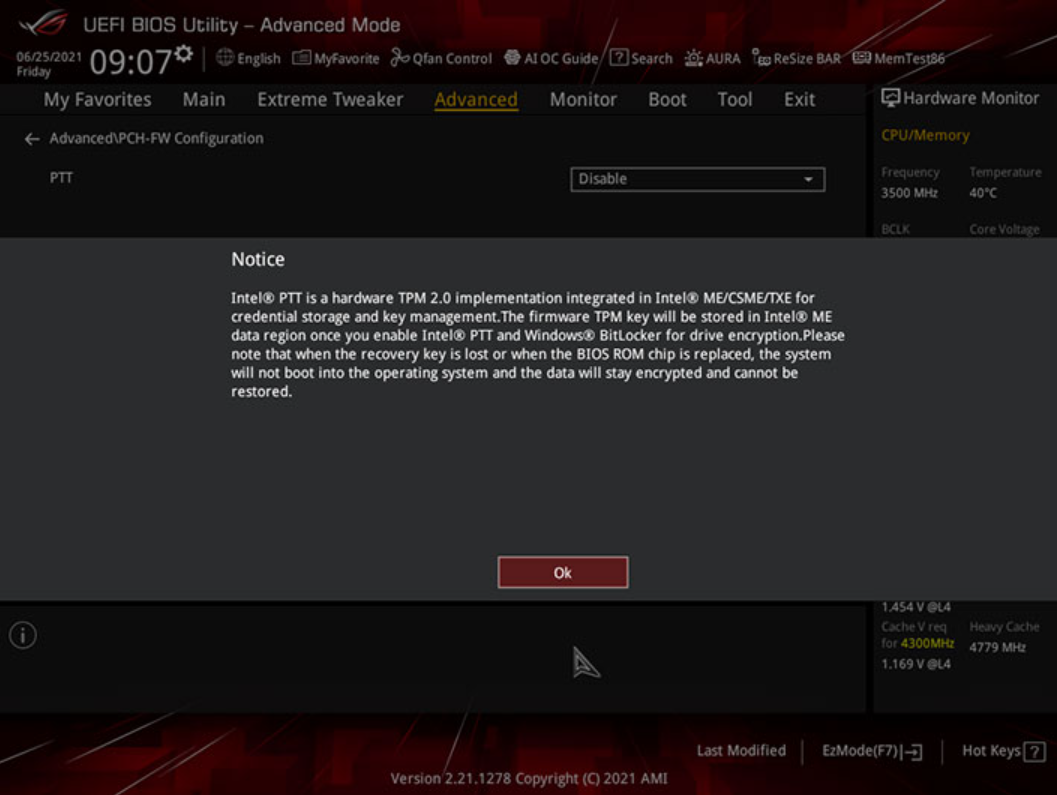 AMD motherboards (This paragraph takes ROG X570-E GAMING for example)
1. Press "Del" when the ASUS or ROG logo appears to enter the BIOS.
2. Go to Advanced\AMD fTPM configuration page and switch "TPM Device Selection" option to "Firmware TPM".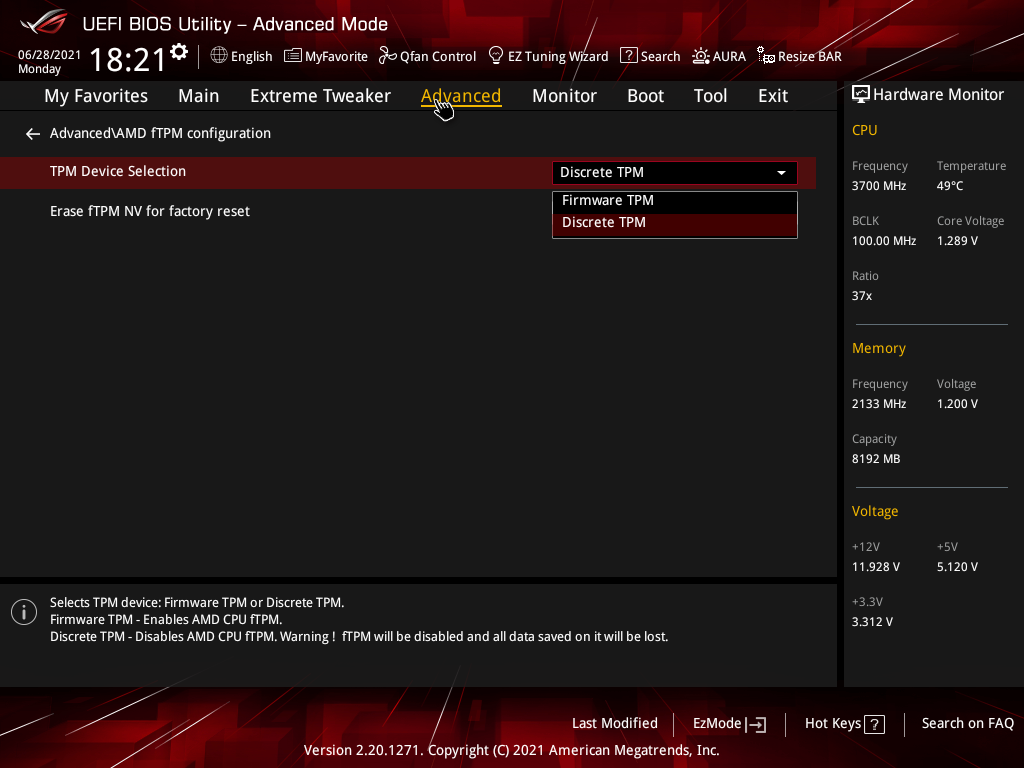 3.Press F10 to save changes & reboot.
FAQ
Q1. Regarding Windows11, I still have many questions.
A1. You can click the following Microsoft official website and scroll down to the bottom of the page. There is a collection of Windows FAQs compiled by Microsoft for reference.
Upgrade to the New Windows 11 OS | Microsoft
Q2. My motherboard is not listed on support list, can I install Windows 11?
A2. In order to make your Windows 11 experience even better, we would recommend you to use the motherboard that is listed on support list, all the supported motherboards that bundle TPM 2.0, you can easily start using Windows 11.
Q3. My motherboard is not listed on support list, can I install the TPM 2.0 module manually to support windows 11?
A3. Discrete TPM may not compatible with your motherboard, we recommend you to use motherboard that is on support list.
Q4. Does any driver need to be updated to install the Windows 11?
A4. No. Once your system meets the minimum hardware requirement and TPM 2.0 is enabled, you can update the system to the Windows 11.
Q5. If my motherboard has TPM Header, do I still need to purchase the TPM 2.0 module (Card) separately in order to support windows 11?
A5. No, if your motherboard is not listed on support list, it means your motherboard does not meet the minimum requirements to support windows 11 even though you install other TPM 2.0 module (Card) on your motherboard. (Processor is also required to support windows 11).
Q6. Please be awared before you install Windows 11 or if install fail
A6. 1. Please enable TPM option in UEFI BIOS. 2. Please choose UEFI windows 11 installation
Disclaimer
Windows 11 has not been officially released and there might be stability issues with the Insider Preview build as it has not passed formal hardware validation and qualification. The installation or upgrade to the Windows 11 Insider Preview or any third-party software is done at your own discretion and risk. You will be solely responsible for any damage to your system or loss of data that results from that activity. ASUS will not be liable for any losses and damages in connection with the use of Windows 11.