Quiet mini PC with Intel® Core™ i7 or i5 processor, Windows 10, DDR4, 4K UHD support, dual storage with one M.2 SSD or 2.5-inch SSD/HDD, and 802.11ac Wi-Fi.
Full-fledged desktop performance with latest 8th Gen Intel® Core™ i7 or i5 Kaby Lake R processors & DDR4 2400MHz support
Dual-storage design for additional storage capacity and flexibility
NVM Express® support for blazingly-fast SSD data transfers of up to 32Gbps
Two easy-access front-mounted USB 3.1 Gen 2 ports with fast USB charging
High-capacity HDD and Intel Optane memory acceleration for high-speed data performance
Quiet mini PC with energy-efficient performance — even under demanding loads
4K UHD streaming via 802.11ac Wi-Fi streaming with the free ASUS Media Streamer app; also features ASUS Remote GO! and 100GB of free ASUS WebStorage space
VESA-mount compatible
Ultra-compact Good Design Award-winning design with a Zen-inspired spun-metal-effect finish and weighing less than 700g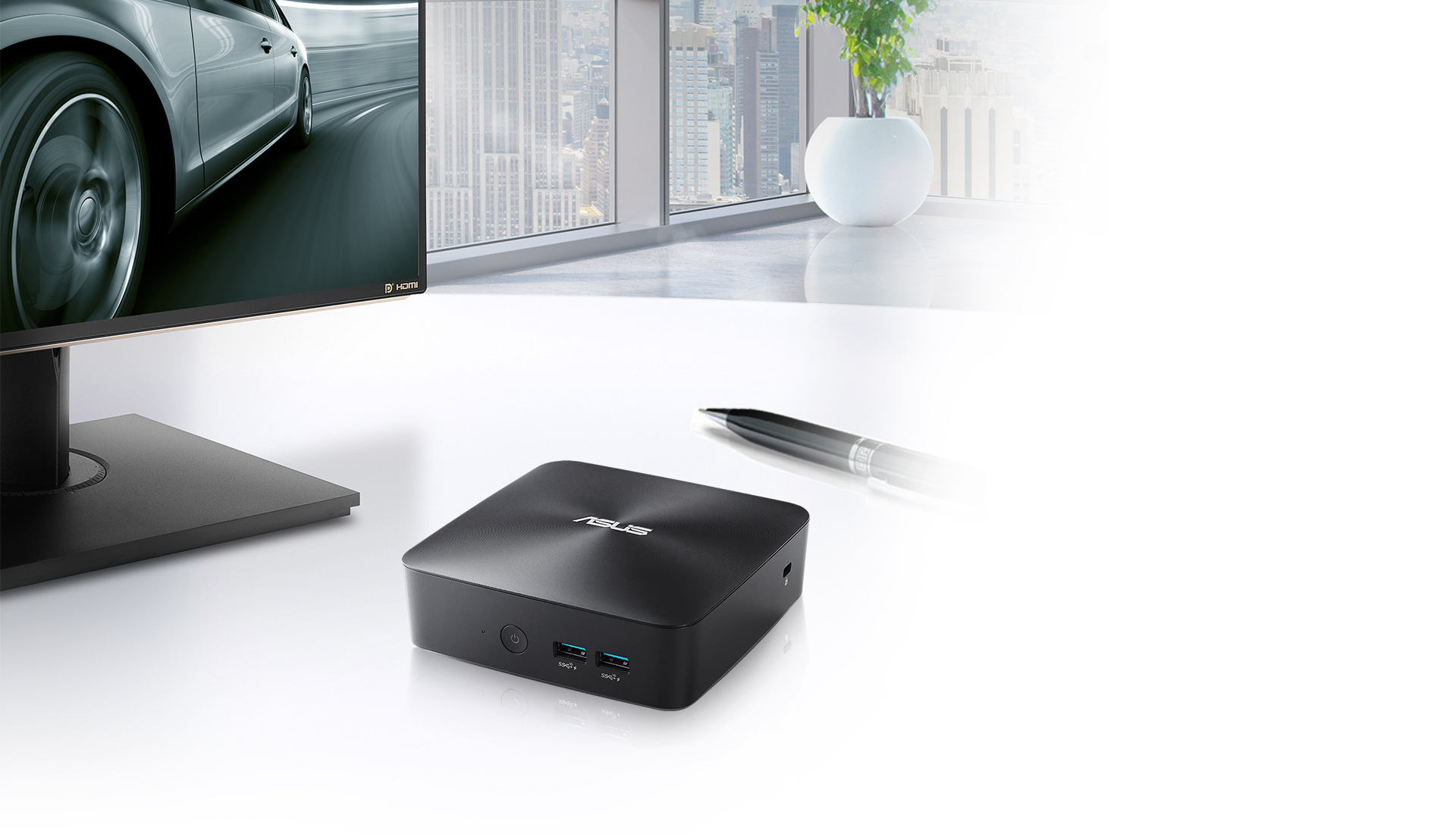 Desktop performance, miniaturized.
ASUS VivoMini UN68U puts full-fledged performance into a lightweight mini PC that's only slightly thicker than the average laptop. It features the latest 8th Generation Intel® Core™ processor, a flexible dual-storage design and blazing-fast M.2 PCIe 3.0 x4 NVMe data transfers. Even with all this power VivoMini UN68U is a quiet performer, with a low-speed-fan design that keeps noise levels to a minimum. It'll deliver incredible 4K UHD images to a single display or HD output to up to three screens simultaneously*, making multitasking enjoyable and effortless. With 802.11ac Wi-Fi and the exclusive ASUS Media Streamer and Remote Go! apps, VivoMini UN68U makes a superb home-entertainment PC — ideal for hooking up to an HD or 4K TV. It's even available as a 'bare-bones' **solution so you can create a setup that's a perfect match for your needs.
* Multi-display support requires daisy-chained DisplayPort++ connections.
** Bare-bones solution availability may vary by model or region
Uncompromising performance
VivoMini UN68U is available with the latest 8th Generation Intel Core i7 or i5 processor, delivering a 40% performance increase compared to previous-generation processors.* VivoMini UN68U also has faster, more-efficient memory, with the DDR4 2400MHz complement running at up to 1.5X quicker and while using 20% less energy compared to DDR3 1600MHz memory. Everything you do feels more fluid and more fun.
* Tested with SYSMark2014 v1.5.1.47 on a UN68U with Intel Core i7-8550U vs UN65U with Intel Core i7-7500U.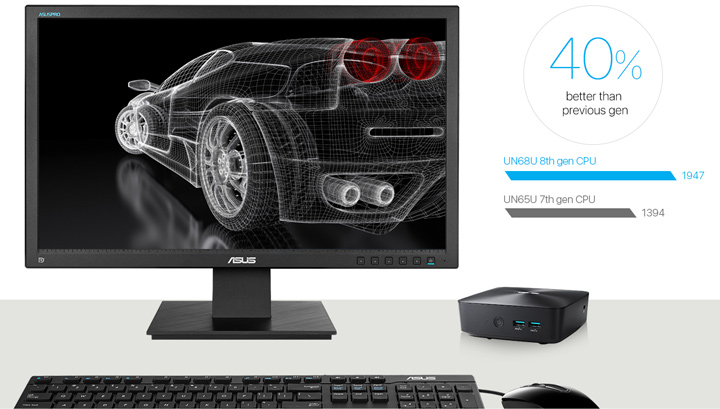 Lifelike 4K UHD visuals
VivoMini UN68U delivers exceptional 4K UHD visuals, so it's ideal for a home-theater setup — allowing you to enjoy movies and the latest 4K content in stunning clarity.



Work and play, on multiple displays
VivoMini UN68U supports up to three independent displays though HDMI and DisplayPort++, providing the freedom to multitask across as much space as your work demands. And, of course, it's compatible with any modern monitor, HDMI TV or projector, so you'll never be short of display options.
* Multi-display support requires daisy-chained DisplayPort++ connections.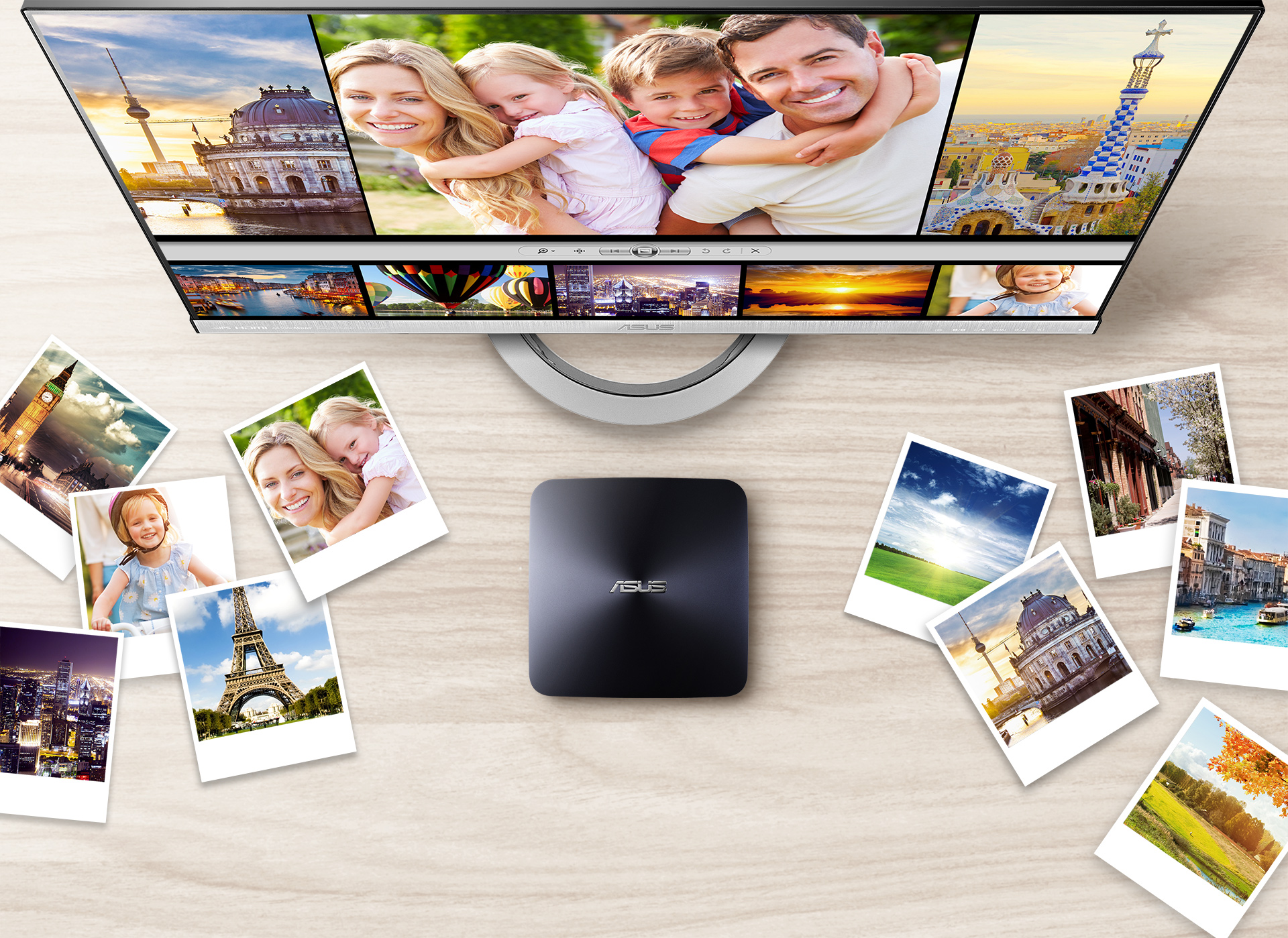 Flexible dual-storage design
VivoMini UN68U features a dual-storage design for maximum flexibility. It can with a single high-speed M.2 SSD, a single 2.5-inch HDD or 2.5-inch SSD, or an M.2 SSD in combination with either a 2.5-inch HDD or a 2.5-inch SSD — while the bare-bones model allows you to create whatever storage solution you need.
* Dual-storage combination may vary by model or region.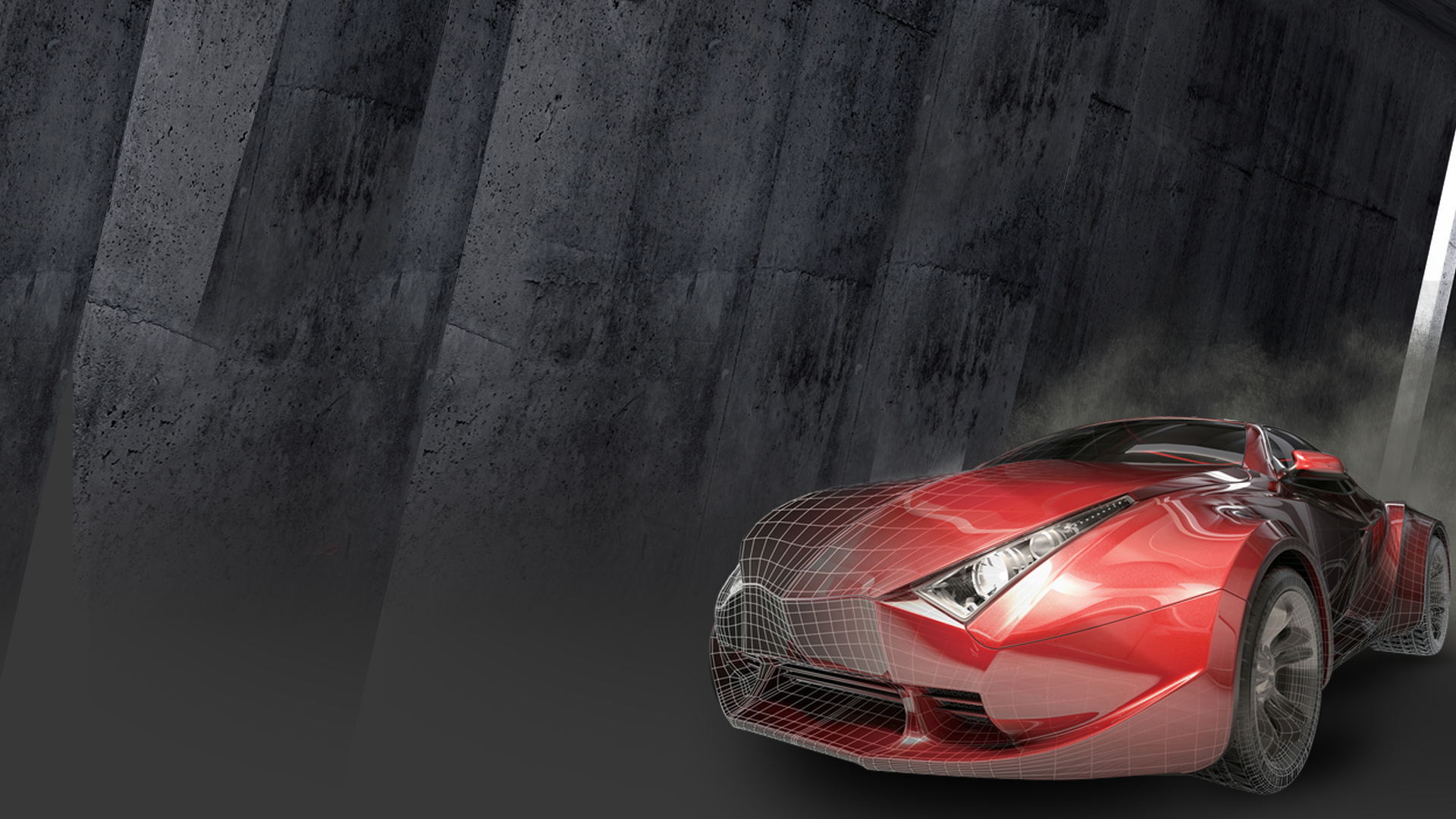 Blazing-fast NVM Express support
Built-in support for M.2 PCIe 3.0 x4 gives VivoMini UN68U the speed and performance you crave in a compact PC. NVM Express® (NVMe) SSDs deliver data-transfer speeds of up to 32Gbps, making them the perfect choice for an operating system or application drive — so you spend less time waiting and more time getting work done.
* M.2 supports both SATA and PCIe storage interfaces.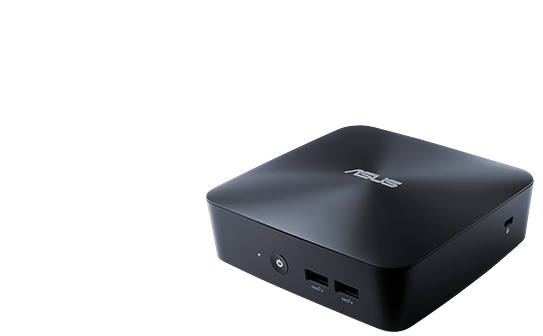 Faster storage with Intel Optane memory
VivoMini UN68U can be optionally specified with Intel Optane™ memory for unmatched system performance. Intel Optane memory technology is a smart and adaptable system accelerator that improves responsiveness to enable up to 24X-faster HDD access speeds, 1.5X-faster in common communications usage, and 2.5X-faster file searches. VivoMini UN68U's high-capacity HDD, coupled with Intel Optane, provides an optimal combination of large storage capacity and high-speed data access.
*Intel Optane memory configurations may vary according to model and region.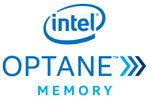 | | |
| --- | --- |
| | Faster HDD access speeds |
| | |
| | PCMark Vantage (HDD Suite) |
| | |
| --- | --- |
| | Faster in common communications usage |
| | |
| | PCMark Vantage (Communications Suite) |
| | |
| --- | --- |
| | Faster file searches |
| | |
| | PCMark Vantage (Productivity Suite) |
*Test configuration: VivoMini UN68U | 8th Gen Intel® Core™ i5-8250U with 16GB Intel OptaneTM memory | Toshiba MQ01ABF050/AM0B3J 500GB HDD | Windows 10.
**Test tools: PCMark Vantage.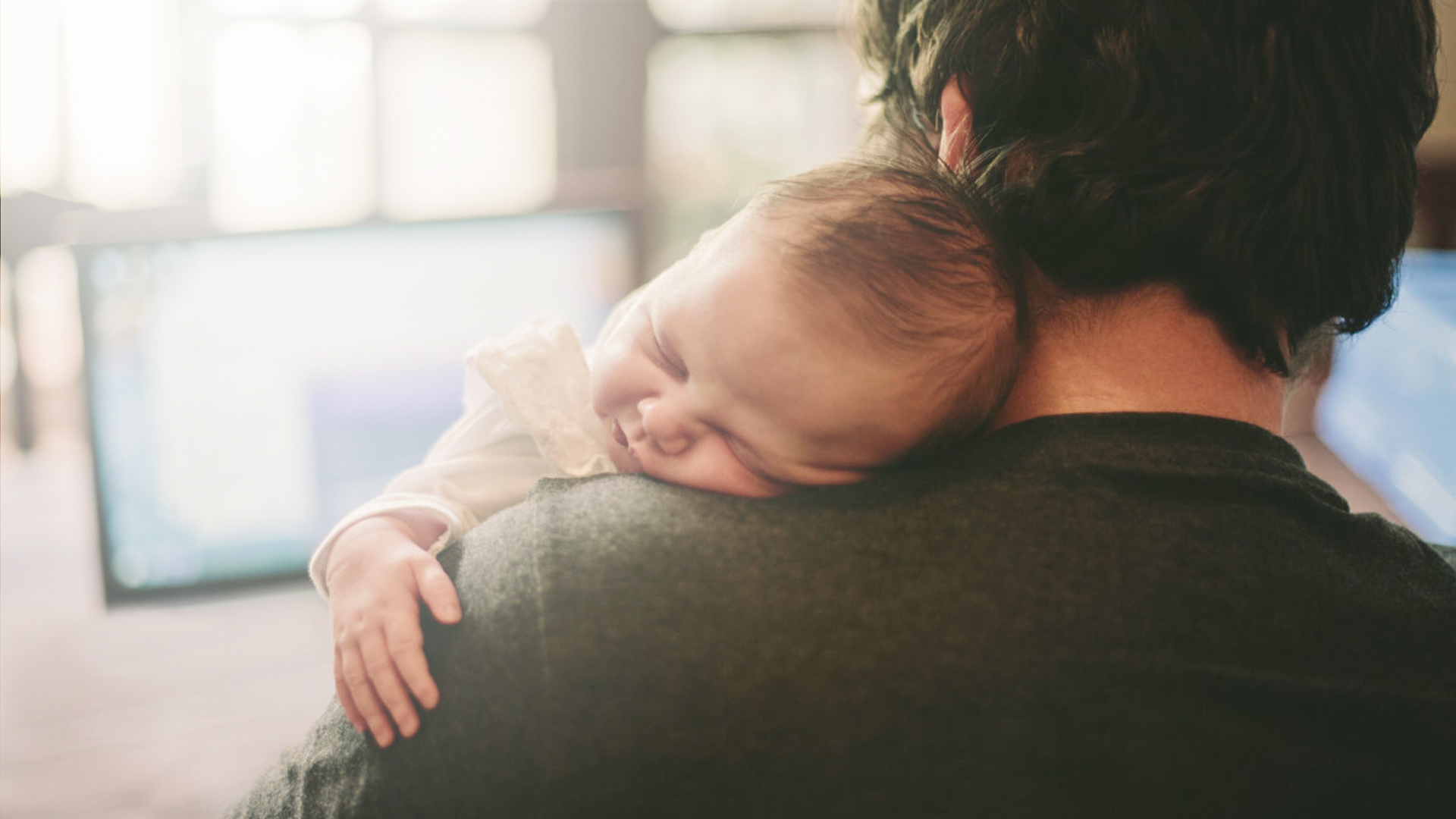 Quiet enough for any room in the house
VivoMini UN68U is remarkably quiet, thanks to optimized low-speed-fan settings that keep noise levels down to just 24dB at idle — as hushes as a whisper. And it doesn't get much noisier at full load either, generating just 39dB of noise, or 36% below the industry standard. VivoMini UN68U sits quietly in the background, allowing you to enjoy your music and movies uninterrupted.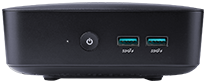 24dB

UN68U

39dB

UN68U

60dB

Conversation

80dB

Music

100dB

Concert
Idle
Full Load
ASUS VivoMini UN68U
24dB

23% Lower

39dB

36% Lower

Industry Avg.
30dB
60dB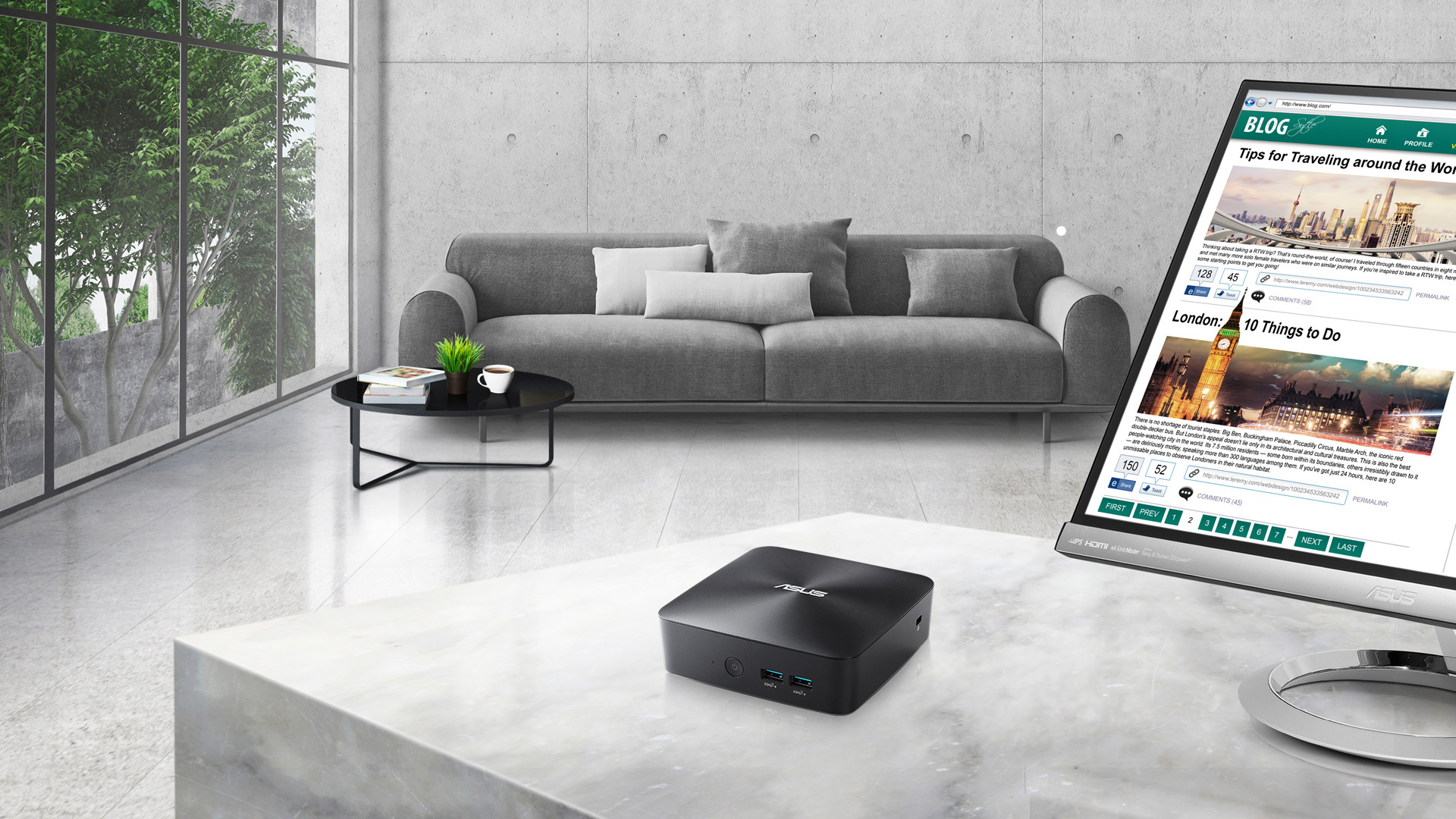 Elegantly crafted for the home
The Good Design Award-winning VivoMini UN Series is crafted for the home, with an elegantly-crafted chassis with smooth rounded edges and compact dimensions measuring just 131 x 131 x 52mm. VivoMini UN68U is finished in glossy Midnight Blue and features the iconic Zen-inspired spun-metal-effect design – making it a striking addition to any room of the house. It can be VESA-mounted on the back of a display too, so you can create your own custom all-in-one PC for a tidy, clutter-free environment.
One size fits all
Whether you're looking for a personal PC, a home-entertainment center, or media library, VivoMini UN68U delivers desktop-level performance and can be customized for you and your family's every home-computing needs.
Full desktop computing

Home entertainment

Media library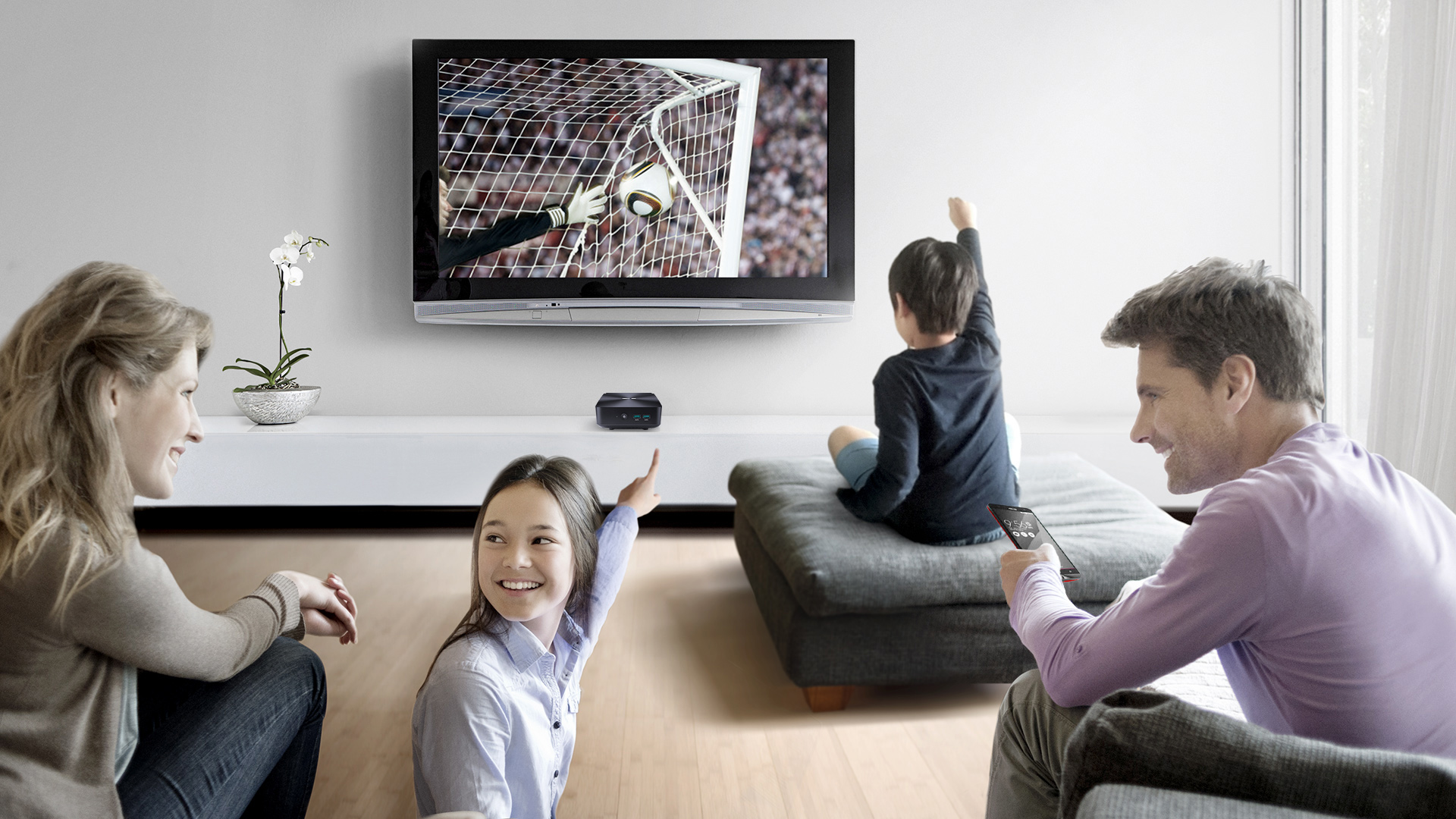 Stream and share content with full media controls
802.11ac Wi-Fi, together with the exclusive ASUS Media Streamer and Remote Go! apps, lets you stream content or control VivoMini UN68U remotely. VivoMini UN68U comes with 100GB of ASUS WebStorage free for one year, making it easy to safely store and access your files via the cloud.

ASUS Remote GO!
Take complete control of your PC
Cloud GO!
Back up all your files on your ASUS WebStorage, Dropbox®, Microsoft OneDrive, Google Drive™, and SkyDrive® accounts in one place

Remote Desktop
Access and control your PC easily, anytime and anywhere

File Transfer
Sync files between your PCs and smart devices with just one click

Remote Keyboard & Mouse
For total PC control from the comfort of your sofa

ASUS Media Streamer :
Share and stream music or movies

Wi-Fi 802.11ac :
Faster, more stable internet connections
Dual-band 802.11ac Wi-Fi

Stronger signals and three times the speed of previous Wi-Fi standards

Ideal for downloading files or streaming videos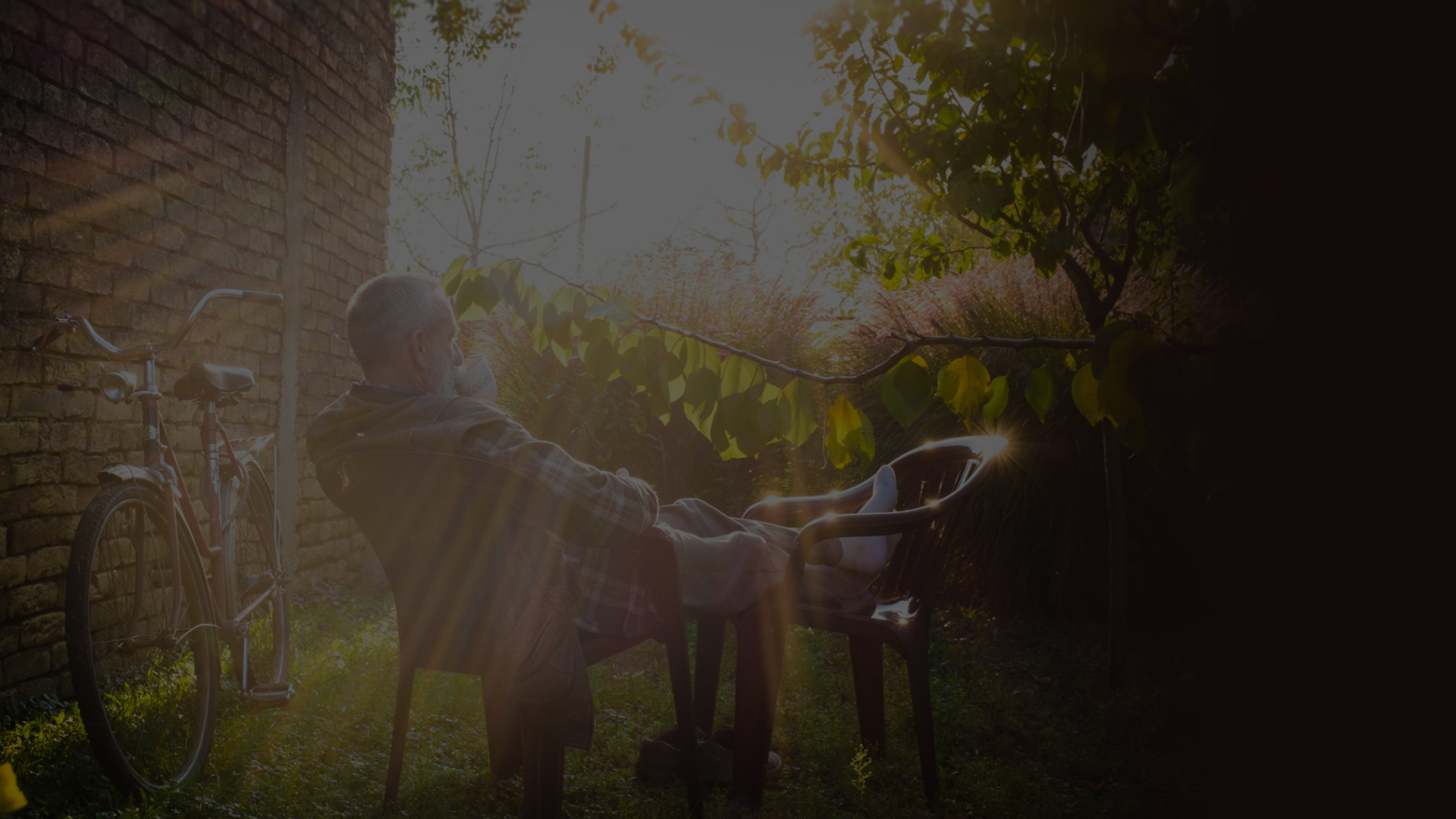 Easy hardware customization for added flexibility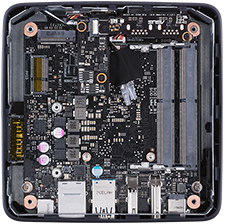 Customization made easy
You can tailor VivoMini UN68U according to your needs, so you're free to choose whichever operating system, Wi-Fi card or storage options you want — and making it easy to upgrade whenever you want.
* Bare-bones solution availability may vary by model or region
Flip VivoMini
UN68U upside down:
Easily removable rubber feet provide easy access to the screws.

Remove the screws

Unscrew to gain access to VivoMini UN68U's internals.

Access the
upgrade module
Simply pull out the ergonomically-designed modules.
Easy hardware upgrades
VivoMini UN68U is easily upgraded in just three simple steps. All you need is a screwdriver:
Fast and convenient connectivity
VivoMini UN68U features two easy-reach front-mounted USB 3.1 Gen 2 ports with fast-charge technology, so your mobile devices will charge in half the time. In addition, VivoMini UN68U offers convenient connectivity options, including two USB 3.1 Gen 1 ports, a 4-in-1 card reader, HDMI and DisplayPort++.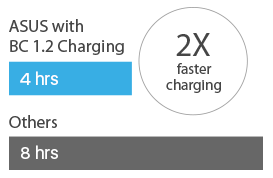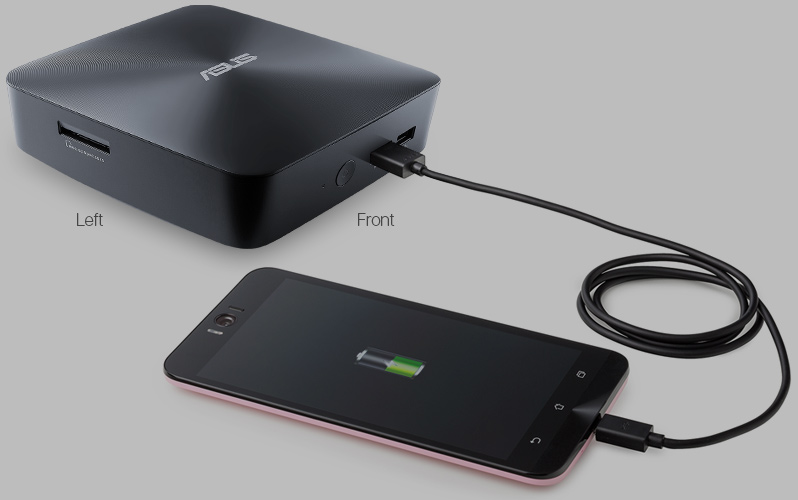 Quality you can trust
Fully-tested for extreme reliability, wide compatibility and assured safety
Years of engineering expertise have gone into each VivoMini UN68U, with each unit being subjected to a series of reliability and quality tests to ensure they meet our exacting standards. It's engineered to cope with temperature extremes and is robust enough to withstand bumps and knocks during shipping.
Power Consumption Test

Port Test

Noise Test

Temperature and Humidity Test

Line Voltage and Frequency Test

Drop Test
Compare (0)