Scan QR code to open this page with your smart phone.
PA27UCX, PA27UCX-K, PA32DC, PA32UCG, PA32UCG-K, PA32UCR, PA32UCR-K, PA32UCX, PA32UCX_K, PA32UCX-P, PA32UCX-PK
[ProArt Display] [MacOS version]Introduction to ProArt Calibration - Setup and operation
ASUS ProArt Calibration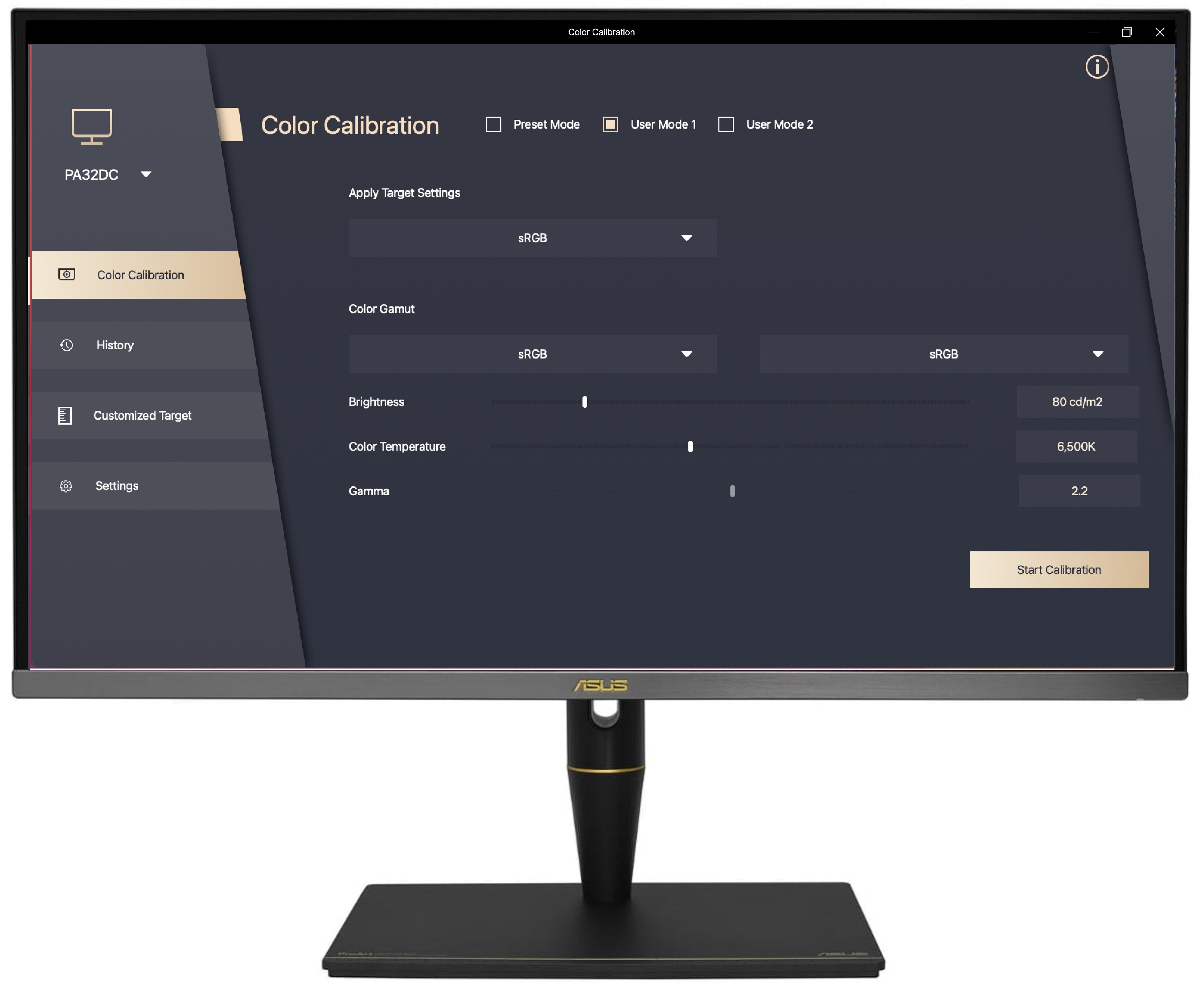 Precise, Consistent, Spectacular Colors
A calibrated and profiled display is a critical element in an efficient digital workflow for color perfectionists. However, the colors on displays decay over time so wide gamut displays are susceptible to color deviation.
ASUS now introduces a new solution- ASUS ProArt™Calibration which provides precise, consistent, and spectacular colors in the professional monitor.
Brightness and Color Consistency
ASUS ProArt Calibration saves all color parameter profiles on the IC chips within the monitor instead of the PC, so that you can connect your monitor to different devices without changing any settings or color shift. Meanwhile it also reduces the signal distortion between the IC & the display. It's the easy way to recalibrate your display to restore your display's brightness and color consistency.
Support model
ProArt Display : PA32UCX、PA32UCX-K、PA27UCX、PA27UCX-K、PA32UCX-P、PA32UCX-PK、PA32UCG、PA32UCG-K、PA32UCR、PA32DC
Color meter : i1DisplayPro/i1DisplayProPlus、Datacolor Spyder 5/Spyder X
Support MacOS
OS:macOS 12 (Monterey)/macOS 11 (Big Sur)
Download ASUS ProArt Calibration
How to get(ASUS ProArt Calibration)?
You can get the latest software, manuals, drivers and firmware at the ASUS Download Center.
If you need more information about ASUS Download Center,you can refer to this link.
steps:
Download the latest utility corresponding to your monitor model from ASUS Download Center, enter the model-> click Driver & Utility.
(Ex: ProArt Display PA32UCX-K)

Click Driver & Utility-> Select OS.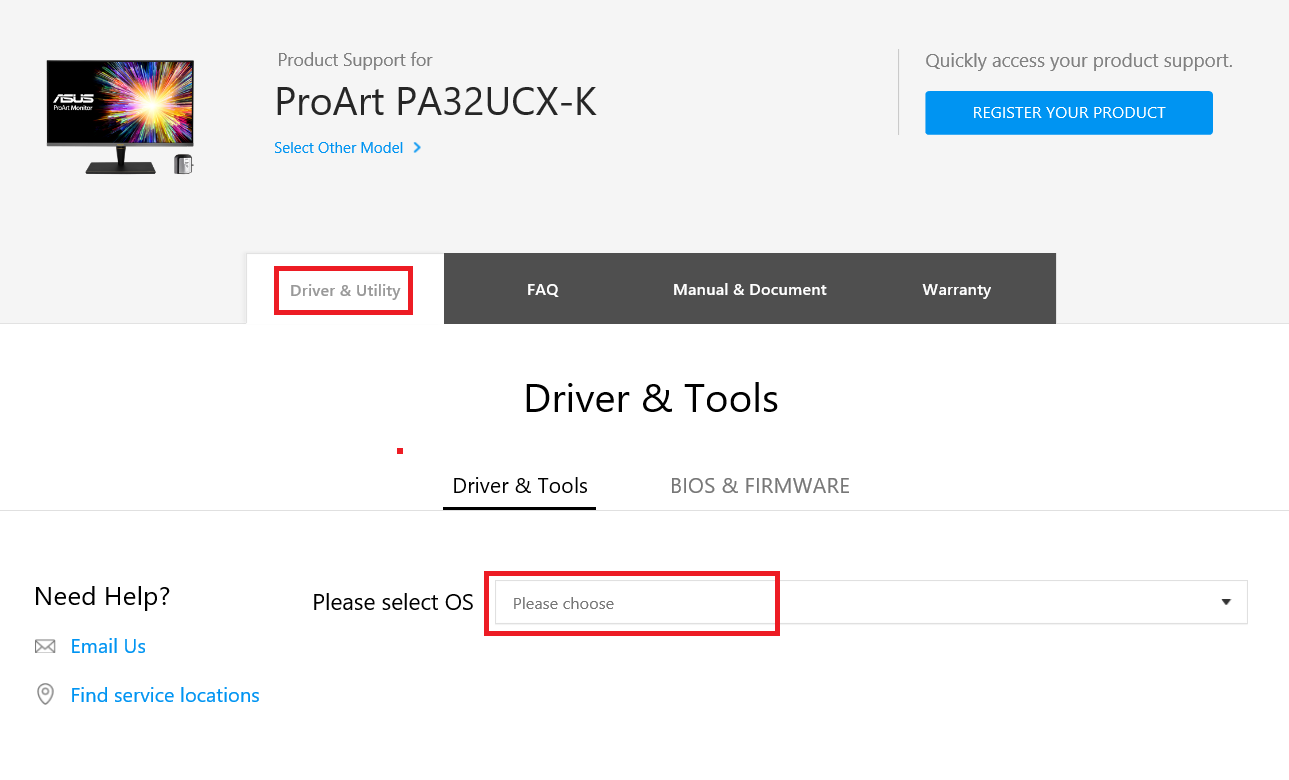 Find ASUS ProArt Calibration in Utilities category,and click DOWNLOAD to download the file.
Start ASUS ProArt Calibration
please confirm the following points:
1. Confirm that the "High Dynamic Range" option in the MacOS display settings is turned off.
2. Confirm that the Preset mode in the OSD menu is set to a non-HDR mode (EX: standard, sRGB, DCI-P3)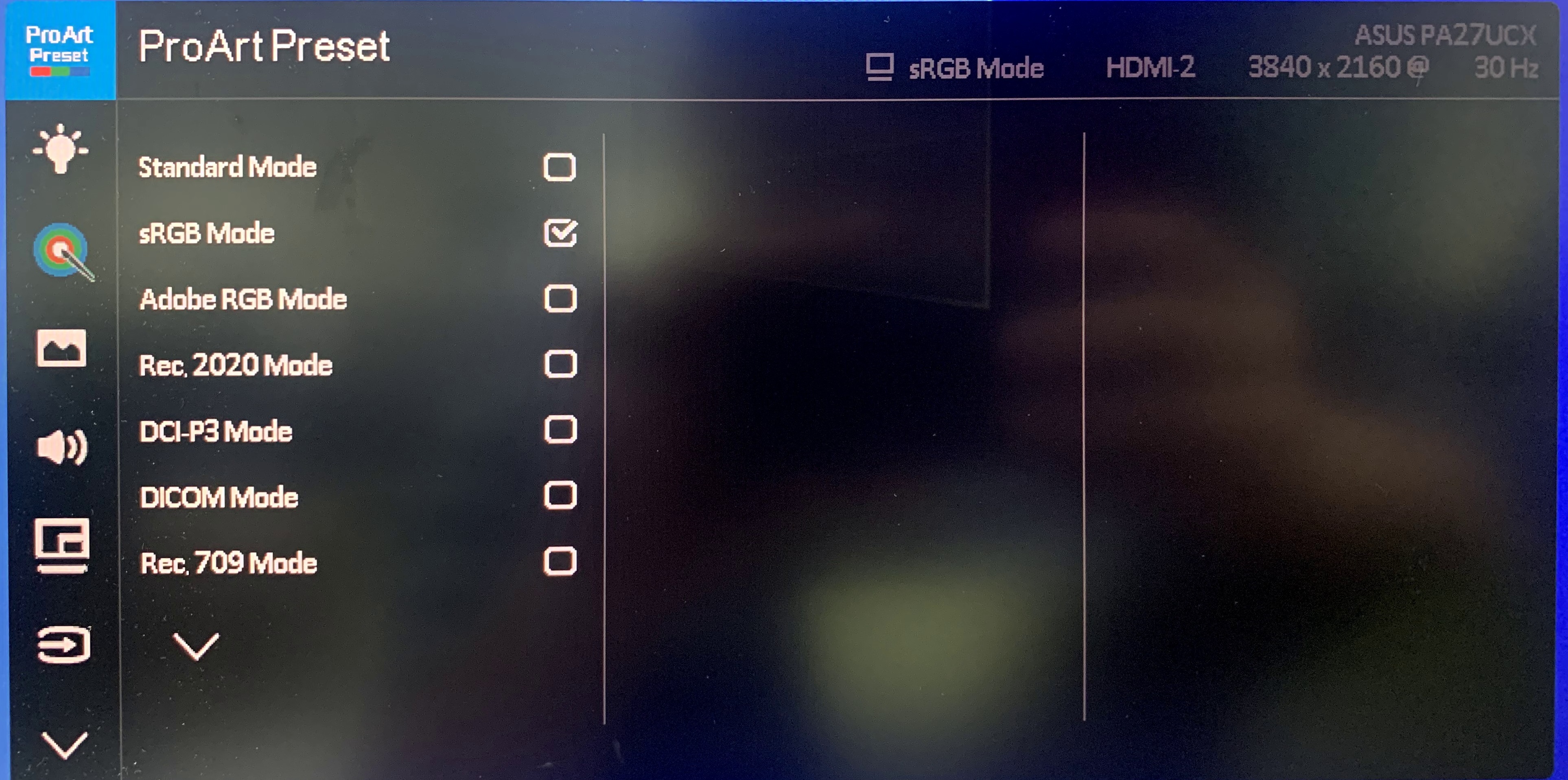 3. If the model you are using is PA32UCX series/PA27UCX series/PQ22UC, please color reset the mode to be calibrated (User Mode 1 or User Mode 2) before use.
Color Calibration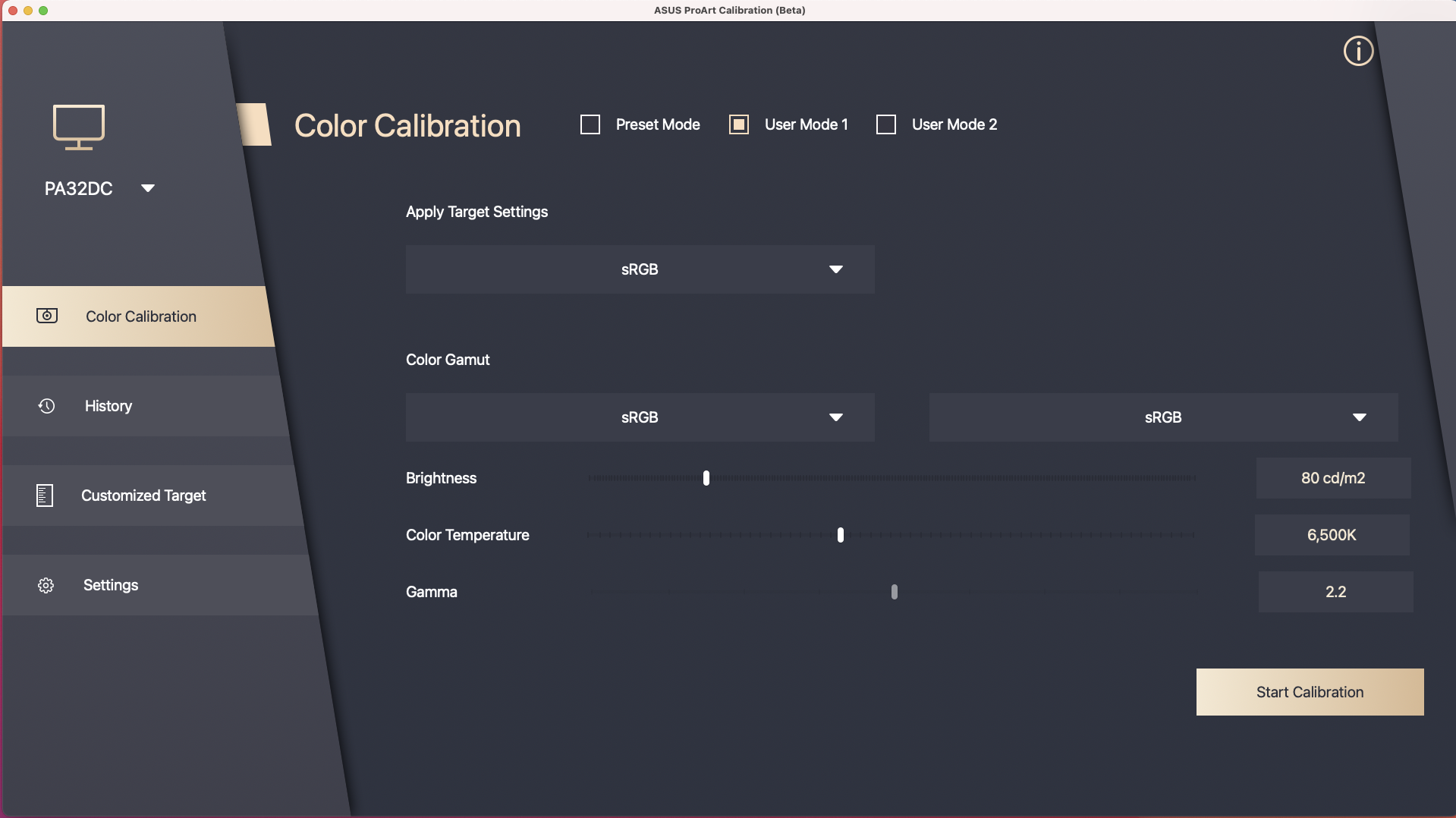 Color calibration is the main function of ProArt Calibration, which can help you correct the color and uniformity of the monitor.
The first step in color calibration, please set the parameters you want to apply.
If your model is PA32UCG/PA32UCR/PA32DC, these models can select Preset mode to calibrate it.
Click [Start Calibration] to do color calibration.
Make sure the USB Type-C or Thunderbolt cable is connected to your monitor.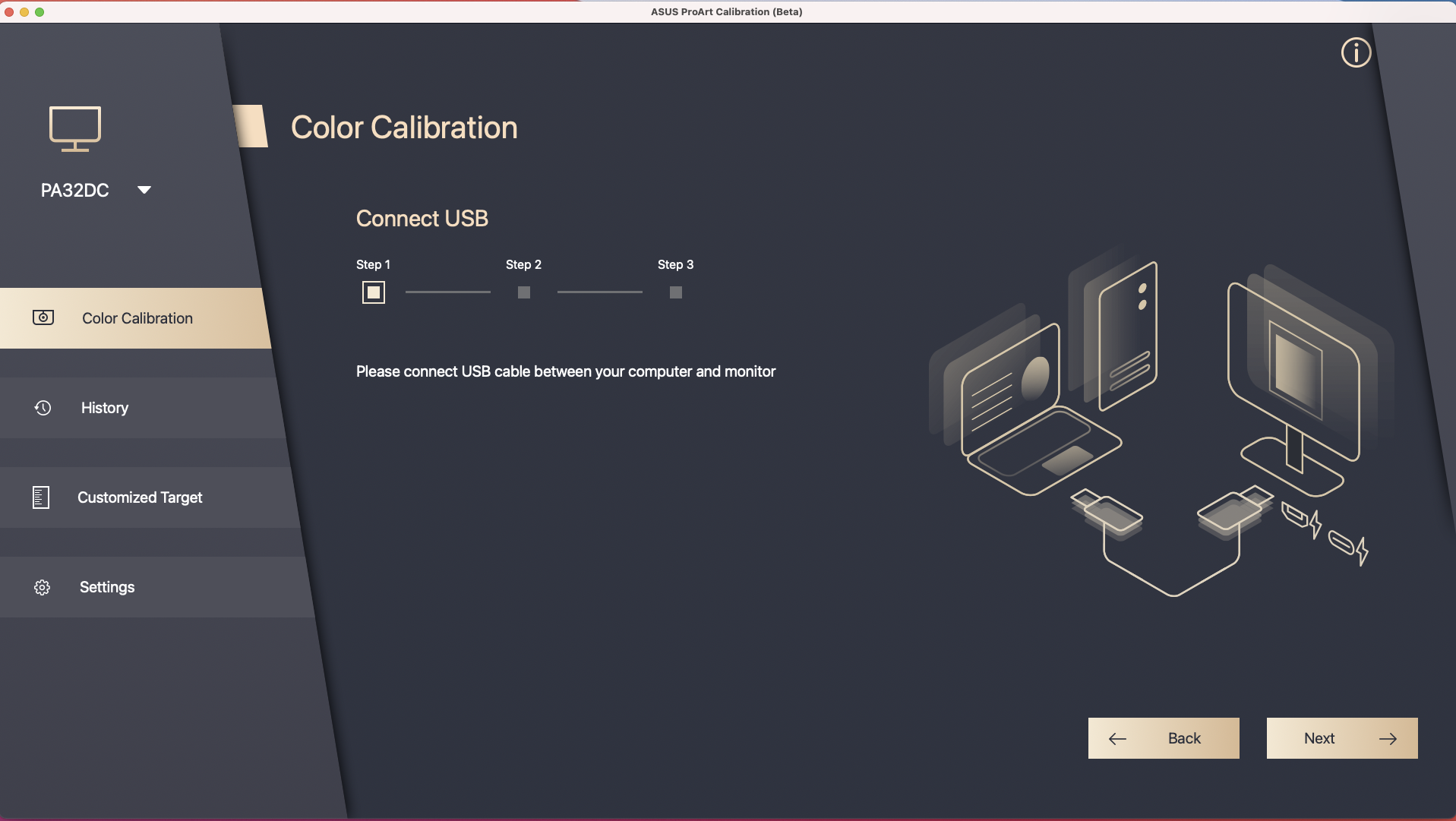 Make sure color meter is connected to your monitor,,select your color meter model and check if you need to change color meter profile(This function is only supported by i1 display pro/i1 display pro plus).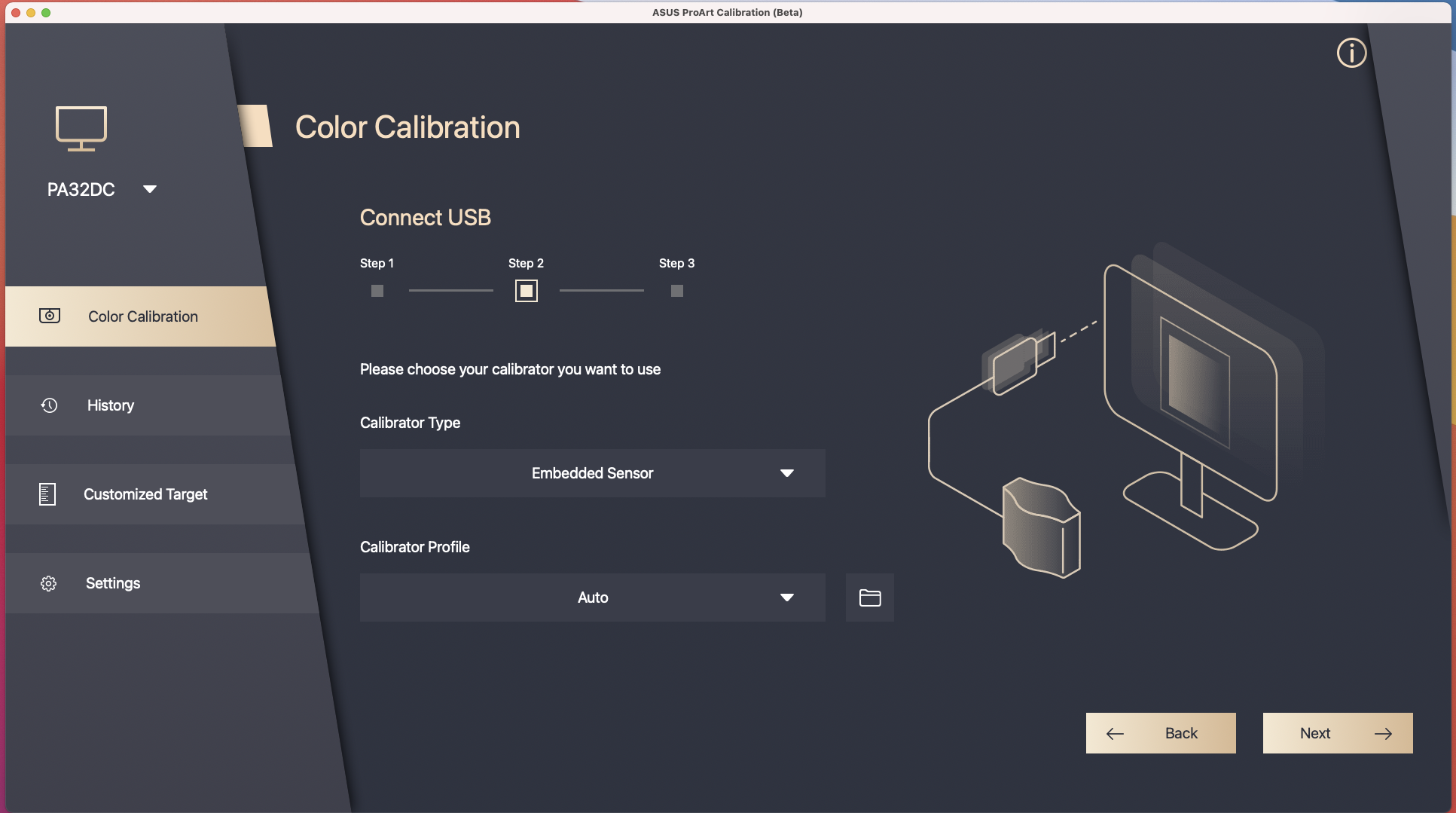 ​
4. Click [next] to measure the brightness,please place the color meter on the marked position, and click [Start] to measure.
After the measurement is completed, it will automatically enter the next step.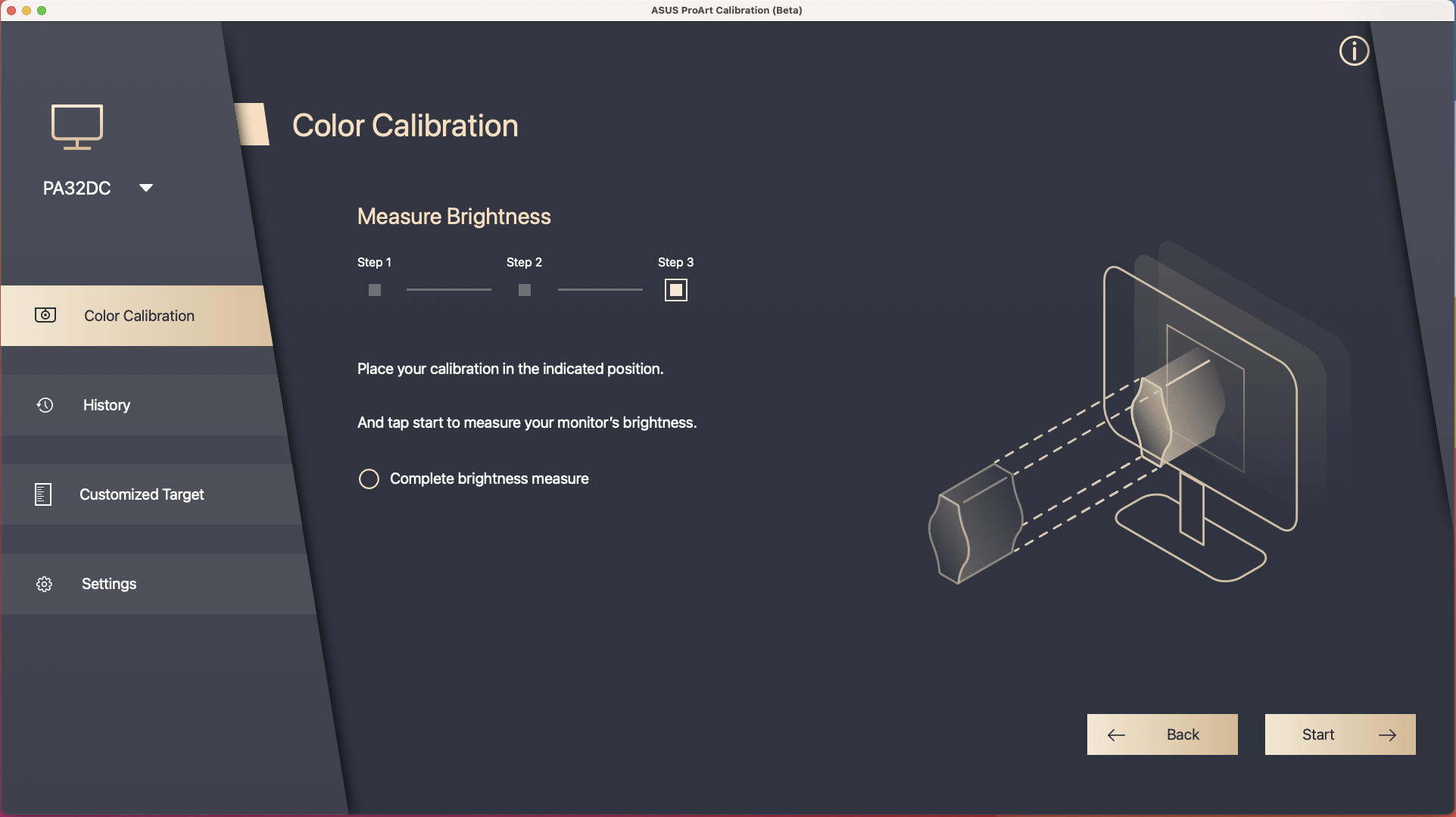 5. Press [Start] to begin color calibration.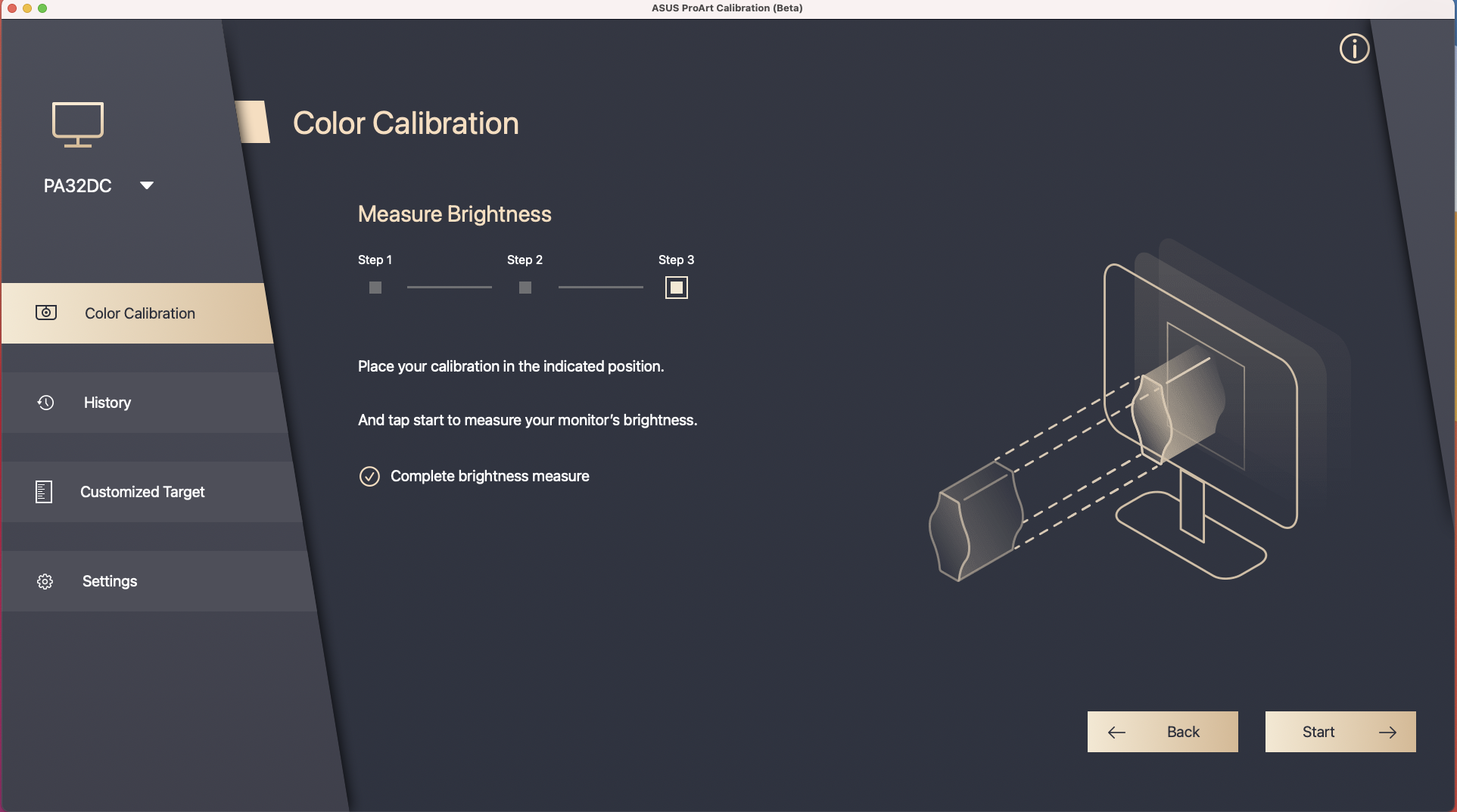 6. . Please follow the instructions to place the color meter on the marked position, and click [Start] to complete color calibration.

7. After the calibration is completed, the report of the calibration results will be generated. You can view the parameter values of the color calibration results in the report.You can click [Export] to save the color calibration report.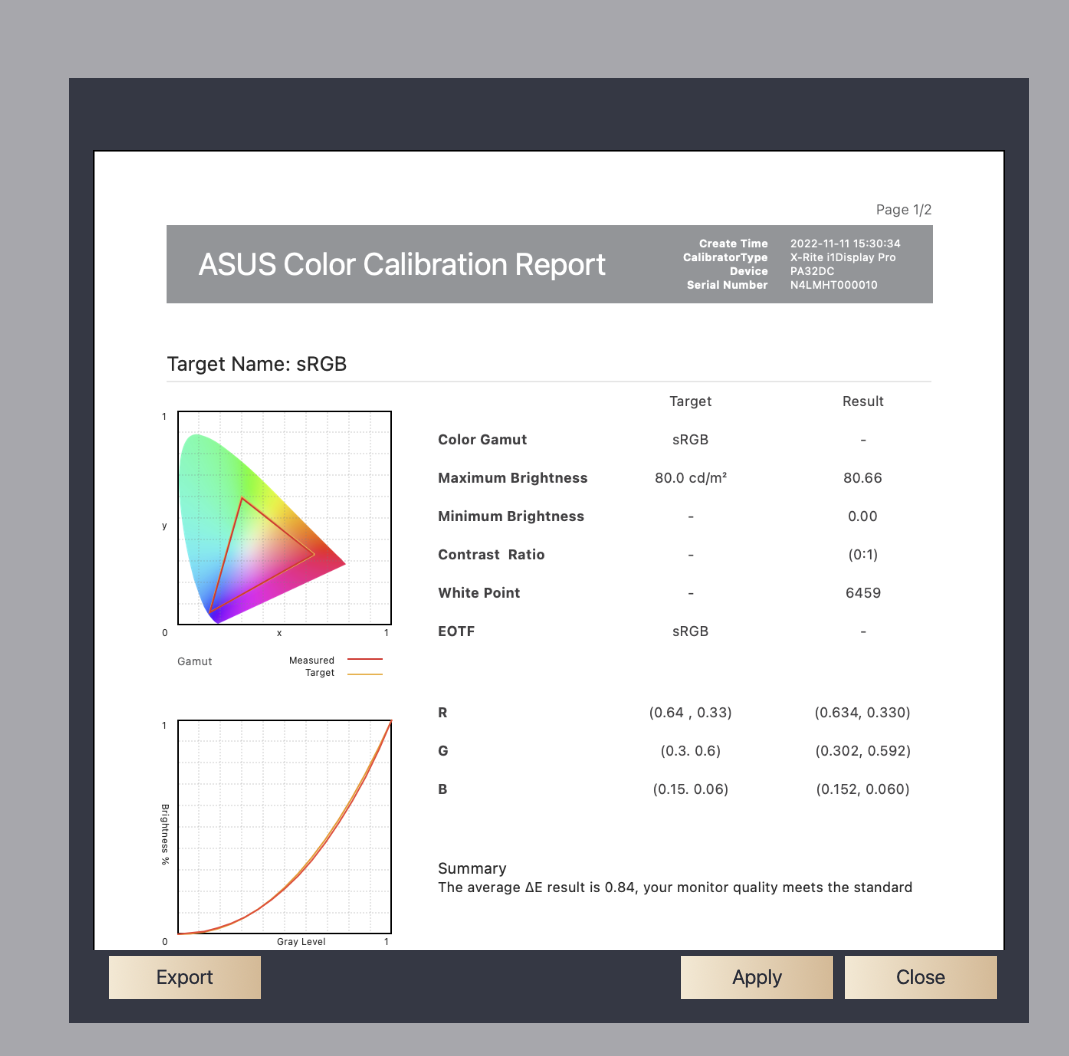 ​
Click [Apply] to save and apply the calibration data to User Mode 1/2 or Preset Mode.
History
In History, the report data of past color calibration can be confirmed; if there is any data that does not need to be kept, you can click [Delete].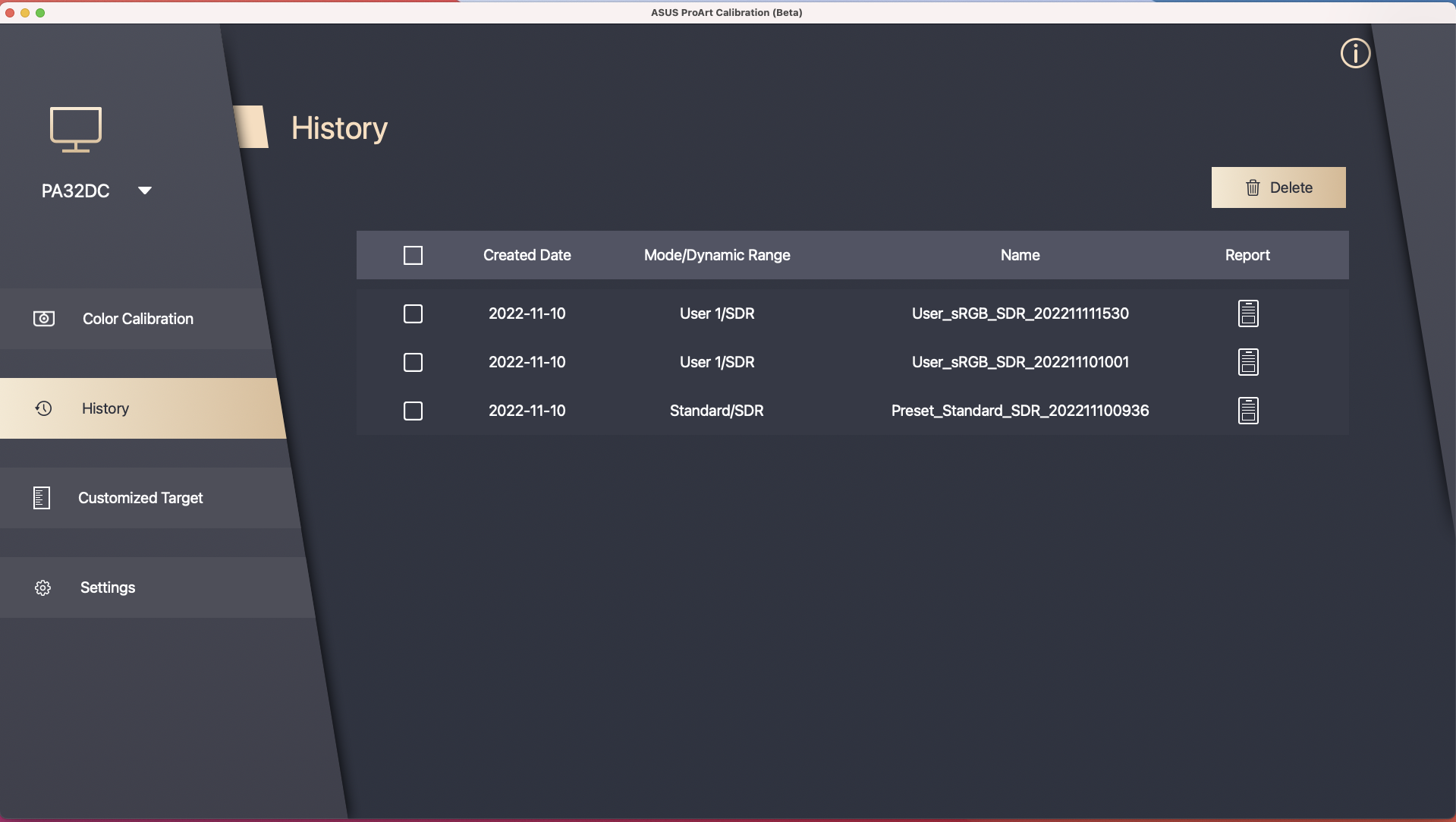 Customized Targets
In Customized Targets, the non-default (EX:sRGB) value parameters that have been set in the past can be confirmed, and can be directly applied to re-calibrate.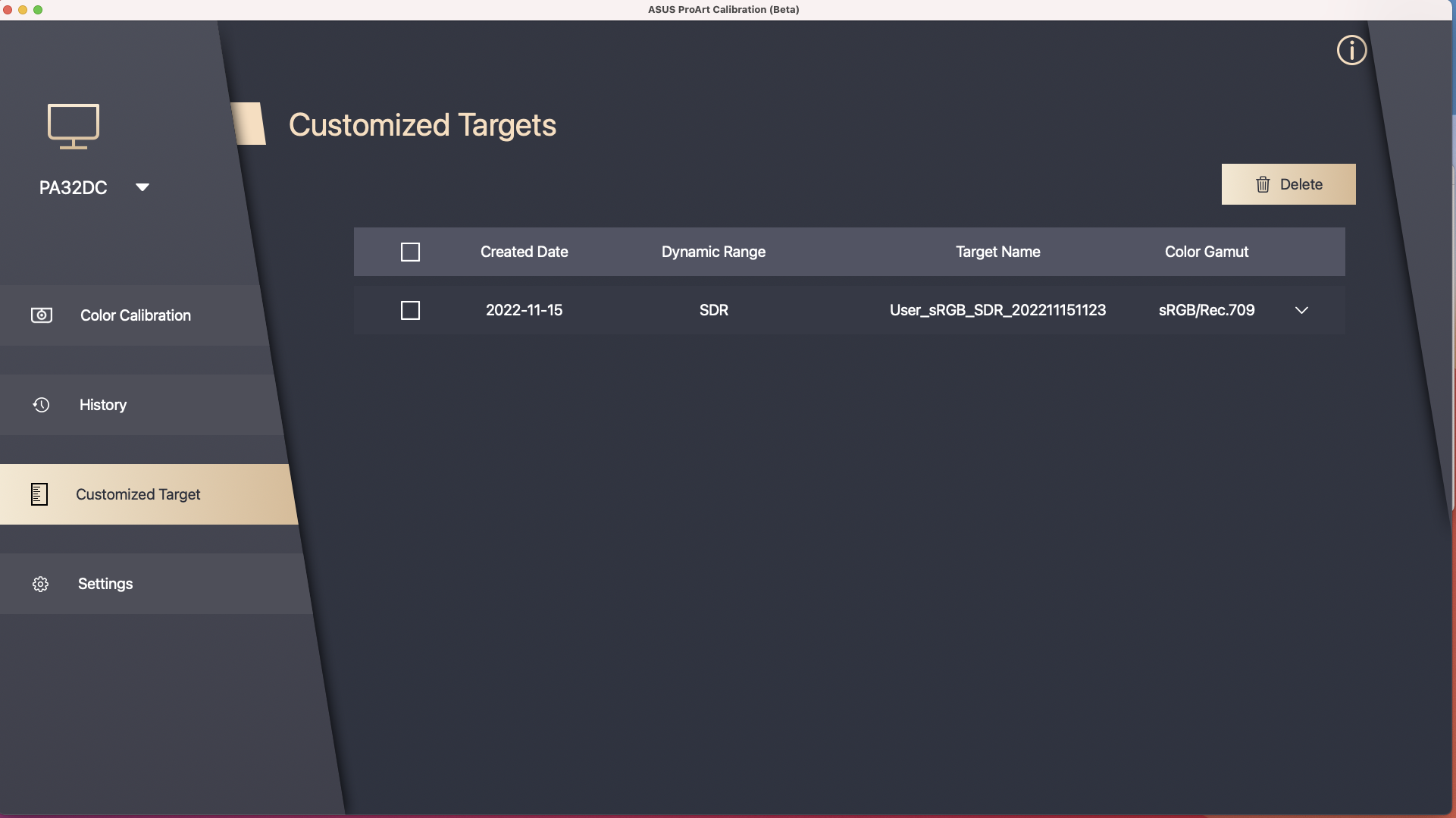 In the custom target, the non-default (EX:sRGB) value parameters that have been set in the past can be confirmed, and can be directly applied to re-calibrate.