[Notebook] Smart Gesture - Introduction
Introduction of ASUS Smart Gesture.
ASUS Smart Gesture is a smart touchpad driver that helps you control more precise gestures including tapping, scrolling, dragging, clicking, and more.
Note 1 : For Intel 7th and 8th Generation units, Smart Gesture is replaced by PTP driver and it's pre-installed in Windows 10, so you don't need to download and install it.
* Note 2: Please be aware that you also need to update the related ATK driver if you are using the 64-bit version of the Smart Gesture program. To find the ATK driver for your model, please refer to your model's product page and go to the [ Driver & Utility ] section. Then download the ATK driver.
Settings
You'll find the SmartSettings page by double clicking the tray icon on the Task Bar.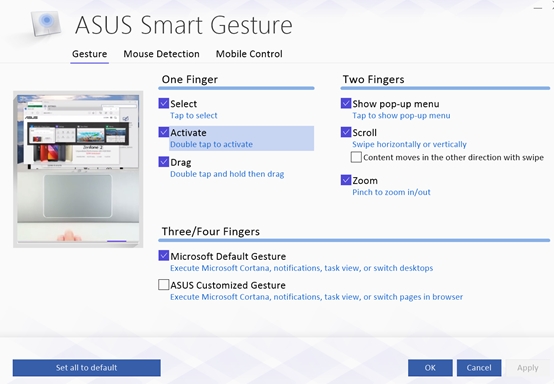 Gesture
In this page, you can choose gesture commands according to your needs.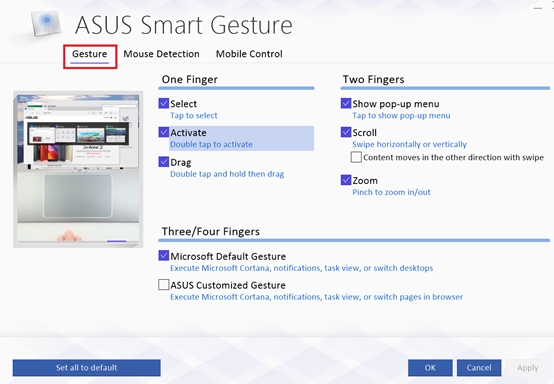 Note: When you move the mouse cursor over the gesture item, the image on the left will display what the gesture does.
Note: Enabling the "Content moves with your finger's direction" function will reverse the scrolling direction on the touchpad.
Touchpad Button (This function isn't included in all version)
Smart Gesture provides an option to switch functions of the left / right buttons. Setting it to default will disable it.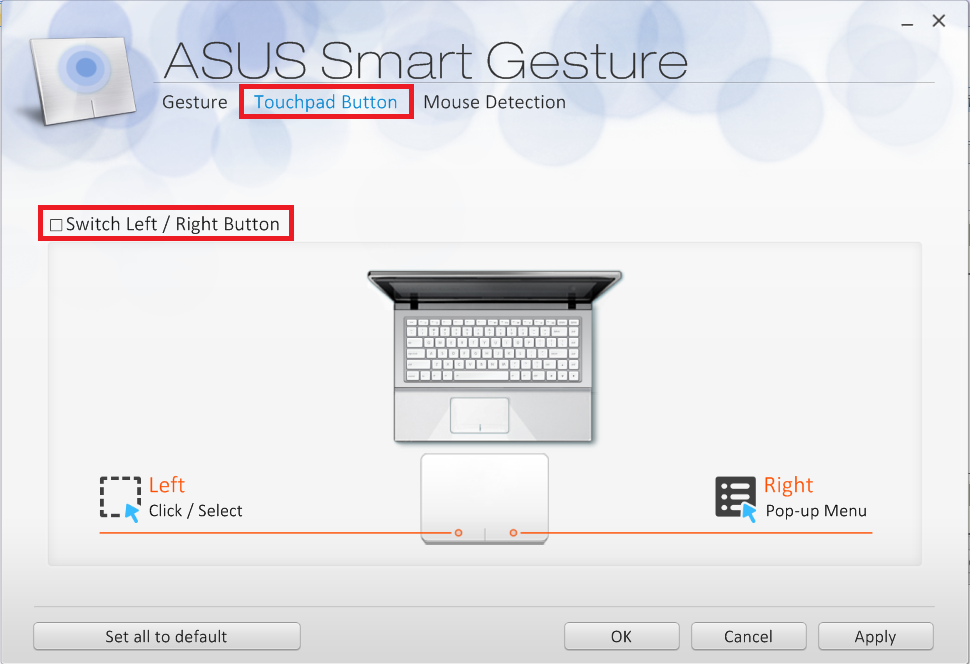 Mouse Detection
When "Disable touchpad when mouse is plugged-in" is enabled, the touchpad function becomes disabled after an external mouse is plugged-in. This includes USB cable mouse, wireless mouse, and Bluetooth mouse.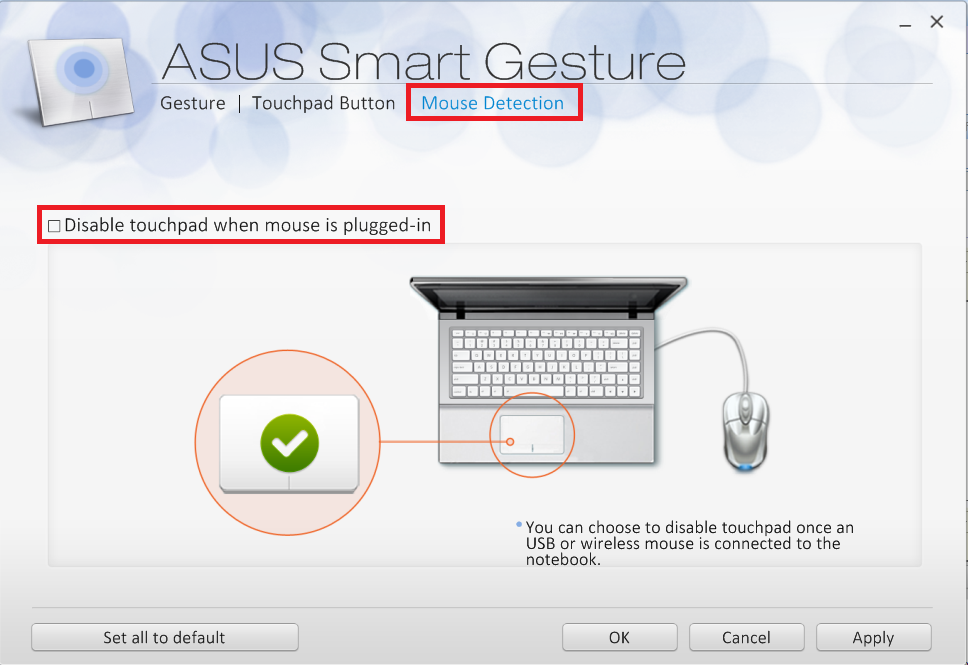 Mobile Control(This function isn't included in all version)
You can use your mobile phone to remotely control your PC through WiFi or Bluetooth. (you need to install Remote Link by App Store or Google Play firstly)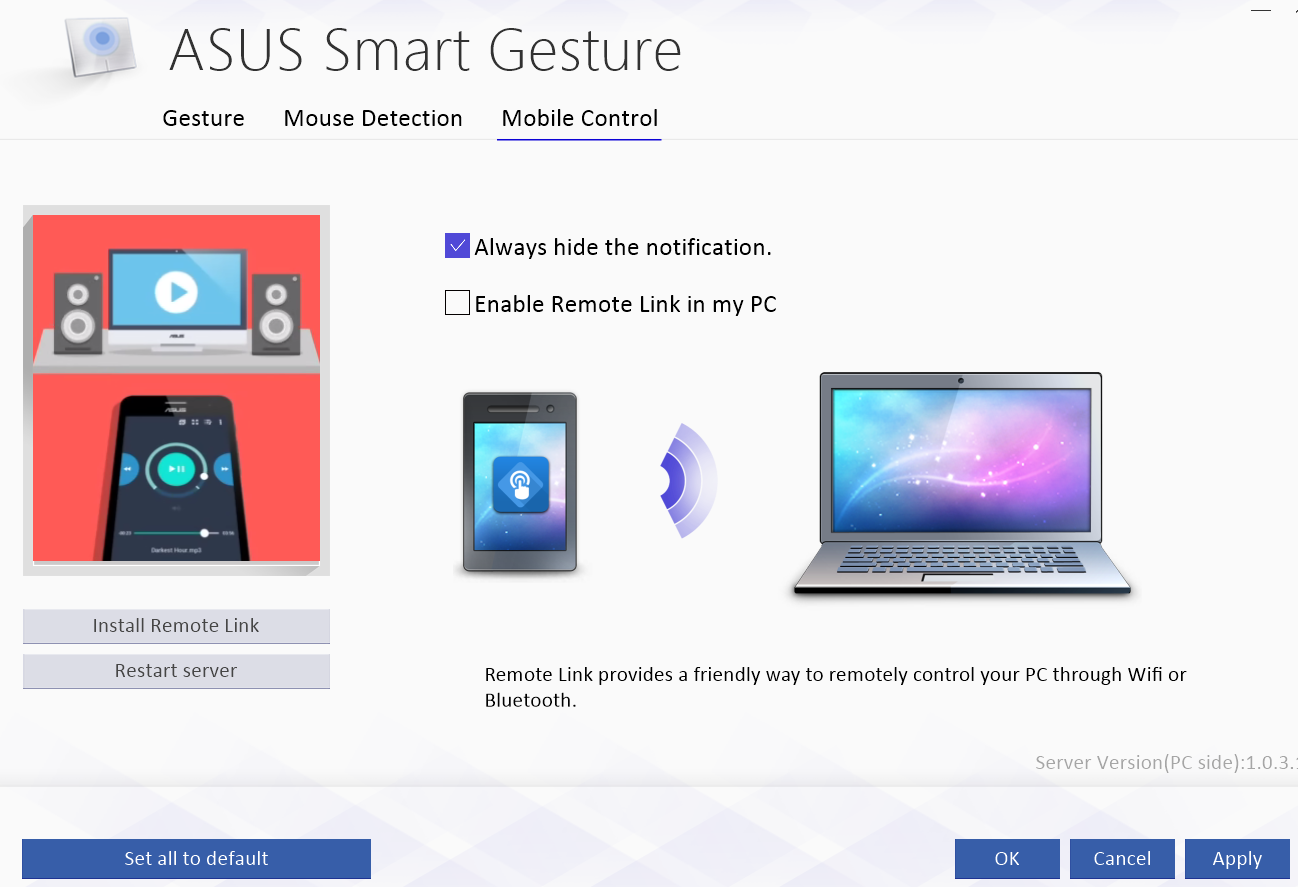 You can download Smart Gesture from the links below(version 4.0.12):
32 bit: Smart Gesture download-32 bit
64 bit: Smart Gesture download-64 bit