Zenbook Flip S13 OLED (UX371, 11th Gen Intel)
Flexible performance,
luxurious design
The distinctive ZenBook Flip S13 OLED combines elegant sophistication with an
all-new
design that makes it more desirable than ever. Its sleek 4K OLED HDR NanoEdge display and 360
°
ErgoLift hinge make ZenBook Flip S13 OLED
ultra-compact
and
ultra-versatile
, and the 11th Generation Intel
®
Core
™
processor and Intel
®
Iris
®
X
e
graphics deliver effortless performance for
on-the-go
productivity and creativity. ZenBook Flip S13 OLED brings you flexibility and performance — with a touch of luxury.
Design
The art of perfection
ZenBook Flip S13 OLED is supremely elegant, with Red Copper
diamond-cut
highlights that perfectly complement its timeless Jade Black finish. A
brushed-aluminium
deco bar above the
edge-to-edge
keyboard adds a subtle finishing touch, creating a luxurious overall look that stands out from the crowd without being extravagant. With ZenBook Flip S13 OLED, your taste is never in question.
Portability
Slim, sleek and light
ZenBook Flip S13 OLED is effortlessly portable and endlessly versatile, thanks to a sleek and compact design that's just 1.2 kg light and 13.9 mm thin. It's the perfect
take-anywhere
laptop for
on-the-go
productivity and creativity.
Display
4K OLED HDR,
ultraslim bezels
The brilliant up to 4K UHD NanoEdge OLED HDR display
2
on ZenBook Flip S13 OLED delivers exceptionally detailed and realistic visuals, with
ultra-vivid
PANTONE
®
Validated colour accuracy and a
cinema-grade
100%
DCI-P3
colour gamut. It's also VESA DisplayHDR
™
500 True Black certified for deep blacks and increased dynamic range, and provides TÜV
Rheinland-certified
eye care, making this immersive
slim-bezel
design a superb
all-rounder
for work or play.
Learn more about ASUS OLED displays
Delta-E < 2
colour accuracy3
ASUS OLED DISPLAY
Five reasons to choose
ASUS OLED laptops
100%
DCI-P3
best-in-class colour gamut
Vivid displays for precise creation, colour work and vibrant visual entertainment.
70% less harmful blue light
With lower harmful
blue-light
levels, OLED offers better eye care and sleep quality.
Clearer image at any brightness
Rich colours even at low brightness — always stunning.
DisplayHDR™ 500 True Black
The deep blacks allow you to see previously unseen details in dark movie scenes.
0.2 ms fastest response time on any laptop
Blur-free action scenes in movies, games and smooth text scrolling.
ASUS OLED laptop displays
ASUS OLED laptop displays
Up to 4K UHD (3840 x 2160)
100% DCI-P3 (133% sRGB)
Best-in-class colours
Up to 550 nits
Equivalent to 724 nits LCD perceptual brightness
1,000,000:1
DisplayHDR™ 500 True Black certified
6.5%
70% reduction in harmful blue light for eye care
0.2ms
Up to 50x faster response time for smooth action
Up to 1.07 billion colours
Colours
Ultimate
professional-grade
colours
ASUS OLED laptops deliver exceptionally detailed and realistic visuals, with a
cinema-grade
100%
DCI-P3
colour gamut. This means that the colours reproduced on the display are richer and more vivid: it's ideal for
colour-intensive
projects, but also enhances any kind of content.
LCD
100% sRGB
OLED
100% DCI - P3
ASUS OLED laptops maintain a 100%
DCI-P3
colour gamut at both high and low brightness levels, while on a standard LCD laptop the colour gamut is reduced dramatically at low brightness levels. At a
gray-level
brightness of 16 G, LCD laptops only have an 11%
DCI-P3
colour gamut, while ASUS OLED laptops maintain a 100%
DCI-P3
colour gamut.
Colour expression of an LCD display compared to OLED display at the same brightness level.
Eye Care
70%
blue-light
reduction for eye care
Blue light is known to cause visual discomfort and disrupt sleep quality. However, due to the nature of the special organic lighting materials in an OLED display, ASUS OLED laptops emit 70% less harmful blue light
4
, and they're also certified by TÜV Rheinland and SGS. More importantly, unlike traditional
blue-light
filters, shifting the spectrum means there's no need to compromise colour accuracy.
Eye Care
Eye care, even more critical
for children
Since children's eyes are not fully developed, with a more transparent lens and cornea, harmful blue light can penetrate the eye more easily, potentially causing premature aging of the retina. Research
7
has shown that in a
five-year-old
child's eyes, approximately 60% of the received
blue-light
emissions pass through to the retina, compared to only around 20% for a
60-year-old
adult. With ASUS OLED displays, the significantly lower blue light levels mean better eye care for children.
Perceptual Brightness
OLED has much higher perceptual brightness
On conventional LCD displays, detail and colour quality usually decrease dramatically as the brightness is reduced. But ASUS OLED laptops are able to show great detail at lower brightness settings due to their high contrast and their ability to maintain a wide colour gamut at low brightness. ASUS OLED laptops can maintain good colour reproduction at any brightness level, so you can freely adjust the screen's brightness to suit your working environment, while still enjoying exceptionally vivid colours. For example, in the living room environment (usually illuminated at about 100 lux), you only need 177 nits brightness in an OLED display to produce the same clear image as 400 nits brightness in an LCD display. At the lower brightness levels needed on OLED displays, there's less harmful blue light emitted.
Required brightness on OLED to reproduce same colours on 400 nits LCD screens.
Contrast
True black:
See the unseen
ASUS OLED laptops reproduce blacks perfectly. An OLED pixel consists of three
sub-pixels
, each with its own
self-generated
illumination: a 4K (3840 x 2160) display has 8,294,400 pixels, which means it has 24,883,200
self-illuminated
sub-pixels
, compared to just a few dozen LED backlights in most LCD displays. When displaying black on an OLED display, the pixel is simply turned off to produce the darkest possible black. This enables extremely crisp and clear images even in the darkest scenes. You'll be surprised to see how many new details you'll spot in your favourite movies!
Response Time
Fastest response time on any laptop for smooth actions
ASUS OLED displays have a 0.2 ms response time – the fastest of any laptop, and 50x faster
8
than the average laptop LCD display. In fact, most of LCD laptop displays have a response time between 10 and 25 ms. This ensures smoother
fast-paced
action scenes,
low-latency
gameplay, and subtle details like
blur-free
text scrolling.
Performance
Incredible performance
ZenBook Flip S13 OLED is built to deliver outstanding performance, anywhere. Its slim and lightweight chassis houses everything you need to enjoy
no-compromise
productivity, whether you're in the office, at home or on the road. ZenBook Flip S13 OLED is also Intel
®
Evo™-verified
to deliver premium mobile performance, superb visuals and outstanding power efficiency. You can rely on ZenBook Flip S13 OLED to make light work of even the most demanding tasks.
Up to
Core™i7
11th Gen Intel® processor
Iris® Xe
integrated Intel® graphics
Battery
Extreme battery life
The
high-capacity
battery in ZenBook Flip S13 OLED keeps it going, however long your working day is. Its
fast-charge
technology lets you recharge up to 60% capacity in as little as 49 minutes, so you can be up and running quicker than ever. ZenBook Flip S13 OLED also supports ASUS USB-C
®
Easy Charge, so you can charge it quickly using a
USB-C
Power
Delivery-certified
charger or top it up with any standard
USB-C
charger such as an airline charger, a portable charger or a power bank.
Up to
long battery life10
Connectivity
Convenient connectivity
ZenBook Flip S13 OLED allows you to connect easily to all the latest peripherals, wherever you are. It features a
full-size
HDMI port, two Thunderbolt
™
4
USB-C®
ports, and a USB 3.2 Gen 1
Type-A
port.
WiFi
Fine-tuned with WiFi Master Premium technology
ASUS offers a comprehensive range of wireless connectivity solutions. The WiFi 6 in your ZenBook Flip S13 OLED allows you to load online content in the blink of an eye, and it's made even better by ASUS WiFi Master technology, which includes ASUS WiFi Stabilizer and ASUS WiFi SmartConnect. For
rock-solid
stability in your WiFi connections, WiFi Stabilizer filters out wireless interference, so you'll always enjoy the fastest possible speeds. WiFi SmartConnect automatically selects the best WiFi source, so your laptop connects seamlessly to the best WiFi signal and known mobile hotspots.
Noise Cancellation
Next-level ASUS AI
Noise-Cancelling Technology
With the increase in remote working and video conferences, we've introduced ASUS AI
Noise-Cancelling
Technology to ensure the best communications experience. This technology employs machine learning in order to isolate unwanted noise from human speech. The ClearVoice Mic feature in the MyASUS app can filter out ambient noise, and the
Multi-Presenter
mode normalizes all individual voices from different positions for optimum group
conference-call
quality. The ClearVoice Speaker feature filters out all ambient noise apart from human speech — so you'll hear what everyone else is saying. Try the demo to experience the amazing difference that AI
Noise-Cancelling
Technology can make in different environments.
Press play to experience ASUS AI
Noise-Cancelling
Technology
Turn on your device audio to hear the difference.
User experience
Ultimate user experiences
Living with ZenBook Flip S13 OLED is designed to be a satisfying experience. From its camera to its touchpad, it's packed with
productivity-enhancing
features.
NumberPad
Edge-to-edge keyboard
Function Keys
IR Camera
ZenBook Flip S13 OLED is available with the innovative ASUS NumberPad 2.0
13
, a
dual-function
touchpad with an integrated
LED-illuminated
numeric keypad. Even when NumberPad is activated, the touchpad can be used for cursor control thanks to its intelligent software.
ZenBook Flip S13 OLED introduces a new
edge-to-edge
keyboard design that makes space for a whole row of extra function keys on the right side of the layout, improving productivity.
For added convenience, you can capture screen grabs, lock the webcam, or access the MyASUS app via function keys.
With ZenBook Flip S13 OLED and Windows Hello, your face is your password. The front infrared (IR) camera14 on ZenBook Flip S13 OLED recognizes your face in seconds, allowing you to log in quickly and securely.
Audio
Harman Kardon audio
To give ZenBook Flip S13 OLED unsurpassed audio capabilities, the ASUS Golden Ear team cooperated with audio specialists Harman Kardon to produce
high-quality
stereo speakers and
surround-sound
effects that envelop you with
cinema-quality
audio. A special smart amplifier ensures maximum volume with minimum distortion for powerful, clear sound. ZenBook Flip S13 OLED delivers the most incredible sound from any angle!
Software
Get the very best from
your PC with MyASUS
MyASUS is the easy way to access handy ASUS apps that help you get more out of your laptop or desktop PC. Optimize your PC's performance, contact
after-sales
service and support for the best PC experience. In its latest Link to MyASUS feature, you can even multitask using your iOS or Android phone with your PC: seamlessly transfer files or use your mobile device as an extend PC screen.
Learn More About MyASUS
File
transfers
URL
transfers
Phone
call
Remote
file access
Screen
mirroring
Screen
extender
To instantly send a file captured from your phone to your PC, simply tap the share icon. You can also transfer files from your PC to your mobile device in the blink of an eye.
Simply tap the share icon in your browser and click MyASUS. The link of the webpage you are watching on your PC will be instantly sent to your mobile device — where it will open automatically for seamless
on-the-go
convenience.
If you need to call someone while working on your PC, you can seamlessly make or receive phone calls — via your PC. There's no need to dig out your phone from your bag or pocket.
If you're working away from the office, you can easily access your work files remotely from your mobile device — anytime, anywhere, and with no hassle.
With the Mirror function, you can do everything on your phone from the comfort of your PC!
If you prefer a
dual-display
setup, the convenient Screen Extender feature turns your mobile device into an extension to your PC's screen. You can drag images, videos or documents onto your phone for easier
cross-referencing
.
Quality test
Ultratough,
military-grade
durability
ZenBook Flip S13 OLED meets the
ultra-demanding
MIL-STD 810G military standard for reliability and durability, undergoing a punishing test regime that includes extended tests for operation in harsh environments. It also passes ASUS laptop tests that far exceed standards set by the industry.
Learn more about ASUS Laptop Quality Tests
Weight may vary according to specifications.
The visual appearance of OLED displays may change over the product's lifetime. This is expected behavior that can include image persistence or

burn-in

, where the display shows a faint remnant of an image even after a new image appears on the screen. This tends to occur only in extreme use cases, such as when a static,

high-contrast

image is continuously displayed for prolonged periods of time. ASUS laptops with an OLED display minimize this risk by setting Windows 10's Dark mode as default, as well as shortening the idle time before the screen is turned off – both on mains (AC) and battery (DC) power. This dual approach minimizes the potential for

burn-in

to maximize the lifespan of your OLED display lifespan, and also reduces unnecessary power draw for optimal battery life. We also recommended adjust the brightness of your OLED display to complement the ambient lighting in your environment, rather than keeping the screen at maximum brightness at all times. You should also ensure that you have an animated,

dark-background

screensaver enabled in the Windows 10 Settings tool.
Average tested result:

Delta-E

< 2, +/- 0.5.
Compared to average LCD displays in the market, measuring energy emission of blue light in between

415-455

nm wavelength.
See: https://www.essilorpro.com/content/dam/essilor-redesign/product-resources/crizal/Blue-Light-Roundtable_White-Paper.pdf
Compared to average LCD laptop panel. Average LCD display has 10 ms response time.
Unless otherwise stated, all performance claims are based on theoretical performance. Actual figures may vary in

real-world

situations.
Battery tests conducted by ASUS on August 18, 2020 using the MobileMark® 2018 Office Productivity scenario. Test configuration: ZenBook Flip S13 UX371EA, 4K OLED HDR panel, Intel® Core™

i7-1165G7

, 1 TB PCIe® 3.0 x4 SSD, 16 GB RAM. Test settings: WiFi enabled, the display brightness set to 150 cd/m2, NumberPad off. Actual battery life may vary depending on product configuration, usage, operational conditions and power management settings. Battery life will decrease over the lifetime of the battery.
The charging speed of a Power Delivery charger will match the connected adapter's power output, up to a maximum of [65] watts. USB-C® Easy Charge provides 4.5 watt charging when connected to a

non-Power

Delivery charger, including most portable and USB

Type-A

to USB-C® chargers. Some portable chargers may not support such features, depending on the configuration.
Unless otherwise stated, claimed WiFi speeds are based on theoretical performance. Actual performance may vary in

real-world

situations.
Please note that all versions of NumberPad only work with the Microsoft Windows operating system.
When setting up Windows Hello or using face login with the IR webcam, the infrared LED is activated to enhance facial recognition speed and accuracy. While the LED is illuminated, you may see a temporary small 'ripple' effect at the top of your OLED display. This is expected behavior, and only occurs during facial recognition. It does not affect the product lifespan or have any permanent effects on the display.
Flex with style
The 360
°
ErgoLift hinge on ZenBook Flip S13 OLED has a
silky-smooth
, stepless action that holds the display securely at any angle. The versatility of ZenBook Flip S13 OLED allows you to work or play in any mode you choose: laptop, tent, stand or tablet. The ErgoLift hinge is also
torture-tested
to ensure maximum reliability for total peace of mind.
Innovative ErgoLift hinge
The innovative 360
°
ErgoLift hinge on ZenBook Flip S13 OLED has a
precision-engineered
metal
multi-gear
mechanism that's cleverly designed to lift and tilt the keyboard into a comfortable typing position while improving cooling airflow when the NanoEdge display is opened beyond 135
°
. In tablet mode, the
dual-action
mechanism automatically rotates out of the way to allow the display to fold flat against the base. The ErgoLift hinge takes your ZenBook Flip S13 OLED experience to the next level.
ASUS Pen and Windows Ink
Artists, photographers and designers will love the endless possibilities that ZenBook Flip S13 OLED has to offer. With full support for the optional ASUS Pen and Windows Ink, it's the perfect choice for creativity.
ASUS Pen is an active stylus with a slim and elegant aluminium design that gives it a premium feel. It's the perfect creative accessory, allowing you to accurately draw, write or annotate in any supported app. Windows Ink lets you create sticky notes, or capture ideas and details — as they happen. You can even take and edit a screenshot, then share it with just one click.
Latest 11th Gen Intel® Core™ processors
ZenBook Flip S13 OLED is packed with
high-performance
components, including up to the very latest 11th Generation Intel Core i7 processor, Intel Iris X
e
graphics, and up to 16 GB of
high-speed
RAM.
High-speed SSD storage
Lightning-fast PCIe 3.0 x4 SSD storage means that ZenBook Flip S13 OLED boots up in just a few seconds, and apps load almost instantaneously. ZenBook Flip S13 OLED helps accelerate your workflow for awesome productivity.
USB-C
®
Easy Charge:
Power anytime, anywhere
USB-C Easy Charge support means that your ZenBook Flip S13 OLED can be used with a wide range of standard
USB-C
chargers. You can enjoy ultrafast charging with any PD (Power Delivery) certified charger, including the supplied
65-watt
fast-charge adapter, or juice up your device on the go with airline chargers, portable chargers or power banks!
11
It's incredibly convenient when there are no wall sockets available, such as on flights or in vehicles.
Lightning-fast Thunderbolt™ 4
The two Thunderbolt 4
USB-C
ports on ZenBook Flip S13 OLED give you unrivaled versatility with ultrafast speeds. They support
USB-C
Power Delivery, external 4K UHD displays, and provide up to 40 Gbps
data-transfer
speeds for
high-performance
peripherals.
Ultrafast WiFi 6
With
faster-than-wired
speeds of up to 2.4 Gbps
12
, the WiFi 6 in ZenBook Flip S13 OLED lets you enjoy smooth streaming of 4K UHD online videos, or transfer large files in an instant.
Up to
faster than WiFi 512
Clearer conference calls
Conference calls, where many colleagues may gather around a single laptop, present particular challenges for clarity — with voices coming from varied directions and distances. That's where ClearVoice Mic's
Multi-Presenter
Conference Call mode comes to the rescue. With this smart feature enabled, MyASUS detects and optimizes the individual voices before relaying them all at the same volume level — ensuring improved quality for group calls.
Efficient NumberPad 2.0
ASUS NumberPad 2.0 gives you an intuitive way to input numbers, improving productivity by solving the problem of the lack of a numeric keypad on compact devices. The new NumberPad 2.0 offers even more options for users: tapping on the
top-right
NumberPad icon for one second switches the function on or off, and tapping on the
top-left
icon lets you choose between two brightness levels. You can also swipe from the
top-left
icon in any direction to activate the Windows Calculator app on the display.
Improved webcam,
clearer video calls
The new ASUS IR
camera-tuning
technology and large camera sensor allow ultrafast face login and significantly upgraded image processing capabilities compared to the previous generation. Your colleagues will be able to see you more clearly than ever during video conference calls, even in darker environments.
Harmful effects on retinal cells
Cone cells are the cells in the eye's retina that enable colour vision. Blue light is often more harmful to these cells compared to other wavelengths of light. In experiments conducted by the Gifu Pharmaceutical University in Japan5, mice cone cells were subjected to red, green, and blue light sources. The survivability of the cone cells under blue light exposure dropped dramatically to 20% after 24 hours, while cone cells exposed to other colours retained around 100% survivability.
Blue light disrupts sleep cycles
When it gets dark, your brain produces the hormone melatonin, which helps to maintain the correct scheduling of your daily sleep cycles. According to a Stanford University study6 the production of melatonin can be blocked by exposure to blue light at night, and potentially cause sleep disruption.
High coverage of HDR standard
The industry HDR standard covers a huge range of brightness from 0.0005 nits — the lowest measurable level — up to 10,000 nits. The true blacks and high brightness possible with OLED displays give them a 75% coverage of the HDR standard, compared to about 46% for LCD displays.
Millions of pixels, individually illuminated
The pixels on an OLED display each contain three
sub-pixels
. For example, 4K (3840 x 2400) display has 8,294,400 pixels, which means it has 24,883,200
sub-pixels
. Each
sub-pixel
self-illuminates independently, unlike LCD displays with pixels that need to be backlit, usually by just 50 or 60 LEDs. This means that it's easier to achieve true black on an OLED display, by simply turning off a pixel. This can't be done on an ordinary LED display, because the backlight can't be turned off with such granularity. This fact also gives OLED displays exceptionally high contrast.
Related products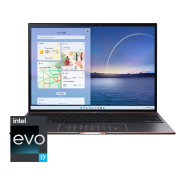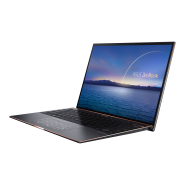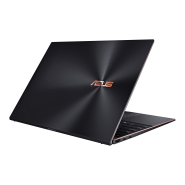 13.9"
Zenbook S UX393 (11th Gen Intel)
---
ASUS eShop price starting at
---
Windows 11 Home - ASUS recommends Windows 11 Pro for business, Free Upgrade to Windows 11¹ (when available, see below)
11th Gen Intel® Core® i7 processor
Intel® Iris® Xe Graphics
Slim and compact for easy portability
3.9" 3:2 3.3K touchscreen
Up to 12 hours battery life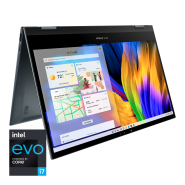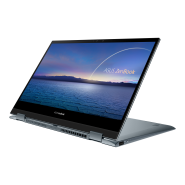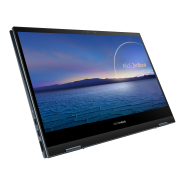 13.3"
Zenbook Flip 13 OLED (UX363, 11th Gen Intel)
---
ASUS eShop price starting at
---
Windows 11 Home - ASUS recommends Windows 11 Pro for business, Free Upgrade to Windows 11¹ (when available, see below)
Up to 11th Gen Intel® Core™ i7 processor
Intel® Iris® Xe Graphics
Up to 16 GB memory
Up to 1 TB SSD storage
Up to 13.3" FHD OLEDNanoEdge display
4096 pressure-level stylus support
Up to 11 hours battery life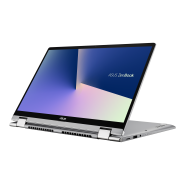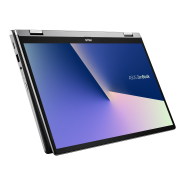 14"
Zenbook Flip 14 UM462
---
ASUS eShop price starting at
---
Windows 11 Home - ASUS recommends Windows 11 Pro for business, Free Upgrade to Windows 11¹ (when available, see below)
Up to AMD Ryzen™ 7 3700U Mobile Processor
Frameless NanoEdge display for 10% smaller footprint
ASUS Pen support
Up to 9 hours battery life
Compare (0)