ASUS VT229H Touch Monitor - 22 inch (21.5 inch viewable) FHD (1920x1080), 10-point Touch, IPS, 178° Wide Viewing Angle, Frameless, Flicker free, Low Blue Light, HDMI, 7H Hardness
21.5" Full HD with 10-point multi-touch capacity, suitable for any application that involves virtual keyboard or multi-touch
Stunningly wide 178° viewing angles and vivid, colorful displays with IPS panel
Frameless design makes it perfect for almost-seamless multi-display setups
ASUS Eye Care technology with flicker-free backlighting and blue light filter to minimize eye fatigue
Flexible connectivity with HDMI and VGA

ASUS VT229H Multi-touch MONITOR
Beauty at Your Fingertips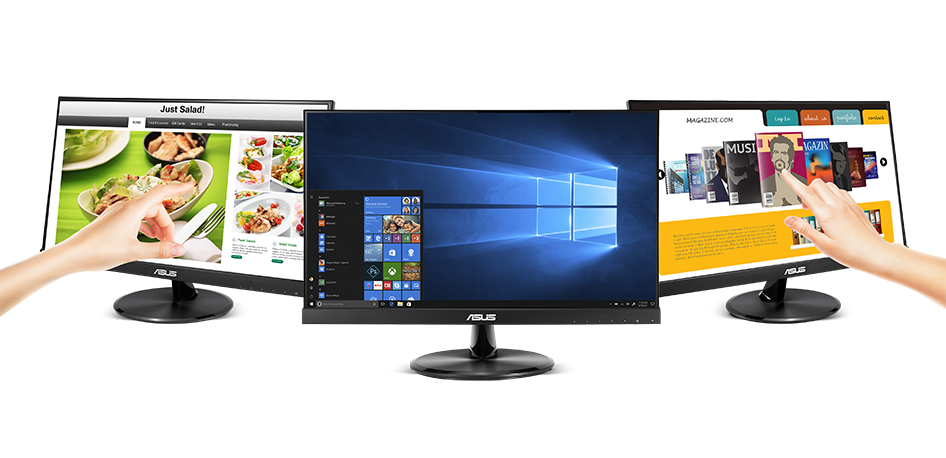 10-Point Multi-touch – An Incredibly Intuitive Touch Experience
The ASUS VT229H touchscreen monitor combines 10-point multi-touch capability with superb image quality, flexible connectivity, durability and great ergonomics.
The precise and accurate multi-touch display featuring 7H hardness — allowing up to 10 simultaneous touches — is optimized for use with Windows 10, allowing you to work smarter and more efficiently, as well as perfect for public usage with protection and durability.

VT229H has passed the tests and been confirmed that it has best compatibility and reliability with Windows10 operating system. Ensuring home and business users of Microsoft's new operating system can benefit from ASUS Touch Monitor.
Simply tap, drag, pinch, zoom or spin with your fingers for an amazingly natural and effortless touch experience. All Windows 10 touch gestures can be used on the ASUS VT229H.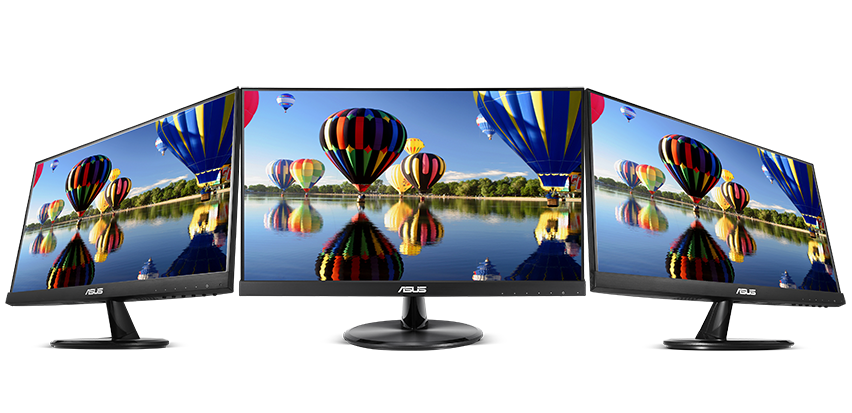 The ASUS VT229H has a 21.5-inch widescreen (16:9) display that delivers outstanding image quality thanks to Full HD 1920x1080 resolution and 178° IPS wide-viewing-angle panel. With a fast 5ms response time, you'll get pin-sharp images for any kind of content. And you can also choose your preferred aspect ratio for scaling non-widescreen images —either 16:9 or 4:3 — via the ASUS Aspect ratio control.
The Touchscreen Monitor That Gives You Much More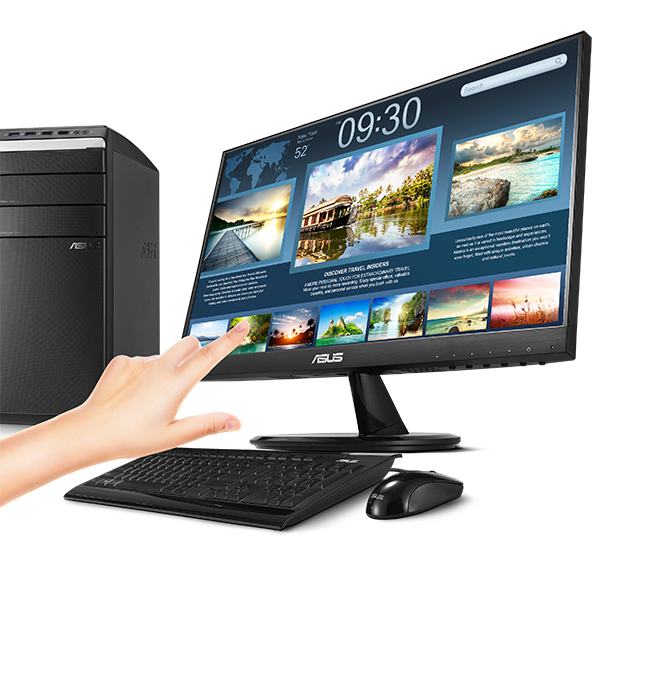 To give you a truly vivid viewing experience, VT229H includes some of our special proprietary technologies, such as QuickFit Virtual Scale* Scale and Splendid Video Intelligence Technologies.

* Patent-pending

ASUS QuickFit Virtual Scale's onscreen alignment grid overlay helps you align and preview actual-size photos and documents on screen prior to printing, making sure they print perfectly every time.

Supporting Formats:
Grid: Alignment
Photos: 4"x6", 3"x5", 2"x2"
ASUS Splendid Video Intelligence Technology employs a color engine with eight preset modes. These allow you to adjust your display easily for the best color accuracy and image fidelity, depending on what kind of content is being displayed. You can access the presets via a designated hotkey.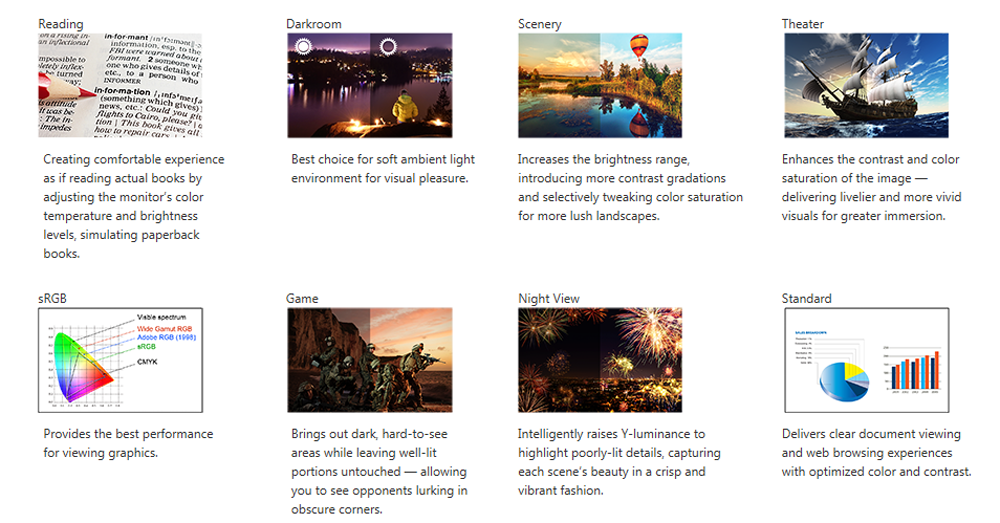 Perfect Comfort and Flexibility for Home and Office
Designed With You in Mind
VT229H has multiple video connectors, including HDMI and VGA inputs, making it suitable for use anywhere, either in the home or at the office.
VT229H features an elegant circular base with an ergonomically-designed tilting stand that lets you choose the ideal viewing position. The monitor is also VESA mount-compatible, making it easy to mount on a wall or monitor arm. Advanced power-saving features ensure low energy costs and maximum reliability, and it meets stringent environmental standards including RoHS, ENERGY STAR.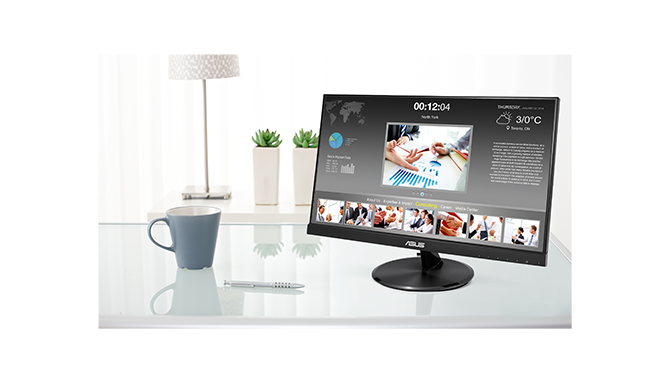 Protect your eyes with ASUS Eye Care Technology
Visit ASUS Eye Care microsite : https://www.asus.com/Microsite/display/eye_care_technology/
VT229H has undergone stringent performance tests and is awarded Flicker-free and Low Blue Light certifications by TÜV Rheinland laboratories, a global provider of technical, safety, and certification services, to show display quality with clear image and prevent users suffering from eye strain and fatigue.

Ultra-low Blue Light Monitor
The TÜV Rheinland-certified ASUS Blue Light Filter protects you from harmful blue light, and you can easily access its four different filter settings via a hotkey.
Level 1 is ideal for normal web browsing, and gives you excellent color reproduction for lifelike visuals, minimal color shift.

Level 2 is ideal when you're viewing photos and videos, giving you a perfect balance of high image quality.

Level 3 gives you the look of real paper, making it ideal for long hours of reading or word processing.

Level 4 is ideal for environments with dim ambient light.