TUF 3-RX5700XT-O8G-EVO-GAMING
The ASUS TUF Gaming X3 Radeon™ RX 5700 XT EVO powers through 1080p gaming
OC Edition: Boost Clock ~1980 MHz (OC Mode)/ ~1905 MHz (Gaming Mode)
Axial-tech fan design features a smaller fan hub that facilitates longer blades and a barrier ring that increases downward air pressure.
0dB technology lets you enjoy light gaming in relative silence.
2.7-slot design expands cooling surface area to make the most of the three powerful fans.
Dual ball fan bearings can last up to twice as long as sleeve bearing designs.
Auto-Extreme Technology uses automation to enhance reliability.
A protective backplate secures components during transportation and installation.
TUF compatibility testing ensures TUF Gaming and TUF alliance products work together flawlessly.
A 144-hour validation program puts cards through a series of stringent tests to ensure compatibility with the latest games.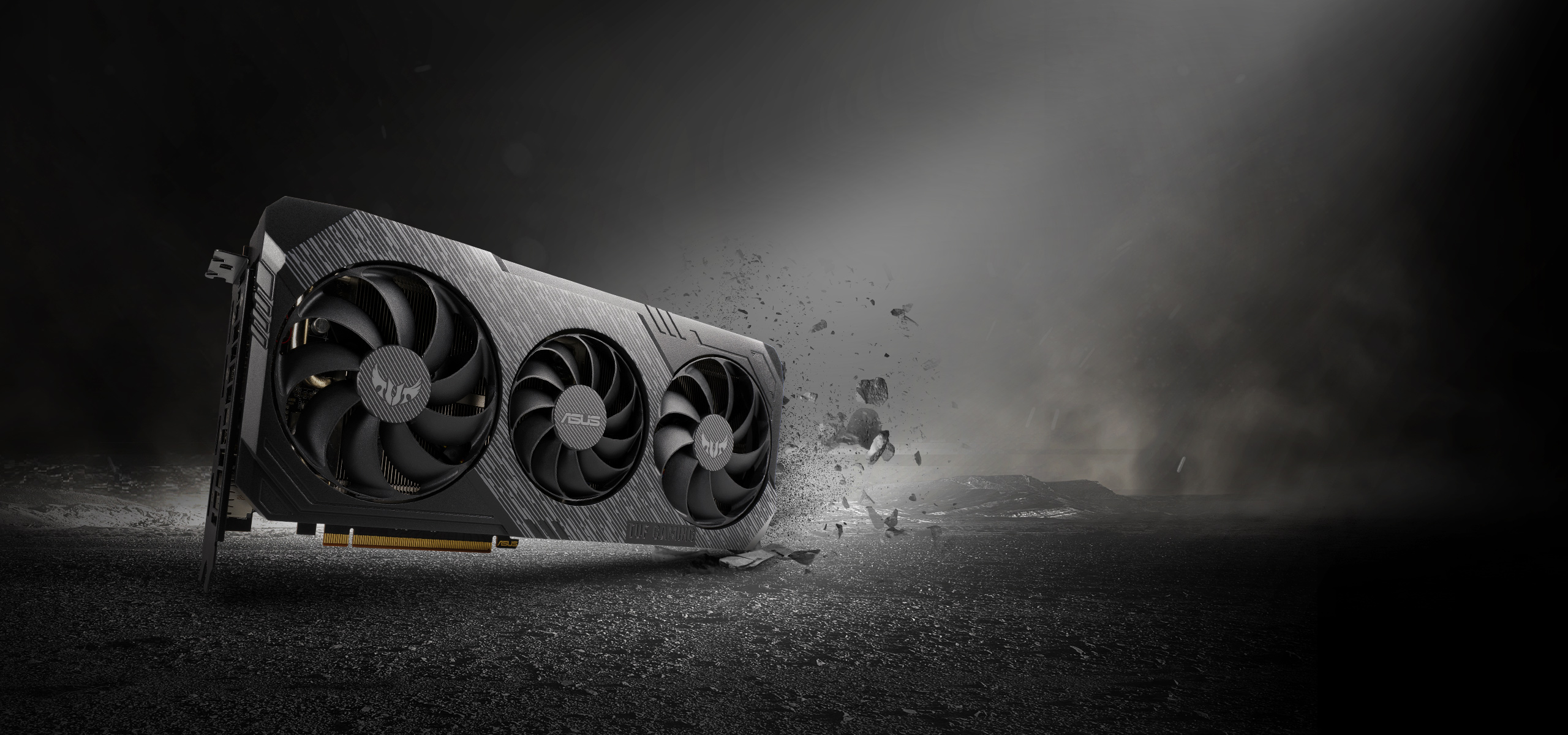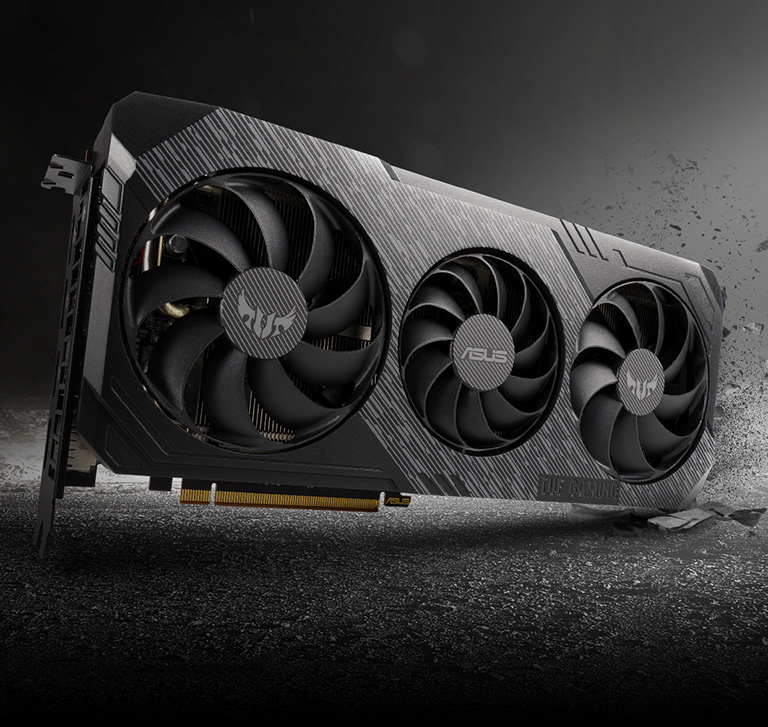 The TUF Gaming X3 Radeon™ RX 5700 XT EVO equips 3 powerful fans to up the ante for cooling, without sacrificing the durability that makes it TUF. Each card is built using Auto-Extreme manufacturing, protected by a rigid backplate that prevents PCB flex, and utilizes durable dual ball fan bearings. And, it's all backed by a rigorous battery of validation tests to ensure compatibility with the latest TUF products. If you're looking for the super-cooled tank of graphics cards, lock and load your rig with the TUF Gaming X3 EVO.
Better, faster, stronger
Newly designed for the latest generation of top-end ROG graphics cards, these fans feature a smaller hub that facilitates longer blades and a barrier ring to increase downward air pressure.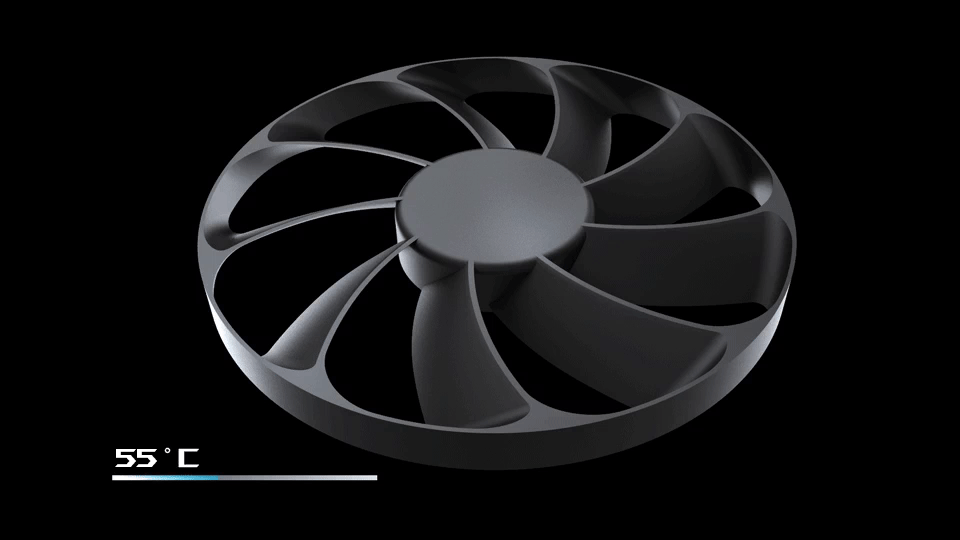 Quiet intelligence
An advanced onboard controller brings fans to a standstill when the GPU core temperature is below 55 Celsius, letting you enjoy light gaming in relative silence. As temps rise, the fans automatically start up again.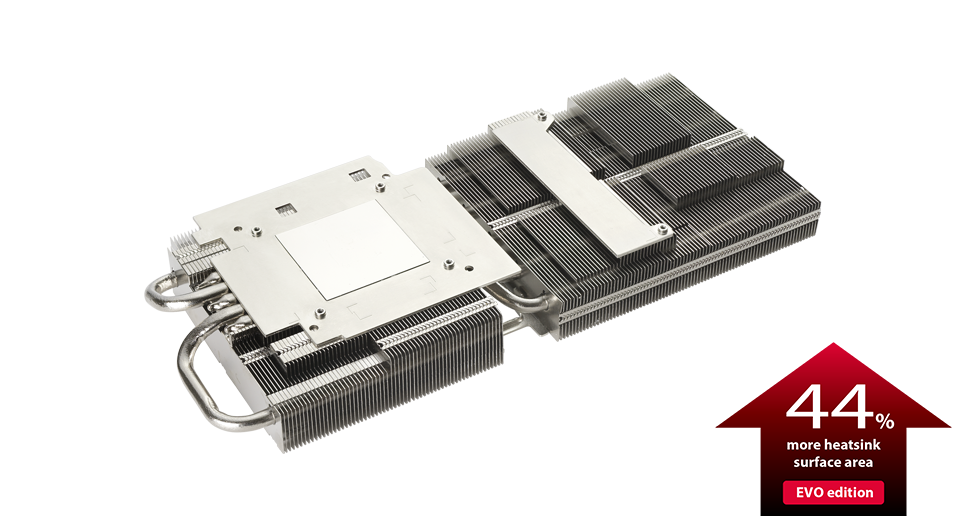 New and Improved Heatsink
Bigger and better
This EVO card has an all-new heatsink with 44% more surface area, and contact points to cool both the VRM and on-board memory.

*Compared to the original TUF Gaming X3 Radeon RX 5700 XT/ RX 5700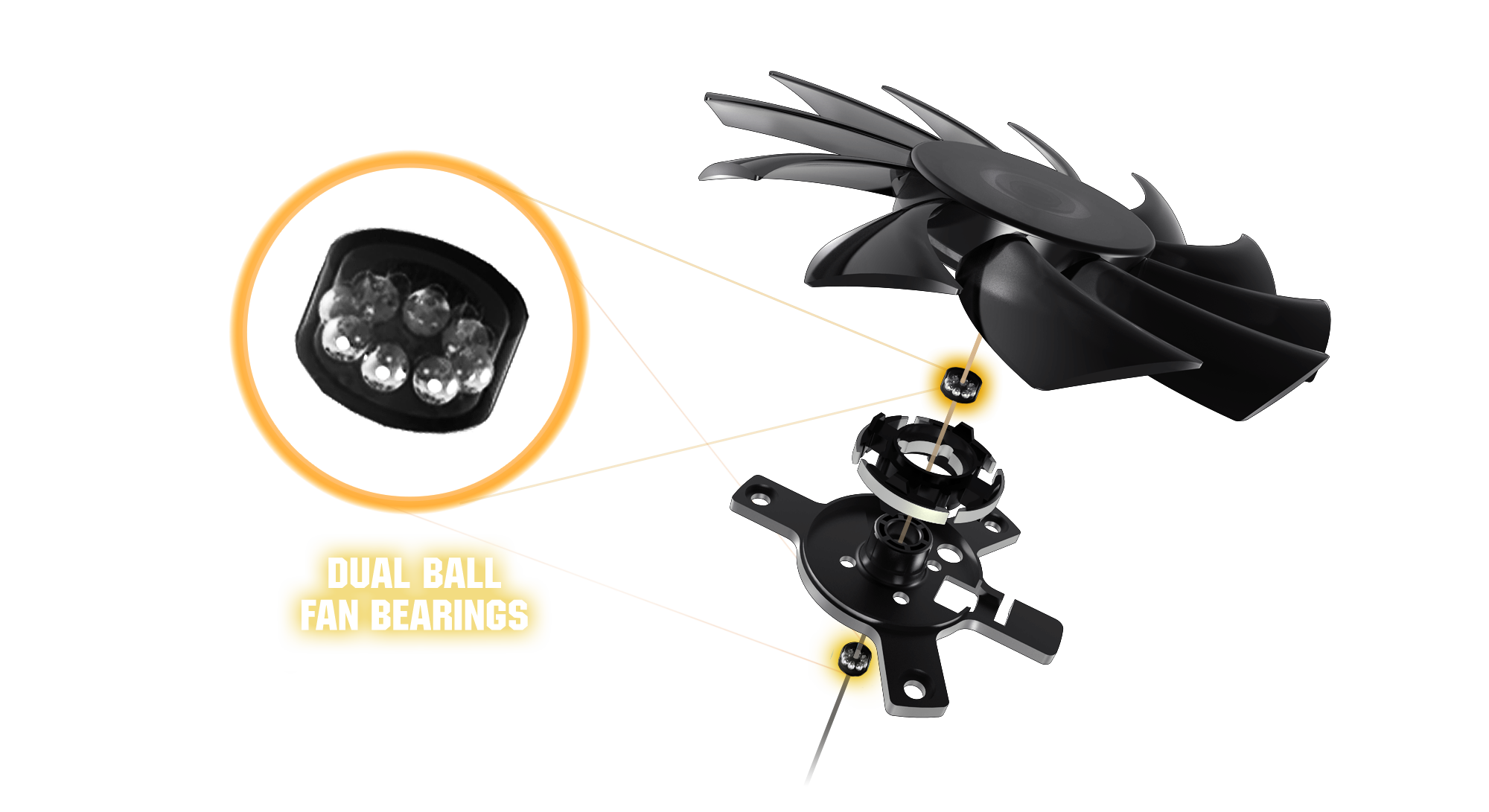 2x longer lifespan
Different bearing types have unique pros and cons. Ball bearings excel at durability and can last up to twice as long as sleeve bearing designs.
Precision automated manufacturing
Auto-Extreme Technology is an automated manufacturing process that sets new standards in the industry by allowing all soldering to be completed in a single pass. This reduces thermal strain on components and avoids the use of harsh cleaning chemicals, resulting in less environmental impact, lower manufacturing power consumption, and a more reliable product overall.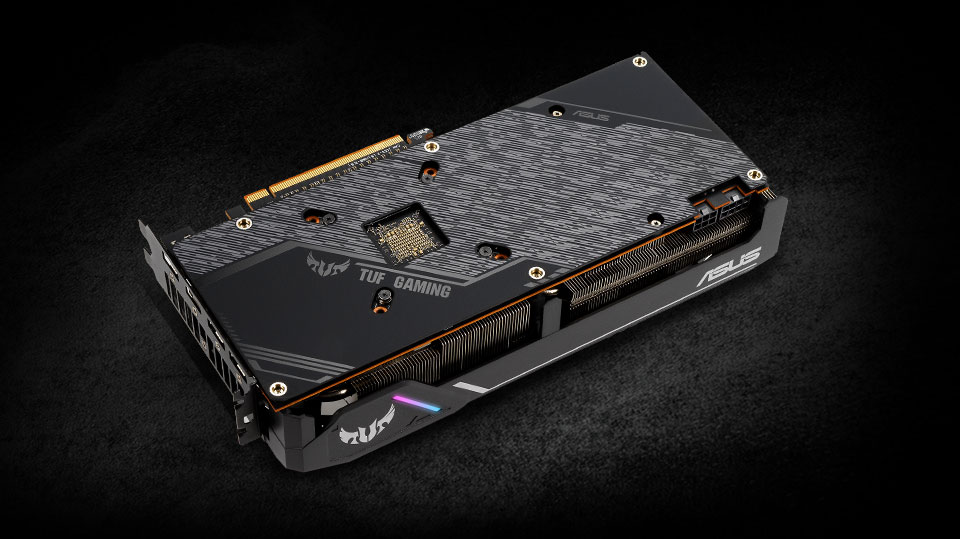 That's so metal!
The PCB is reinforced by an aluminum backplate that adds structural rigidity, helping to prevent flex and protect components and trace pathways from damage.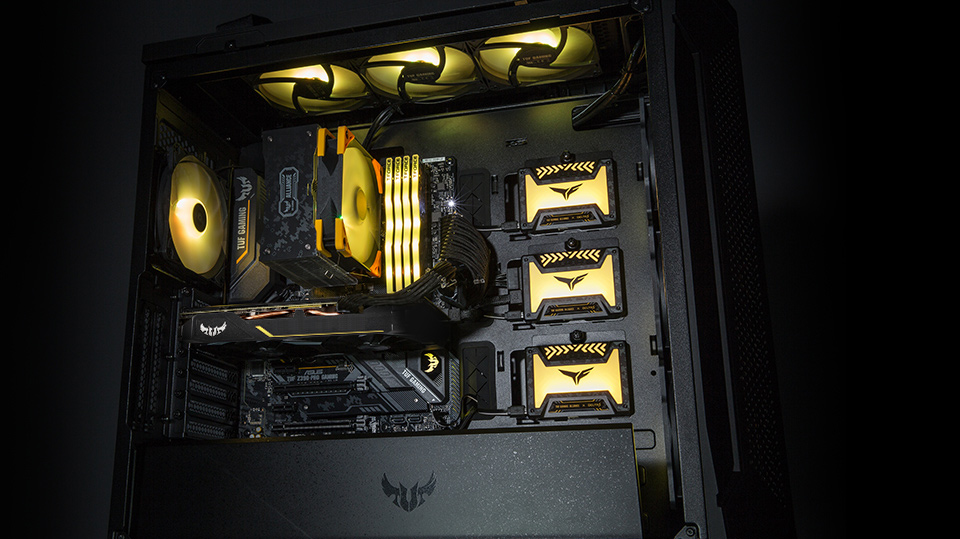 TUF Compatibility Testing
Better together
ASUS TUF Gaming and TUF Gaming Alliance products from our partners are subjected to a rigorous battery of validation tests to ensure a seamless plug-and-play experience. All products also share a common design language, making it easier to build an entire battlestation that has a unified aesthetic.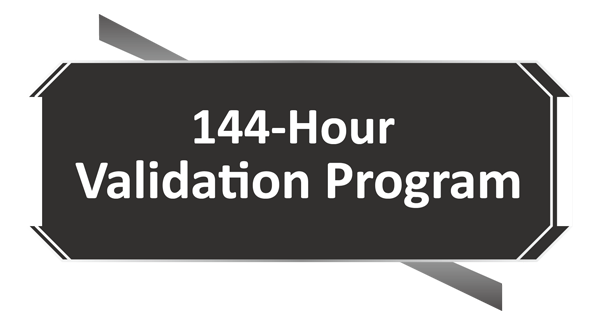 144−Hour Validation Program
"Extensive" may be an understatement
Each card must meet rigorous performance and reliability standards before it ships. Performance and stress tests are run with the latest chart-topping titles like Fortnite, League of Legends, Overwatch, and PlayerUnknown's Battlegrounds. We also carry out reliability trials that include a 144-hour stability test and a series of 3DMark benchmarking runs to ensure the card performs well when pushed to the limits.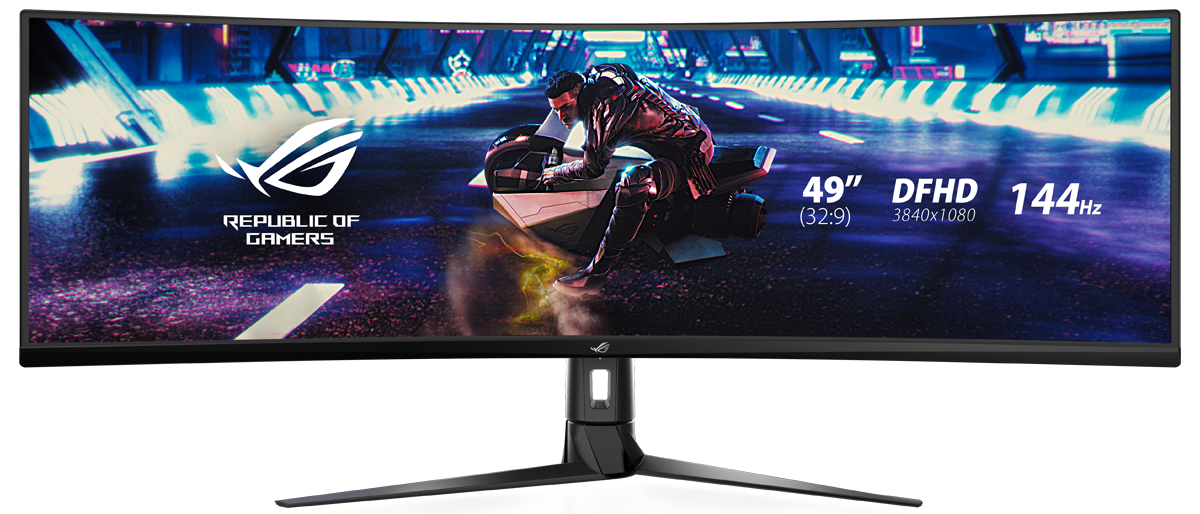 Immersive Gaming Dynamics
Experience stutter-free, tear-free gaming with AMD Radeon FreeSync™ Premium Pro technology, available on many ASUS monitors.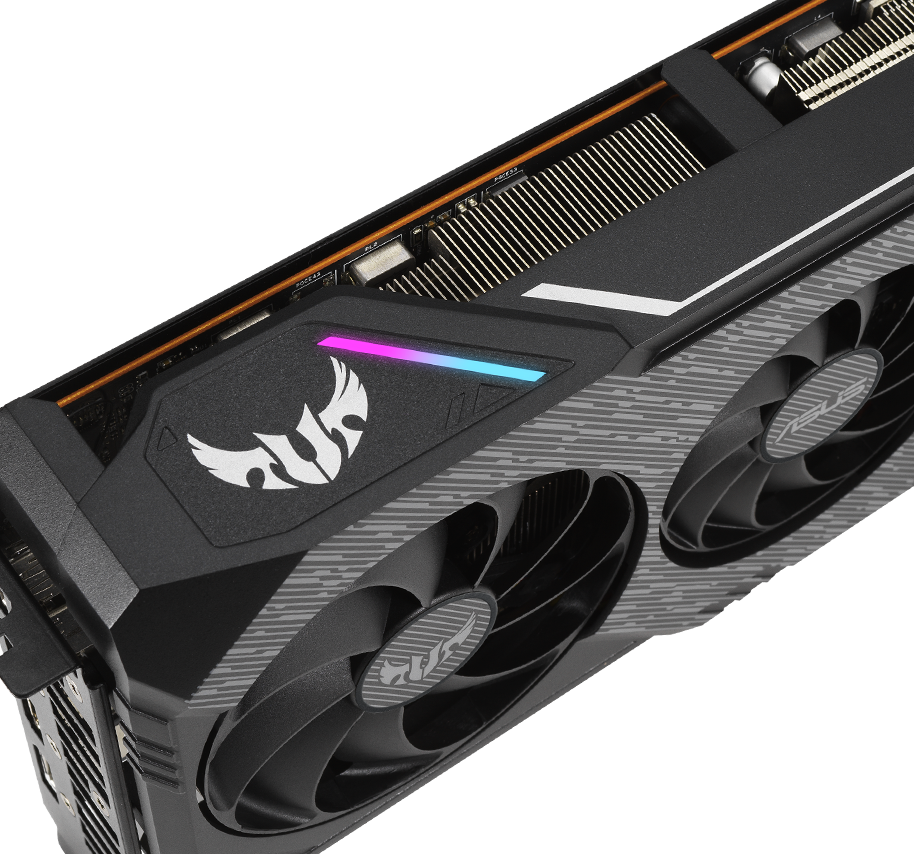 A bit lit
The shroud features a subtle illuminated strip that creates a stylish accent for your build.

AMD Radeon™ Anti-Lag
AMD Radeon™ Anti-Lag minimizes the amount of time between a key press or mouse movement and having that response show up on the screen. For competitive gamers, this feature is a must-have.

Intelligent Sharpening Technology
Radeon™ Image Sharpening (RIS) is a contrast-adaptive sharpening algorithm designed to intelligently enhance details to deliver crisp-looking visuals with minimal performance impact.



FidelityFX
FidelityFX is a collection of high-quality post-process effects that automatically collapse multiple effects into fewer shader passes to reduce GPU overhead.

Radeon™ Boost
Give your games a boost of performance by dynamically lowering resolution to allow higher FPS with no perceived impact to quality.



Integer Display Scaling
Relive the nostalgia of classic games on modern high-resolution displays with Integer Display Scaling. IDS upscales each pixel by a factor of four (or more) to provide a crisp visual experience.
Radeon FreeSync technology requires a monitor and AMD Radeon™ graphics, both with FreeSync support. See www.amd.com/freesync for complete details. Confirm capability with your system manufacturer before purchase.
0%
Compare (0)