[ProArt Studiobook] How to use battery/adapter for Notebook and Troubleshooting
The following contexts introduce suggested instruction and troubleshooting of battery/adapter for ASUS notebook.
● Instruction of adapter
1. Please use ASUS original adapter for your laptop to avoid compatibility issue.
2. Try not to place the adapter on floor while in use. Wheel of office chair also easily damages the cable and leads to short circuit or loose contact for cable.
3. Do not misuse different adapters on differnt models. Plug in differents sizes of connector might cause damage .
4. Even though the size of DC Jack is the same, please ensure the spec of adapter ( e.g. 19V / 4.74A) is the same. Adapter or laptop will be damaged due to misuse.
● Troubleshooting : No power supplied from adapter
1. Please check whether the connector of adapter is loose or not .(marked as below image: A-power cord plug B- outlet side plug C- NB side pluig) , or you can try at different outlets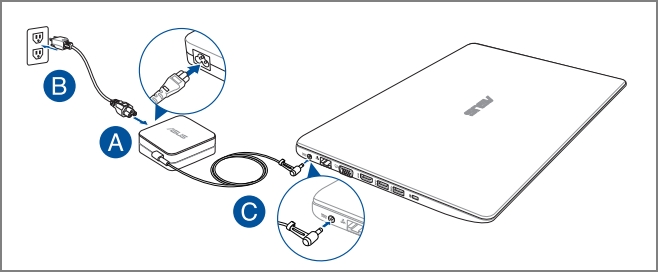 2. Please check whether there is any damage on adapter cable . If there is, try with another new adapter.
● Instruction for Li-ion battery
We usually classify Li-ion battery Cylindrical Lithium battery (called as 18650 Li-ion battery) and Lithium Polymer (Li-Po) battery (mostly used in cellphones, flat shape)

● How to use Li-ion battery
Li-ion battery has no battery memory effect , and ASUS Li-ion battery is able to prevent over-charge/ excessive discharge/ charge temperature control.
One thing to emphasize , Li-ion battery is "self-discharge" , power storage will slightly go down during charging/discharging.
If you discharge the Li-ion battery till 0% , battery would be damaged and not rechargeable , so you shall keep certain amount of power before its discharge/ charge.
We suggest you charge the Li-ion battery as much as 50-80% power and discharge it . A while later, completely charge the Li-ion battery once to refresh the battery .
● Troubleshooting- Li-ion battery cannot be charged
1. Ensure whether the adapter normally works. Please refer to above content Troubleshooting : No power supplied from adapter
2. If the Li-ion battery can be taken off, please remove it one more time.
3. Assume that Li-ion battery cannot be charged because of the storage without use, we suggest you fix this issue by charging the battery for the whole night in lower current.
If you cannot solve the problem with the above information , please contact ASUS customer service center for further information.
**Please provide your battery,power cable and adapter if repair service is required so we can examine each spare accessary.
Related Topics