MU101C Wired Blue Ray Mouse
Overview

Tech Specs

Review
Wired Blue Ray Silent Mouse
Advanced tracking technology ensures superior accuracy and responsiveness on various surfaces
Instant resolution switching from 1000 to 3200 DPI
Low clicking noise (20dB)

MU101C wired blue ray mouse is ideal for using in a quiet environment; it's silent micro switch lets you get rid of clicking noise (only around 20dB) and no more worries about annoying others. More concentration, more efficiency.

Instant DPI switch (1000/1600/2400/3200) and easy scroll button for non-slip and accurate control. The blue ray sensor precisely detects motion on various surfaces, including wood, plastic, fabric and etc., tracking smoothly without a mouse pad.

Its friendly ambidextrous shape is suitable for both left-hand and right-hand users. 1500mm cable provides flexible solution to any scenario usage. MU101C is a great choice for work and play.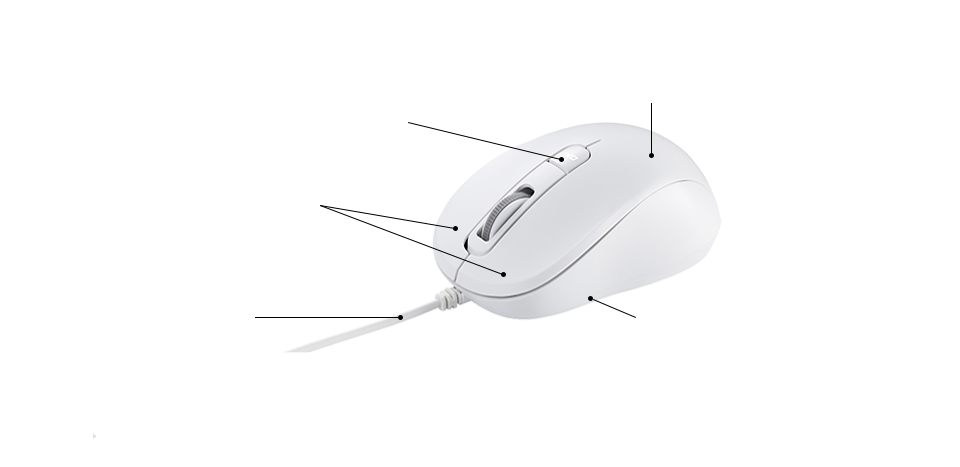 Ergonomic and symmetrical
Friendly for all kinds of users
DPI switch button
(1000/1600/2400/3200)
(Up to 2,000K life times)
Silent click design (20dB)
(Up to 10,000K life times)
Cable length 1.5M
(Up to 1,000 times cord bending test)
Precise tracking sensor
(Detects motion on hundreds of surfaces,
including wood, plastic, or even your pants leg)
Silent mouse

Silent micro switch- low noise. No more worries about annoying others in a quiet environment.

Ambidextrous

Symmetrical shape is comfortable whether for right or left hand use.

Accurate 3200 dpi

Hi-res control never skips a dot, cutting delays, frustration and errors in worry-free computing.

Easy Scroll button

Non-slip design and accurate control

DPI switch 1000/1600/2400/3200dpi (default 1600)

Response shifting- choosing the right mouse resolution for every surface and application type by clicking DPI switch button
Compare (0)