Descripción

Especificaciones

Noticias

Soporte
Tarjeta madre gaming Intel® LGA 1151 ATX con soporte para DDR4 4000MHz, 32Gbps M.2, Intel Optane memory, y USB 3.1 Gen 2.
ASUS OptiMem: Circuito de memoria optimizado para preservar la integridad de la señal y potenciar el rango de overclocking.
Sonido DTS Custom: Permite localizar la acción y el posicionamiento de los enemigos con auriculares estéreo.
Protección TUF: SafeSlot, ESD Guards, protección DDR4 contra subidas de tensión , Digi+ VRM y E/S de acero inoxidable para una fiabilidad a largo plazo.
Componentes TUF: TUF LANGuard, TUF Chokes, condensadores TUF y TUF MOSFET que duran más.
Fan Xpert 4 Core: Proporciona el mejor equilibrio entre refrigeración y emisiones de ruido.
M.2 nativo: Interfaz integrada para conectar unidades SSD a velocidades de hasta 32 Gbps.

Arm Your Battlestation
TUF Gaming motherboards are built to survive and thrive on every battlefield. Infused with the military spirit of The Ultimate Force (TUF) and styled to strike fear into the hearts of every enemy, TUF Z370-Pro Gaming is the perfect foundation for your ATX battle rig: a solid, durable and camouflaged force that's fit for today's fights, and with the durability to handle multiple upgrades for the campaigns of tomorrow.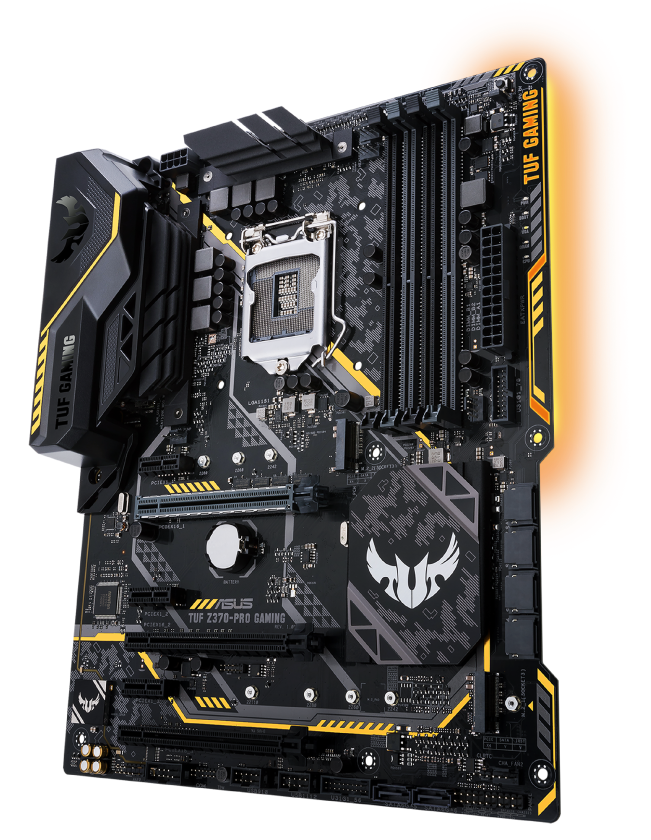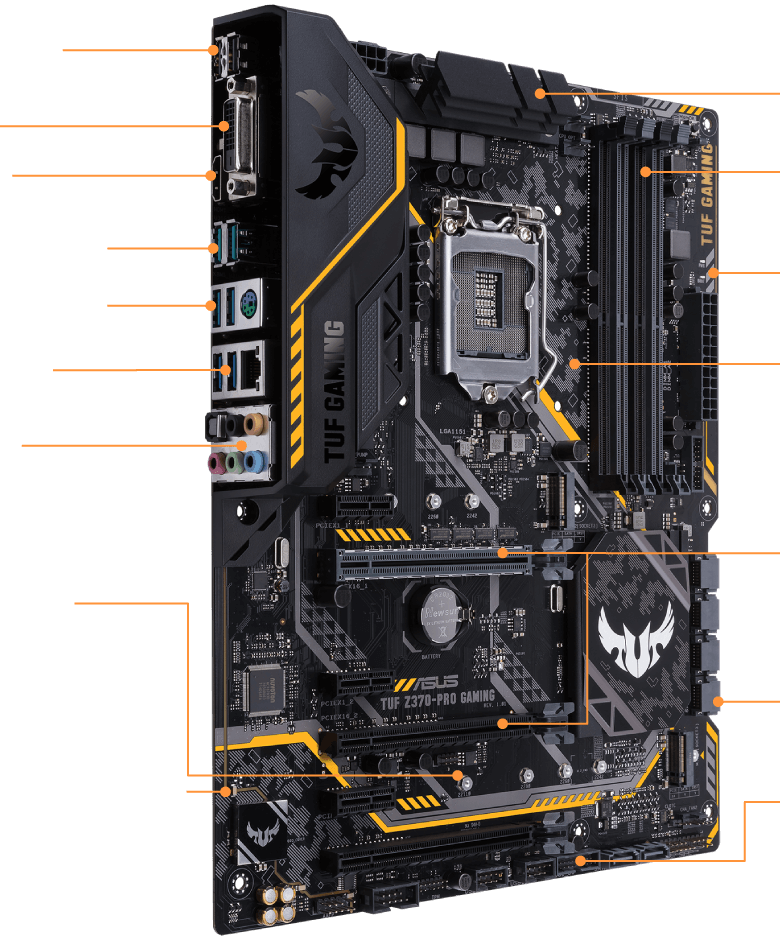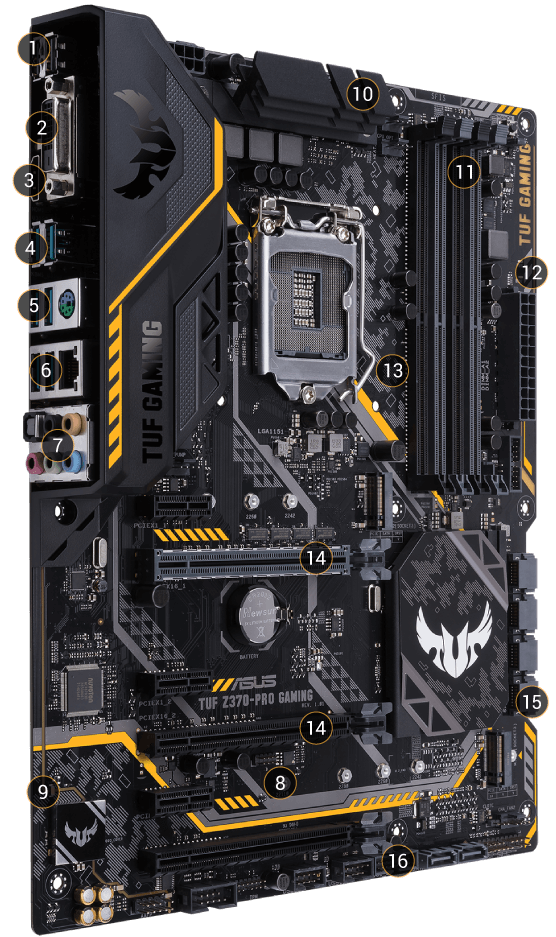 2 x USB 2.0

DVI

HDMI

2 x USB 3.1 Gen 2

4 x USB 3.1 Gen 1

Intel® LAN
TURBO LAN Utility

AUDIO

Dual M.2 x4

Realtek® ALC 887
Exclusive DTS Custom for
Gaming headsets
・ TUF Gaming Audio Cover
・ Audio Shielding
・ Dedicated audio PCB layers
・ Premium Japanese audio capacitors

DIGI+VRM & EPU

DDR 4 4000(O.C.)MHz
ASUS OptiMem

Q LED with CAMO design

TUF GAMING pattern

2 x PCIe X16 Slots
・ Intel® Rapid Storage Technology for CPU-attached Intel PCIe Storage*
・ SLI & CFX Support
・ ASUS SafeSlot & SafeSlot Core

6 x SATA 6Gb/s ports

Front USB 3.1 Gen 1

* Availability targeted with Intel® Rapid Storage Technology 16(Intel® IRST 16).
GAME YOUR WAY
Gaming Audio
DTS Custom for gaming headsets
Hone your battleskills with exclusive DTS Custom onboard audio. Utilizing advanced emulation techniques to create positional cues via stereo headphones, DTS Custom takes onboard audio to a new frontier. With three presets ― Aerial, Soundscape, and Tactical ― for different genres, you'll have a distinct advantage in every game.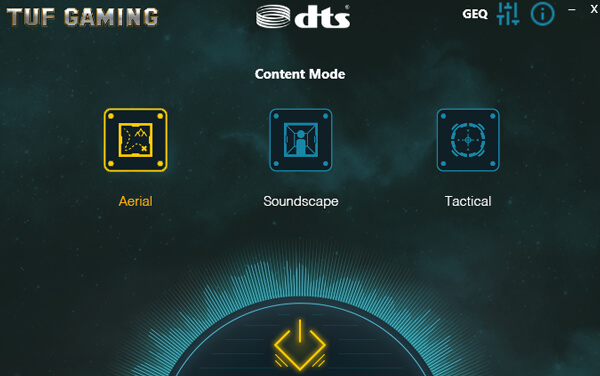 Shielded audio, superior sound
Intelligent design and premium hardware create audio quality unlike anything you've ever experienced!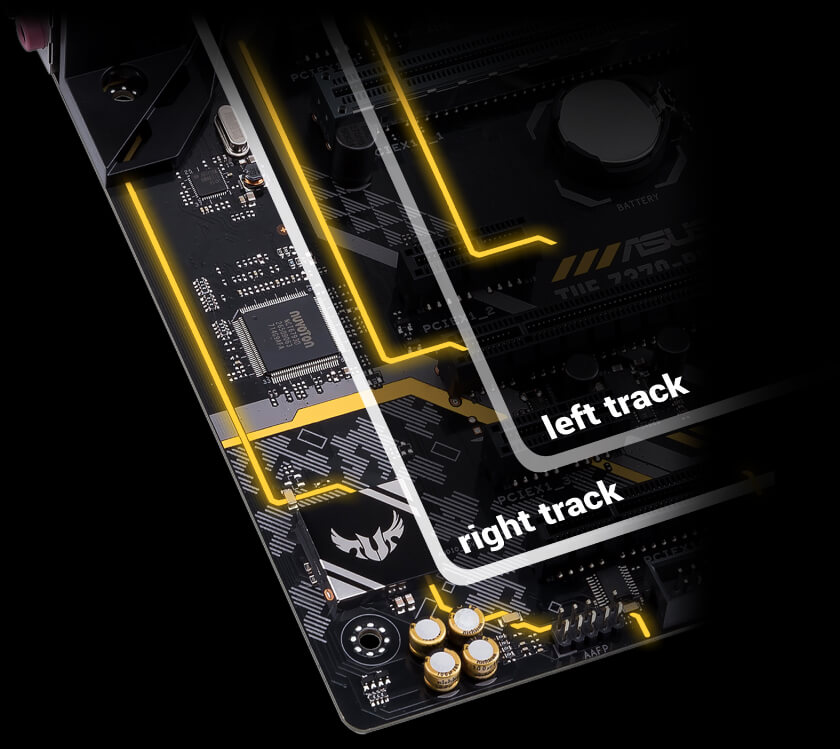 Audio shielding

Separates analog/digital signal domains, significantly reducing multi-lateral interference.

Dedicated channel layouts

Separate layers for left and right channels to preserve the quality of the sensitive audio signals.

TUF Gaming audio cover

Effective shielding preserves the integrity of audio signals to ensure best quality.

Audio enjoyment

Premium Japanese audio capacitors provide warm, natural, and immersive sound with exceptional clarity and fidelity.
BRIGHTEN UP YOUR BUILD
LED-illuminated control for PCB edge
TUF Z370-Pro Gaming's color accents are complemented by an edge-side LED that glows in attention-grabbing orange. Instruct it to shine continuously for always-on atmosphere, extinguish it for twilight play, or have it pulse as though alive — a machine that appears to breathe!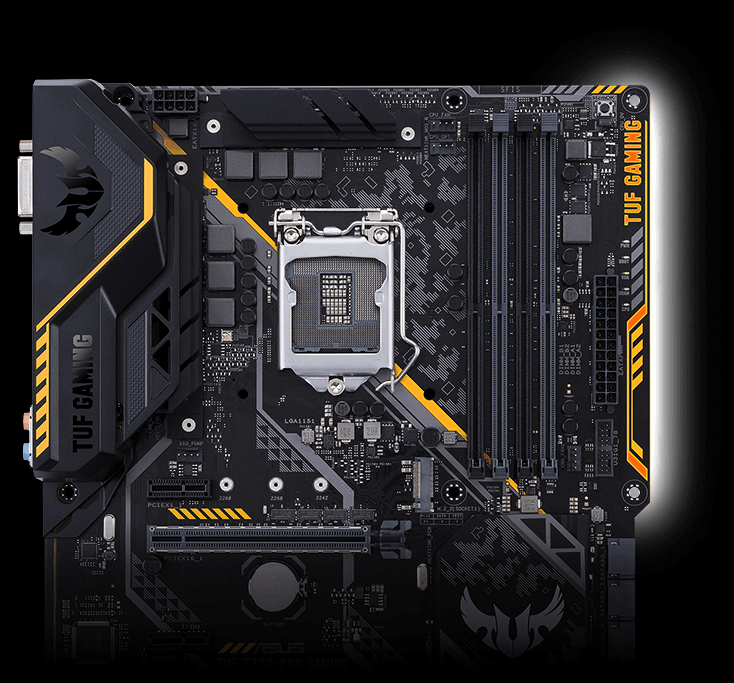 GAMING NETWORKING
Intel Ethernet
More throughput, less CPU usage
TUF Z370-Pro Gaming features the very latest Intel Ethernet. Intel's LAN has the advantage of reducing CPU overhead and offering exceptionally high TCP and UDP throughput for faster, smoother data transfer.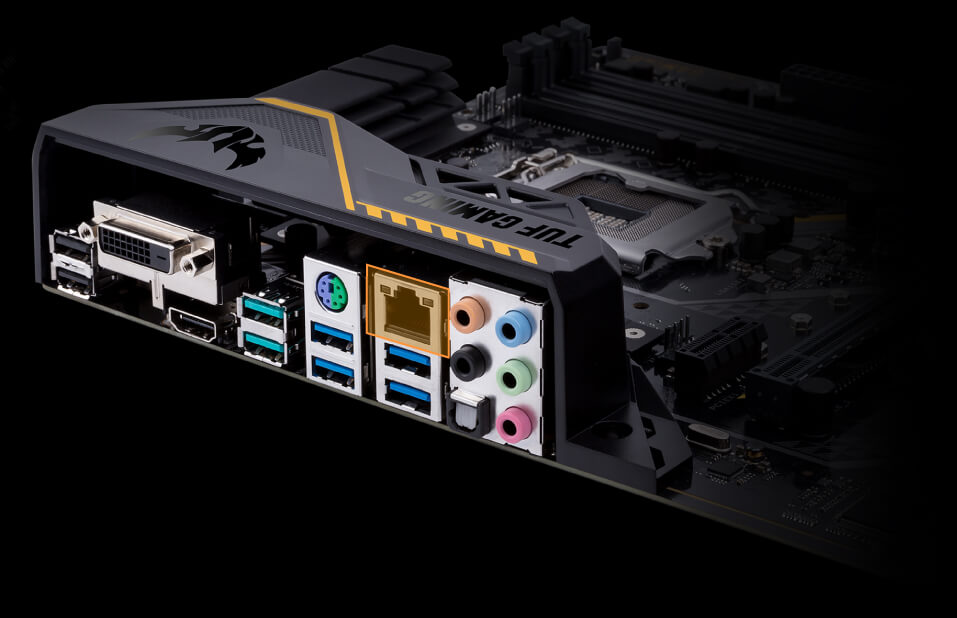 TUF LANGuard
Best surge protection
TUF LANGuard is a military-grade innovation that integrates advanced signal-coupling technology and premium surface-mounted capacitors to improve throughput, protecting the motherboard from lightning strikes and static electricity.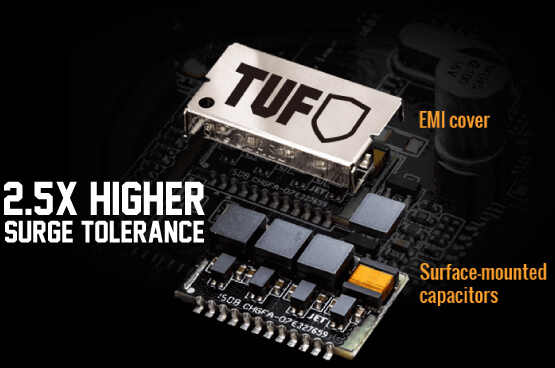 Turbo LAN
Network-optimization software for customizable packet prioritization
Turbo LAN with cFosSpeed traffic-shaping technology adds even more lag-reducing support and an intuitive user interface, so you'll reduce lag by up to 1.45X — with no expert knowledge. It even includes Game mode to prioritise game-related data transmissions, smoothing network operations every time you play!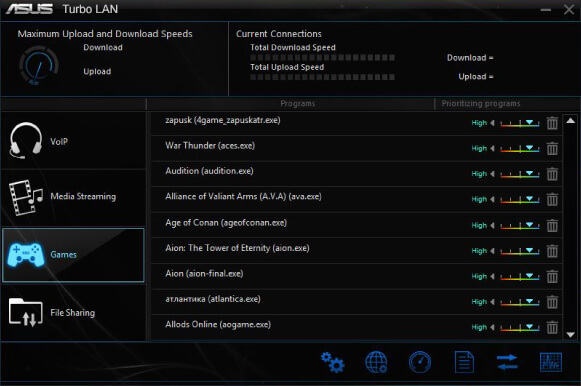 Real-time speed monitor

Grouping your own favorite list

Set priority to speed up for your application

PERFORMANCE LEVEL UP
Make Your Memory Go Faster
ASUS OptiMem preserves memory signal integrity by routing memory traces and vias to the optimal PCB layer, and our T-Topology layout ensures time-aligned signaling by balancing trace lengths between memory slots. These enhancements lead to more headroom for overclocking and improved stability, allowing DDR4 memory speeds of 4000MHz with all slots populated — and even beyond!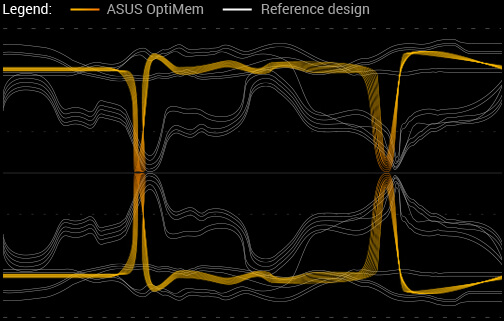 Improved stability and overclocking
With all slots populated
DDR4 – 4000MH
z
CPU: Intel i7-8700K | Motherboard: TUF Z370-Pro Gaming |
DRAM: Corsair CMK32GX4M4B4000C19R Ver 4.31 |
Power: Corsair AX1500i | Water-cooling: Corsair H115i
One Click Overclocking
You don't need to be a technical expert to experience exhilarating overclocking performance. TUF Z370-Pro Gaming incorporates the OC Tuner feature for efficient operation with precise voltage control and monitoring. OC Tuner takes all the hassle out of complex tuning by overclocking your system with a single click — it couldn't be easier!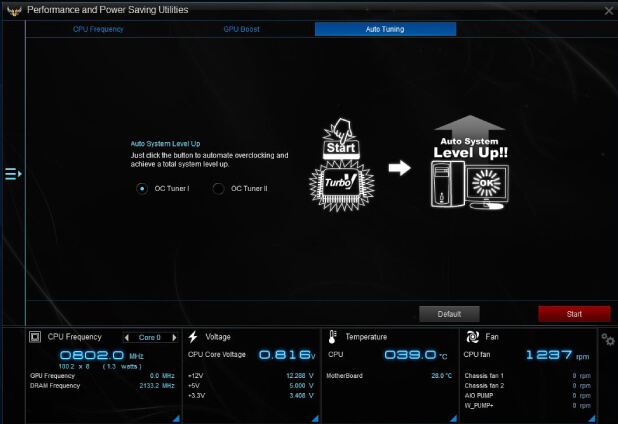 Multi
-

GPU support

With support for both NVIDIA® SLI™ and AMD CrossFireX™ 2-way configurations, TUF Z370-Pro Gaming enables multi-GPU setups so you can harness the full power of the latest graphics technologies to drive games at 4K resolutons and greater. The board even comes with the ASUS SLI HB Bridge, making it easy to combine the power of your NVIDIA graphics cards!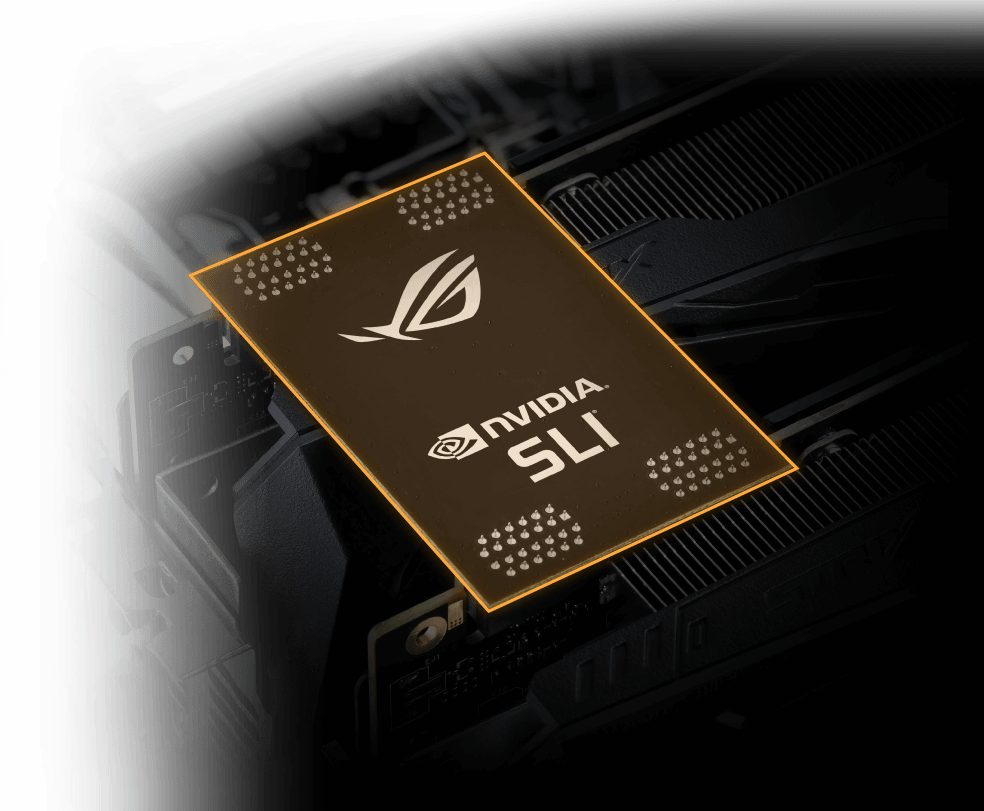 ULTRAFAST TRANSFER SPEED
10G
bps

USB 3.1 Gen 2 Onboard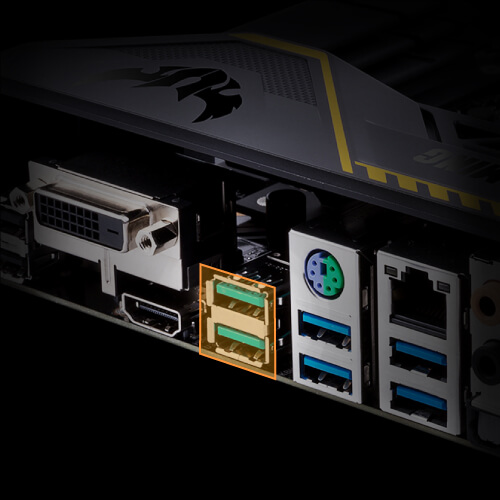 With backward-compatible USB 3.1 Gen 2 Type-A, you'll experience ultimate connection flexibility and blazing data-transfer speeds of up to 10Gbps — or twice as fast as USB 3.1 Gen 1!
Speed up with onboard M.2
(

up to 32G

bps)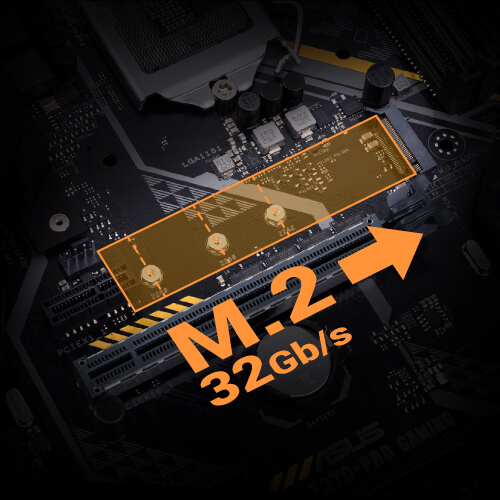 With x4 PCI Express 3.0 bandwidth, M.2 supports up to 32Gbps data-transfer speeds. It's the perfect choice for an operating system or application drive, making your PC and apps work as fast as possible.
Intel Optane Memory ready
Intel® Optane™ is a revolutionary non-volatile memory technology supported by TUF Z370-Pro Gaming. Intel Optane memory modules accelerate attached storage to reduce boot and load times, so everything feels faster and more responsive.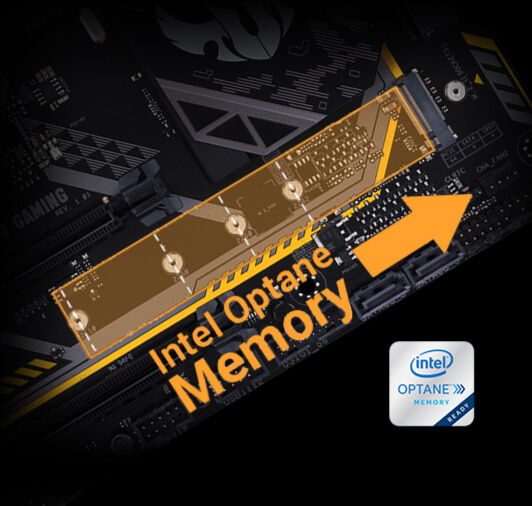 Flexible Cooling Controls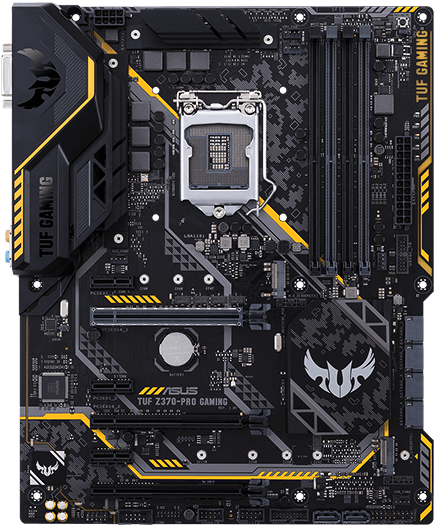 Fan Xpert 4 Core
TUF Z370-Pro Gaming features the most comprehensive fan controls ever, configurable via Fan Xpert 4 Core and our award-winning UEFI BIOS.
All-in-one water-cooling set
4-pin PWM/DC fan
Smart protection
Enables full control of PWM or DC water pumps, perfect for both custom and self-contained cooling setups.

Every onboard header supports auto-detection of PWM or DC fans.

A dedicated integrated circuit protects each fan header from over-temperature and overcurrent.
EAZY PC DIY EXPERIENCE
TUF Gaming motherboards offer easy and safe DIY builds by leveraging great design, innovative engineering, and strong partnerships with major component manufacturers. The unrivalled combination of military-grade TUF Components, TUF Protection and the TUF Gaming Alliance means that you can rest assured that your gaming rig will go the distance.
TUF gaming alliance

TUF Gaming Alliance is the marque of collaboration between ASUS and major PC-component manufacturers, including trusted brands like Antec®, Apacer®, Ballistix, Cooler Master®, Corsair®, Deepcool, Enermax, G.Skill, GeIL®, In Win, Scythe, SilverStone, Team Group and XPG. A growing range of compliant parts, from PC cases and power supplies to CPU coolers and DRAM, guarantee both compatibility and aesthetic harmony. We're also continually increasing our partnerships to make the TUF Gaming Alliance ever stronger.
TUF PROTECTION
SafeSlot
Protect your graphics card investment
SafeSlot is the PCIe slot reinvented by ASUS and engineered to provide superior retention and shearing resistance. Manufactured in a single step using a new insert-molding process, SafeSlot integrates fortifying metal for an inherently stronger slot, which is then firmly anchored to the PCB through additional solder points.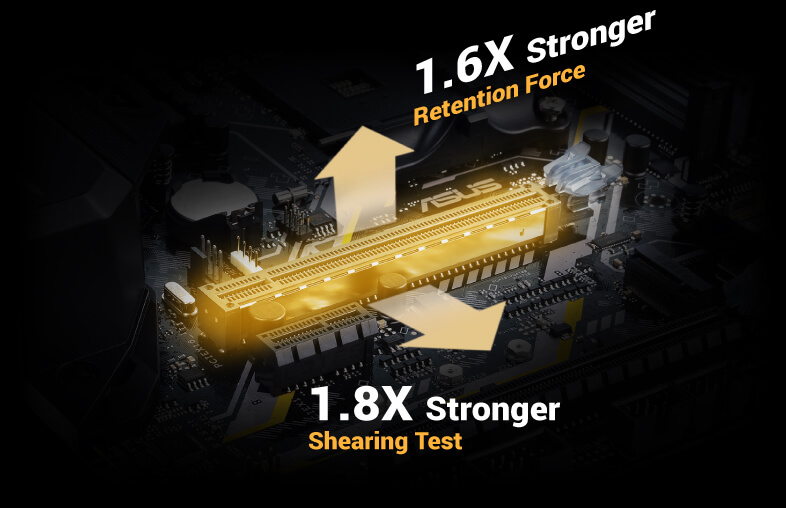 ESD GUARDS
Electrostatic discharge protection
ESD Guards prolong the life of components while preventing damage from electrostatic discharge, providing protection for up to +/- 10kV of air discharge and +/- 6kV of contact discharge.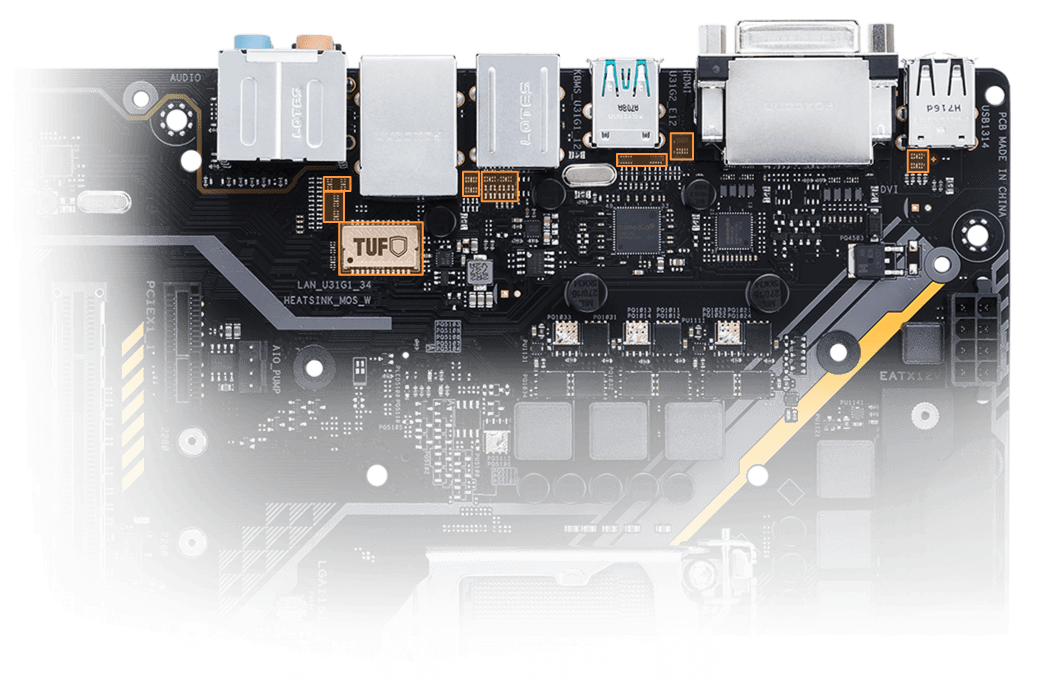 MORE

DIGI+ VRM
Precision control for stable power
The Digi+ VRM voltage-regulator module (VRM) is one of the finest in the industry, ensuring ultra-smooth and ultra-clean power delivery to the CPU at all times.

DRAM OVERVOLTAGE PROTECTION
Short-circuit damage prevention
Onboard resettable fuses prevent overcurrent and short-circuit damage. This extends beyond I/O ports to DRAM to safeguard the lifespan of your system and connected devices.

Stainless-steel back I/O
3X corrosion-resistance for greater durability
TUF's corrosion-resistant stainless-steel back I/O panels bonded with chromium oxide have a lifespan that's 3X longer than traditional panels.
TUF COMPONENTS
TUF CHOKES
Certified military-grade TUF chokes deliver rock-steady power to the CPU, helping to improve system stability.
TUF CAPACITORS
+20% temperature tolerance and 2.5X-longer lifespan.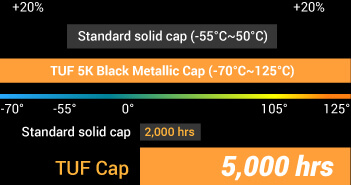 TUF MOSFETs
Certified military-grade MOSFETs with lower RDS(on)*.
*Lower RDS(on) results in better power efficiency and reduced heat generation.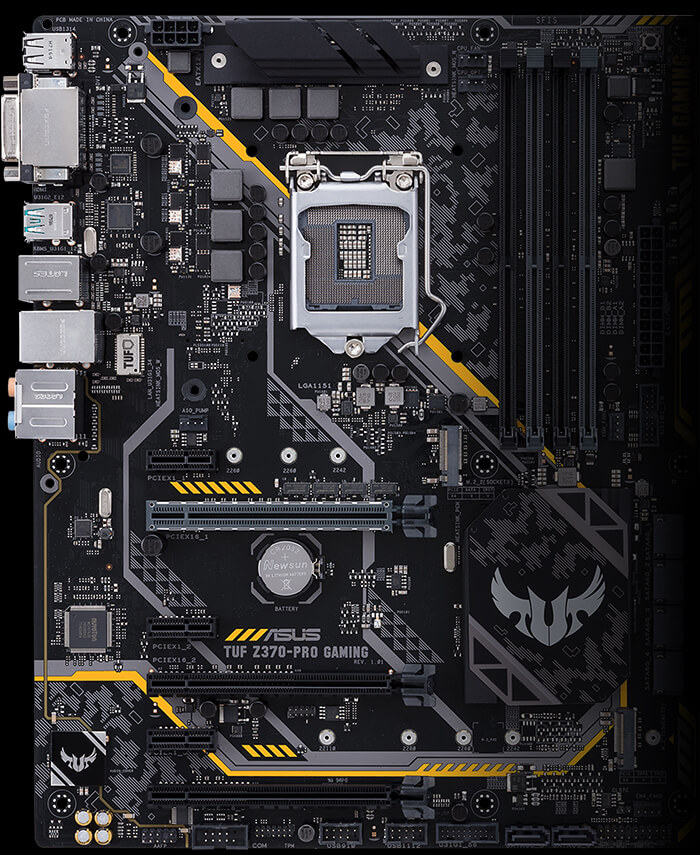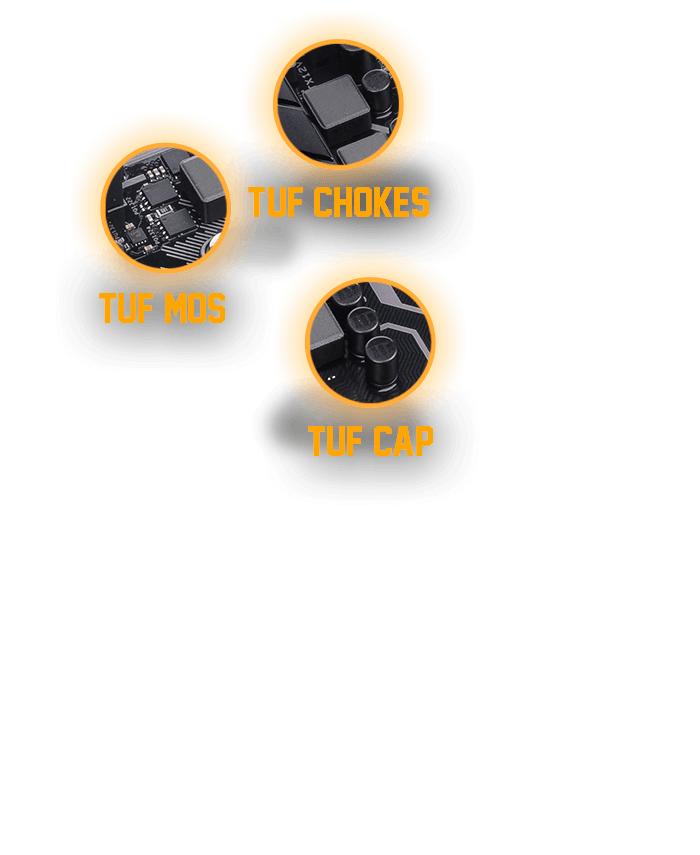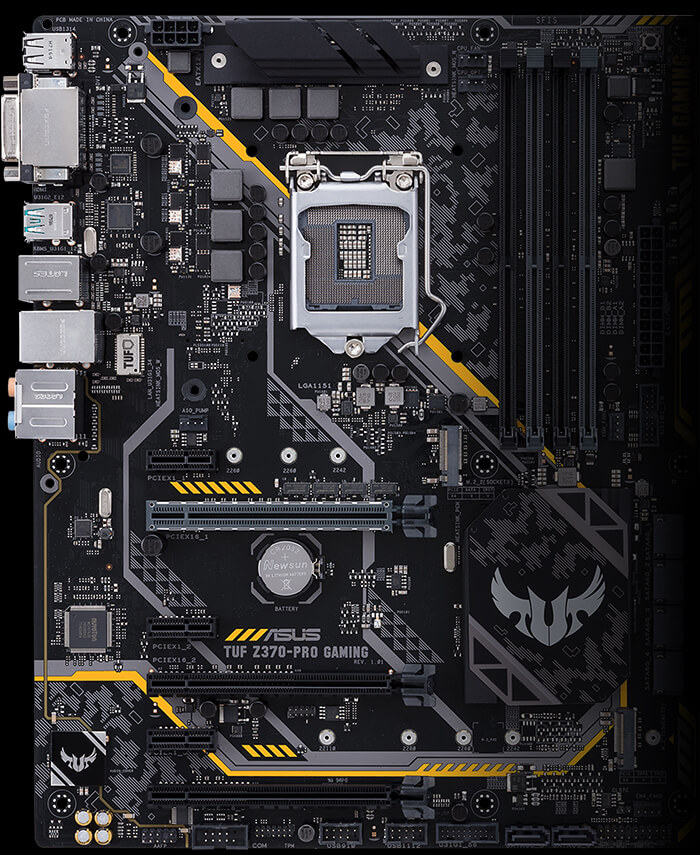 Intel CPU and Chipset features

Intel CPU and Chipset features
The Intel® Z370 chipset supports 8th Generation Intel® Core™ processors. It provides improved performance by utilizing serial point-to-point links, allowing increased bandwidth and stability. Additionally, the Z370 provides a maximum of 10 USB 3.1 Gen 1 ports, six SATA 6Gbps ports, and 32Gbps M.2 and PCIe 3.0 lane speed support, for faster data retrieval. Intel Z370 also supports integrated-graphics, so you'll enjoy the very latest in graphics performance.

Ready for Socket 1151 for 9th / 8th Gen Intel® Core™, Pentium® Gold and Celeron® processors
This motherboard supports Socket 1151 for 9th Gen and 8th Gen Intel® Core™, Pentium® Gold and Celeron® processors, with integrated graphics, memory and PCI Express controllers to support onboard graphics output with dedicated chipsets, dual-channel (4-DIMM) DDR4 memory and 16 PCI Express 3.0/2.0 lanes for great performance.
Compare (0)